Consciously Uncoupling at Chloé
Review of Chloé Spring 2024 Fashion Show
By Angela Baidoo
THE COLLECTION
THE VIBE
THE THEME

The departure of Gabriela Hearst at Chloé will mean one less woman leading a luxury brand, a not insignificant fact that is seeing a reversal of the small progress which was being made. As in recent years with the announcement of each new head of a house the appointment is often gifted to a man. And while a designers sexual orientation shouldn't be a part of the decision-making process, for women entering the industry not being able to see a broad range of women in power in those top roles is a problem which is beyond due for a solution.
But that's a concern for another day as todays show was a celebration – or carnival if you will – of Hearst's tenure at Chloé. Closing out her final chapter, she also used it as an opportunity to present her fourth chapter in her mission to achieve climate success. Her previous collections (chapters) have been spearheaded by a focus on regeneration (Autumn-Winter 2022), clean energy (Spring-Summer 2023) and female leadership (Autumn-Winter 2023). For spring summer 2024 consciousnesses led her creative process, and her interpretation of its meaning was outlined in a quote by Alan Finger in the show notes "Consciousness is the radiance of one soul which gives us awareness. It's like the sun that gives light and life to all we know."
At Chloé, she was not just in service to the design community and her customers, but also the planet. Steering a million dollar business towards a more responsible way of operating throughout its supply chain was a challenge the designer took on with fervour. And while her design handwriting was never compromised by the embedding of sustainable principles, she is leaving her role having set out the blueprint, which her successor should continue to build on, furthering the transformation of the Chloé brand.
With today's collection, the designer finished as she started, strong. Looking to plants and flowers for their life-affirming existence, green shoots were seen throughout the collection, taking inspiration from the Greek translation of the brands name as 'young green shoot'. Leaves rendered in leather covered a mesh dress, reminiscent of those which will soon carpet forest floors, florals became the base for an abstract quilting technique which almost mimicked blistering on a leather dress and bomber, while oversized floral corsages became another embellishment of choice on the Parisian runways, that coupled with an additional play on the floral bouquet, as here it sprouted freely from under capelet necklines.
Each piece in the collection was 'consciously' developed to take its inspiration from the engineering or growth patterns of flora. The fringing of a knitted hem was made to resemble roots, and according to the shows notes the "zygomorphic shapes of orchids" are evident in the 'sacred geometry' of many of the dresses on display.
And while Gabriela Hearst's legacy at the brand is assured, her inclusion of a bag silhouette which pays tribute to the founder – Gaby Aghion – in the form of a reinterpreted clutch, in a way brings the designers time with the brand full circle.
THE BUZZWORDS
Flora and fauna. Mirrored structure. Curious cut-outs.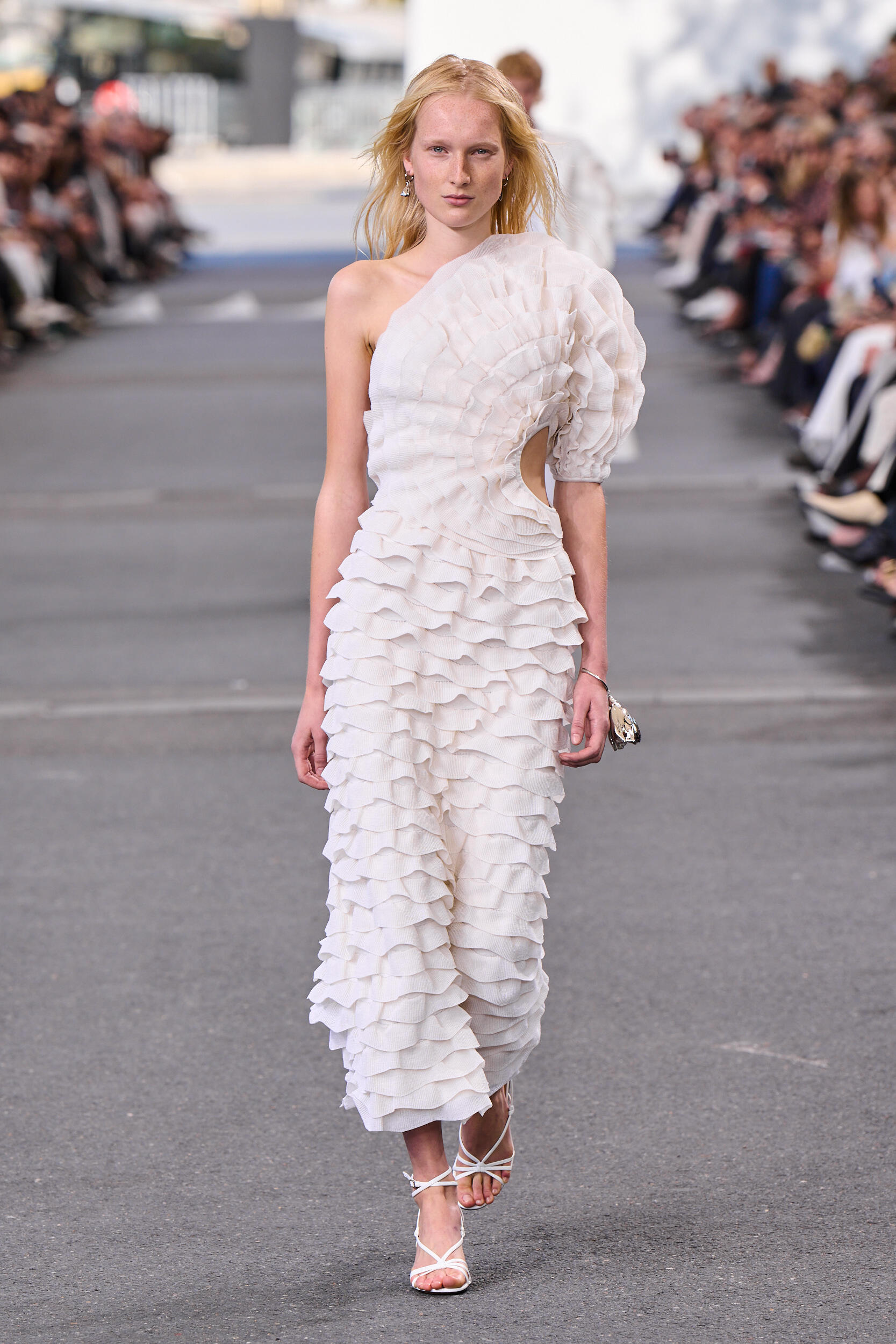 THE SHOWSTOPPER
Look # 19
A prime example of Gabriela Heart's ability to create wearable craft, her mixed fabric midi dress plays on volume, geometry and fluidity which she melds together flawlessly.
THE DIRECTION
The designer has crafted an industry-leading blueprint for embedding sustainability at the luxury level.
The industry loses another female lead as creative director of a luxury house.
THE WRAP UP
Closing out her tenure with a carnival atmosphere to the sounds of Mangueira (one of the most important Samba schools in Rio de Janeiro), they took to the runway with the designer and many of the shows guests. And even through it all, this small act of celebration did not pass without meaning. As with their inclusion the designer made one last gesture to highlight a cause which embodies Chloé's purpose, namely that the samba school is the first to provide a space for female participation, keeping the brands ideal alive of "Women Forward. For a fairer future.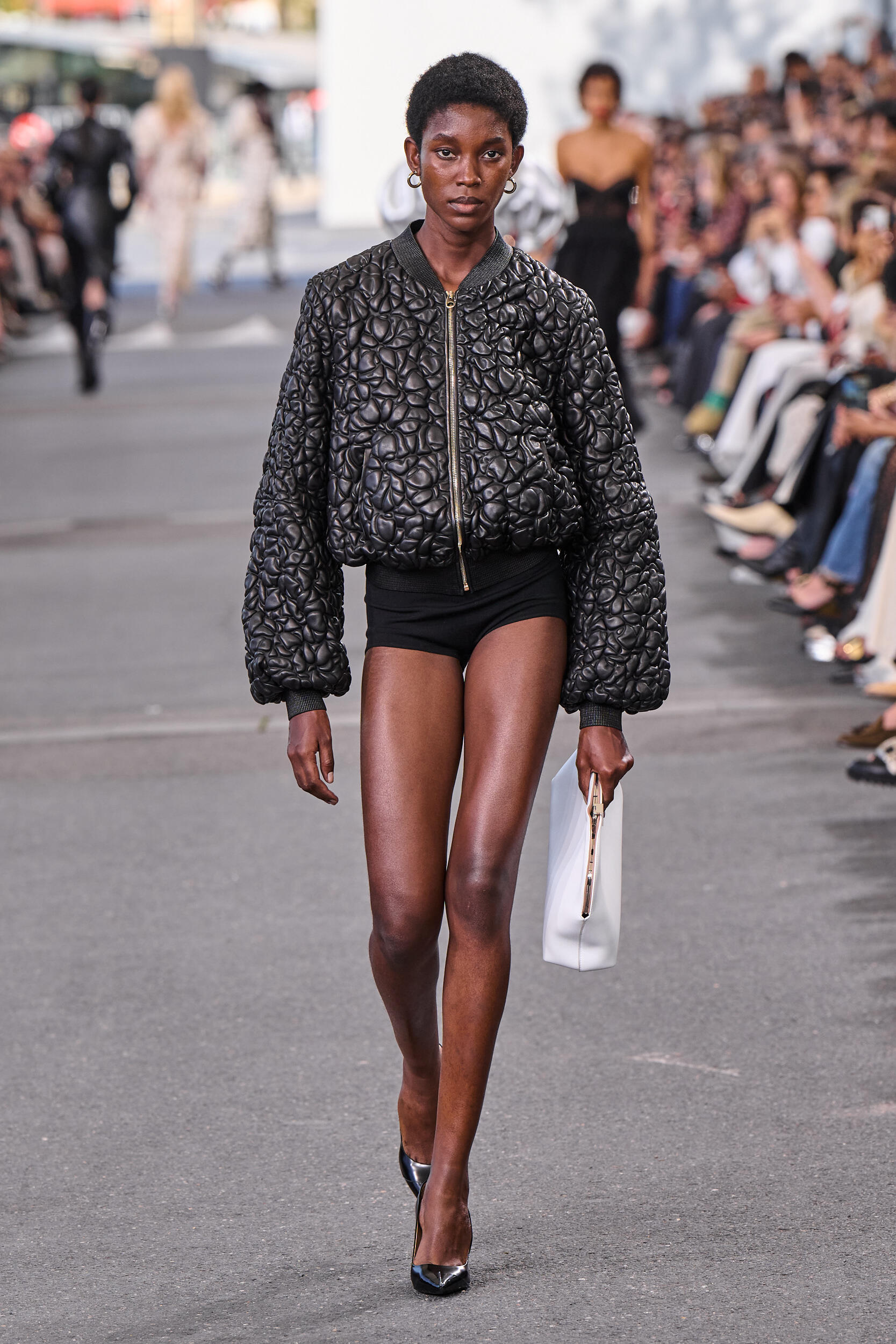 ---