---
Review of Dsquared2 Fall 2023 Men's Fashion Show
The Kids Are Alright
By Mark Wittmer
For Fall 2023, the brother act of Dsquared2 took their irrepressible knack for finding harmony and poise amid seemingly chaotic combinations to new heights, serving up a timely and incredibly fun ode to the age of internet microtrends and macro individuality in the process.
Ever since Zoomers found out how fun it is to add "-core" to the end of everything, we've seen a wave of microtrends that fall into the categories of niche and hyper-specific, while concurrently, a wave of permissiveness and ultra-individuality has seen style influencers (which at this point includes anybody who wants to be) encouraging a gleeful spirit of mashed-up aesthetic smorgasbord.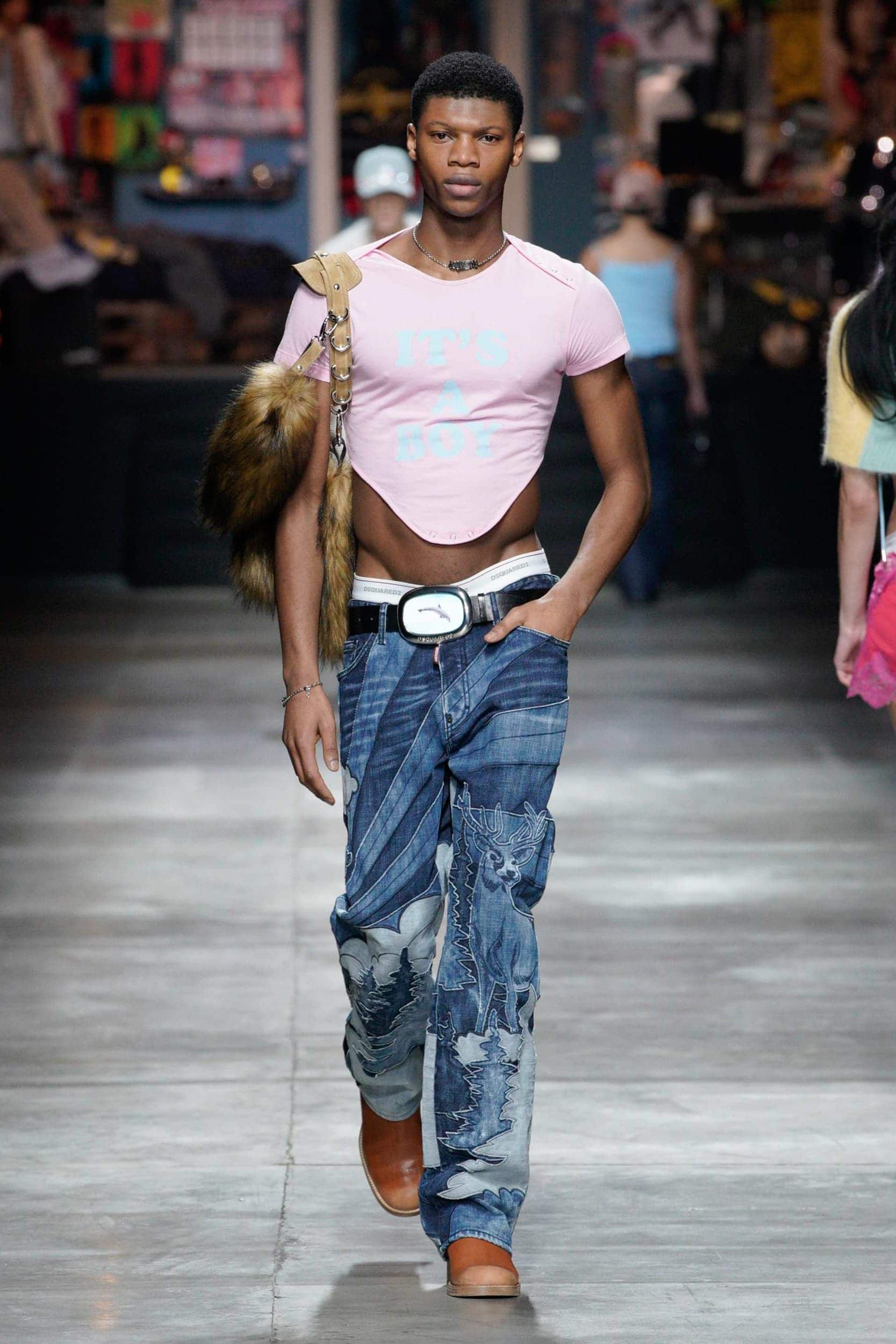 But this irreverently layered spirit of mashed-up personal style isn't really anything new: Dsquared2 has been mastering the practice for two and a half decades.
It's not that Dsquared2 and what it has to say have changed; instead, it's the world that has become more Dsquared2. Fueled by TikTok and a youthful longing for newness, nostalgia, and community, microtrends bubble up and burst before traditional fashion media can even recognize what's happening, making the internet a melting pot of styles where no combination is off limits and everyone is free to be the person, or people, they want to be. Yes, we're still seeing a lot of Y2K, but there's much more going on as well, and it's a mashup not just of different aesthetics but of old and new, masculine and feminine, hard and soft.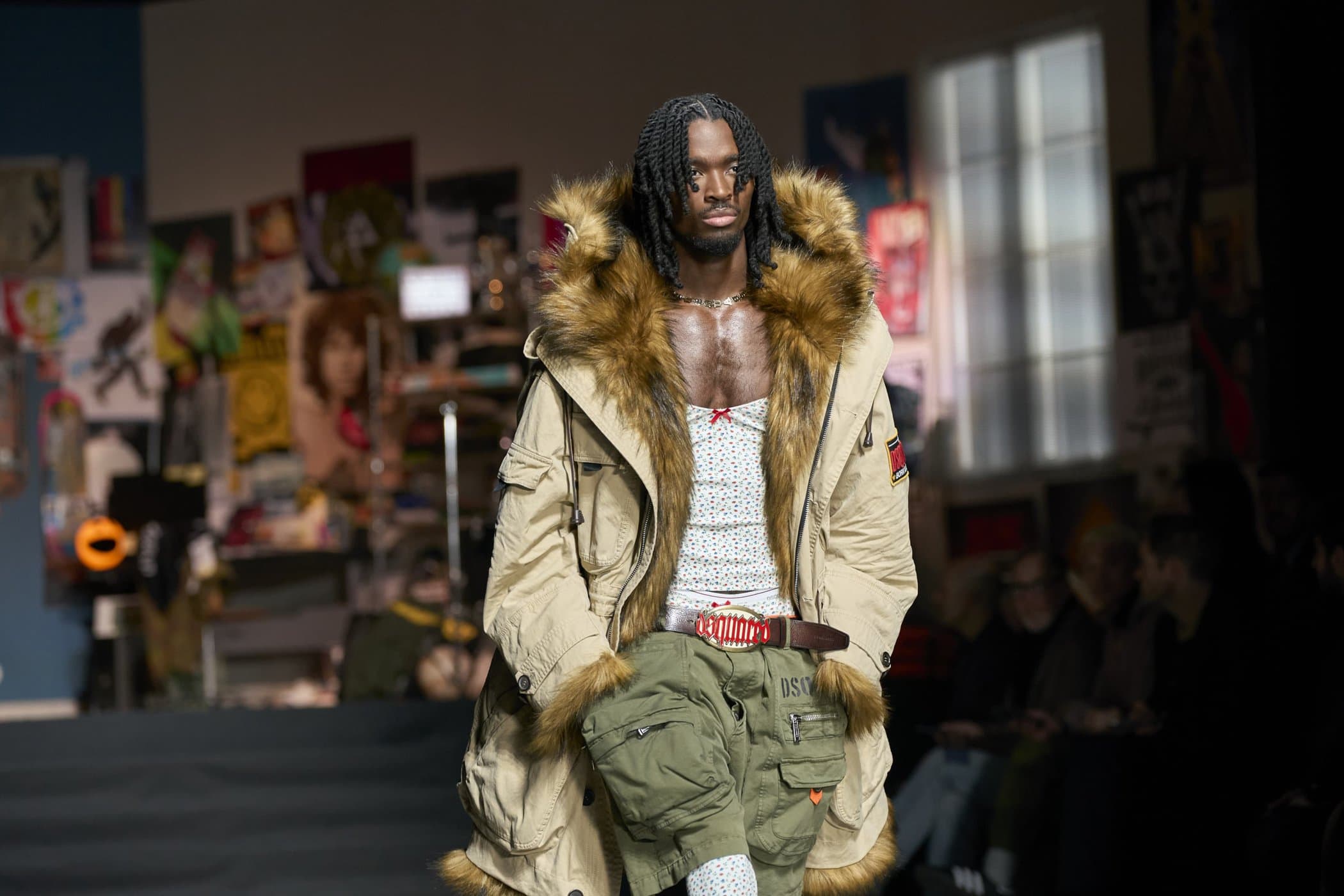 The collection dives joyfully into Dsquared2's back catalog, mixing and matching codes and cultural references at an even more madcap pace, and presents them through a subversive exploration of archetypical teenage personas. Familiar characters like the jock, the motorcycle-riding bad boy, the rocker, the big man on campus, and of course, the hockey himbo are teased apart and built back up with tools and design language borrowed from a scintillating array of subcultural styles. Archetypically masculine categories like western wear and leather daddy gear are flirtatiously layered with soft feminine touches and glam embellishments.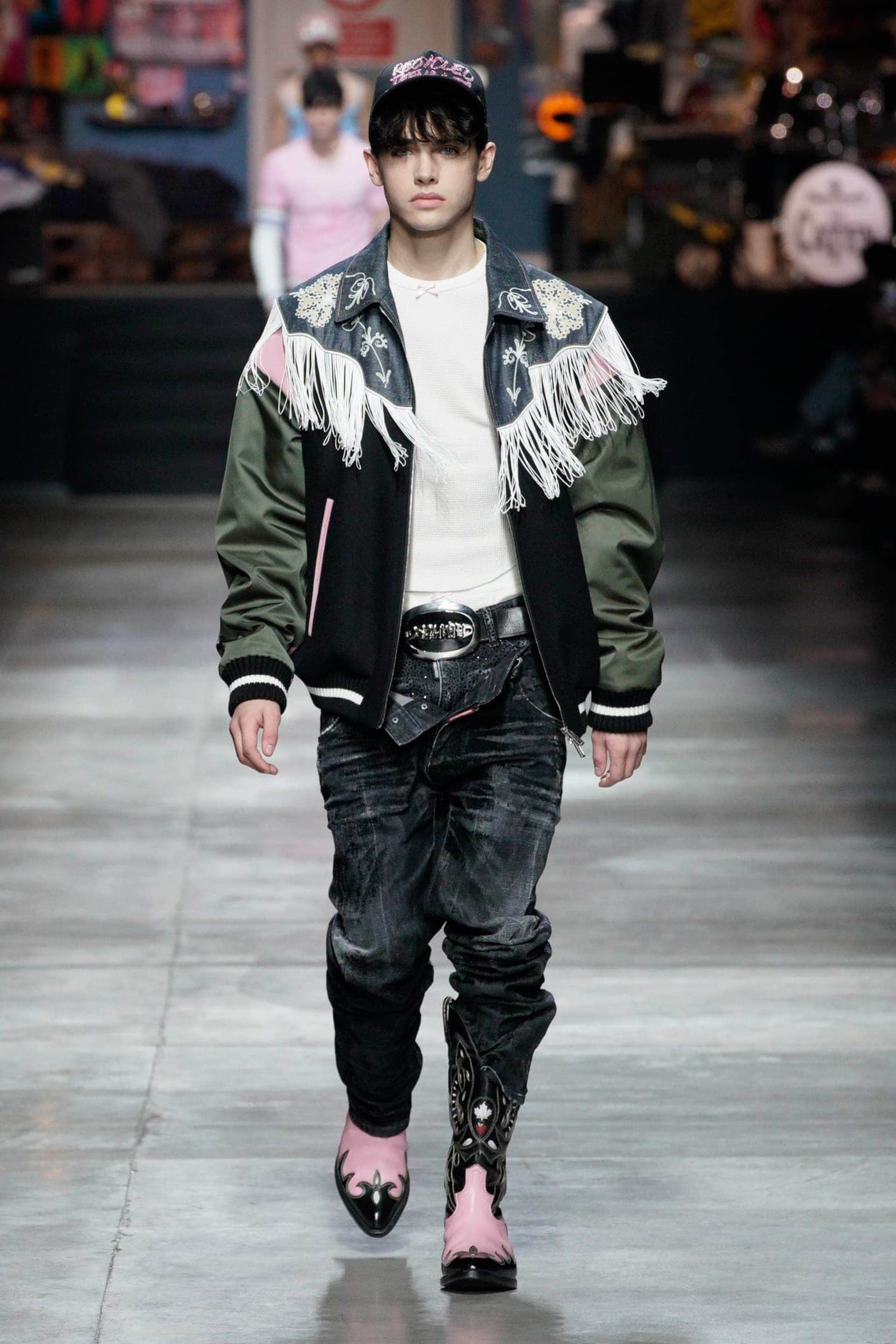 A flavor of flirty bubblegum pop runs its way throughout as well, present in baby tees (a favored item of Y2K revivalists) and lace trimmings in unexpected places. One of the brand's ingenious approaches that sets it apart from the pack, the layering and recycling doesn't just take place across looks but within individual pieces in ways previously undreamt of.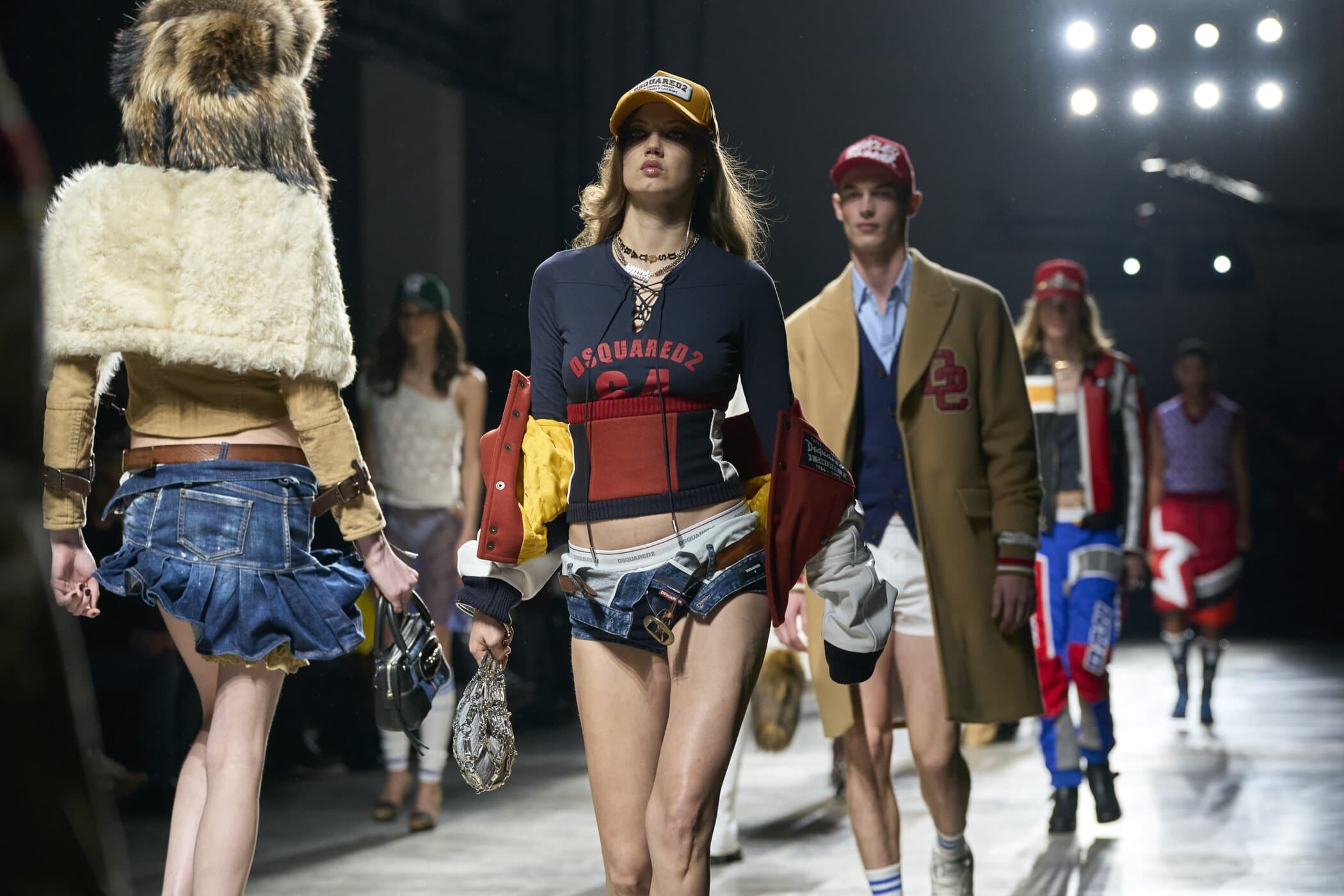 While it was presented as part of Milan Men's Fashion Week, women's looks are threaded throughout the collection, further augmenting the feeling of an eclectic community of liberated individuals. Beginning with a video that digitally reimagined the protagonist's erotic dream – a twin fantasy – before being woken up to get dressed for school, the runway production also brilliantly encapsulates this idea of a teenage dream, an ode to the way in which the formative process of experimenting with outfits alone in one's bedroom can also connect one to a whole cosmos of character – as did the casting, whose inclusion of TikTok stars is also sure to up the collection's viral impact.
As always, the collection is brimming with delicious details. A close inspection of each look yields the discovery of inventive construction, fun graphics, and hilariously provocative slogans (well, most of those don't need a close inspection to be seen) the most apt of which in capturing the spirit of the collection are "recycled teenager" and "oops we did it again!" Also noteworthy is "Choke" in the Coke font. It's slutty; it's campy, it's insanely fun – everything for which Dsquared2 is loved.
More than just a greatest hits album, the collection shows why Dsquared2's vision of liberated, youthful adventure is more relevant than ever.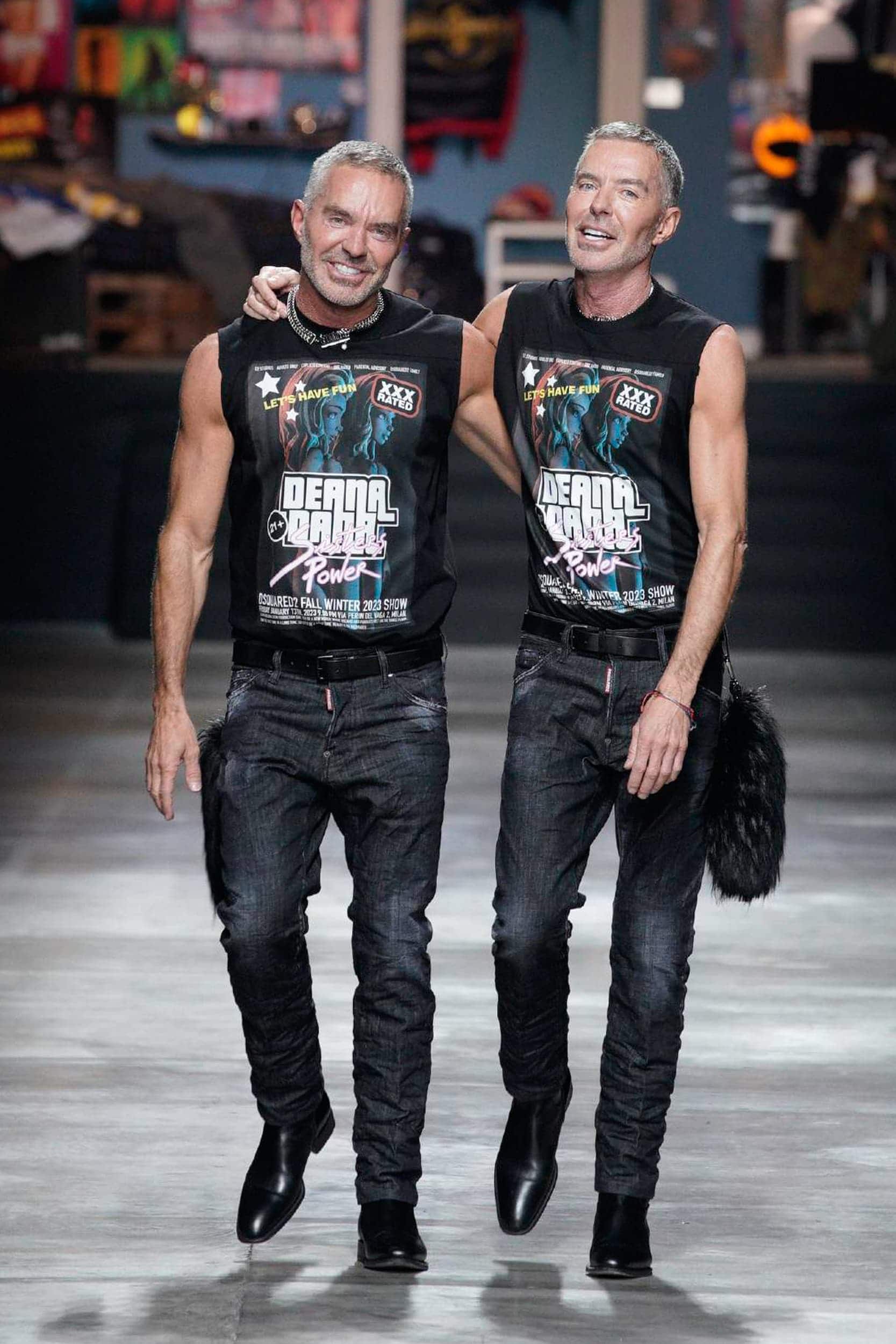 ---