Review of Gucci Good Game Capsule Collection 2022 Ad Campaign by Photographer Piczo
Gucci games on with a campaign in celebration of its new Good Game capsule collection. The campaign was created in partnership with digital magazine and creative agency King Kong and photographer Piczo.
Launched in 2019, Gucci Good Game is the motto for the House's ventures into the world of gaming. Encompassing the full spectrum of gaming from fun to professional, Gucci's forays into the arena share a collaborative approach, involving various creators in the development of experiences that aim to establish connections between the brand and gamers. Over the years, the initiatives have seen the brand building a multifaceted presence in a select number of games as well as in immersive gaming platforms, including Roblox, Pokémon GO, Animal Crossing, and The Sims – or partnering with Xbox to offer a limited-edition bundle. The new capsule marks the first time this foray into gaming has been reflected back into the house's cornerstone of fashion.
The campaign celebrates gaming's spirit of fun and possibility by putting the casual and iridescent styles of the capsule into digitally rendered environments that are similarly shimmering and colorful. Subtle or direct references to iconic video-game characteristics can be detected: life potions and health bars, compositions that echo 2D fighters and fantasy worlds.
Still, as Gucci's visual world across its campaigns is usually so rich, tactile, and – even as it makes its many forays into fantasy – palpable, we can't help but feel that this campaign falls a bit short of the mark. It's hard not to see these images as just people standing in front of green screens. With the unlimited world of digital animation and video games at their disposal, it feels like the campaign (like the collection itself) could have had a bit more imagination.
That being said, the strongest of the images do feel lush and kaleidoscopic, like the hit of dopamine that comes from winning an online game.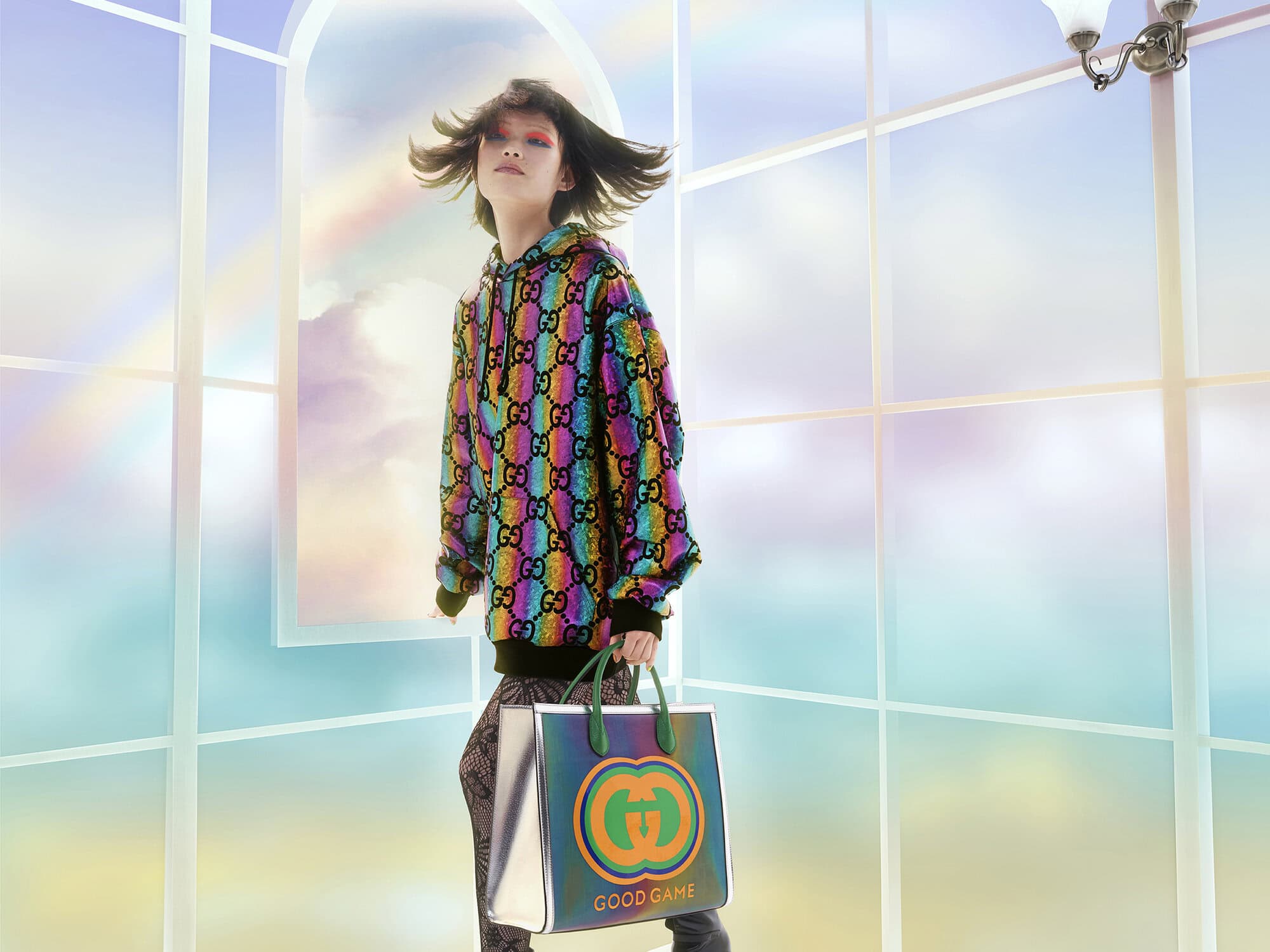 Gucci Creative Director | Alessandro Michele
Photographer | Piczo

---