How Loewe is Redefining Fashion with Sculptor Lynda Benglis's Artistic Flair: A Masterclass in Meaningful Artist Collaborations
By Mark Wittmer
Writing another chapter in his practice of truly impactful artist collaborations, Jonathan Anderson's Spring 2024 show for Loewe featured a brilliant partnership with renowned American sculptor Lynda Benglis.
Six of Benglis' recent sculptures, which enthrallingly balance flow and gesturalism with bulk and solidity, occupied the minimal runway space like unreadable, three-dimensional hieroglyphics. Meanwhile, Anderson's collection continued his practice of reductionism, focusing on proportion, silhouette, and an honest use of material. These two disciplines came together for the collection's jewelry, which translates Benglis' dynamic but frozen forms into wearable works of art.
What sets Loewe's approach to artist collaborations apart? Why are Lynda Benglis and Jonathan Anderson such symbiotic collaborators? What can their combined practices tell the rest of the industry?
Index
The Show Space
The Collaborative Jewelry Collection
The Impact
The Show Space
Since the 1960s, Lynda Benglis has employed a variety of materials including beeswax, latex, vaporized metals, and ceramic to explore the physicality of form. She has worked as a sculptor, painter, and filmmaker, bringing to each medium a concern for the duality of process and final form. In her sculpture in particular, a fruitful tension between these ineluctable concepts is exposed as she exploits material processes to create pieces that are both dynamic yet inert, organic yet industrial, abstract yet familiar.
For Loewe's Spring 2024 women's runway show, six large-scale bronze sculptures by Benglis were selected to grace the space. Each piece was enlarged and cast from a series of clay works titled Elephant Necklace, which was created through a process that involved twisting extruded lengths of soft clay into dynamic forms.
(While the intertwining of fashion and sculpture in this show and collection felt like the fullest expression of this collaboration's potential, it actually wasn't the first time Benglis work appeared on a Loewe runway. She lent her sculpture to the men's show as well, where monumental water sculptures of goopily dripping bronze dwarfed a collection that similarly explored and obscured proportionality and silhouette.)
Artworks by Lynda Benglis
Elephant: First Foot Forward, 2018, Power Tower, 2019, Striking Cobra, 2020, Yellow Tail, 2020 , Zero Cobra, 2020 , Black Widow, 2021 © 2023 Lynda Benglis/Licensed by VAGA at Artists Rights Society (ARS), NY.
Courtesy of the Artist, Pace Gallery, New York, and Thomas Dane Gallery, London.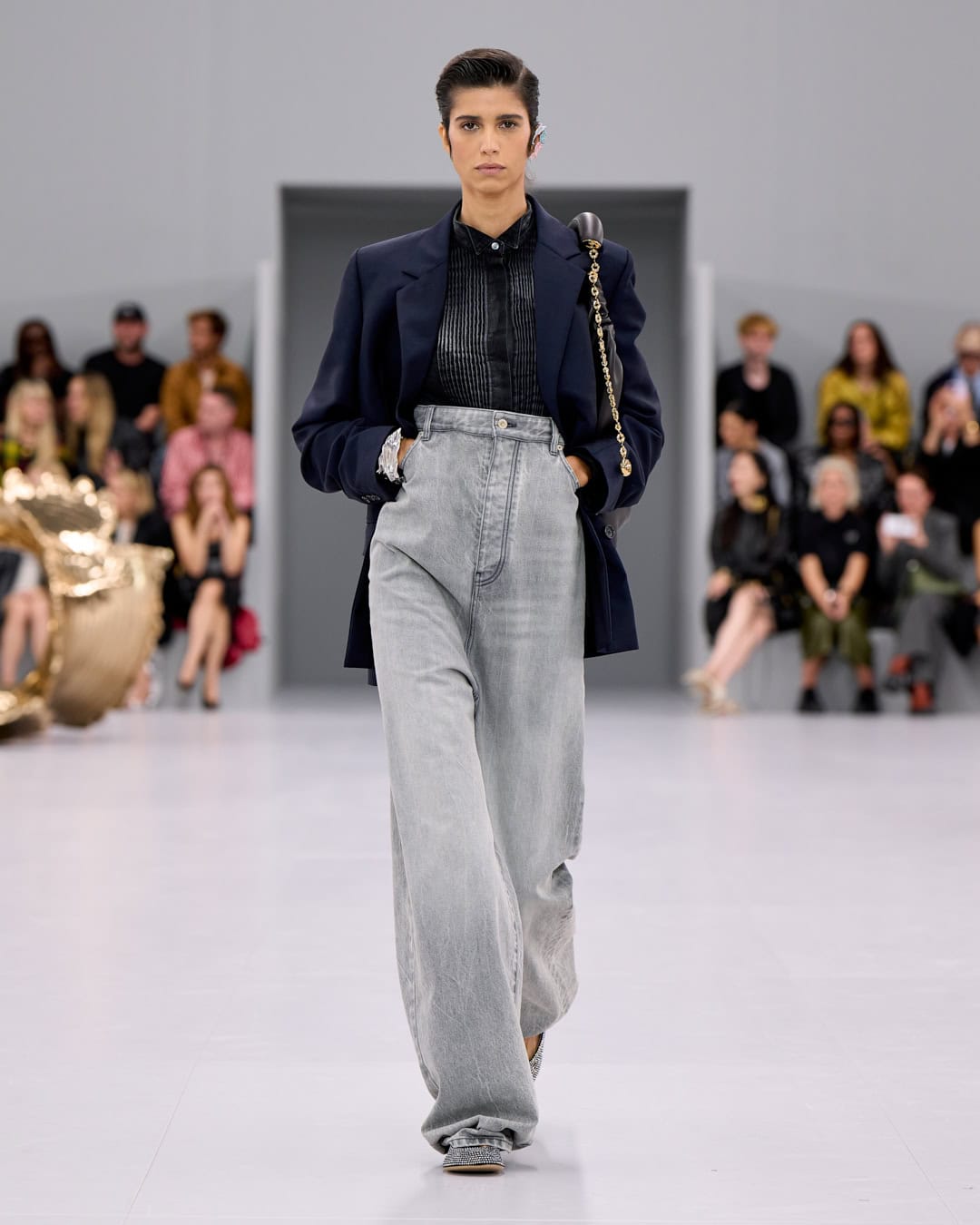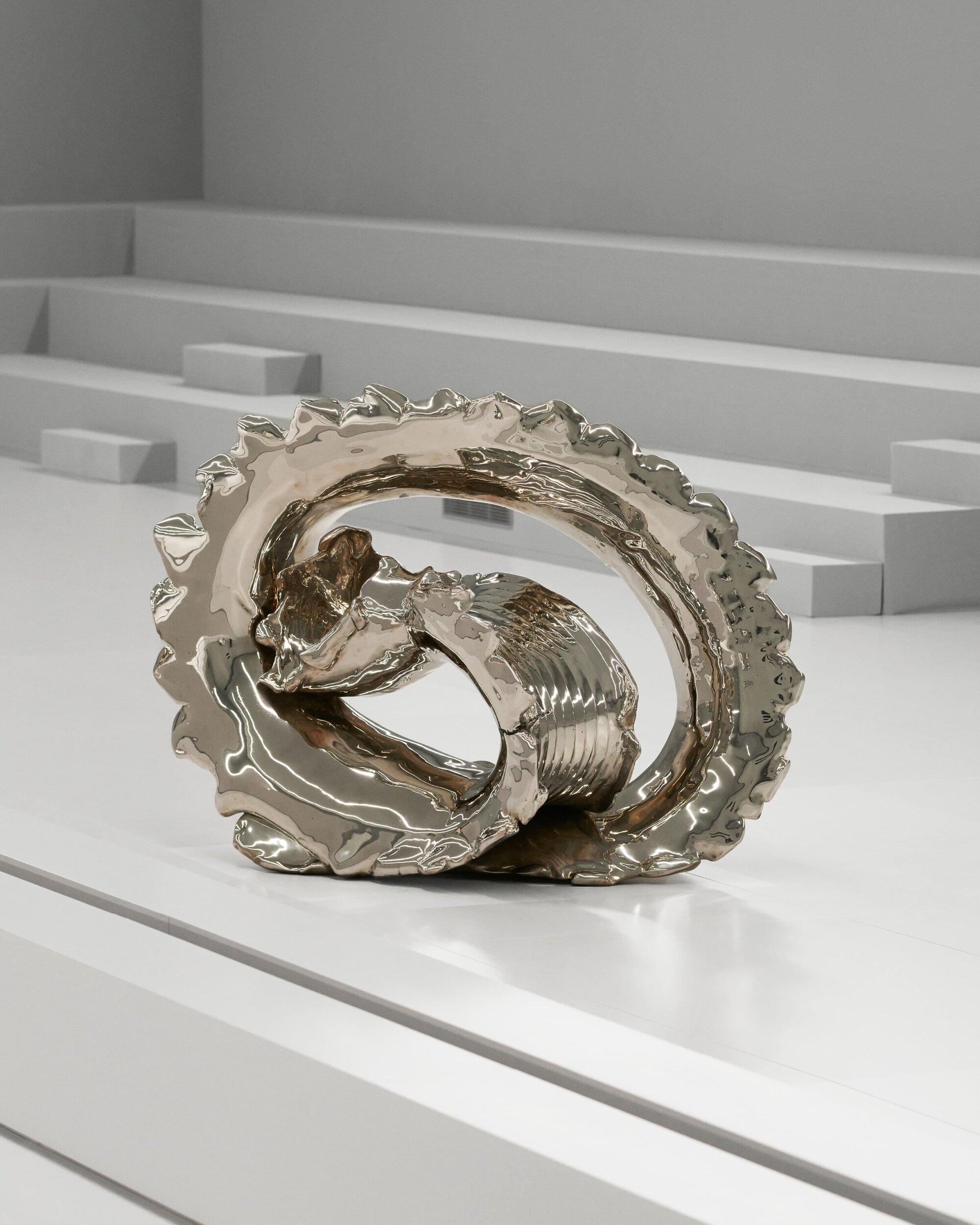 Sculpture by Lynda Benglis at the Loewe Spring 2024 Runway
The Jewelry Collaboration
Fluidly extending the art on the runway to that worn by the models themselves, the partnership moves deeper into the world of fashion through the jewelry that Benglis created for and in collaboration with Loewe.
Transformative rings, cuffs, brooches, earrings, and pendants are crafted as wearable sculptures that reflect the shifting world around them. The jewelry pieces are knotted, pleated, poured, twisted, and extruded, made from materials including gold, sterling silver, crystal, aluminum, and enamel.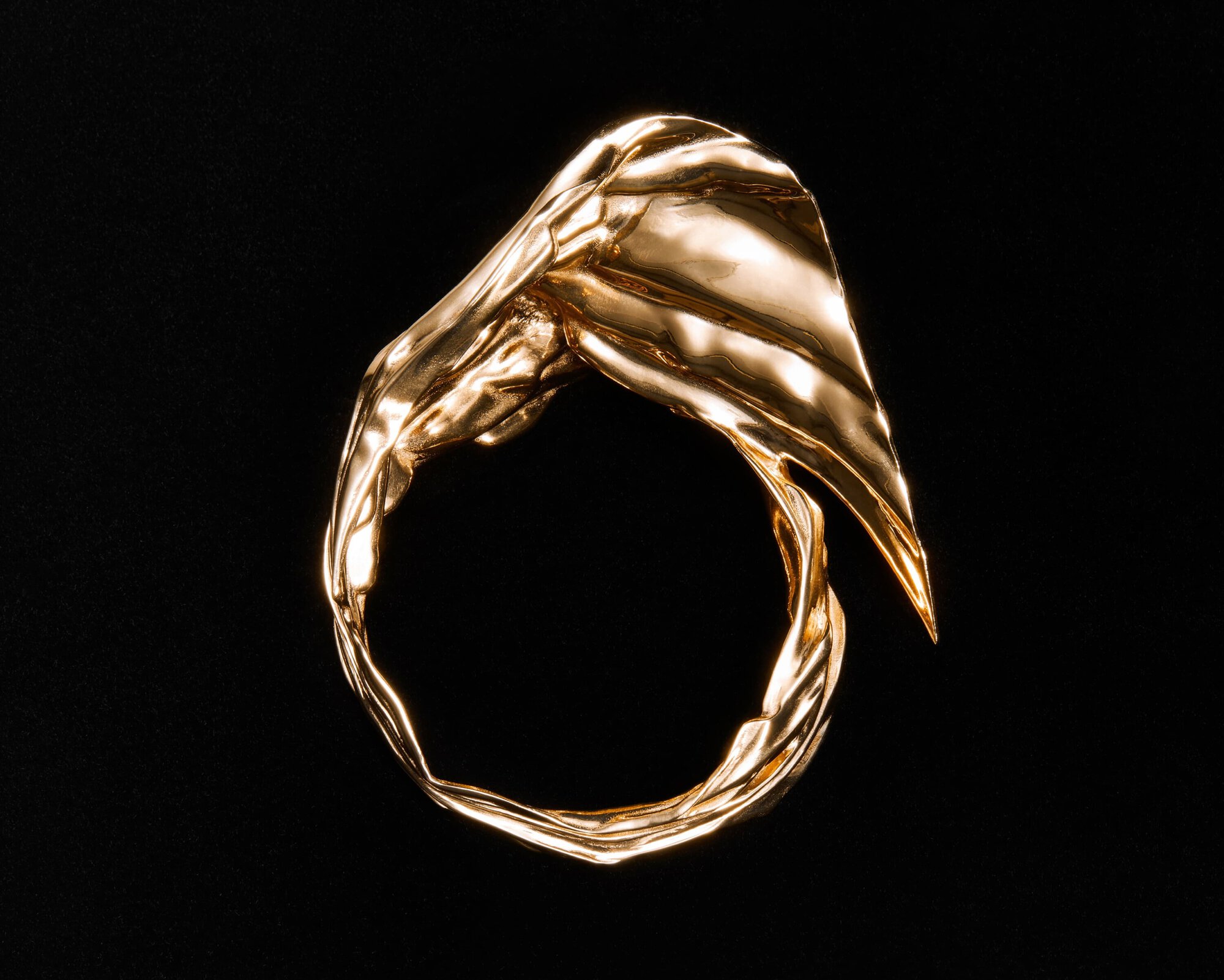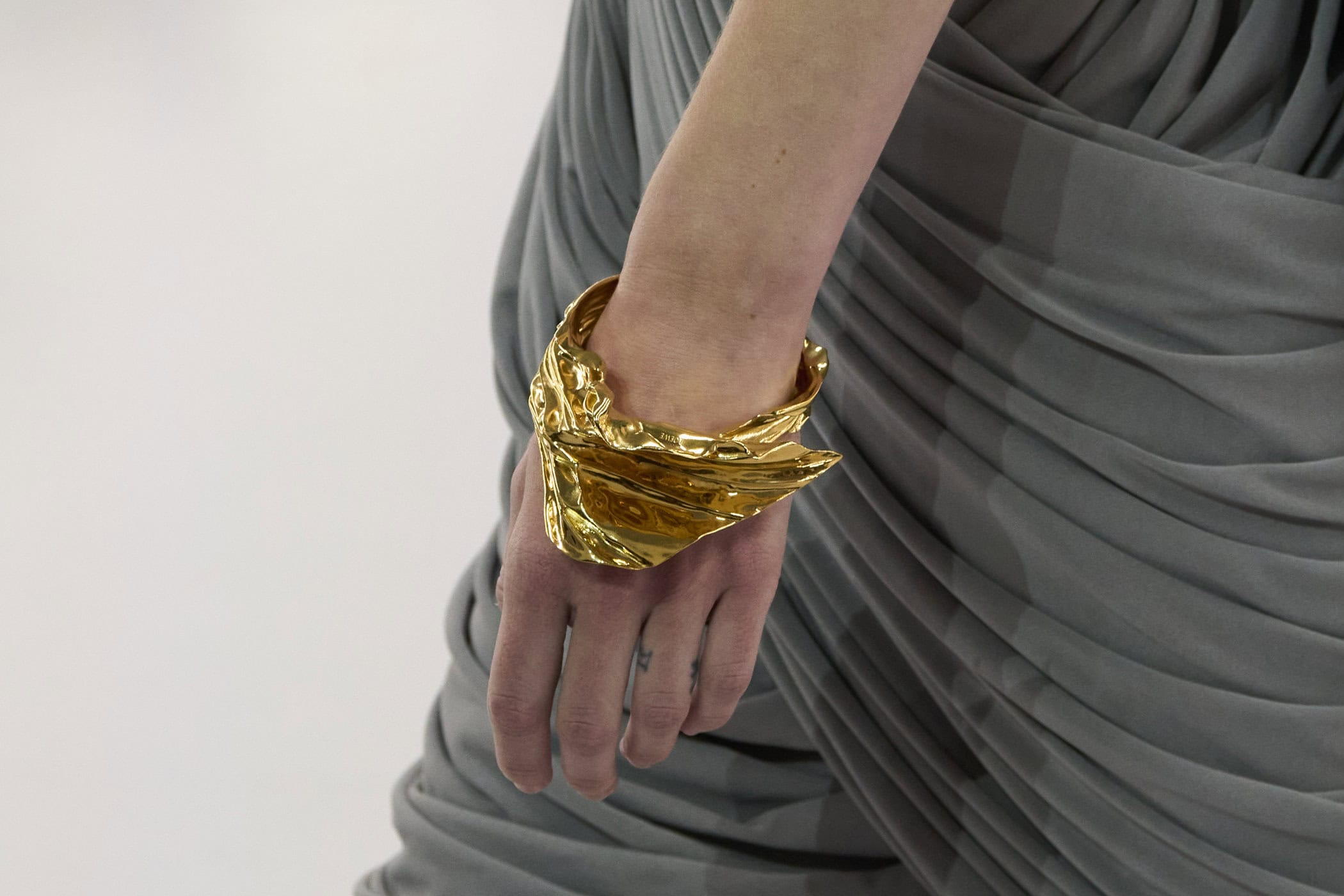 Jewelry in collaboration with Lynda Benglis
"The body sculptural idea has always interested me," Benglis said in a video interview released by Loewe. "In fact, jewelry is the first thing that I noticed when I was a kid, and that led me into making art. It was a way of making large jewelry when I did a sculpture. It was decor, and decor mocking decor. I just wanted it to roll, to swing, to move, to have a gesture."
The Impact
In an industry that is so focused on churning out products, a process-centric artistic approach that is so concerned with the act of making, with grappling with the raw physicality and presence of the material – almost to a point where the process seems more essential to the piece's identity than the actual resulting form – sends a message of quiet defiance and challenge. It makes sense that Jonathan Anderson, with his introspective exploration of the vocabulary of craft and material within his discipline, would find in Benglis a kindred spirit. If it's impossible to be rebellious in art and fashion anymore, these two are at least idiosyncratic; they defy easy categorization and understanding.
That being said, there still are sellable products that have resulted from this collaboration in the form of the jewelry collection, and there's no doubt those pieces will sell well. But we hope that in this inevitable success will be recognized the possibility of a different way of seeing and doing, of stepping away from the established channels of creating for the sake of consumption and rediscovering the beauty of the process.
---