---
[column size=one_third position=first ]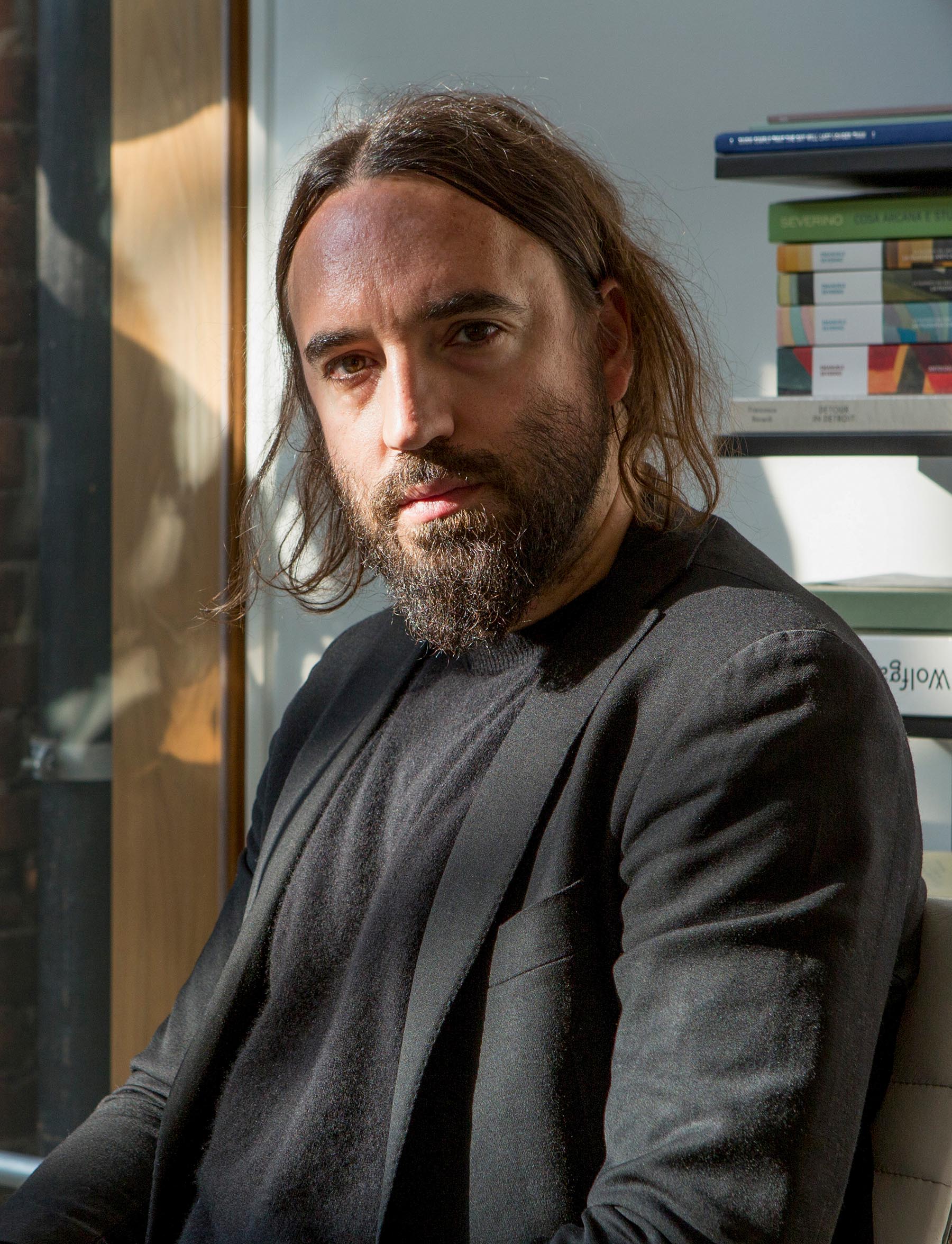 [/column]
[column size=two_third position=last ]
A peek into the offices of Johannes Leonardo with the man who leads it – Ferdinando Verderi
While many speak of disruption, very few manage to get outside the box to embrace the concept thoroughly. FERDINANDO VERDERI, Founding Partner, Creative Director of JOHANNES LEONARDO, has not only gone outside of the box, he has expanded the universe the box sits in, pushing the ideas of communication in a radius that has looped in clients like Adidas Originals, Adidas Originals x Alexander Wang, Google, and Amazon. We caught up with fashion's creative philosopher in his New York City office to expand our horizon.
[/column]
On the founding philosophy of the agency, 'the consumer is the medium,' and if it is still as true today?
The idea that 'The consumer is the medium', or that 'the audience is the medium' as I prefer to phrase it, is truer than ever before. When we started in 2007, our world was undergoing a huge epochal shift, which soon after ended up provoking a complete role swap in the relationship between media and its audience. In that context, our founding philosophy was based more on a premonition than on a fact.
Today, the truth behind that intuition has become a fact: every single one of us is a media channel, and together we are way more powerful than any media establishment. The implication on creativity are obvious, and yet it has taken a long time for the industry to accept them: the quality of an idea is way more relevant than the media dollars behind it. For quality, I mean relevance, the ability to be shared, discussed, interpreted: the power to emotionally connect, entertain and influence. And while work whose relevance used to come from the repetition of media exposure didn't need to be particularly poignant for it to have a place in people's mind, work that relays on its the audience spontaneous willingness to endorse it and share it must leave an impact. This implies the necessity of a very different type of creative process behind it.
On making Adidas original:
Adidas has been "Originals" way before our contribution to it. It has also been a brand about creativity for way longer than we worked on it. When we first started working on Originals indeed, the first thing we wanted to redefine was what creativity really meant, the infinite amount of meanings it can be associated to. We decided that we would refer to creativity as nothing else but "the courage to challenge the status quo." That was, for us, the type of creativity Originals had to be interested in pursuing. Committing to this articulation really changed everything and helped us inject an 'uncomfortable' tension in everything we did. We started to challenge the most dominant status quo and cultural clichés, such as that of superstardom for the relaunch of superstar.
We created a campaign in which Originals greatest stars were taking distance from the common definition of superstardom. If you think superstar is about being famous, then "I am not a superstar" said Pharell, Beckham and many others in the campaign. We were using the shoe integrity (it has never changed nor adapted to trends since 1969) to communicate that being a superstar is not about external validation, but about creative integrity and persistence.
The shoe sold 15 million pairs and became the number one selling model in the world that year. Two years later, we challenged what is arguably the most sensitive status quo for the brand: that of originality itself. What original means today is very different to what it meant when the company started. If originality used to be about being first, today, the way we create has evolved to a point in which what came first is constantly re-invented and re-created into something new, and original again. And again. We wanted to ultimately liberate whomever approaches creativity from the dogma of 'it's been done before.' Just like the products crated at Originals constantly re-invent the archive, so the creativity we wanted to inspire was a 'way of making' that uses the past as a canvas to create the future.
This culminated in 'Original is never finished', in which a group of young creators from today re-recreate iconic scenes from the past while interpreting the most re-interpreted song: Frank Sinatra's "My Way". A statement about originality made with nothing original, but its result.
Favorite part of the office:
When we started we were four people, in a beautiful space facing the Hudson River. Growing has had its pains and one of them was the sequence of unmemorable spaces we have been through. We then finally came in contact with our current space. It was an iconic photo studio home to a lot of the great images from the 90s. It was called Sun Studio and its special feature was (and still is) an enormous skylight which unabashedly illuminates the space from the top. We obviously wanted to preserve that as the main feature. But instead of using it properly and turning it into a meeting room, we left it completely empty for it to organically become the place for everyone to share. I unintentionally named it the "piazza", Italian for square, when I was trying to describe the architects the function we wanted it to have. It still has that name and it's my favorite part of the office – quickly followed by the rooftop obviously.
On Clio Fashion & Beauty Awards:
We have participated to several Clio award and won many. But this past one was the very first time we participated to the Clio Fashion and Beauty. It was a very successful year, we won 7 Clios, many of which Gold. I could not attend the ceremony as I was in Los Angeles but I was happy to hear the news. A few weeks ago we also won the Grand Clio and 7 additional Clios in the Sport category. Based on these wins, I have been invited to be a part of the Clio Fashion and Beauty Prestige Jury this season. I look forward to the experience – I feel the team at Clio has the genuine intention to promote a creative culture based on ideas and newness.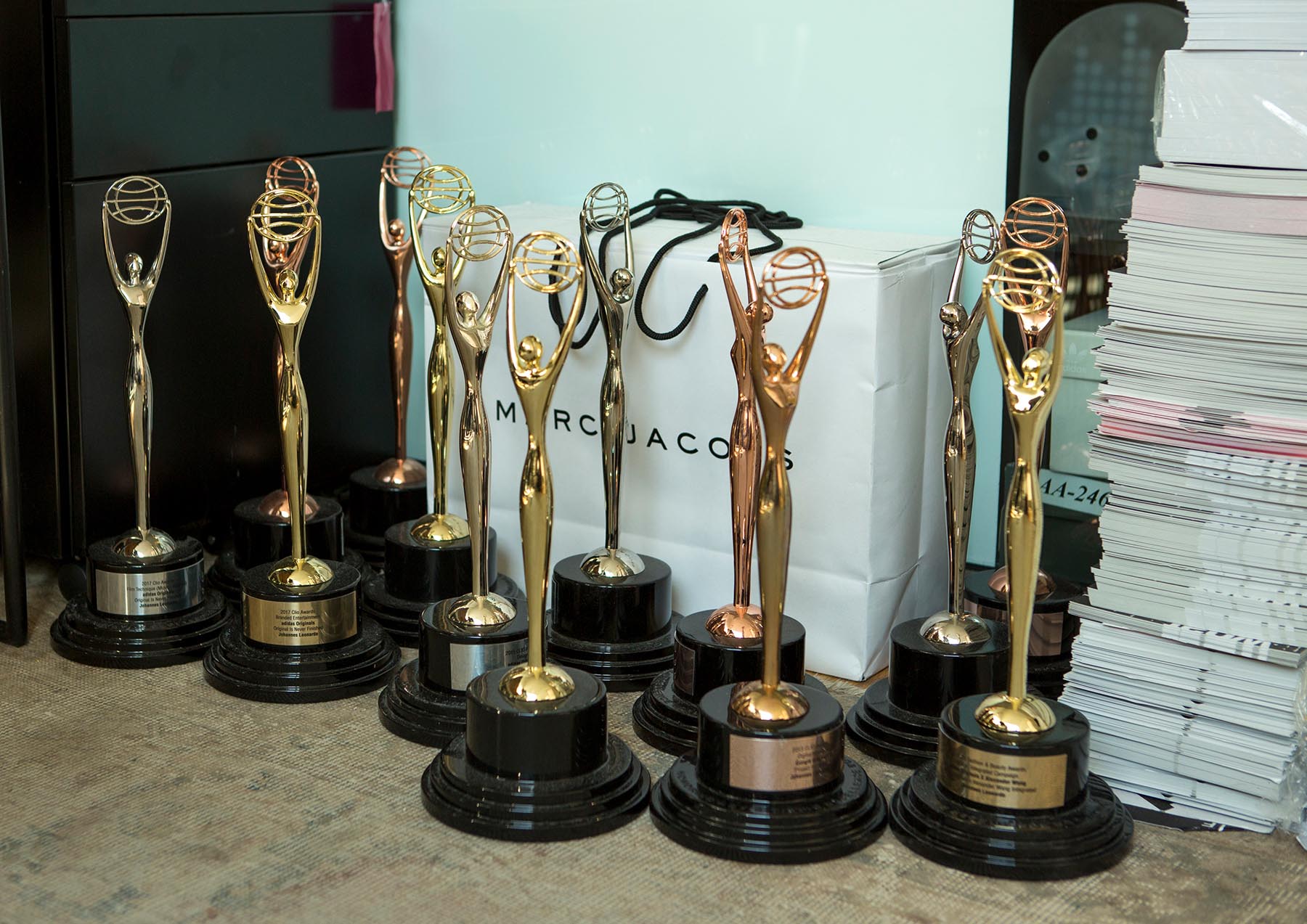 On what winning a Clio Fashion & Beauty Award meant to him and the team.
Our work is always non-traditional, we pride ourselves of doing work that has a certain tension. What we do often rejects the romantic dominant idea of an idealistic lifestyle. This is why being recognized in a category which, like fashion, has taken longer than other industries to open up to new formulas, feels great. The fashion work we do here feels very personal to me, as it's the result of a vision which merged ideas-led award-winning culture and fashion knowledge in ways that until a few years ago didn't feel accepted by neither of the two parties: advertising work had to be meaningful, fashion work had to be beautiful and it felt like the two sides of this spectrum were not meant to meet. It's inspiring to see that, years later, fashion is actively seeking disruptive concepts. The awards are just a nice way to recognize this new moment.

The 2018 Clio Fashion & Beauty Awards shortlist and winners will be announced September 5, 2018.  To view all 2017 winners, visit https://bit.ly/2JcEfYi
---