---
JW Anderson presents "Sandie Stone's Homebound for the Holidays," a holiday-themed spoof JW Anderson campaign film on television shopping channels starring the iconic multidisciplinary performer and artist Justin Vivian Bond.
The first installment of JWA-TV, originally launched in March, introduced us to Bond's hilarious character Sandie Stone, the wine-loving, innuendo-dropping host of a QVC-esque teleshopping program. Now Sandie is back just in time for Christmas, and even being put under house arrest for stealing too many JW Anderson pieces from the set cannot put a dent in her Christmas cheer. She's invited her friend Joyce, played by fellow NYC performer Jill Pangallo, over to make holiday preparations. They walk us through some important techniques for achieving maximum holiday style, from wrapping gifts tastefully to properly fluffing and topping the Christmas tree. Director Michael McCool is tuned in to Bond's over the top energy, and perfectly captures the familiar seasonal strangeness of manufactured holiday cheer.
To celebrate the holiday spirit of giving and community, JW Anderson has created a pair of T-shirts featuring the smiling faces of Sandie and Joyce. Proceeds from the sale of the T-shirts will benefit akt: a charity supporting lgbtq+ young people in the UK experiencing homelessness or living in hostile environments to find safe homes, employment, education or training.
Jonathan Anderson, the brand's founder and creative director, seems committed to celebrating artists and their art for its own sake. Though the short film parodies shopping channels, it never feels like it exists to sell you something: the JWA pieces act as a prop for the actors to work off of, rather than the focus of a marketing technique. There is a playful and self-aware irony here that turns the banal consumerism of holiday shopping on its head, and makes what might otherwise be just another commercial into a genuinely fun and enjoyable project. JW Anderson makes our nice list.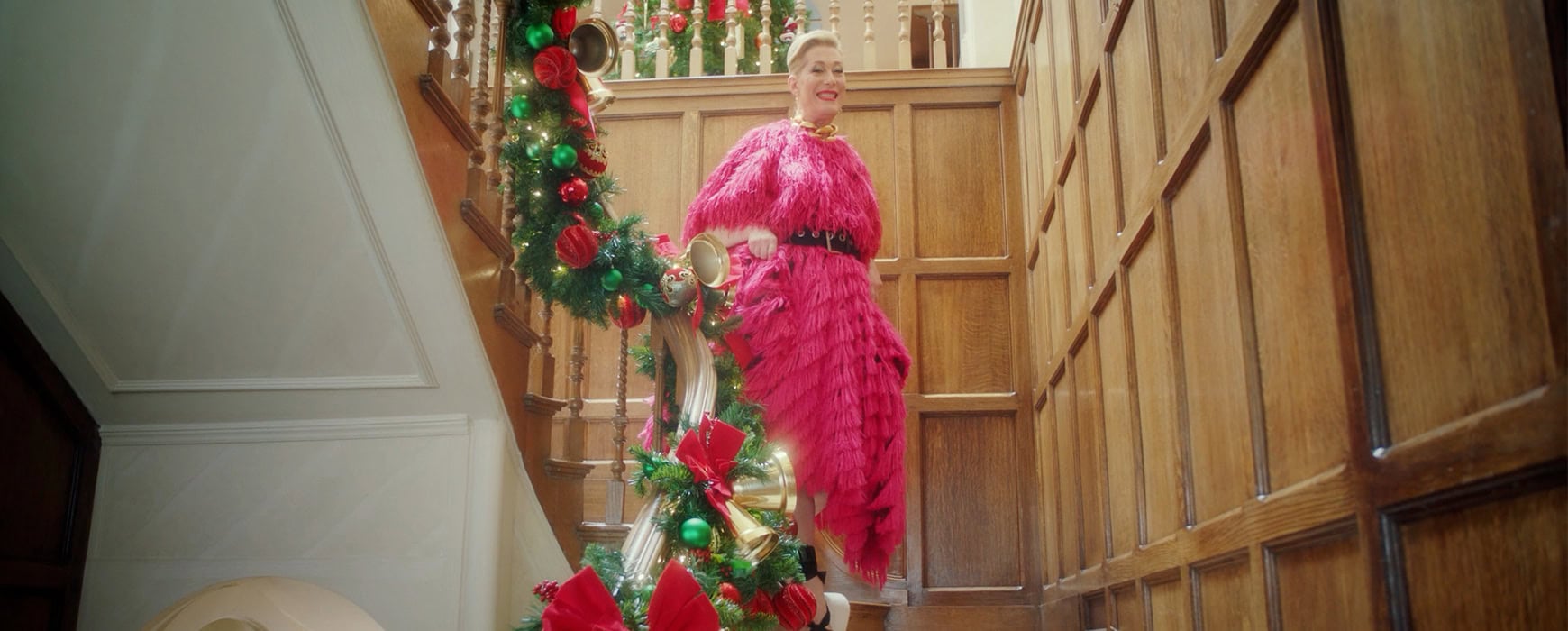 JW Anderson Creative Director | Jonathan Anderson
Director | Michael McCool
Director of Photography | Sam Goldie
Photographer | Drew Wheeler
Talents |Mx Justin Vivian Bond as Sandie Stone, Jill Pangallo as Joyce Nawmen, Jeremy L as Irwin
Hair | Daniel Martin
Makeup | Andrew Gallimore
Manicurist | Jenny Longworth
Production Designer | Thomas Petherick
Production | Holmes production
---