Balletic Grace Meets Urban Chic
Review of MSGM Spring 2024 Fashion Show
By Mackenzie Richard
THE COLLECTION
THE VIBE
THE THEME
In a display of fashion aplomb, MSGM unfurled a collection that bubbled with vitality, yet managed to pull back just before teetering into excess. It was a dance of balance, much like a ballet on the edge of fervor.
A standout aspect of this collection was MSGM's ingenious blending of sportswear with high-end fashion. In a landscape where such mergers can often feel forced or insincere, MSGM's approach was refreshingly authentic. They transformed everyday sportswear into haute couture without losing the essence of either, pointing to a future where the lines between casual and luxury are not just blurred, but beautifully intertwined.
Drawing inspiration from the eclectic cross-sections of London and Milan, this collection felt like an ode to both cities. It deftly merged the architectural gravitas of Milan with the audacious spirit of London. The designs hinted at alleyway escapades, rooftop encounters, and twilight saunters by the Thames and the Navigli.
THE BUZZWORDS
Eclectic, Dynamic, & Energetic
THE SHOWSTOPPER
Look #35
The color palette, as a whole, was indeed a visual delight, smartly organized and resonating with the brand's characteristic zest. The shades wove together in sync, reflecting the brand's inherent dynamism.
A definitive showstopper was the spray-painted cargo shorts paired seamlessly with a dynamic knit sweater. As this ensemble graced the runway, one could almost hear the collective click of phones being raised, eager to immortalize the ingenious dance of textures and the well-synchronized ensemble.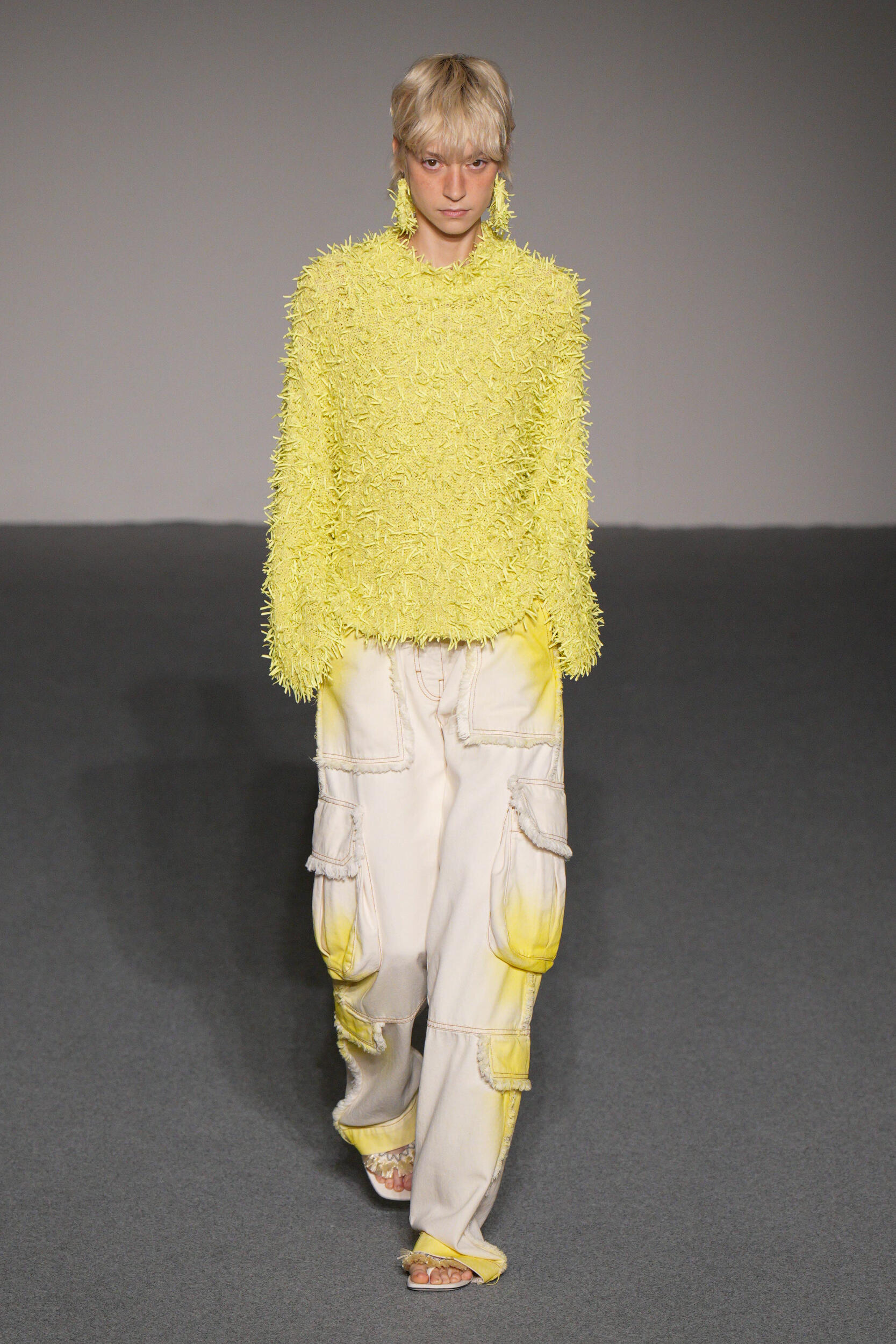 THE DIRECTION
As much as I wanted to be entirely enchanted, there was an element of familiarity that felt a touch too safe. It's clear that MSGM crafted this collection with their loyal consumer in mind, and in that endeavor, they succeeded tenfold. The pieces are exactly what the house's aficionados would clamor for—vibrant, playful, and confidently MSGM. However, for those of us yearning for a touch more unpredictability, it left a faint sense of wanting.
THE QUOTE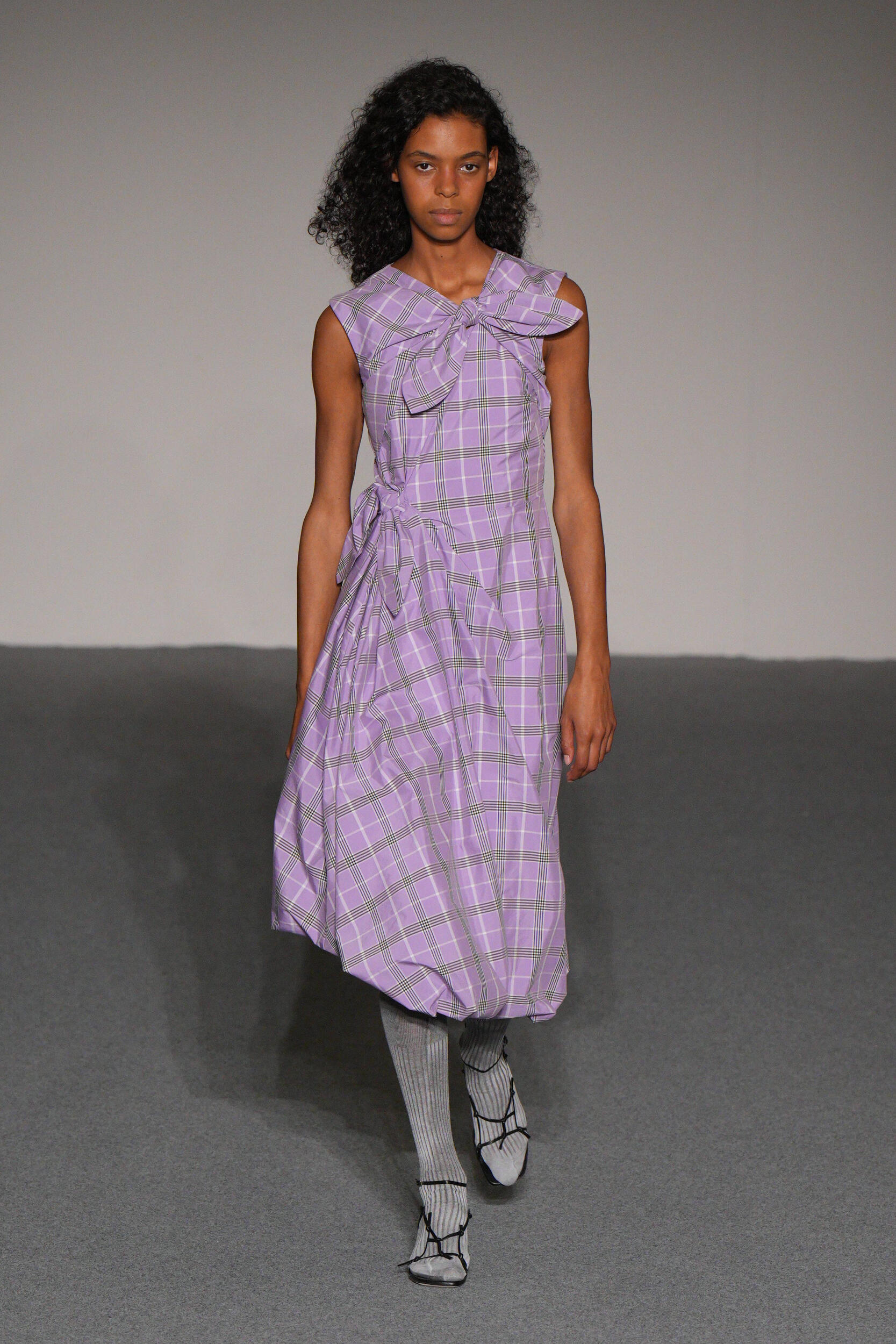 The essence of this collection lies in the handcrafted details. For me, it's essential to encapsulate the juxtaposition of femininity and athleticism, the urban and the street, roses juxtaposed with plaid, and the interplay between soundtracks and settings. The focus now is on forging ahead rather than reminiscing about the past. It embodies art, evokes Milan, channels London, resonates with music and design. It's quintessentially MSGM; it's pure energy!
THE WRAP UP
In sum, while MSGM's recent outing indeed achieved its goals—perfectly catering to its dedicated clientele—it slightly missed pulling me in further. This was a testament to the notion that fashion, while often about broadening perspectives, can occasionally find its strength in the known and loved. Nonetheless, it's a praiseworthy endeavor by MSGM, striking the right chord with its target audience
---