Power in Motion
Review of Mugler Spring 2024 Fashion Show
By Mario Abad
THE COLLECTION
THE VIBE
THE THEME
This show was a reset in many ways for Casey Cadwallader. After showing in a see-now-buy-now format since the pandemic during the couture schedule, he presented Spring 2024 during the traditional fashion calendar today in Paris. It was his first show since his successful H&M collaboration that included many of his hits like spiral-cut denim and catsuits, of which he shifted away from for this collection. Instead, he presented razor sharp suiting, resin body plates and form-fitting dresses with yards of fabric wisping away from the neck thanks to the set's wind machines. The soundtrack was electric and the casting was robust: Angela Basset, Paris Hilton and Fan BingBing joined models Irina Shayk, Mariacarla Boscono and Amber Valletta on the runway.
THE BUZZWORDS
Magnetic. High-Energy. Impactful.
THE SHOWSTOPPER
Look #31
The sweeping fringe on both the black tuxedo jacket and knee-high boots make a powerful statement.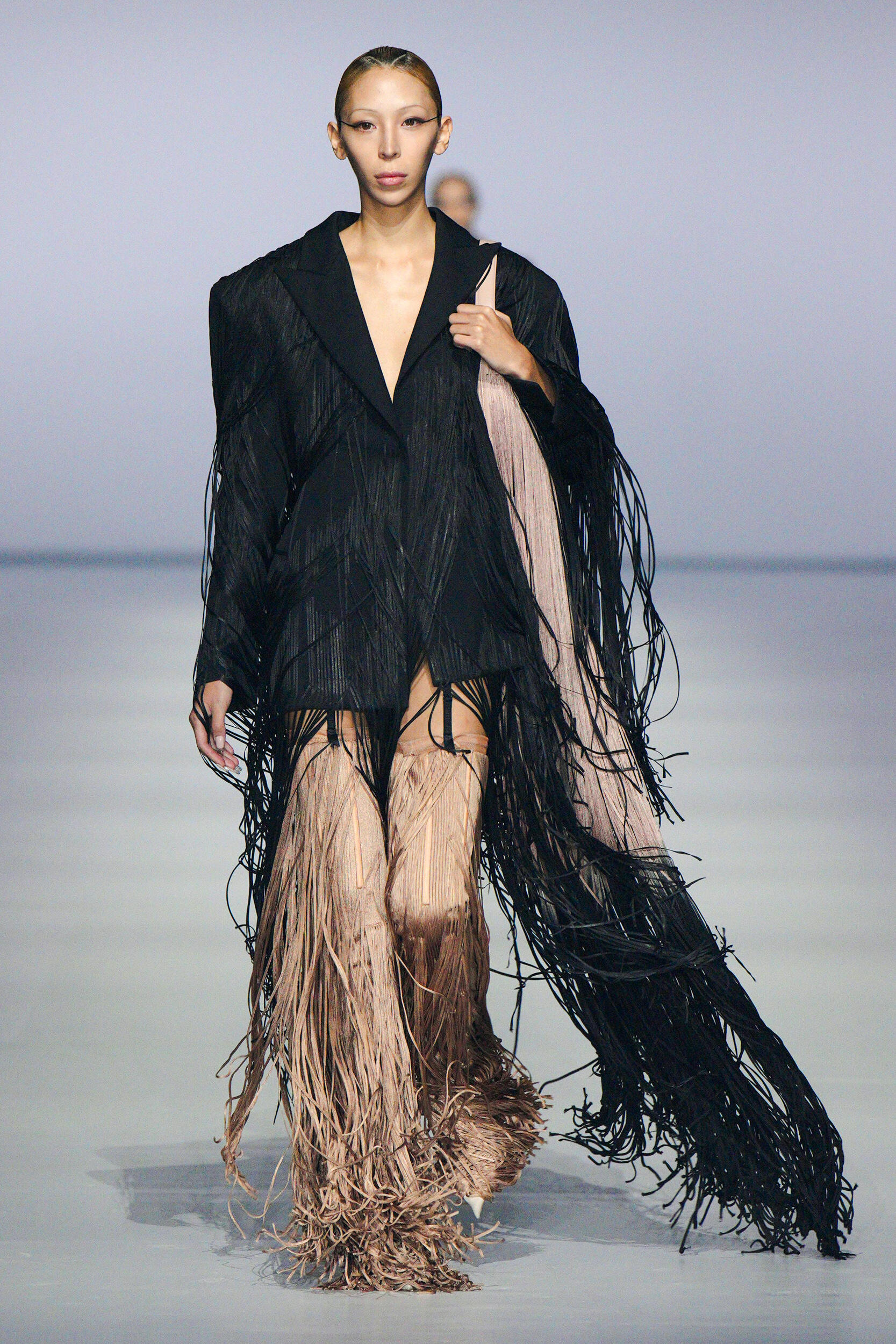 THE DIRECTION
PROS
Great energy and casting while evolving away from the same brand signatures.
CONS
Not the most cohesive collection he's shown.
THE QUOTE
I think that Mugler is always about drama and if you're going to walk in a straight line then I want to find something else that could be expressive of power and a little bit more grace.
THE WRAP UP
It was time for Cadwallader to not rely so much on the black catsuits that have made his Mugler so popular and introduce some new ideas and design elements, which he did for this season. On a day where many guests and editors were weary from a long month of shows, he showed why the physical show remains an important vehicle for Mugler thanks to the thumping music and expert casting that drew cheers from the crowd.
---