Review of Prada Holiday 2023 Ad Campaign by Creative Director Ferdinando Verderi with Photographer Willy Vanderperre with Talents Maya Hawke, Damson Idris, Louis Partridge, and Kim Tae-Ri
Prada explores galaxies of the mind with its Holiday 2023 campaign shot by photographer Willy Vanderperre.
Continuing the house's recently revived practice of casting renowned actors in its campaigns, the cast features Maya Hawke, Damson Idris, Kim Tae-ri, and Louis Partridge. In Vanderperre's imaginative portraits that fuse science fiction with familiar iconography, each distinguished star is perched in an oversized holiday ornament, a striking set piece that plays the role of both modernist furniture and orbicular spacecraft.
Stretching into the background of each image are the vast reaches of outer space, while grounding the scene yet reaching infinitely into the distance is an endless checked marble floor, drawn from the historic 1913 Prada boutique located in the Galleria Vittorio Emanuele II in Milan (and also reminiscent of the iconic dream rooms of Twin Peaks). The effect is a suggestion of infinite possibility, a feeling of surprise and exploration that recalls both the thrill of an unknown gift and the creative possibilities within Prada's world of intellectual design.
One of the most creative and unique holiday campaigns we've seen, the imagery impressively blends familiar symbolism – the holiday baubles, the checked floor, and of course iconic Prada style – with the feeling of new frontiers, a call to leap into the fantastical and unknown, to adventure both outwards and inwards. It's a smart and strange aesthetic synthesis that puts an exciting twist on the holiday marketing season while exuding an attitude that is unmistakably Prada.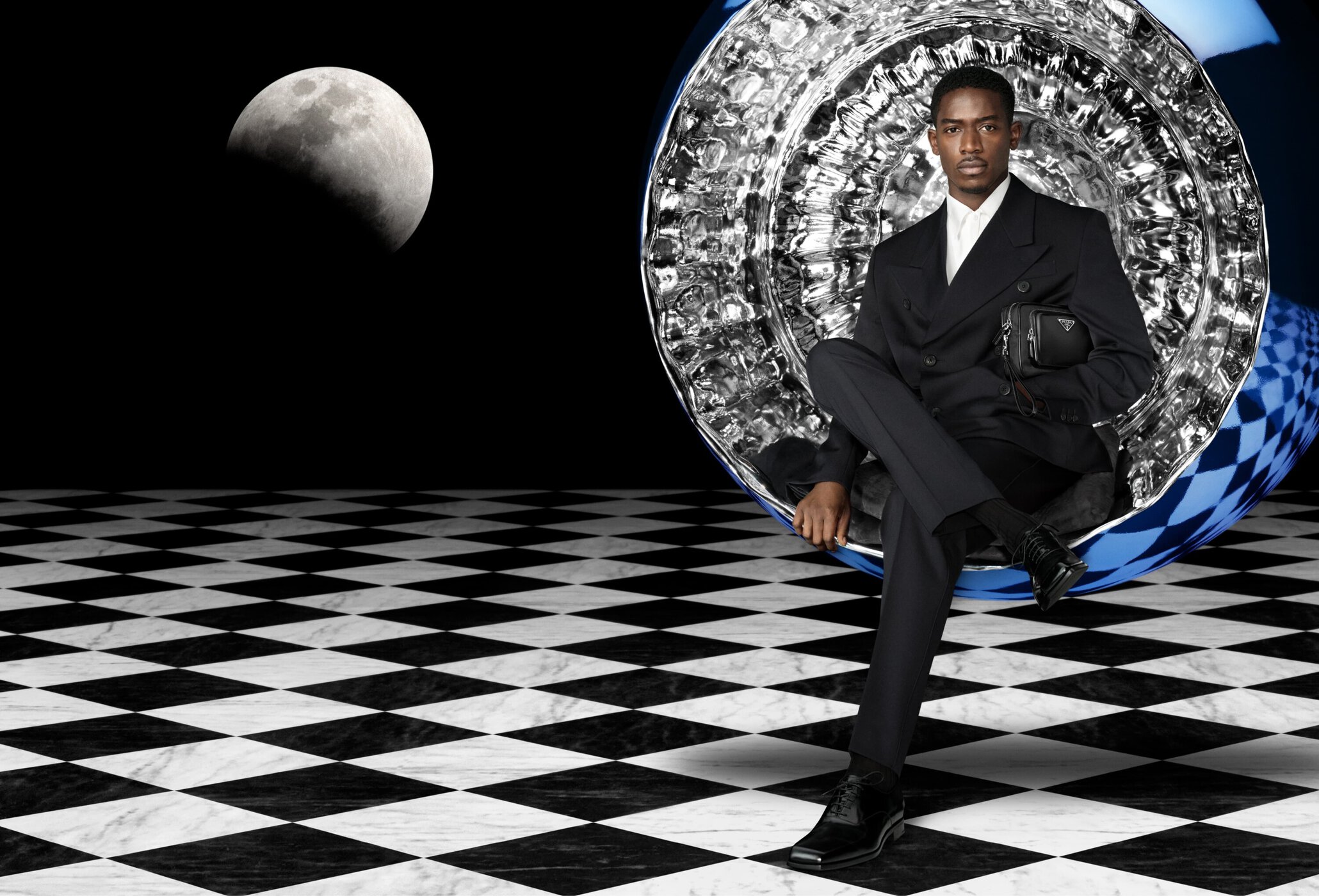 Creative Director | Ferdinando Verderi
Photographer | Willy Vanderperre
Models | Maya Hawke, Damson Idris, Louis Partridge, and Kim Tae-Ri

---