Review of Raf Simons Fall 2021 Ad Campaign by Photographer Willy Vanderperre with models Craig Shimirimana, Lars Jammaers, and Stinne Trappeniers
Raf Simons shares a very strong Fall 2021 campaign shot by go-to photographer Willy Vanderperre.

With precise use of color and shadow and a soft intellectual gaze, the campaign elegantly captures the exacting precision and subtle imaginativeness the menswear master is known for.
The campaign's smart layout places closeup color headshots side-by-side with full-body black-and-white portraits.
On the left side, the color headshots emerge out of an inky black background. With the detail of an embroidered "R" that echoes that of Simons' signature turtleneck, balaclava-like hoods in solid colors starkly leave only the models' faces visible. With minimal makeup and a dramatic play of light and shadow, the expressions on their moon-like faces feel intense, tranquil, and inscrutable.
Shot against a simple white backdrop, the black-and-white portraits on the right side also make excellent use of light and shadow. Here the Simons' sartorial mastery of tailoring and shape shines through, with stylist Olivier Rizzo lending small details to emphasize the presence of silhouette and line.
Taken together, the two sides form a cohesive whole that feels complex and luxuriant despite its slick simplicity. The subtle brightness of the colors balances out the stark austerity of the more ghostly portraits, and the interplay of forms feels immediately striking while giving the eye much to explore.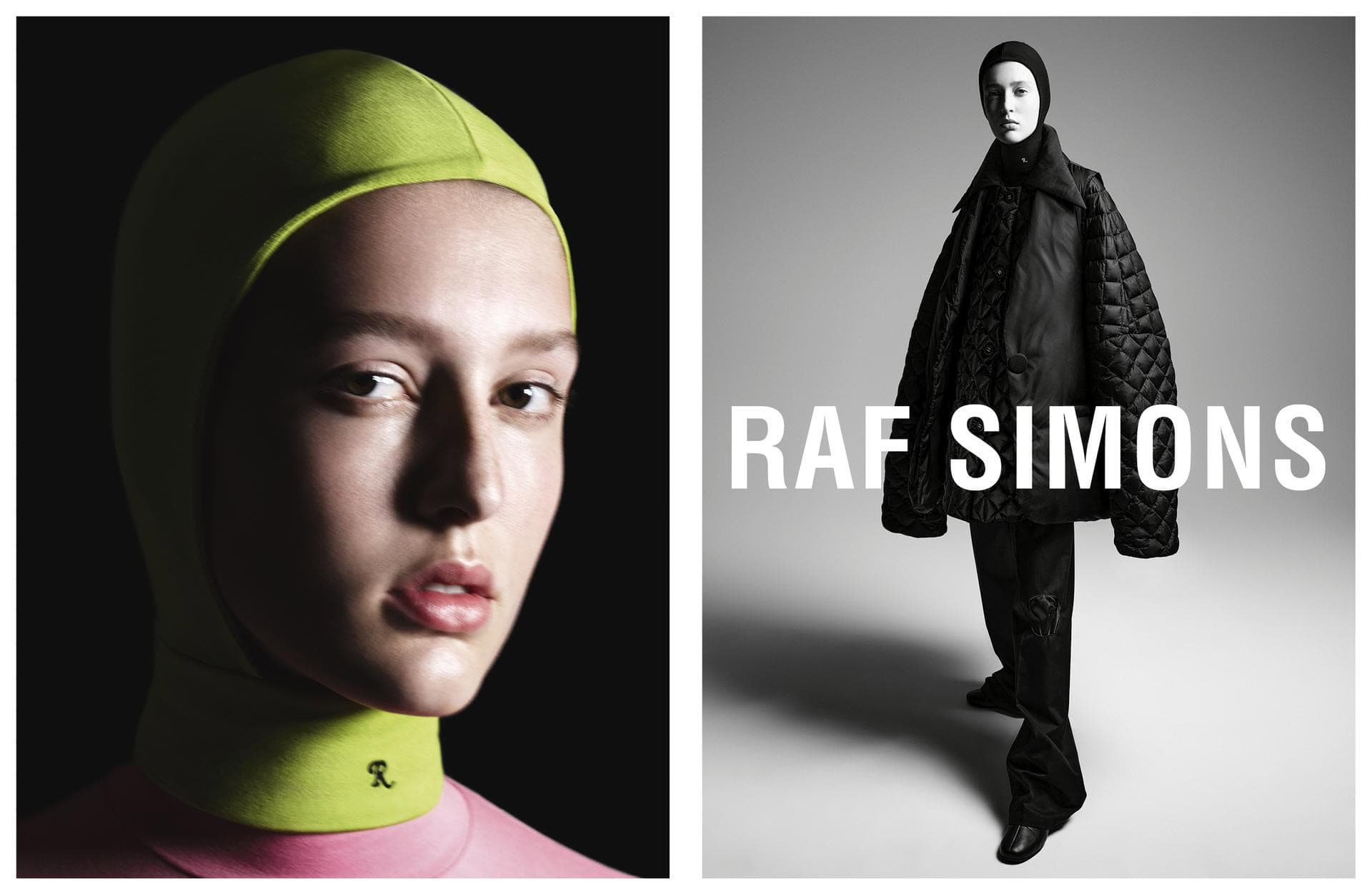 Raf Simons Creative Director | Raf Simons
Photographer | Willy Vanderperre
Stylist | Olivier Rizzo
Models | Craig Shimirimana, Lars Jammaers, and Stinne Trappeniers
Hair | Anthony Turner
Makeup | Lynsey Alexander
Manicurist | Lotje Vleugels
Casting Director | Ashley Brokaw

---