---
Reviews of Iris Van Herpen, Schiaparelli, Julie de Libran, & Giambattista Valli Spring 2021 Haute Couture Fashion Shows
By Long Nguyen
The haute couture spring-summer 2021 began quietly this morning as Schiaparelli released a new short video titled 231 Seconds of Haute Couture, a video of the behind the scene type of documentation shooting of the brand's couture look book.
The day belongs to Dior as the brand showed a film by Matteo Garrone, who also made the fall couture mythological short film last July. The new film combined the narrative's emotion with wonderful clothes, which is a very tough tangency.
Anchored by Dior on one side and Iris Van Herpen are the brands – some couture, some luxury ready to wear – complete this opening day.
In a fuzzy, slightly unfocused 'art' film of models walking in front of different mirrors, what can be seen of the Azzaro couture clothes – silver and black dresses and men's loose-fitting suits – are surely more expensive ready to wear rather than actual couture clothes as they don't have the artistry and the spirit of couture. To label something couture does not mean it is.
Just because it is easier to show during the haute couture season as there are fewer houses showing real couture does not mean the clothes or the collections should be labeled as couture.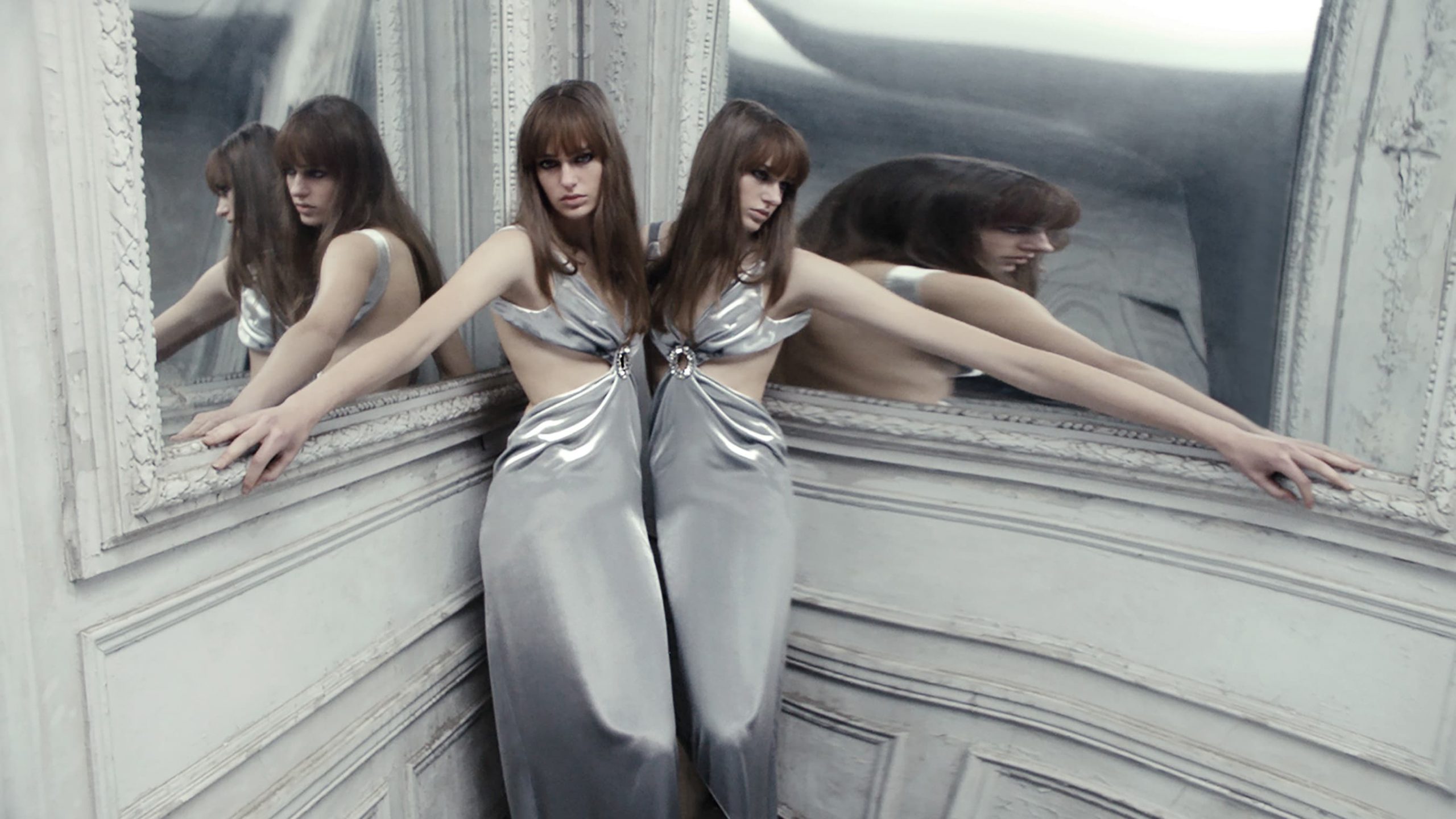 Julie de Libran
Julie de Libran's charming collection rest between ready to wear and actual couture in the spirit of mainly dresses made to order in special fabrics from archives in limited supply or from dead stocks and with the option of by-appointment fittings that she presented as an independent brand since June 2019 is an exception to this rule.
"This new collection draws on a close collaboration with some of the great Paris houses. I have known the name Eres, Charvet, and Goosens for years, but I discovered new ways to use their unique savoir-faire to create my own silhouette," de Libran said of her new spring choices of black dice pattern print dress, leaves and flowers pattern long sleeve dress or a silver metallic short dress.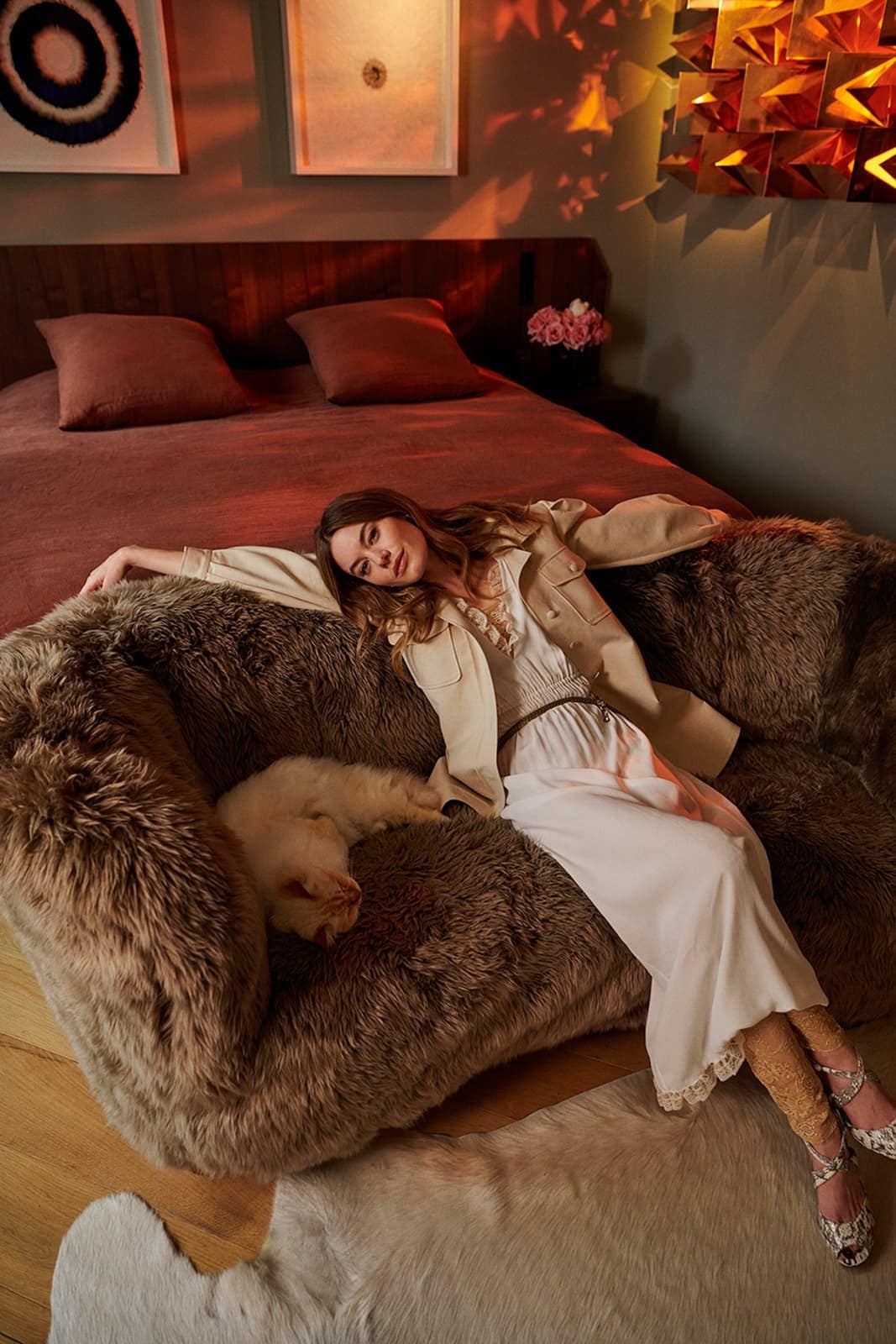 From Eres, de Libran create new forms of brassier, leggings, and nightgowns like a black satin slip dress with lace trims, black lace flare dress, and a black robe/coat plus a range of leggings-stockings. Charvet created the long shirt-dresses, sun-dresses, and sahariennes using the best-best striped cotton from the old Parisian men's shirt maker. And with Goosens, the designer made a series of limited edition number rings, brass necklaces, and earrings. The selection of clothes here is brilliant, and de Libran's business models emphasize customer service and reduce waste for these beautifully made garments, one dress at a time.
"The new garments can be worn alone, but they lend themselves to multi-layering with other items. As with past collections, I have sourced my fabrics from leftover material that would otherwise be discarded, and all models are in numbered editions and one of king couture pieces," de Libran said.
SCHIAPARELLI
Looking at the film then the actual pictures of the new spring Schiaparelli couture collection, it is challenging to tell if this 'showing' the actual clothes featured are made for an audition specifically as costumes for some imaginary movie or perhaps even science fiction. As propositions for couture clothes, these aren't even close despite the intricate embellishment like a series of jeweled 'bugs' or some kind in various sizes encircling the open chest area of a plain long sleeve black long dress.
"I wanted to challenge the idea of what couture is, and should be, by making clothes that respect the tradition of not only this Maison, but the artistry behind it, while at the same time exploring the clichés associated with the genre. I want to make an alternative couture house. Here, the fantasy isn't princess dresses or polite garments; here, the fantasy is within. These are clothes that make you aware of the fact of your body that makes you think about how you move through the world," said Daniel Rosebery, the artistic director of Schiaparelli, since April 2019.
While Rosebery is correct to respect Schiaparelli's heritage of irreverence, the couture collection he showed today isn't really either that, nor can it be called innovative in any sense of the word.
First, those leather muscle torso corset body dresses – black metal plate with giant pink satin bow and black skirt, brown patina leather short sheath with matching tote, or a pink bodybuilder stuffed short dress – are not only exactly original creations, but they have also been done previously either with a sense of seriousness or a touch of irony.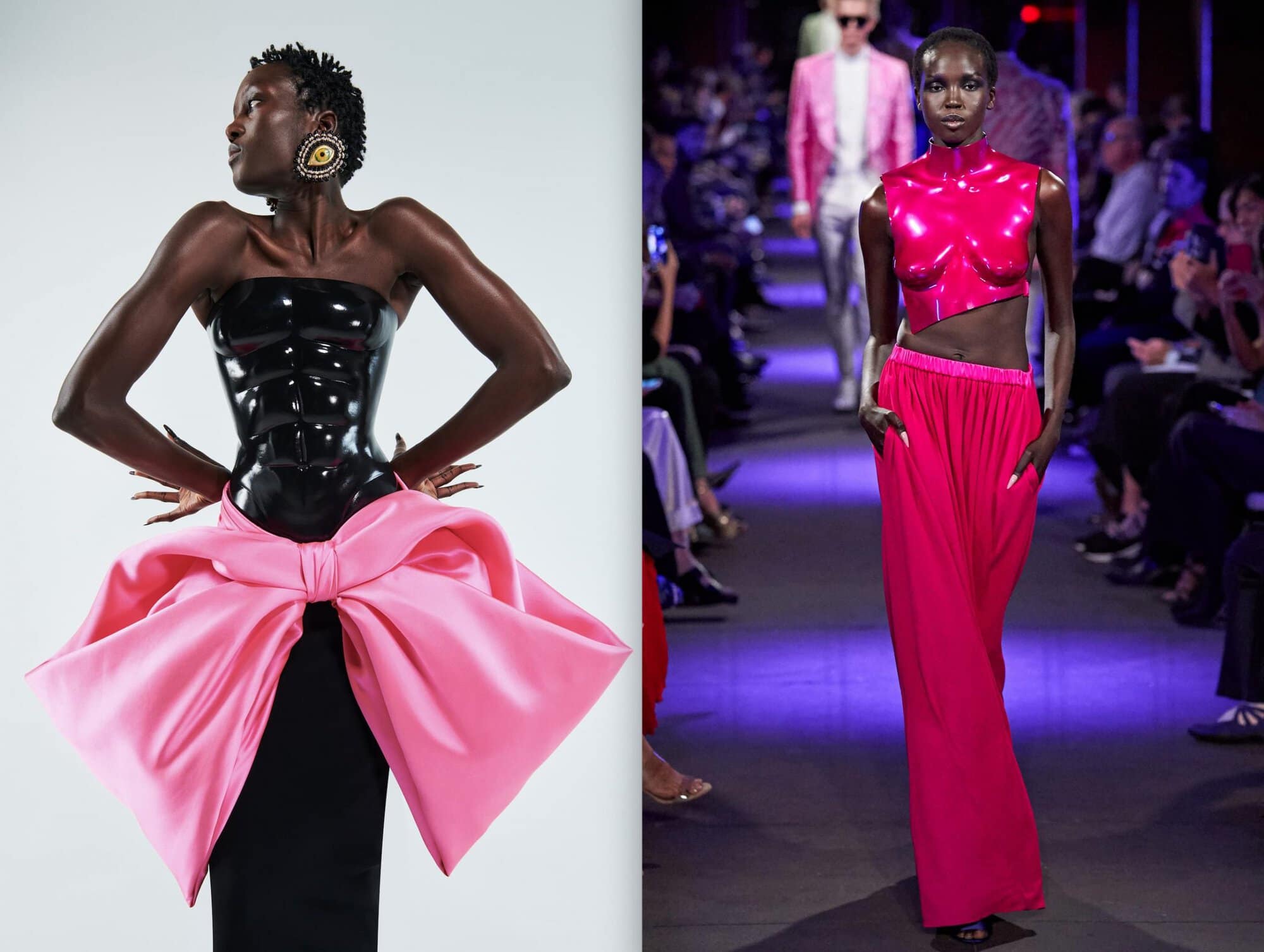 Yves Saint Laurent worked with the artist Claude Lalanne to sculpt a gold breastplate on the actual body of the model Veruschka and worn over a diaphanous chiffon dress for his fall-winter 1969-1970 haute couture show. Similarly, Thierry Mugler explored this kind of corsetry with far greater imagination, even his plainer all leather versions for his haute couture spring-summer 1997 show were exquisite. Then, the Fuschia metal breastplate corset top that Tom Ford showed for his Spring 2020 collection showed a small audience inside a closed New York subway station.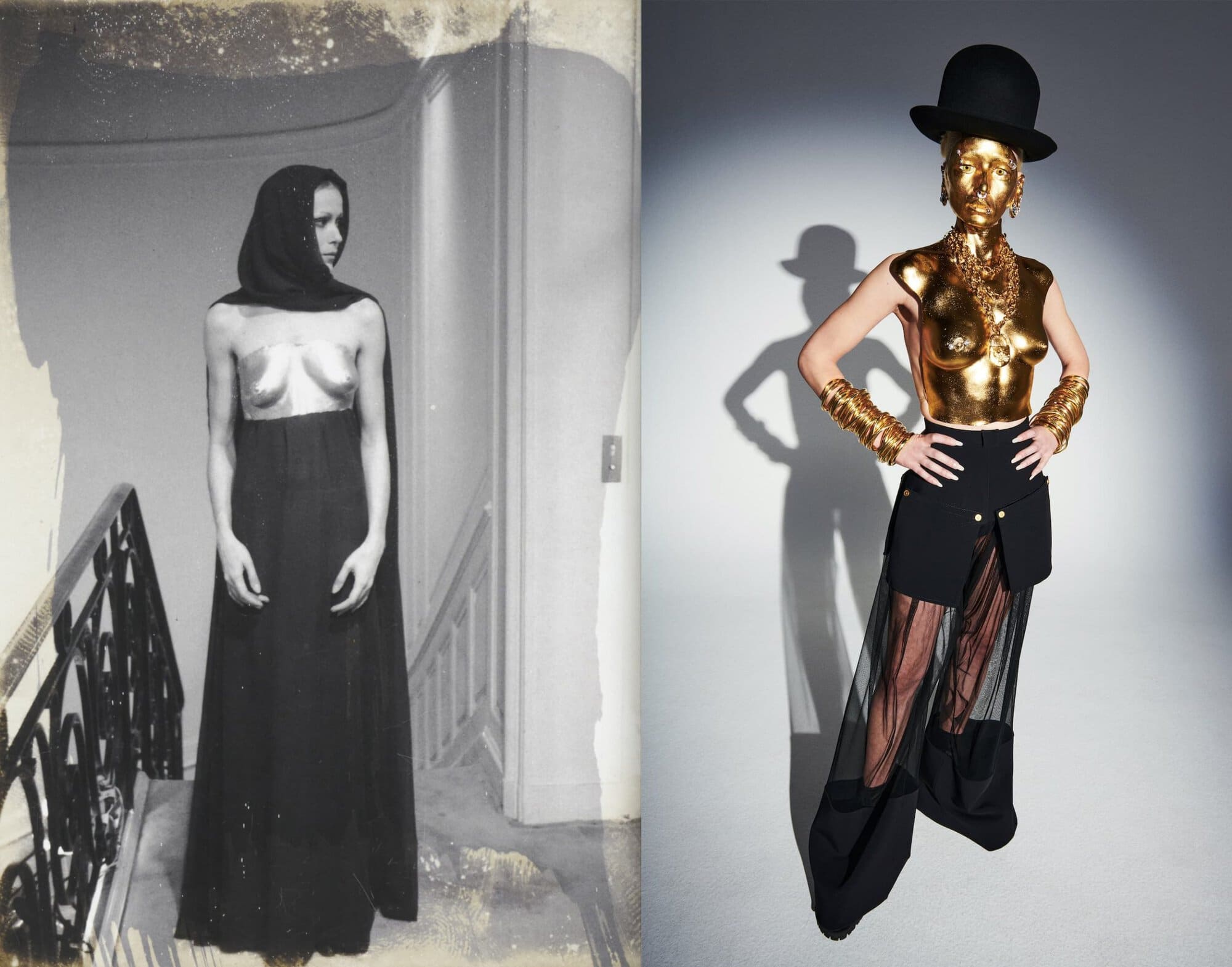 Then comes the black zipper hood dress with an attached gold infant sucking milk from the breast as a sown on 'accessory'. Then, there is the black jacket/skirt with long golden hair merged on the fabric of the jacket that is a direct descendent of the Martin Margiela Spring 2009 hair dresses. Or in Martin Margiela's phraseology 'Replica.'
The problem is not a lack of creativity or a lack of resources to sustain this kind of operation. It's not the irreverence and the poking at the old notions of couture. That's fine to challenge traditions and establishments. But this collection surely won't be able to do that much. While it may be momentary fun and surely attract some noises on the Internet now, things will calm down in a few days, and this collection will soon be forgotten in the bins of fashion history.
IRIS VAN HERPEN
"Thinking about fungi makes the world look different. These astonishing organism challenge our animal imaginations and make questions of many of our well-worn concepts, from individuality to intelligence," is a quote from Merlin Sheldrake, a biologist at the University of Cambridge and the author of Entangled Life: How Fungi Make Our Worlds, Change Our Minds, and Shape Our Future, published in 2020 to critical acclaim.
In the book, Sheldrake describes the interconnectedness of the fungi's life in the process of fermentation, decomposition, nutrient distribution, and the primary goals of fungi in plants' lives, and how the human relates to the fungi world. Sheldrake asserts that 'fungi is the ecological connective tissue, the living seam by which most of the world is stitched into relation.'
In her fashion work in haute couture over the past decade, Iris Van Herpen has explored similar interconnections between the different aspect of the human, the natural and the technological world where the designer freely deploy forms and shapes from these different realms to craft experimental and innovative shapes with the aid of high technology.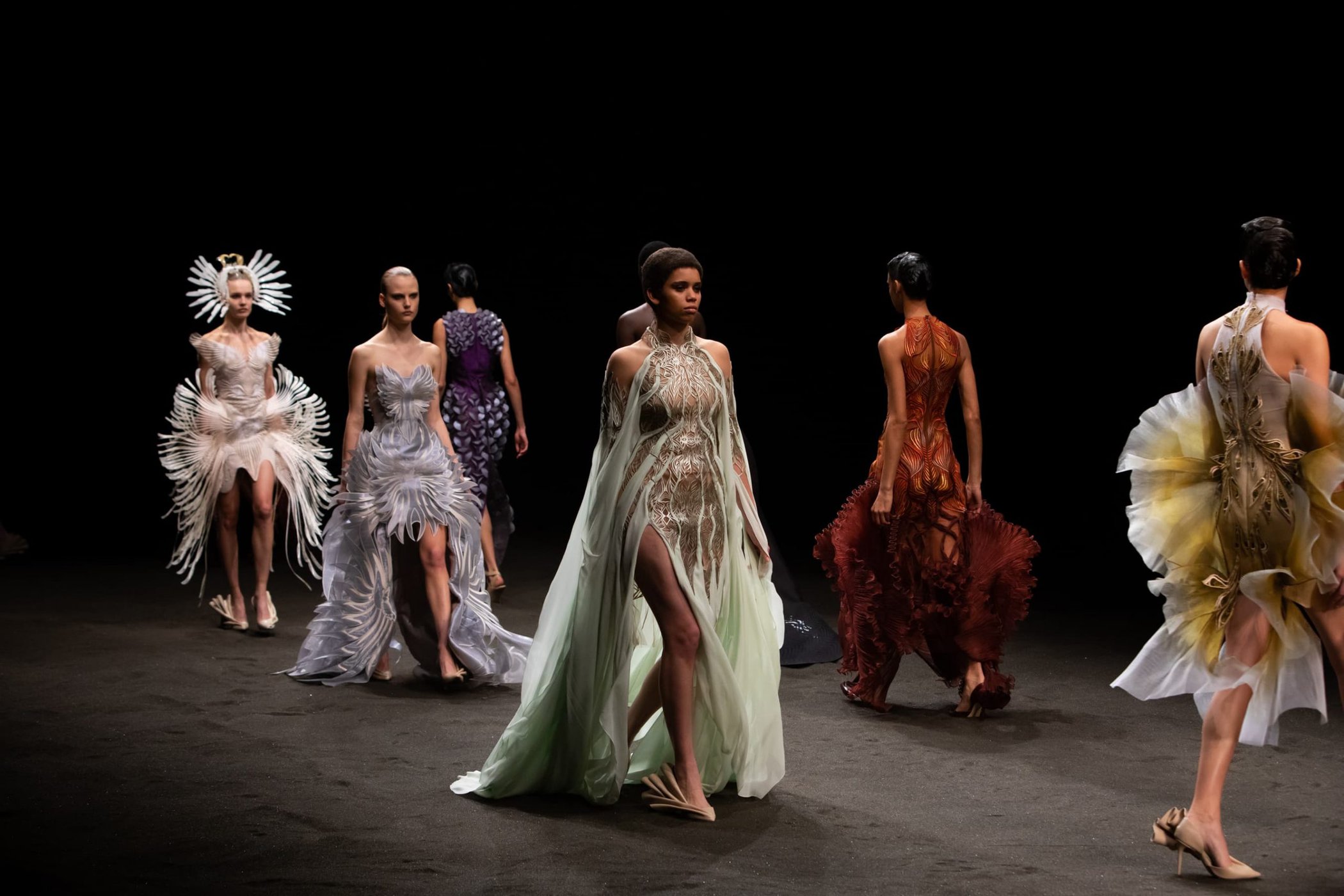 Her signature pleating over the years can be attributed to the intricate folds and layering of the gills on the mushroom's underside.
Van Herpen's spring haute couture collection titled Roots of Rebirth, the designer explores the dynamics and the shapes of roots and spores of the mycelium, the branch of the fungi, that now gives the silhouettes and embroideries of these incredibly designed and fabricated dress – a tan to deep blue organza dress that opens at the top like a flower petal with a deep blue cropped 'bulb' shirt inside or the pastel corset dress like mixed paint pattern silk with white laser cut extending outward like multiple tentacles.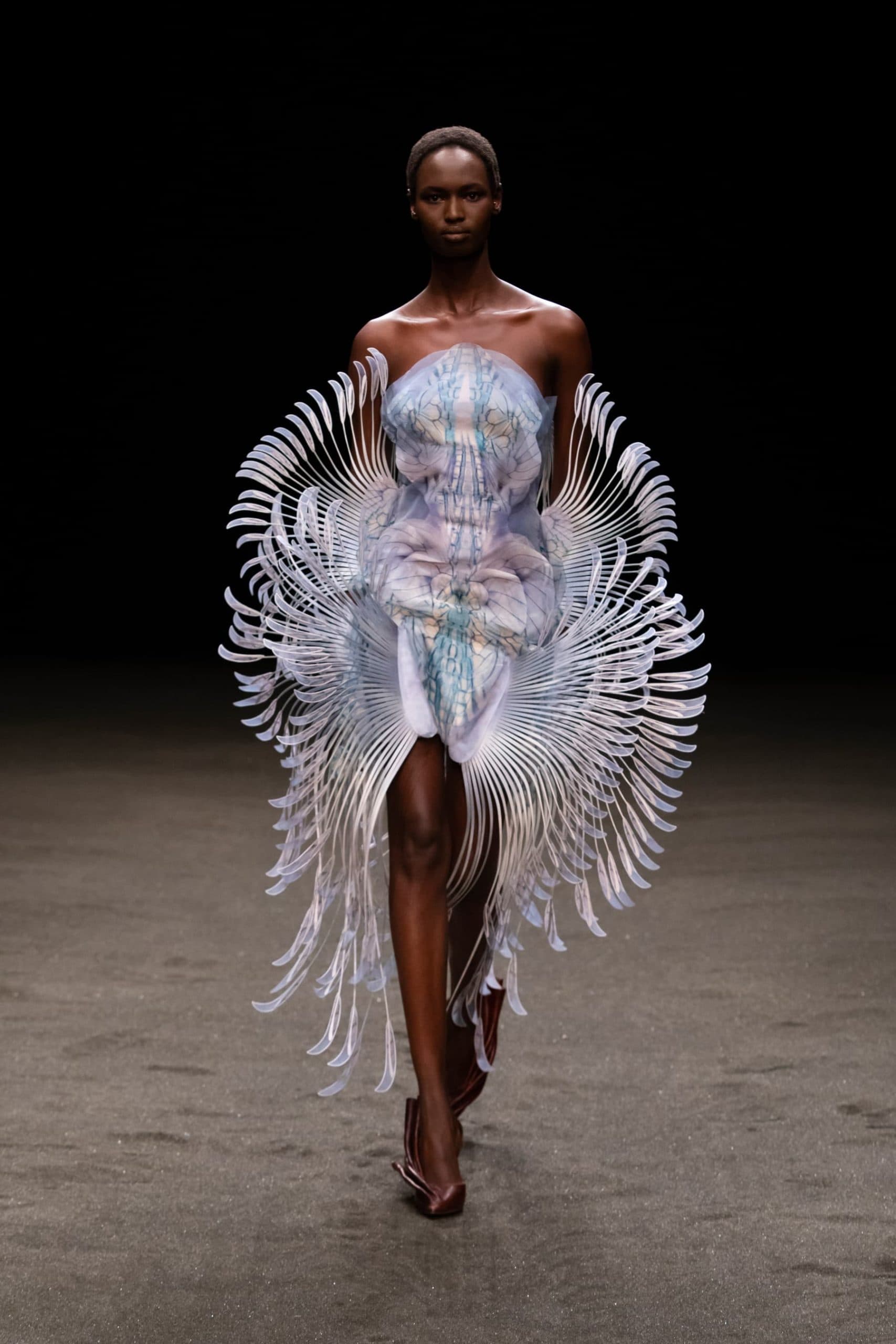 As a champion of innovation, Van Herpen used a process she called the 'henosis' techniques where multiple layers of translucent duchess satin fabrics were dyed to form a 'mantodea' motif like the legs of a praying mantis. On a white organza oval dress, she added hand embroidered roots, and on an orange pleat silk long dress, crystal embroideries mimicking plant roots' pattern. The artist Casey Curran made two crown head-pieces framing the model's head in brass coils protruding upward.
Van Herpen also partnered with Parley for the Ocean to employ the trademark Ocean Plastic fabric made from upcycled marine debris into a purple long dress incised with circular trilateral tessellations in a nod to the reduction of waste in fashion production and the extension of the value that fashion can adopt for a better 'rebirth' earth.
Van Herpen's work's ingenuity lies in her steadfast forward vision, and her eyes to details around our world that many of us may have missed and then transformed them into sumptuous haute couture gowns that are not just unique but they are innovative in design and fabrication. The designer is a living model for the younger generation wanting to enter this realm of fashion.
GIAMBATTISTA VALLI
The short video Giambattista Valli of models in a white studio along with several male dancers capture the essence of the designer's haute couture work ever since that first season in July 2011 in the gallery that houses his new store and showroom. In the last few seasons, Valli has opted for a presentation format with a smaller number of looks instead of a full-on fashion show for his couture line, mostly with an arty presentation at the Jeu de Paume last January. But, changing his presentation format in no way altered the aesthetic of his clothes.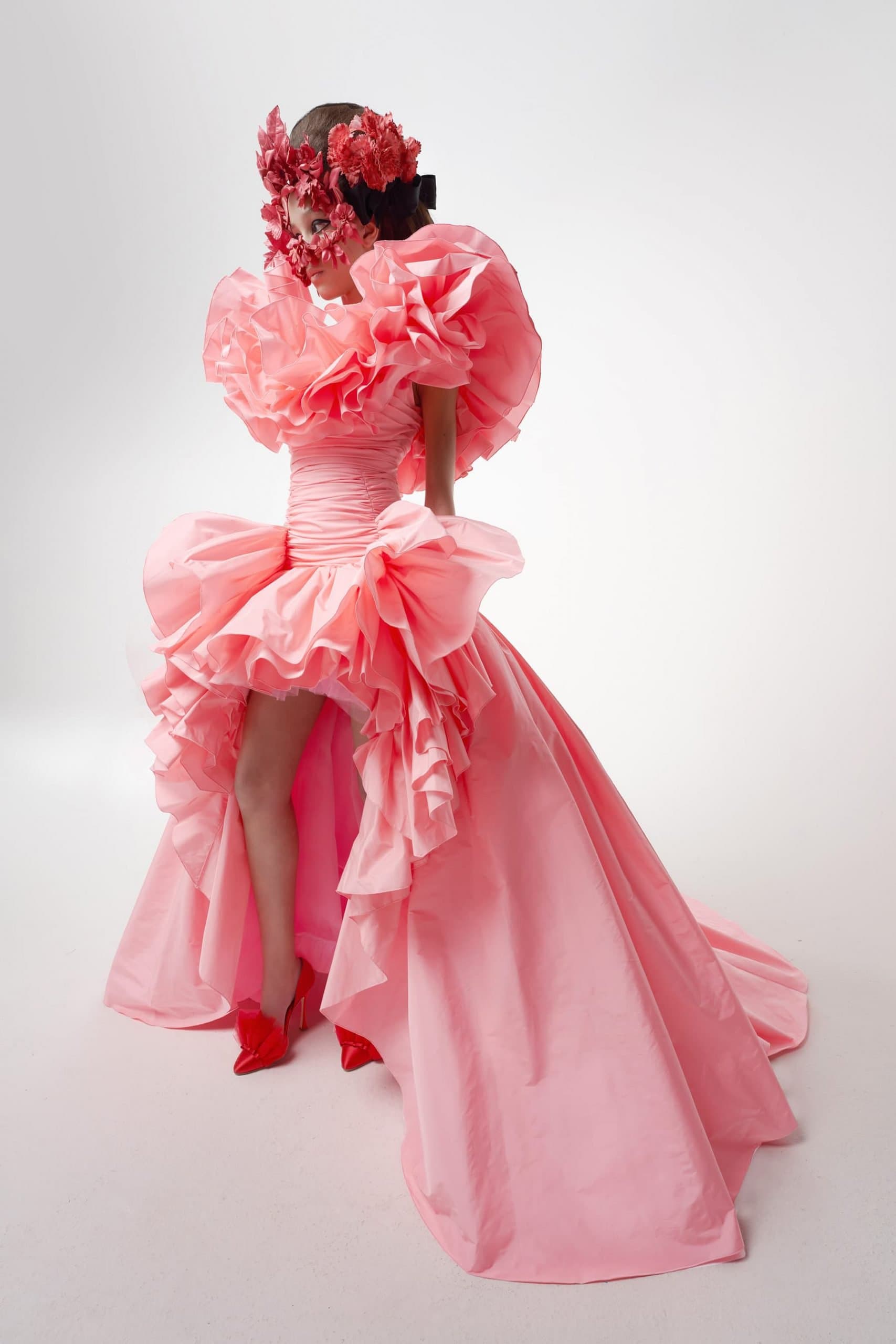 Despite the seeming on-going crisis, Valli courageously maintains his aesthetics, this time with the layers and the volumes created with taffetas in deep blood red in a flared A-line ruffle layer dress with white satin bows at the neck or in light pink taffeta curling around each other to create a 3D bubble short dress. The collection comprises of all Valli's familiar shapes, dramatic shapes that his younger customers prefer. Standouts are the light pink tiered taffeta long dress with that front split and a pink short dress with a long back train and a ruffle neckline.
Every dress is at its maximum volume and drama possible, the kind of extravaganza that his clients demand and the kind of looks that in this age of comfort seems like an aberration, the kind of fashion expected from an underground young designer collection from the late 1980s. Actually, that's is a good thing.
---