---
Reviews of Dries Van Noten, Valette Studio, Boramy Viguier, Yohji Yamamoto, & Botter Men's Fall 2021 Fashion Shows
By Long Nguyen
On this third day of the Paris men's fall season, the action is heating up with two major live stream shows from Rick Owens in Venice, where he showed last September, and from Louis Vuitton in Paris with a live stream show without any audience by order of the Paris police prefect due to changing health conditions.
Owens put on a remarkable show of fashion, while at Louis Vuitton, Virgil Abloh's words carry the day and the collection, less so the actual clothes. But other independent brands that showed today remained firmly within their aesthetic realms.
VALETTE STUDIO
Pierre François Valette – the 2019 winner of the Saint Laurent Institute Prize and a law school graduate before turning his attention to fashion – launched his label in early 2020 with one specific mission in mind – how to update the tailored suit for the youth now, adapted to this new urban environment where streetwear is still king.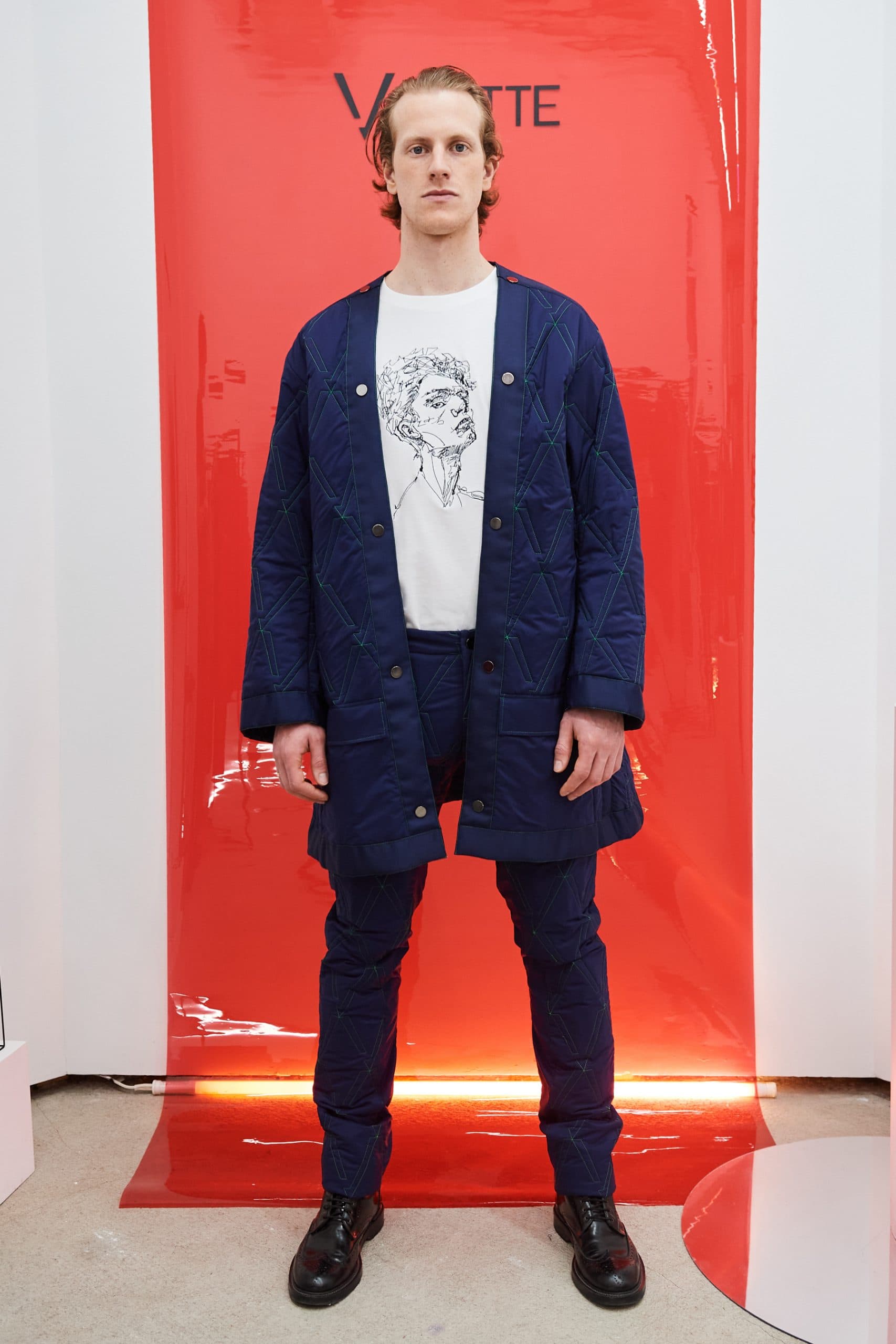 Last January, on the seventeenth to be exact, Valette launched the Dandy Collection, the name he gave to his launch debut namesake line for fall 2020 – a collection "inspired by the '80s, the new Romantics music bands, the Malevitch and Stepanova constructivist art," as his website specify. The Valette clothes centered around shapes with the exact cut in the way a navy pinstripe vest was cut in the front like a jacket then contour down the waistline to a back closure or the linear proportion of a three-piece single breast suit with a wide collar vest, all worn with tailored pants in colors like bright red informed by the Constructivists artists.
"I imagined a cool tailored suit for a sophisticated contemporary attitude," Valette said on his website. Valette's aesthetics, enmeshed firmly within the few looks presented then, cemented a fashion style that is a world apart from this street stuff, but it is not in any way a return to old traditions. In fact, it's about establishing a new way of tailoring for young people – the same kind of work Raf Simons and Hedi Slimane undertook early in their career in the late 1990s. But Valette does not depend on espousing the current youth culture to reach this audience. Rather, he is doing so using the draw of his sensual clothes in the slow process of cultivating fans, which will surely be a slower process it is a possible way forward. Kids are much more educated about fashion today than ever, and they can discern ideas when they see them.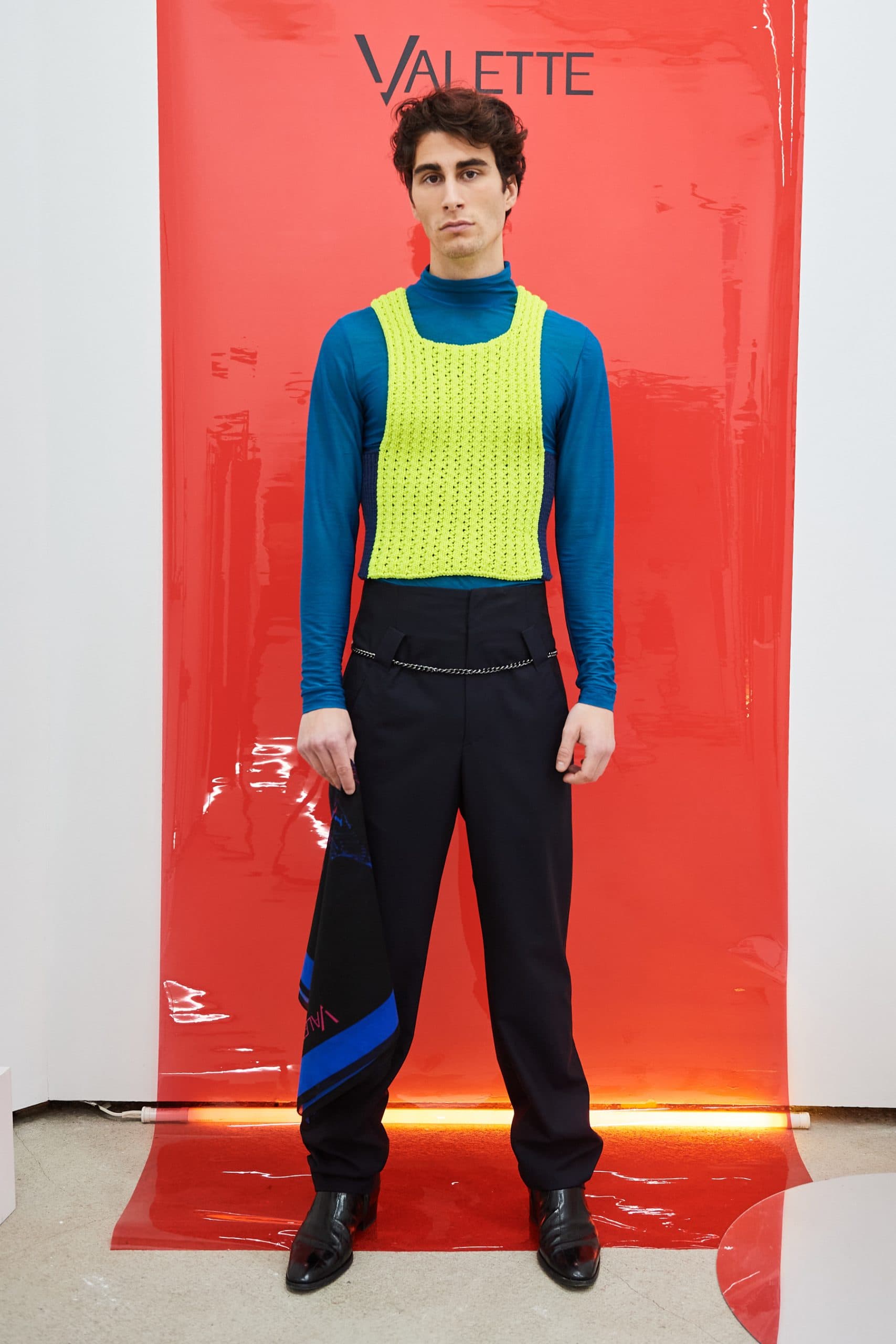 This is a reflection about the proportions, the shapes, and the clothing lines. The fabrics are vectors of the idea – fluidity and lightness – for an architectural garment with specific chosen details. The first collection is a reflection of a dandy and a lifestyle.

– Pierre François Valette
A graduate of the École de la Chambre Syndicale de la Couture Parisienne in the master program in 2018, Valette joined the Saint Laurent Studio, specifically working for the tailoring ateliers and the Saint Laurent Couture Institute, which is a dual program on the DNA of the Saint Laurent fashion house and on aspects of the business side of fashion. At Saint Laurent, the young designer learned from working with the house ateliers, particularly the tailleur or tailoring department. This invaluable learning experience permeates his launch and now his new fall collection that continues on the theme of cool tailoring with sharp and focused garments in op art hues that embrace military clothing rigors.
The computer-generated voiceover proclaimed 'Dandy is Trendy' in the film titled 'V Style Tribe' that proclaimed individuality as the camera focus on the new selections from Valette for fall 2021 with a lively lineup of red and pinstripe with an array of clothes that are both tailored and casual at the same time, offering a different way to dress in these days of streetwear dominance. A pinstripe shirt instead of a jacket over red pants, a cropped navy blouson and green knit over red pants, or a simple red and fuchsia shirt over navy pinstripes are among the mixes of what will become Valette classics. New this time is a crop pinstripe jacket without buttoning that looks more like a shirt and can be worn more casually. For an actual suit, perhaps this is so far the season's best offering – a fitted wide pinstripe button-less jacket with relaxed pants.
Seeing some of Valette's work on his own website reminded me of the early shows for Yves Saint Laurent Rive Gauche Homme by Hedi Slimane, especially the spring-summer 1999 and fall-winter 1999-2000 shows. It's not these Valette clothes that reminded me of the past, but that similar allure is now in a new manifestation.
BORAMY VIGUIER
Boramy Viguier, the French designer who launched his own label back in 2018, is very specific about how he designs his fashion. The process is unique and unlike the work of many other designers today, with his fantastic mixture of medieval history, mythology, mysticism along with gaming.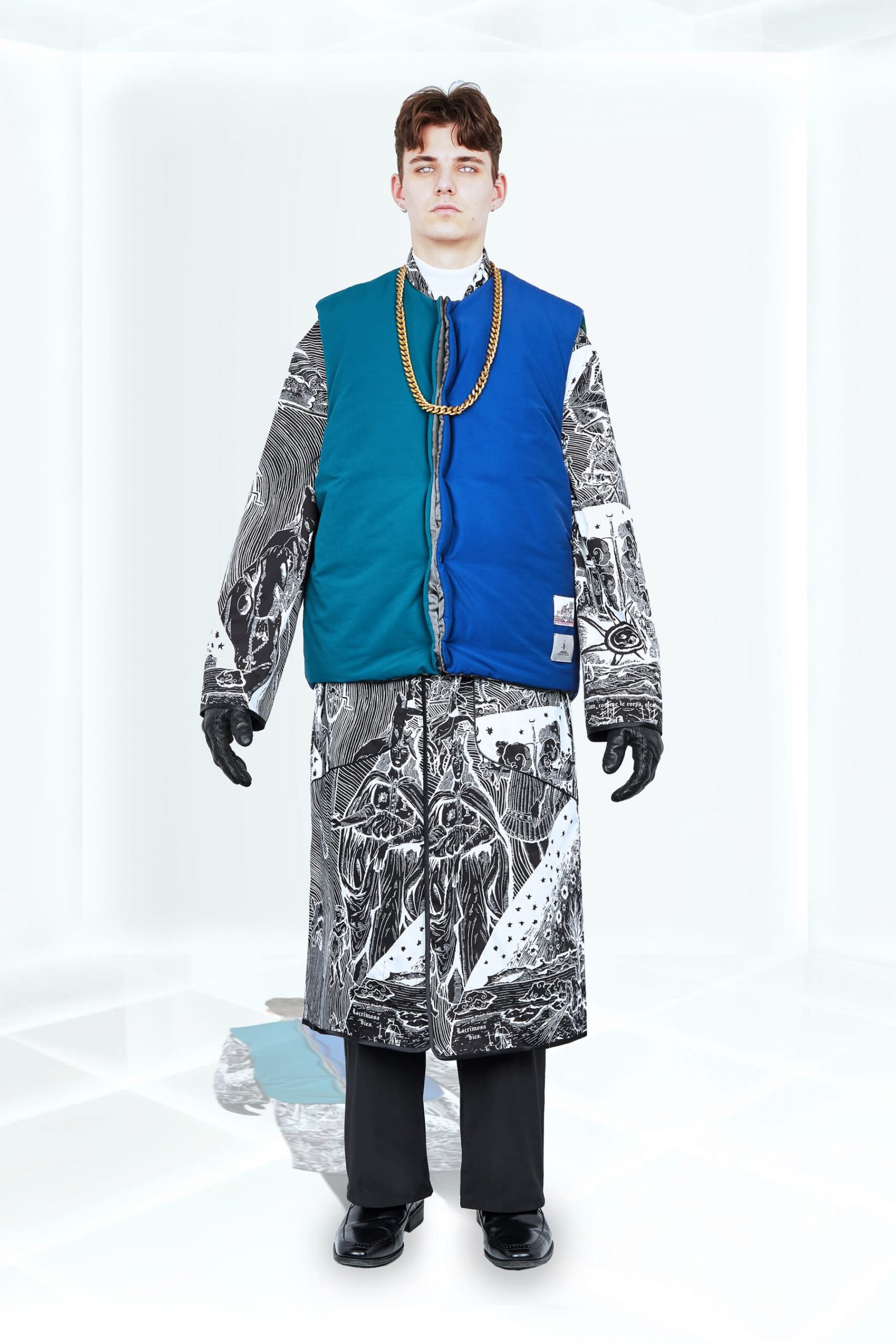 I don't want to create something real. I am not inspired by current events, youth, France, sexual freedom … I find comfort in creations that imply fantasy, unconditional fantastic outcomes.
– Boramy Viguier
His short mythological film 'Resurrection' was a heroic fantasy court battling an evil priest King Atlas the First ruling the know Cosmos and the Phoenix troopers knights who opposed this dictatorship. It is basically a story of an army of good knights gathering to fight and eliminate an evil king – a universal story in many ways.
"Resurrection is a complex and interesting concept. Not only from a religious perspective. I am talking about the ability for every self to reinvent himself throughout life, to be able to reincarnate oneself, to re-create reality," Viguier said of his collection with monastic and medieval takes but with the clothes that telegraph the now, not the yesteryear.
The range of outerwear dominates the collection with very inventive garments that, despite being created with specific fantasy medieval characters in mind, do not look or feel in any manner 'medieval.' A blue velvet large collar coat with leather trims, a red velvet slim fitted straight line coat, or a black satin boxy coat with extended collar are among the strongest coats in the lineup. What's new is the collection is far more dressy with a charcoal slim suit than Viguier previous collections that were more his own takes on more streetwear items in his first few showings. The new suit shape of long straight jackets and pants is the brown crop blouson and the brown cotton boxy hooded sweatshirt with giant hand pockets and less dressy items that don't look to the street.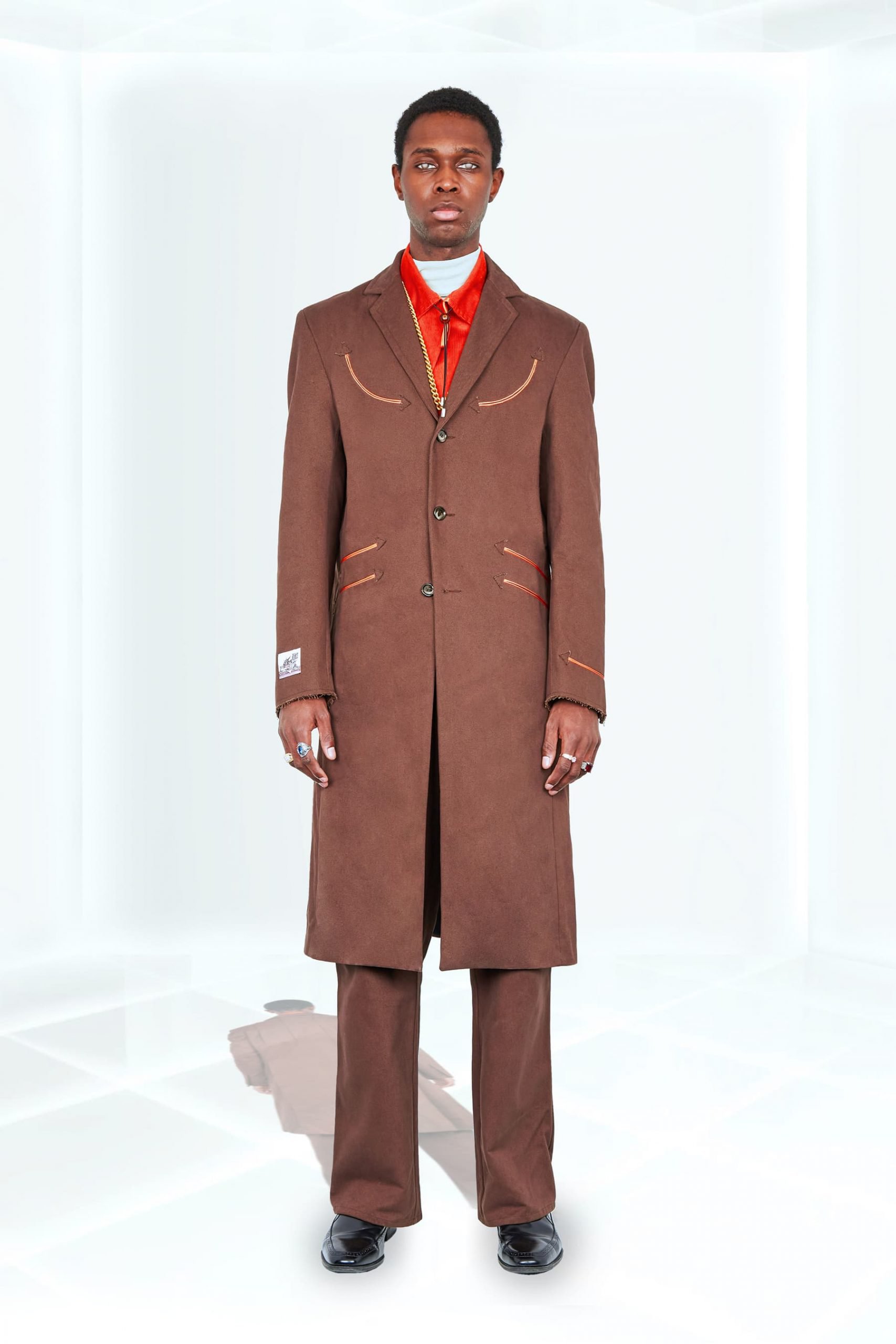 Viguier is among the new generation of designers who have used this moment to make a creative film on the digital platform rather than just any other infomercial presentation. Whether it's a real cinema short or cartoon or gaming sequences, Viguier weaved the clothes very tightly into the narratives of these digital film presentations, and it is a format that he should continue in the future as few designers can to create the kind of visual cinema shorts that can garner audience interests.
What has maybe changing slightly is the way to get things done today more locally. Viguier told me he solely relied on local production to make his samples and merchandise rather than attempting to source fabrication outside of France. In a way, that is a model of sustainability, a new way of doing things differently and perhaps doing things better and less wasteful than before the crisis. One thing that may not change at all is that consumers still want fashion with values and shared interests.
YOHJI YAMAMOTO
Yohji Yamamoto played the guitar and sang for the soundtrack of the moody video show of his new fall collection. The designer continued juxtaposing hard and soft materials and opposing different volumes with clothes primarily in black, his signature color.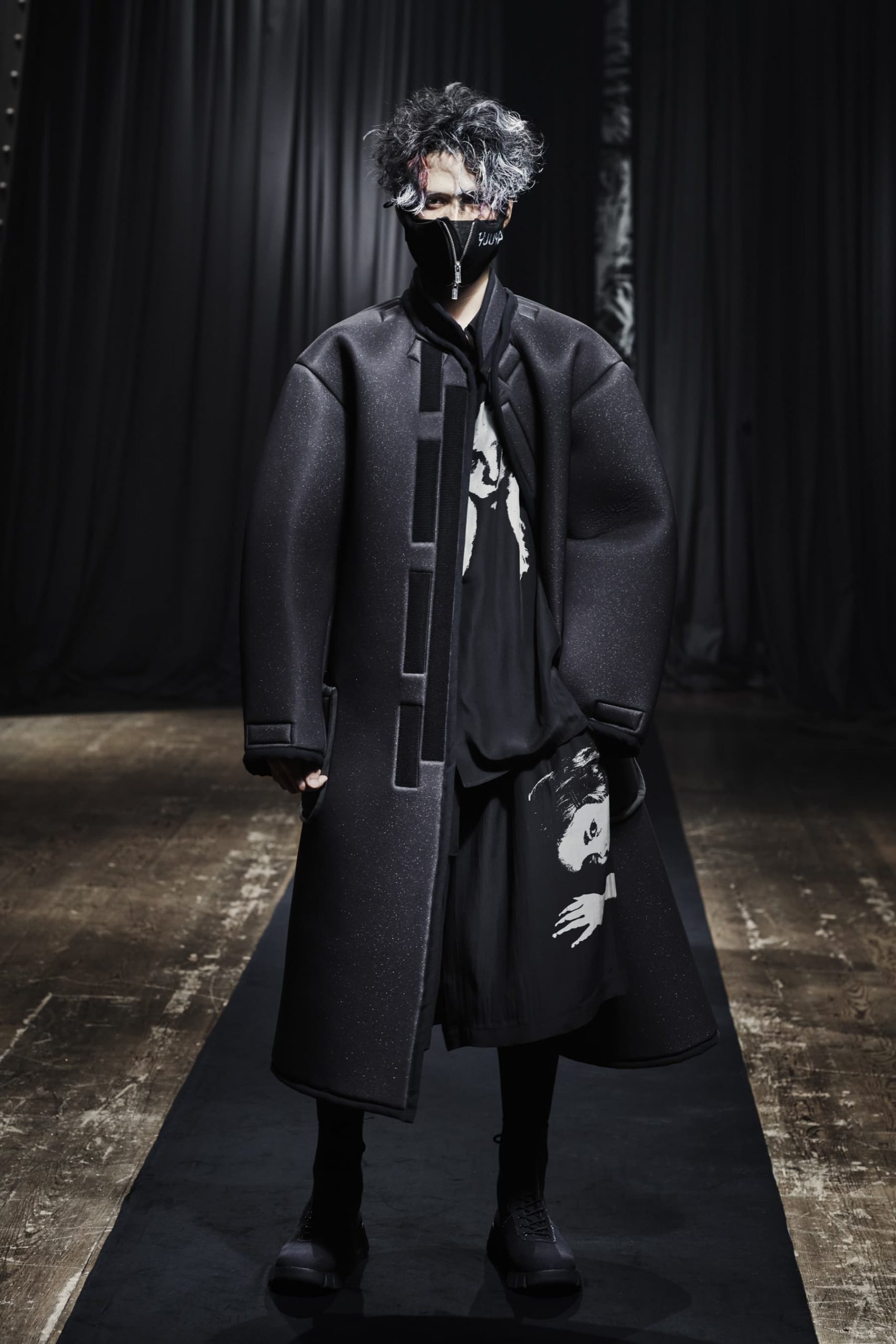 The film video opened with a black neoprene boxy coat with Velcro closures worn over a black suit with white print faces, then followed by a hand-painted cotton oversize blouson paired with a black short suit with fruit prints and a black double breast coat with fringed trims, all conjuring a continuity of the Yohji aesthetics sharpened over the last three decades with consistency in both design and fabrication. The Japanese designer has complete a highly successful collaboration with Supreme, honing his sensibility into a significant range of apparel product for the giant streetwear label with many representative pieces over the many years – the biker jacket, the single breast jacket, sweater with the big rose, and the range of shirts.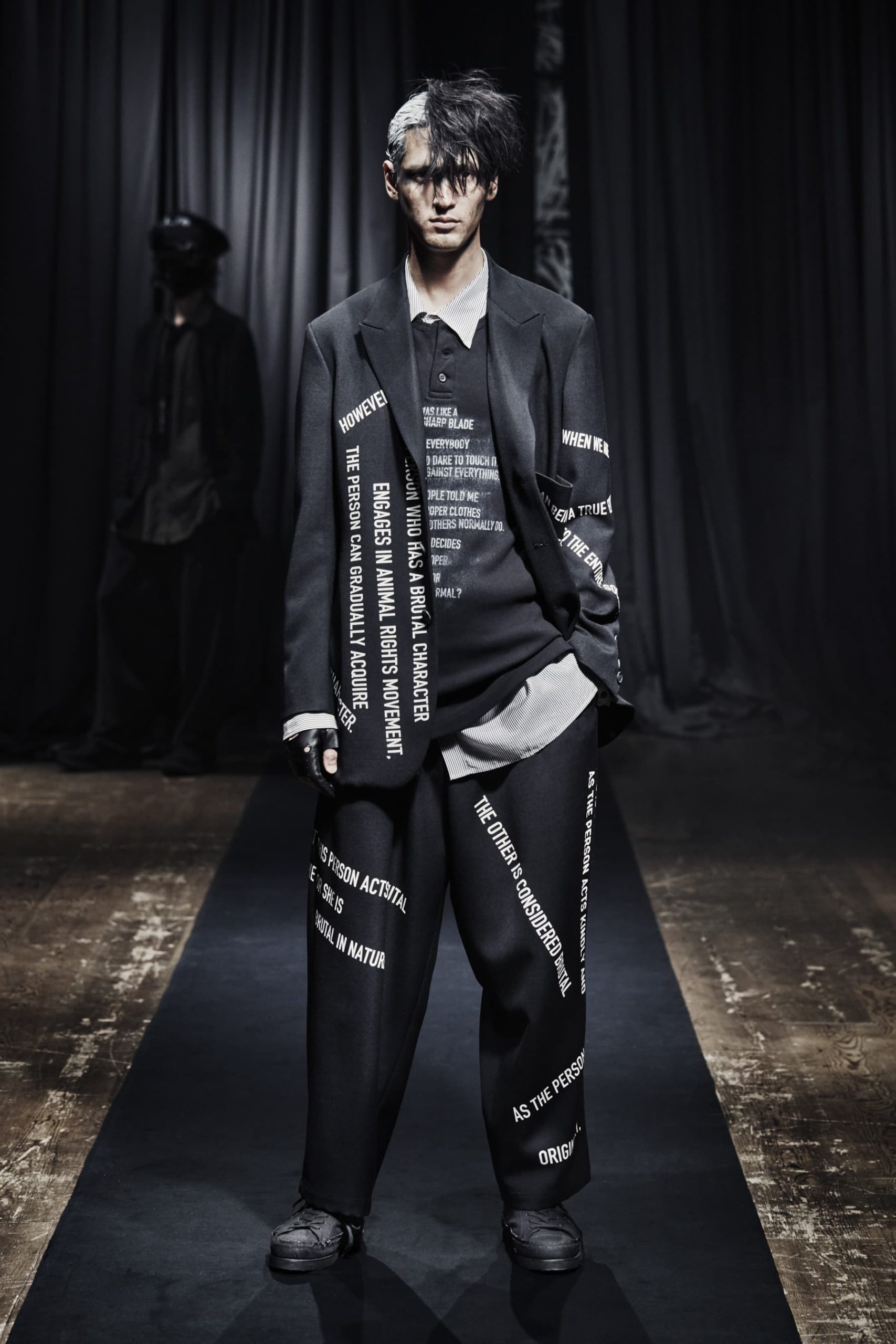 Several of the jackets have words and phrases imprinted on them, something that the designer has often used to convey personal messages. This is the messaging is more of social concerns like a straight line single breast jacket and pants with phrases like Engages in Animal Rights Movement, The Person Can Gradually Acquire, ir The Other is Considered Brutal. Two jackets, one a patch pocket shirt/jacket and the other a coat/jacket, have corset hooks closures on their front side.
Looking at this fall collection, it is easy to see one unique aspect of Yohji Yamamoto. After all these years, it is still the vision of the same designer quietly designing and making the kind of clothes to his likings rather than be subjected to the duress of the marketing economy.
Customers can add a jacket here and a coat there and still have the same Yohji look. This is how fashion is in the old way, but now it seems to be an actually sustainable way.
DRIES VAN NOTEN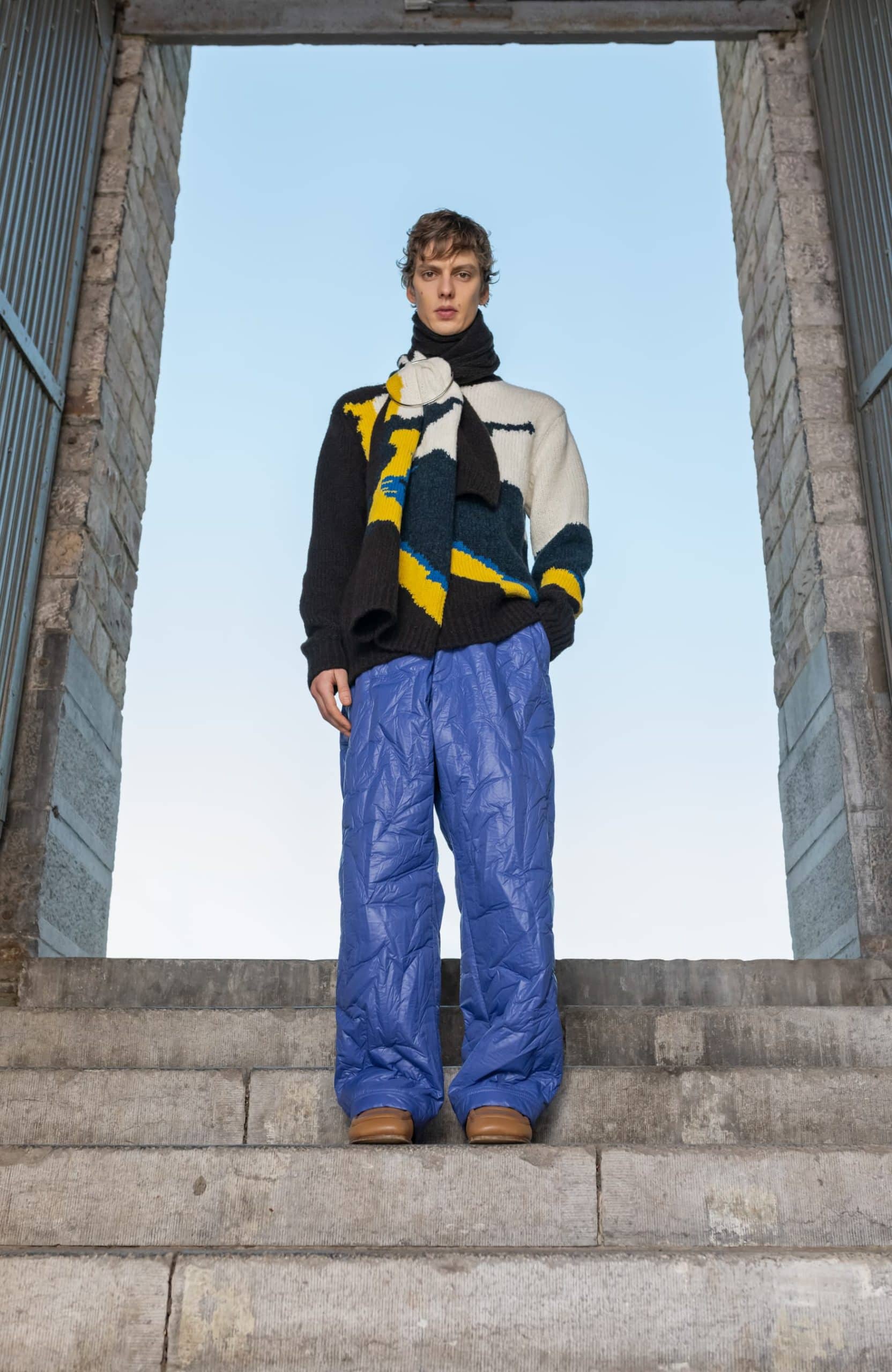 The models walked down a few steps then retreat and turned around and left for another to enter and descended the same concrete staircase with an opening against a blue sky wearing clothes that looked both familiar and new, along with the familiar and the slightly strange in ultra-light fabrics in the video Dries Van Noten released for his new fall menswear collection.
"Whispering precision, purity abstracted, subtly lavish, calm and open, spare, informal, unceremonious, a substance with little posture, tactile, fundamental, uncontrived, luxurious, current," are the words Van Noten used to described his 'dressing for our days' collection that blended the formal and the sporty in the generous cuts of the car coats and trenches, with the tan two buttons crop pantsuits that feel like pajamas, and of the grey knit cardigan and shorts that is new at home suiting look.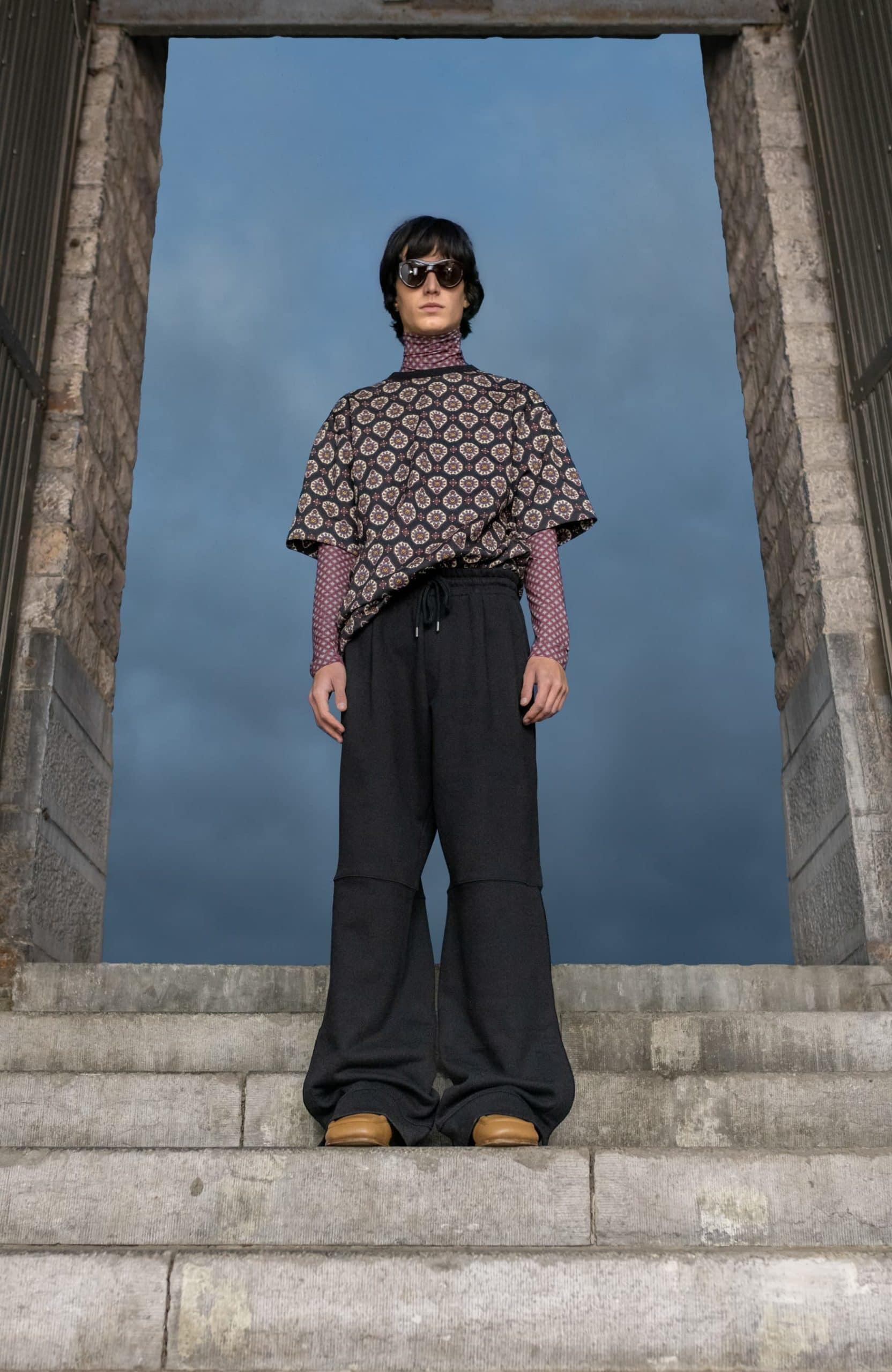 Van Noten altered some of his basic designs with the spirit of merging the slender volume with the oversize ample shapes. A blue cotton shirt becomes a long near, ankle-length shirt/dress; dress pants become long shorts, and a print pattern short-sleeve shit and pants become the new suit look, albeit not a tailored one. High waist trousers can be worn high with a black jacket and black belt or worn low with a green print shirt and an oversize cotton tee shirt – either way, still accomplish the look of the draped pants that fall onto and on top of the feet.
It is a mark of a great designer who, in a moment of great difficulty, accesses regular production facilities to solve problems creatively using design elements that converse the aesthetics of his fashion seamlessly.
Looking at this collection, it is hard to imagine it is designed and fabricated in this moment of crisis as the suaveness of the clothes dispel any sense of urgency and at least any sense of restrictions; in fact, the clothes convey the exact opposite – ease and perhaps enjoyment of the moment wherever.
BOTTER
"We care about fashion, as the golden daughter of all the arts. We care about nature as the golden mother of all arts. Without nature, no arts, nothing. Without the sea, no human, no us," proclaimed Lisi Herrebrugh and Rushemy Botter in their 'Romancing the Coral Reef' Manifesto that launched their new men's fall collection based on the idea of preserving the coral reefs in the Caribbean sea with a video that started with divers cleaning and saving the coral in the Curaçao island. Climate consciousness has always been a principle belief at Botter with the designer's Caribbean heritage.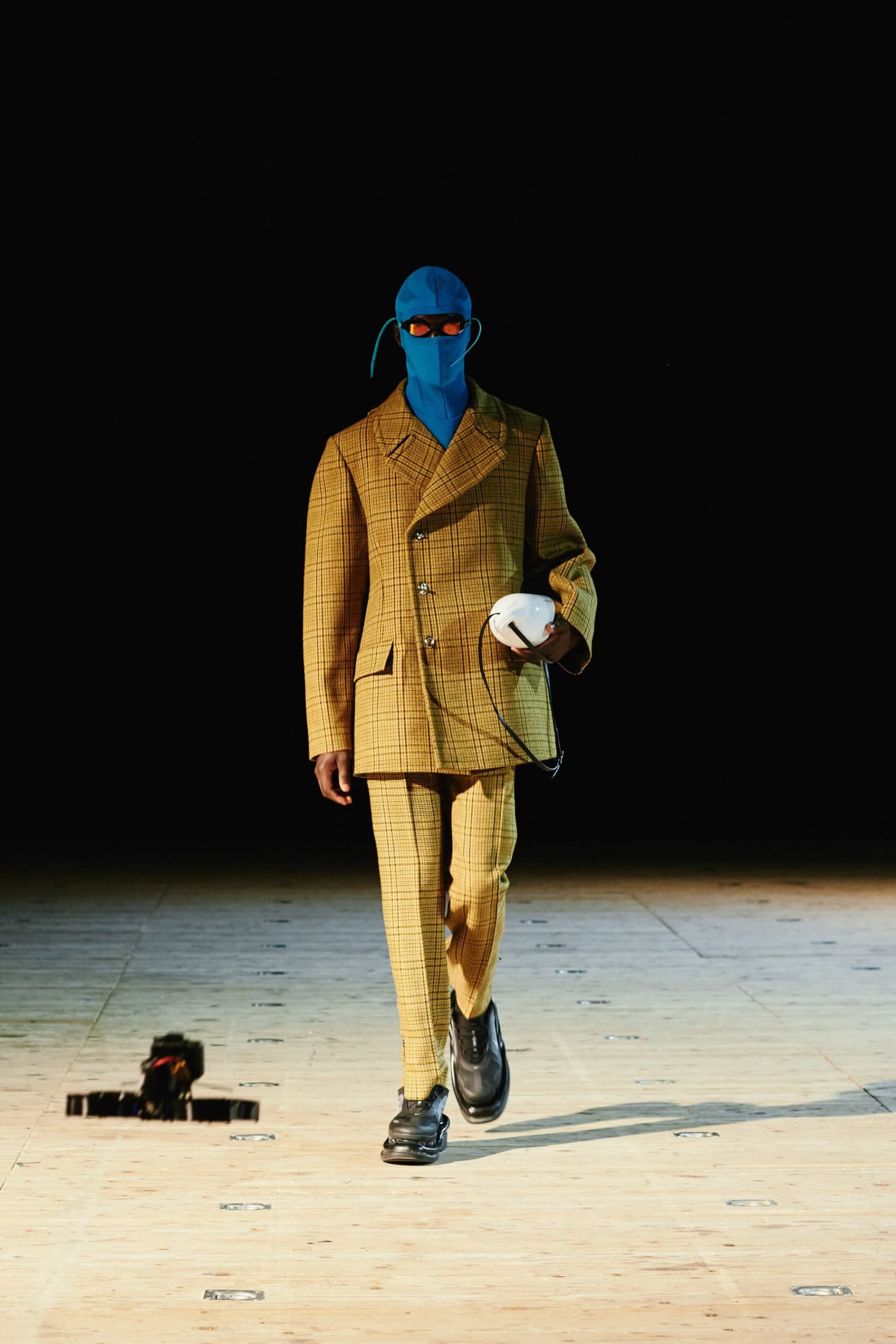 Coral reef meant the bright colors that pervade throughout the collection with a range of new experimental cuts, something that the pair has done since starting Botter in 2017, with a brown wool opal front cut jacket with one button below the waist that also comes in black, a black jacket vest combination with the jacket cut open along the shoulder that allowed the wearer to peel off the jacket and hang on the back, and double-layered pants with both an inner layer of soft fabric drawstring and an outer attached layer of tailored cut wool pants. The transparent white short sleeve polo with string tie at the neck and the white buttoned tank are great separates among the more dressy vibes that included a black jacket and pants with shrimp and tropical fishes attached.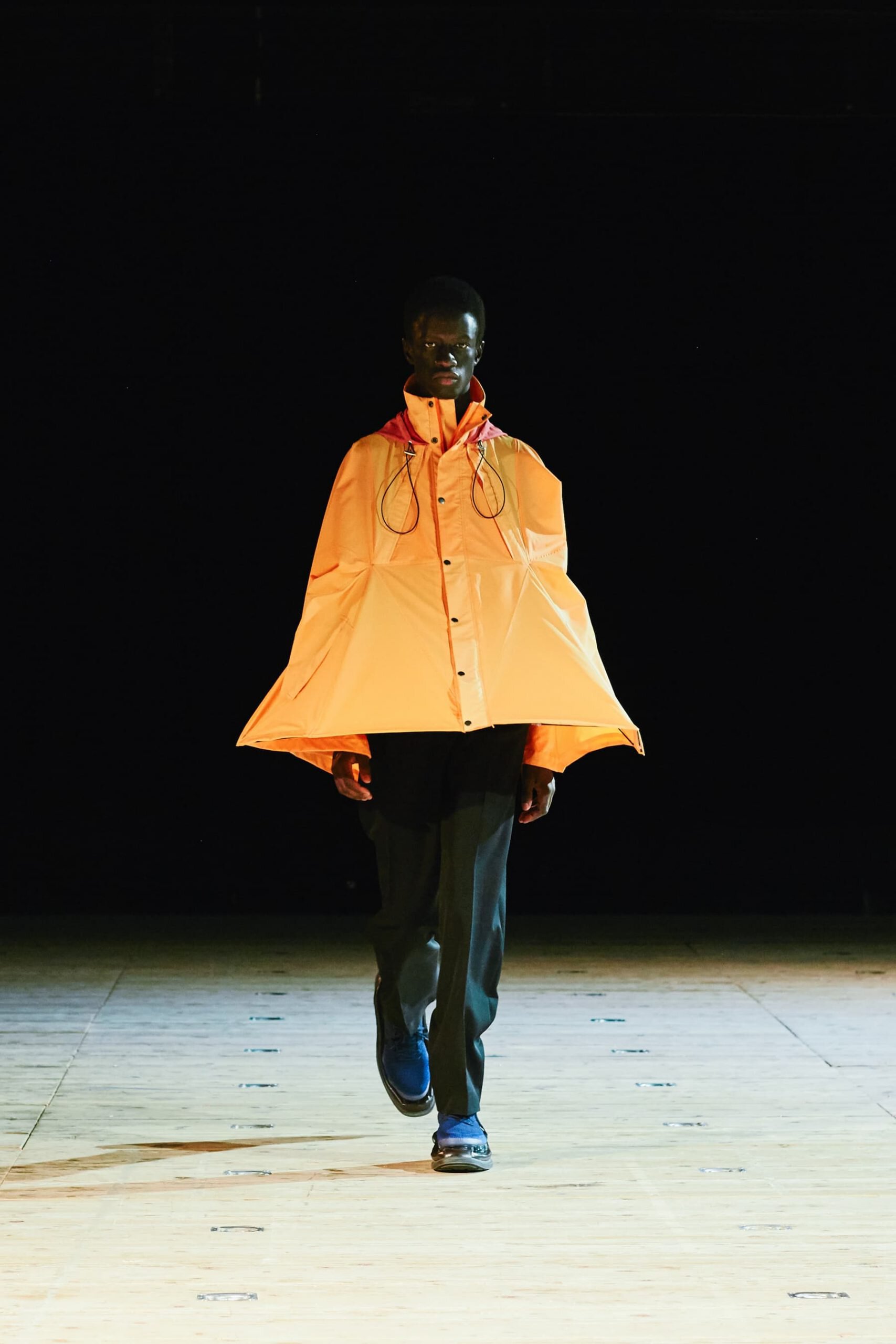 The orange nylon tent parka recalled similar ones that Rick Owens made for this men's Spring 2019 show in June 2018, but at Owens, the shapes were more towards extreme severity than an actual tent or hooded umbrella as they are shown here. This fall Botter collection is more sophisticated in terms of design, where the pair have pushed a bit the cuts and shapes of their jackets yet remain focus on pieces that their customers would want.
---