---
Review of Rick Owens, Beautiful People, Coperni, Uma Wang, Victoria/Tomas, & Gauchere Fall 2021 Fashion Shows
From a Distance, the Severity of Rick Owens Still Enchants and Fascinates
By Long Nguyen
Today's leading event for the Paris fall fashion season isn't an event in Paris but on the sea-front concrete pier behind the Marea Hotel Petit Palais in Lido Venezia, the island in Venice.
The designer Rick Owens has been staging his live shows for the third season now, since last September, outside the Palazzo del Casino's rationalist style architecture on the island of the Lido Venezia.
Even in Venice in front of a near-empty beachfront locale, Owens asks his audience to imagine being somewhere else metaphorically entirely different – the garden of Gethsemane at the foot of Mount of Olives in Jerusalem. There in Gethsemane, as recounted in the New Testament, Jesus prayed the night before the crucifixion. As Owens imagined it, here is mental space to gather to reckon with fashion in this time of drama.
No fashion designer in the past decade has been able to conjure the kind of fashion dramas that Owens had always managed to brew. But staging aside, including the ubiquitous rising smoke stationed at each corner of the Palais de Tokyo's courtyard, the clothes remain the center of focus. At the same time, everything else, whatever art or performance, revolved around the garments.
The rising grey smoke was here too for this fall women's show, the smoke machine invisible to see in the live stream stationed at the end of the concrete pier, casting aside shadow over the show proceedings.
The design has always been the arc anchoring Owens' fashion. It is in the design process, evolving from season to season, at times bringing back discarded ideas from the past, and at other times refining ideas started the seasons prior. That is, of course, in addition to the concepts under development in this current collection.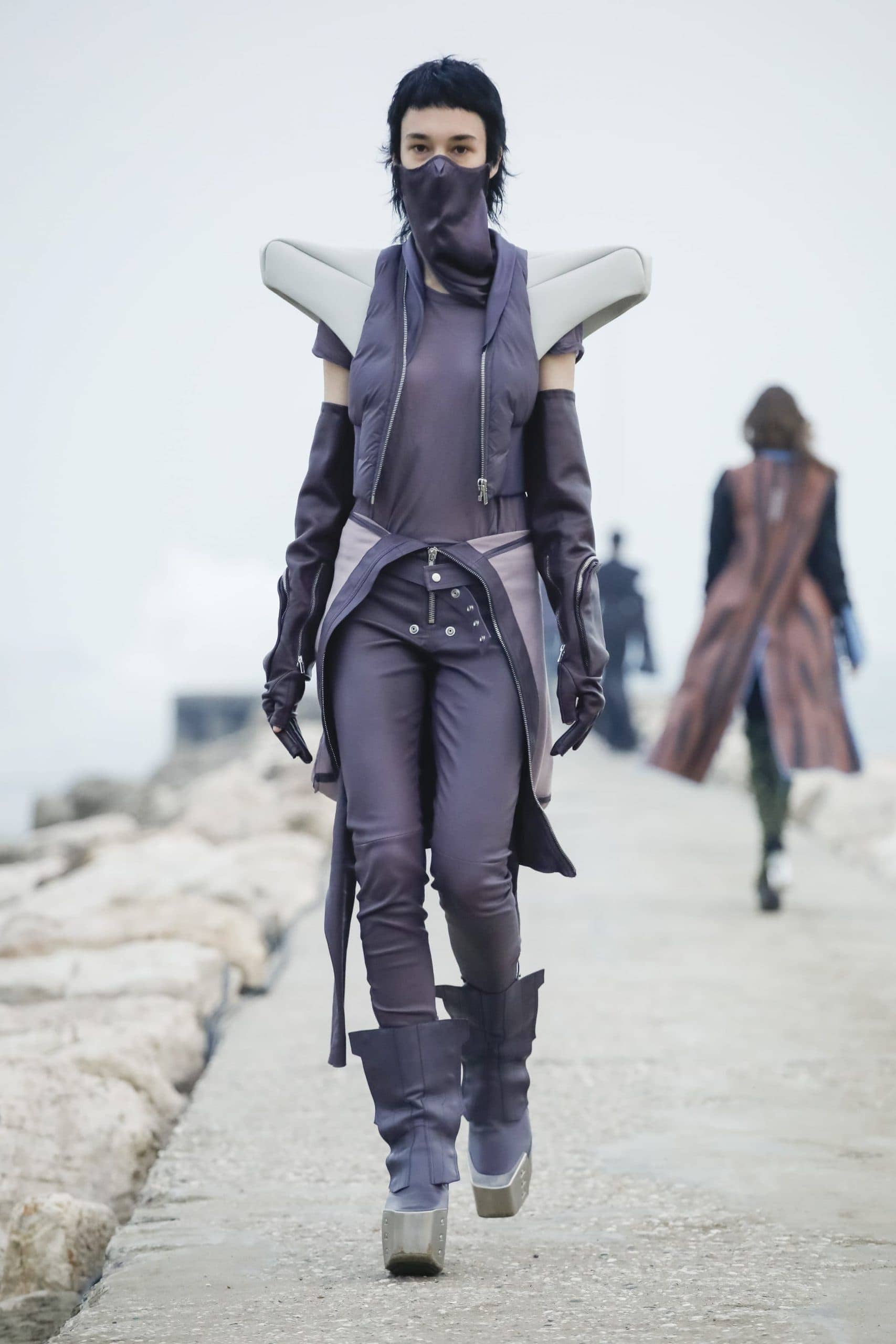 Skin-tight leather bodysuits underpin most looks, some with the top pulled down to hang off the hips. Some are solidly sequined. I've been featuring bodysuits for some seasons now, originally as monumentally imposing stiff volumes but gradually reducing their current incarnation – self-contained and sealed body coverings like an upholstered gear shift knob

– Rick Owens
These oversized shoulder coats led the stellar fall collection procession against the backdrop of soft mid-winter light sea waves.
If there were ever an Owens show that comes close to being haute couture, this fall show must be it or come very close to being one.
Above all, the intensity of the clothes' gestures, their geometry, extends out to the grey skyline. At times, the sharpness of the tails of a white mermaid tubular ecru dress with overextended sharp shoulders can slice the seawater as the model turned at the end of the concrete piers.
The openings look with nods to the 1950s billowing couture shapes – a giant long black wool cape with enormous rigid shoulders paired with a cropped puffer, a black slashed denim jacket, and pants, or a camel and black wool cape and green furry boots – reminded me of many haute couture shows. These shapes resurface in giant puffer coats that resemble massive wind glides as the models walked towards the ocean with the sea breeze blowing against their down coats.
"Power shoulder capes that turn the body into architectural bulldozers," Owens said of these giant exaggerated shoulder lines that have been prominent features in his work since his men's fall 2020 show. "These shoulders are a response to fear and anxiety, defiance in the face of threat," the designer said. Their shapes are the fashion response here not in terms of providing at-home comfort clothes but in interrogating how to continue fashion creation, considering the current crisis but one not imprisoned by recent events.
The graphic and the geometric severity of the capes and coats aside, dark navy wool tailored jackets made from recycled plastic waste are cut short to the midriff with the sleeves torn off and replaced with either ecru duvet snap-on long sleeves or as an elongated sleeve in black wool.
Narrow backless column dresses in knit viscose or black overdyed denim are worn at times pulled down to the hips like the navy sequin dress paired with a dyed black tank top and a one-sleeve sculpture denim top. However, there is a simple black dyed long sheath dress with a shoulder wool jacket with giant falling puffer sleeves in the mix.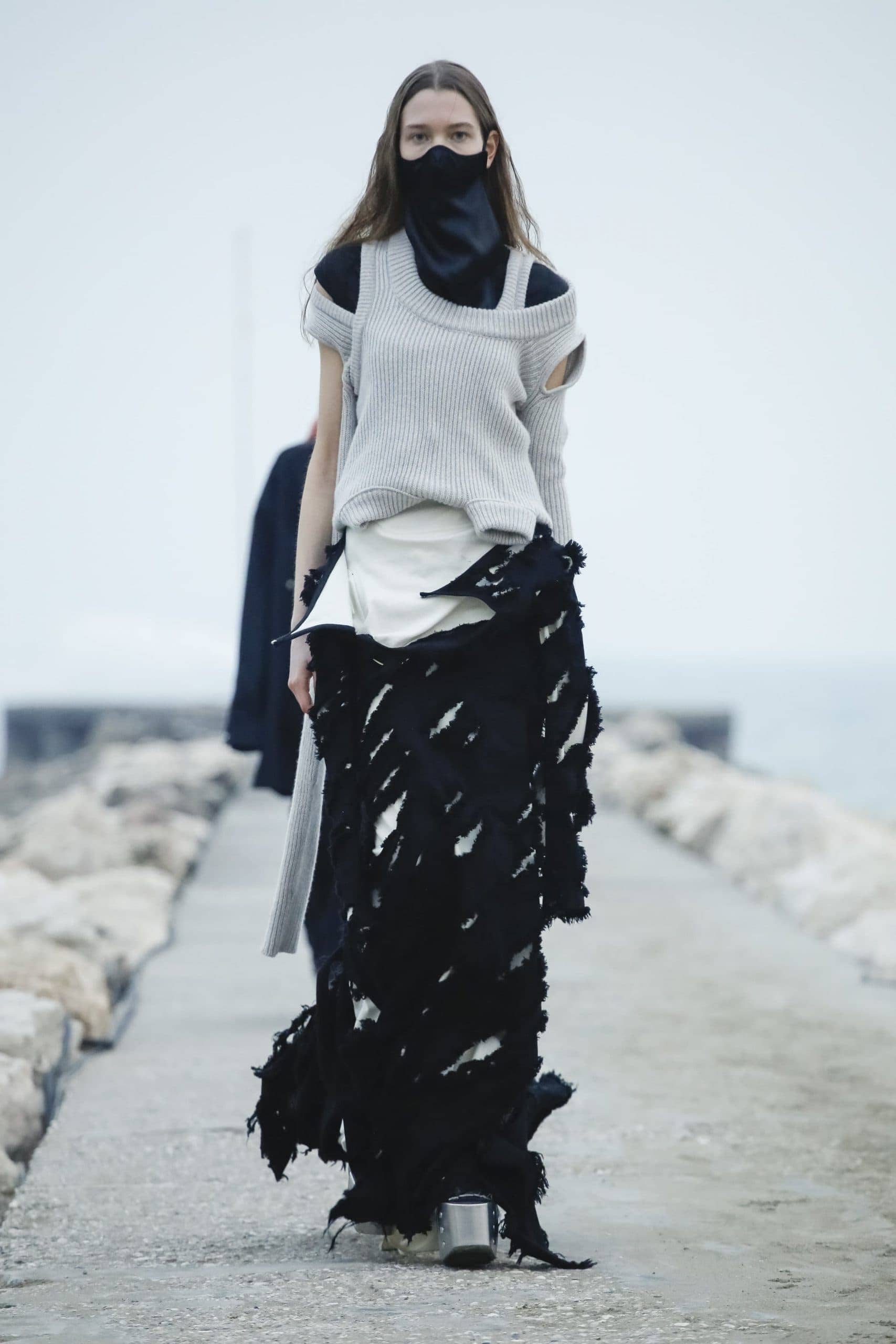 As for the slashing effect of the black denim on a long dress with white or a black slashed denim bodysuit, Owens said that the slashing represents an act of grief or rage. The denim pieces' actual slashes are similar to cutting leather and shearling into pieces that are patchwork into coats and jackets.
Elsewhere in the collection, a handful of colorful sequin thongs and body thongs worn over recycled cashmere yarns bodysuits, adding a bit of sparkling to the proceedings.
Here, the fashion response to the fear of uncertainty and the crisis of this time is to move forward, not to just standstill.
If that means making the shoulder that much sharper, so be it. The clothes can offer some protection, but they are not a total shield. The worse would be a retreat, a way of saying that ideas don't matter as much because just a simple cashmere tracksuit would do just fine. At least in fashion, one designer won't allow this sort of resignation, not last year and certainly not now.
"What if clothing has turned upside down, too? What if there is a way to use pieces in both ways, like a double-ended marker pen? What if we can flip clothes upside down like looking at them in a double end mirror," Hidenori Kumakiri, the designer for the Japanese brand Beautiful People, said of his fall presentation tilted "Side-C Vol.6 Double-End."
Kumakiri started Beautiful People in 2007 after spending years as a pattern maker at Comme des Garçons in Tokyo. He has shown in Paris since his fall 2017 collection.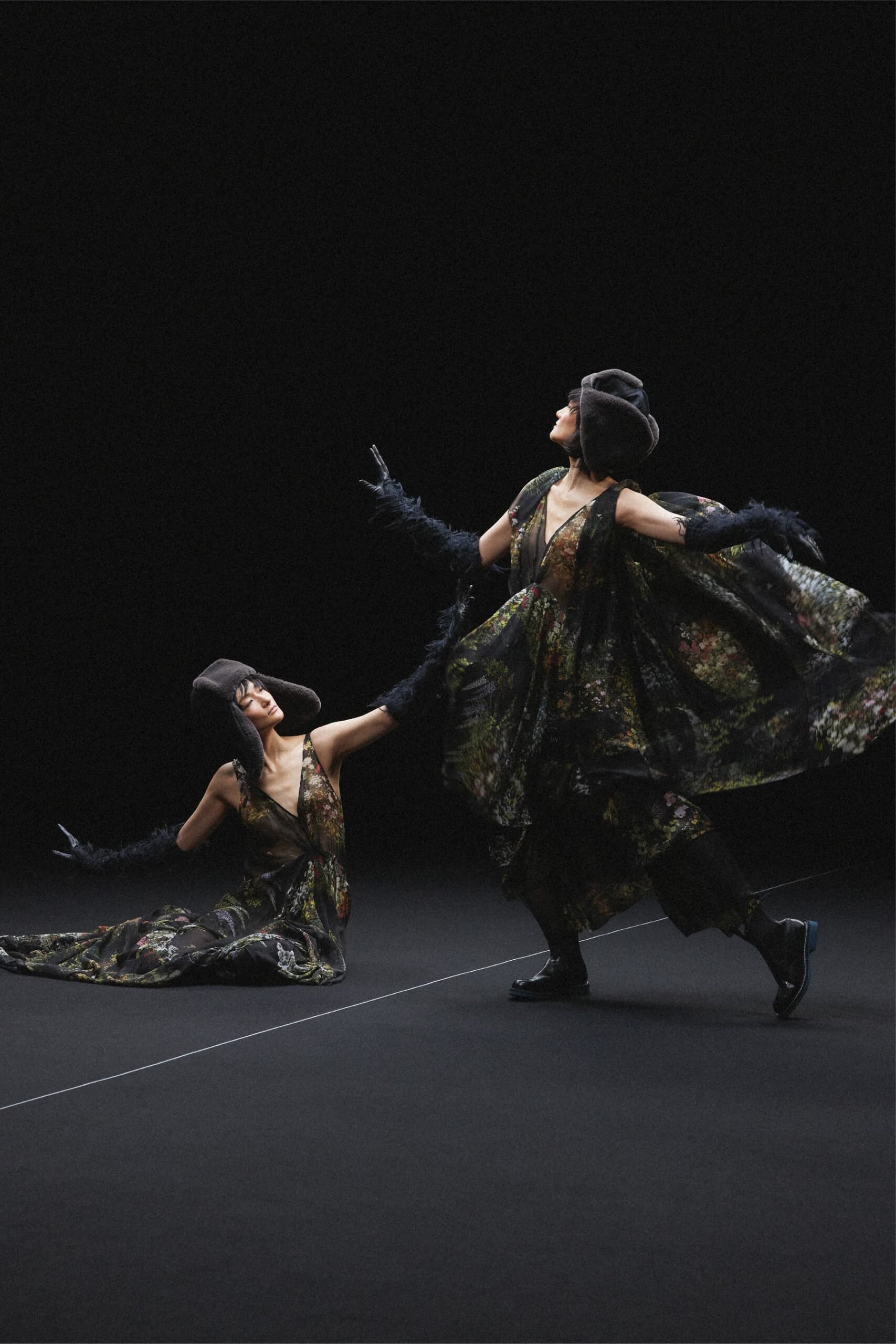 The short film demonstrates how Kumakiri has cut his clothes this time so that a person can wear each garment from, either way, making each piece into two different garments. The shots juxtapose the same model's images wearing two versions of the same clothes worn from different angles.
The designer's masterful technical skills are in full display in this collection that involves the idea of clothes worn from two sides, top and bottom. Using innovative pattern making, Kumakiri proposes a vertical dimension to clothes that can be flip on the straight axis. They can turn 90 degrees, 180 degrees, and 270 degrees, thus significantly altering the original silhouettes. "Function stays; shape mutates," Kumakiri said.
A simple white shirt is also a mock neck camisole. A black and white pattern wool cape becomes a black and white pattern wool fishtail dress. A black down puffer vest transforms into a down opera coat. A black slip dress can also be a black strapless dress.
Perhaps the most substantial look is the black evening slip dress with black and white ruffles at the bottom that can turn upside down as a black and white ruffle layers black dress.
Somewhere in Kumakiri's studio are the commercial iterations of this concept brought a wider audience and consumers. Any fashion show – live, live stream, or digital filming – is the place for an idea, not for showing commercial adaptations. Here is just a way to offer different ways to look at clothes, viewing them through innovative design lenses.
The idea of two in one is also one that the design team at Victoria/Tomas has also explored in greater depth this season.
"Six months ago, we presented the first fully reversible concept to fight overconsumption," Tomas Berzins said in the opening segment of the straightforward fall digital film presentation for the Victoria/Tomas brand. Based in Paris, he launched the label in 2012 with his co-designer wife, Victoria Feldman.
If you think about how a kid who throws away a can bottle on the ground, and then he becomes older and has the responsibility – it is the same with fashion. We all need to grow up.


– Tomas Berzins on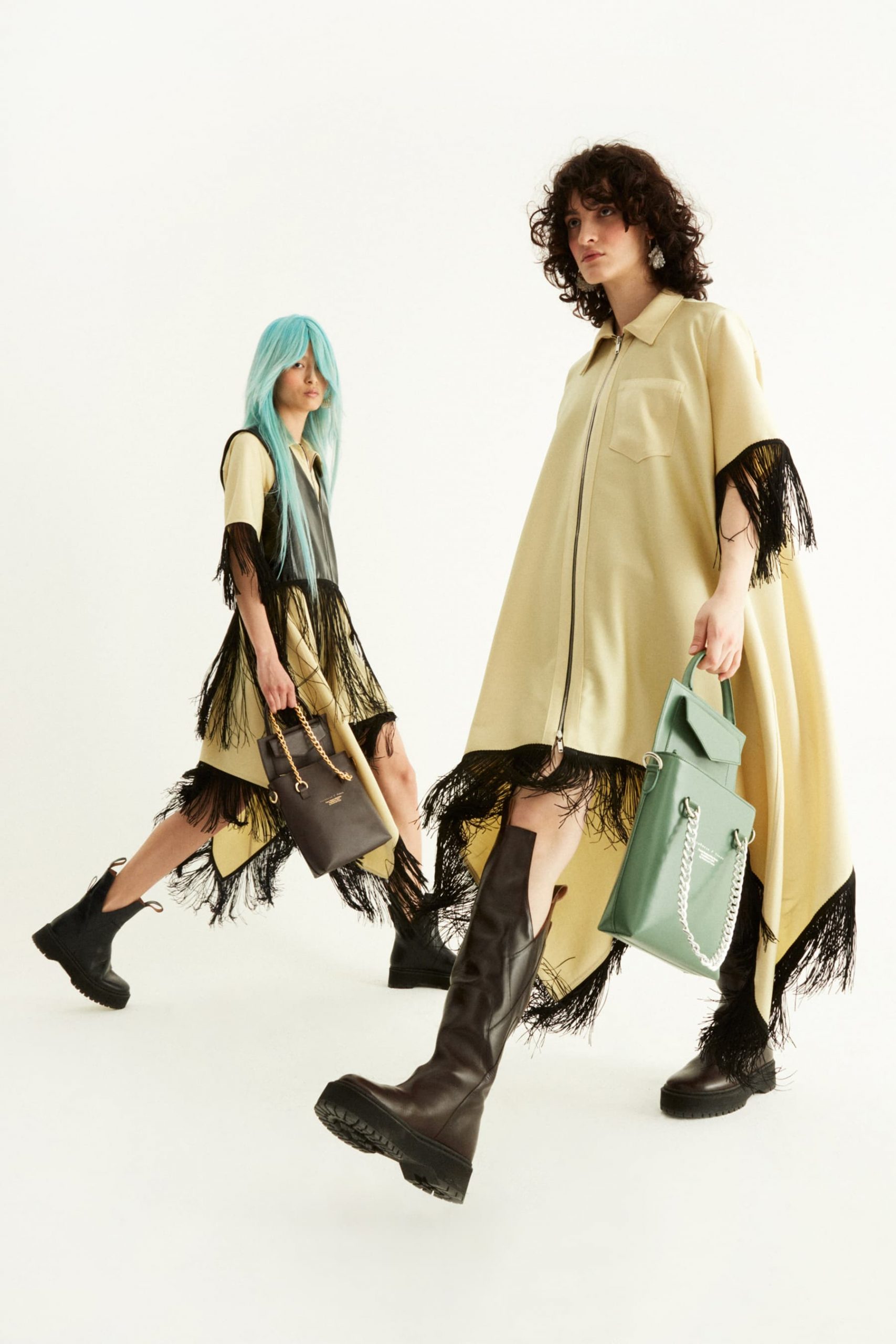 Berzins noted his points of view about how the reversible collection the brand showed last September has completely re-oriented the company towards responsible production and consumption.
"This is the DNA of the new generation," Feldman said of the values of responsibility inherent in any fashion brand operating today.
As a small brand, the couple can regroup the production after the first lockdown to make everything at one factory in France to lessen the costs and the pollution of transportation and multiple manufacturing facilities. The brand has also reduced to just two physical collections a year, meaning they only will make samples for fall and spring while working with their on and offline commercial partners with digital collections in the off-seasons.
For their fall clothes with a total of thirty-six looks, Berzins and Feldman refined the idea they had started for spring by combining cozy and sophisticated fabric on either side of each garment. By making each side of the clothes independent of each other, the designers sought to create two actual physical outfits in one that can work for separate occasions.
A couple of the boldest looks in this collection are the long black coat and short pants/black long coat with sheer tulle overlay and short pants; blue and white tie-dyed cropped flare pantsuit/black cropped flare pantsuit; or a white parka with knit pattern print pant/black parka with white pants.
The designers conceived each of these reversible outfits with the kind of fabric chosen so that each side can complement the other. It is a design-driven solution for less production and more consumption and an idea that, so far, only this pair of the designer couple have executed successfully.
There is not much of a focus on the idea of less consumption in discussions of sustainability has always been a sharp thorn for any business to propose since this would mean, well, only fewer sales and revenues.
A graduate of China Textile University in Shanghai and Central Saint Martins MA Fashion, Uma Wang debuted her label in 2005 with her signature innovative draping and textured fabrics.
"A subconscious museum – ancient sea, survivor's ship," is Wang's description of her fall collection consisting of oversized proportions with exaggerated shapes clothes made in rich and thick fabrics.
"Facing alone the illusions of the past and present, collecting the dreams, sculpting the shaped and constructing the poetic world," Wang said of Shanghai's short film shot. The model was first seen asleep in a brown wool plaid coat and cotton shirt in the movie. In her dreams, she opened different doors and entered and exited realms and encounters others in a house and a staircase.
In the actual garments, Wang posits past and present in the form of a long double breast camel velvet floor-length coat with wide sleeves that is a merger of a Western and a Chinese coat. The designer lengthened the sleeves of a turtleneck knit dress worn over a long silk tunic and khaki wide-leg pants or made an overall into a fancy strappy dress or a double breast coat in a zig-zag pattern red or brown wool.
A brown diamond pattern single breast suit or the camel corduroy long coat, vest, and wide-leg pants showed the strong influence of menswear in this Wang's collection, including the crushed brown velvet thin coat matching pants and dress shirt.
At times though, the designer seemed to veer off into more costume territory. A red velvet long double breast floor-length skirt suit with attached bell sleeves did not look like it belonged in the same closet as the brown and green stripe double breast short pantsuit.
However, the collection feels a bit heavy with the clothes enveloping the model here and there. These aren't the kind of clothes made for rapid movements, but they can afford some protection. The designer did not translate these clothes from academic to real dream clothes that consumers would clamor.
Marie-Christine Statz, the French designer, started Gauchere in 2013 to translate the art of tailoring with geometric and sculptural details into timeless clothes.
For this fall, Statz staged a digital film shoot on top of the Beaubourg as models navigated empty escalators and exhibition halls devoid of the ordinarily crowded spaces at the art museum. Among the twenty-one outfits the models wore were broad black shoulder long pant coat, red belted exaggerated shoulder pantsuit, brown wool oversize shirt, blouson and pants, brown wool sheath dress with ruche details or a stripe knit pullover with green wool pants.
These clothes telegraphed an idea of comfort and perhaps affordable designer fashion. That's all fine and good as a business proposition. These same clothes are just mere derivatives of trends seen everywhere in the last two seasons. Here they are only commercial iterations, containing nothing original of any sorts. Worse, these clothes don't contribute to the idea of building a brand, especially building a brand with less than original fashion ideas.
Sébastien Meyer and Arnaud Vaillant, the team that reactivated their Coperni brand in 2019 after a hiatus, staged a live stream show like they did last September atop the Tour Montparnasse.
This season the Coperni guys' guests via driver cars that ended at the AccorHotels Arena concert hall in the Bercy section of Paris not far from the Ministère de l'Économie et des Finances. The cars' headlights provided the spots shining on the models as they marched in between them in a rendition of the drive-in idea.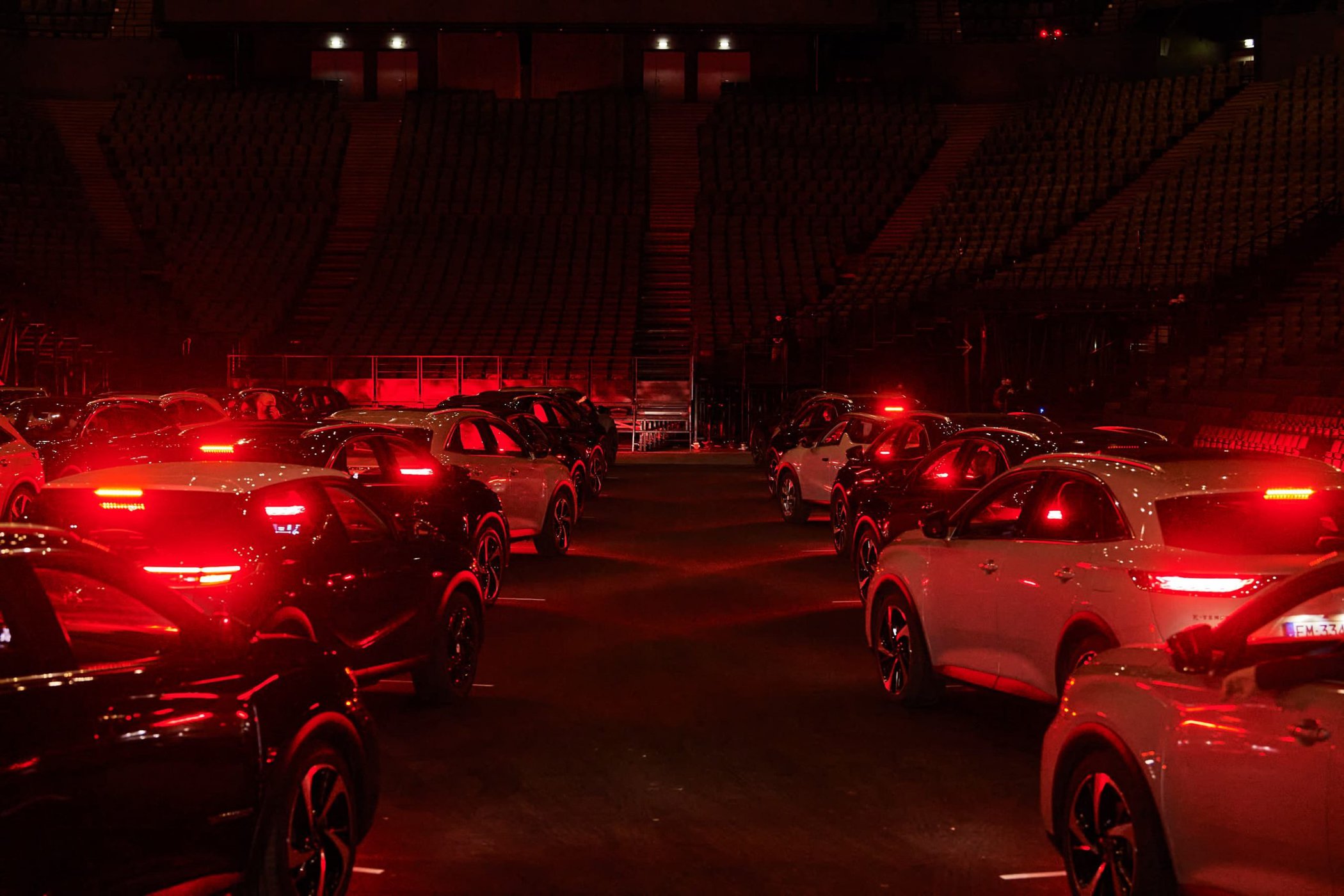 Broadcasted on the brand Instagram feed using the new Live Rooms feature that allows for multiple angle simulcast. There a live three screens perspective as models prepared to leave the backstage area and coming down between the rows of cars. These two designers surely know the digital game and can exploit their fashion show as an event where the clothes got left behind somewhere not in the backstage area.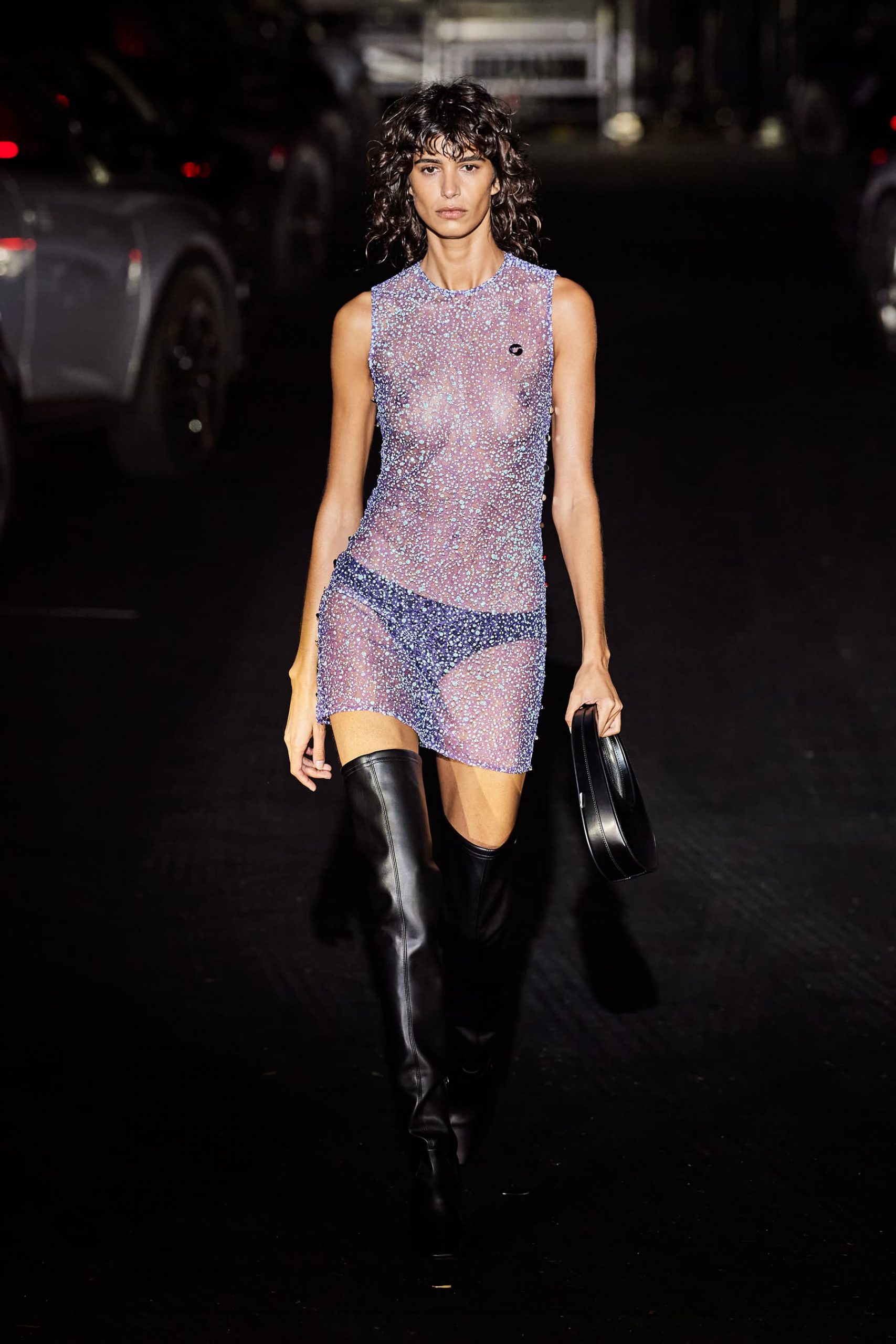 Despite the dramatic staging and high-tech escapades, the fall clothes shown did not meet their moments.
How to say the reflective fabrics on a black long sleeve strapless micro dress are still considered something of a technological breakthrough at the moment is hard to fathom. How are a black stretch nylon and viscose polo paired with a wool plaid outside large patch pockets deemed futuristic? Sure the show conveyed a bit of the memory of going out in a bygone era, but the clothes remained stuck there in the early naught era with no suggestions from the designers of how to move them to today.
The black short square neck cut dress with extended high shoulder sleeve looks like the dress could have walked directly from Saint Laurent's show a few seasons back. Perhaps a new design idea lies in the oversized white furry faux fur coat, cut at the shoulder to become a faux fur strapless coat. But a simple black men's tailored suit paired with a lime green rayon shirt is a respite from the disco light outfits like the tight lycra long sleeve triangular cut-out microdress.
The men's clothes have some elements of tailoring, like a black faux vinyl single breast pantsuit.
Sure, the drive-in with cars provided a prime opportunity for reminiscing the days of the live fashion shows, even with the limited guests who remained in the back seats. Sure, this kind of event may garner social media overnight hits, but at the end of the day, fashion matters as well.
---