Stella McCartney's Market Strategy
Review of Stella McCartney Spring 2024 Fashion Show
By Angela Baidoo
THE COLLECTION
THE VIBE
THE THEME

Keeping grounded as a disposition can be a challenging ask for a designer in today's industry, so it is little wonder that Stella McCartneys collection was a celebration of family. The family (as famous as it is) who have kept her steady throughout her time since launching her brand.
The fact that this may have put the designer in a good place was reflected in what McCartney presented and the experience she created around it. As an initial hint there was a note to show-goers to arrive in enough time to fully immerse themselves in Stella's Sustainable Market. Then through an actual working market she platformed brands who she believes are also working towards taking better care of Mother Earth, and it also served as a clever marketing trick to get these brands who are doing good for the planet in front of the worlds press. Taking place at the Marché Saxe-Breteuil, the street was transformed into a sustainable seller's market, where pre-and-post show guests could browse 21 stalls promoting everything (with the right sustainable credentials) from deadstock fabrics by Nona Source, blockchain-backed traceable wool supplier and proud supporters of regenerative farming Nativa, alternative leather from Mirum, seaweed yarn from Keel Labs, collectors merch from Wings, Stella Kids, and English sculptor Andrew Logan's wearable art. Her aim, according to her show notes was to invite "guests and the public to experience the pioneering materials featured in the collection, meet sustainable innovators and explore themes related to the designer".
As a designer who truly gets her customer, McCartney always comes up with the goods each season, considering her lifestyle and how she wants to grow with the brand throughout her life stages, tailoring – a particularly strong calling card of the brands – was loose and lightweight, while being interchangeable across the genders. An over-arching theme of freedom and fluidity was evident in the opening looks, as models walked the outdoor 'market' as yards of fabric caught behind them in the wind, creating a parachute-effect that made them seem as if they were about to take off, hence the freedom. And a subtle return to boho was also introduced with ultra-feminine maxi dresses reminiscent of her archive work, looking ripe for a revival in ice-cream shades.
And as outlined in the show notes the designer was set on exploring her roots in music, with a rock-and-roll aesthetic coming through in a lace-up detail used across leather pants, denim, and bags. And the designer also took the opportunity to reminisce about her parents days on tour with Wings graphics on organic cotton T-shirts, which both harked back to the days of the 1970s when Rock ruled the world.
THE BUZZWORDS
Billowing volume. Soft bohemia. Amplified Craft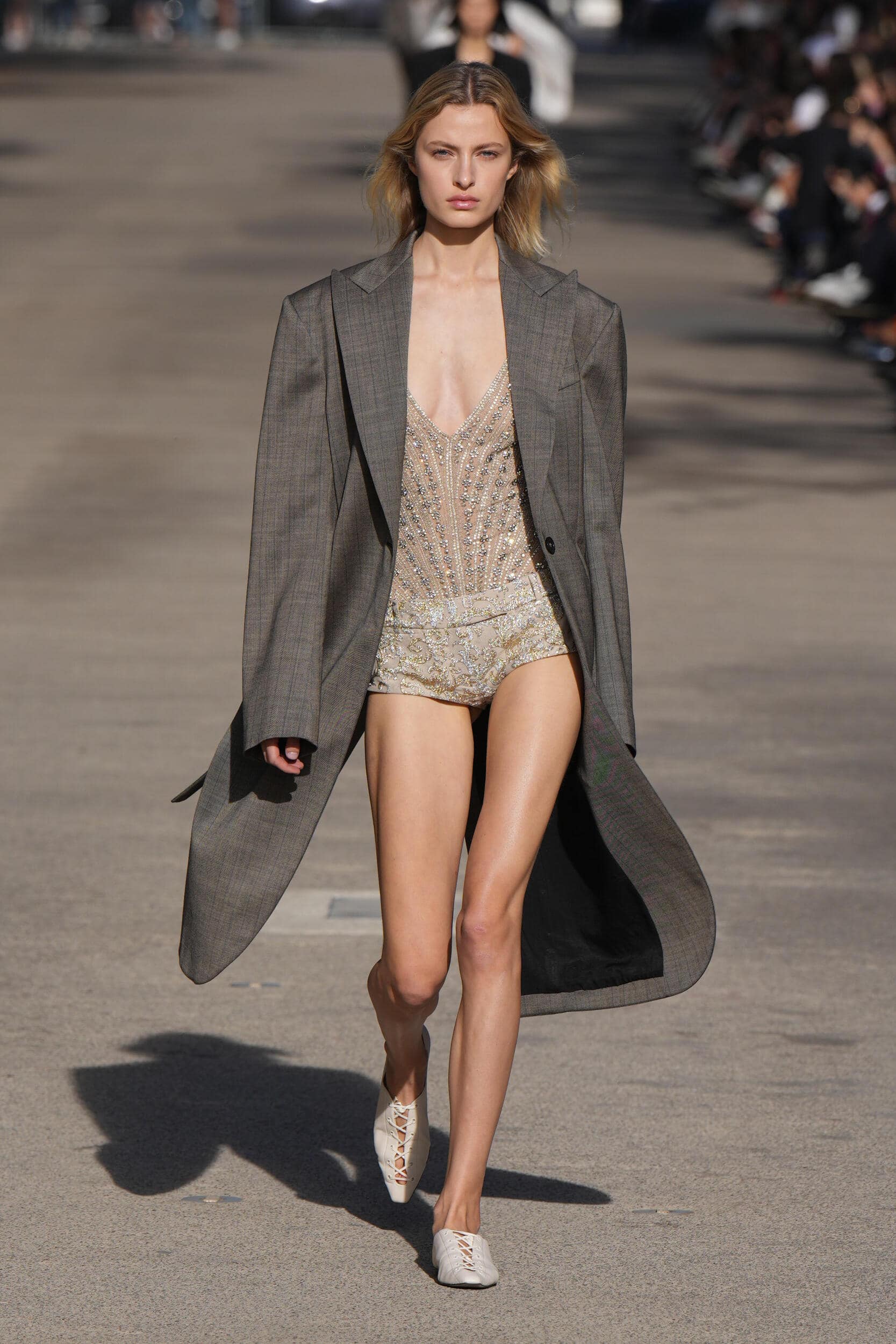 THE SHOWSTOPPER
Look # 43
Signalling a possible return to bohemia, the trend is updated through sheer layering and flourishes of embroidery.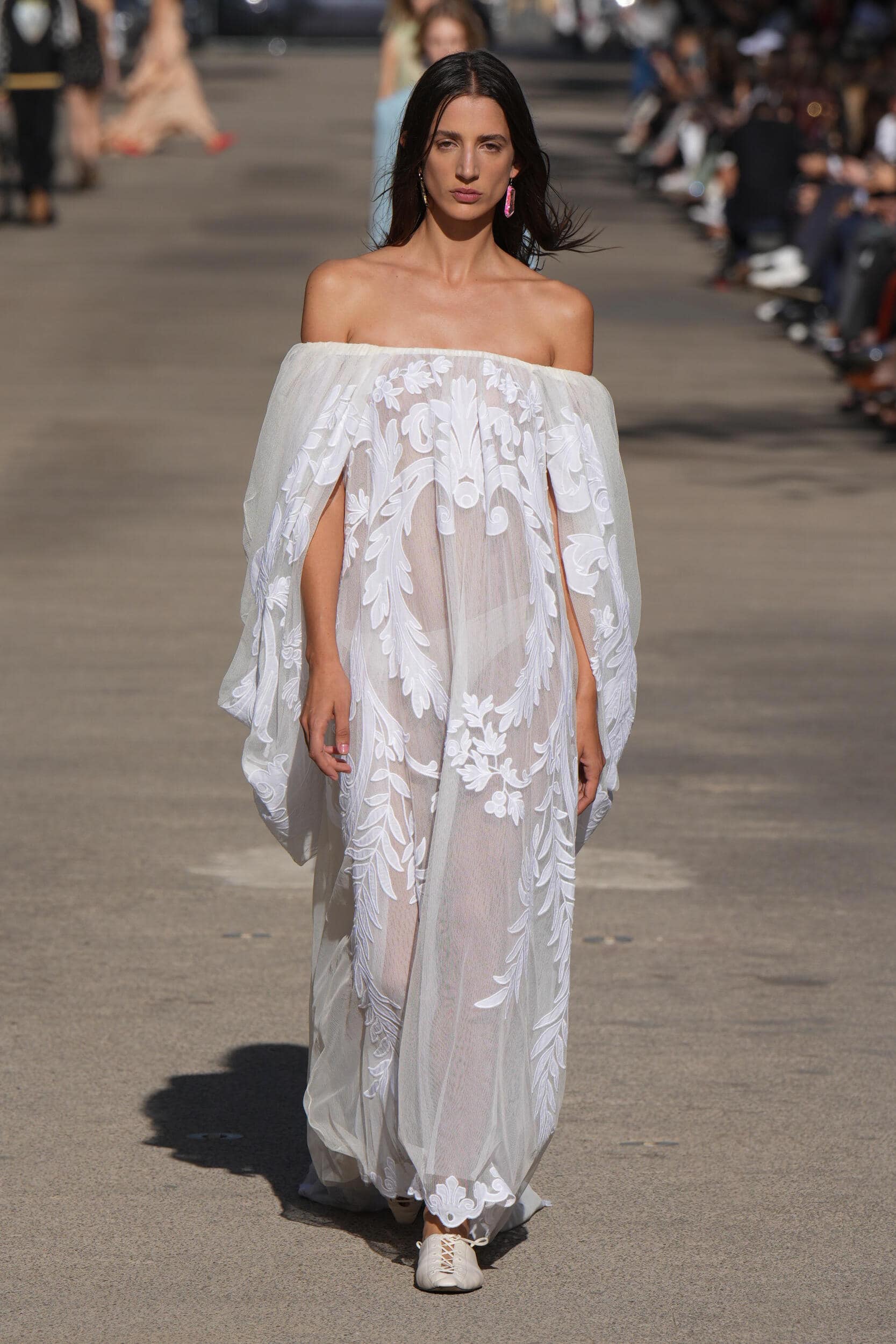 THE DIRECTION
A refreshing use of brand archives and authentic life experience meant the collection resonated.
Thinking cross-generationally, McCartney meets the needs of all in the 'family'.
THE QUOTE

I have people approaching us asking questions of how they get access to sustainable suppliers , so that is why I wanted to do Stella's Sustainable Market. So everyone can know what we make things out of, and they can meet the innovators. And it is also the first time the innovators have had the chance to meet each other [at our market]"

Stella McCartney, creative director, Stella McCartney
THE WRAP UP
Looking to her archives the designer gave us a collection that reinterpreted them as one which would work across the generations. She fed in classic trench coat outerwear, relaxed denim, embellished crochet pieces (the work of whom could be found in her sustainable market) for vacation Stella, and something for the night in her shimmering and corseted separates.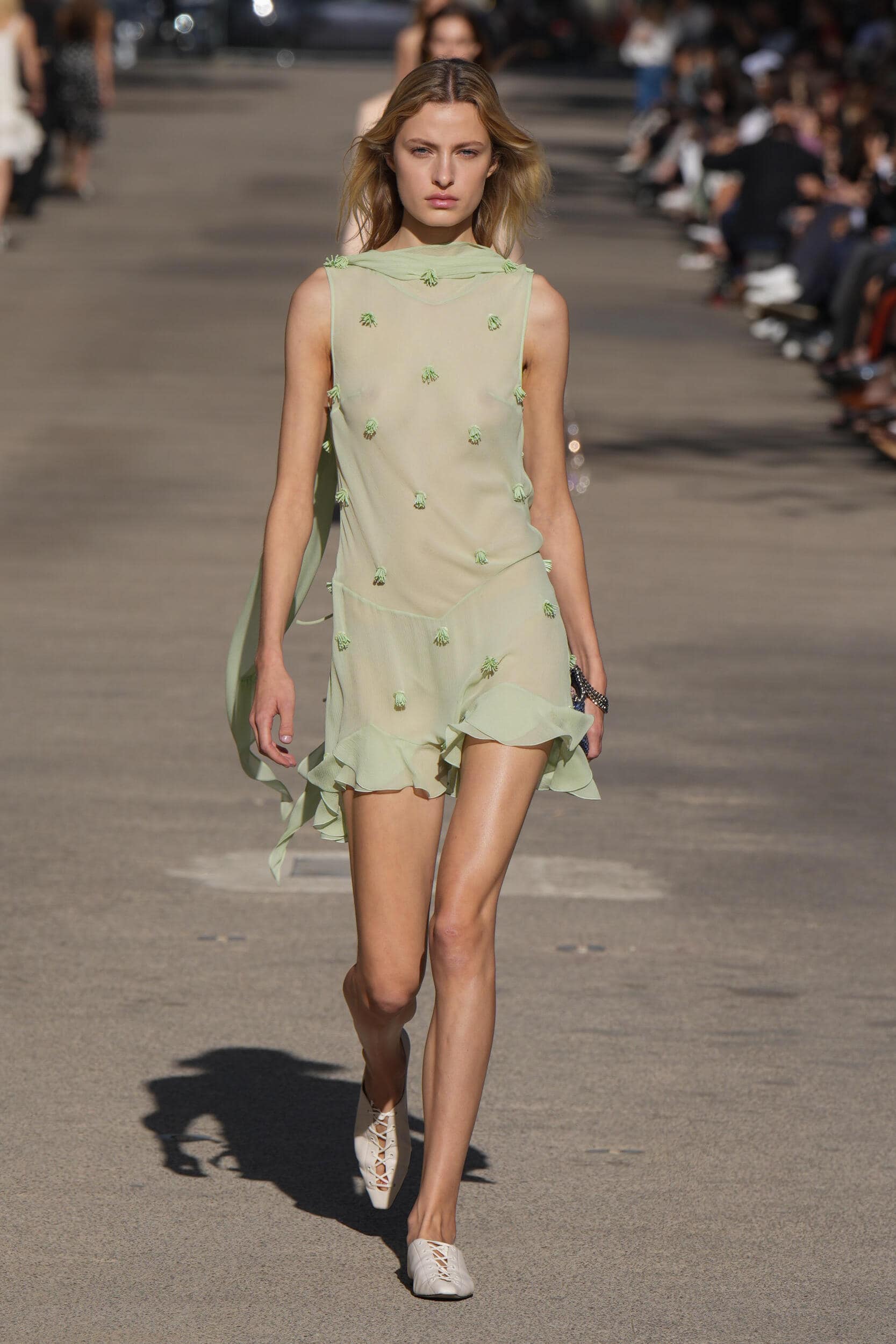 ---