Karla Otto and Lefty Highlight Fashion Weeks Shifting Perspective
By Angela Baidoo
The relevance and impact of fashion month can be analysed in many ways, but when it comes down to ROI it is the numbers that count, that steer brands as to where to place their marketing spend each season, and who will increase their visibility – then sales – year after year. 

Upon release of their SS24 Roundup, The Impression partnered with Karla Otto x Lefty – with exclusive insights from TikTok – to crunch the numbers, and get to what really mattered and influenced during the most recent fashion month this September.
Index
Fashion Month by The Numbers
Taking a measured look at the SS24, close to $1B ($829M) was generated by less than 300 (271) brands, proving that it's not what you post, but more so who is doing the posting which is making a marked difference each season.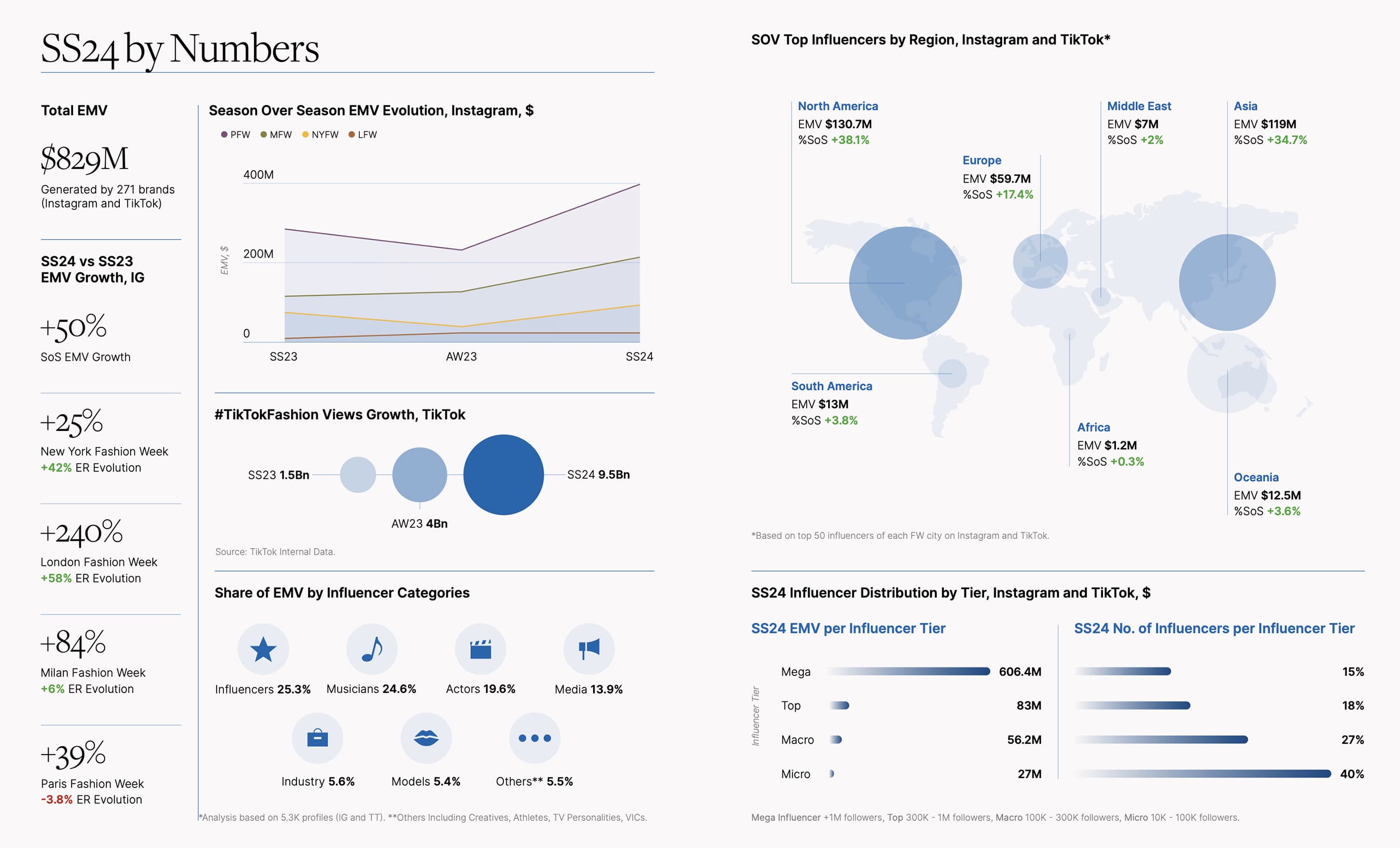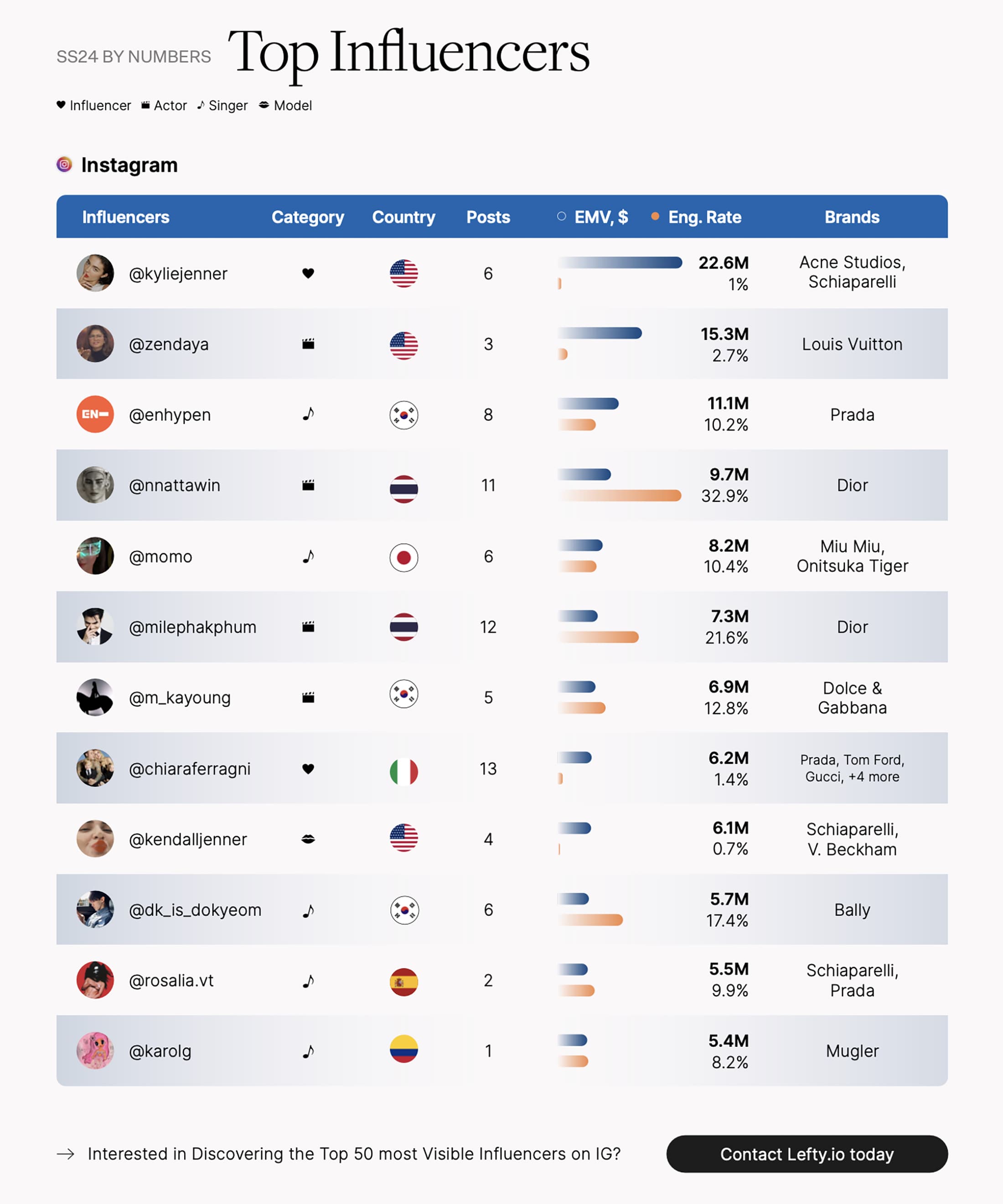 It is interesting to note that influencers and musicians were at a near equal footing over the four weeks of fashion month. Which comes as no surprise when you look at the impact that Beyonce's Renaissance tour, and Taylor Swift's Eras tour, had on the GDP of the local economies of the countries and cities they visited, demonstrating that the music industry is still a healthy money-maker. With the likes of Kylie Jenner and the K-Pop group Enhyphen making the biggest waves, Australian singer and actor Troye Sivan who walked for Miu Miu at the end of Paris fashion week also created media buzz for the brand. The K-Pop ensemble and the youngest of the Kardashian-Jenner clan generated a combined $33.7M in EMV from only 14 posts (Kylie 6, Enhyphen 8), further proving the point that it is not about the quantity, but quality of targeted posts which act as the most effective marketing tool during fashion week.
Due to the ongoing SAG-AFTRA strike, actors became a driving force for generating buzz across the big four cities, as Blake Lively at Michael Kors, man-of-the-moment Paul Mescal at Sabato De Sarno's Gucci debut, rising Thai actor Nattawin Wattangitiphat and Robert Pattinson at Dior, took up valuable front row space across New York, Milan, and Paris.
The world of sport and fashion is also once again merging to create a mutually beneficial partnership. As if the coinciding release of the Beckham documentary on Netflix, the Women's World Cup tournament, and the upcoming Paris Olympics in 2024 are considered, it explains why major luxury players are pledging their allegiance to football, basketball, tennis, and fencing's MVP's – Louis Vuitton signed fencer Enzo Lefort as the latest ambassador for the French luxury house – introducing them to a completely new and untapped audience. According to data from the Lefty x Karlo Otto report "68 athletes partnered with brands generating $14.2M EMV".
TikTok Takes Over
Highlighting the importance of the video sharing app among Gen Zers, views of #TikTokfashion grew on the by 6.3x when compared to the SS23 season last September, from $1.5Bn to $9.5Bn, garnered by viral moments created by both established and emerging brands and content creators.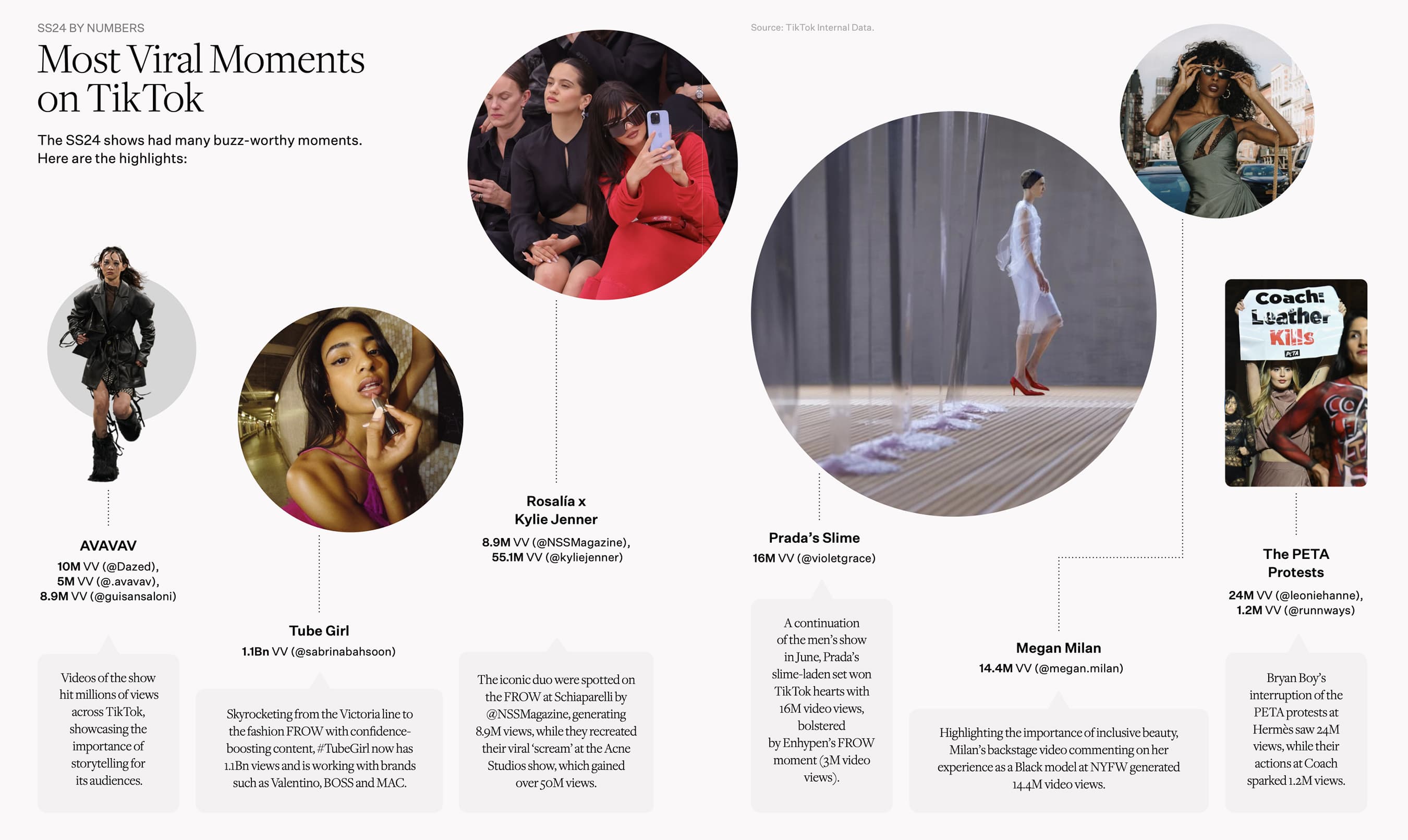 One of the season's most viral success stories was that of 'Tube Girl', real name Sabrina Bahsoon, she has over 766 thousand followers on TikTok and was most significantly invited by Valentino to film backstage. The video of which has generated over 3M views and 364 thousand likes. More than one of the creator picking up one of the brands #VLogoMoonBag's, which had 317 thousand views from the brands over 1.6M followers. Speaking on her unique approach to authenticity and how that attracted the fashion industry, Bahsoon shared with Karla Otto and Lefty,
I think it says to the fashion industry that you can easily see where audiences are headed, what is getting their attention and that the faces of fashion can be ever-changing. There is no one specific type that is perfect for the fashion industry, it's all business and if someone has the public appeal you should invest in them"

– Sabrina Bahsoon
Other viral moments tapped into the trend for 'Shockcore' which we highlighted in our insights article earlier this year – 'Shockcore – The Emerging Trend That's Here to Stay'.
AVAVAV's chaotic show which saw model's thrown onto the runway – some half-dressed -amassed 5M views. Prada's show set dripping with slime – first seen at its men's show in June – was a crowd-pleaser for its child-like tactility garnered 16M views via content creator @violetgrace_, and fashion week disruptors which no-one could have foreshadowed was the spectacle caused by PETA protestors who invaded the runways of Coach, Burberry and Gucci. But it was the unexpected gesture of OG blogger Bryan Boy who tore the sign from one such invader's hands at the Hermès show which saw over 24M views on fellow blogger Leonie Hanne's account, and at the time of writing this had increased by 7M to 31M views.
The Season's Stand-outs
Rather than focus on their positioning, brands would do well to pay attention to their growth numbers via social media, as despite seeing little movement in the Top 3, in comparison to last year, with Dior usurping Saint Laurent to first place (AW23's Top 3 were Saint Laurent, Dior, and Louis Vuitton, and SS24'S top 3 were Dior, Prada, and Louis Vuitton), brands such as Miu Miu in 6th place saw an EMV growth (SS24 Vs SS23) on Instagram of +149.7%. But taking Victoria Beckham as an example, the brand saw exponential growth on Instagram YoY to +227.9%, which may have been influenced by the strategic inclusion of her own family, the Kardashian-Jenner's cast both on the runway and in the front row, as well as the additional chatter around the Netflix show 'Beckham' which was the inspiration behind dozens of inspired editorials and affiliate marketing column inches dedicated to the couples y2k style. Schiaparelli was also a strong climber, as in only Daniel Roseberry's second ready-to-wear show for brand, which is a firm favourite during the Couture season, they managed to break into the Top 5 by TikTok and Instagram EMV, at $41.1M according to the report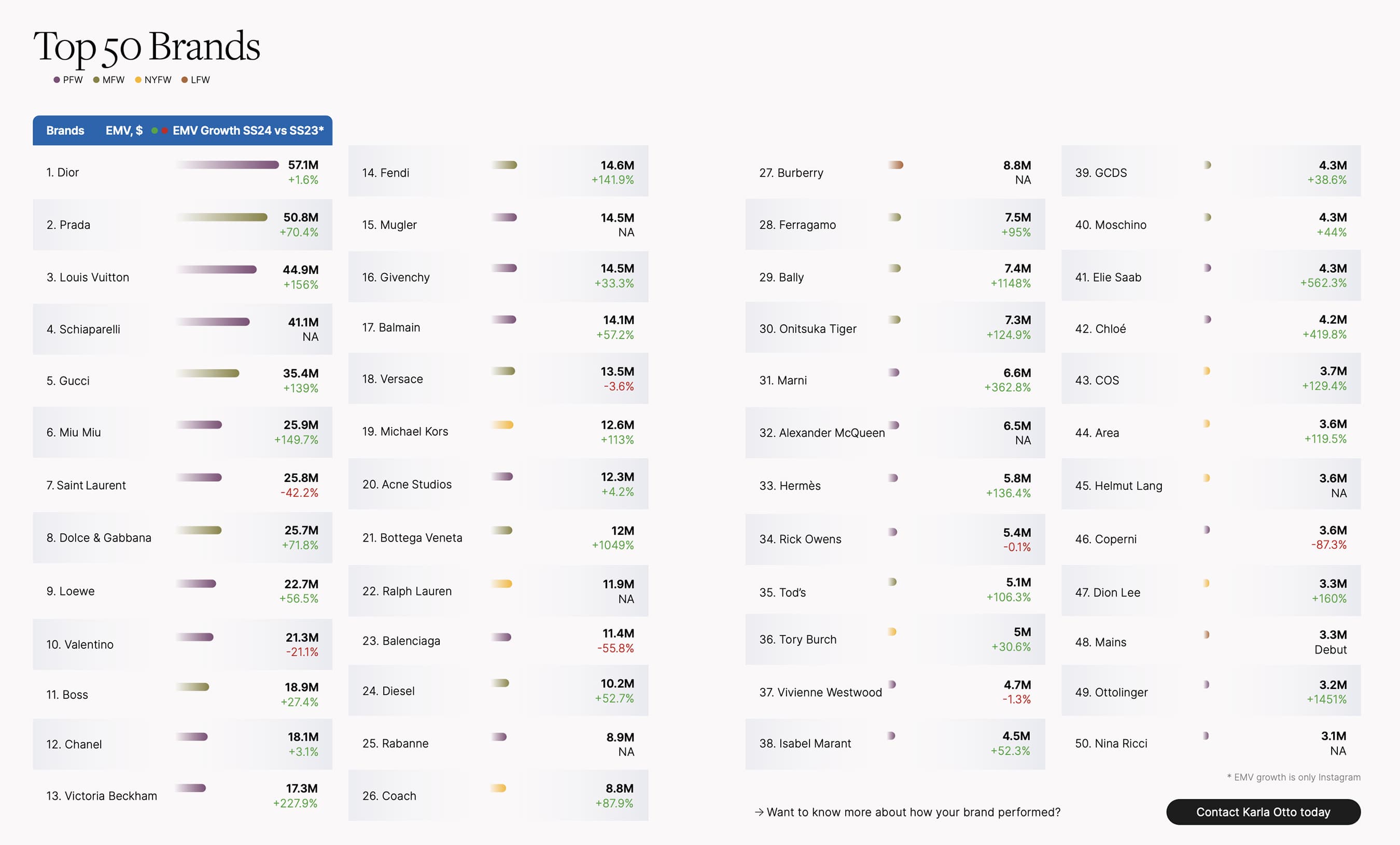 The Battle of the Big Four
This season was marked by a number of major debuts and the re-focus towards honest simple clothing which tapped into the trend for all things Quiet Luxury.
In New York it was the seasoned heritage brands who created the biggest EMV numbers. Michael Kor's outdoor show featuring Blake Lively, model Coco Rocha, musician Rita Ora and TikToker Davis Burleson generated $12.6M (across both Instagram and TikTok), seeing a growth rate of 113%. Ralph Lauren's return to the city – his last show was pre-pandemic in 2019 – was sprinkled with A-listers of the big and small screen who embodied the brands All-American aesthetic, from Robin Wright to Laura Dern, Gabrielle Union and newly-wed (as well as Quiet Luxury's unofficial ambassador) Sofia Richie-Grainge. Causing the brand to chart at No.2 after Kors according to the report. Peter Do's debut at Helmut Lang was also a hot ticket, as K-Pop stars and Thai actors drove the brands $3.6M in Earned Media Value. And even though the collections of the major brands were the talking point of New York's fashion week, high-street fashion fixture Cos managed to edge out both Area and Helmut Lang to the Top 5 spot with $3.7M in EMV, despite being an AW23 show (of its Atelier range), so a show that was instantly shoppable by the brands followers. Attendees included Suki Waterhouse and Jodie Turner-Smith.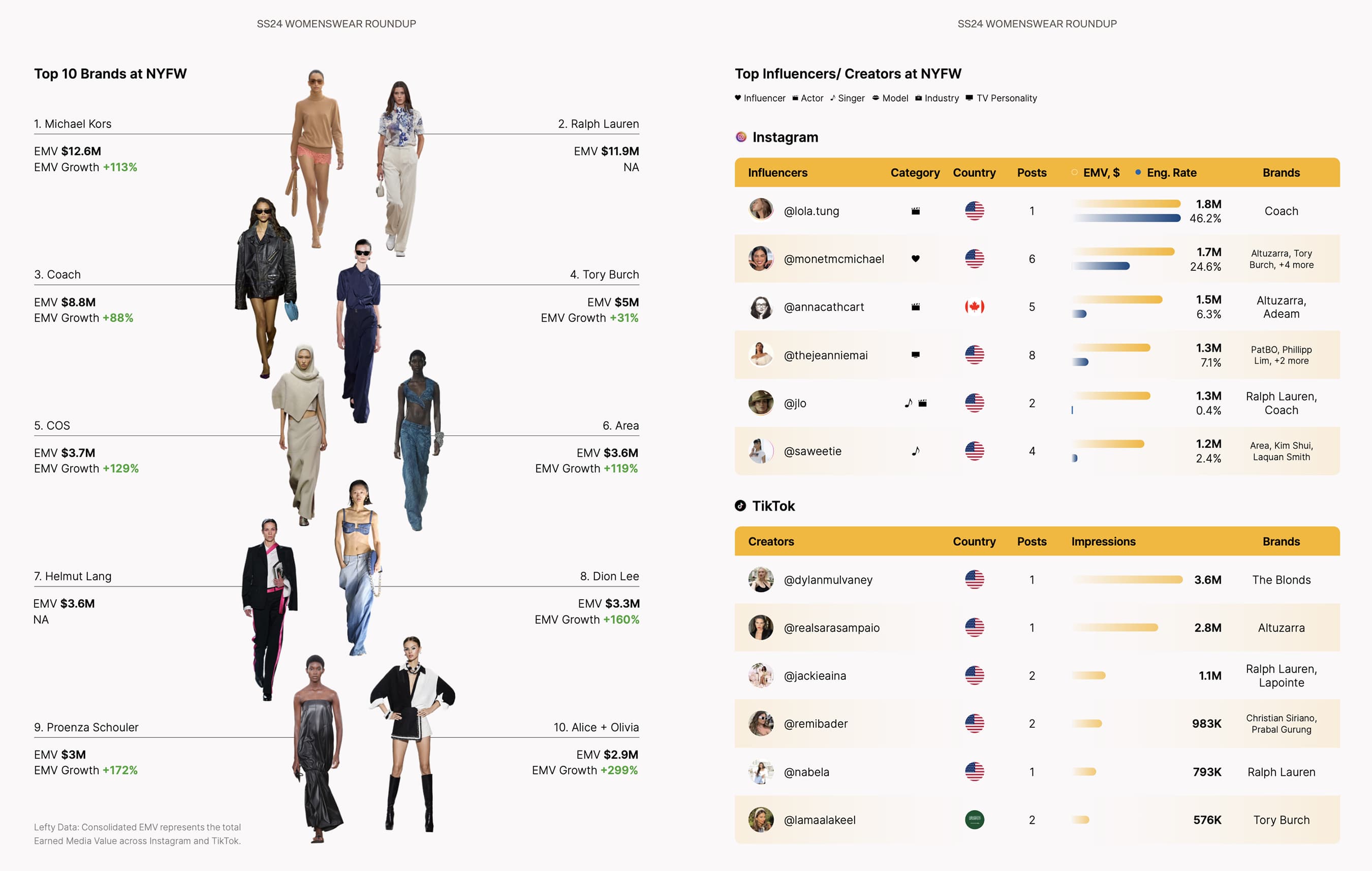 London was very much focussed on showcasing its home-grown talent, as well as amplifying the city's coup of hosting two major exhibitions, which acted as significant draws for international editors, namely a Gabrielle Chanel retrospective at the V&A Museum and Rebel: 30 years of London Fashion which celebrated the impact of 30 years of the British Fashion Council's NEWGEN programme on London's young creatives.
Daniel Lee's second outing for Burberry was the star of London's schedule with $8.8M in EMV, the heritage brands guest list expertly combined the best of the British and international burgeoning talent across music, film, theatre, and sport, as Thai actor Vachirawit Chivaaree, known professionally as Bright Vachirawit or Bright created a ¼ of the brands EMV (2.3M), alongside South Korean football player Son Heung-min, American actor Taylor Zakhar Perez, as well as the star of Netflix hit Top Boy (in another debut which coincided with the season) rapper and actor Kano. The brand also performed a clever citywide takeover for its show, as Bond street station was rebranded as 'Burberry Street', but slightly missing the mark was its collaboration with Norman's Café, which created high levels of engagement across social media, but also sparked debate about whether it was mocking the working class.
Emerging brands commanded as much pulling power as established names, as evidenced by rapper Skepta's revival of his Mains brand, coming in at number 2 with $3.3M in EMV, the show was attended by actor Maisie Williams, fellow rappers ASAP Rocky and Stormzy. The report noted that with the founder's origins in the world of music, harnessing platforms such as TikTok was a missed opportunity "This standout debut proved that a famous founder and creative director works – a low ranking on TikTok, a music-driven platform, seems like a missed opportunity".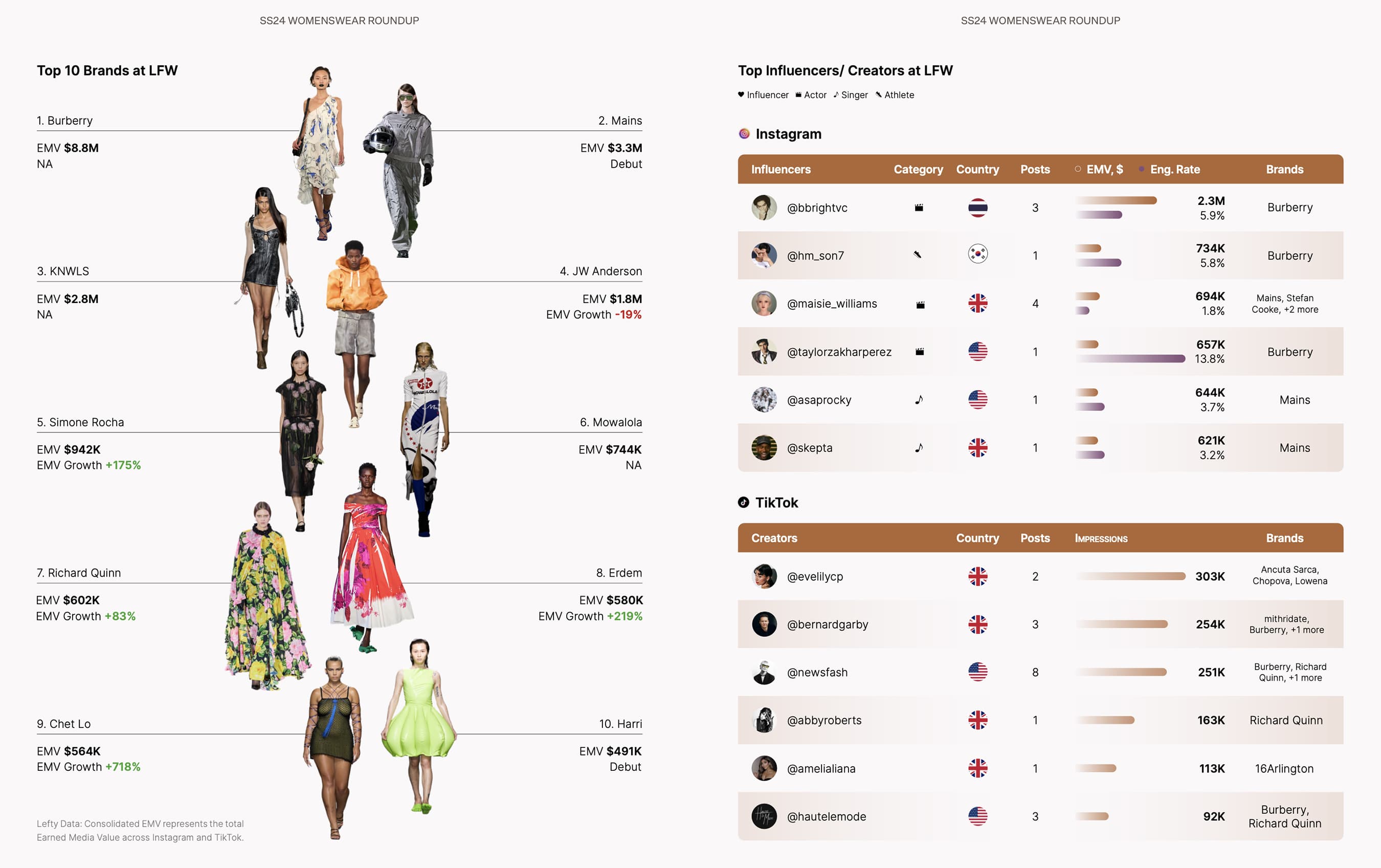 Milan boasted a bumper season, with over 160 shows and presentations generating $215M in EMV, an increase of 84%. The much-awaited debut of Sabato De Sarno at Gucci, Peter Hawking's at Tom Ford, and the platforming of size-inclusive brand Karoline Vitto by Dolce and Gabbana made for a compelling season in the city.
Prada claimed the top spot with $50.8M in EMV, a growth rate of +70%, one fifth of which was generated by its latest ambassador acquisition, the K-Pop group Enhyphen. The group were also Milan's No1 influencers "…with an overall EMV of $11.1M" according to the report. The Gucci show earned second place with an EMV of $35.4M, a growth rate of +139%, following a campaign across the city which saw billboards and trams emblazoned with the new house signature '#Gucciancora Red'. A number of A-list stars flew in to be part of the brand's new beginning which was relocated from the streets of Milan to the brands HQ, due to less-than-ideal weather conditions. Julia Roberts, Jessica Chastain, Alia Bhatt (British actor and Hindi film star), Ryan Gosling, Hanni (K-Pop band NewJeans member), and Sophie Wilde (Australian actor) made up the stellar front row.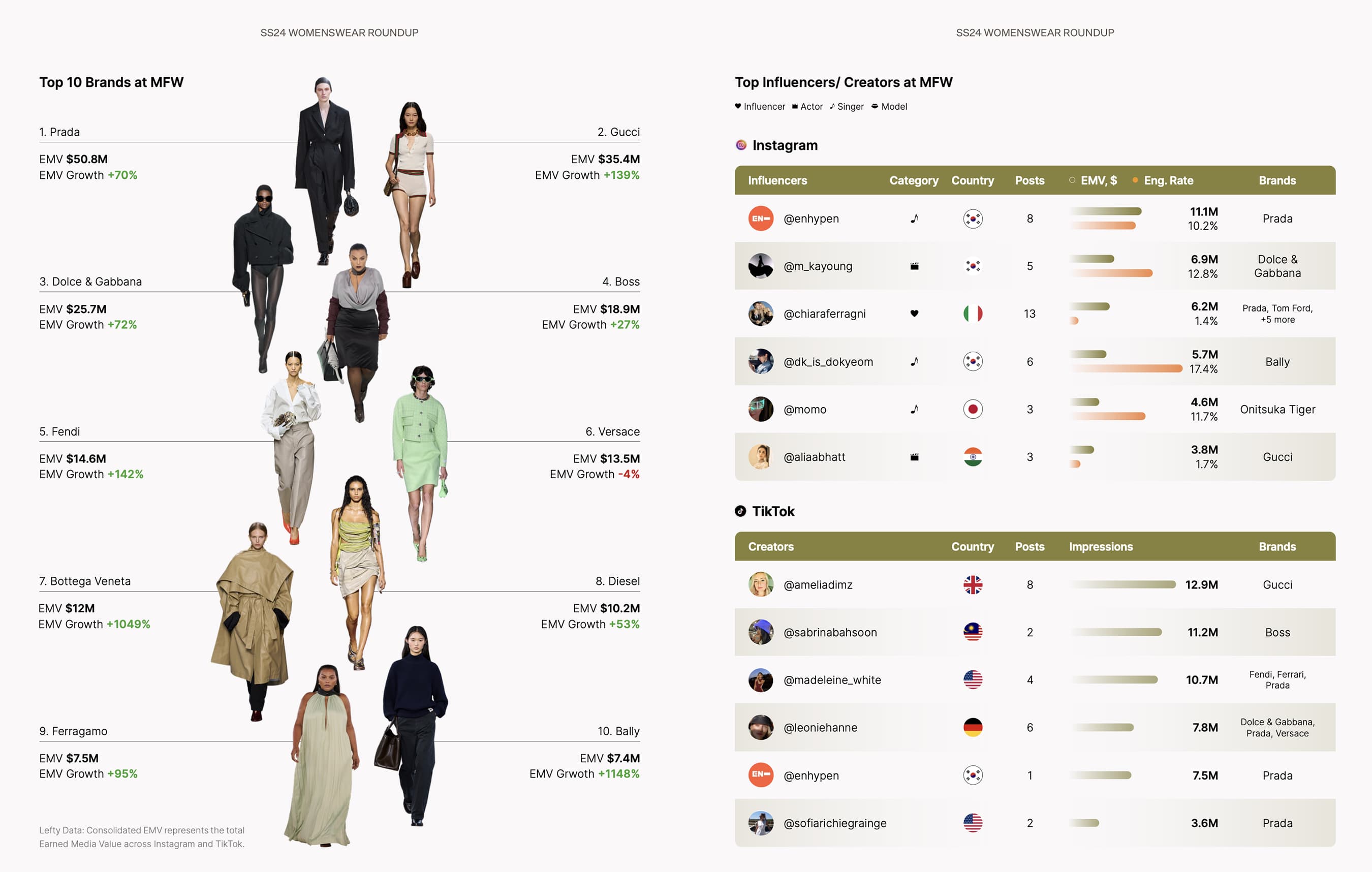 Rounding out fashion month, Paris generated the highest EMV of the big four at $395M, a growth rate of +39%, which the report highlights was a -3.8% ER Evolution from SS23 to SS24. Influencer Kylie Jenner created a combined EMV total of $61.8M across Instagram and TikTok from her attendance at the Acne Studios and Schiaparelli shows, Zendaya's single appearance, as louis Vuitton ambassador, garnered $15.3M in EMV on Instagram for the luxury brand's show, while Thai actor Nattawin Wattangitiphat helped Dior to a No1 ranking. Mugler's Casey Cadwallader, gave audiences a change in direction from his uber-body conscious silhouettes of the past few seasons, featuring an eclectic runway casting of Angela Bassett, Paris Hilton, and veteran model Maria Carla Boscono, the brand earned a place in the city's Top 10.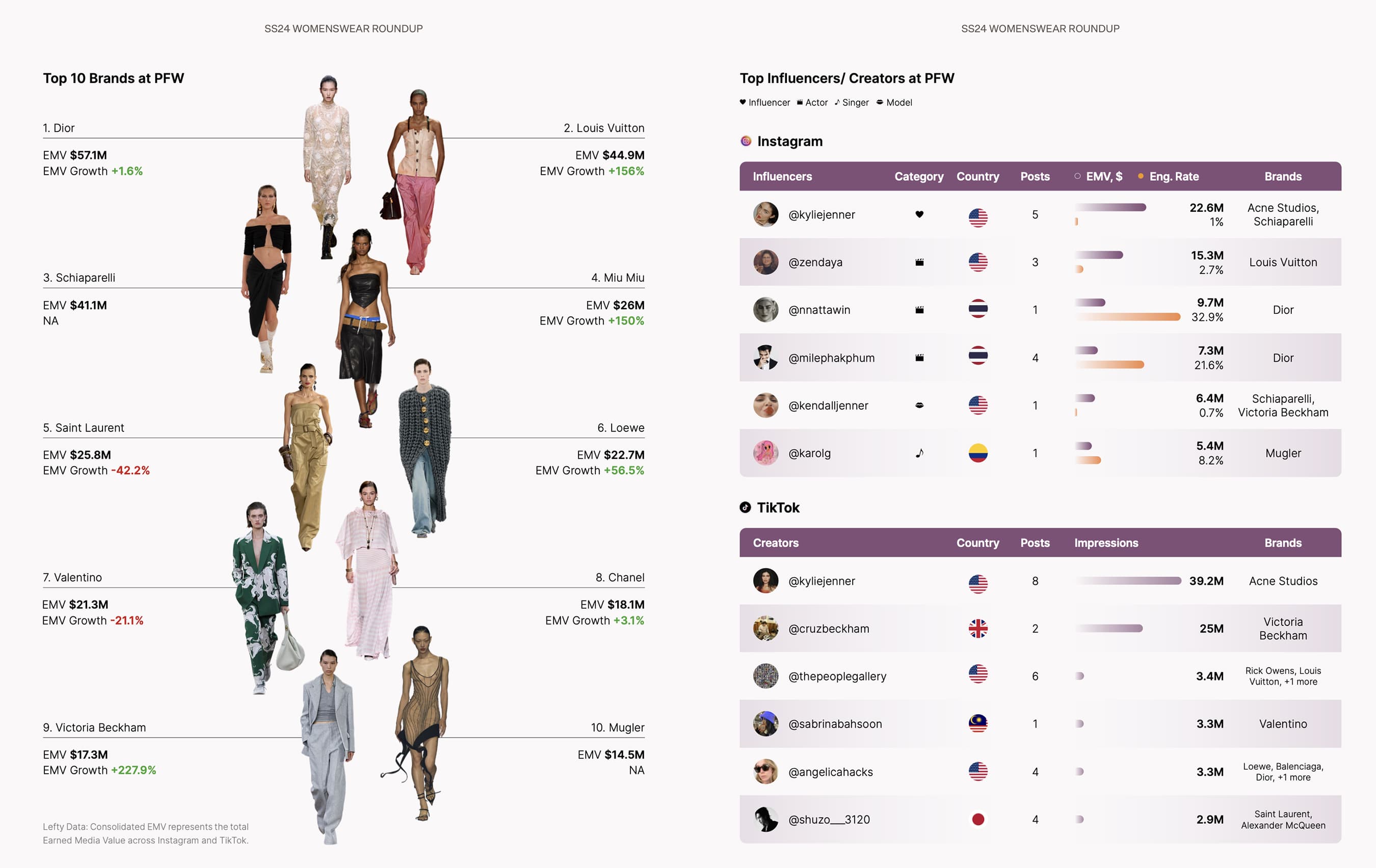 Upping Their A-List Game
Actors, once the go-to for brands before the phenomenon of the influencer gained a more lucrative hold over the industry, made a welcome return, and were on an almost equal footing with influencers as they generated "45% of the season's EMV" according to data from Lefty.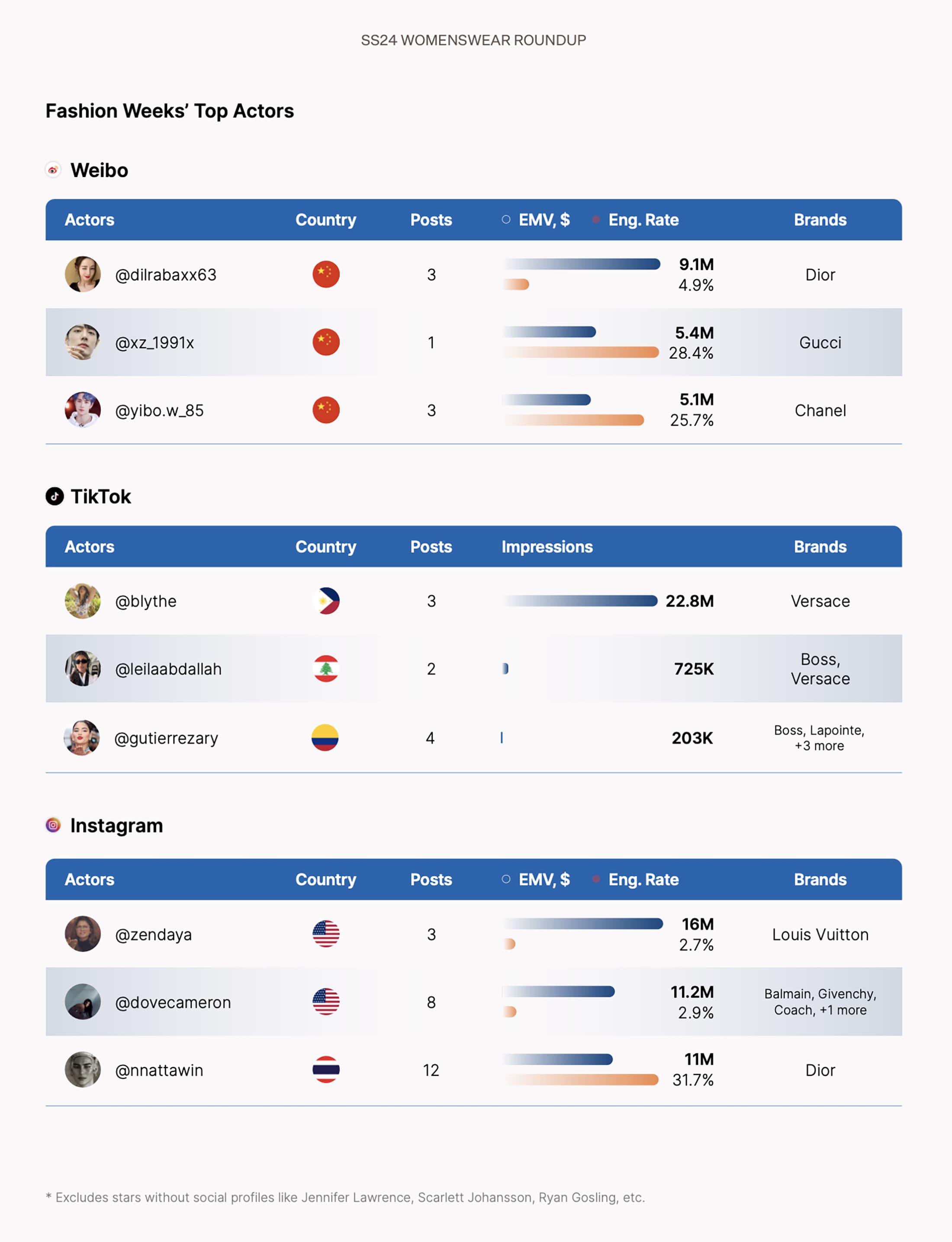 Their appeal was embraced by nearly 100% of brands across the season, as 94.5% invited them to shows, utilising this golden moment of downtime during the ongoing SAG-AFTRA strike. Outside of the West, actors from China, Thailand and the Philippines made significant gains, with Filipino actor Ramona Andrew Blythe Daguio Gorostiza, known professionally as Andrea Brillantes, created the highest EMV of $22.8M for Versace via her TikTok account. This was closely followed by Zendaya for Louis Vuitton at $16M.
Actors amassed $610M in media value over the four weeks, which breaks down to $450K per actor, data which many brands will be harnessing to reconsider the balance of their guest list for the upcoming resort, men's, couture, and ready-to-wear seasons.
Pre-Gaming for the Paris Olympics 2024
Finally filtering through from the men's seasons (especially the June shows, which coincide with the end of the NBA season), the proliferation of sports stars on the front rows of some of the biggest names in the industry is being recognised as an under-utilised resource by womenswear designers, as according to Lefty data athletes generated $14.2M in EMV.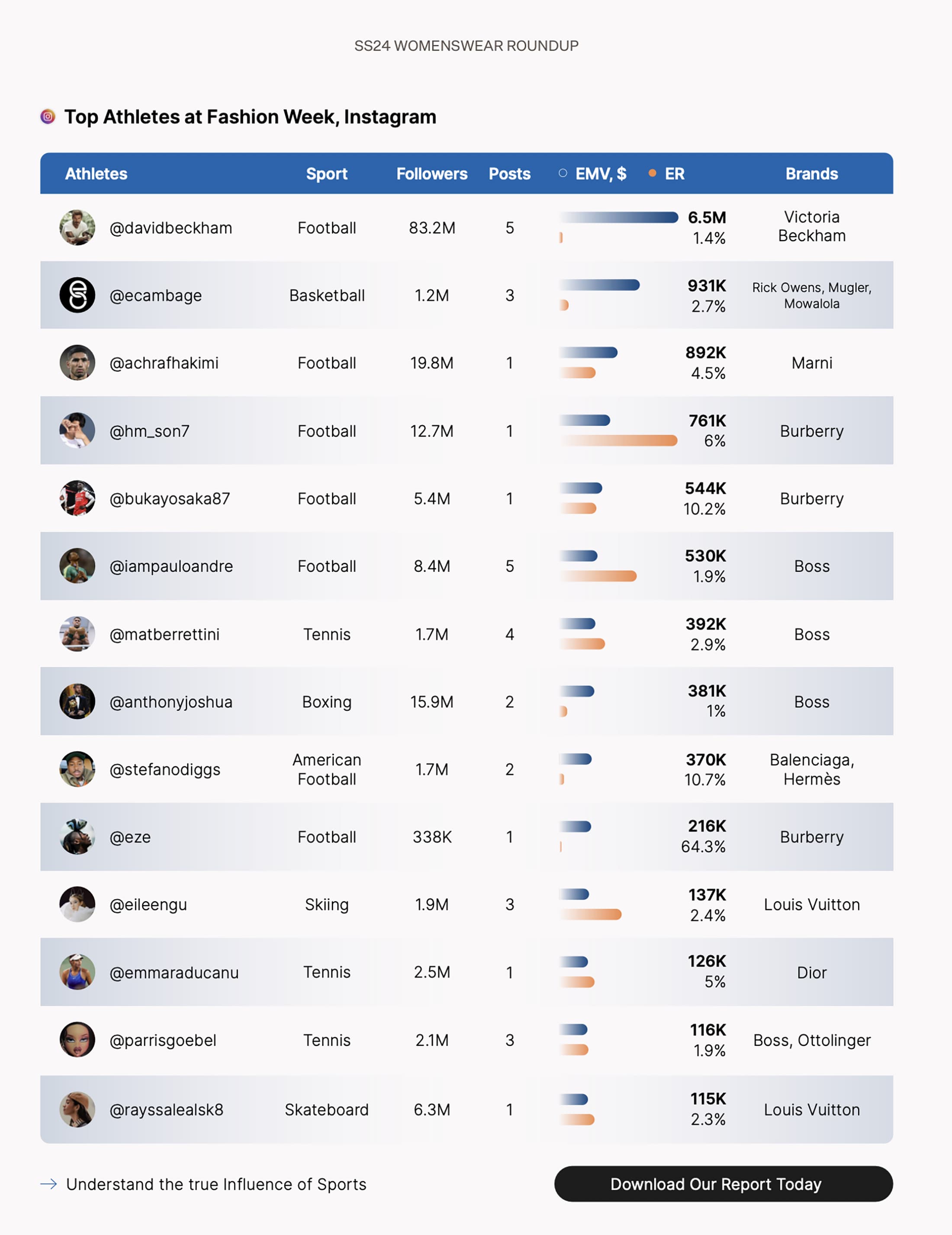 The upcoming 2024 Olympics in Paris is also a key reason why a number of brands under the LVMH umbrella have been aligning with Olympians across a range of sports, especially seeing as the luxury conglomerate announced itself as a premium partner in July, with "key celebratory moments" to be debuted during the Olympic and Paralympic Games as confirmed in a press release.
The NBA "tunnel walks" – where players take the short walk from the arena entrance to the locker room – have become infamous for the opportunity for athletes to peacock in their latest wares from Rick Owens to Dior and Louis Vuitton, making names for both the players and their stylists, it's a natural progression from there to the runways of New York or Paris.
The report also highlighted that talent from the Women's NBA shouldn't be overlooked, as Australian basketball player Liz Cambage is the "second most EMV-generating athlete", appearing at the Rick Owens, Mugler, and Mowalola shows, and generating close to $1M in EMV.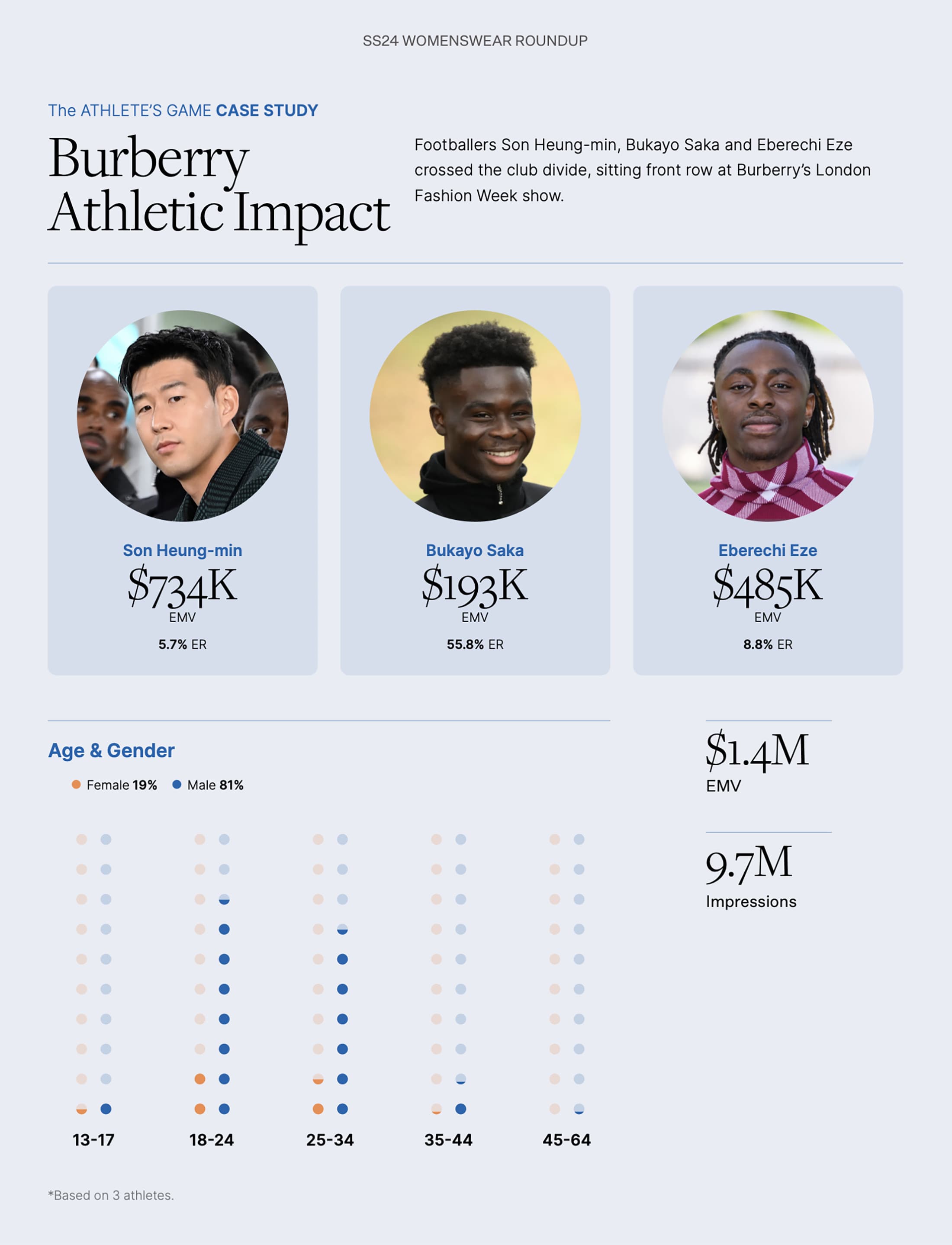 This season "35 brands collaborated with 68 athletes to generate a total of $14.2M EMV" according to the report, drawing in a new, engaged audience for the luxury fashion sector.
No stranger to the runway circuit, David Beckham – and his children, as Cruz Beckham generated $25M for the Victoria Beckham show – on his press tour for his Netflix documentary generated an additional $6M in EMV for his wife's Paris show. Footballers were also key to Burberry's front-row strategy as Daniel Lee tapped into popular players from London clubs Tottenham Hotspur (Son Heung-min $760K) and Arsenal (Bukayo Saka $540K).
---