To Redefine, Or To Reiterate?
Review of Tom Ford Spring 2024 Fashion Show
By Mackenzie Richard
THE COLLECTION
Commitment and Dedication: Hawkings' evident passion and dedication to the brand promise stability and a continued emphasis on quality.
Unified Aesthetic: The seamless blending of men's and women's collections into a unified vision showcased Hawkings' talent and commitment to evolution.
Inspired by Donyale Luna: Drawing inspiration from an iconic figure like Luna ensured pieces that exuded elegance, mystery, and glamour.
"Sexy or Sexist?" Debate: While the brand's hallmark has been its allure, the overt sensuality in certain pieces could be polarizing for some viewers, inviting critiques of objectification.
Balancing Act Risk: While aiming to retain brand essence and introduce personal touches, Hawkings walks a tightrope. Straying too far one way could alienate loyalists, while leaning too heavily the other way might make the brand stagnant.
THE VIBE
THE THEME
In the historic Palazzo del Ghiaccio in Milan, a familiar nostalgia wafted through the air as the long-awaited Tom Ford Spring 2024 show unfolded. The much-anticipated debut of Peter Hawkings as the new creative director had all the classic hallmarks of Ford– with a twinge of déjà vu.
A voice from the past echoed across the runway. Hawkings, whose journey with Tom Ford extends back to their collaborative days at Gucci, presented a collection that felt like a tribute—a love letter—to those shared iconic moments. In one perspective, it was like watching Tom Ford 2.0; fast, sexy, tailored, every garment exuding that intoxicating confidence that has long defined the brand. Yet, this is where the introspection arises: does this reclamation of classics border on the verge of glorifying an antiquated idea of femininity?
Inspired by the poise and enigma of Donyale Luna—the '70s first black supermodel—the collection oozed a feline, mysterious charm. Every piece felt supremely elegant and glamorous, much like Luna herself. Hawkings' vision of a unified aesthetic between men's and women's collections shone brightly, a bold but welcome move in today's fashion landscape.
However, the familiar thread running through the collection raises an essential question: while maintaining brand consistency is commendable, to what extent does the element of surprise and innovation get sacrificed? Hawkings' close bond with Ford is undeniably heartwarming, but is the essence of Tom Ford now running the risk of becoming…well, too familiar?
THE BUZZWORDS
Nostalgic Elegance, Unified Vision, Debated Femininity, & Continuity vs. Innovation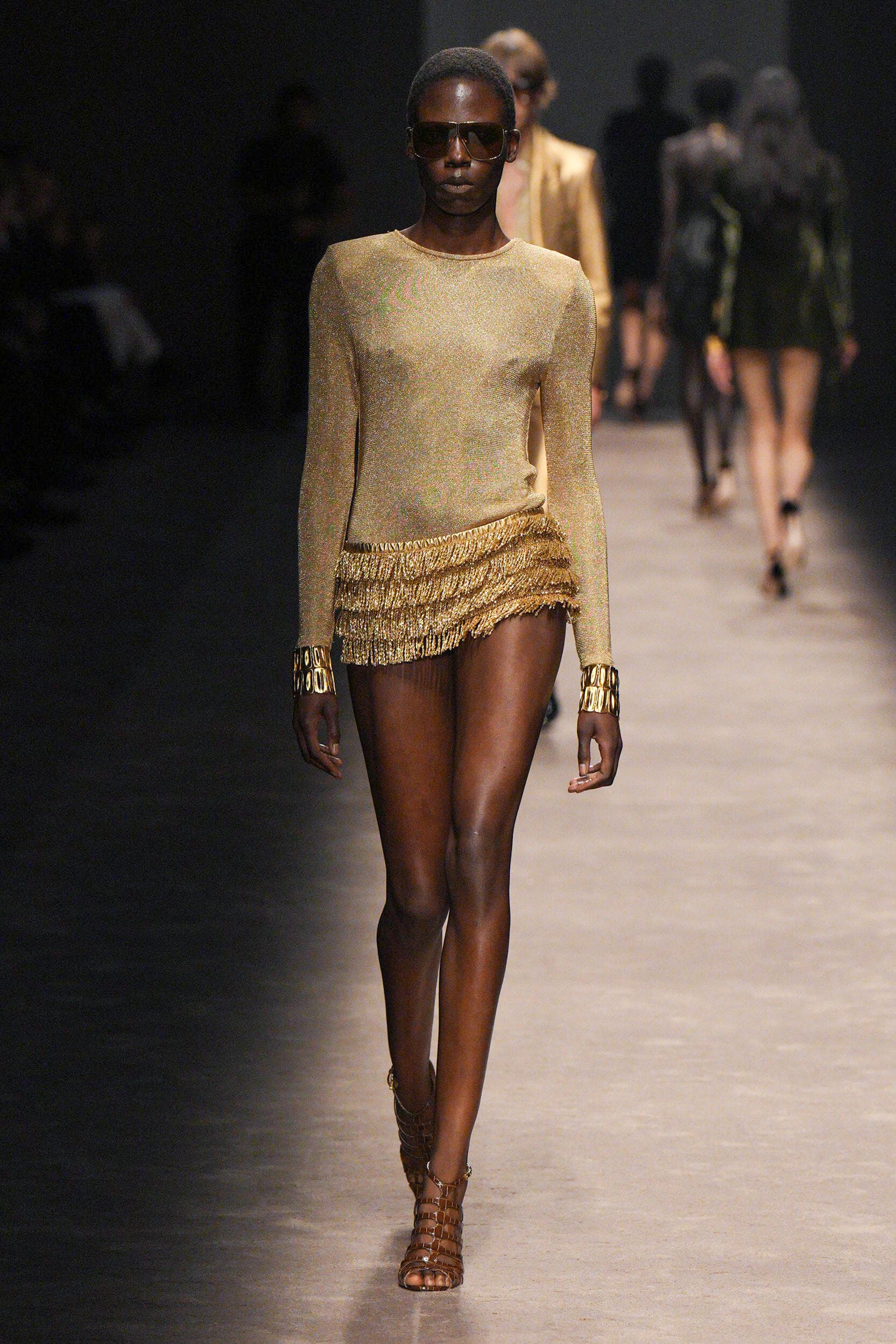 THE SHOWSTOPPER
Look #55
In a time where the definitions of femininity are ever-evolving, the distinction between "sexy or sexist?" danced subtly throughout the show. The power of the brand's alluring charm is evident, yet it's a delicate balance to strike without crossing into the realm of brazen sensuality. Enter Look 55, embodying this balance to perfection.
Donning this dress is akin to wearing a crystal chandelier: it drips with decadence and dazzles the room. It confidently makes its sophisticated statement, sidestepping the need for blatant allure, and instead captivates with pure elegance.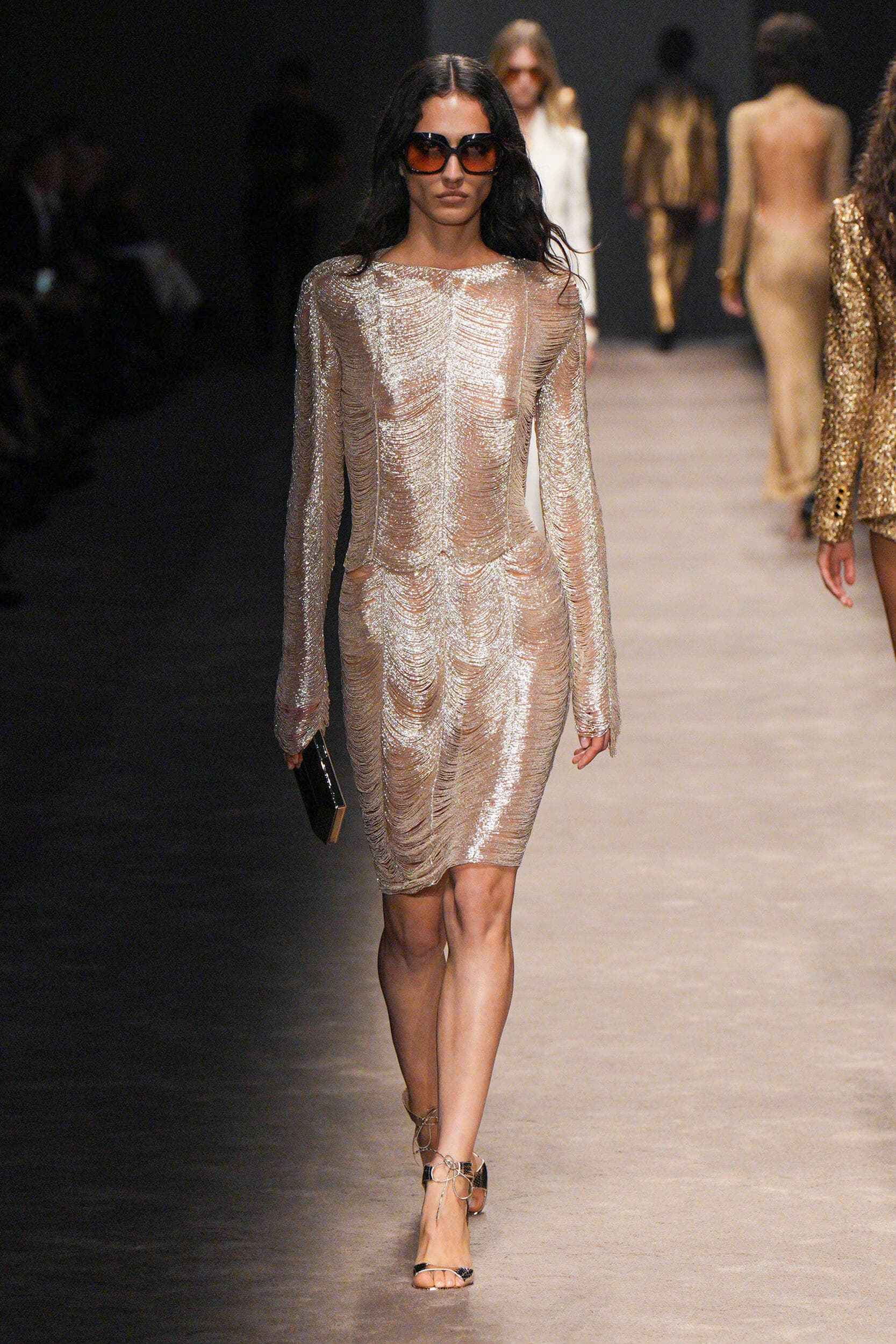 THE DIRECTION
The essence of Tom Ford has always been anchored in its unmistakable signature style, and Peter Hawkings' debut was no exception. It wasn't so much about introducing a new narrative as it was about proudly reiterating, "This is Tom Ford, unchanged and unapologetic." In doing so, Hawkings sent a clear message: he's not here to reinvent, but to reaffirm. This steadfast stance, while rooted in loyalty, resulted in a lower 'brand evolution score.' Fashion critics and enthusiasts, ever hungry for innovation and boundary-pushing, found the collection's surprises sparse.
Conversely, the show's high 'on brand factor' score illuminated Hawkings' mastery in capturing the undiluted essence of Tom Ford. His deep understanding and commitment to the brand's DNA were evident in every piece and silhouette. While the Spring 2024 collection might not have blazed new trails in the fashion playbook of Tom Ford, it was a confident celebration of the brand's enduring core. The message was clear: the Tom Ford table remains undeniably and proudly the Tom Ford table.
This beckons contemplation: Was the familiar Tom Ford essence truly just Tom Ford's, or was this collection a moment for Hawkings to step out from the shadows and shine?
THE WRAP UP
In Peter Hawkings' debut collection, one sees a vision unwavering in the face of fleeting fashion whims. It wasn't about reimagining but rather reiterating, and he did so with confidence: the essence of Tom Ford remains true, albeit with fresh 'quiet luxary' nuances.
While many might have looked for an updated redefinition of femininity, Hawkings' foray into menswear was striking and praiseworthy. His dedication to the brand's legacy was palpable, a tribute to its iconic past.
Taking the helm as the new creative director of such an esteemed house is no trivial task, yet Hawkings navigated it with an comendable grasp of Ford's ethos.
As the curtain falls and anticipation for the next chapter builds, the essential question remains: As we move forward, will Hawkings merely echo the past, or will he courageously drive the dialogue into new, uncharted territories? Only time will tell.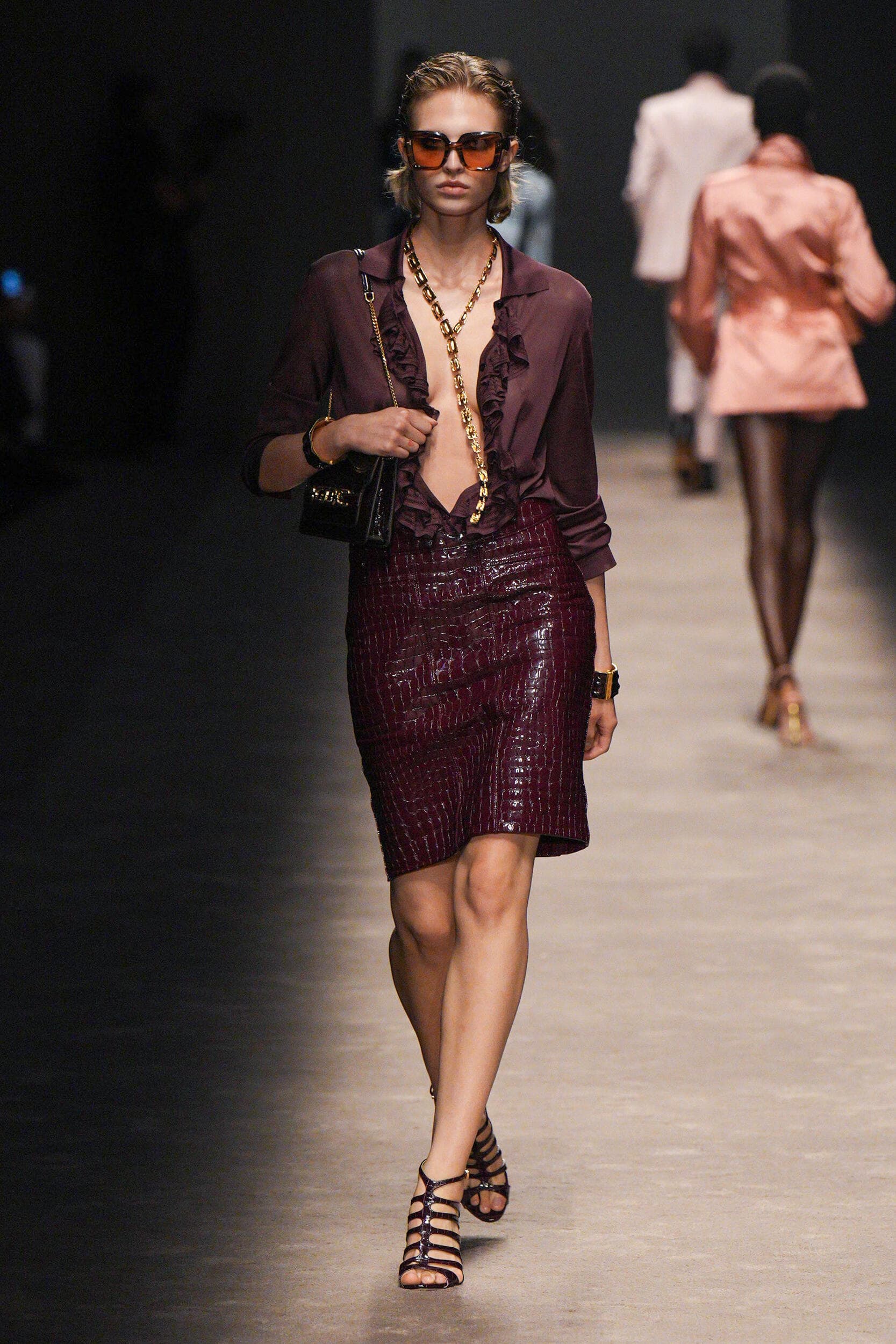 ---