By Mark Hooper
Having sold his agency Laird & Partners to Canadian-owned advertising and marketing company MDC Partners, Trey Laird is back with a new, streamlined, more holistic marketing brand called Team Laird, most noticeably creating a huge buzz around his brand refresh for BOSS – not to mention a new fitness and wellbeing venture, AARMY, launched during the pandemic. What gives? Don't call it a comeback…
Trey Laird: [Laughing] I don't know if it's a comeback, but I'm definitely back!
Mark Hooper: It feels like a fresh start for you at least, and maybe a reset moment after lockdown?
Trey Laird: Yeah, I sold Laird & Partners to MDC, and so when that was completed, it was a good moment to step back and think about what I wanted to say – and what do I feel is a relevant and timely way to work in this world? I think things need to be done differently going forward, for the opportunity to evolve.
I've always treated creative direction, marketing, branding, as strategic. It's never been art direction for art direction's sake. Obviously that's a hugely important part of what we all do, but for me, I felt I started running an agency that became bigger and bigger and bigger – and then you realize that your job becomes running an agency, rather than focusing on the brands and partnerships that you work with and being very hands-on.
So I wanted to restart in a way that could be very focused, working with fewer brands but with deeper, richer relationships with those brands. And really take what I've always thought of as my philosophy to the next level – in that I really feel like my creative execution, branding and marketing positioning is really a strategic weapon. And I've always developed ideas and concepts, concepts, insights, as strategy, really. I mean, obviously you have to beautifully and artfully execute that in a way that's right for the vision of each brand, but for me it's 100% a strategic weapon.
Mark Hooper: I guess with Team Laird you're able to own that relationship a bit more – there's a sense of control, whereas when an agency becomes so big, you can't really be in charge of everything?
Trey Laird: Yeah, it becomes a real partnership that's very thorough and 360 because, as you know, everything is connected now, so it's not like you can just come in and do a cool photoshoot and then leave and think everything's great. I mean, that's like breakfast! That's just a little taste of it. Every single touchpoint is so important now. Everything a brand stands for and the entire way it expresses itself is important. And it's got to be part of a bigger strategy. So I felt like, especially now when things are so fast and there's so much content and different social platforms and different ways for brand to show up – across virtual worlds and real-life experiences and NFTs and product collabs… all this stuff on a daily basis.
So my vision for Team Laird was I wanted to position it as a strategic partner for select brands that really want to move the needle – to really evolve and make a difference. I really see us coming in as strategic partners, working with CEOs, creative directors, founders and creative partners, to really help to craft that creative vision and help to bring it to life. And I think the best example of that so far has been BOSS, which for me was a great example to start with and just put that put into the world – the way I want to walk going forward.
Mark Hooper: Yeah. Which has suddenly exploded, I've been seeing it everywhere.
Trey Laird: It was like it came out of nowhere, right?
Mark Hooper: Yes, but it's hard to cut through with brands, when you're always trying to swipe through them on social media, but there was something really bold about it that really made you stop and pay attention.
Trey Laird: I think it did cut through, and also – you know what it is? And this has also been a really inspiring way of me looking at and re-entering this world that I love so much: it's all about an idea. I know that sounds really simple, but I think so many times, especially in fashion, ideas get forgotten. It becomes just about a picture or something that doesn't have any thought behind it. Especially now with social media, where you're just overwhelmed with an influencer paid thing or selfies or whatever it is – there's so much stuff out there that's sort of mindless. But I think when something is really driven by the simple, pure power of an idea, then it has the opportunity to cut through. Then you have to be clever and implement it in a certain way, but if you don't have an idea, I think you're dead. So much of what is out there everyday I think is done without thought – it's just people putting stuff up, or brands putting noise out there.
So when I was first asked to re-envision BOSS, it's always been – 'Hugo Boss, German menswear suit maker' – that label that we all know. It's always had high brand awareness, but I don't think anyone really cared about it. You just know of it. But also when I looked at it, I thought wow – BOSS! For a brand to own a word that means something…
Mark Hooper: And it's so in use and has such a current relevance too doesn't it?
Trey Laird: Yeah exactly. It's got this legendary meaning but it also has this current power – a cultural respect. There's the obvious meaning of respect and admiration leadership but it also this badass attitude. So it became this whole thing of – if a brand could own an emotional mindset, and start applying that to people and letting people embrace it and be part of it and share in it – what a powerful thing to have, versus just a designer name or a conceptual name. And it was right there staring me in the face; it was the most obvious thing, which is usually the most genius thing! I couldn't believe in 30-plus years they'd never done anything with it.
Sometimes it just takes a fresh pair of eyes. Which is why the new CEO, Daniel Grieder, wanted me to come in and dust this thing off and completely reinvent it for today. I wanted it to be also for men and women – it's always been this male-dominant brand. And also to be relevant globally. For me, in that one word, that insight, I could see a new vision for it. And that led me to the 'Be your own BOSS' mantra and the attitude of, who doesn't want to be a boss in their own mind? To show up in their own life with confidence and power – all those great things.
So launching with these much more relevant figures, across sports, music, fashion, design – I really wanted to represent a new, fresher vision. Because BOSS has always been kind of cold and clinical. It was nicely executed, but there was no big idea behind it.
Mark Hooper: Cool in the wrong way!
Trey Laird: Yes. So I wanted to bring in a warmth and an emotion and a sexiness. To still keep it very modern, but in a way that made you feel something. So all of a sudden you see Future the rapper in BOSS or that amazing new tennis player Matteo Berrettini or Hailey Bieber – this new vision of what a BOSS girl can look like. This is a new woman really crafting her own career: look what she's done in the last few years, it's incredible. So it's all rooted in this idea that everyone can be their own boss.
Trey Laird: So then I thought, OK we've got this amazing new campaign and we're sending out this new graphic with the new logo – we dropped the word 'Hugo' which was a pretty bold thing for the new CEO to do, so now it's just BOSS, with a separate jeans line called HUGO. And then we thought, well how do we start to activate this across the world, and for people to embrace it? So I thought, what if we just made a hoodie, and sent to everybody that we felt was showing up their own way like a boss, across all genres, and asked them to say what is it about being a boss that inspires them? And everybody got into it and it started going like wildfire. It's been insane, BOSS online has been shipping those hoodies out as fast as they can. Like, the Dude With The Sign had one, Spider-Man had one, Iris Apfel, DJ Khaled… all these figures. And now it's become like a statement.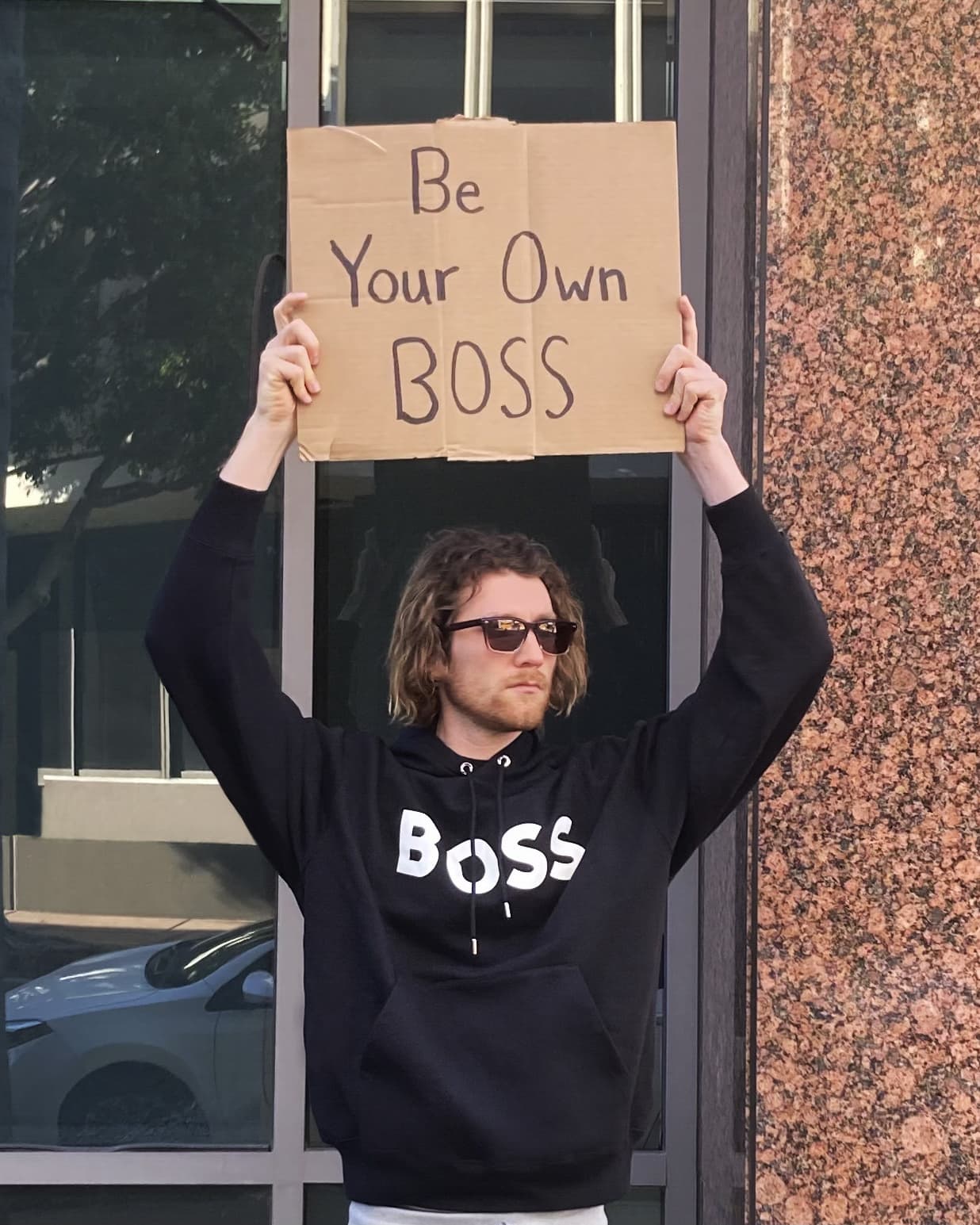 Mark Hooper: It must be so satisfying, because every brand wants to have that resonance and relevance and to go viral, which is easier said than done…!
Trey Laird: I mean you can't really plan for that to happen – you can be smart about how you tee it up, but then it's up to the universe! It either goes or it doesn't, and there's nobody on earth who can 100% control that. But when you have a strong idea and give people the opportunity to be a part of it in their own way – that I think is the power. I loved having that opportunity to re-envision something. I love that no-one was really thinking about them a few weeks before, and now it's everywhere!
And as I was launching Team Laird with this much more focused idea od how I wanted to move forward in this industry, it was a perfect way to express how I see the power of branding, of creative strategy and execution in this day and age. The timing was crazy. And also it was impossible to predict, but we brought on this new tennis star as I mentioned, Matteo Berrettini, and the week that he launched he was appearing at the Australian Open in head to toe BOSS. I mean that's a big signal, coming onto the court with the word 'BOSS' on his back. And he was winning and winning – he got to the quarterfinals against Nadal, and literally the commentators were saying, 'Here comes the boss!' You couldn't have planned it! Sometimes the sun, the moon and the stars all align. And sometimes they don't! But it's been a good start.
Mark Hooper: So what else can we expect from Team Laird?
Trey Laird: We're continuing our long partnership with Tommy Hilfiger, that's incredibly deep and rich and long-lasting, I love Tommy personally and I love that team. So there's a lot of new initiatives coming out this year that are really exciting. And we're about to do a big project with Aman Resorts, we just did a shoot with Michael Kors that is coming out later in the summer, and there's a few more that we're not announcing yet.
So it's all about being more focused and smart and strategic, but also really inspiring and creative – and relevant. We talked about brands being relevant but I think however you want to work as a creative partner or agency has to be relevant way of working now too. If it's just about doing a fashion photo shoot – that's fine for some people but for me it's not enough. It's an important part but it's just one ingredient in what has to be a much more relevant strategy.
Mark Hooper: I think coming out of lockdown, something much more fundamental has changed for everyone and everybody has had to think again about how they represent themselves to the world.
Trey Laird: I think you're right. We've all had this personally, but I think brands have experienced it too. We're all reminded of that question – what's your purpose? Who are you as a person, how you show up in your life? What do you want to say? What do you stand for? What matters to me? And I think it's the exact same question for brands. What do you offer to the world? And if you can't answer that clearly, in a few words, you don't really have a reason for being, because there's too much shit out there! So it's a challenging time, but it's also super exciting. And what an incredible opportunity – to reinvent and renew.
And I've also launched a start-up, AARMY: it was a tricky time because we had to close it for 16 months through lockdown, but we've emerged! It's a digital fitness platform that combines physical fitness and mental conditioning, to really help you unlock your best life. And it's designed as a lifestyle brand, so there's a digital fitness app you can download, which I've come at from a more fashion lens, so it's very experiential and emotional and elevated – but still super authentic from a coaching perspective. And we also launched an apparel line through Net-A-Porter, which has been a great success. And our lead investors are the Wertheimer family from Chanel, so it's really bringing a bit of a fashion luxury marketing sensibility to the fitness space. And that's had a big impact on my re-entry with Team Laird – what we were saying before, thinking about what's your purpose and what you want to say. So it's nice that all these things converge. It all works together for me, and I don't think I would have come up with 'Be your own BOSS' if I wasn't having AARMY to help me to clarify my own vision. Because I have to be at my best and most clear-headed about what I want to say as a professional – and that helps me, and I want to share that with the world, in whatever they do!
---