Amiri announced the reopening of its Rodeo flagship. Newly renovated, the LA store has been expanded in line with the brand's growth, creating a tangible space that truly represents the multi faceted world of Amiri.  
Reflecting Amiri's evolution, the store has been developed to 4,300 sq. ft, with an additional 1,033 sq. ft housing the brand's extensive range of collections, across menswear, womenswear, children's, footwear  and accessories. Designed by Founder and Creative Director Mike Amiri, the store is realized in collaboration with Paris-based design NOCOD Studio, alongside a partnership with US design firm Two One Two Design.  
Inside Amiri Rodeo, customers are able to immerse themselves in the world of Amiri. Here, the store  becomes a gallery-like environment in tune with the Californian contemporary art scene that neighbors the brand's downtown studio. Alongside Amiri's collections, the space is crafted to exhibit art installations curated by Mike Amiri. Through design, a two-way conversation is formed: appealing to Amiri's creative instinct and community spirit, this interactive concept nurtures relationships with artists, both established and upcoming. 
The store's exhibiting artworks will be on rotation, yet two permanent pieces will remain throughout. A Brand New World #1 by LA-based artist Wes Lang, a long-term friend and collaborator, this particular artwork is part of his personal collection, and Instrument Frame Drag by California-born artist Jason Revok, whose self-taught graffiti technique aligns with Amiri's contemporary approach to artisan craft.  
Located on LA's iconic Rodeo Drive, the store is created in dialogue with its outdoors, evoking the distinctive characteristics of California through light tones and the implementation of local materials and finishes. Conceptualizing an environment of sculptural modernism, white plaster walls and high ceilings create a sense of openness as skylights lead to the LA sun, drawing the changing natural hues through the building. Nodding to LA's rich design community, the store's textured travertine plaster façade is created by local artisans, and inside, lounge spaces are decorated with soft furnishings sourced from local craftspeople and manufacturers.
"We're extremely proud of the new Rodeo renovation," says Mike Amiri, Founder and Creative Director. "The store's innovative open floor gallery concept exemplifies our core values of craft and modernity,  uniting retail with creativity and community in a way that is very specific to Amiri."  Amiri Rodeo houses a full range of menswear, womenswear, children's, accessories, and leather goods alongside a limited-edition capsule collection exclusive to the store.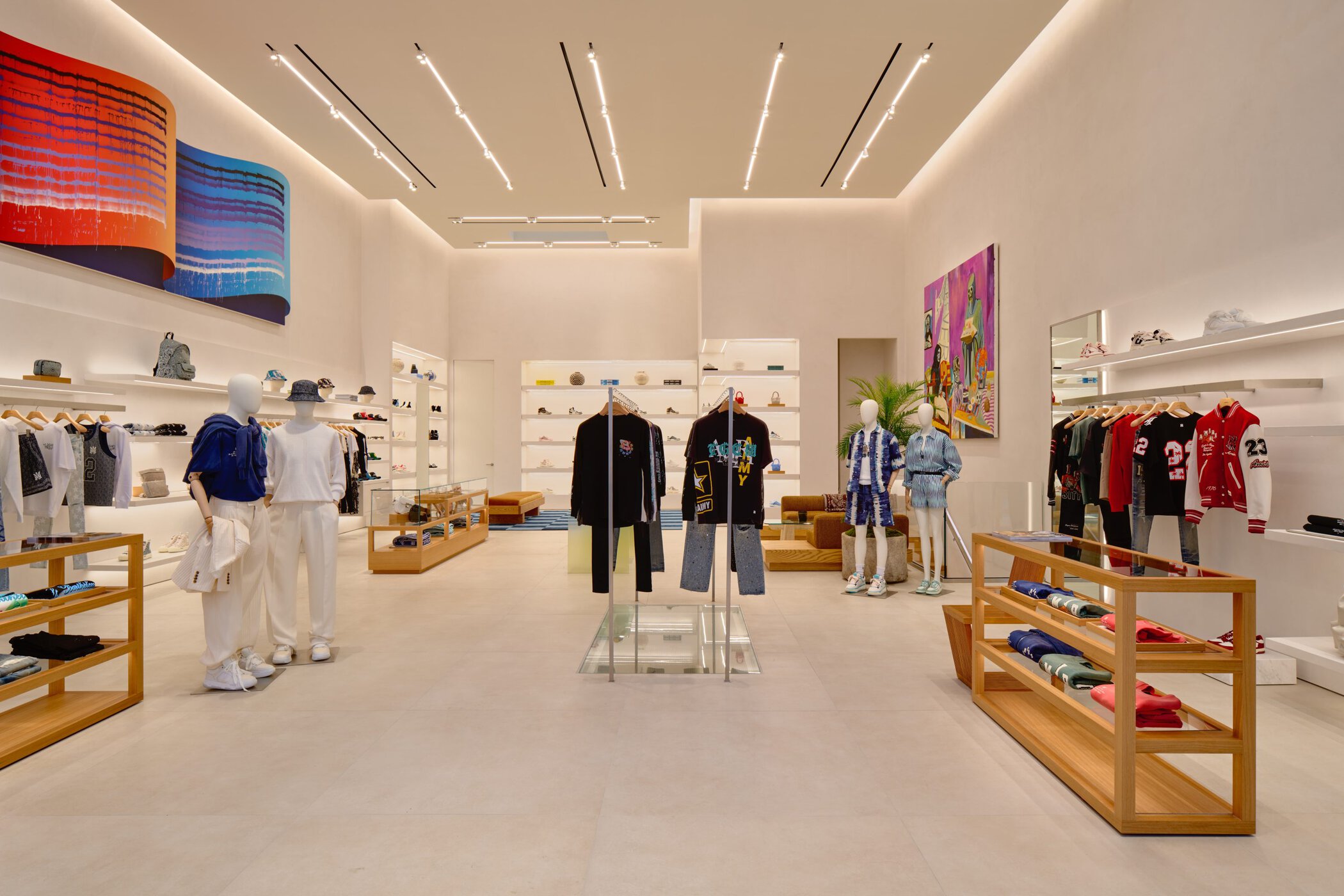 Location
461 N Rodeo Drive, Beverly Hills, CA 90210
Operating hours:  
Mon – Sat | 10:00 am – 6:00pm   
Sun | 12:00 – 5:00pm  
Store contact number | 310-878-2996
---