---
In 1970, Pierre Balmain opened his house's first New York boutique, at 795 Madison, just off 67th Street. As The New York Times noted at the time, that store was part of a mid-century invasion of European designer spaces that transformed Madison "from a bastion of classicism to a microcosm of all that's fashionable and trendy," creating a new shopping ambiance that was "Faubourg Saint‐Honoré, Bond Street and Via Condotti all rolled into one." To best blend into Manhattan's modern streets, Balmain gave its first American boutique a bold glass-and-metal exterior—but the white-and-honey interior made clear the house's Parisian origins, with a distinctive carpet design of intertwined Ps and Bs reflecting Pierre Balmain's life-long fascination with the beauty of classic French Renaissance gardens and their intricate labyrinths.
Plus ça change… Five decades later, Balmain Creative Director Olivier Rousteing has updated Pierre Balmain's interlocking P-B labyrinth motif to cover his latest line of accessories and the Parisian house has returned to the same Upper East Side neighborhood where it opened its first American store.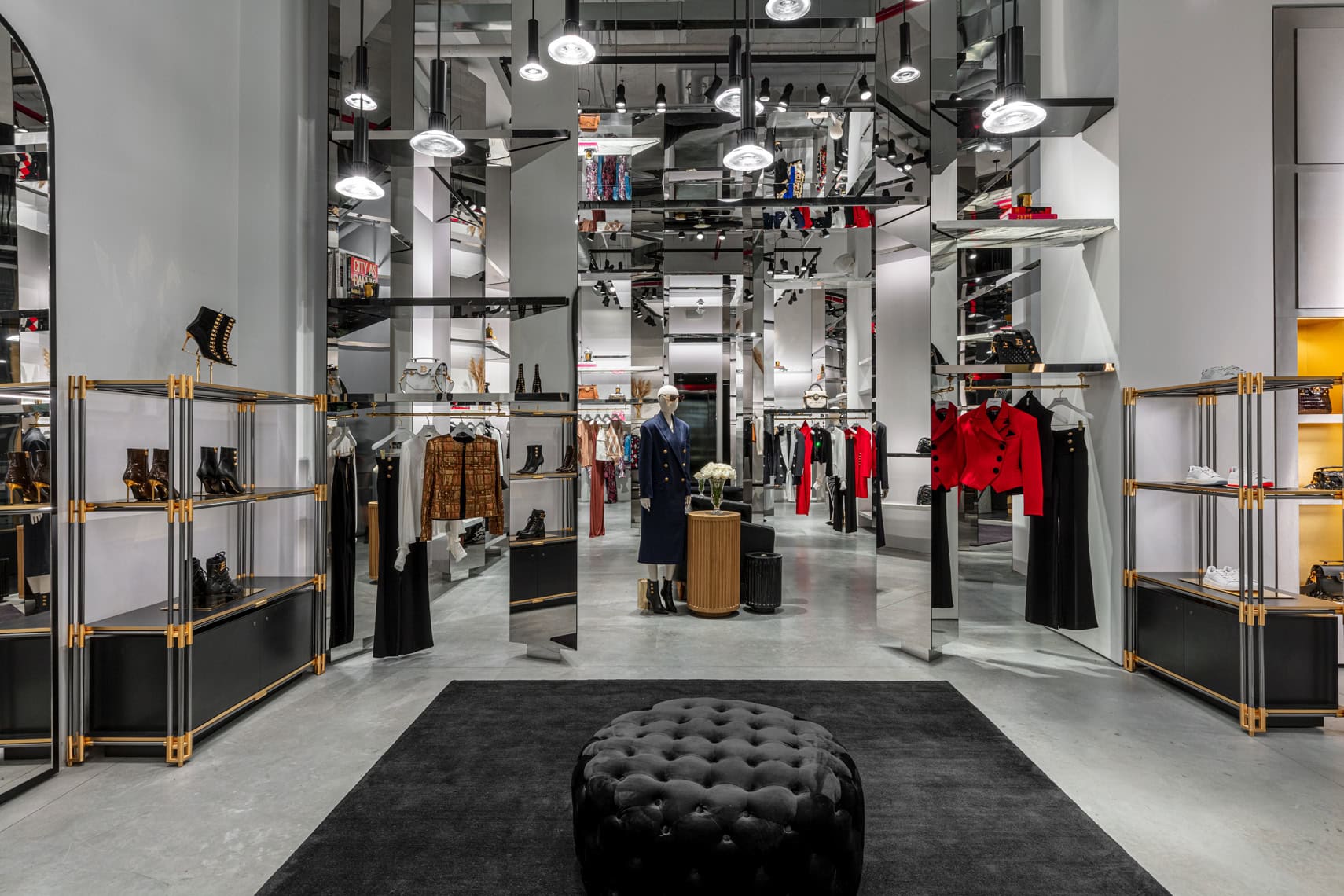 The new store design aims once again to reflect the unique spirit of New York, while continuing to highlight Balmain's Parisian heritage. Rousteing worked closely with the architects at Paris' Studio AMV to modify the boutique concept that they first introduced three years ago on Milan's Via Montenapoleone. "That prototype design strongly emphasized the second part of the house's official name: Balmain Paris," explained Anna Philippou of Studio AMV. "Olivier's original aim was to transport Paris to all corners of the globe, inspired by the codes of a classic hôtel particulier to help to make each Balmain visitor feel the atmosphere of Paris, wherever they may be in the world. But we knew that some adjustments would be needed to be made to the prototype for this New York store."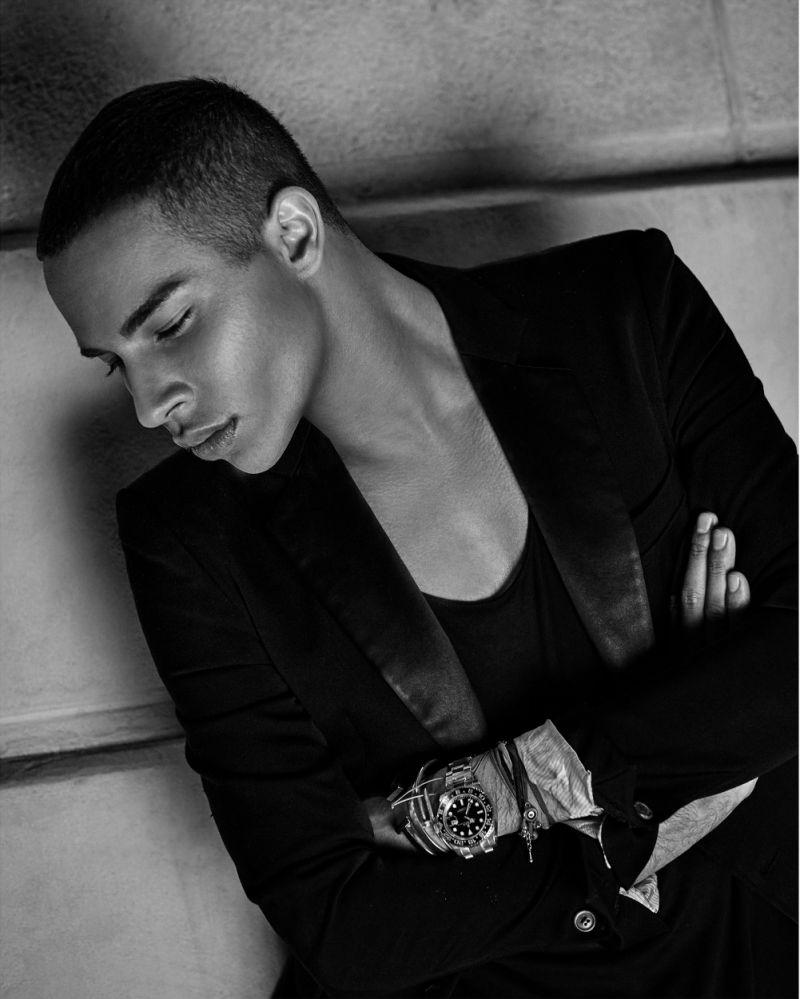 I love New York and I'm fascinated by the city's one-of-a-kind style and flair. And that's why I knew that we couldn't simply cut-and-paste a Parisian décor into the Manhattan's modern environment. Instead, I worked with the AMV team to ensure that our new space reflected the true spirit of New York. Our aim was to create a space that was as open and impressive as a New York loft—and as eye-catching as a New York gallery.

– Olivier Rousteing, Balmain Creative Director
A distinctive all-black gallery space is what passersby will first notice through the boutique's enormous front windows. This long and open 485-square-foot (45-square-meter) "porch" functions as a transition between the street and the selling area. It will be constantly updated to feature special creations from Rousteing's favorite artists and/or highlight the house's latest campaigns, collaborations and collections. Set behind the porch, and open to the street are the many individual "rooms" of this Balmain hôtel particulier, each dedicated to showcasing one specific part of the Balmain universe, from bags to ready-to-wear. Those already familiar with the house's other flagships will quickly notice many changes. Overall, the selling area is more open, less intimate. Many quintessential Parisian touches—golden ornaments, classic chandeliers, elegant molding—have been replaced or updated to better reflect New York's boldly modern and urban spirit.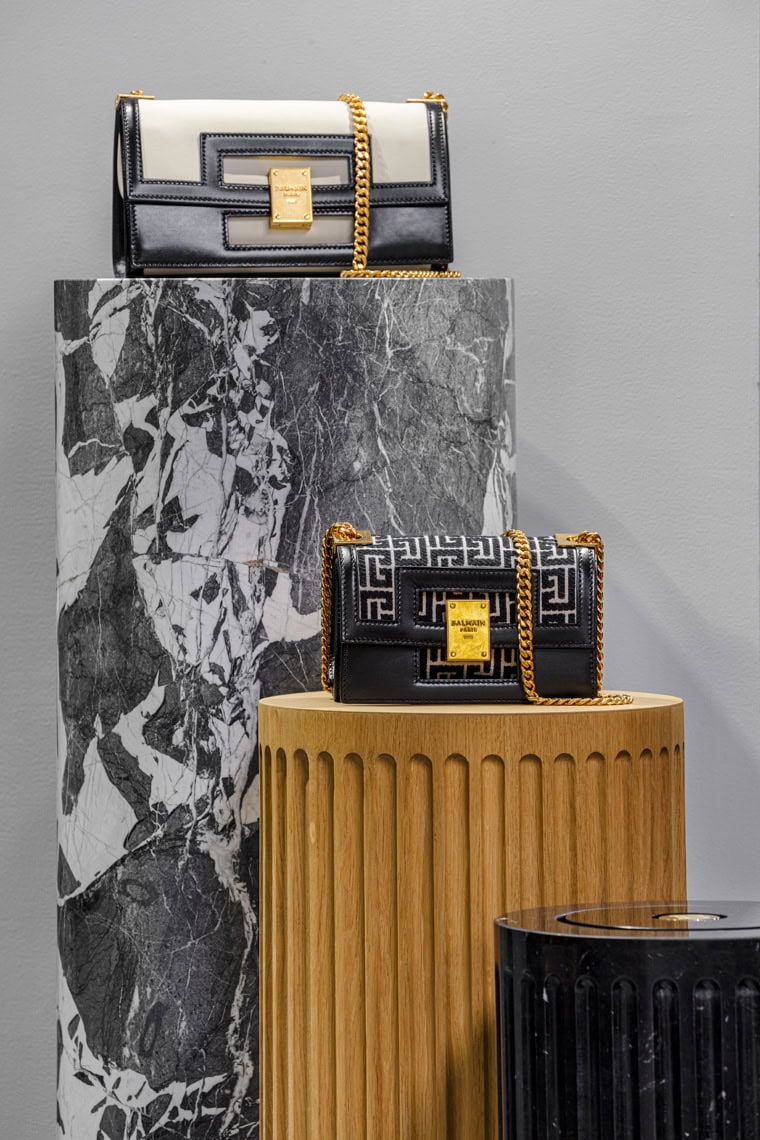 The 75-year-old house's exceptional spirit and history is reflected in much more than just the store design, stresses Balmain CEO Jean-Jacques Guével: "Optimism forms a key part of our DNA and heritage. We will never forget that when Monsieur Balmain decided to found his eponymous couture house in the fall of 1945, he was taking a daring bet—after years of war, invasion and occupation, he was still willing to believe in the possibilities of new beginnings and better days ahead. Today, of course, we are all aware of the challenges and fears that everyone faces—but we continue to look forward, with confidence in the changes and progress that we know lie ahead for all of us."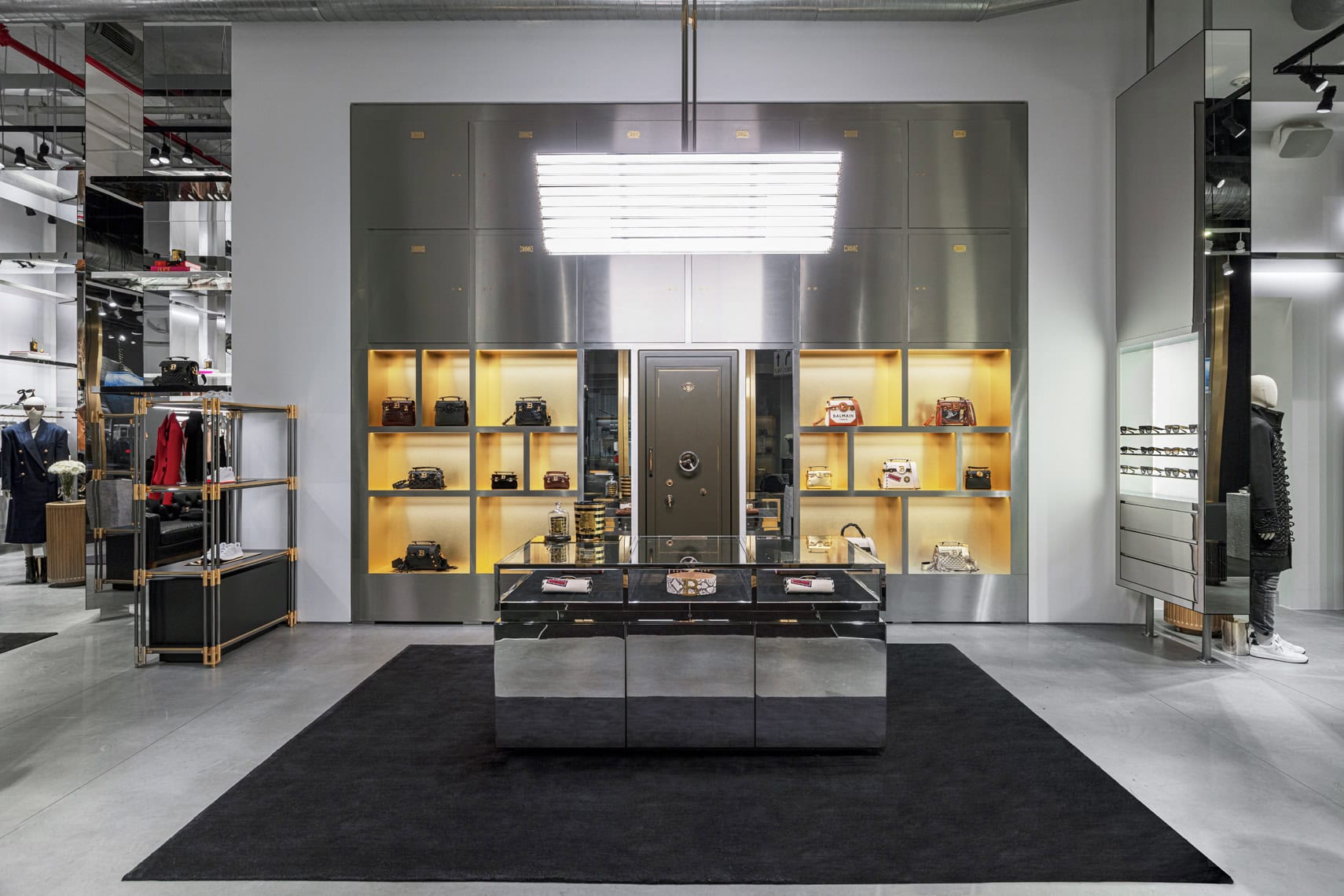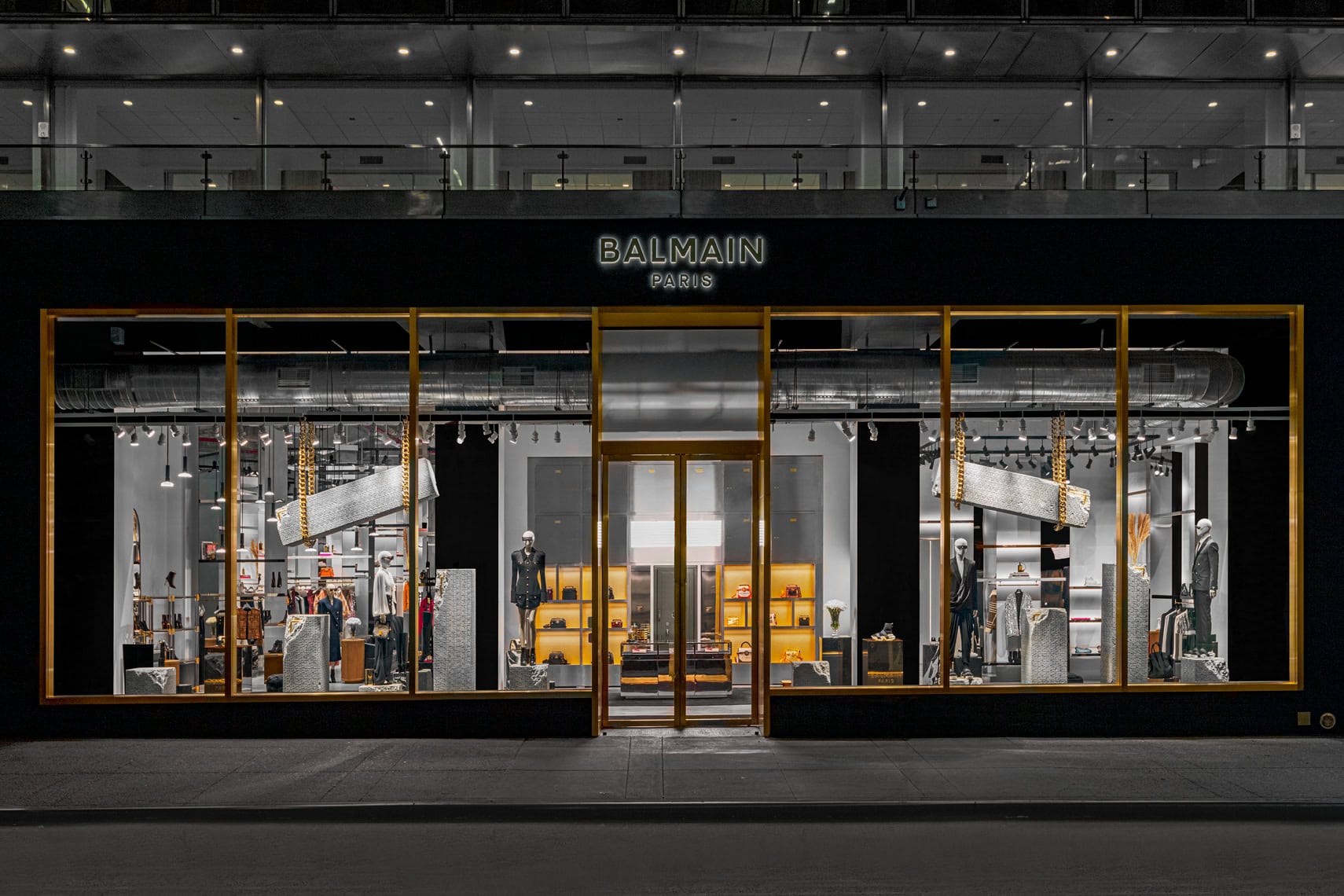 Location
650 Madison Avenue (59th and Madison)
New York City
—the boutique entrance is located at 9 East 59th Street.

Architects
Studio AMV, Paris

Store Photos | Tom Sibley/Balmain
---