---
For fall 2019, fashion women's houses have started to find a balance between product development and storytelling with many houses recognizing that to be successful today one needs to be committed equally to both. Here our Chief Impressionist, Kenneth Richard discusses a few of the standout campaigns that made The Impression's Best Women's Fashion Ad Campaigns of Fall 2019.
Amiri
Best Breakout Campaign
Swagger is a difficult gift to acquire and even more difficult attribute to have associated with one's brand. But as difficult as it is LA native Mike Amiri has it in spades as reflected in the house's most recent ad campaign lensed by Daniel Jackson.
Jackson is typically known as a storyteller who leverages long-form narrative including vast sets and locations. However here the auteur manages to tell more with less by capturing Amiri's stripped-down edge that is likely a by-product of building a Parisian shown collection out of Los Angeles.
Amiri's fall campaign benefits from that LA swagger of its protagonists whose hair by Esther Langham is as much a key item as Amiri's accessories. Stylist Karlo Steel mashes just the right amount of elements to spice up the looks to allow Jackson details to paint a portrait around. While Art Director Jonny Lu is wise enough to know how to build a campaign that is clean while simultaneously looking full.
Amiri Founder & Creative Director | Mike Amiri
Creative Director | Jonny Lu
Photographer | Daniel Jackson
Models | Alpha Dia, Amanda Googe, Samuel Rydbacken, & Skylar Tartz
Stylist | Karlo Steel
Hair | Esther Langham
Makeup | Natasha Severino
---
Balenciaga
Balenciaga's creative director Demna Gvasalia and right-hand creative partner/stylist Lotta Volkova consistently bridge the divide between social anthropology, art, and fashion so it should come as no surprise that the duo teamed with contemporary artist/photographer Jean-Pierre Attal to lens the houses fall 2019 ad campaign.
Jean-Pierre Attal's work is focused on the representation of contemporary urban society, often at work. Which is fitting as the fall Balenciaga collection featured a good deal of work suiting rather than streetwear. To drive that point home but in an unorthodox fashion, the trio took inspiration from Attal's Ethnographic Landscapes series from 2012 which places urban tribes, unengaged with each other, in natural settings. The result, particularly when the subjects used modern technology, juxtaposed humans with mother earth and in the case of the updated Balenciaga campaign, draws the viewers to the clothes.

Overall the campaign is a series of paradoxes, exploring the codes in which society functions, which is ultimately the role that Gvasalia has played in fashion. Asking probing questions, providing thought-provoking answers, while strolling on a giant rock orbiting a star.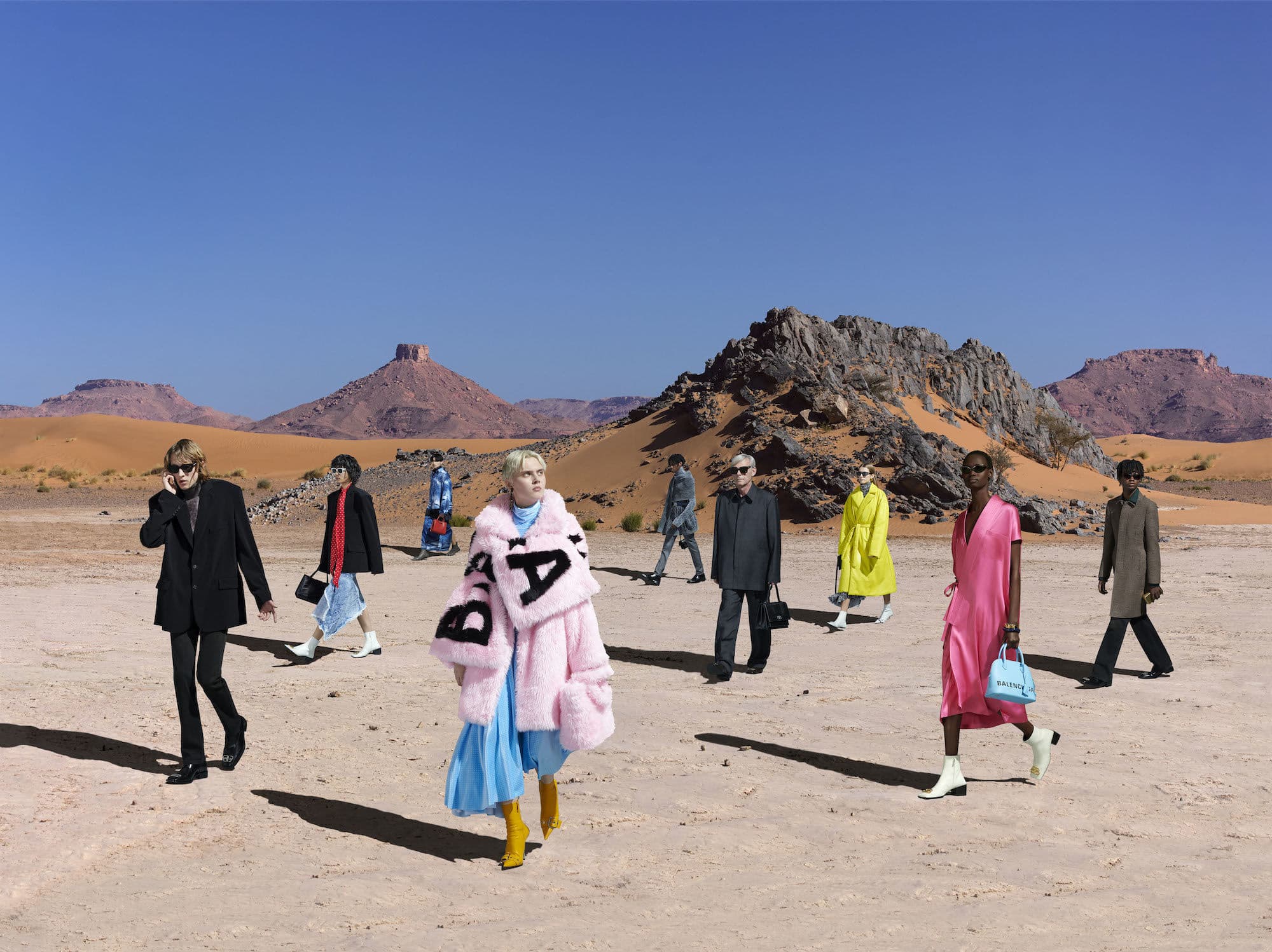 Balenciaga Creative Director | Demna Gvasalia
Photographer | Jean-Pierre Attal
Models | Lei Qin, Samuel Wilken, Takato Harashima, Une Jonynaite
Stylist | Lotta Volkova
Hair | Holli Smith
Makeup | Inge Grognard
Manicurist | Fanny Santarita
---
Bottega Veneta
As reported in Kering's earnings call, Bottega Veneta is in forward motion and looking to move with speed. To drive that point home Creative Director Daniel Lee infused his first full campaign for the house with the most expensive prop of the season, a $7.5MM gold plated Lamborghini.
Lensed by photographer Tyrone Lebon in Los Angeles and styled by Marie Chaix the campaign is part core and part hardcore with model Anna Ewers giving her all to promote the house's footwear. A stark sun-bleached concrete basin in Joshua Tree, California; with eternal blue sky and broad horizons, warmth, and sensuality, set the scene to juxtapose the gold plated Lamborghini.
The idea is powerful reminding us that Lee is comfortable turning things on their heads to make a point. The gold plated Lamborghini offers a new vantage on the traditional status of luxury while doing so in a modernist fashion. The inherent codes of elevation, desire and sensual identity, the raw contrast of man versus machine, remains at the core of the images that reference the collection in line, cut, construction.
The campaign is well polished and if it indicates anything, its that we better buckle-up, as Lee isn't afraid of speed.
Bottega Veneta Creative Director | Daniel Lee
Creative Director | Edward Quarmby
Photographer | Tyrone Lebon
Models | Adut Akech, Anna Ewers, Fernando Cabral
Stylist | Marie Chaix
Hair | Odile Gilbert
Makeup | Lauren Parsons
Casting Director | Anita Bitton
Set Designer | David White
Location | Los Angeles & Joshua Tree, California
---
Brandon Maxwell
The People Of
For his latest campaign, Brandon Maxwell continues to champion and showcase his 'work family' that he spoke of while accepting his recent CFDA award with a campaign entitled 'Brandon Maxwell, The People Of.'
The endearing digital–driven campaign shot in Instagram story mode features members of the designer's atelier sporting the fall collection and looking stunning while speaking about their relationship with the brand and favorite moments at the house. Model Riley Montana leads the charge speaking about the first time she met Maxwell and how their relationship has a loyalty she hasn't seen from other designers. Executive Vice President Sharon La Ruffa shared the moment she realizes she had made the right decision in joining the house while Head Patternmaker, Jennifer Miller, talks about her first series of three dresses that needed to be engineering feats to accomplish Maxwell's objective of brushing the legs of the audience.
The campaign is tremendously endearing and speaks to the genuine values of the designer and his understanding that it takes a team and he recognizes each and every one.
Brandon Maxwell Creative Director | Brandon Maxwell
Art Director | Mark Rolli
Photographer | Brandon Maxwell
Directors | Brandon Maxwell & Jessy Price
Director of Photography | Erynn Patrick
Models | Riley Montana, Jennifer Miller, Lauren Pistoia, Linnea Seibel, Sharon La Ruffa, Brittany Ifemembi, Olivia Lehmann, Pierson Rogers, Liza Rogers, Carol Gryne, Alexandra Kopylova, & Dana Pham
Stylist | Sandra Amador
Hair | Hos Hounkpatin
Makeup | William Scott
Manicurist | Maki Sakamoto
Casting Director | Brandon Maxwell
Set Designer | Marla Weinhoff
Music | So Thankful by Joey Youngman, Bobby D'Ambrosio
Producer | Lauren Pistoia
Editor | Drew Taylor
---
Burberry – Tempest
Burberry Chief Creative Officer Riccardo Tisci is a forward-facing creative and this season has launched not one but two ad campaigns showcasing the houses broad vision. The collection campaign shot at the sea with photographer Danko Steiner, is paired with another urban campaign lensed by Nick Knight. Tisci has named the two campaigns Tempest, referring to Shakespeare's fable of art and creation taking place in two locations, land and sea.
Burberry Chief Creative Officer | Riccardo Tisci
Photographer/Director | Danko Steiner
Models | Gigi Hadid, Sora Choi, Irina Shayk, Freja Beha Erichsen, Maxwell Annoh, Finn Rosseel and Fran Summers
Stylist | Joe McKenna
Burberry Creative Director | Riccardo Tisci
Photographer/Director | Nick Knight
Models | Anna Ross, Junior Vasquez, He Cong, Kacie Hall, Benzo, Mammina Aker, Shayna McNeil, Xieyunpeng, Heejung Park, & Alexis Chaparro
Music | Boarders by M.I.A.
---
Celine – The 16th
The collection title appears to come from Paris's 16th arrondissement home to the Hilly Passe with its stately 19th-century Haussmanian buildings, broad streets, leafy avenues, and upwardly mobile residents. The campaign diverts a tad from the color touches of his early fall campaign this time opting to catch Slimane's Parisian bourgeoisie uprising in his signature high contrast black and white. That uprising is reflected in the expressive movements, stances, strides, devil-may-care hairstyles, and stares of models Lara Mullen & Karo Laczkowska. Slimane knows how to focus the viewer's attention toward the hidden punk-like pensiveness looming just behind aviator lenses.
Like the models, Slimane too is in full stride, embracing his gifts as a story creator as much as a creator of a luxury collection. The consistency of thought and understanding of the emotional touchpoints of his audience is a skill we wish many of the designer's contemporaries would master. But like his the artist positions his subjects, Slimane stands alone.
Celine Creative Director | Hedi Slimane
Photographer/Director | Hedi Slimane
Models | Lara Mullen & Karo Laczkowska
Music | Original Soundtrack – Embrasse Moi « Les Écrans Allumés »
---
Dior
The images capture the power of femininity, such as through two female models standing side-by-side, a model wearing a "Sisterhood is Global" t-shirt while behind her another flexes their bicep, or friendly hands guiding another's eye. Maria Grazia Chiuri sends a message that when women stand together, they empower together. Whether it's side-by-side or helping from behind, their strength goes past what the eye can see.
The ode to sorority in Dior's fall 2019 ad is one more addition to the growing climate of empowering women. Maria Grazia Chiuri and Dior tell us there's a need for a voice for female fortitude–and what better canvas for this voice than the very clothes you wear.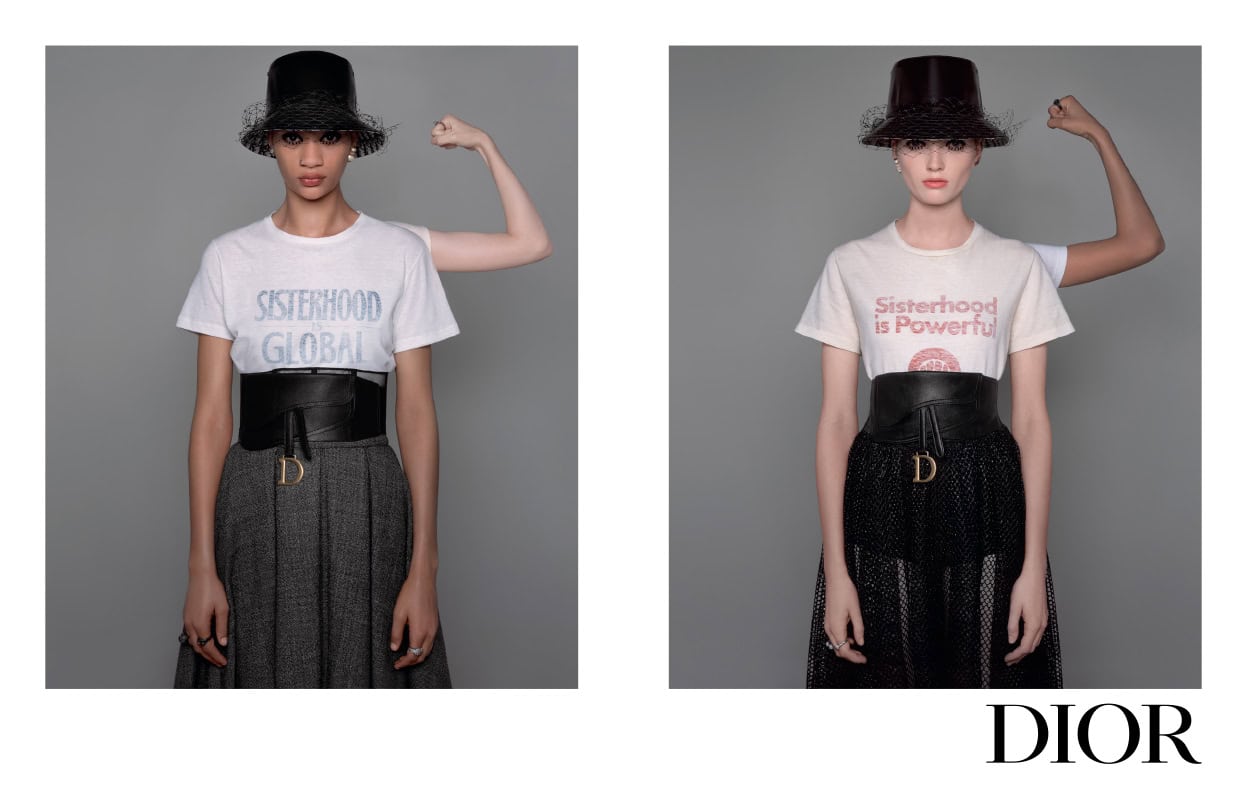 Dior Creative Director | Maria Grazia Chiuri
Photographer | Brigitte Niedermair
Models | Selena Forrest and Ruth Bell
---
Fenty
The real power in marketing today is the marriage of brand values and creative imagery that is emoting, socially conscious, and narrative. In short, the story is deeper with layers that touch on moving more than the product, it moves the social conversation forward.
Since founding her namesake label Rihanna Fenty has leveraged her narrative to help spotlight artist who are documentarians of culture such as Kwame Brathwaite. A key documentarian of the Black is Beautiful movement of the 1960s and 70s. For her latest '8-19' Fenty release the designer, along with GB65 Creative Director Giovanni Bianco, has spotlighted the work of Liz Johnson Artur by leveraging the documentary photographer to lens models Nayara Oliveira, Yerim Ko, Nafisah Zia Zohra, Max, and Katharina strolling though the Peckham District of South London.
In her series of candid moments for Fenty, Johnson Artur explores themes of sisterhood, shameless extravagance, and gender stereotypes. While the work is still a fashion campaign, the feel is that of a documentary capturing the scene of several friends out and about.
The campaign on its own is one thing but the thread of what the designer is doing is another. Bianco and Rihanna Fenty are building a longer-form narrative comprised of talent and photographic artists that have never been pulled together before. They are expanding the reach and messages of those artists to sway a culture.
Fenty Creative Director | Rihanna Fenty
Agency | GB65
Creative Director | Giovanni Bianco
Photographer/Director | Liz Johnson Artur
Models | Nayara Oliveira, Yerim Ko, Nafisah Zia Zohra, Max, & Katharina
Stylist | Jahleel Weaver
Hair | Yusef Williams
Makeup | Ammy Drammeh
Location | Peckham District of South London
---
GCDS – Dinner's Ready
GCDS creative director Giuliano Calza and film director/photographer Nadia Lee Cohen joined forces with the Italian pasta company Barilla to create an ad campaign that's campy take on 1960's technicolor extravaganzas. Simultaneously featuring film icon Sophia Loren, the GCDS capsule collection, and a pop-art-like rebranding of pasta firm Barilla, the ad campaign confection is delightfully irresistible.
Unfolding like glamorous European version of a John Water's film, with hints of Twin Peaks tossed in for good measure, the film moves through red brick streets, gritty subways, dark jazz clubs, and paradise beach highways.
Cohen has imbued the film with cheeky visual references, such as two models driving a convertible in front of a grainy film projection of the streets of Naples circa 1960, and a salon whose walls are adorned with vintage photos of Sophia Loren at the peak of her silver screen glamour. Cumulating with an oversized bowl of spaghetti, tomato sauce, and fresh basil, the film portrays a day in the life of a cornucopia cast members all on their way to a once in a lifetime meal.
GCDS Creative Director | Giuliano Calza
Director/Photographer | Nadia Lee Cohen
Talent | Sophia Loren
Talent Brick Wall Scene | Daisy Donohoe, Geron McKinley, Josh Landau, Melissa Gilbert, Phil Ursino, Ruth Banks, Terrylee Hill, Alexander Lizotte, Marlee Ingle, Amy Sue Fall, Libby Smith, Harrison Kiernan, & Michael Farmer
Talent Subway Scene | Anna Cleveland, West Dakota, Nikita & John Robish
Talent Hair Dresser Scene | Violet Chachki, Carole Wells, Tess McMillan, Ruby Millsap & Gale Bershon
Talent Jaxx Club Scene | Lindsey Wixon & Paul Edward Ford, Michel Wilson, Andre Henry & Rahn Sargent
Talent Car Scene | Aweng Chuol & Hana Cross
Executive Producer | Carlota Ruiz de Velasco
Producers | Malcolm Duncan & Fabien Colas
Director of Photography | Simon Duggan
Stylist | Anna Trevelyan
Hair | Sami Knight
Makeup | Adam Burrell
Manicurist | Yoko Sakakura
Production Designer | Brittany Porter
Editor | Greg Scruton
VFX Supervisor | Julien Brami
Colour | Ricky Gausis
Music | Ali Helnwein
---
Gucci – Prêt-À-Porter
Contrary to incorporating a different type of art in collaboration, the affluent house instead takes a journey for their Fall 2019 campaign into the art and history of their own industry: Prêt-À-Porter. Marrying decades the story is a flashback to the time where lab coats, big hair, and large glasses were the assets to create the perfect collection from concept to runway.
Creative Director Alessandro Michele, in collaboration with Art Director Christopher Simmonds and photographer Glen Luchford, has constructed a time capsule of the fashion industry bringing to life a collection in Paris circa 1970. Despite centralized viewpoints from the past, Michele and his team send a message: Gucci is paramount in fashion, now, then, and always.
Noted for his obsession with history, it is no shock that Alessandro Michele is utilizing an antecedent reality to promote his foresight of fashion now. While some may believe referencing the past adheres to being stuck in it, this campaign is not to be confused or slighted. Michele is cunningly using the legacy and romanticization of cliche's in Paris fashion to further market their clothing to both those who have this experience and the younger generation who idolize it. With this ode to the fashion industry, Michele convinces us that, in his and Gucci's case, no longer do the times dictate and create the man (and his wardrobe), but it is indeed the man creating the times.
Gucci Creative Director | Alessandro Michele
Agency | Simmonds ltd.
Creative Director | Christopher Simmonds
Photographer/Director | Glen Luchford
Model | Alan Solonchuk, Darron Clarke, Gustave Khaghani, Hayett McCarthy, Ibrahim Kamara, Otto Zinzou, Sara Robaszkiewicz
Stylist | Jonathan Kaye
Hair | Paul Hanlon
Makeup | Thomas De Kluyver
Location | Paris
Set Designer | Gideon Ponte
Casting Directors | Rachel Chandler, Walter Pearce
---
Lanvin
Upon his start as creative director, Bruno Sialelli made clear of his mission to find modernity within the antiquity. The historically inspired pieces that were showcased at France's National Museum of the Middle Ages are now transported into layered photos of Renaissance portraiture. The formal language of the poses and composition mirrors the artistic epochs that Sialelli hopes to unveil throughout his time at Lanvin.
The images, shot by photographer Glen Luchford with the creative direction of Petronio Associates, are group shots or landscapes overlaid with individual shots and the Lanvin brand logo. This overlaying effect capitalizes on adding a modern composition to historically inspired photographs, echoing Sialelli's new voice in the traditional brand. It is an ingenious marketing play for Sialelli to mirror his own position in the brand in his first debut in the company.
Lanvin Creative Director | Bruno Sialelli
Agency | Petronio Associates
Photographer | Glen Luchford
Model | Kat Carter, Freek Iven, Dotain Yashitela, Jeranimo Van Russel and Sara Grace Wallerstedt
Stylist | Carlos Nazario
Hair | Paul Hanlon
Makeup | Lucia Pieroni

---
Moschino
The house of Moschino recognizes the times and has designed a campaign set to the backdrop of '80s Cult Soap Opera Dynasty for it. Facebook, Instagram, and Twitter make it easy to share content and bypass traditional media models, but today's new digital landscape requires constant upkeep which is where the genius of these short-form tales lies. Plus Jeremy Scott and crew have created an 'Haute Dynasty' that will live in an archive on internet gifs and memes which will bring people back long after the clothes of this season have moved off the racks. The fashion is more multifaceted than it's ever been—it's not just about the clothes, or the models or even the house itself, it's about storytelling.
On Instagram, Jeremy Scott has captioned a film from the campaign with the following: "It's the cliffhanger season finale episode of @moschino tonight! Who will survive? Who will die? Who will come back as their evil twin? Tune in to find out!" Moschino has tapped into a market of soap and reality TV that emotes, without even having to produce a full-length show. That is genius and we will definitely be tuning in next season.
Moschino Creative Director | Jeremy Scott
Creative Director | Jason Duzansky
Photographer/Director | Steven Meisel
Models | Gigi Hadid, Irina Shayk, Joan Smalls, Denek Kania, Mason McKenrick, & Trevor Signorino
Stylist | Carlyne Cerf De Dudzeele
Hair | Guido Palau
Makeup | Pat McGrath
Manicurist | Jin Soon Choi
Set Designer | Mary Howard
Casting Directors | Piergiorgio Del Moro & Samuel Ellis Scheinman

---
Prada – 365
Cyberspace love and the overtake of Tinder relationships have switched courtesy into a world that has simplified the emotion love. Behold, Prada's 365 Fall 2019 ad campaign lensed by Willy Vanderperre with creative direction by DJA emerges to rebirth the timeless emotion that seems to have dwindled in society today. This human desire has entered an age of collision as the soulful emotion now translates through an object as inanimate as the cellphone. However, the romantic atmosphere is evolved to a new spirit for Prada as the brand turns to its fall collections to represent the identity of the season of modern love.
Prada's campaign explores how love and romance can still flourish in society's screen age as photographer Willy Vanderperre captures the creative direction of DJA pushing the natural beauty of florals and vine flourishing through a cold concrete city. DJA ingeniously compares the possibility of romance in the modern world to the visualities of exterior forces becoming interior, natural elements intertwining with the industrial atmosphere, and delicacy breathing through the rigid particles of cement. This interlocking of seeming opposites, in fact, increases tension between man and nature as the individual and community explore an aura of interlace.
Prada Creative Director | Miuccia Prada
Creative Agency | DJA
Photographer | Willy Vanderperre
Director of Photography | Nicolas Karakatsanis
Models | Sora Choi, Lillian Conner, Freja Beha Erichsen, Gigi Hadid, Berit Heitmann, Maud Hoevelaken, Britt Van Den Herik, Rebecca Leigh, Elsemarie Riis, Mona Tougaard, Jing Wen, Anok Yai, Kirill Astashev, Daan Duez, Jeremiah Fordjour, Wellington Grant, Yang Hao, Freek Iven, Jeranimo van Russel, & Nathan Westling
Stylist | Olivier Rizzo
Set Designer | Stefan Beckman
Set Florist | Mark Colle
Hair | Anthony Turner
Makeup | Lucia Pieroni
Producers | One Thirty-Eight Productions
Edit | Catherine Gionfriddo
Soundtrack | Frédéric Sanchez
---
Salvatore Ferragamo Patchwork of Characters
Salvatore Ferragamo Creative Director, Paul Andrew, recognizes that it pays to look at the foundation before embellishing the house with too many flourishes. For Fall 2019 the designer collaborated once again with Creative Director Trey Laird of Laird+Partners to spearhead a campaign inspired by Andrew's strolls through Milan.
Laird and Andrew enlisted British photographer Harley Weir whose Kodachrome aesthetics are perfectly suited for Andrew's Salvatore Ferragamo breath of colors for fall. Continuing the house's Patchwork of Characters the campaign features a broad range of cultures and age in its cast including 90s uber-model Kristy Hume as well as actor Hero Fiennes-Tiffin.
Weir's tone and coloration is sublime, but what strikes The Impression is the integrity of the art direction by Laird+Partners who creatively leveraged the iconic scripted logo as a vertical break between landscapes and portraits. Careful to assure the logo doesn't fall dead center to be lost in the fold for print media placements. Weir's depth of color helps to assure the white logo has plenty of contrast even against the lighter stone of Milan's sandstone buildings.
The campaign is visually arresting and fashionable, something The Impression has been longing for from the house for some time now and it is a pleasure to see Andrew and Laird get out from the middle of the road, plant the house firmly at a base, and build a foundation that allows for all the flourishes Ferragamo can deliver.
Salvatore Ferragamo Creative Director | Paul Andrew
Agency | Laird+Partners
Creative Director | Trey Laird
Photographer/Director | Harley Weir
Models | Liya Kebede, Kirsty Hume, Yorgelis Marte, Sora Choi, Jonas Mason, Rishi Robin, Hero Fiennes, Tiffin
Stylist | Jodie Barnes
Hair | Jimmy Paul
Makeup | Fara Homidi
Casting Director | Piergiorgio Del Moro
Location | Milan
---
Stella McCartney
Stella McCartney has proven to be more than a sound bite for sustainability in fashion which sets her apart from those who merely aim to appease a generation by driving their carbon footprint down without addressing changes to their product.
The #StellaWinter19 campaign film, includes a reading from renowned British environmentalist Jane Goodall of an emotive poem by author Jonathan Safran Foer. Written exclusively for the campaign, the poem features poignant statements reminding us of the ironies and truths of everyday life and what is truly important.
"Here is where we are born without choosing to be born, but then choose how to live. Here is where we have our long moment, where we cannot help but leave things differently than how we found them, and have the choice to leave things better. Here and only here are we home"
The ingenuity behind this fall campaign is that McCartney realizes it is not just her amazing environmental efforts in the fashion world that is going to change the world, but the coming together of society to put end to the continuation of detrimental actions. Enlisting Amber Valetta and members of the Extinction Rebellion (Deya Ward, Ruby Munslow and Tori Tsui) takes advantage of each member's own personal platform and reaches out to the greater public awareness.
With the help of Amber Valetta and the Extinction Rebellion, photographer Johnny Dufort, and environment icon Jane Goodall, Stella McCartney is putting on her faux fur coat and showing the world no matter the color of the season, the McCartney brand will be always green.

Stella McCartney Creative Director | Stella McCartney
Director | Johnny Dufort
Director of Photography | Deepa Keshvala
Models | Amber Valetta, Emma Laird, Chloe Pearson, Chu Wong, Trinity Hill, Deya Ward, Ruby Munslow & Tori Tsui
Narrator | Jane Goodall
Poem | Jonathan Safran Foer
Stylist | Stella McCartney
Hair | Gary Gill
Makeup | Thomas De Kluyver
---