---
Review of Celine Homme Fall 2021 'Teens Knight Poem' Men's Fashion Show
Augmenting a Signature, With Rigors, Precisions, and Hints of History
By Long Nguyen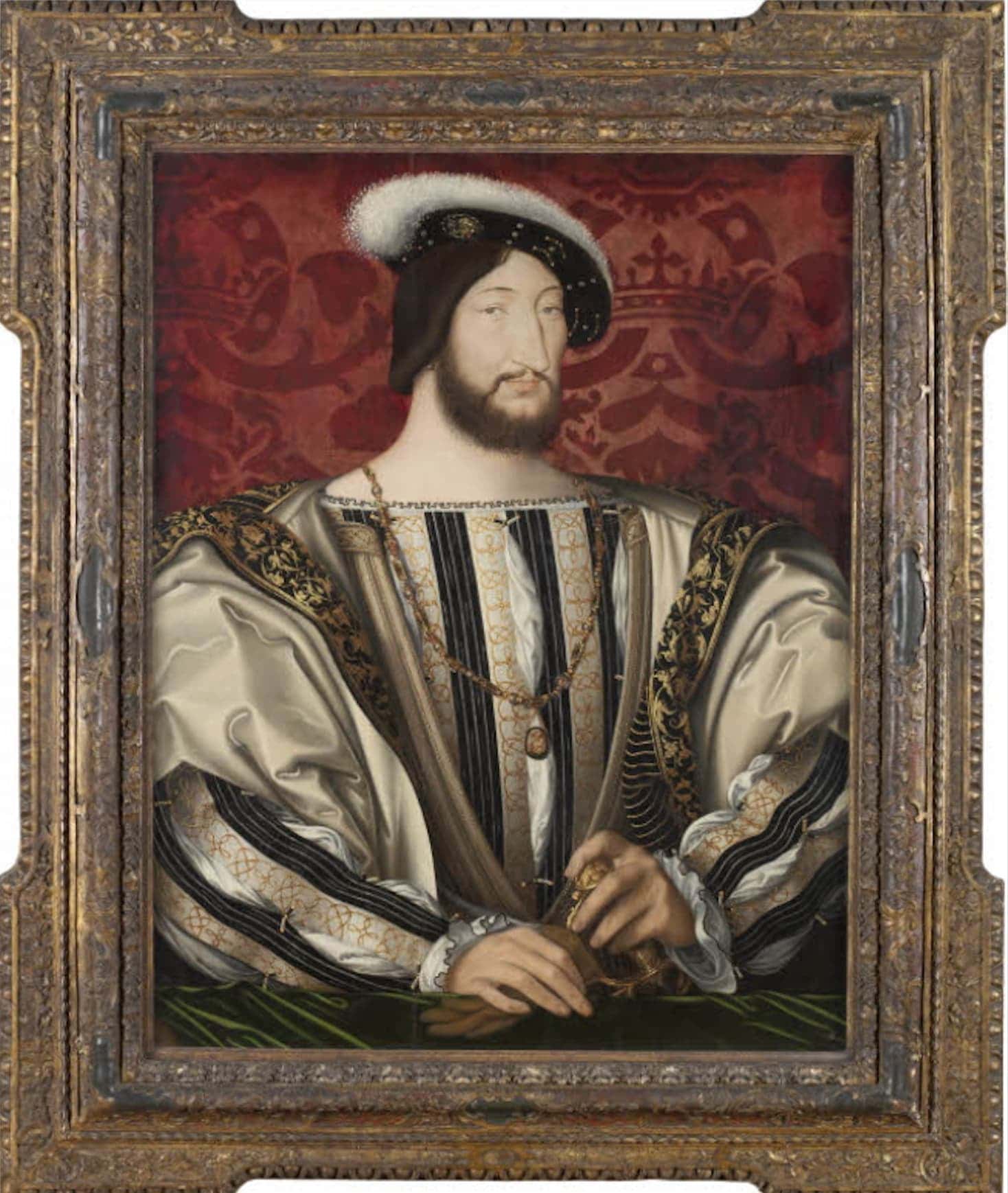 The Chambord Castle, the largest in the Loire valley about less than two hours south of Paris, was built in the early 16th century by François I as a hunting lodge for the French king crowned in 1515, known for his love of archery, falconry, horseback riding, jousting, and hunting. François I was a huge patron of the arts, responsible for ushering the Renaissance in France by commissioning Italian artists, including Leonardo da Vinci, whom the king acquired the Mona Lisa.
Five riders dressed in black hooded wool coats rode their powerful white horses into the Chambord castle entrance to make way for their leader on a black horse wearing the same hooded wool coat with a studded denim jacket, black leather pants, and black leather riding boots. The 'knights' leader carried a black flag with the Celine logo imprinted in white letterings and took charge leading his troupes to take the castle in this opening scene of the taped show of the Celine men's fall collection; titled 'Teen Knight Poem.'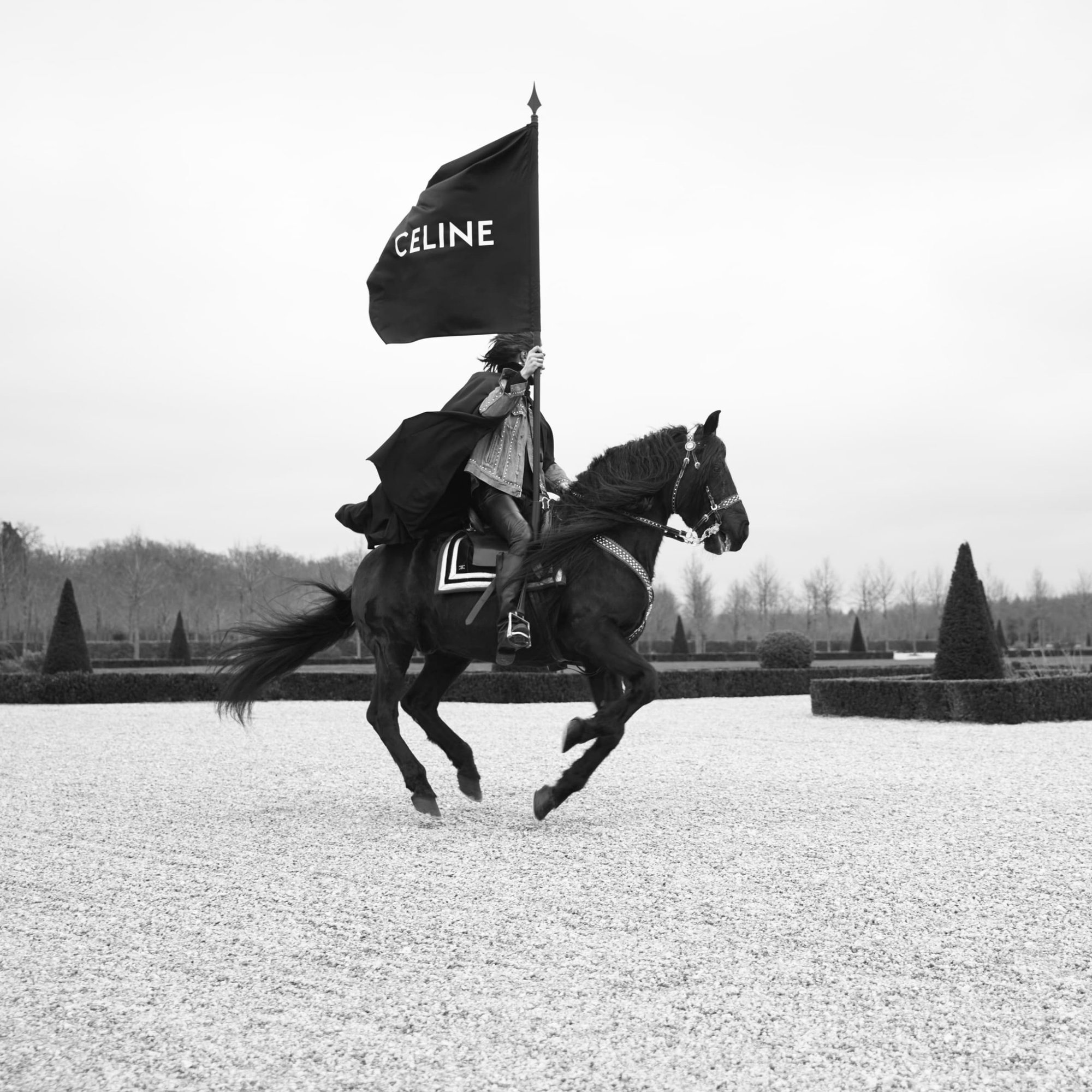 Meanwhile, on one of the roofscape towers above, a youth stood and looked down at the action below wearing a dark grey soft lapel suit with a black sweater, a white poet collar cotton shirt, a black wool coat, and a series of necklaces chains gracing the surface of the black sweater. Another youth followed, walking around the outer terrace roof walkway wearing an oversize Eskimo sweater, black leather pants tucked into leather white boots, and a metal-studded ski cap that resembles a hybrid wool balaclava and a medieval armor helmet. They started the reveal of a well-defined collection.
To announce this men's fall show, Celine posted several images on its Instagram; one featured a black eagle landing on top of the first letter E of the reflective Celine mirror logo lined up in front of a winter barren light forest, and the other a close-up shot of black leather. Together, they served as advance notification of today's digital release of this powerful but not aggressive show, perhaps, one of the most diverse range of clothes that Hedi Slimane has shown for Celine since the designer's first men's presentation on the Place de la Concorde in late January 2019.
In this new tome played to the original soundtrack of 'Time Slip' performed by George Barnett and Jake Barnett of The Loom, Slimane merges element of neo grunge in the layering of a metal-studded light brown leather vest over a denim jacket, grey cotton sweatshirt, and poet shirt with a touch of neo-romanticism in a grey wool stripe suit with a black sweater vest, poet shirt, and necklace chains. The light makeup on the models suggested a hint of Goth. This great mix of a collection is to stir a renaissance of youth in what the designer called 'Nouveau Romantique.' Some ideas for the mind and some clothes for the body.
Teen and youth have always been words innate to Hedi Slimane fashion aesthetics.
Central to the designer's ethos has always been obsessed with youth culture since the very start of his fashion endeavor back in his first-ever men's fashion show for Yves Saint Laurent Rive Gauche Homme staged at the Maison de la chimie in late January 1997. Music and the underground cultures in London and Berlin were prime sources that the designer drew to create a world of fashion, of clothes crafted explicitly around the contours of this world of youth culture.
The designer photographed young music talents and commissioned their sounds for his runways, using the kinds of familiar symbols and sounds to demonstrate shared values. In the narrative of a renaissance of values, it is the beauty of a kaleidoscope of style mixed together in this collection that offers a larger picture of coming together that are deemed critical at this moment of crisis, at least the coming together in terms of clothes.
Slimane's continued placing his central aesthetics in the late teenage years with the hope of making the Celine brand relevant to the Gen Zers – a discerning and well-educated consumer especially about fashion with high expectations from brands they choose – by equating their values and tastes with the compatible value of the Celine brand. The Dancing Kid, last season's men's show, was embroidered on a black leather blouson.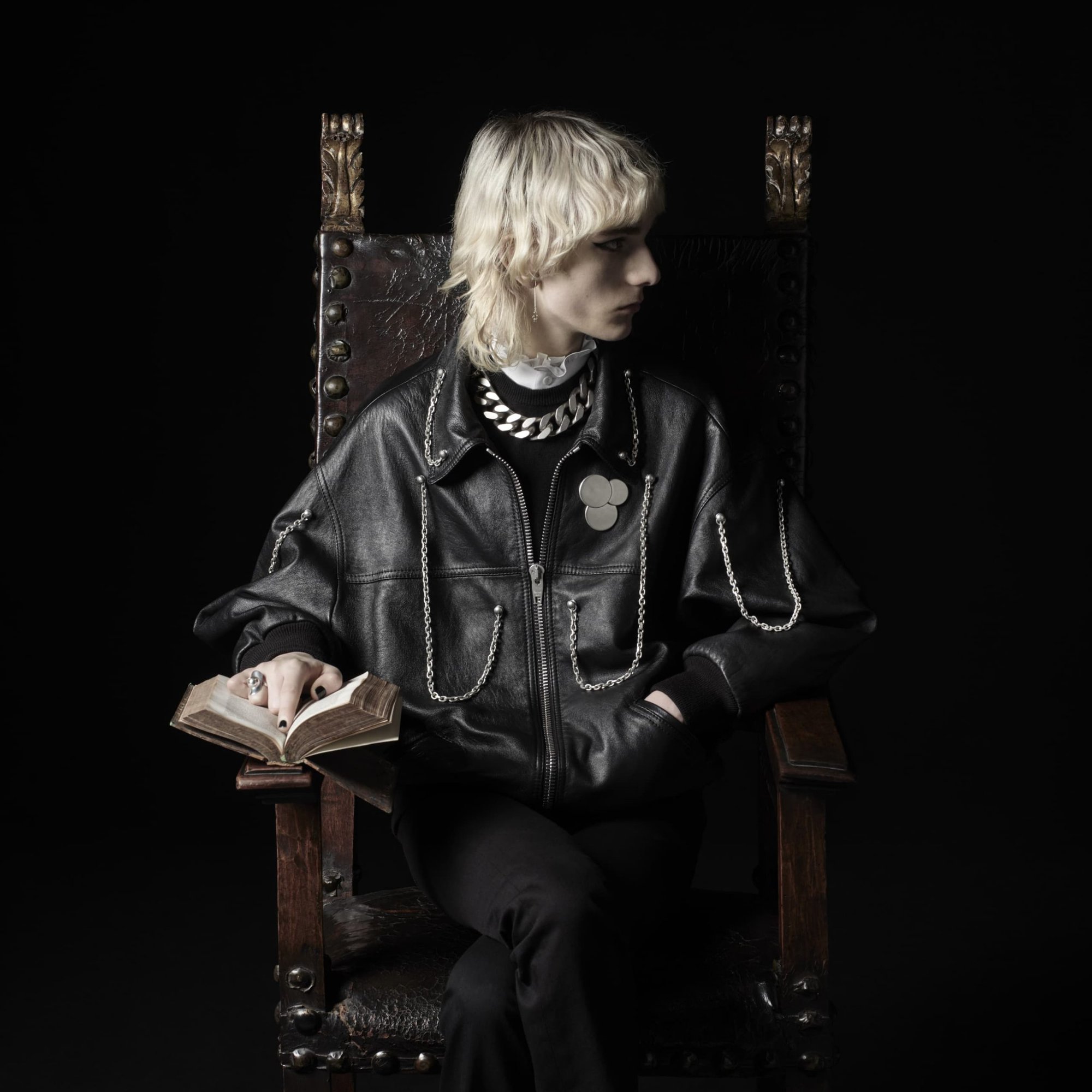 The parade of teenagers wearing the mixtures of soft suiting, protective trench, and broad shoulder overcoats signaled a route toward proposing new identities for this young generation with sartorial values drawn from the past and reimagined for tomorrow. It is a suggestion of new social values, more than just a presentation of physical clothes.
Slimane isn't the kind of fashion designer who often referenced to the past. The designer's work correlates mainly with the undiscovered underground cultural scenes that had yet to percolate to the surface. Whatever historical references existed from the sixteenth century to the 1990s to the recent pasts, they are subtle and never overt in this collection, providing a hint but not a sampling of the past.
In this show, there aren't many direct sartorial references from history. The visual oversize silhouettes of the medieval clothes seen in the François I portrait at the Louvre is adapted, now seen in this show for this coming fall in the shapes of the layering of vests, tailored and trench coats, leather bikers, oversized sweatshirts, and denim jackets. The red and blue metallic cardigan, the shiny gold pair of pants, and a sweatshirt's silver sleeves recalled a distant era. The black, silver, and gold metallic stripe embroidered crystal and chains baseball blouson paired with a black hooded sweatshirt and jeans brought the sixteenth-century armory into the twenty-first.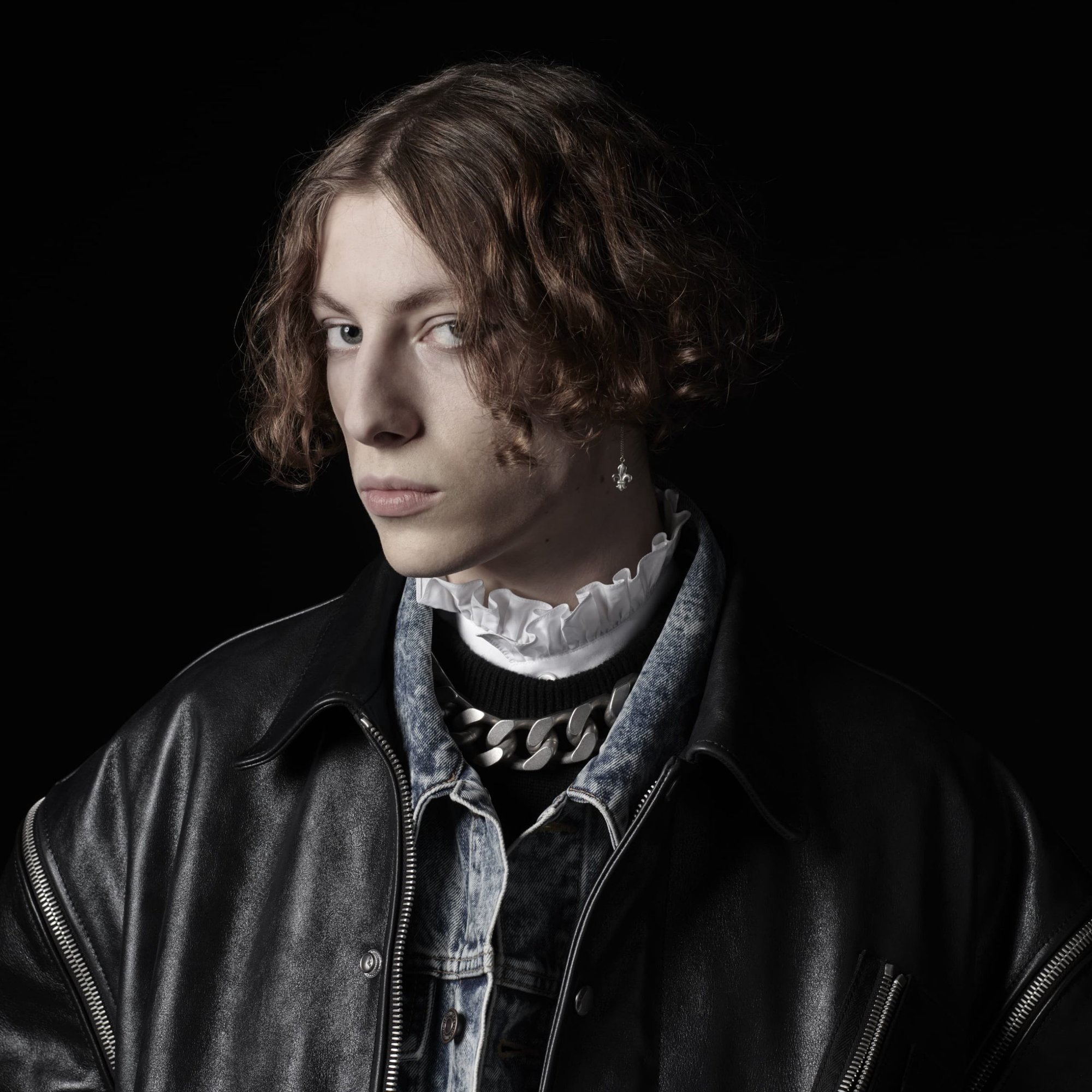 Yet within this renaissance, there will always be powerful traces of the Slimane signature men's silhouettes that have evolved in these few Celine men's seasons. Few designers can build a signature style so recognizable that it is easy to spot immediately because the eyes have seen these shapes often beforehand.
Slowly, Slimane is making a new aesthetic for the Celine man in pain-taking. The designer evolves his bulwark ideas and step-by-step moving to a new horizon, but that does not mean leaving everything dear to him behind.
The suit's shape has gotten slightly bulkier and the jackets a bit longer in the front, and the single breast coats are now with broader shoulders but still mostly cut to knee length proportions. The black single breast coat with a drooping shoulder line is a new shape for these coats this season.
Many of the men's fall collections shown in Paris a few weeks ago lacked a recognizable signature style, drifting from one season to the next, one collaboration to the another without leaving behind a fashion look for the audience to see in the vocabulary of clothes.
Commercial clothes abound from this imaginary runway show atop a Renaissance castle. – grey wool stripes coat, the range of sweaters and pants, black bombers with outer zipper trims, puffer coats, leather bikers of all kinds. Each season, Slimane updates this wardrobe with the precision of tailoring and fabrication coupled with his aesthetic approach's rigors.
In addition to this show, Slimane is working on a group exhibition under the same title 'Teen Knight Poem' alongside seven artists Thomas Sauter, Hendrick Hegray, Dan Wilson, Gene Berry, Olivia Chapman, Althea James, and Cambria Guevara.
Slimane's fashion can be a bit selfish because the aesthetics and the emotions portrayed are so specific, particularly in its visual compendium. But this time, the designer's mixtures of chic, grunge, bikers gangs, and skaters groups find an apotheosis in clothes.
---