---
Review of Dior Fall 2021 Men's Fashion Show
THE CEREMONY OF THE EVERYDAY
Arts & Crafts to Decorate, but Not Ideas to Innovate
By Long Nguyen
The Scottish artist Peter Doig is a figurative and representational painter who mixes landscape and figures, fusing art historical and personal experiences into masterful abstractions in paintings that express the personal, impersonal intersections and the universal. Doig composes his visual paintings that convey that sense of the moment, often a very ordinary moment of life somewhere snapped in time. "I want to make paintings using photos as a reference, the way painters did when photography was first invented," the artist famously said of his art techniques.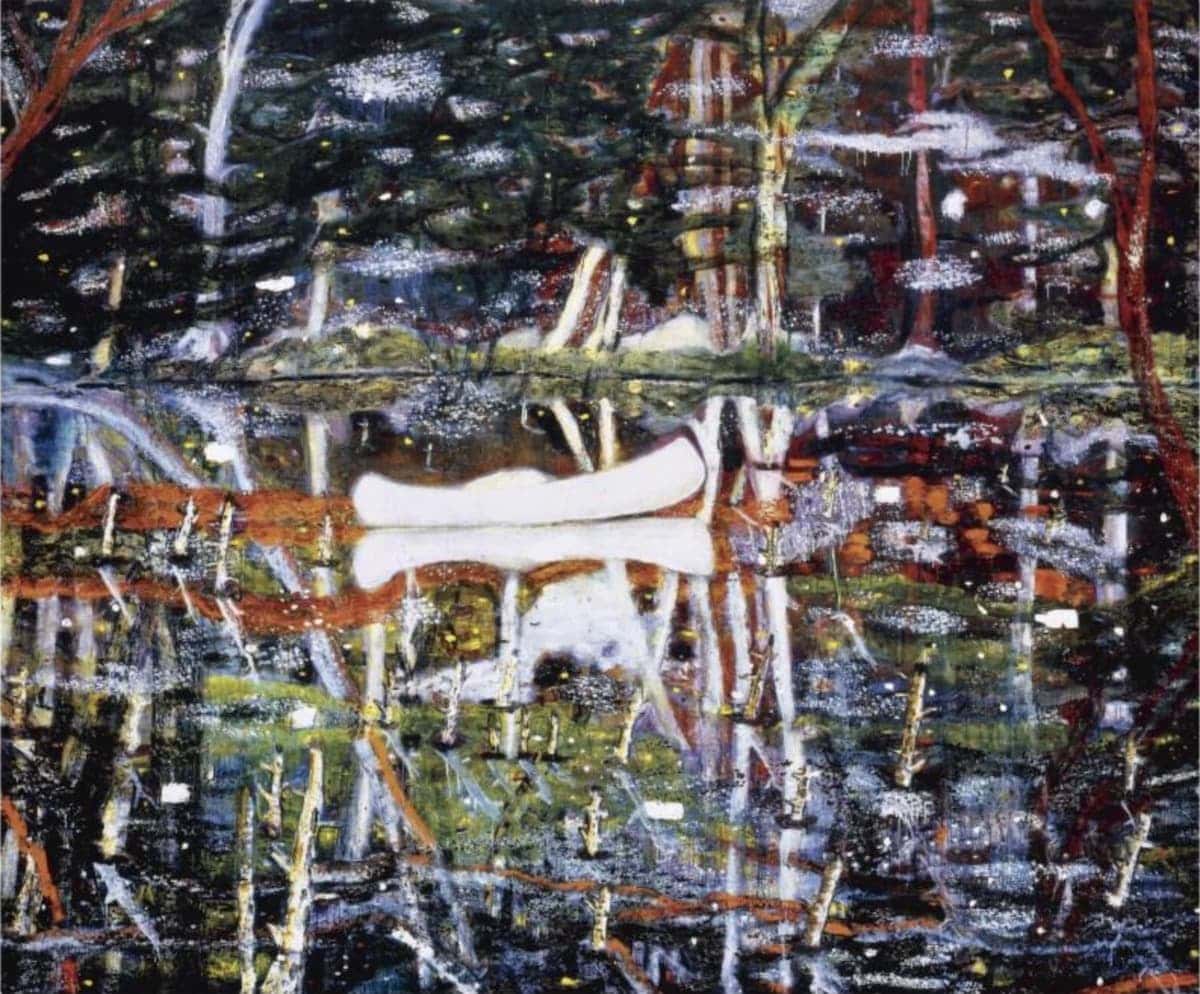 In 2007, Doig's 'White Canoe' painting sold at Sotheby's for a record 11.3 million for a living artist at the time and a moment that painting reclaimed its values in contemporary art. The black magical backdrop painting illustrated a small white canoe within a framework of a still from the 1980s film Friday the 13th picturing a scene at Camp Crystal Lake. Not the kind of romantic, picturesque setting of a lakeside view, yet a setting nevertheless, at least in Doig's mind where for this painting, the artist's reality, imagination, and memory merge.
Enter Dior, and now Doig has just added fashion to the different manifestations and inspirations for his artistic oeuvres in creating graphic illustrations on mohair sweater, drawings on jacquard coats, remixing the military cameo pattern for jackets and pants. He is extending the reach of his Milky Way painting from 1990 into the palette of muted blues, dusky mauve, navy, and Dior gray in this new fall collection by Kim Jones, the men's creative director, that celebrated the ceremony of the everyday.
In this collaboration with Jones and Dior, Doig was involved extensively in the collection, especially making the fabrics like those grey jacquards resemble his canvases and etchings. The lion figure sculpture adorned jewelry and bets and working alongside the milliner Stephen Jones on the hand-painted wool felt hats. The giant speakers' stage is an extended artwork as an installation of blue skies and a stacked sound system pulled from the artist's Speaker/Girl painting from 2015.
But for a second, peel away the art veneer, and what are the clothes like?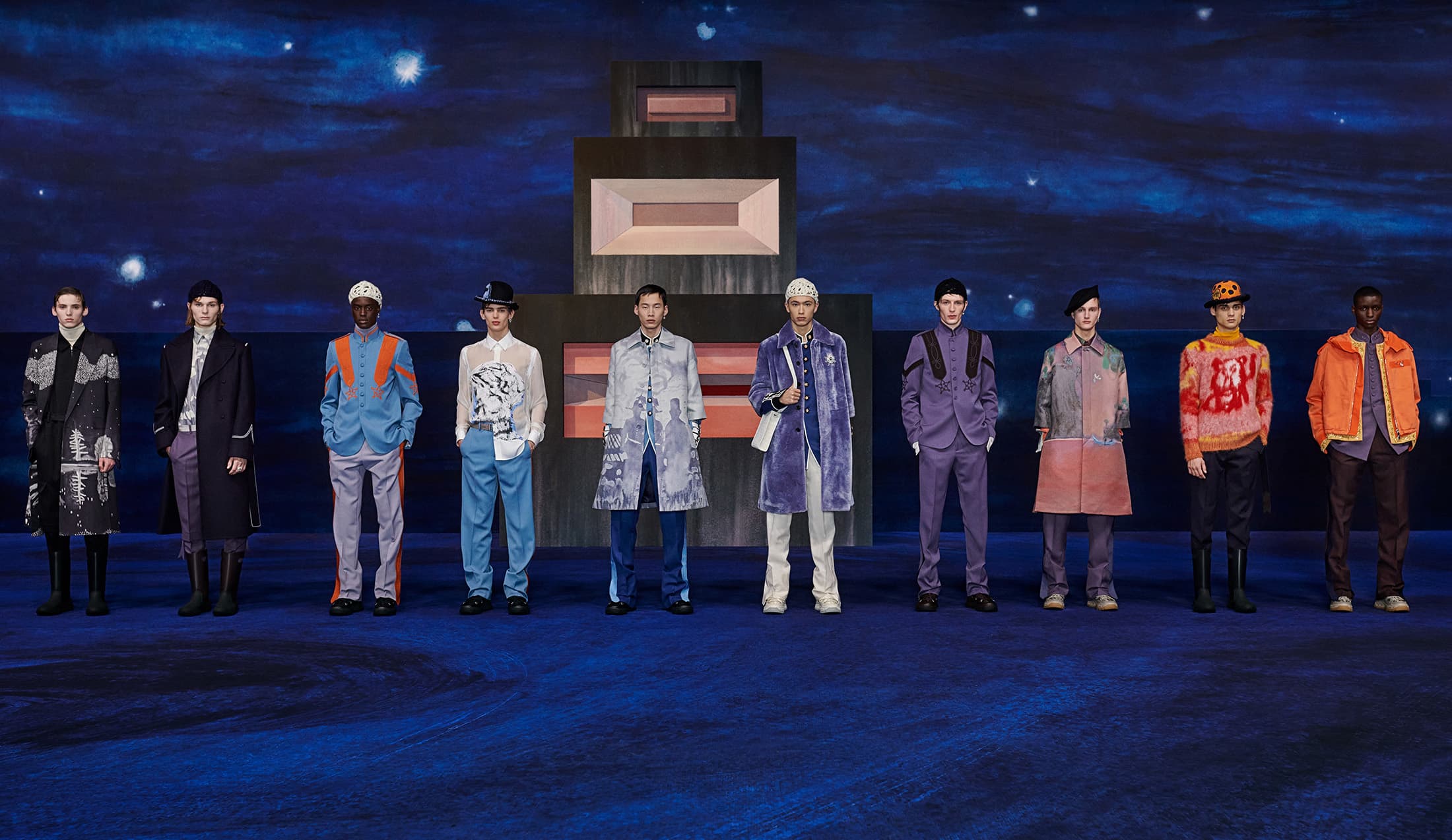 While there was the customary borrowing from the Dior haute couture archives, then twisted them into fabricating a new but not much of an innovative garment. The clean and straight forward slim silhouette suiting look this time took on all the accouterments of the military uniforms – high mandarin collar, gold braids, tassels, sashes, silver buttons, satin stripes on pants, and the leather belt. These military uniforms signify in clothes those formal gestures of ceremonies, real than imagined, now as a part of everyday life. The opening look is an elaborately embroidered long coat modeled after the Rosella dress by Marc Bohan for haute couture in the mid-1960s. The military theme carried through with specially cameo print Doig designed now made into cropped blouson, zippered shirt, canvas pants, and yes, the sandal bag. The shapes are generally more linear with a few large, slightly oversized coats and peacoats.
There is a new fashion idea, well, an idea taken from the Dior Haute Couture archives like one coat from the 1947 collection, expressed in the design of a couple of coats – large shirt collar, single breast knee-length, fitted on top and slightly flared from the waist with sleeves falling precisely mid-forearm between the elbow and the wrist – made in light grey with images of figures illustrating the shiny surfaces of the silk shantung fabric. 
This show certainly won't provoke an earthquake or generational change in menswear. It feels as if Jones has set a certain temperature limit as his design goals at Dior, then each season warm up his collection with just enough heat and with just enough templates through the aids and the assists from the different sets of artists.
The designer hired first Brian Donnelly, aka KAWS with that giant pink sculpture fronting his debut show in June 2018 then onto the Japanese sculptor Hajime Sorayama laser show in Tokyo to enhance a pre-fall show and subsequently to Kenny Scharf in the showing in early this past December. 
The clothes are surely luxurious. Sure, somewhere line up in the commercial showroom are those perfectly cut iterations of jackets, coats, shirts, pants that everyone always needs, and even a nice ice blue shearling coat. But the deeper question remains as to exactly where do these art flavor collections takes Dior.
Each time in these art collaborations, there were Dior clothes crafted with elements of each artist's work like emblems collected and pasted on walls as trophies. Think a 'Sorayama' transparent shirt-jacket with iridescent silver metallic floral designs, an 'Amoaka Boafo' figure print sweater, or now a 'Doig' hand-painted dog figure sweater in white angora mohair with deep forest green trims or a white sheer chiffon wit hand-painted abstract motif. But in fashion, even the most successful formula has its upper limits, and the next art collaboration won't dispel the need to create a real fashion mood rather than just a temporary fashion visual effect.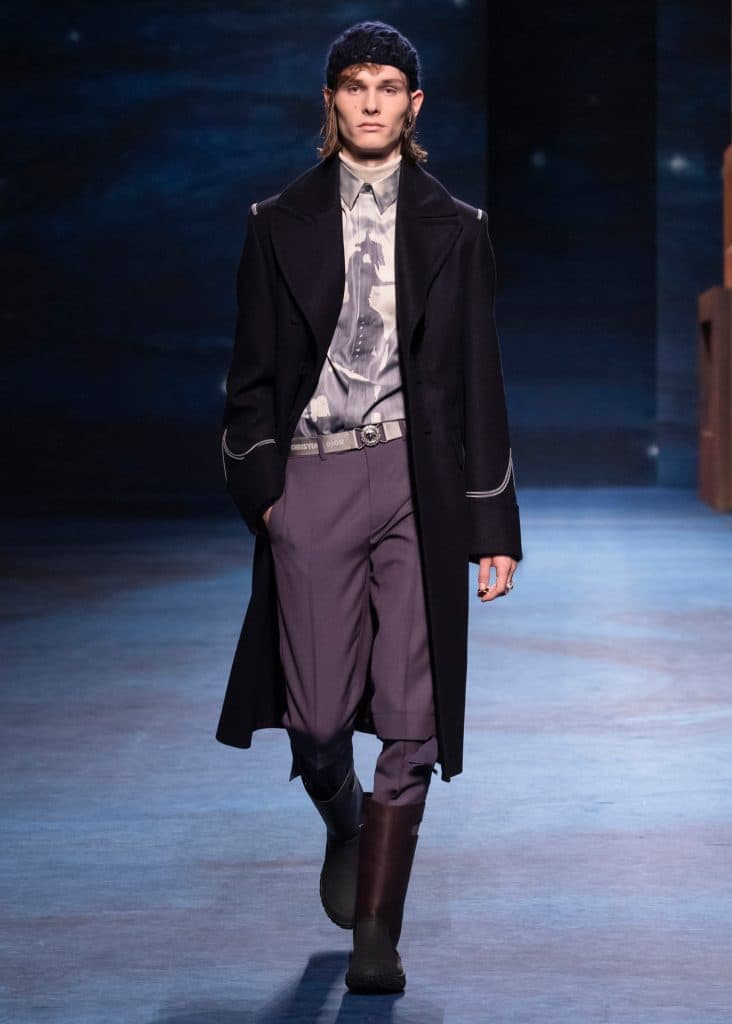 Does any male wardrobe really need all these military-inspired suits to go with the new sneakers, all the garments flawlessly made that reinforce Dior's unique strength as a venerable couture house? It is hard to fathom twenty-five years old out there enmeshed with the finer points of Doig's sophisticated jacquard coat desire drive fashion, not intellectual understanding.
With all these artists decorating more tee shirts, more handbags, more sweatshirts, more sneakers, and more shirts or sweaters ever, where does the idea of Dior Men fit into this scheme exactly? There was a time back in the 1990s when many designer fashion brands had specific identity and meaning rather than luxury streetwear empowered by the banality of collaboration that many luxury fashion brands have become today.
Art is surely a grand part of the Dior heritage, but it is never a substitute for the clothes that were the foundation in the era of the house's founding decade.
Then, the clothes were the central focus of the aesthetic discourses but much less today. It isn't clear how the artists that Jones had hired contribute to Dior menswear's reinvention beyond providing much-needed decorations each season.
What is Jones' idea for Dior Men?
It is as if Jones has set a certain temperature limit as his design goals at Dior, then each season warm up his collection with just enough heat and with just enough templates through the aids and the assists from the different sets of artists. The designer hired first Bryan Donnelly aka KAWS with that giant pink sculpture fronting his debut show in June 2018 then onto the Japanese sculptor Hajime Sorayama laser show in Tokyo to enhance a pre-fall show and subsequently to Kenny Scharf in the showing in early December. This time, Jones set the temperature at lukewarm.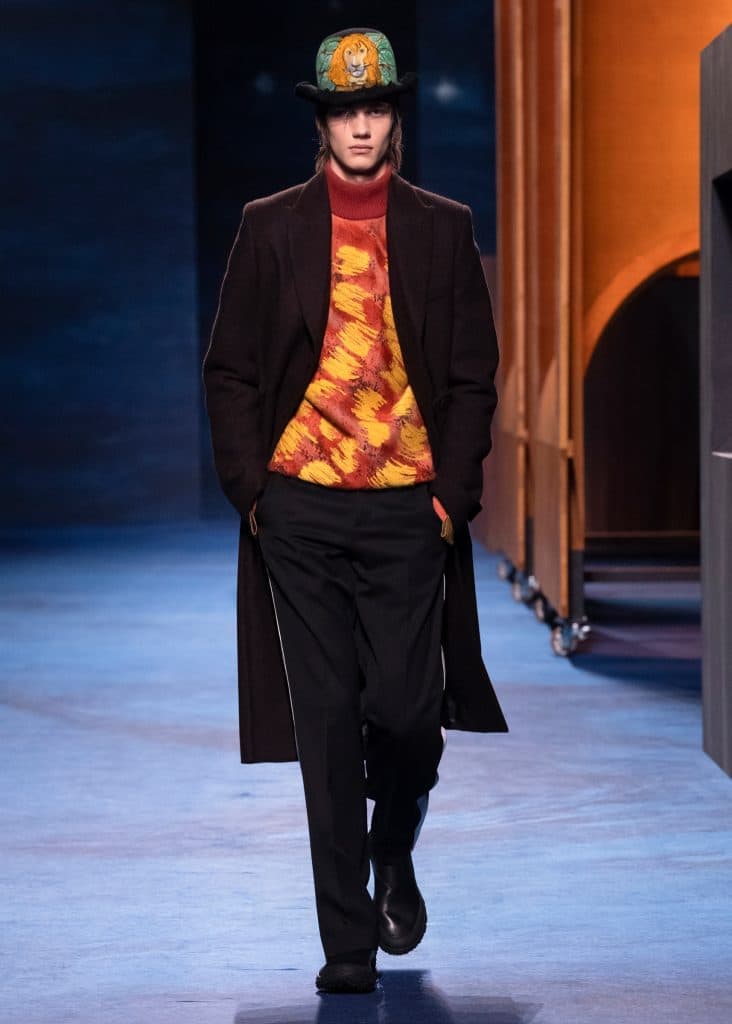 In his Dior tenure since the debut show for Spring 2019, it is not clear what is Jones' overarching idea for Dior Men, an idea that serves as an aesthetic gravitational pull that every Dior Men products spin around and an idea that the young audience can grasp and more importantly adopt.
At a major couture house like Dior, the idea must be so central as it is critical. Instead, what Jones has proposed in these seasons that included a full pre-fall collection with its own fashion show are seasonal products, clothes, and accessories that lived in the stores for a few months, then on to the next stuff. But, stuffs like the Dior-Jordan collection – while commercial juggernauts – aren't enough. The Dior fashion heritage requires a bigger idea as the house was founded on a new fashion idea's strength.
What may reverberate with a younger audience who may not have any connection now or in the future with the intellect of art is a direct connection to their emotions and to their values rather than in a more hyperbolic manner, less art and more heartfelt fashion created with them in mind and made especially for these youths. This show's spirit does not seem to match with the current fashion moment, not least in the overdose of decorated surfaces right from the opening look. The Jones formula works commercially, but with any formula, there is a potential point of saturation.
At Dior, especially Dior Men, there is another heritage to consider – Hedi Slimane, who launched the modern Dior Homme in 2001. Slimane's power over men's fashion at the time was ubiquitous, and his influence over the direction of menswear in the early aught was so complete and so succinct. His Dior Homme aesthetic was understood, felt, and adopted by a larger population of younger guys in the throes of their coming of age to 'designer' fashion clothes. The designer left a mark not only on the fashion of youth culture but also on Dior Homme's idea, followed by the clothes. Then, Dior Homme was the gravitas of men's fashion and carried on the Dior heritage of innovation with clothes.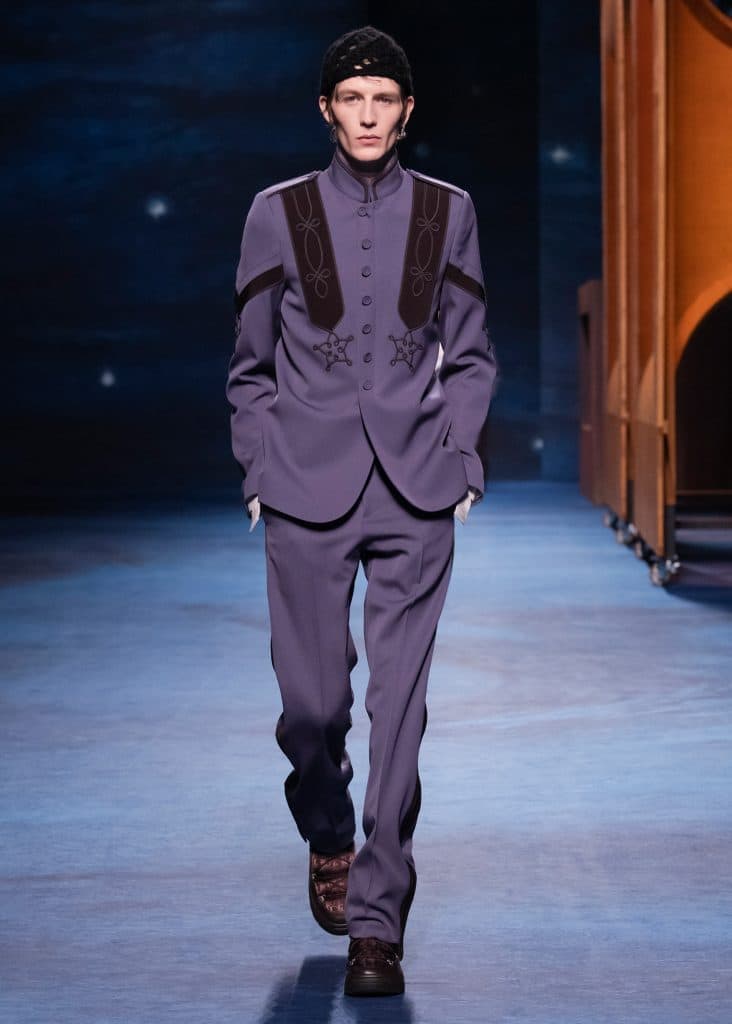 Slimane influence ran deep and wide, and men's fashion during his Dior years revolved around his ethos that took deep roots very quickly, even in the pre-digital era. Most can't afford Dior clothes but instead wear the idea of Dior Homme. The Kris Van Assche years did not contribute much to advancing men's fashion, either through conversations or through clothes. Those Van Assche years were the commercial years, with more or less a continuation of Slimane's silhouettes. Exactly two decades ago, in late January 2001, I remembered leaving Slimane debut show and thinking to myself how what I just saw will change men's fashion in the years to come, and it did.
Missing in this show and the recent Dior Men shows, despite all the art that decorated the show spaces, and the clothes are the clear idea of Dior Men.
---