---
Review of Jean Paul Gaultier Fall 2022 Couture Fashion Show
Rousteing does Gaultier
By Lizzy Bowring
Jean Paul Gaultier Haute Couture by Olivier Rousteing. Autumn Winter 2022/23 – this was the title that sat at the head of the show notes, although it should have read, " Rousteing does Rousteing." This collaboration brought with it more excitement than Paris has seen for some time! So much so that the streets surrounding the event were blocked with security stretching every which way. And if the arrival of Kim Kardashian and her daughter was not enough!
Rousteing is the third guest designer — after Sacai's Chitose Abe and Y/Project's Glenn Martens — to interpret the rich legacy of Jean-Paul Gaultier following his retirement from the runway in 2020. A smart move by Gaultier, but one that perhaps may have set the young Rousteing's knees quaking.
Collaboration, be it co-design or co-create with artisans, is something not new. Other fashion houses have embraced this modus operandi for several seasons and with great success. However, these partnerships were never as newsworthy and certainly not on the same level.
For a start, Rousteing is never shy of overdelivering – one has to consider his previous collections to know that this young man is an endless golden urn of creativity. He also brings a vision of the world as it is today through the eyes of his youth.
Let's face it, over the last 11 years, and at the age of 25, Olivier Rousteing rose to the challenges of turning Balmain into one of the most successful houses in Europe. With his contemporary eye and unfettered self-expression, Rousteing was bound to make an indelible impression at Gaultier.
Rousteing's design aesthetic has always been more tough girl, subversive extrovert with a glamorous edge rather than feminine. Not to mention the inclusivity and diversity that the young Rousteing likes to bring into his creativity. After all, couture is about aspiration, breaking boundaries, thinking way out of the box of normality, and letting your creative juices go wild!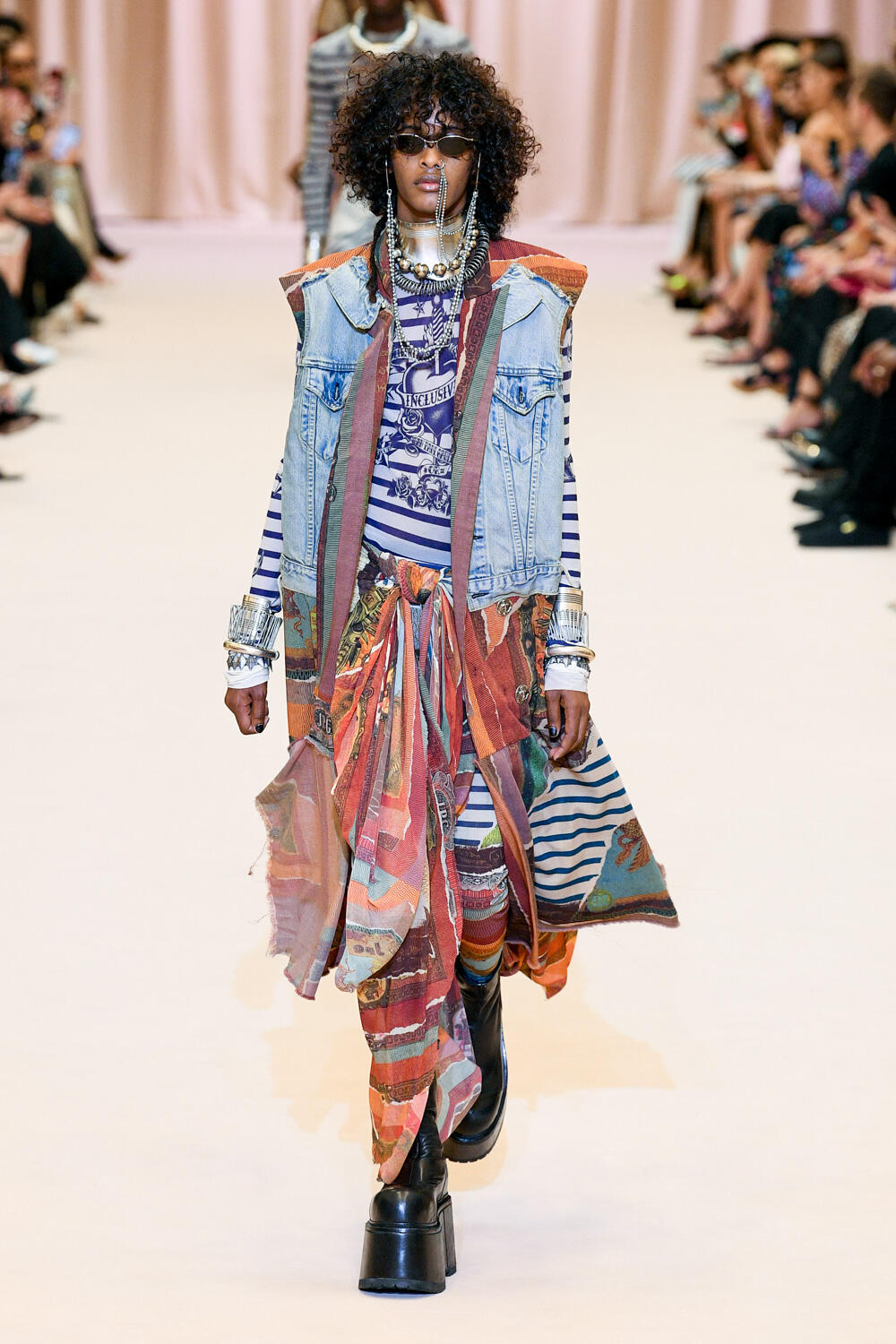 In a collection of over 50 silhouettes, all the semblances of Rousteing's 'quirky' handwriting came to the fore. He did not hold back on the references – Rousteing had clearly done his homework!
It began with the first ensemble, taking several references from the House codes of Gaultier, he layered, mixed, and diced Breton stripes with bright abstract prints or take the Gaultier denim which appeared throughout, from placed jacket fronts on tops to insets in trousers or a meticulously crafted couture gown that left very little room for its wearer to breathe.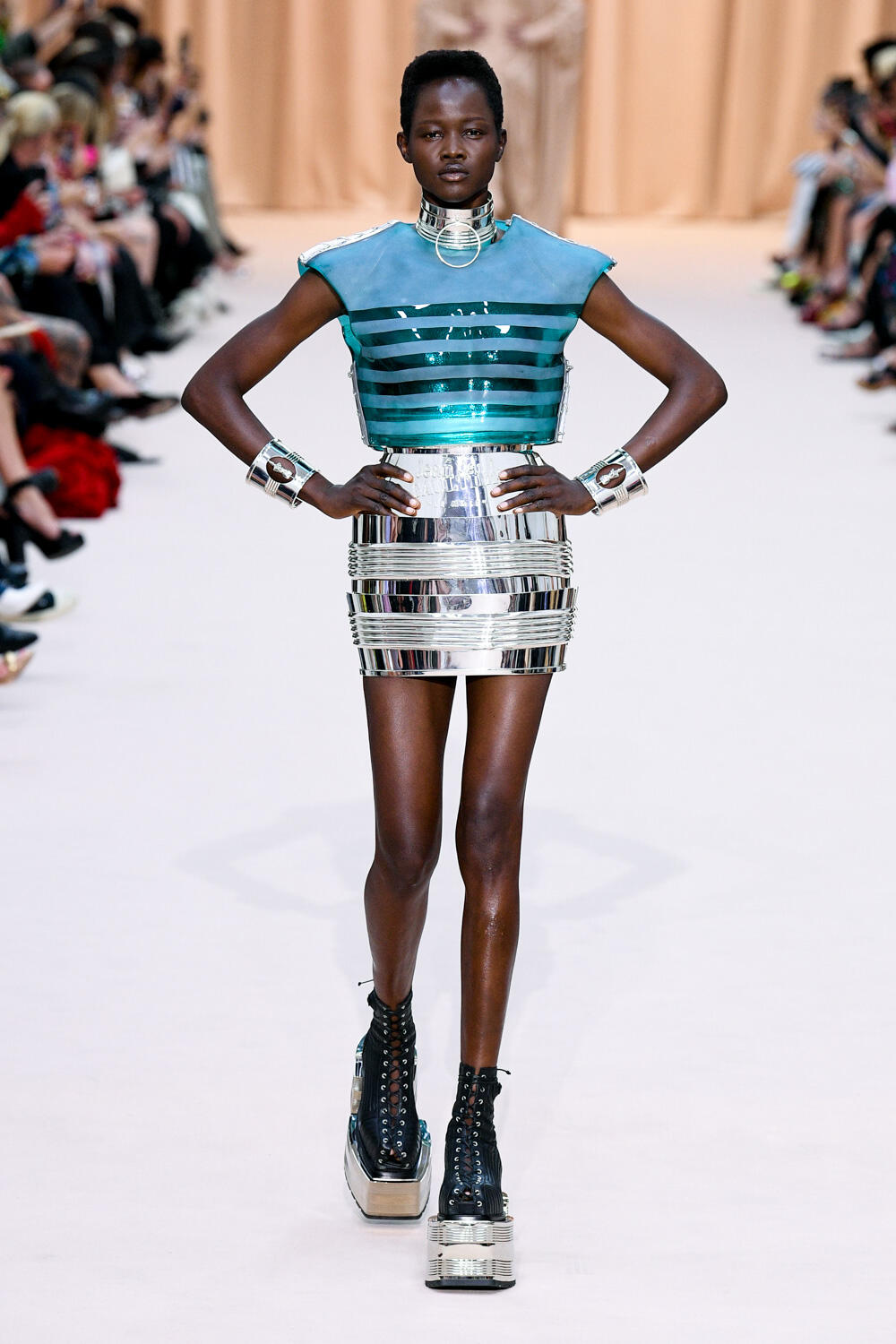 Breton stripes appeared again, this time in a head-to-toe body-hugging two-piece jersey knit with a wrap skirt. Look 15 was a cheeky play on the Perfume bottle Le "Male", Gaultier's iconic fragrance but the riff on house codes did not stop there. Look 16, reminiscent of Madonna dressed by Gaultier in a nipple-freeing ensemble, appeared in a conical-shaped bra built into a bodice.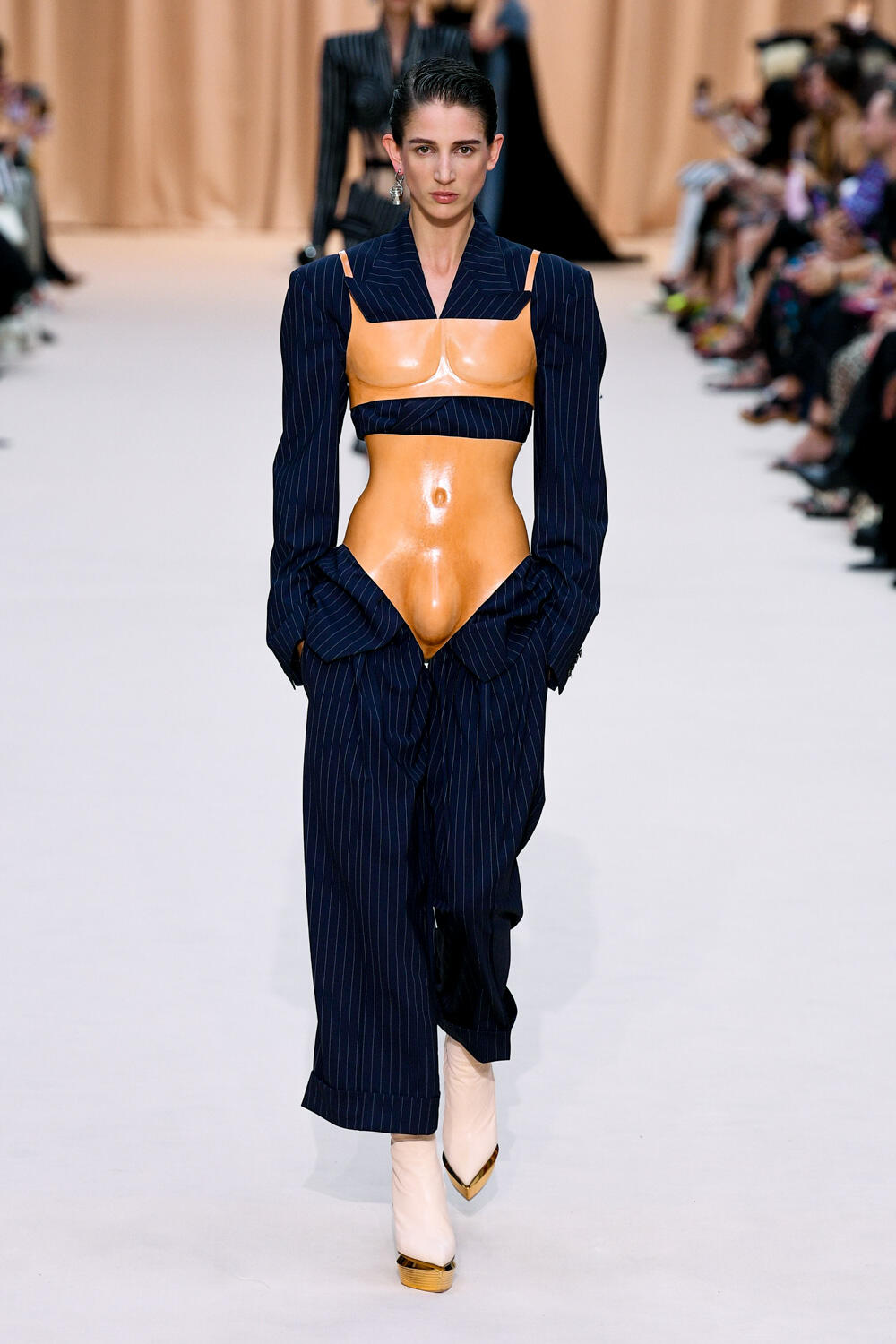 Those conical bras continued with fetish-style laced tops and pants, while Look 20 offered a further interpretation of the moulded corset that left little to the imagination.
And then there was the tailoring; the renowned pinstriped menswear tuxedo jacket, with voluminous proportions, was reimagined beneath a body-shaped corset. There were sleeveless vests and beaucoup-loads of jewellery – multi-layers of bangles for the neck to bangles on wrists and forearms.
By employing all the incredible craftsmanship of Gaultier's ateliers, Rousteing created the most extraordinary gowns that were beyond splendid; they were pure theatre.

There was no doubt that this collection was Rousteing; his riff on the Gaultier house codes was extraordinary – the perfume bottle, conical-shaped bras, corsets, striped suiting, and denim – it was all there. Nevertheless, this presentation was still definitively Rousteing – he just did Gaulthier his way.
---