Up-and-coming Parisian based creative director JULIEN GALLICO is becoming the go-to man for luxury fashion brands like Carven, Vionnet and Iceberg for everything from rebranding to advertising. Learning the ropes under some of fashion's finest at Paris Vogue, the soft spoken, charming and often smiling creative director found himself moving in-house at Balenciaga while consulting on the Y's collections of Yohji Yamamoto. Since 2012, he has been creative director of 25 Magazine, developing a reputation for delivering a powerful combination of sensual sophistication and sultry seduction. The Impression sat with Julien to chat about learning from Fabien and Carine, partnering with Anja Rubik on 25 Magazine, video budgets, fragrance ads, and the power of dreaming.

BY KENNETH RICHARD
Julien, thanks for taking some time to chat with us. So, tell us how did you get your start as a creative director?
I had the opportunity to work in the Paris Vogue art department when Fabien Baron was the creative director there.
Fabien has started a lot of careers.
Fabien is Fabien. The best. (Laughs) I learned a lot from him and his team and it was the best schooling I could have had.
And you now use that schooling at a few other publications and 25 Magazine, how did that come about?
Anja Rubik's agent contacted me one day to arrange a meeting with her. He told me she wanted to start a magazine. I wasn't that interested in the idea of making a magazine for a model to begin with, but I went to see her and she convinced me by describing her vision. She had a clear idea of the female image she wanted to portray. Her perspective was very powerful and it had a different perspective than any of the magazines already out there.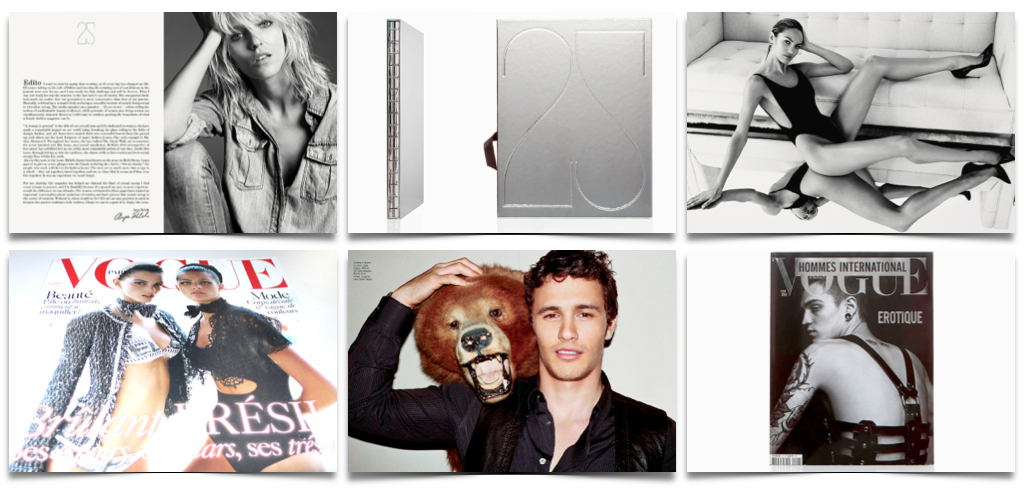 So outside of 25 Magazine, you are doing a fair share of creative direction now for ad campaigns. What are the differences between working on a publication and working on ads?
Interesting question. If we take 25 Magazine as an example, the idea was to show an image of a woman that wasn't focused around her clothing style, but focused on her personality and character. So it had nothing to do with finding ways to display clothes.
It's a different matter for brands, as we need to extract the essence of the designer's vision and use this to help sell their collections. So, we are still talking about identity, but more product-based, especially since the revolution in e-commerce. Our job is to build an image and a link between a brand name and designer identity. For a magazine, we first have to build the DNA of a woman and then bring different brands together to make it happen.
So you invent a personality for editorial but the brands already have that personality. Makes sense. Outside of ads, do you do other work for brands?
Certainly. I come from a Swiss school, so I have a strong background in graphic design. My background helps me to build a graphic identity, from logos to stationery. The most interesting thing is creating a graphic identity and then fitting images in with that. I do a lot of branding, including creating catalogues, websites and campaigns.
What type of brands have you been working with on that?
I had the experience of working for a small company as well as a much larger structure. Today, I work with anyone from independent designers such as Anthony Vaccarello to big companies such as Hermès.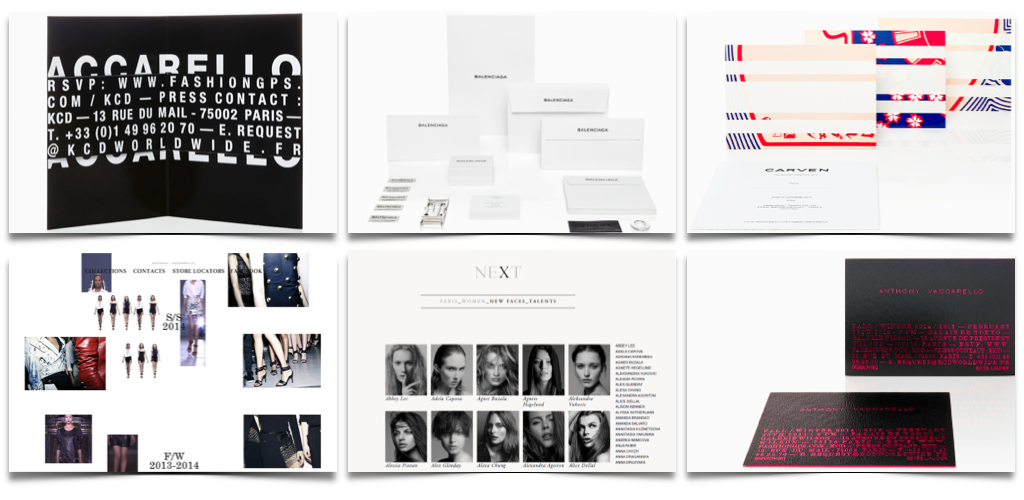 You are pretty tight with the European market. Having come out of Europe, do you find there are international differences in creative direction between Europe and the rest of the world?
I would say that history is the biggest difference. There are so many old, established European brands. If you look at a book on fashion history, you realize the power those old brands yield. Since fashion is about taking, re-using, extracting the past and twisting it to make it new, the power of the old fashion houses is huge. In terms of communication, it's very different working for brands with a past and a strong heritage. In terms of modern communication, I would say the US is always fastest. They are never embarrassed about using large, obvious selling techniques. Which can be fun.
You nailed it, us Yanks are ready to sell. So on the selling note, let's talk about the tools. What type of technologies are you paying attention to?
Internet is naturally the most powerful form of communication nowadays. But from an insider's perspective, I'm still not convinced that the fashion industry can keep up. I think it's going faster than the rhythms of fashion. It's hard to feed it when a collection lasts for 6 months.
[quote text_size="small"]
I think the Internet is going to revolutionize the rhythms of fashion. We won't be able to keep showing 2 or 4 presentations a year when the Internet is demanding new things twice a day.
The Internet has revolutionized printed magazines in the same way. You used to have to wait a minimum of 3 weeks for the magazines to be printed and to see the show reports. Nowadays there's the ability to see all of the looks at exactly the same time the very group of invited people are seeing it.
That's interesting, so where do you see print going?
The industry is very connected to the web but I'm all about the prints. (Laughs)  It's interesting because Hermés, who we now work with, is super involved with the catalogues. My prediction is catalogues will be reserved for the luxury brands. The ability to produce a catalogue in the future will hold a lot of weight and will make your brand more connected with luxury.
When I began working at 25 Magazine, I wanted to make the magazine resemble a book. Nowadays you can find magazine content on the Internet where as before, you had wait for it to come out in print. Now I want to make 25 Magazine a collector's object. Everything that goes into the magazine is well thought out, especially details about the physical magazine such as glossy or matte and the weight of the paper.
You bring up an interesting point – that images often are exposed on the web before the printed piece comes out. Do you do anything differently to protect or assure that the publication doesn't get released in a way that undermines the experience of receiving the magazine?
We don't have any way to put it out on the web before we print it. We have a committed team who is confident in keeping it to ourselves until it's ready to print. The idea is to make something super sensual and connected to sensuality, which is why the touch of the magazine is so important. So, our problem is not if things will get out before print, but how to show it printed. It makes the experience of buying 25 Magazine intimate because you can't buy 25 Magazine everywhere.
How important are moving images to fashion these days?
They are the best tool we have to feed into the Internet. But most of the time, video is a pretext and is not a real communication tool. If you look at perfume videos from the Eighties, we had much more space than today. All the cosmetic moving images are so flat, the message is more about how to become rich and strong, rather than gathering a poetic or emotional message. I'm thinking of the Chanel ads by Jean-Paul Goude.
Nowadays, when you're making a campaign, 99% of the budget still goes on the printed images and the rest for behind-the-scenes, as they need videos for the Internet. It's also hard to make interesting things in moving images when you know that you have a minimum length to work with, since people won't stay longer than 1 minute. I think it is more complicated to make good videos than to make good pictures. For fashion, you need to first build a story and then in production the real work begins. When you have a picture, you just need to retouch 12-15 pictures. For video you need to think of movement.
Do you see any other trends happening that you get excited about?
There are things coming up that excite me like brands becoming institutional magazines. For instance, now Dior has his own magazine made by Fabien or how Louis Vuitton has its own magazine. Or Hermes. It is nice to see brands take risks and treat their brand as editorial and make a statement rather than focusing so much on product.
Of course it is always about print for me. (Laughs) But I don't think right now video is connected to fashion in a good way because most videos are pretentious or empty. The best video I have seen in fashion is slightly moving pictures like in a dream state. It's not connected to something real. I don't think people want to project themselves into the story. They want to dream.
[quote text_size="small"]
I remember when I arrived at Vogue, I was 24 and then I was proposing an idea to Carine. She looked at me and said, 'There's just one thing you need to remember Julien. We are here to make people dream.' They have to dream. So you have to sell a woman that inspires women to dream about being this model.  So if you show something too close to reality, it won't make them dream.
You need to push an image from being too close too reality or it won't work. You push an image so it doesn't cling to reality and is more the ideal of perfection.
So you work with a number of designers to present the dream. What makes for a good partnership between creative director and designer?
First, it's linked to a human relationship where you must feel who the designer is and then you must have an open dialogue. Then when you have an idea, it's about the way you are going to sell an idea to a designer, the way you can push them in a place where you think it is going to help them. Everything is about contrast, so while working with a classy designer you should be adding a twist. If you have a contemporary, experimental designer, it is nice to inject some classic ideals. Everything is about contrast and balance. And at times, this needs to be presented to the designer so they can be conversational.
You mentioned striking that balance within brands or designers' comfort zones. What do you think about the amount of mediocrity in advertising?
I think now more and more the market is connected to countries where you can't make pictures that could touch people's emotions because of the culture. Perfume ads are a good example of this, as they are doing less and less creative emotional connecting and are now linked to big advertising agencies that work to make a product sell. They know what works and what doesn't. But in the end, nothing is good. Nothing is strong. Nothing connects.
With perfume and cosmetics, you can touch the masses emotionally. You can see for example how Gaultier, when he made his perfume for men, everything from the picture to the bottle was so strong that it was memorable. I think economics at that time were pretty good and we were not scared of making advertisements aspirational or controversial.
What we need today is to come back to a real treatment of dreams. We don't take any more risks for perfume. There are no rules in fashion, but today it's almost impossible for a brand to take risks.
Couldn't agree more and look forward to brands taking risks with you. Good luck on the upcoming 25 Magazine and the next season.
Thank you, Kenneth, and the same.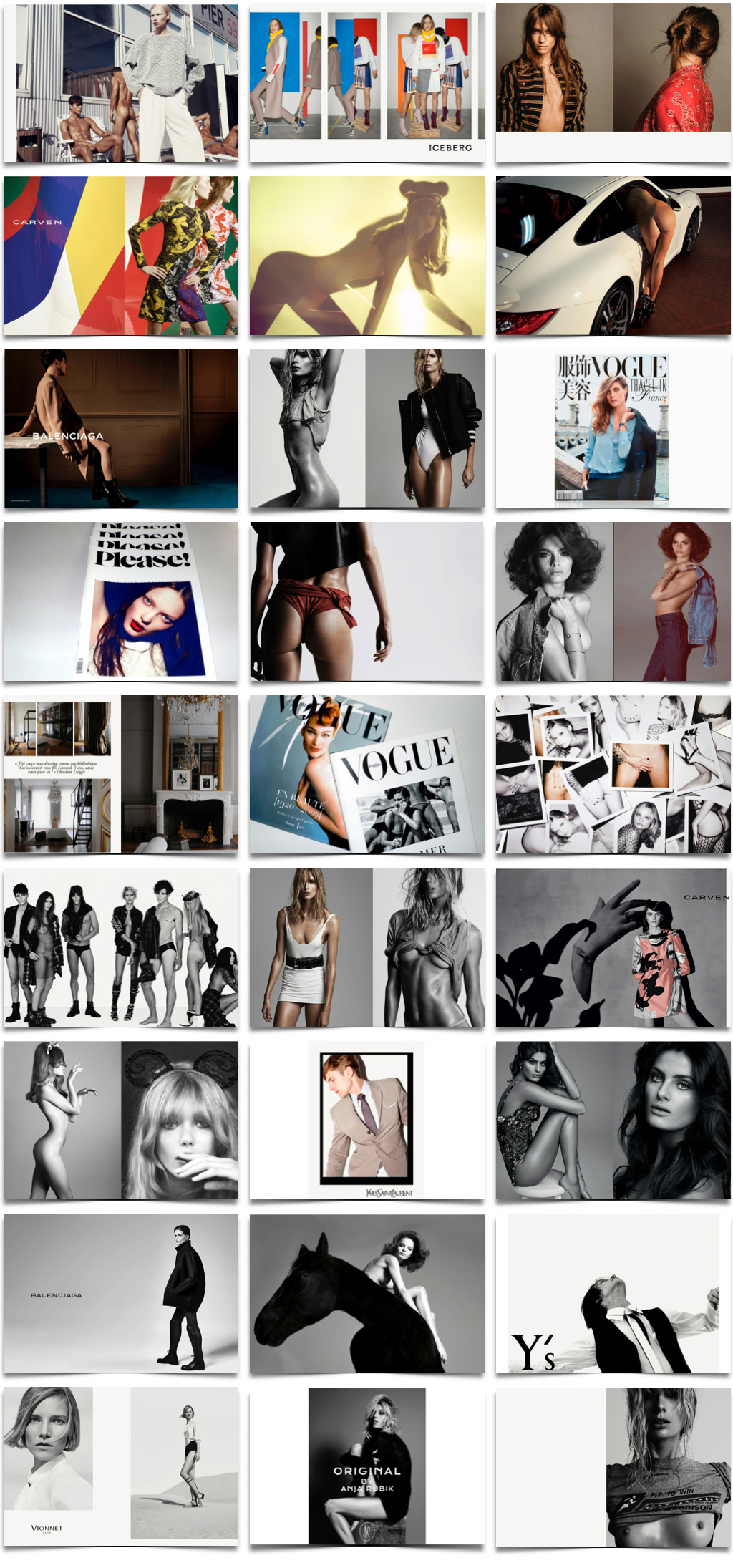 Representation | Trouble Management