As the menswear season draws to a close, The Impressions Anna Ross rounds up the key trends to know for A/W 22/23.
Suits You
In a Menswear season, you'd think tailoring would be just about as groundbreaking as 'florals for Spring', but A/W 22's renditions of sartorialism found both concepts and context anew for the modern world.
Gender-fluidity was interwoven throughout the season in full force, dissembling the seemingly archaic concept of gendered fashion weeks. No matter your pronoun, designers conceived clothing for all, with beings of all genders walking throughout the season. At the same time, the aftereffects (and remaining effects) of the pandemic eased the formal language of the category into new easy lines and relaxed proportions.
At Zegna, Creative Director Alessandro Sartori remains the master of this same language: "The reality we live in today requires adaptability; it asks us all to be fluid. Translating this idea into clothing means building a language of shapes and textures that grows and consolidates over time, matching the needs of the moment." His collection put forward three-piece suits in machine-washable performance wools. Modern living re-defined.
After two years spent in sweatpants, Kim Jones offers answers for those questioning what tailoring means in 2022 at Dior. Tailored blazers were teamed with matching crease-fronttrousers complete with an elasticized waistband (with or without your underwear exposed) to ease yourself back into the office. Jacket waistlines were offered with a new definition, knotted or zippered with hardware, underneath, baby-blue shirting awash with meadow flowers. Give the boys bouquets!
At Egonlab, skirting danced from under boxy blazers, while louche faux furs enveloped the torso; Fendi subverted the modern gentleman's wardrobe with an air of 'romantic and poetic preciousness and vulnerability playing again with skirting alongside cut out sweaters or cutaway collars that exposed sliver of clavicle.
The headline: Tailoring For All.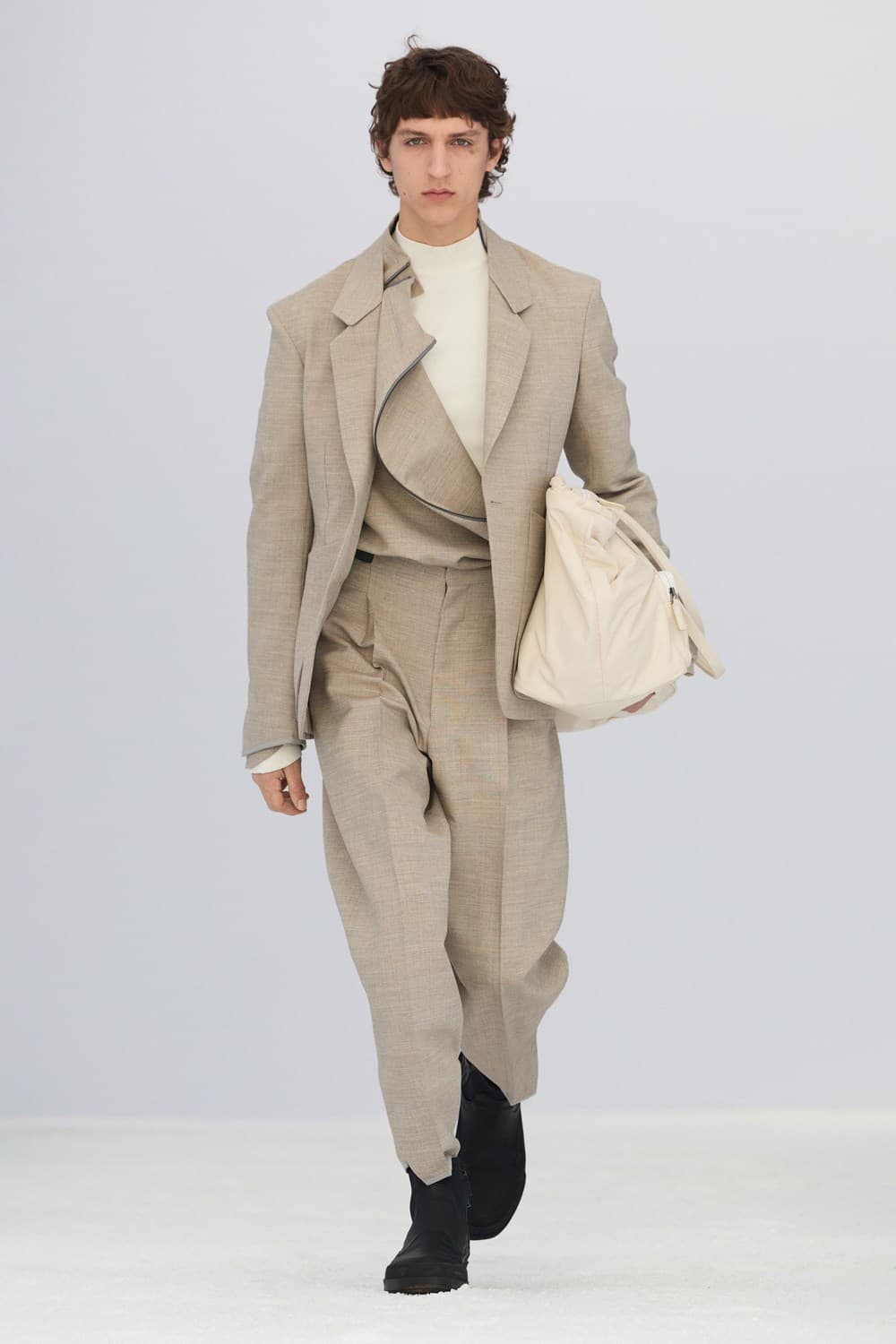 As Seen At: Zegna, Fendi, Dior, Jil Sander, GMBH, Kenzo, Prada, Highlight Studio, Loewe,, Lgn Louis Gabriel Nouchi, Kolor, Steven Passaro, Dries Van Noten, Saun Suen, Ami, Bianca Saunders, Egonlab, JW Anderson, Y Project
All The Rave
Menswear proves it too is not safe from the Gen Z gaze, as a crowd of rave-ready youth tropes descended on Milan and Paris as if falling out of a 3-day bender at Glastonbury Festival.
The new wave of rave touched on 90's and 00's dress codes: baggy cargo pants, bodycon roll-necks, teddy-fleece jackets and the accessory du jour; the balaclava. Raving in the new world comes complete with trippy prints and plenty of colours; take a dose of mushrooms at MGSM and mix with a heavy hand of occult symbols at Sankuanz. If you're lucky, the concoction will send you into a heady spin akin with the winding silhouettes of Glenn Marten's Y Project – whose twisted version of gender-fluid fashions complete with '95esque Gaultier neon body prints were deemed 'visionary' by our Fashion Critic Mark Wittmer.
Laden with his signature wit, JW Anderson's ravers, came equipped with contorted cropped-tops, silver body-stockings, wellingtons, and a top made of festival bands – a literal collector's item.
With Coachella back on the cards and the return to Glasto come, Summer, the message from the design world is clear; turn up the volume and behold the youthquake.
As Seen At: Acne Studios, MSGM, JW Anderson, Y Project, Bluemarble, KidSuper, Kidill, Dhruv Kapoor, Children of The Discordance, Spyder, Avril 8790, Federico Cina, Lazoschimidl, Maison Mihara Yasuhiro, Liberal Youth Ministry, Sankuanz, Taak, Youths in Balaclava, Spyder, Jordanluca
Street Smart
Streetwear has been part of the holy grail of the menswear scene for several seasons, but much of it has arguably been saturated in vision. 2022 begs to differ, with a renewed take on the perennial trend found throughout the menswear collections.
Undoubtedly one of the most anticipated shows of the season, Virgil Abloh's final collection for Louis Vuitton served as a post-humanous extension of his vision in changing the future narrative of streetwear. His show succeeded and excelled, offering a remix of American hip hop and streetwear style with the language and codes of a luxury French Maison. Long live the street.
Even Hermes, known for its neat and luxurious leathers, presented their own rendition of streetwear, as seen through the eyes of Véronique Nichanian. "Functional outerwear defines the silhouettes of the collection. Parkas, bombers, and biker jackets are a more frequent sight than traditional tailoring. There is an emphasis on functional details and hybridity, with many of the pieces being reversible and featuring hidden pockets, removable linings, and well-deployed zippers. Looks were rounded out with quiet class by high-waisted pleated trousers," writes The Impression's critic Mark Wittmer.
Elsewhere, the much-buzzed Prada show blurred the boundaries of 'labor and leisure' fusing technical fabrics and full-form tailoring alongside boiler suits and blazers – two linchpins of very different workplaces. "The approach is to make all garments equally important. Worn under coats and suits are lightweight material overalls, deux-pieces, referring to the idea of work, movement, activity, and leisure. They are rematerialized, to give a different importance," explains Raf Simons.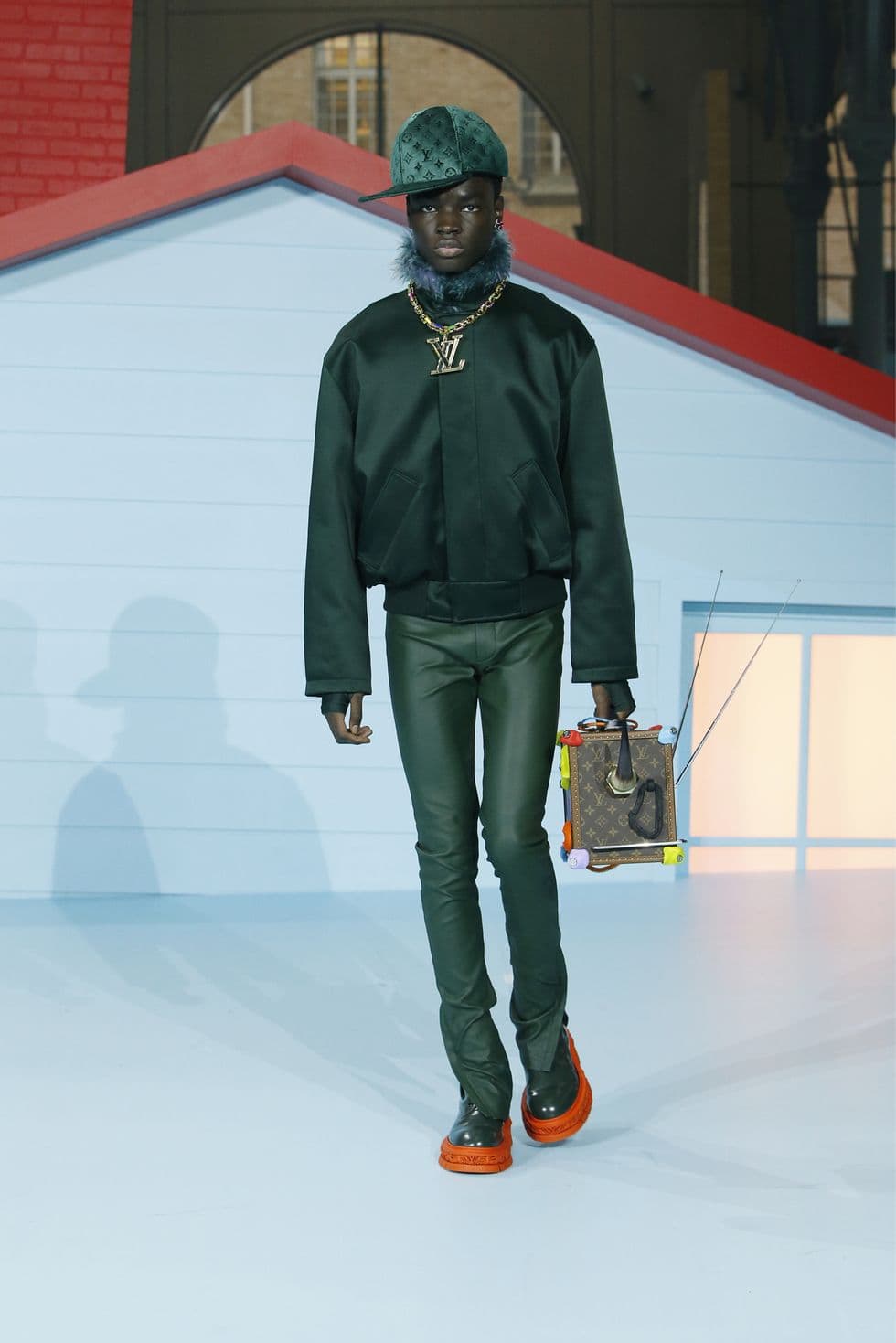 As Seen At: Hermes, Louis Vuitton, Fendi, Zegna, Prada, Highlight Studio, Kenzo, Etro, Nahmias, Paul Smith, Valette, Etudes, Maison Kitsune, Solid Homme, Egonlab, A Cold Wall, David Catalan, MTL Studio, Magliano
The Great Outdoors
Perhaps one of the silver linings of the Covid-19 pandemic is the uptick in time spent in and amongst the great outdoors. As such, designers are catering to a boom for leisure and high-performance fashion with collections that traverse everything from mountaineering to snowy alpine peaks.
Danish outerwear brand Rains, known for their once super-commercial and quietly confident weatherproof macs and accessories, took one giant leap into high fashion: puffer jackets exploded in monumental proportions, while the baggy-trousers trend came fit for all-weathers in their signature water-resistant qualities. Wading, but make it fashion.
Sacai continues to lead the way with trapeze-like outwear, padded snow boots (a footwear must-have for next season,) and dissected Fairisle knits. Color-blocked parkas and anoraks presented the trend's more upbeat and uber commercial renditions at Isabel Marant and DSquared2, complete with poncho blankets and patchworks.
Yet, as the climate changes rapidly around us, many designers are re-assessing utility looks with one mind on an impending apocalypse. Take the twisted, tent-pole proportions of Yoshiokubo or the futuristic visions of Gall, where air vents met face masks and trousers came padded to air-inflated proportions. Rick Owens's natural leaning for the dark and dystopian saw his cult-worthy wears come complete with takes on a head-torch. "Perhaps it's an industrial, subterranean world where the air on the surface has become too toxic to breathe, or where the destruction of the atmosphere has made the scorching heat of the sun unbearable," ponders The Impression's Mark Whittmer. "Either way, it's going to be a stylish apocalypse."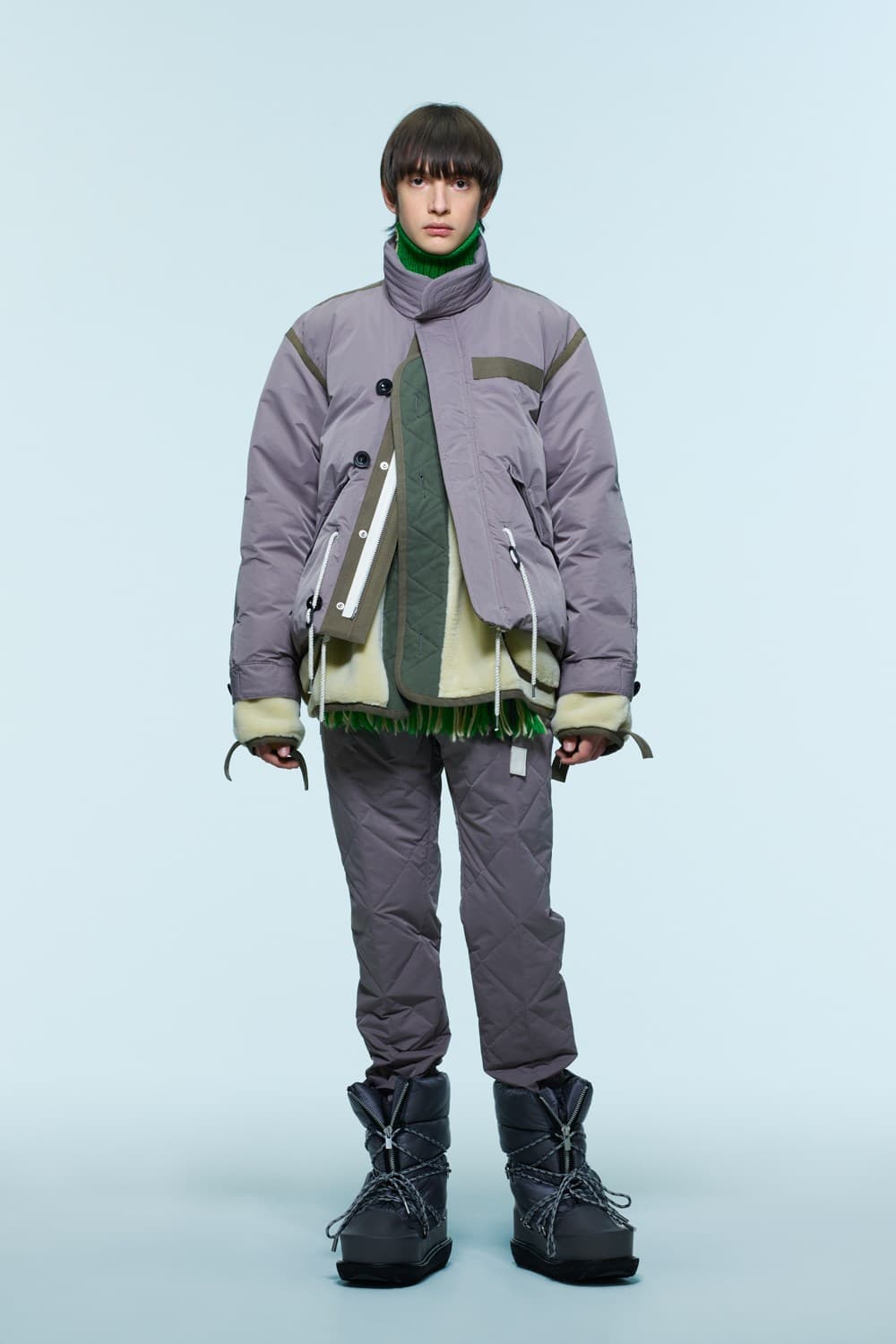 As Seen At: Sacai, Isabel Marant, Rains, Rick Owens, Wooyoungmi, Yoshiukubo, Dsquared 2, Gall, Spyder, Jet Set, Vuaranet, White Mountaineering, Jan Jan Van Essche, Solid Homme, Facetasm, KWay, Tods
---