---
A bevy of designers explore amusement or, in some cases, lack thereof.
Just as dreary wet Paris skies cleared up, the Paris shows and presentations took an upswing and displayed a more playful side of themselves. Isabel Marant's show, always a party with great music and caipirinhas flowing, boogied while creative director Gherardo Felloni of Roger Vivier staged a cheeky chic accessories melodrama. Even the King of Goth fashion Rick Owens softened his mood and silhouette while absentee designer Virgil Abloh left a void at Off White.
ISABEL MARANT
Post-show Isabel Marant told The Impression "I'm very happy! The show was inspired by Baile Funk, the contemporary electronic music from Brazil; full of energy and happiness."
(Editor's note: it sounds a bit like Freestyle and House popular in 1980s/1990s New York City nightclubs).
So, this explained the whistle slash invite as the Baile Funk music which provided the soundtrack for the show was punctuated by constant whistle blowing. Purely coincidentally, but what American fashion industry person in that audience wouldn't break a sly smile at the word whistleblower today? Though Marant spends her free time in Ibiza and has not travelled to Brazil yet, the music inspired the "really beachy vibe with lots of skin" for which the South American country is known for. This was executed through traditional local craft techniques; embroideries, quilting and feathers, for instance. Motifs referenced Aztec prints, gaucho fringe trims, elevated Baha shirts, and a print taken from Brazil's famous Copacabana beach boardwalk. The designer's penchant for romantic tops and dresses played out as Victorian nightie dresses, swinging crop tops and black, silver-beaded evening get-ups. The plethora of frayed edge short-shorts will crowd please an array of girls from Ipanema.
Marant's positive energy – even her name is similar to the word funny in French – is infectious and has undoubtably had a great effect on her success. There is also the element of nostalgia and recreating clothes influenced by the carefree lifestyle of the 70s/80s. No doubt this has been a huge success, but it would be interesting to see where she can take the look next.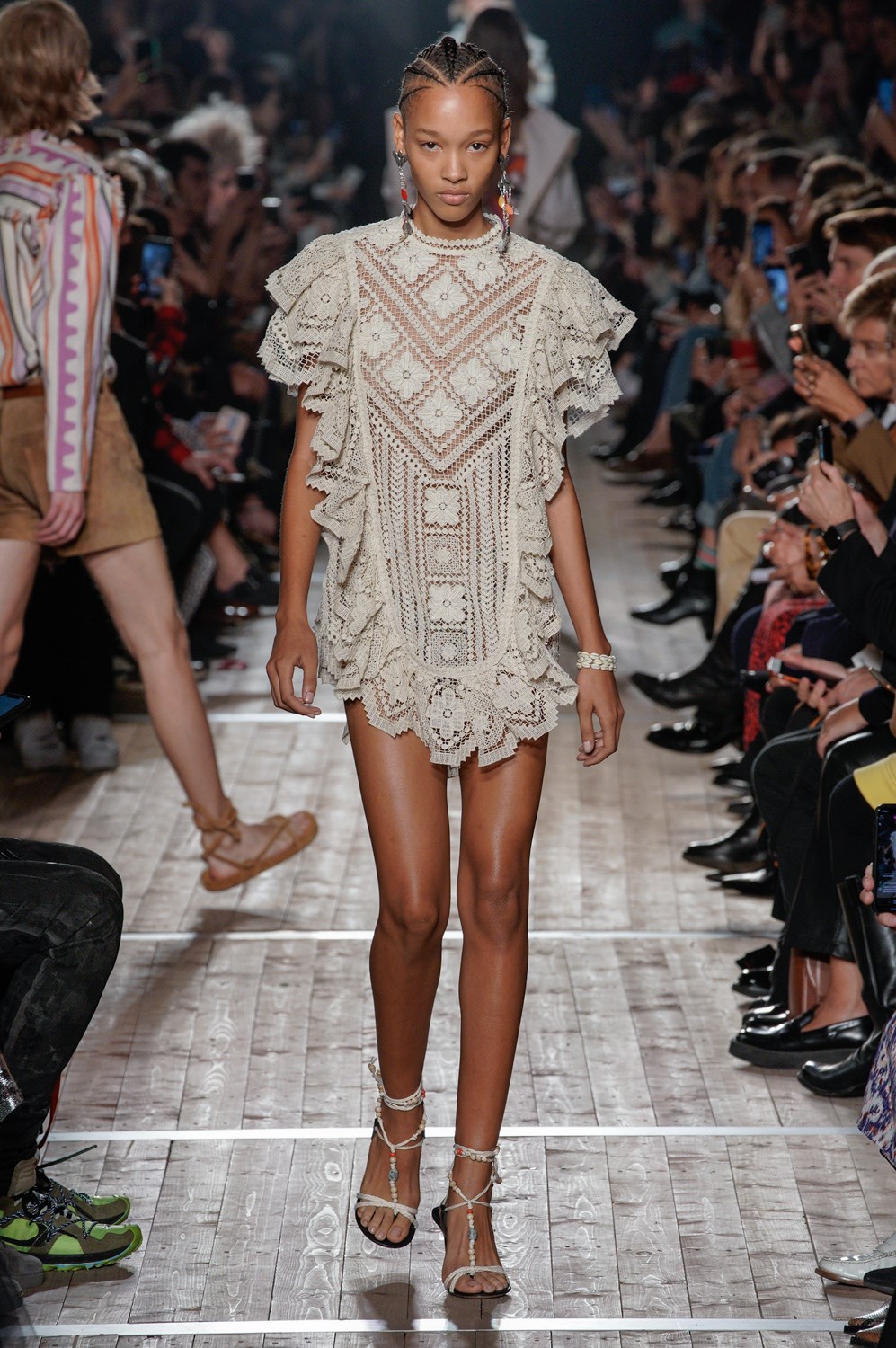 RICK OWENS
Uplifting and light-hearted are not usually two words one would use to describe a Rick Owens show. Spectacle, sure, as the Los Angeles-born, Parisian resident usually engages one of the elements – water, fire, air for instance – in the background of his outdoor shows in the Palais de Tokyo plaza. This season it was air, provided by a troop of professional bubble blowers, generally a sight with a feel-good effect for ages one to one hundred.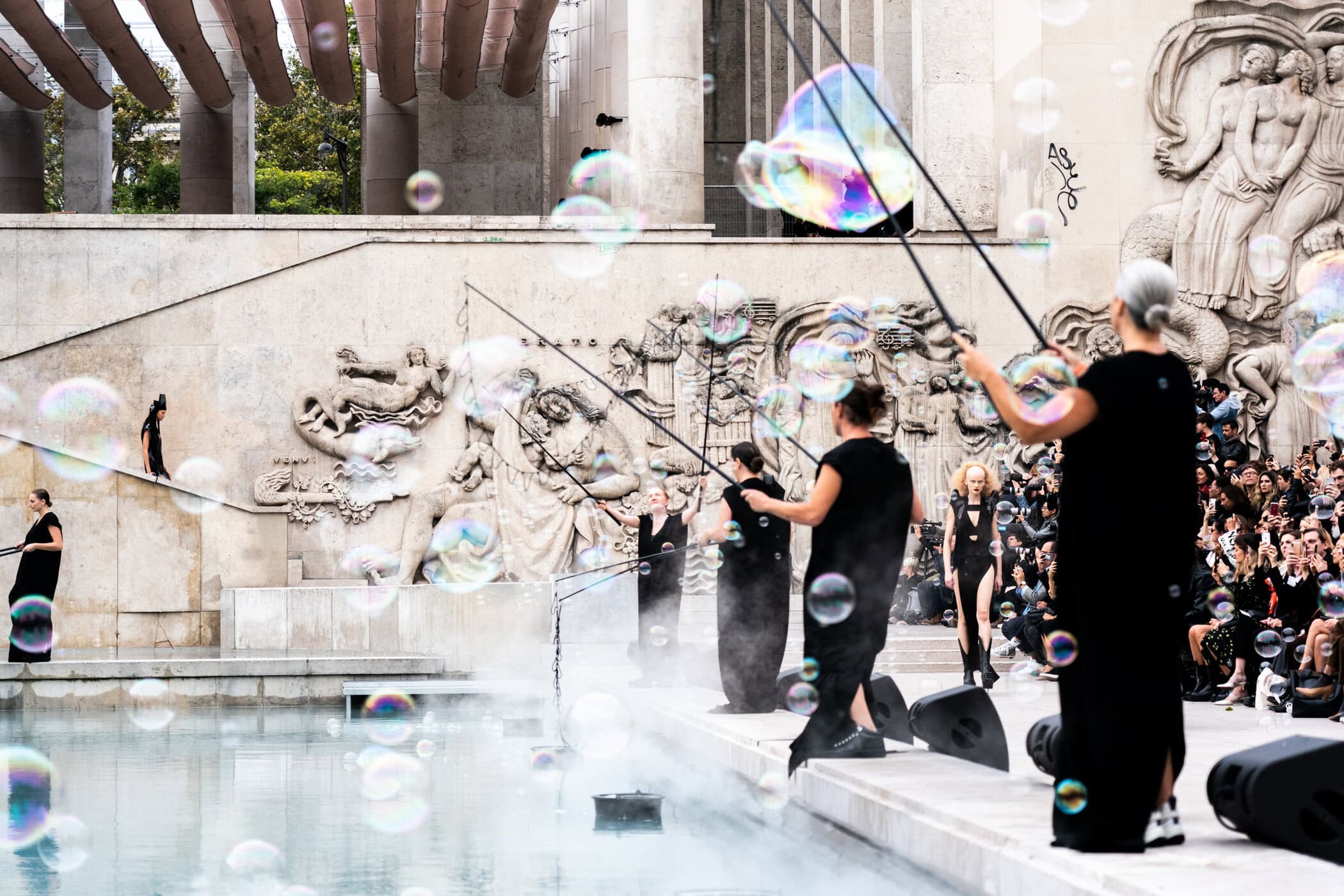 The designer does have plenty to feel good about these days, such as the release of his book on Larry Legaspi and a collaboration with Veja, the French sneaker brand. And he's been thinking a lot about his Mixtec heritage these days, continuing on from mens sparked mainly by the border wall controversy and perhaps that certain stage of maturity that guides us back home again.
Owens recalled the Mexican-skewed theater in his hometown which showed films by actress Maria Felix, the "Dietrich of Mexican cinema," who eventually lived in Paris and amassed a Cartier collection. But inspiration was also drawn from Mexican archeological digs by Josef and Anni Albers in the Thirties which created a new form of modernism which appeared through graphic and linear motifs throughout the collection. What was also remarkable for Owens was the use of pastel and bright colors on sheer fabrics and a mixed stripe pattern inspired by Luis Barragan's architecture.
Sequins and shiny gold gowns were positively glam and recalled silver screen goddesses of day gone by, albeit with massive crowns. Though "alien Aztec crowns" read as high priestesses, the headpieces were actually inspired by Fritz Lang, the director of the iconic film Metropolis. Those familiar with it can see that influence more than Aztec. Lest it all seem too cheery and normal, his ladies were fitted with bald skull caps that moved mid-scalp before masses of tresses flowed down their backs, and topped off the look with "East L.A. lowriders" inspired sunglasses to bring it all back home for the designer. These various references from Bauhaus to the Aztec priestesses to Art Deco to Valhalla mixed in with bubbles from classic Disney animation made a perfect stage for Owens to display his expertise craftsmanship.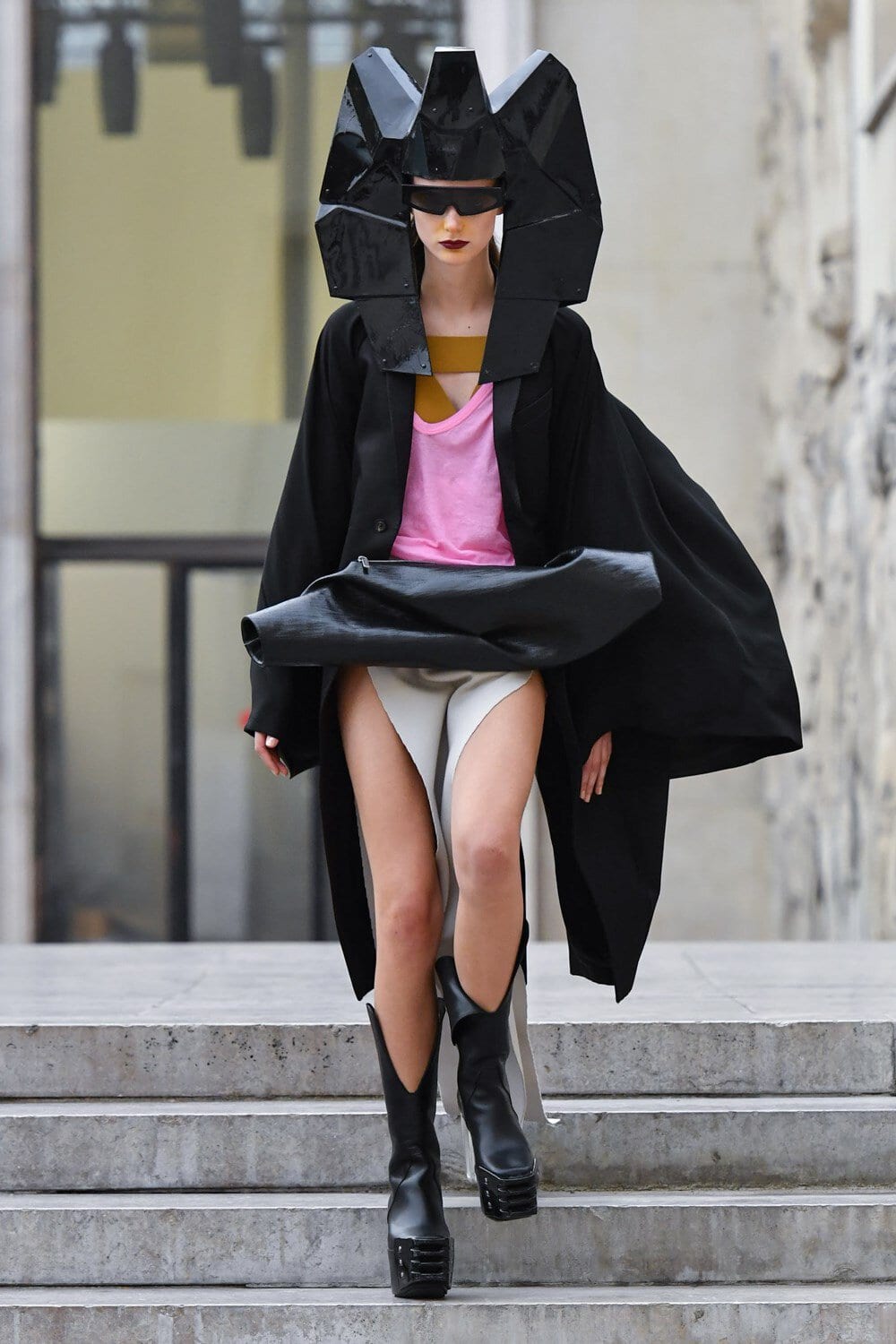 ROGER VIVIER
The catwalks weren't the only fun-filled spectacles. Accessories are getting in on the action, too, with presentations that can often rival a runway. One house, led by Gherardo Felloni, Roger Vivier, is leading the pack. Tucked away in the 16eme in a "hotel particulier" aka mansion, the Spring 2020 presentation entitled "Hotel Vivier Call Time" was equal parts camp and chic and loaded with a bevy of covetable shoes and bags like the new Tiki mule with sphere heel and Tiki bucket bag that employs an R and V as handles, surely a retail winner.
With a cast of characters befitting the staff of hotel slash cabaret club, the designer created rooms to express different aspects of the collection as well as inspiring muses of yesterday, today and tomorrow. "I have always been inspired by theater, musicals, the cabaret," he shares in post-event release. "Performance is always present and, this time, I want to show the guests of Hotel Vivier the part that is not shown in every performance, the part that is usually hidden behind-the-scenes."
Vignettes included a fictional dinner party in a secretive room featuring models and performers portraying Bridget Bardot, Jackie Onassis, Josephine Baker, Marlene Dietrich and Queen Elizabeth II, while Miss Vivier Universe pageant winners vied for attention on a small stage; another room featured Anna Cleveland as an Eighties-era Parisian model being fawned over by a Schiaparelli-esque fashion designer. The millennial designer paid tribute to recent pop culture and set up one room like a set from a Glee episode, reflecting cheerleaders getting ready in a typical American high school locker room.
Several times throughout the day-long presentation, a "bellhop" rang a bell and at once the entire cast of characters as well as a couple of French maids and ballet dancers scampered down the staircase to put on a small, cheeky and humorous but highly chic fashion show. Guests topped off their visit to the presentation with a visit to Café Vivier, complete with freshly made crepes. Ooh la la, indeed.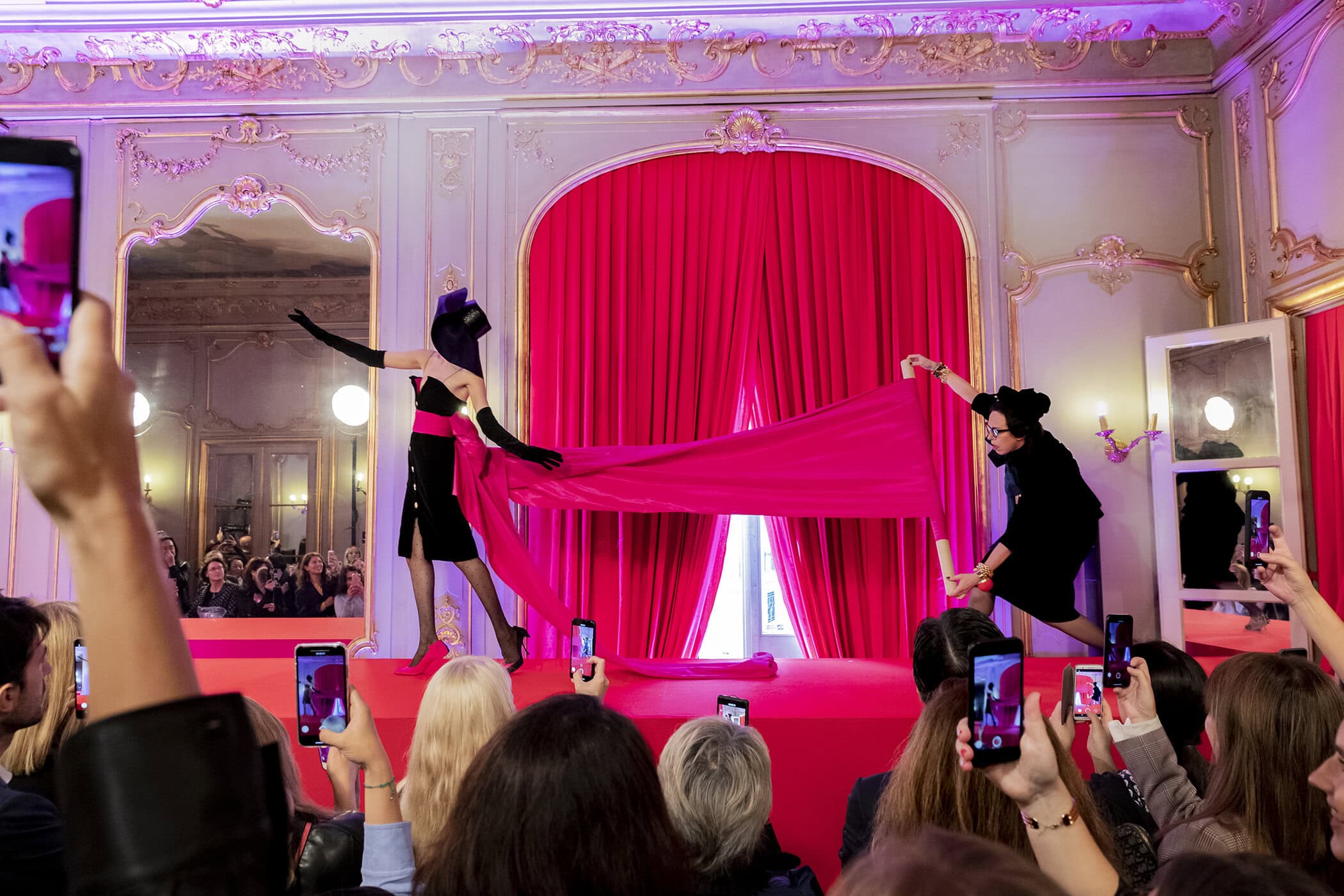 OFF-WHITE
Despite all the fun the others were having, someone who probably wasn't having fun was Off-White designer Virgil Abloh, grounded back in Chicago. Nor was it fun for guests navigating rush hour traffic following the Rick Owens show across town, sidewalk barricades, confusing entrances at the Centre Pompidou with legions of fans who probably weren't even aware the pop culture designer was convalescing at home under strict doctor's orders. The complicated entry included a single file staircase to arrive at simple warehouse aka garage space whose set included a single white curtain. Because it was the only one that existed in Paris, of course.
Arriving at the show may have been fraught with complications. The collection, however, was not. Sticking to an Off White play on standards, the lineup was mainly simple shirt dresses, T's and leather five-pocket and cargo style pants. Swiss cheese-cut holes on a new bag, pant legs and t-shirts recalled something close to home – Abloh's Alma Mater Wisconsin, known for wearing foam cheesehead hats at sporting events. For a relaxed take on evening, a parachute technical fabric was ruched and pleated into a gown with ties as trim. A series of interesting photo prints were the result of a collaboration with brothers Roman and Erwan Bouroullec, who are Paris-based industrial designers.
It may have been a marketing play – creating a new line of basics for urban, hip-hop, streetwear-centric Gen Z and millennial consumers. Or it could have been the signs of fatigue Abloh was surely already feeling as he designed this current collection. Observers, some in and out of the industry, seemed to gasp at the news of his doctor-ordered three-month hiatus, but those familiar with the scenario weren't similarly fazed. Greater designers before Abloh – Alexander McQueen, Marc Jacobs, Alexander Wang and Michael Kors, to name a few –know the pressures of designing your own line while helming a luxury brand in Europe and succumbed to said pressures one way or another. Burnout was inevitable at Abloh's pace.
The show, entitled "Meteor Shower" referencing a woman's power strong enough to withstand a meteor shower, started with the voice of first female astronaut Mae Jemison speaking of the mementos that she took with her into space as to her, they represented "people who didn't belong." This list included a poster of Judith Jamison, Alvin Ailey creative director, from her Cry dance; a Bundu statue from a West African women's society; and a flag from Alpha Kappa Alpha, the first black female sorority. This specific narrative from 2018 spoke of them representing creativity that Jemison feels can be expressed in everything. It didn't make an obvious connection unless some of the clothes could be thought of as space age, but the desire to create something meaningful and belonging have been at Off-White's core since its beginning.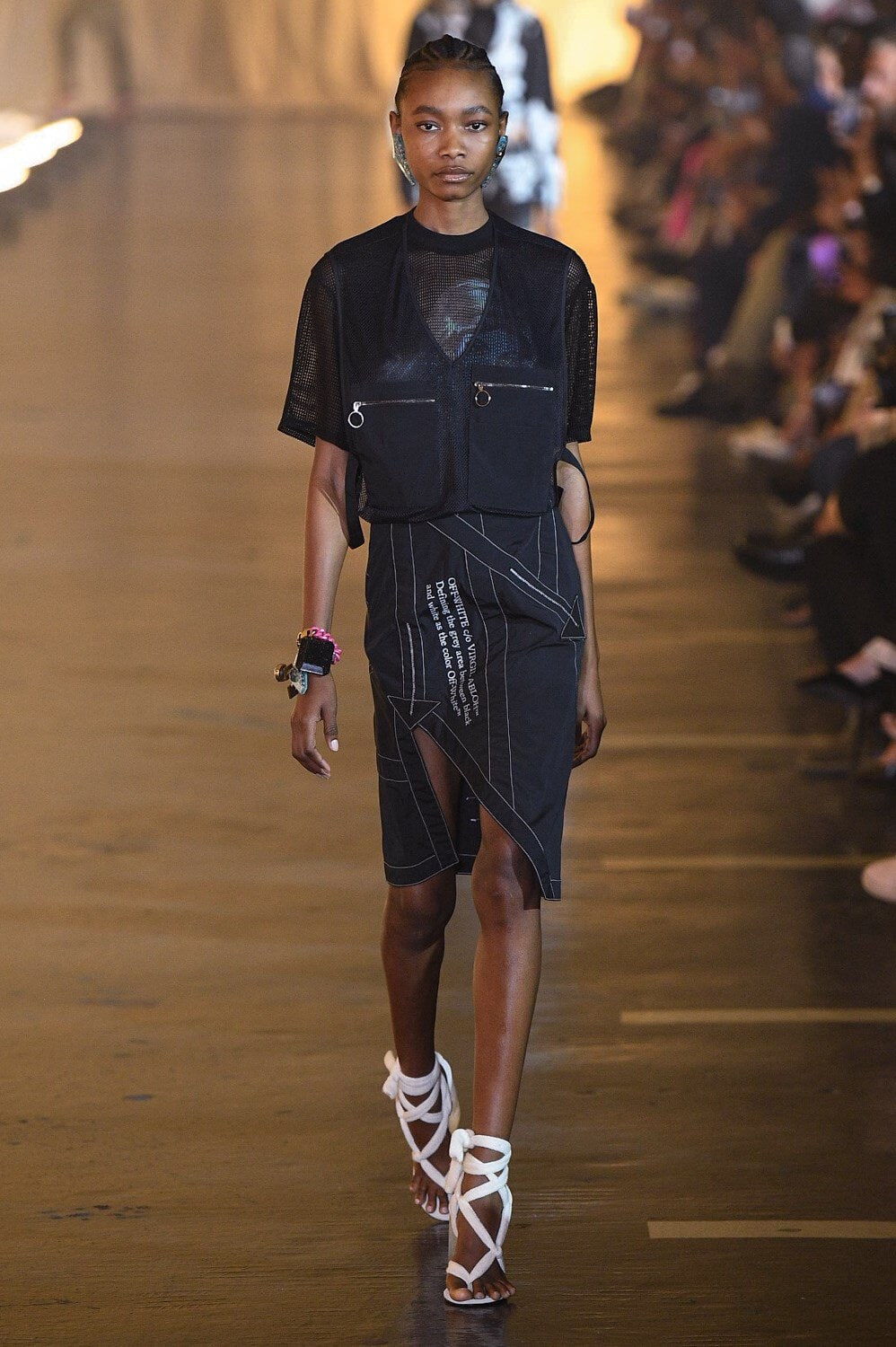 ---