Once upon a time, Rick Owens' love for fashion was his darkest secret. But today, the American fashion designer runs his eponymous label from Paris, exuding a grungy glamour that can, at times, be shocking – "Although that's never my intention," he says.
Arriving at the headquarters of Owenscorp in Paris doesn't really feel like entering a shrine – although some of Rick Owens's die-hard fans would call it exactly that. His showroom is empty, apart from some impressive home collection pieces, several vases with withered flowers and a few books on fashion, and yeah, well… Rick Owens. When the designer appears, there's instant conversation. "Are you my date?" he asks, and then invites me up the stairs.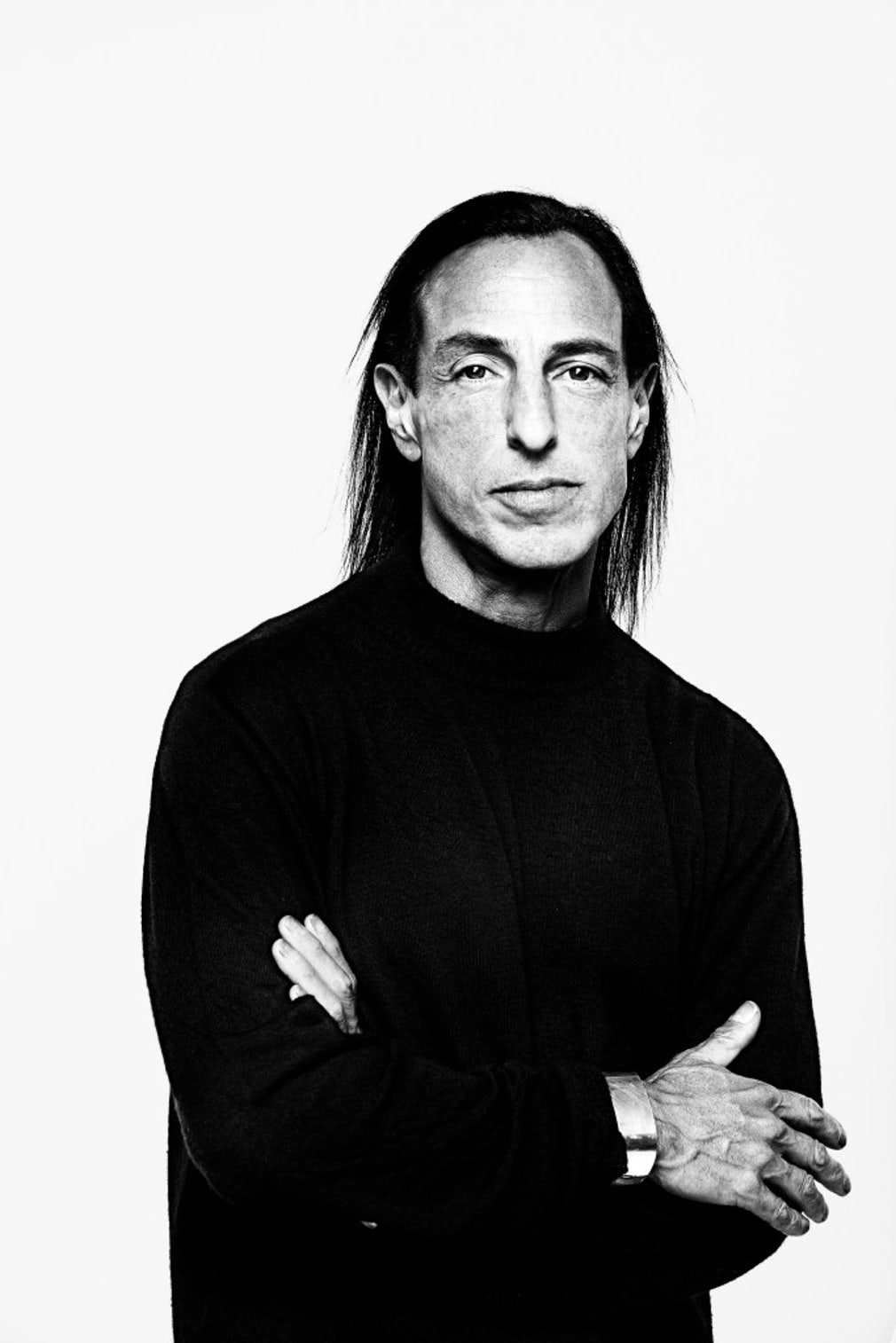 Owens has had a hell of a year, so to speak. He just opened a store in his former hometown Los Angeles ("It had been a while since I was in California"); he's planning to move his New York store from Hudson Street to Howard Street ("We're ready to join the rest of the world there"); but it's his most recent Womenswear show featuring the Spring/Summer 2016 collection that has triggered most of the buzz. When the models suddenly came out carrying each other, and thus bringing across a completely different take on aesthetics, there was talk. Lots of it. The fans bowed deeply. Some people were in shock. Others questioned Owens' sérieux.

He's had time to think it over. A few months after the show, he says: "The people in the audience reacted in a completely different way from the ones who saw the pictures online afterwards. Most people who were at the show found it moving. Very moving, even. For me, it was about creating beauty. We're not talking about clothes anymore here. It was about ethos, about moral aspirations and about beautiful gestures. I've never wanted to shock people."
Rick Owens was an Otis College of Art and Design drop-out before he took a course in pattern cutting at Los Angeles' Trade Technical College. He learned the tricks of pattern cutting and garment making in a business where designer clothes were being copied. He always dreamed of becoming an artist, but ventured into the fashion business instead, starting his own label in 1994. Charles Gallay (at the time one of the hippest retailers in Los Angeles and someone Owens today refers to as his mentor) became his first buyer. Owens went on to sell to renowned boutiques such as Henri Bendel and Charivari in New York. When a phone call from American Vogue led to a first fashion show in New York in 2002 and, later, another one in Paris, he was ready for the next level: building his brand out of Paris, where he lives with his wife and business partner, Michèle Lamy, since 2003.
"There was no plan at the beginning," he recalls. "I moved to Paris, even though I could have commuted between Los Angeles and Europe, but that was not what I had in mind. Fashion in Paris was even at that time all about romanticism, whereas in New York it was about efficiency, about status. Had I stayed in the U.S., I would have gotten respect, but I would have worked in the margin. Which I didn't want, eventually."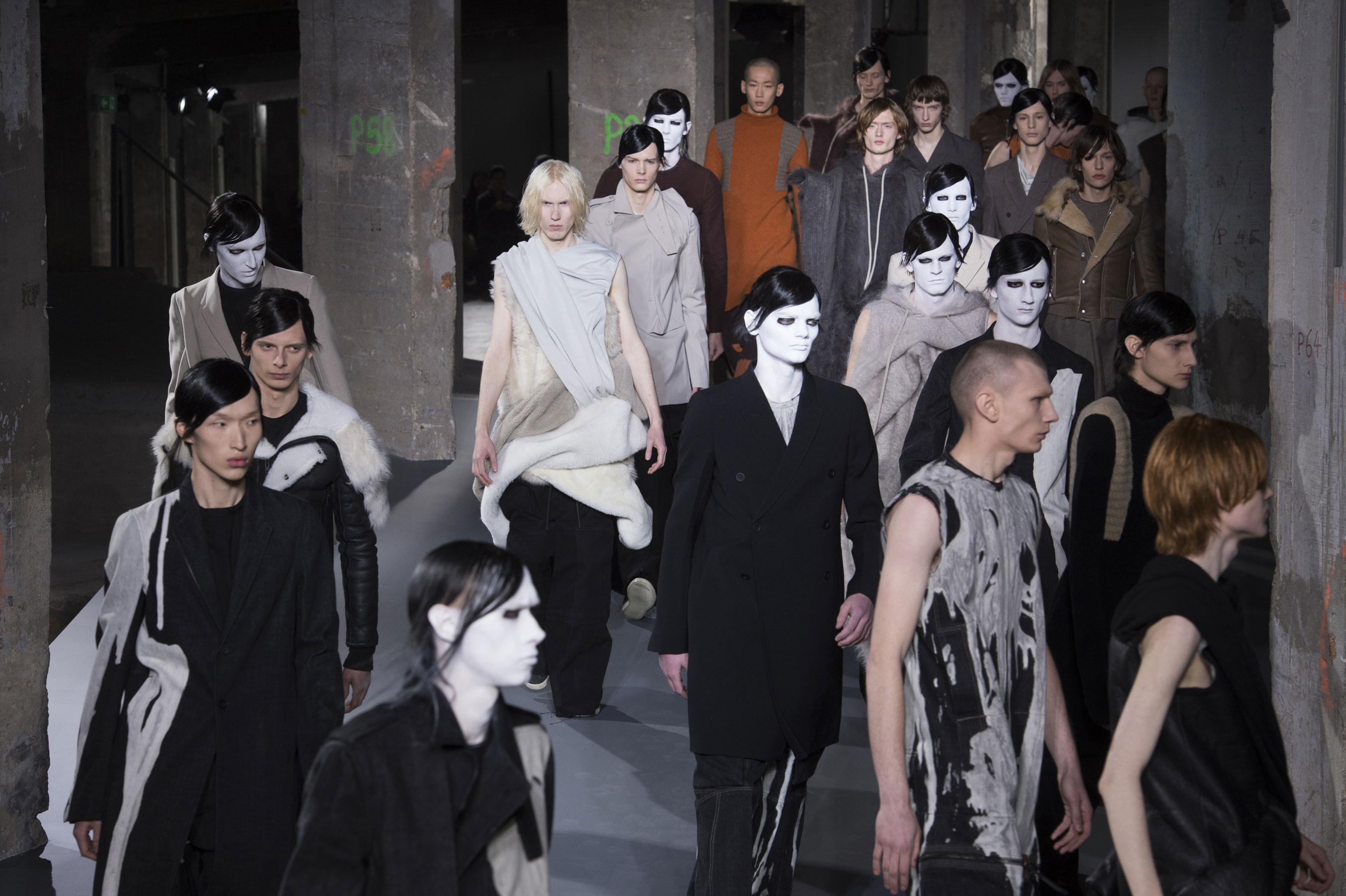 "I don't know if I wasn't ambitious enough to do a fashion show when I started my business, but for quite a while I considered my aesthetic too narrow to do two shows, one for my women's collection and one for men's," he adds. "I knew I could make clothes, but I wanted to stay small. I also thought I risked a lot by putting it out there. Starting with fashion shows is a big commitment. It means you have to continue doing it. Yet, I would have hated myself for not having the balls to try, so after eight years, I finally understood that doing a show would not question my integrity. People have accepted the clothes to be Rick Owens now. They know it isn't going to be different every season. People have accepted me as the designer I want to be."
He admits it took a while before he felt comfortable showing his collections on a runway. "But once I did, I started to become more playful: I played with the grand elements, with fire, with wind, thus putting clothes on a grander scale," Owens says. "The last shows have been threatening to some people, and I admit they are more hardcore, but I don't really see them as so extreme. I always think: What do I want to see on stage? Oh, the penis thing? Well, I wanted to see that. Why do we only see it in movies? Do you know it was almost threatening to some men to see it like that, indifferently hanging, not displayed, so to speak. After DaDa, after Cubism, we're still shocked to see this? Are we still that puritanical?"
"To be honest, I really don't think about pleasing people. Again, I don't want to provoke maliciously."
I don't want to make people too uncomfortable. What I do is genuinely about kindness. Call it teasing. In a loving way.
He made the latter point with a smile.
These days, Owens derives his inspiration from a variety of sources, including French painter Gustave Moreau, Art Nouveau, and "opium" – a series of words he gives away quite matter-of-factly. Draping is very tempting right now, as is control, which has always been a major issue in his life.
"My childhood was very controlled," Owens recalls. "As a teenager, control was out of the question. I started hurting myself until I regained control. Adulthood was all about control again, but that was yet another addiction, just like the gym, which, in the end, I enjoyed. As I was getting stronger, I knew in the back of my mind that it would be fun to let it all go, which I did at intervals. Do we really want to die without having tasted everything? To me, there's no fun when there is no temptation. That is exactly what my stuff is all about. It also is my aesthetic."
Some may call his work stern and severe. For others, it is pure drama. But the drama has generated more than 120 million euros last year, a turnover that makes Owens more than happy. International expansion at Owenscorp is the result of a distribution deal with EBA, a well-known name in Italy, the country where all Rick Owens collections have since been produced.
He and his wife Michèle were also the creative directors of the French fur company Revillon for three years, but today, the focus is solely on the Rick Owens collections. "Michèle loved working on the fur collections," Owens says. "But her new baby is the furniture collection now. She loves to talk to the craftsmen who actually make the product, whether that's in Venice (where they recently bought a house), in Switzerland or in Dubai. Michèle will also oversee the new store designs. The New York opening is set for May. So, we're becoming a lifestyle brand, just the way I want it. Not too big, not commercially driven. We don't need to get much bigger, only better. Our business needs to be about refinement. Always.
"Honestly, today I have the luxury to create the company I want to be," he explains. "I stand for certain values. On the other hand… I always sound so full of opinions, and that's not true. At 53, I've learned more than when I was in my twenties, but I don't want to teach people how to live. This is just my playlist. Nothing more."
Has he read the negative comments about his followers, the die-hard fans that on Facebook (and other social media) are at times compared to a cult? "It's hard to complain about people who feel a connection with me," Owens says. "Who am I to reject them? People see a cult? Well, that's not all there is to it. I definitely didn't calculate it that way. And hopefully people feel welcome without thinking they have to sign up for the cult."
And, with another smile, he adds, "It does make me nervous, though…"
Veerle Windels
For more than twenty years Veerle Windels has been writing about fashion, covering fashion weeks and doing interviews with passionate people in the business. She's an author of several books on fashion, regularly teaches and gives conferences on the fashion system and what is going on behind the scenes. A mother of two sons, she loves to travel and play table tennis.
---