Monastic Luxury
Review of Roksanda Spring 2024 Fashion Show
By Angela Baidoo
THE COLLECTION
A daring offer which breaks down the boundaries of traditional femininity
THE VIBE
THE THEME

The setting of the Barbican's Sculpture Park was perfectly matched with the Roksanda brand narrative for summer 2024, as the sense of quiet and solitude which earmarks the space was in keeping with the designers inspiration, which took her back to the monasteries of her home country Serbia.
Billowing dresses in satin or chiffon created a sort-of radical artwear, which would have easily translated to the location's exhibition space as a tactile installation, but on the models it gave a poetic juxtaposition of the constant battle between hard and soft. Sculptural body jewellery intertwined within tailoring, was – the designer revealed – jewellery that could be removed and worn separately. Making her designs even more adaptable and wearable, for the not-so-adventurous customer. Her 'experimentation' with print and colour this season saw tailoring that was over-printed in neon pinks and greens post-production, so lifting the lapel of a printed shift dress would reveal the original fabric colour underneath, an unexpected detail which will set these formal pieces apart in the market, and will reframe how tailoring can, and should be worn.
Clothes with personality for the woman (man, or non-binary individual) who doesn't shy away from breaking with convention, will find a home with Roksanda. Her shapes for summer 2024 challenge, in the best way, and continue to borrow from her background in architecture. She considers all angles, so even if viewed from above her pieces would have something to say, but from a more grounded perspective it meant contrast multi-stitched belts and two-tone draped fronts. It makes sense that her super fans hail from the arts and that the brand is making waves in emerging markets such as the Middle East, her collections translate in a universal language that takes women – and subsequently fashion – seriously.
THE BUZZWORDS
Sculpted. Mixed Media. Considered Femininity.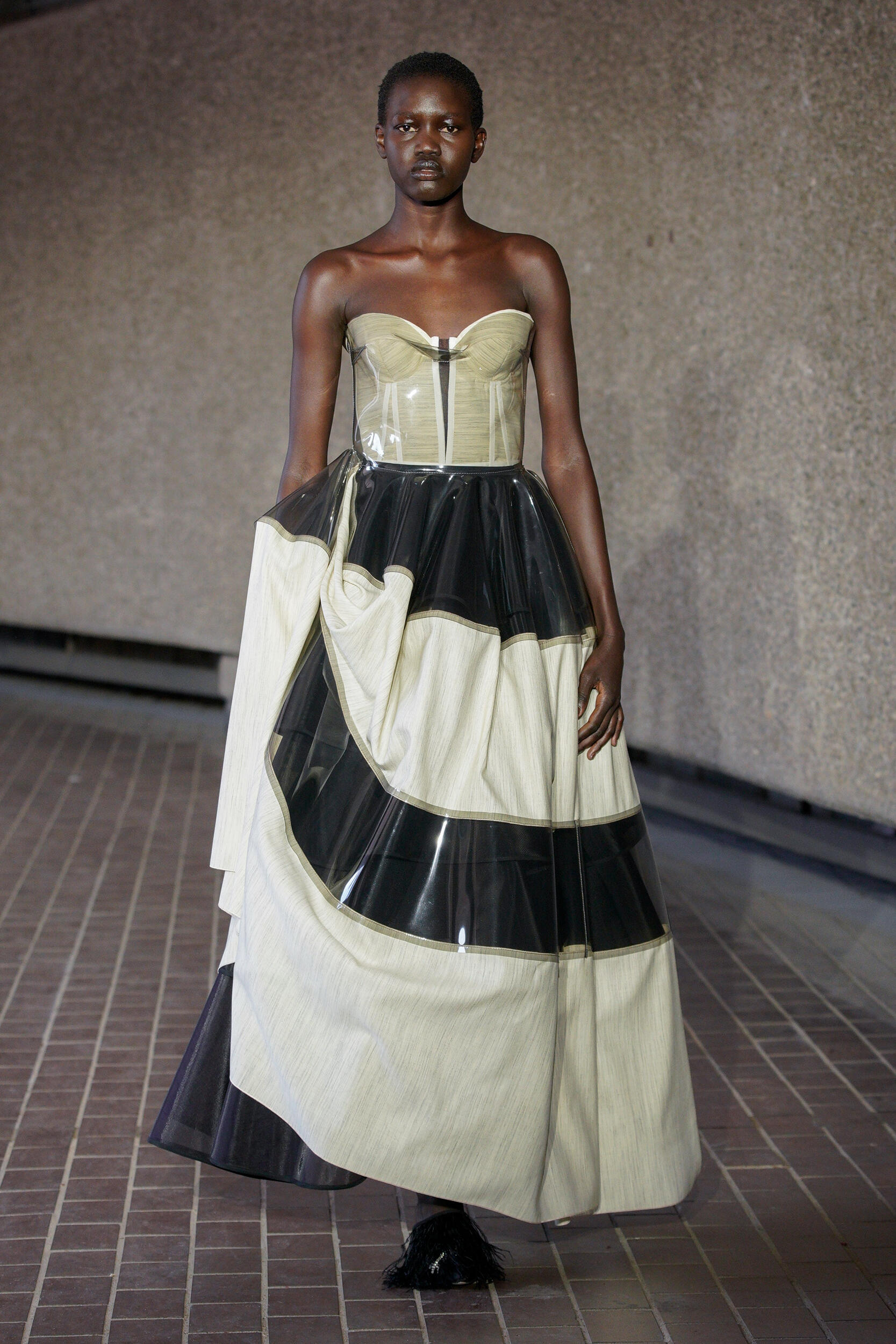 THE SHOWSTOPPER
Look # 30
The finale look – a crisply pleated soft lilac creation – enveloped the model in a structure that was as structured, as it was ethereal. Meters of the custom-made fabric were gently folded and manipulated around the body and left to trail along the runway. Another keen example of how the British eveningwear and alternative bridal market is poised for a boom.
THE DIRECTION
THE QUOTE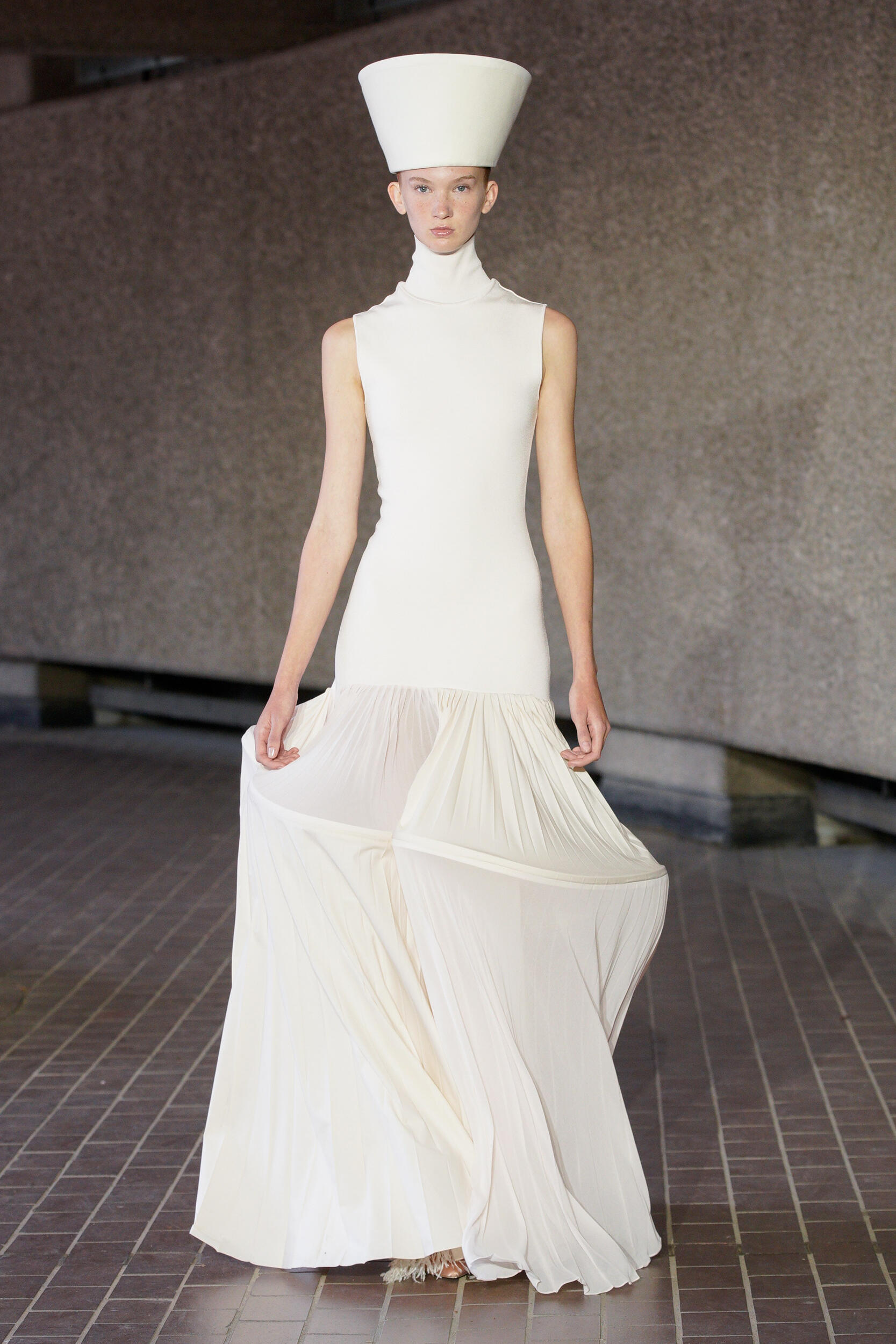 "I was inspired [by] Serbian heritage monasteries…and many beautiful paintings that are painted by various artists inside of those beautiful monasteries. The looks with the hats are taken from [my] Serbian national heritage and [is] something that is really close to my heart."

Roksanda Ilinčić
THE WRAP UP
Pushing the envelope for summer 2024 Roksanda fused multiple materials in a mixed-media approach to her designs. Clear vinyl patchworked into gowns revealed a window into the contrasting delicacy of feathers was inspired, and is sure to appeal to a new – Gen Z – customer base.
While her collections never fail to connect on an emotional level, whether through cut, colour, or print, this season her monastic influence gave us a stripped back sermon while losing none of its artistic appeal.
---