The Leather Goods Wizard and Hip-Hop's Go-To Bespoke Designer is Moving Forward and, for the First Time, Putting his Own Name Front and Center
By Mark Wittmer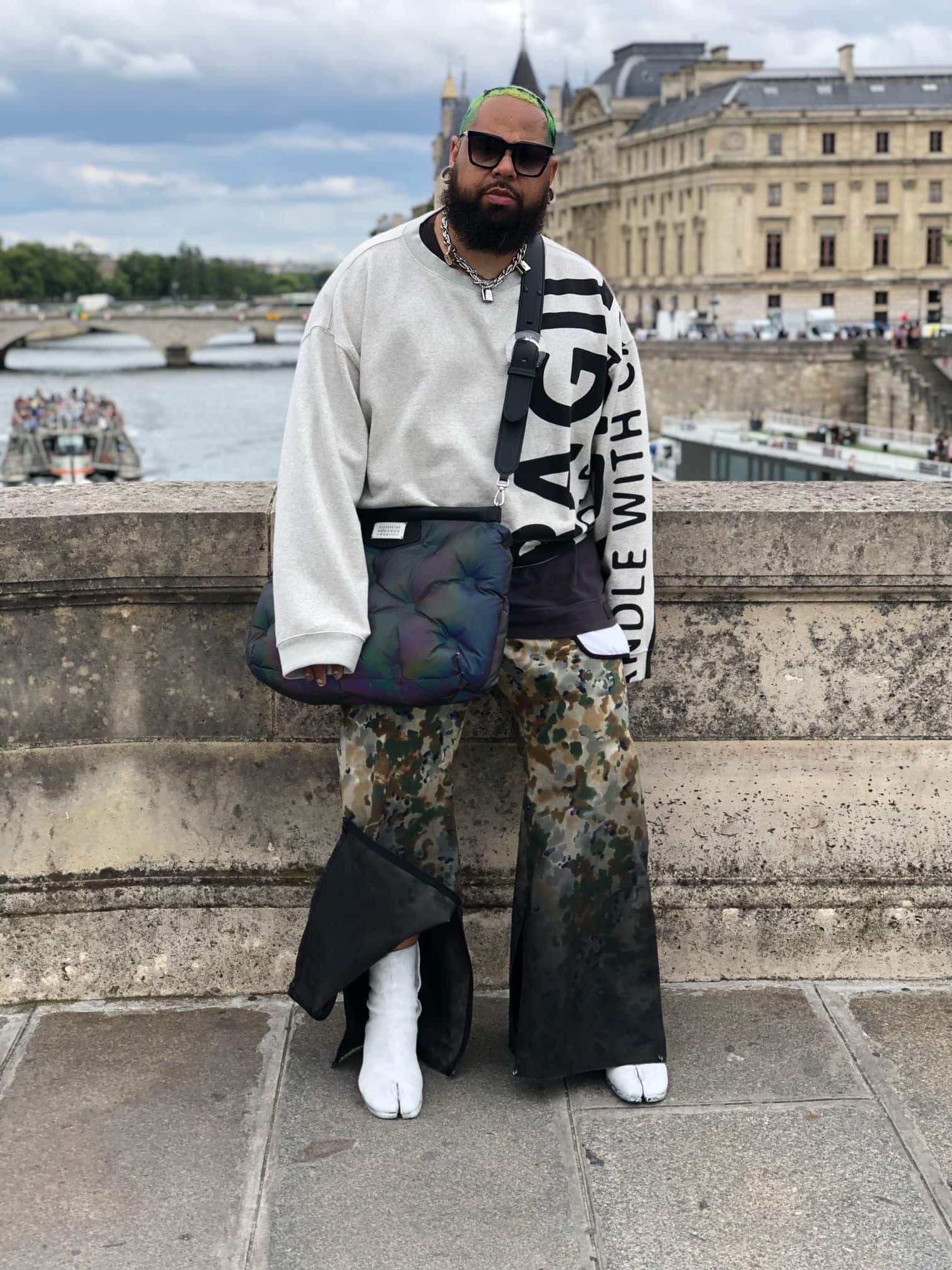 Sheron Barber is something like a not-so-well-kept secret. For his celebrity clientele, he's an innovate and expert craftsman who can make a bag out of any kind of leather you bring him. For his hundreds of thousands of Instagram followers, he's a well-connected style icon. For organizations as eclectic as the Grammy Awards and the Call of Duty League, he's a designer with a knack for creating unique pieces that commemorate greatness. Despite this multiplicity and the prolific nature of his work, however, Sheron Barber still isn't a household name – but that might be about to change.
Barber first rose to prominence in the design world with his bespoke leather bag designs, which he often sources from pre-existing pieces that have meaning to his clients – his bags made from repurposed Louis Vuitton monogram leather have become something of a signature, as have his chest rigs. Coveted by rappers and since referenced by many other creators, this original design was inspired by the form of a bulletproof vest, and came from a place of wanting to serve a practical purpose while maintaining the sort of masculine bravado that handbags are still perceived to be lacking.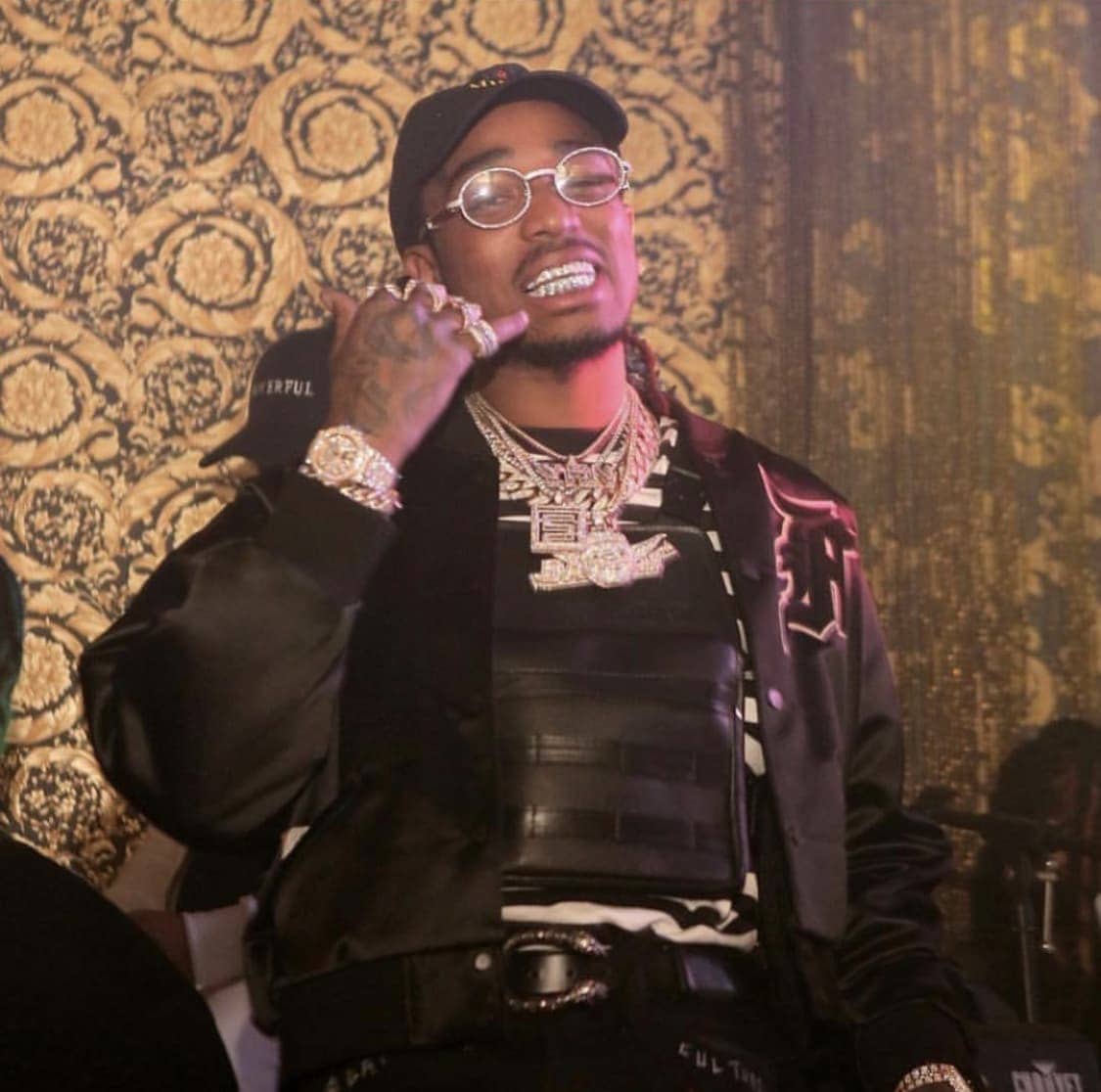 Now the designer is moving forward and channeling personal inspiration to expand into a full ready-to-wear collection with the launch of his eponymous label and a slew of unique collaborations. The Impression's Mark Wittmer caught up with Barber to discuss shifting norms in the fashion industry, finding inspiration in youth, and charting an original path forward.
Mark Wittmer: I wanted to start sort of zoomed out – you've been doing a lot in the fashion industry for almost a decade now on both big and small scales. Have you seen the landscape of fashion change significantly during that time?
Sheron Barber: Absolutely. I use a lot of analogies comparing fashion to music, and I feel like there's a renaissance taking place in fashion that's similar to what happened in music in the 80s and 90s. There are a lot of young people who are more interested in fashion; there's an emergence of new designers – I think we're seeing a spark of inspiration amongst young designers, and I think that's impacting the industry significantly. In terms of sales, there are much more opportunities to spend money in different places – I want to support the young designers who are showing innovative ideas.
We're also more aware now of the footprint, how past practices have been destructive to the environment, starting to correct those things and take more responsibility in the future.
Mark Wittmer: You've always been involved in both that youth culture aspect and thinking about sustainability in the practice of upcycling or repurposing things. Do you think your principles have changed over those ten years? Or have things kind of caught up to where you already were a little bit?
Sheron Barber: I definitely think I've changed; I'm ever-evolving and I learn more everyday. I've definitely embraced change. I'm attached to youth culture because I think the kids have it figured out. I'm always trying to tap into the childhood version of myself. Michael Jackson had a quote where he said "not childish, but childlike." I'm constantly trying to design for my seven-year-old self.
I like to repurpose things, all the way to the first time I repurposed a bag, because I have a reason for it. When I did it, the fashion industry didn't necessarily accept it, there was a sort of thought like "oh that's not yours" – but I designed it; I made it. I can make it out of leather and I did make it out of leather, but this was another take on it. When I started doing that it wasn't acceptable. There was an idea that it wasn't fashion; Vogue wasn't gonna write about me taking a Louis Vuitton garment bag and turning it into something new. And now, because of the idea of upcycling and sustainability, when different designers are repurposing things, it's more widely accepted. Early on I took a beating, and it kind of made me myself in a pivotal way. I did have a moment where I was questioning whether I should do that, even though I had a reason to be doing it. And now I'm in a space where I'm embracing it. I know why I started and I've been reminded of why I started repurposing things. It was never an intention to take away from those brands, but to exemplify the idea that these amazing pieces that might be no longer useful can be made new and relevant again.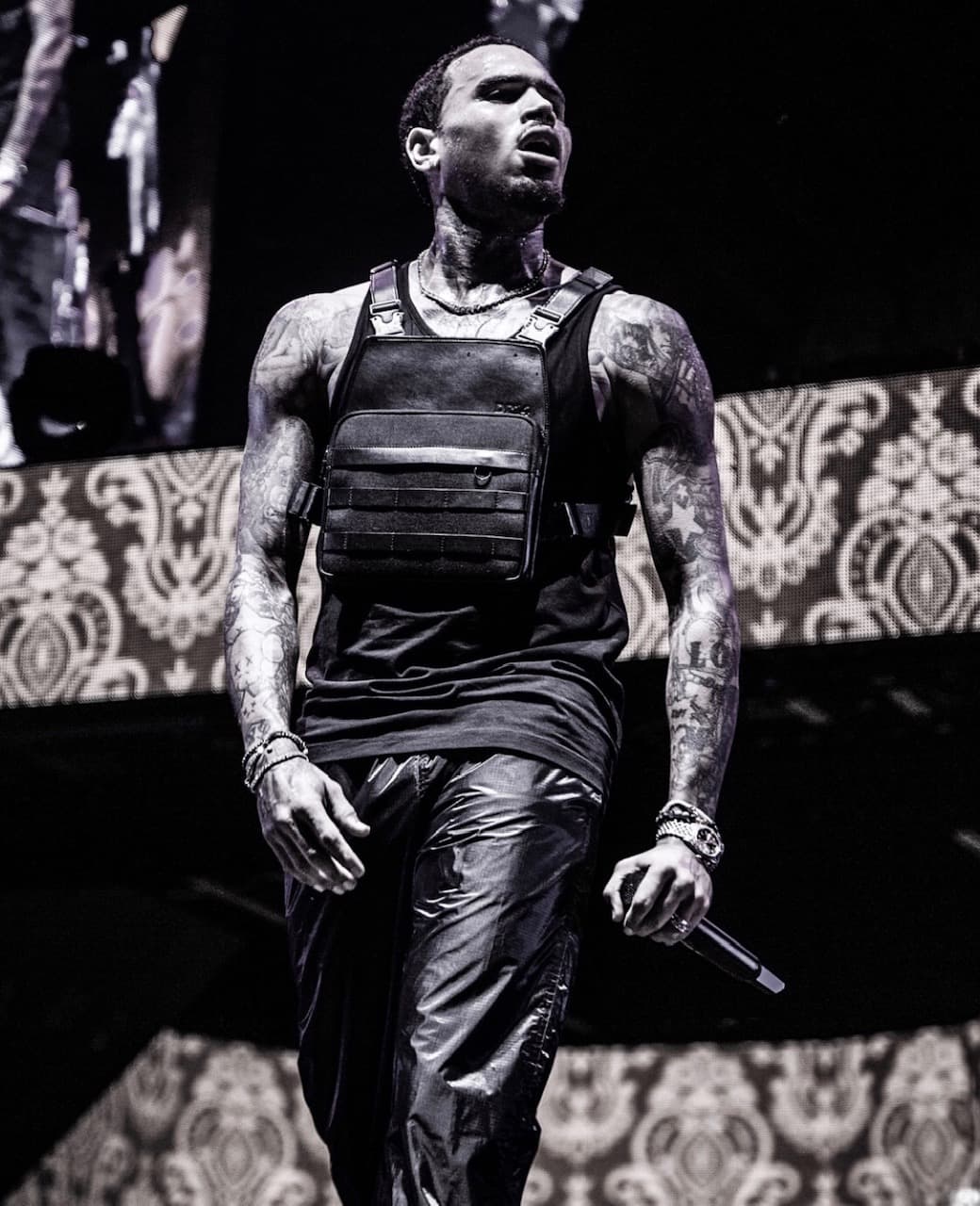 Mark Wittmer: You've had your own label for a while with DR14, but your eponymous Sheron Barber label just launched pretty recently, expanding into a whole ready-to-wear collection with a motorbike theme. What inspired that broadening of horizons, and what has that transition been like?
Sheron Barber: I'm learning about myself and digging into the DNA of who I am as a person, questioning why I do things the way I do. Like you said I make a lot of things that are modular, tactical; I like to think in a utilitarian way. As far back as I can remember, as a kid I liked watching Transformers, GoBots, Inspector Gadget; I loved when a new gadget came out in 007. I think the inventor in me is the person who's in love with those different themes – I always loved secret compartments and secret passageways. When I started to design bags those ways of thinking were in my designs, just tapping into my childhood self.
When I started to design the first collection, I had a moment like, I've cut up LV, I've cut up Gucci and Goyard, people know that I can repurpose something. There's a group of people who understand that I'm a leather craftsman and can make anything from leather, and there's another group of people who think of me as someone who customizes things with LV – but I'm not just a customizer. I feel like I had to really dive into the craft side of it and show people I can craft original items.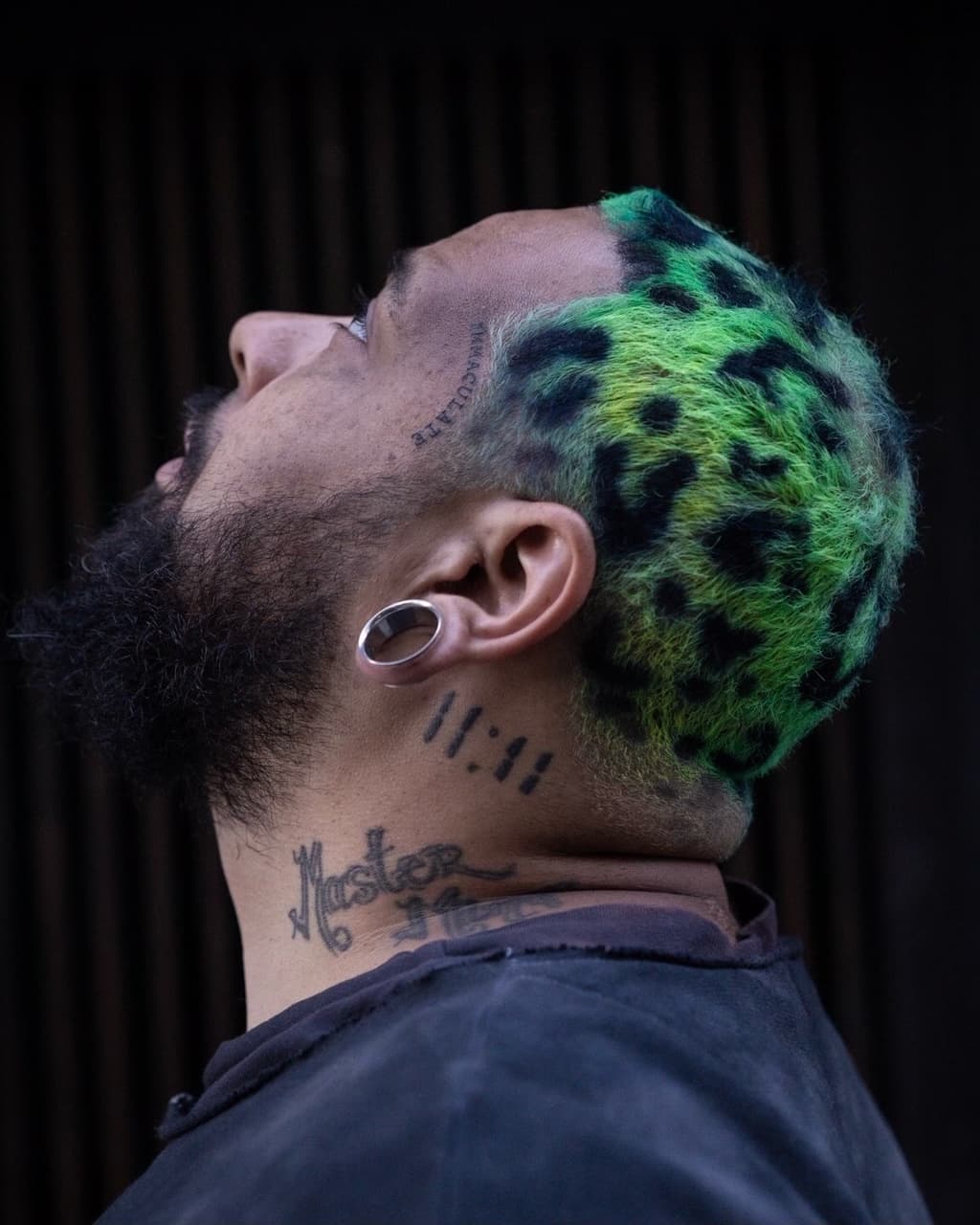 This goes for everything in the collection, from leather jackets or pants down to buckles, I'm obsessed with the details. Sometimes I think that detail and craftsmanship gets overlooked because I'm making things out of LV. I want people to look at the ready-to-wear collection and see a Sheron Barber product all the way through.

– Sheron Barber
With motocross, again it taps into my childhood. As a kid I rode a big wheel, grew up to bikes, and would always be obsessed with the older guys who came through on dirt bikes and motorcycles. So that was an opportunity to take all the elements of myself and put it into one thing, for there to be no confusion that this is a Sheron Barber collection. I'm not normally heavy on branding, but since it's motocross-inspired I wanted people to know yes this is Sheron Barber.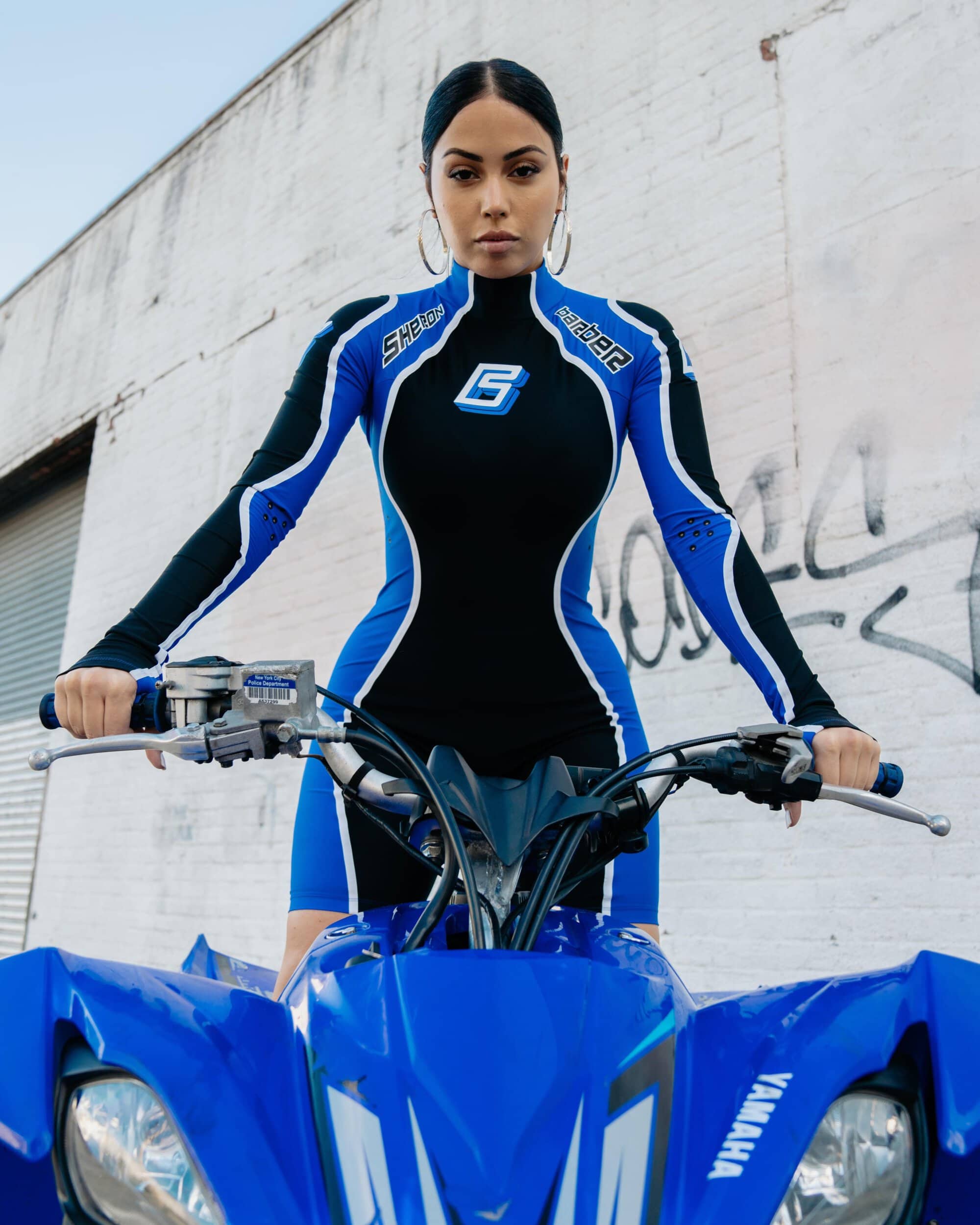 Mark Wittmer: There's a really strong sense of community around motocross and street riding as well – it seems like the collection is uniting people both around a community of craftsmanship and through the power that that motorbike culture has for uniting people in cities.
Sheron Barber: If you look at the 80s and 90s in hip-hop, basketball was a recurring theme: everybody wanted to be like Michael Jordan; people hung out at the basketball courts. And I think if you look at the newer generation, they're not really hanging out at the basketball court anymore. Kids like to ride pedal bikes and show off their wheelies in the streets, and they like to ride dirt bikes. Street riding is to hip-hop culture now what basketball is to the 80s and 90s. And there's really a sense of community; it promotes joy and laughter. In inner cities there's some points where certain people don't get along, they won't really hang around each other, but when they come out on the bikes there's a sense of unity. And at the same time it's rebellious which I also think is part of the nature of hip hop; it has that youthful, rebellious energy – but it's also peaceful.
Mark Wittmer: Is there anything you can say about what's coming next for you?
Sheron Barber: I will continue to release ready-to-wear collections once or twice a year. I'm trying to adapt to fashion scheduling; a lot of our stuff now is direct-to-consumer, so I'm trying to get to a point where we start to work with retailers, so you'll see the brand expanding into different retail locations. We also have some cool collaborations with NTWRK, about twelve releases with them that include some really cool custom pieces I'm working on. I'm designing a Grammy award, and, I don't know if I should dive into it, but I'm actually designing awards for several championship or awards moments next year, not just the Grammys. I'm really looking forward to designing trunks and trophies and things that commemorate world champions – so we'll see some of that next year for sure.
Mark Wittmer: Sounds like a full schedule but we're looking forward to seeing you continue to work and grow. Thank you so much for taking the time to talk with us.
Sheron Barber: Thank you.
---