---
Review of Tom Ford Spring 2023 Fashion Show
America's Glamor King in a Complicated Mood
By Constance C.R. White
Humans are complex beings and perhaps no designer is more complex and influential than Tom Ford. "Fun. I was inspired by fun," he said of his collection tonight. And indeed It was a sexy, fun and funny show.
Sexy would be the low riding pants, the cutout sequin dresses, skimpy bra-tops under jackets, short leggy looks and the smoky eyes and asymmetric afro blowouts.
The fun was liberally sprinkled throughout. It was in the child-like appliques on pants and the fringed and beaded Western shirt in pink satin. It was a cracked foil baseball jacket and matching Seventies-style athletic shorts.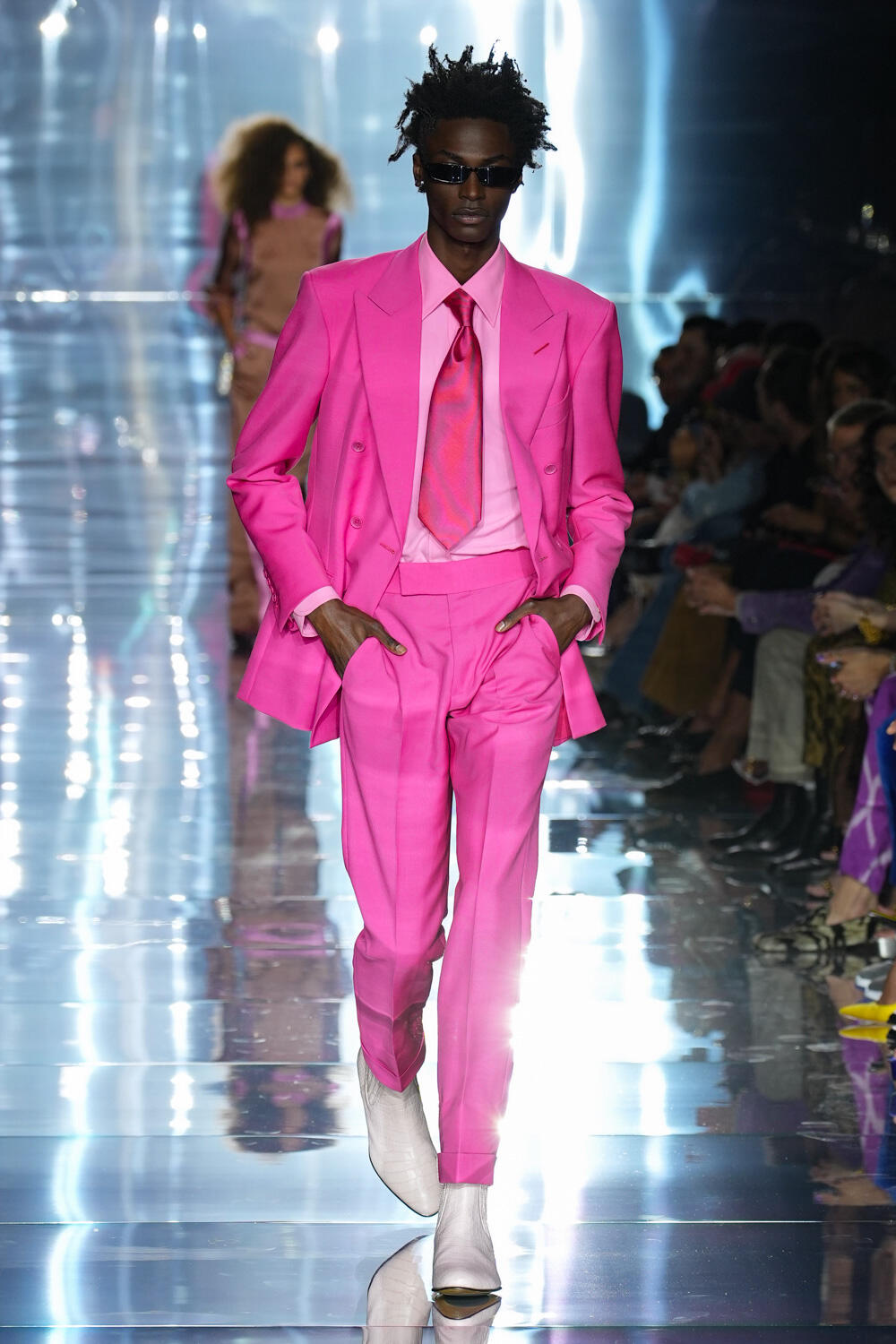 As news spreads that Tom Ford may sell his business, how should we interpret his creative direction? Are these swan songs? Time Waits For Nobody
Forget men in black. Ford pioneered men in pink on the runway in the Nineties and he brought it back in suits of deep fuschia and in pale pink. Ford and Diplomats rapper Cam'ron did more to move gender fluidity forward than all the wonderful unisex lines today. Back then, it was shocking. No man with his full complement of male testosterone would wear a pink suit. Now, it just looked like fun.
Funny? Some people say humor is cultural. But there on the runway was a man in lacy nothings. Not every culture may find that amusing. But ponder a new category of underwear – brief panties. Ford made sure to slap his logo on the front: Take that Calvin Klein. And it was very amusing.
Amusing too, were the humongous hoop earrings covered in sequins with matching dress. There was a blue sequin dress, and blue sequin earrings. A pink sequin dress with pink sequin earrings.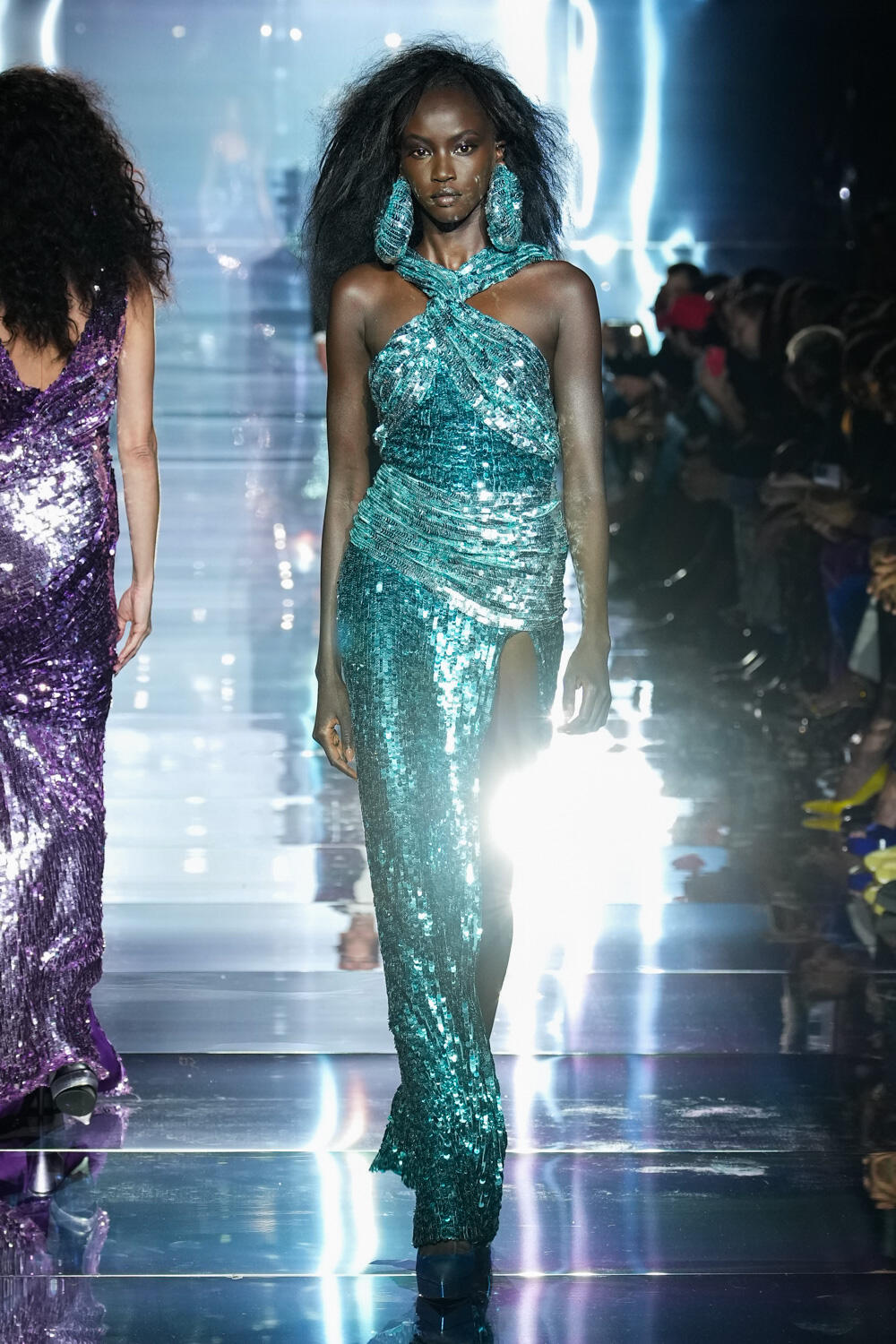 At this juncture in the show, the mood changed. The lights dimmed and the music switched to a mournful, plaintive song.
More than one audience member said they felt sad and teary-eyed. Another was sad and confused. Was Ford sad or happy? Were we still supposed to be having fun as the soundtrack blared the melancholy wail of Freddie Mercury singing "Time Waits for No One". At post time that soundtrack had already been changed on some versions of the show video online to a more upbeat selection.
Since Ford said he was not doing interviews after the show, I'm projecting that  the show expressed fun and both a celebration and mourning of his late partner, who many in fashion knew and loved.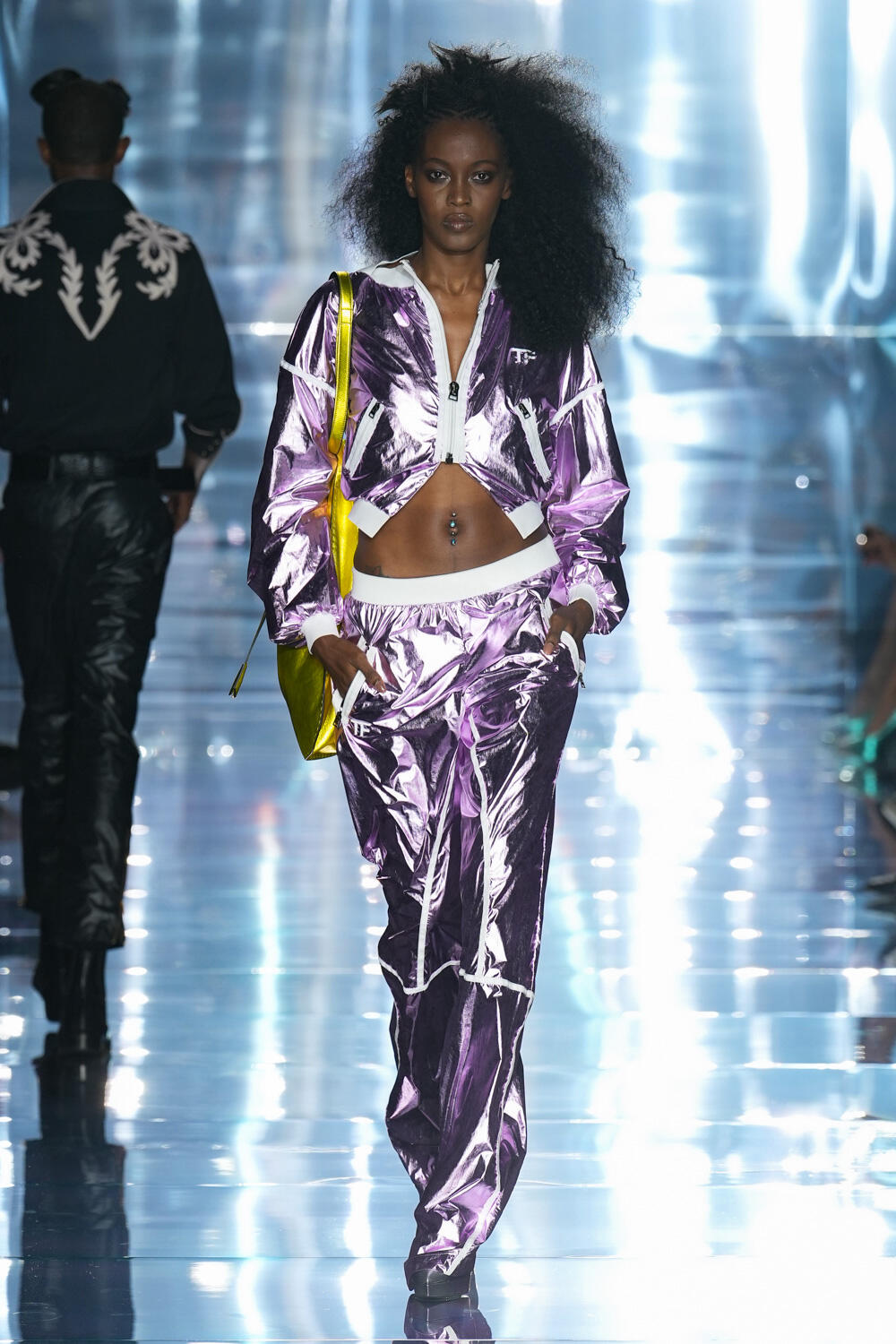 The "bride" who closed the show was not in white – or even in the Goth black strangely popular with some brides today. She was swathed in gold and silver sequins, and carried a matching bouquet of metallic flowers, her hair a regal crown displaying the art of African hair braiding.
Black people, women and girls especially, are routinely discriminated against at work, in school, and in imagery – for wearing Afrocentric hairstyles including less elaborate versions of the one Ford featured on his runway.
The Crown Act, spearheaded by a coterie of African-American women including  longtime beauty executive  Esi Eggleston Bracey, is designed to foster the normalization of Black hair, and protect people against hair discrimination.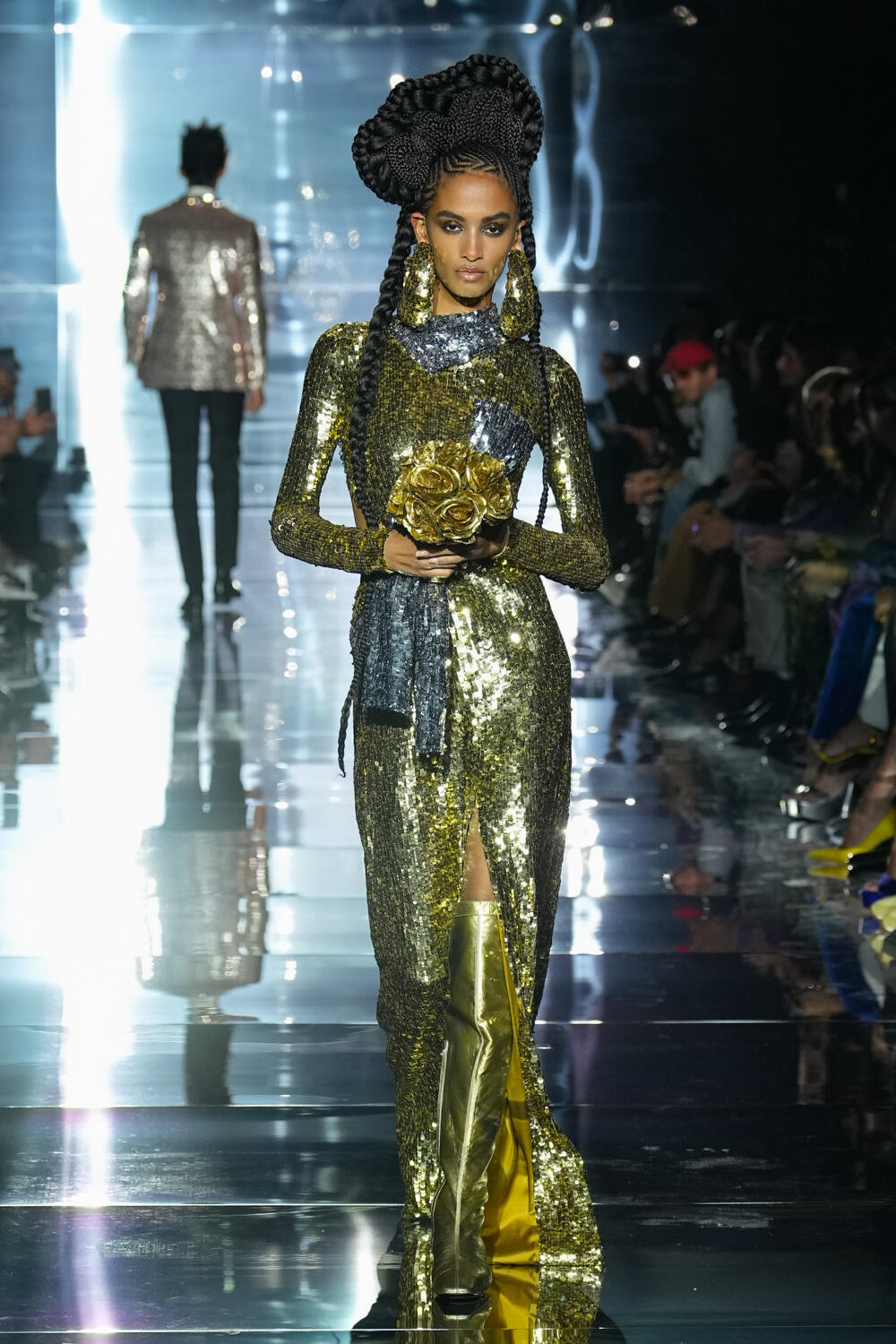 This may not have been Ford's intent, but he has always, without waving a political banner, broke barriers for Black women, early on choosing a Black woman as a central part of the image of his brand.
---