Long Live Romance
Review of Zimmermann Spring 2024 Fashion Show
By Angela Baidoo
THE COLLECTION
THE VIBE
THE THEME

If there was one theme that struggled to breakthrough this summer season it was true romance, so is the sentiment dead? Not in the Zimmermann universe, as founder and creative director Nicky Zimmermann offered up a true version of summertime dressing. Which also included a number of casual separates which will only help to further the message of the brand as one of the industry's leading lights in women designing for women, and dressing women with an ultra-feminine handwriting.
In Latin 'Natura' – the show's title – is roughly translated as 'Nature doing as nature does' and in this collection the designer did what came natural to her, which was to look to her brand's identity and question how it could evolve and become even more relevant (in a sea of simplicity) than ever. And this was achieved by turning to nature for its endless visual art just waiting to be mined. For summer 2024 this was rendered into washed all-over florals, oversized corsages and 3d flowers across sheer knits, and delicate embroidery. All expressive of the designers strong vision for her brand.
In looking beyond all the pretty dresses – something which show-goers loyally adhere to as a uniform when attending Zimmermann shows – there was an encouraging array of commercial separates and unexpected fabrics. Dressing for the customers full lifestyle creates in brands the momentum to meet the needs of them in all scenarios and at every life stage. A maxi fit and flare in a knitted fabric in peach, utility styling in light denim or layered with a feminine camisole, a leather tank and Bermuda short in leather was one of the unexpected elements that Zimmermann alluded to in her social media post. The sporty separates are what makes this collection feel fresh, and the fact that the designer has taken the time to consider how these can be included in the Zimmermann way. Paperbag shorts, short suits, strapless mini dresses and relaxed denim will gain the brand not only new followers, but real-world customers too.
And they will come for the head-turning floral occasion dresses – which were sheer with 3d embroidery this year – but stay for the ombre shirt dresses, knitted dropped-waist sets, and leather tank tops in what is the seasons softest pastel shades.
THE BUZZWORDS
Floral romance. Separates make the modern wardrobe. Sunset hues and ombrè
THE SHOWSTOPPER
Look #27
A signature style of the Zimmermann brand, the tiered maxi embellished with craft-like embroidery and floral flourishes seen here as a layered update with options to be worn as both a dress and separates.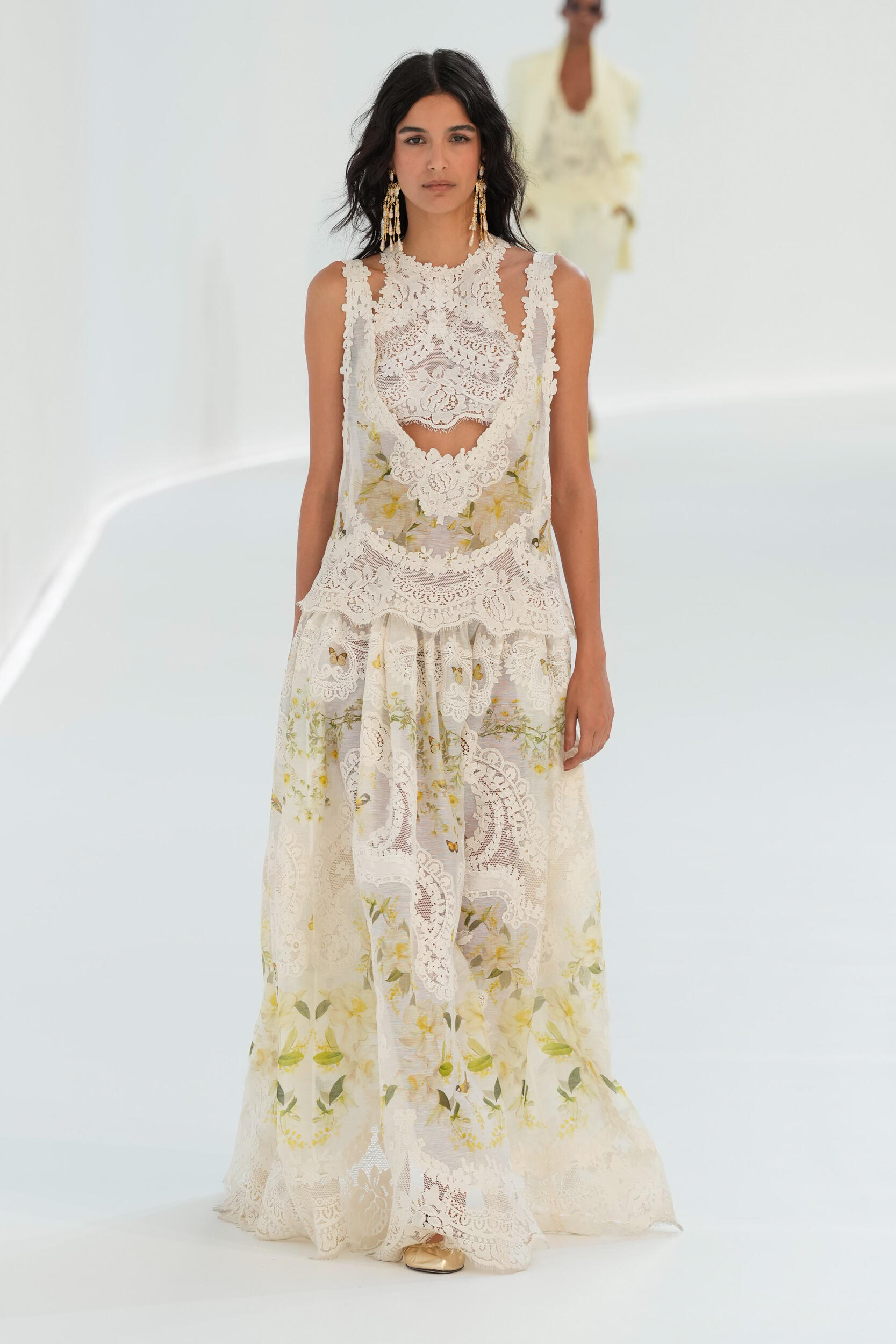 THE DIRECTION
PROS
Understanding customer needs,Nicky Zimmermann has expertly introduced desirable separates and unexpected surface interest though leather.
CONS
The chunky mary-janes and high-vamp shoes appeared a little clunky when worn back with the softness of some of the dresses.
THE QUOTE
For Spring 2024, we were inspired by the simple beauty of nature through various art forms. For key collection prints, we were drawn to the lovely, unexpected colour combinations of abstract landscape colourists and mixed these with the more scientific mood of classic botanist art against clean white backdrops.

– Nicky Zimmermann, creative director, Zimmermann
THE WRAP UP
When you can command the presence of Nicky and Paris Hilton to sit fromt-row at your show, you are definitely doing something right, and with summer 2024 Zimmermann, Nicky Zimmermann brought us a further fleshing out of her brands offer, with knitted separates which retain all the fluidity as her floral dresses.
Known as a Resort Wear brand, the designer is proving that, that too involves more than only one style of dress, so what Zimmerman will be giving us next season are options for day occasions, and all her customers daily needs in-between, sure to endure her to more markets around the world outside of her native Australia.
---