---
Review of Chanel Spring 2021 Haute Couture Fashion Show
Gathering of the Tribe
Symbols and Gestures Expressed in Families of Tweeds and Laces
By Long Nguyen
The Chanel tribes began to gather a day or two ago, this time on social media due to current restrictions still in place in Paris, before the actual premiere of the film by the Dutch film and photographic artist Anton Corbijn. Who directed the show film at the Grand Palais decorated with some empty chairs, flowers petals spread out as a light wind blew them around the concrete floor, and a white canvas tent with hanging white light bulbs resembling a scene of a small circus.
"I knew we couldn't organize a big show, that we would have to invent something else, so I came up with the idea of a small cortege that would come down the stairs of the Grand Palais and pass beneath arches of flowers. Like a family celebration, a wedding …"

– Virginie Viard, Chanel Creative Director on how she conceived. the showing in lieu of a live event
At Chanel's Instagram, there is a group of family portraits in black and white featuring the models' Luna Bijl, Kiki Willems, Leelou Laridan and Madeleine Fischer, Rebecca Longendyke, Kim Schell, Camille Hurel, Loli Bahia, Julia Pacha, Malika Louback, Chai Maximus all dressed in the range of looks from the new haute couture collection, photographed at the haute couture salons at 31, rue Cambon. Also, Lola Nicon in the long white satin embroidered wedding dress with the long white veil trailing on the famous mirrored staircase at the headquarter.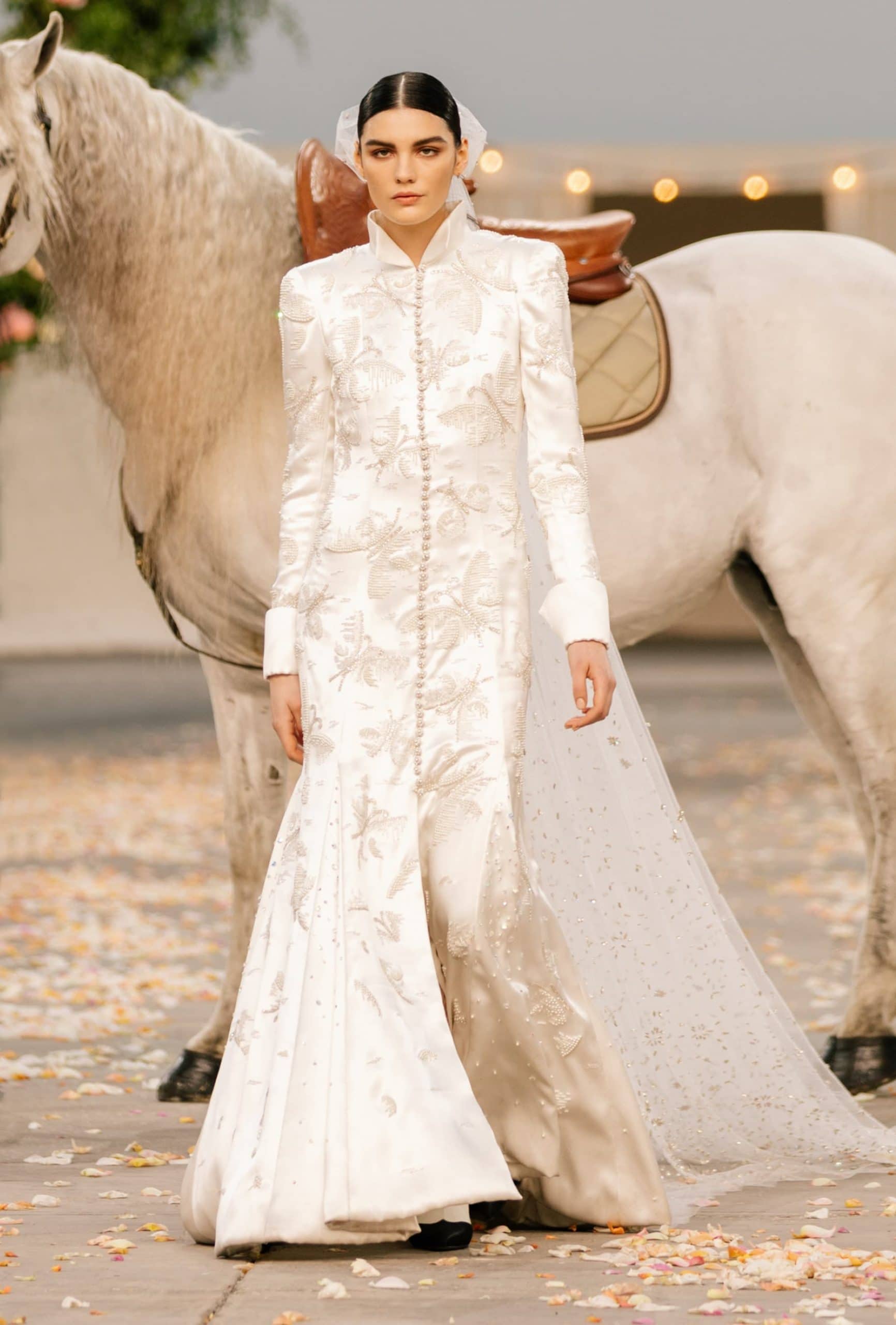 Nicon closed the show in this slender wedding dress in white satin crêpe embroidered by Lesage with strass and pearl butterflies, a wing collar, shirt cuffs sleeves, and a long train, riding out on a white horse accompanied by a male jockey.
Here and now, the brand double CC logo has been hand-painted in pink, white, or black by Corbijn over photographs taken at the atelier focusing on the details of a few of these new haute couture garments. The hand-painted double CC pink logo inked on top of a black and white picture of a white tier organza blouse or the white logo on top of a beaded jacket's sleeve. Corbijn's fast hand brush stroke with fading paint adds to the mood of the real handiwork of not just present in these pictures but the omnipresent in these new garments.
I love big family reunions, when the generations all come together – it's so warm. There's this spirit at Chanel today because Chanel is also like a family.

– Virginie Viard
Inside the Grand Palais, several members of the family sat among the socially distanced empty chairs, this time with a white rose in the place of the usual small white shopping bag containing either the latest makeup and nail colors or a classic fragrance for the models to seat on after their round instead of the usual guests of the house. Vanessa Paradis and Lily-Rose Depp, long time friends of the house but also representing different generations of the Chanel family like the French singer Izïa Higelin, French actress Joana Preiss, all joined in dispersed seats with house ambassador Penélope Cruz who wore a black strapless dress with tulle short sleeves and Marion Cotillard in a v-neck boat neckline black dress in this seasonal gathering ritual globally in celebrating the new harvest.
And indeed, this new harvest contains terrific haute couture crops of lean and distilled silhouettes cut close to the body; even embroideries are too subtle to notice.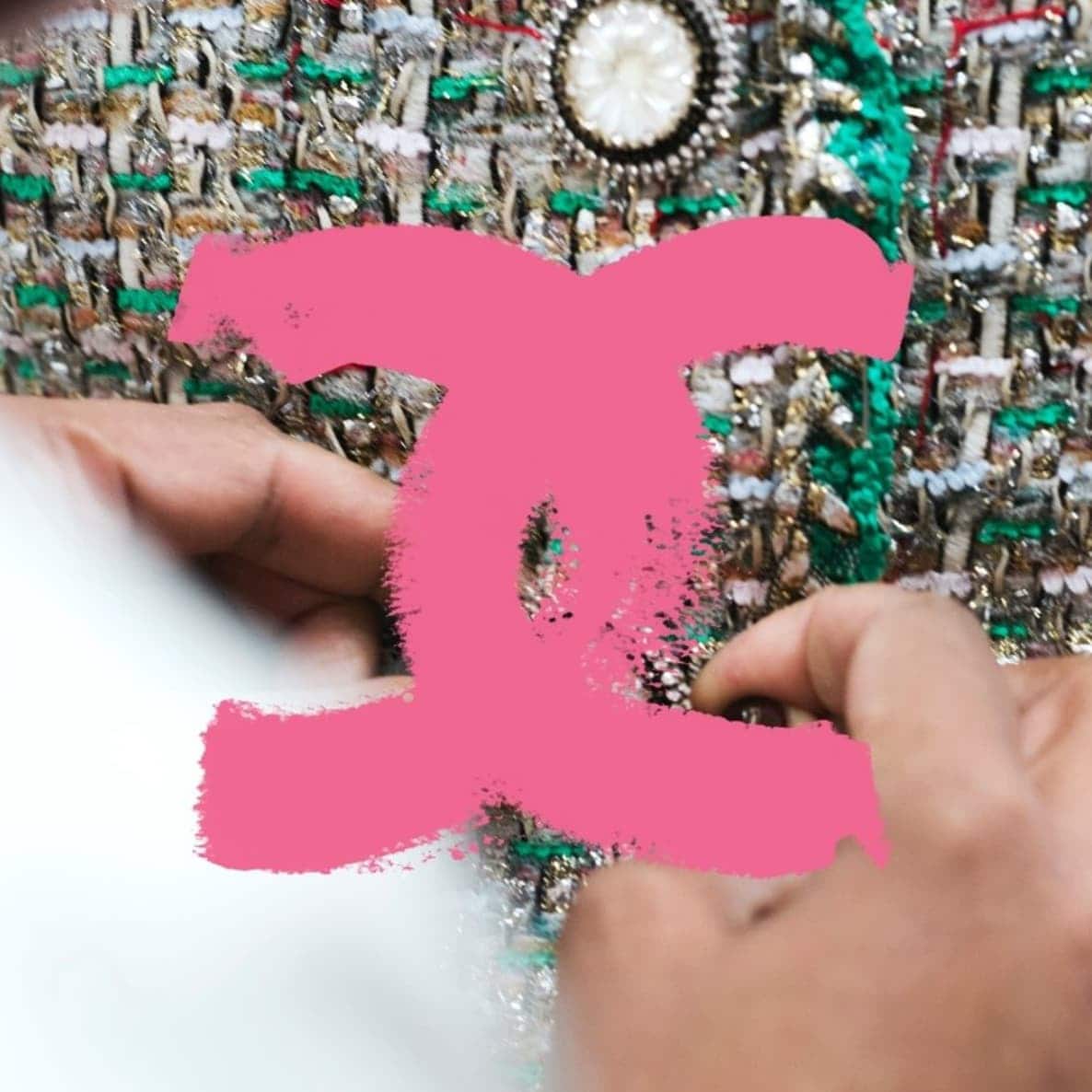 But, perhaps the most important image of all is the straightforward close-up shot of a pair of hand, more just a few fingers actually working with a needle around embellished white round buttons of a front of the classic Chanel jacket in a tweed fabric consisting of interwoven light green, white, silver, light camel and light orange thick wool threads inducing a surface 3D effect. That is the hands that crafted the show's opening look of a lace cropped sleeve raised shoulder tee shirt worn with a long red lace long that hugged the hips but flared at the legs.
The tight and extremely focused collection gives an incredible sense of lightness to haute couture, banishing any heavy embellishment in favor of light and much more subtle display of the house's ateliers and the atelier within the Chanel family of craftsmanship workshops, now based in Pantin – a northern suburb of Paris. Even the classic Chanel tweed suits undergo a design operation turning into a masculine vest in a light green tweed vest with cigarette pants or a sleeveless cropped tunic paired with flowing pants, or even metamorphose into a red tweed long coat that can be worn perhaps as an evening robe. One of the strongest looks is the black tweed tank top pantsuit with the jacket now transformed into a double breast tank with large white pearls encrusted Goossens buttons.
White daisies embroidered short lace lean long sleeve dress with an attached long skirt wrapping around but revealing the legs and a shoulder cape – both removable – engenders the spirit of this parse silhouette permeates through the clothes in this show. Similarly, a black skinny fitted skirt suit also has an added puffy skirt in this two-in-one outfit. Evening dresses are kept as minimal as possible – a white blouse and a black tulle skirt, a transparent lace A-line coat-dress, or a simple strappy light pink summer silk flouncy dress with red and white decorations. This spring permutation of the classic Chanel suit, either with skirts or pants, followed this minimal route as well.
One of this show's puzzles is the double breast cropped four-button jacket with pronounced shoulder with the jacket flaring over the hips and long straight-leg pants and black lace decorating both lapels. There isn't a similar shape in the entire show, and the cut is not as pared down as the other looks. The jacket is a master class in tailoring construction, fitting tightly on the body but arcs into fluffier but controlled volume.
While the shape is unique in this show, but one that recalled this same proportion but more exaggerated for the fall-winter 2017-2018 haute couture collection shown under an Eiffel Tower erected inside the Grand Palais. Perhaps Viard is using this look as an indication of potential shapes to come in the next seasons. It is also a softer version of the fall 2017 primary silhouette and, in a way, more wearable. But that is the beauty with experimentation, especially in fashion – the first outing may not be right, but the next time, an idea can be refined, sharpened, or in this case, softened. What is essential is to try something new.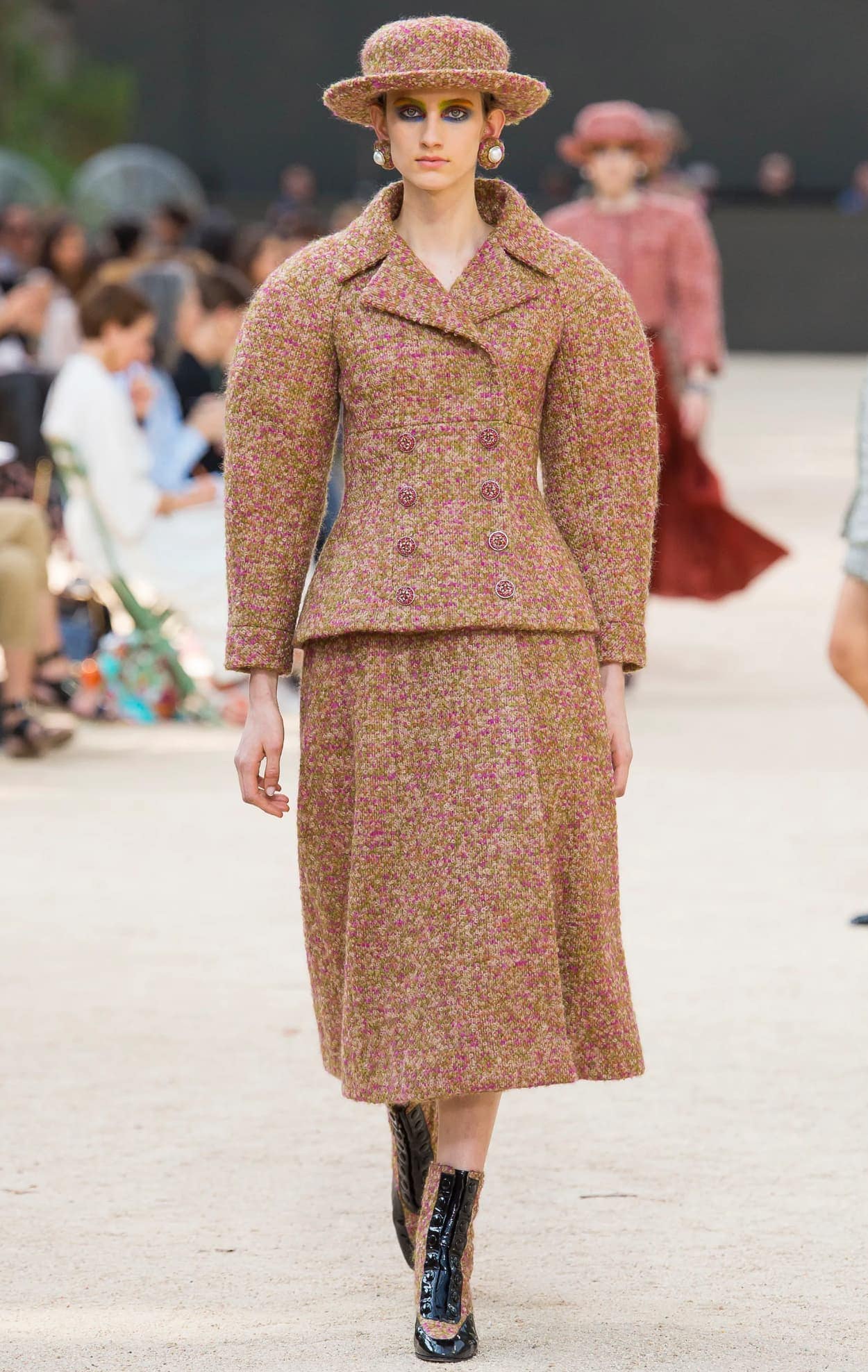 "I want to bring the models together for family photos, like those you can see in photo albums," Viard said of her intention with this more intimate showing.
But is it much more than just family – another word for a family today is simply community.
At this moment, in the fragmentation of the fashion industry that is becoming more decentralized and more localized, it is ever more imperative to fathom the idea of a large community globally, a community that shares values.
It is like alluding to the familiar act of listening to a favorite song that has not been played for a few months but once on the air, all the memories all come back – it is like coming home or going back for a college class reunion.
Fashion now has to be that much more personal, that much more approachable. At Chanel, that means gathering the symbols and the family of people worldwide that engender this venerable French family brand's values and, of course, the fashion.
---