---
Review of Coperni Spring 2022 Fashion Show
Space Age Sirens
By Anna Ross
"She's on the beach, and it's 2043," said designers Sébastien Meyer and Arnaud Vaillant, backstage ahead of their latest show, which came staged within a field of hemp, complete with a sandy runway.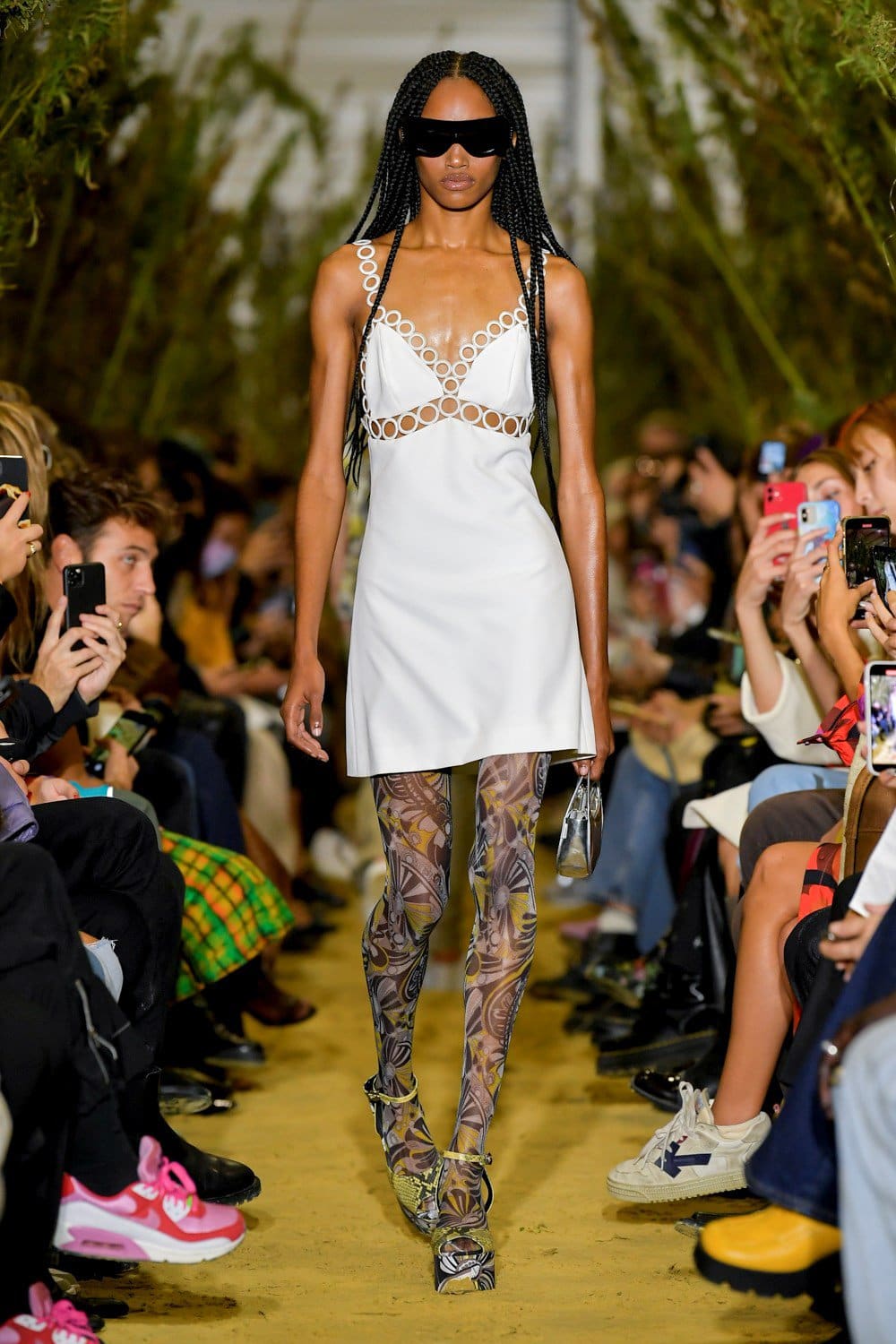 Not only was the hemp symbolic of the collections escapist mood, but the designers intend to upcycle the set into everything from alcohol and oil to fibers for future collections, showcasing their commitment to sustainability and materials innovation.
"Plus, it smells great too!" laughed the couple, who were married earlier this Summer on a Greek Island. No wonder they're on a high.
You feel the heatwaves left over from their island-wedding beaming off their clothes: Trippy (if slightly Pucci-esque) prints swirled around bikini tops, sarongs, twisted bodysuits and leggings, paired with deconstructed tailoring;
She's going to the beach to the bar, and she's not going home."

– Sébastien Meyer and Arnaud Vaillant
A sporty / street vibe arrived in the shape of cargo pants, bomber jackets and off-shoulder pocket-tops, complete with Coperni branding. These were the weakest elements of the collection and threw a '90's shaped spanner in the works when paired with cut-about crochets and sheer tops, but looked stronger paired with Hawaiian shirts in a sort of Dad-fit way. (I'm coining that phrase.)
Unfortunately, some of these styles were just a touch too simplistic and were missing the elevated appeal of previous collections – more high-street than high fashion.
However, there were moments where the designers excelled. What I'm branding as 'boob holsters' felt like Coperni's take on this Summer's sexed-up energy.
Even more refreshing to see was how it translated on a woman with curves – Paloma Elsesser, in this case, who looked ravishing in a lime-green version and sleek tailored pants.
Elsewhere, elements of their tailoring worked well. You could see the duo's time spent at Courrèges across retro-futuristic cape jackets, cut-about blazers and A-line minis with cut-out appliqués. Clearly, the way to wear your jacket from beach to bar next Summer is on your back, complete with a chain holster, as seen across a handful of menswear looks (and at the Balmain show last night.) Their accessories – for which the brand is renowned – were once again a hit: thick set space-sunnies were an instant win, while their cult-classic 'Swipe' bags were updated in mirrored silver, optic white and sea shells.
The last handful of looks were the duos strongest, laden with sparkle and shells, juxtaposed with satin and sporty jerseys like activewear mermaids plucked from the shores of another sporty sphere.
All in all, what washed up on the shore was mainly gold, leaving room to improve for next season.
---