---
Review of Dries Van Noten Spring 2023 Men's Fashion Show
Blurring Boundaries, Breaking Binaries
By Mark Wittmer
Uniting disparate categories of menswear under his trademark wit, Dries Van Noten used the opportunity of his Spring 2023 Men's show – his first live show since before the pandemic – to survey the shifting terrain of fashion and celebrate its power to forge unexpected connections and new modes of expression.
Right out of the gate Van Noten's renowned tailoring skills came to the fore, but with subtly playful, exaggerated details: jackets with more than enough buttons, extra wide pants.
Soon pieces from a wide range of supposedly distinct sartorial subcategories entered the mix, yet never felt out of place: industrial club pants, embroidered western shirts and cowboy boots, loungey streetwear staples, collegiate sweaters – all treated with the same sense of precision and dignity, and further unified in part by a broad but cohesive color palette. Elevated sportswear lent a sense of slick, edgy practicality: nylon cargo jackets and shorts, and a particularly sharp series of vintage feeling, glam-infused motocross garb (motorcycle aesthetics seem to be an emerging men's trend this season).
(looks 13, 42, 52)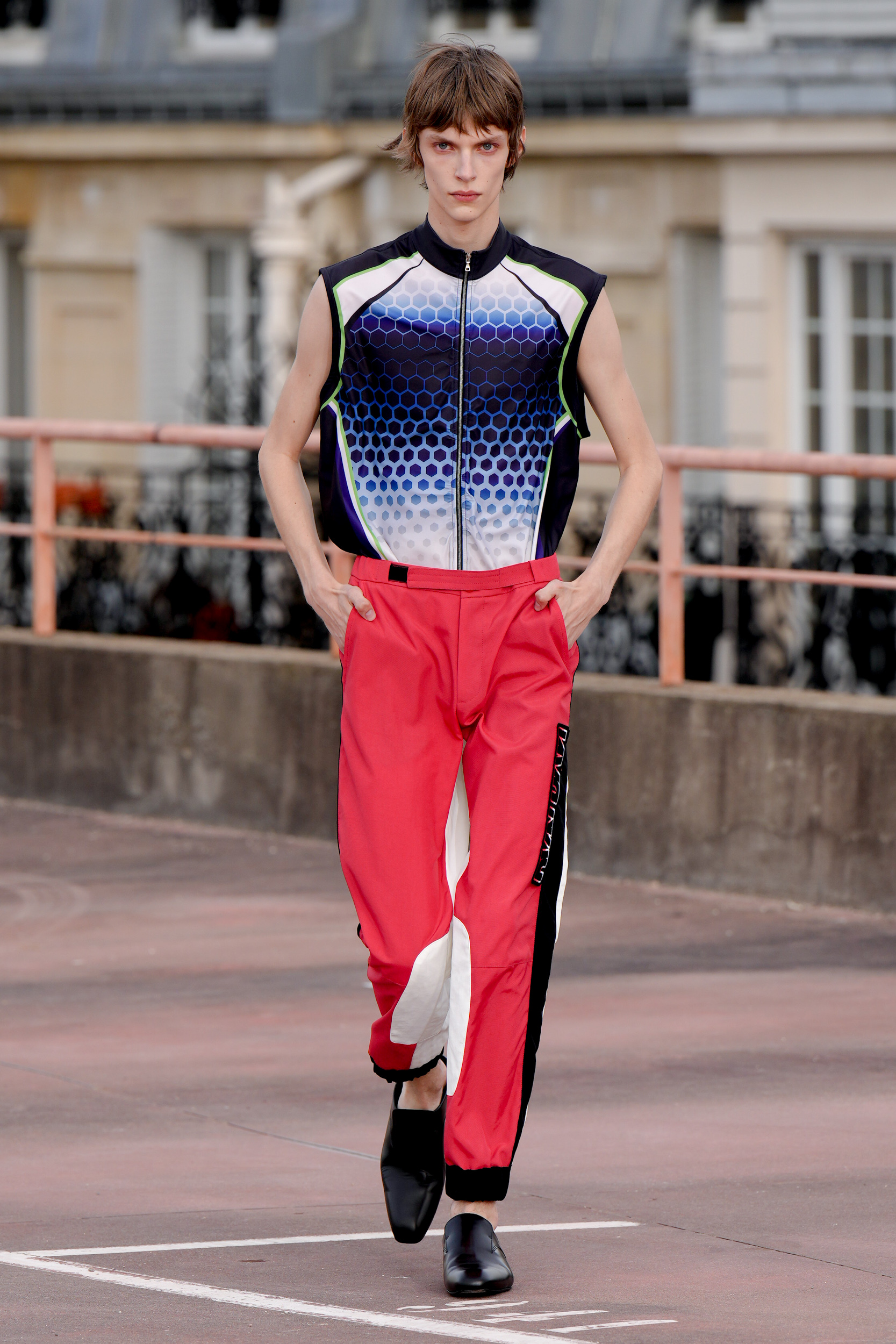 Solidifying and lending further weight to the idea of fluid expression and multiplicity suggested by the design, some gender fluidity and expression beyond the binary crept in as well – even among a collection that ostensibly seems grounded in a traditional idea of menswear – through interesting layering of hybrid skirt-like pieces or minimal tanks.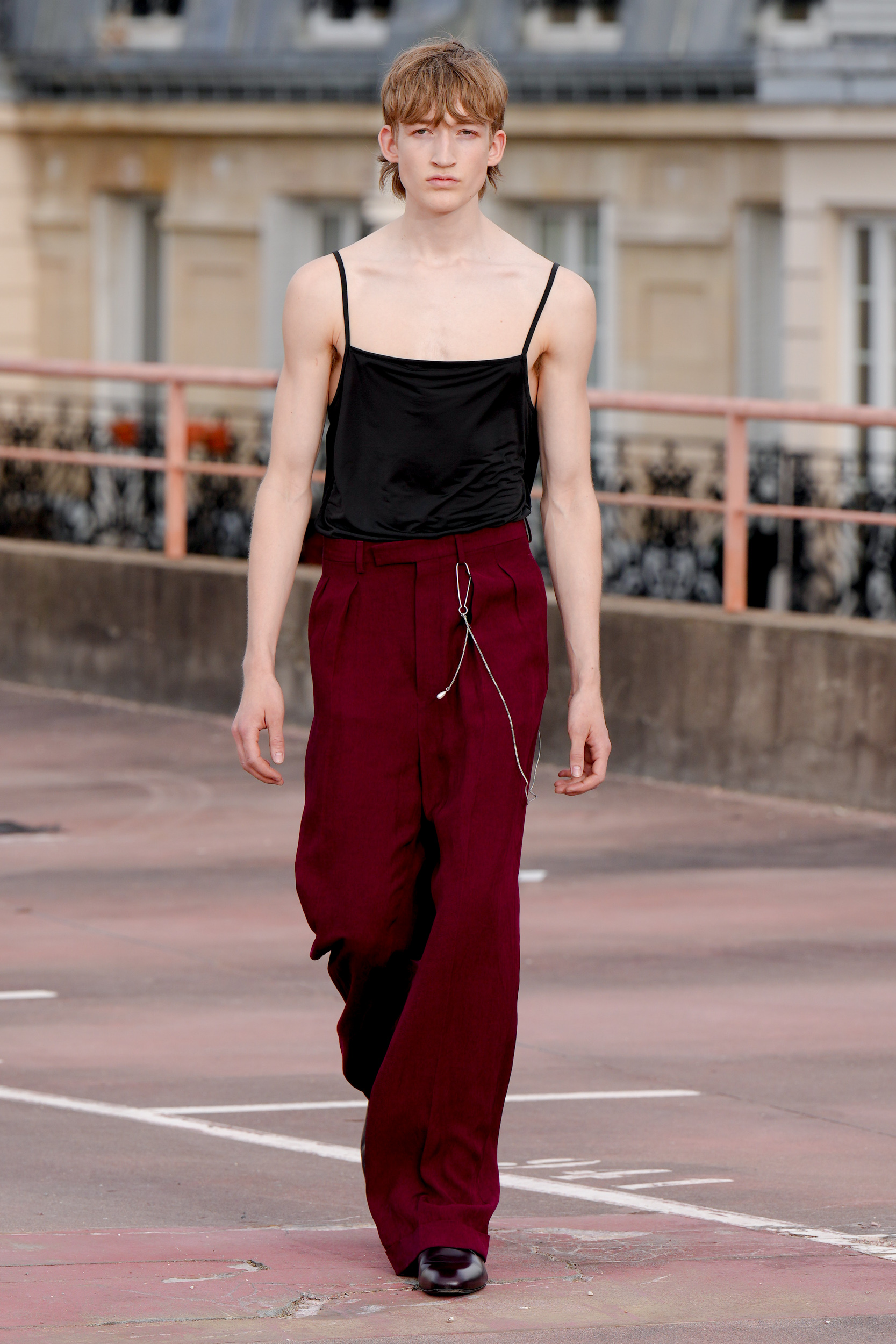 A print that's probably the closest thing to a monogram we'll ever see from DVN, a block of capital letters (and sometimes an apostrophe) that suggests imposing sloganeering but remains impossible to read, is rendered even more inscrutable through its use in twistily deconstructed shirts, shorts, and patchwork capes and pants.
(looks 17, 51)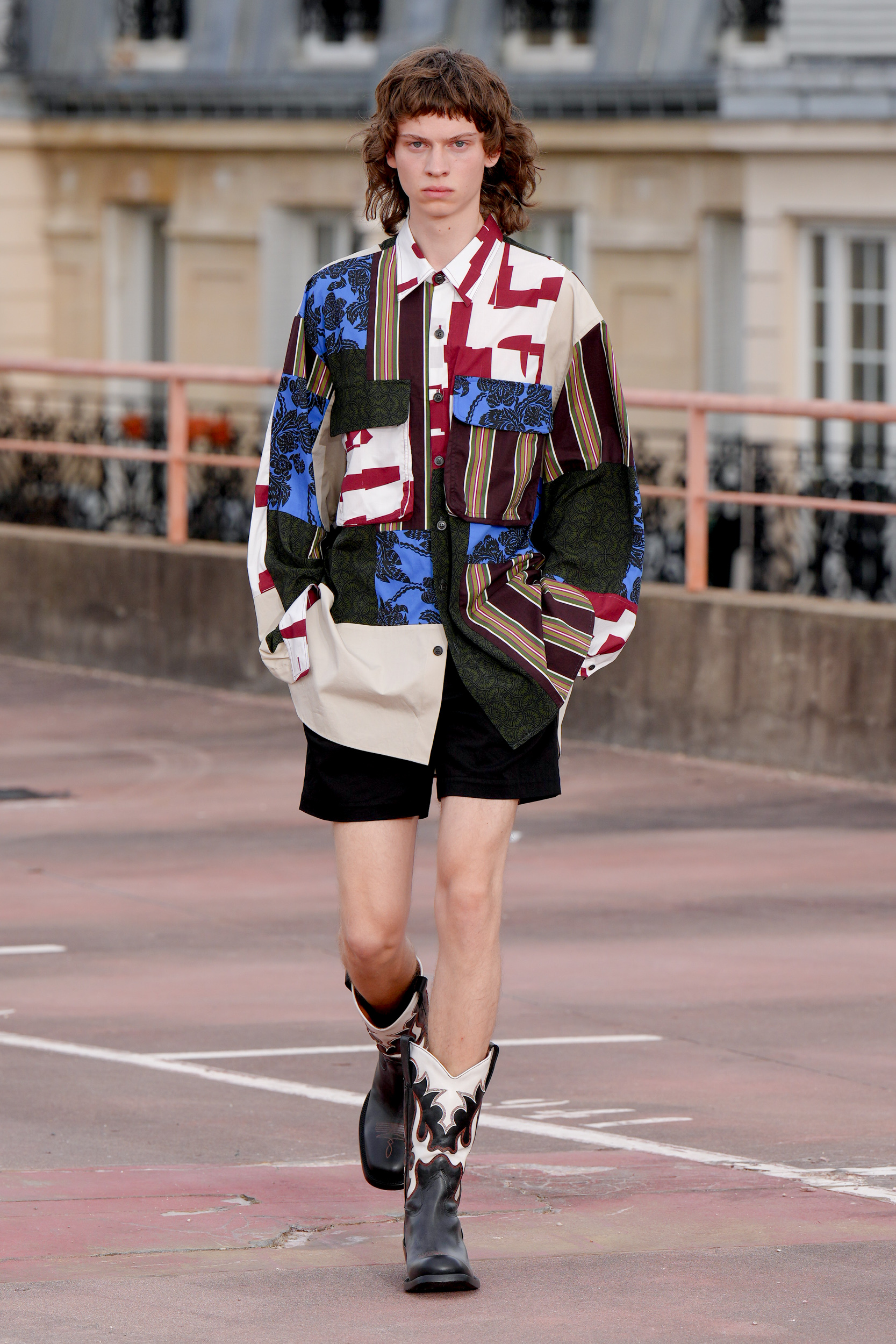 This use of patchwork – where pinstripe meets Hawaiian florals, baroque motifs mingle with leopard print – lends another order of magnitude to the collection's sense of mixed-up, layered sartorial syncretism. It's almost like Van Noten is explaining the joke, as if we didn't get that this was already a patchwork – except in this case, it gets even more fun.
Like an abstract painter who could paint perfect realist portraits but chooses not to, Dries Van Noten subverts his own mastery of menswear tradition with a liberated love for blurred boundaries and binaries.
At once eclectic and sharply focused, the collection becomes an ever-shifting ode to the multiplicity of identity and the freedom to dress it however one wills.
---