By Mark Wittmer
The Visionary Directors Discuss Their Unique Partnership, the Return to In-Person Events, and Giada's Latest Collection
Giada may have been the only fashion brand for whom lockdown restrictions did not present a major obstacle. Creative director Gabriele Colengelo is a master of craftsmanship, meticulously taking his time in each stage of the design process, from selection of materials to stitching, to craft timeless pieces that look at once effortless yet endlessly captivating. In lieu of runway shows, the brand's Spring and Fall 2021 presentations were the result of partnerships with master image makers such as Paolo Roversi, allowing a focus on details and deep visual expression of the brand's aesthetic and philosophy.
But, as Colangelo himself reminds us, a runway show offers something an image can't: movement that is true to life. The modernist master craftsman's shows are always highly anticipated, but this Milan season feels especially exciting as we can once again witness firsthand his transcendent command of form and movement.
Giada's return to in-person shows for Spring 2022 also marks the brand's return to showing at the Braidense National Library (also known as the Biblioteca di Brera), Milan's foremost library and one of Italy's largest. In addition to being the venue for Giada's runway shows over the past half-decade, Giada's relationship with the Braidense has included a powerful commitment to the library's mission of fostering and expanding the accessibility and reach of Milanese history and culture.
The Impression's Mark Wittmer caught up with Colangelo and James Bradburne, the director of the Braidense as well as its neighboring Brera Art Gallery, to discuss their unique partnership, the return to in-person events, and Giada's upcoming collection.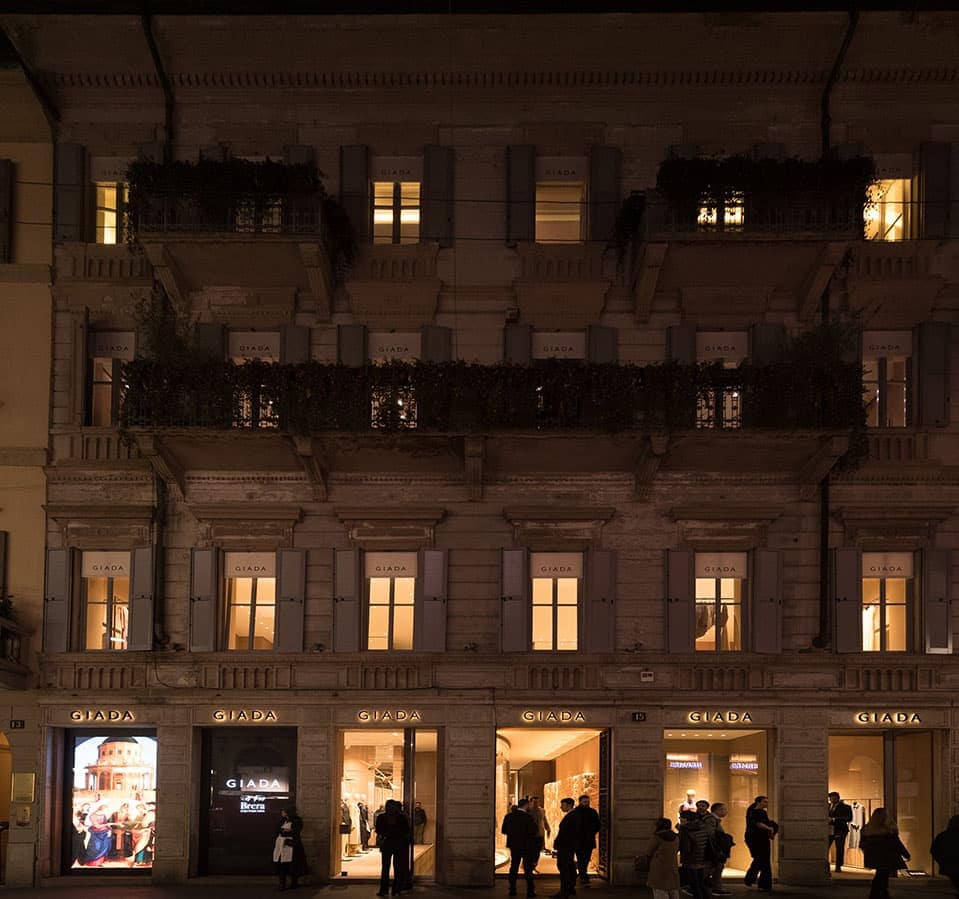 Mark Wittmer: How did the partnership with Giada initially come about?
James Bradburne: Like all great relationships, it started with a single encounter, after Giada had requested the use of the library as a venue for its fashion show. At a meeting with Giada we developed an instant and warm friendship, which allowed us to move from being a mere venue, to being part of the Giada presence in Milan.
Gabriele Colangelo: I think this is the fifth year that we've done the show in the library. It's a place that's very connected to my childhood. As a student, I was going there to study when I was younger. It's connected to the Accademia di Brera which is an art school. This library has so many books about art and literature, so my studies were quite connected to this venue – I studied Greek and Latin literature, and was there many times in my childhood. Coming back and doing something which is my job today and also my passion, the first time was very emotional, and it continues to be. It's a very inspiring place for everyone involved.
The collections of Giada are always an expression for me of craftsmanship, which is an art of making clothing. There is a very subtle but very natural connection between the collection and the place we will present it.
Mark Wittmer: How has the partnership with Giada, both in terms of hosting the shows and in donations from the house, benefitted the library and its collections?
James Bradburne: The relationship with Giada has been of enormous benefit to the library, and helped it acquire precious letters by Manzoni; restore rare volumes, and most recently, it has contributed to creating a special room to house the rare books collection of the great Italian writer and philosopher, Umberto Eco.
Mark Wittmer: Your directorship of the gallery and the library has involved a push to expand and incorporate more of a community, starting with the institutions that share the home of the Palazzo di Brera. Do you see the library's relationship with Giada as part of this push?
James Bradburne: Absolutely! Giada's support is not limited to books, but has also supported Brera/Musica, and just before the COVID crisis, Giada hosted Maestro Britton's concert of Franz Liszt at Giada House. Brera/Musica is a collaboration with the library, the Pinacoteca, which houses Raphael's masterpiece the Sposalizio della Vergine, and the world's largest musical archive, the Archivio Ricordi. Giada's support has helped consolidate this partnership among the institutions at Brera.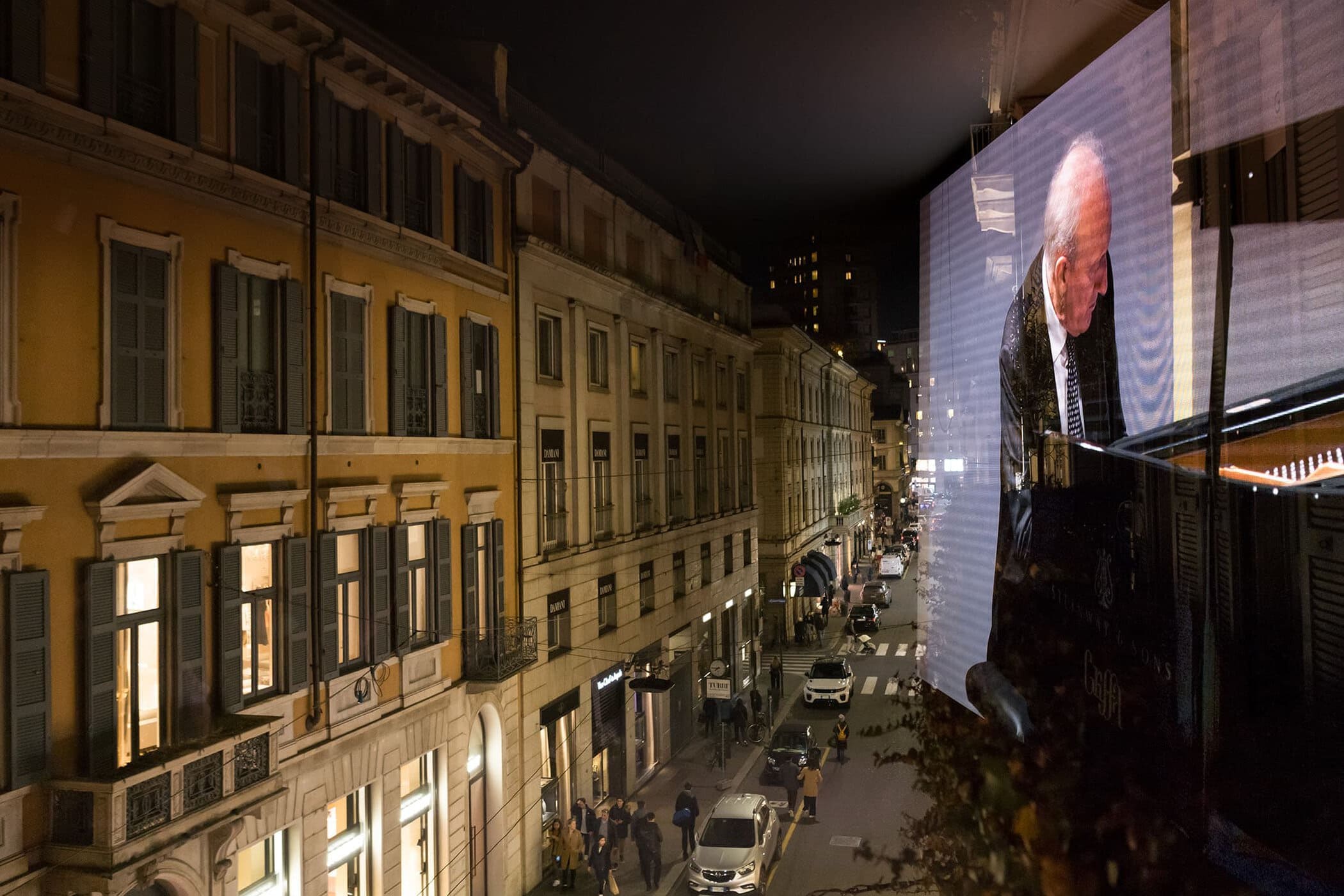 Mark Wittmer: Ahead of our interview, I was reading an article about Mr. Bradburne's directorship of the library and the museum. It said – which is maybe even a little controversial today – that he's not interested in holding temporary exhibitions at all. That feels like a sort of kinship with the design approach for Giada, which very much avoids trends, is very timeless.
Gabriele Colangelo: Right. It's a way to think about the things themselves. If you go to Pinacoteca di Brera you can always see those same beautiful paintings, but every time you will discover new details that probably the time before you didn't see. I think the Giada aesthetic is like that. At first sight it seems like something very simple and easy to understand, but at the end when you focus your attention to the details, the fabrics, the stitching, you understand that there is very big work behind it. Because the real value of these clothes is the fact that they are timeless: you can wear them today and in ten years.
Mark Wittmer: It's amazing to me that each collection feels conceptually original and new, and yet it never becomes obviously different. It never seems like you're trying to do something totally new, and yet every time it feels refreshing – I don't know if you can say how that works, or if that's just part of your art. I'm very impressed by it.
Gabriele Colangelo: I think when you have to do a sort of revolution, the best way to do it is step-by-step. It's a building of the identity of the brand, keeping the things you think are okay always in presenting a collection, but then there is a step forward in the evolution of them. Of course in a collection I have different inspirations, but there are elements that remain always the same. I think these are the signature and fundamental elements of the brand.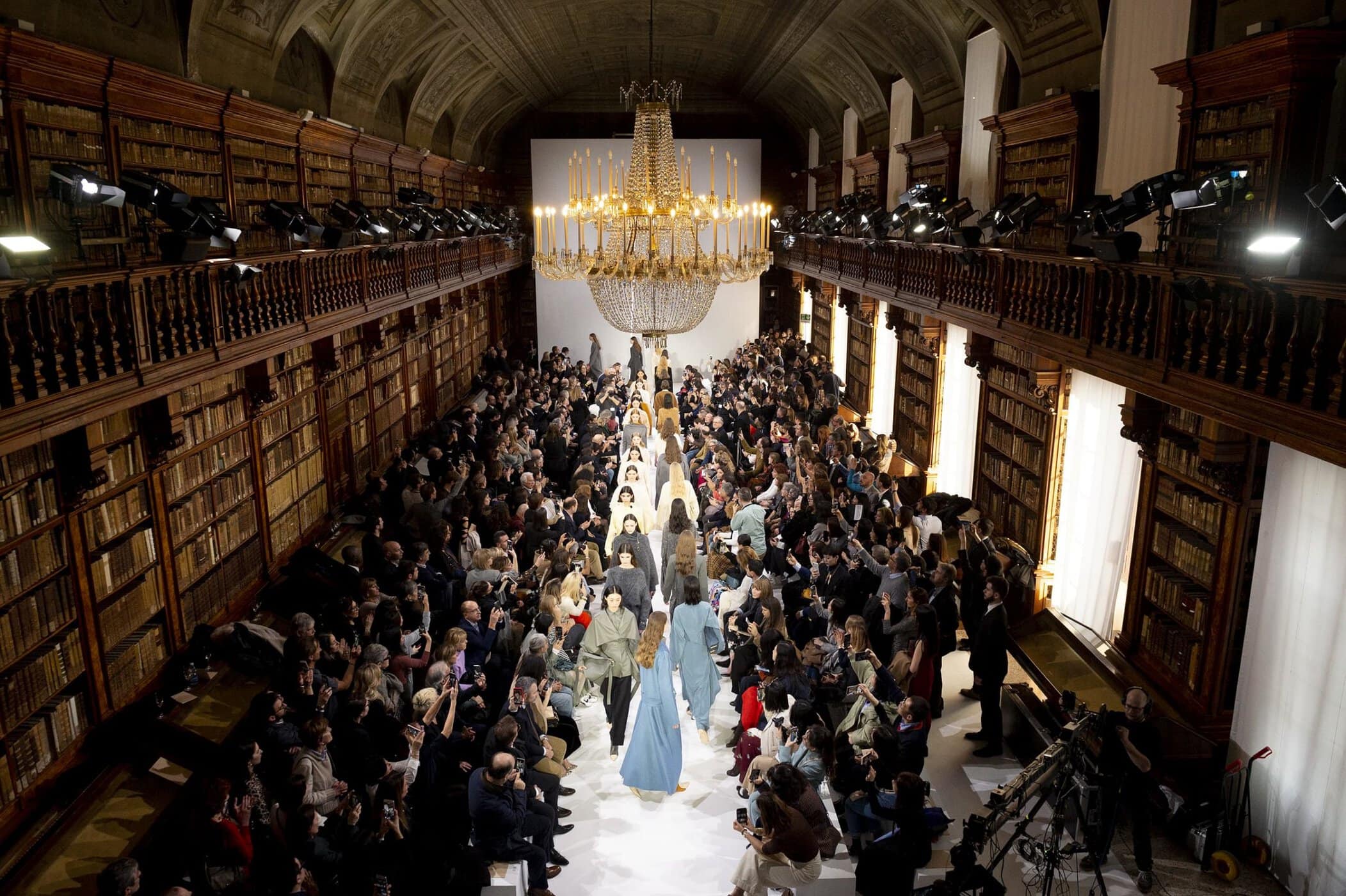 Mark Wittmer: I'm not sure how much you can talk about the upcoming collection, but can you say anything about your inspiration behind Spring 2022?
Gabriele Colangelo: Sure. There are some seasons that I'm trying to have a connection between Giada's fashion and nature. This season it's of course about the sea. Everything is about the movement of waves. It's a sort of walk on the beach, very free and very light. The idea was to transfer to the people seeing the collection a sort of lightness, of course in the selection of the material which are an exquisite expression of made in Italy: very light cashmere that this season we have also printed, all the doublé work to create these beautiful coats. There is a lot of knitwear with which I tried to create this effect of the sparkle of the waves when they arrive to the shore. It's a crisp but super soft knit that appears on the body like a very subtle net, and it moves with the movement of the wearer. Of course it's also very related to the colors of the sand, the sunlight, the sky, so there are very subtle tones of blue, of beige, and a touch of yellow. The idea was to have this beautiful softness. My idea of fashion is to make women beautiful and comfortable in their clothes, and I think this collection expresses this concept very well.
Mark Wittmer: It sounds like an especially strong concept to return to in-person shows where you can actually see the movement of the piece, and the wave motion.
Gabriele Colangelo: Exactly. My idea was to exaggerate this fluidity of the clothes in choosing material which has a proper architecture but at the same time is not too stiff. So they are quite fluid while keeping the structure. It's a fluid architecture I can say this season. I mean, you will see it better than my words can say.
Mark Wittmer: Right! I'm excited; we're really looking forward to it.
Gabriele Colangelo presented his Spring/Summer 2022 collection for Giada from the Braidense National Library in Milan on September 22nd.
---