---
Gucci's latest campaign is totally trippy, man…
The iconic brand's new GG Psychedelic Collection is right at home in a dreamscape of nocturnal refractions and reflections. In keeping with the color, energy and dreamlike attitude of the pieces – inspired by the spirit of '70s psychedelia, with its visual distortion, surreal imagery and wide color spectrums – the campaign takes us into a fantastical night club where visitors are dressed up for the occasion.
From the cloakroom to the dance floor, the images by Jordan Hemingway are drenched with oozing color and reflected light. They blend perfectly with Alessandro Michele's whimsical reinterpretation of the Gucci logo and retro-inspired use of pattern and color, and the whole project washes over us like a psychedelic whirlwind. As the night-loving creatures mingle and dance, the spinning ball picks up the pace and hypnotizes, eventually playfully absorbing the clubbers into a surreal space with giant mirrored walls. Have they been captured by the ball? Is this a waking dream? Who can tell?
The print element of campaign finds a smart way to further the feeling of dreamy nostalgia. Layouts for social media are composed of multiple "Polaroid" shots, referencing the visual medium par excellence of the club scene of the 1970s. The dynamic use of kaleidoscopic camerawork and smearing lights suggests a refracted aesthetic, referencing the reflections of a disco ball, or a heavy trip.
At this point, it almost seems that Gucci can never have a bad trip: every campaign the creative team puts out is exquisitely crafted, fun, and a seamless addition to the Gucci world. With such a cohesive and inviting aesthetic of this fantasy world, one almost wonders which world is real, and which is a dream – ours, or Gucci's?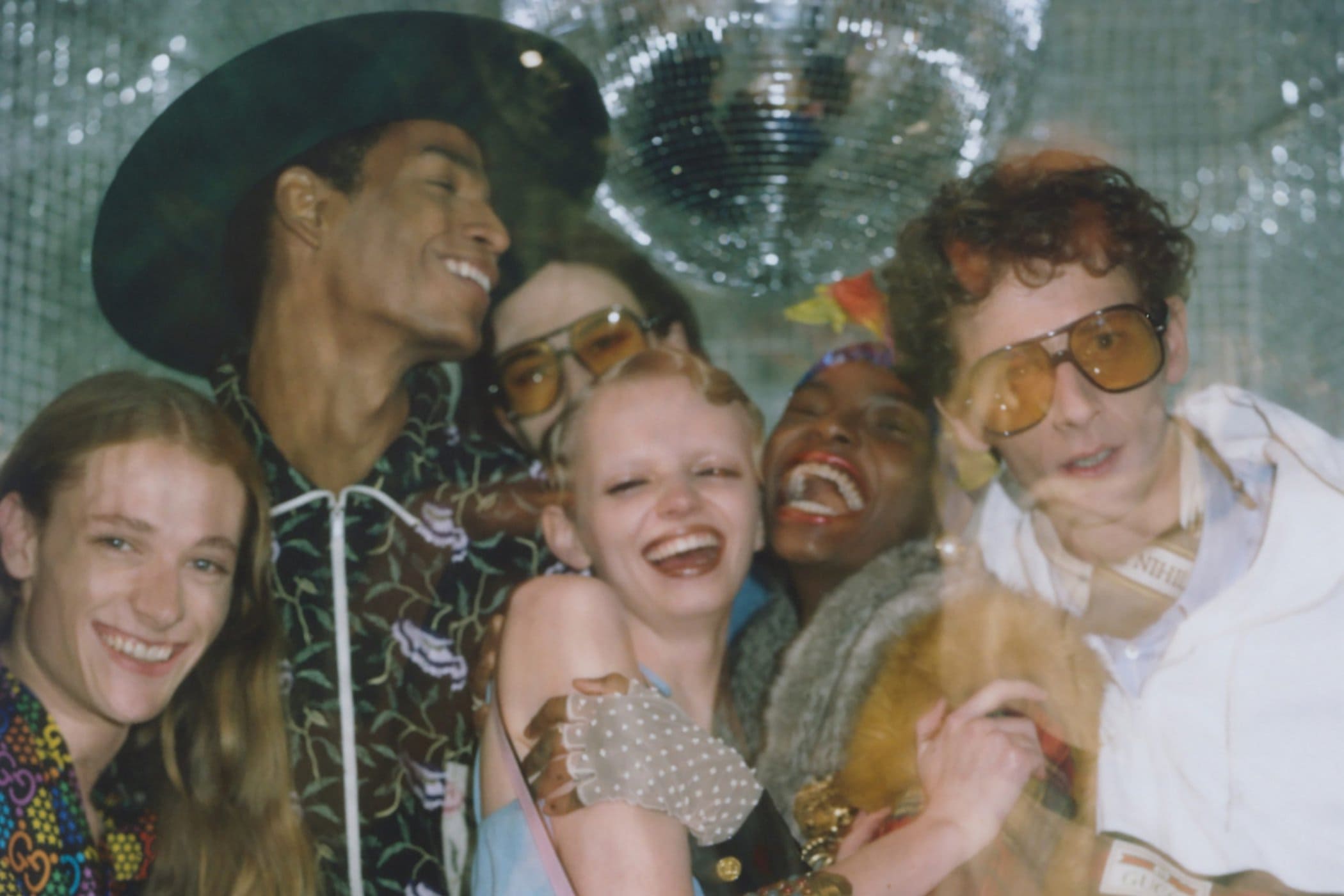 Gucci Creative Director | Alessandro Michele
Art Director | Christopher Simmonds
Director | Jordan Hemingway
Photographer | Jordan Hemingway
Stylist | Alessandro Michele
Hair | Alex Brownsell
Makeup | Thomas De Kluyver
Location | Pryzm, London
Music | "TAKE A CHANCE" Bizzy & Co.
---