---
Review of LaQuan Smith Spring 2022 Fashion Show
A Decade in Fashion and the Clothes Are Still 'Juicy'
By Long Nguyen
Seeing LaQuan Smith taking his bows at the end of his Spring 2022 show with elements of a see-now-buy-now capsule held on the top floor at the Empire State Building, the first fashion show at this iconic New York City building constructed in 1930, was just a perfect way to reflect on his just over a decade long adventure in fashion as the remixed of the rap song Juicy by The Notorious B.I.G. played on the loudspeaker.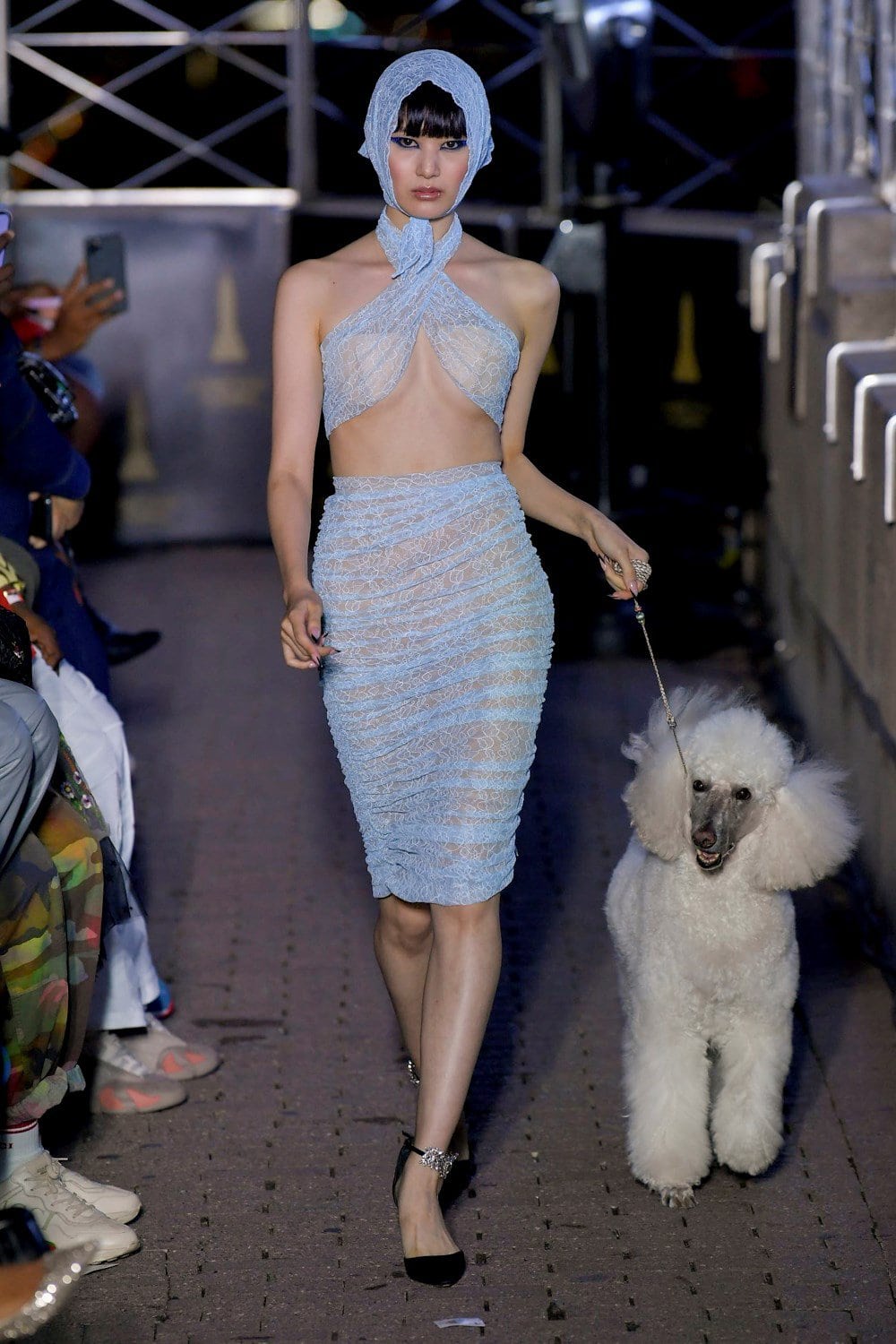 "It was all a dream. I used to read word up magazine, Salt-n-Pepa and Heavy D up in the limousine, Hanging pictures on my wall, every Saturday Rap Attack, Mr. Magic, Marley Marl, I let my tape rock 'til my tape popped … you never thought hip hop could take you this far, Now I'm in the limelight 'cause I rhyme tight," B.I.G. rapped in his masterpiece 1994 debut release Ready to Die album as Smith's models took their finale walk around the Observation Deck against the clear 360-degree view of the New York skyline and below.
I remembered the fashion pages from Vogue that LaQuan Smith used to hang on his walls in the small bedroom at his grandmother's house when I visited him back in May 2010 to chat with him about his fashion dream. It was as if someday in the future, he would see his clothes photographed in magazine pages. Smith had shown his debut collection a few months earlier, introducing his dream quietly but his enormous enthusiasm for a path in fashion.
Since then, I have followed the Queens-born designer LaQuan Smith's fashion career from close to observing from afar for the past decade. More than eleven years ago, I wrote a profile on Smith after showing his first collection a few months earlier.
I went to his grandmother's home in the St Albans section. Smith showed me his room upstairs filled with childhood fashion memorabilia from magazines pages cut out and pasted onto walls. He got a Singer sewing machine at age 13 and a Juki sewing machine that Smith told me he received as a gift after his first showing of a collection of fifteen looks at the upper east side townhouse of the Society of Illustrators.
That first show in February 2010 was by any means avant-garde, meaning the clothes themselves were imaginative as well as inventive given what Smith had at his disposal to make the collection. But whatever was missing then, and daring was always in abundance. Then, Smith told me he 'felt like it's my purpose to make clothing.' He told me how he looked up to how his mother and grandmother dressed, and fashion was a way to feeling free.
That purpose has remained in Smith's veins since more than a decade ago as they plowed through the rough terrain of actually owning and operating a fashion business or 'making clothing' as he called it.
"I have to try to balance what is going on to sell to get to the next level. Samples can only take you so far. I am going to start a small online store as people are inquiring where to buy. It's a work-in-progress to get to the next level," Smith told me back then. But the bridge separating outrageous runway looks from what can sell is often a stretchy road. At last, consider how often customers do not resemble their runway counterparts wearing similar items.
That said, it is remarkable to say how much of a particular fashion sensibilities Smith has been able to maintain as his design ethos. Overt sexiness, female power, extreme sensuality – in the forms of transparent catsuits and cut-outs P.V.C. looks or micro skirts. The designer has added boiled wool along with his continued use of fine mesh as, say, in the body of a short dress from his recent collection were the only solid and non-see-through fabric were the puffy sleeves. But in between the extra tight glossy fitted pants, there are camel wool pencil skirts with a high slit or tailored very flare pants and a nice wool coat with furry lapels.
Smith doesn't have so many large inspiration boards. His collections were never about a tribute to a particular place or a specific cultural homage per se, at least in his collections that I have seen over the years. The designer and his brand are now at the precipice of another cliff – one where he has to harness the knowledge and the creativity he had accumulated in these years to firmly plant a commercial business alongside the more 'fashion' outtakes.
The suggested answer to this question of viability lies in the actual clothes Smith showed as the models walked around the Observation Deck on the 86th floor of the Empire State Building. As the models came out for their finale, the collection telegraphed a clear fashion point of view. in the range of garments from the bathrobe style coats and hot pants that opened the show to the midnight blue silk puff sleeve high slit dress to the white cropped bolero jacket paired with a white bra and loose cut pants.
This spring collection balances the naughty and the excellent elements with finesse so that neither side would prevail to any extreme degree. In this manner, Smith should be able sell his clothes in the way he wants to make them, that is still very sexy and 'juicy.'
Most critically, it is easy to see the LaQuan Smith signature work accumulated over the many seasons that at times were hard to recognize because of his penchant for extremes. His cut-out sexy dresses are all there in the white long mock neck front slit dress with inverse triangles at the belly buttons or in another white dress with a low square neckline and layered trims. The bodysuit is also cut out at the hip bones in sparkling red with red pleat pants. Or a sensible white mock neck long sleeve knit is tucked into white denim with cut out in the back near the buttocks.
But this collection that Smith showed clearly should become a commercial winner for younger women consumers wanting to dress with certain freedom and fewer restrictions. The clothes like a red fold short puff sleeve short dress or a midnight blue strappy short dress made in suitable fabrics, critical elements to produce quality garments.
The clothes revealed that careful balance, pushing the garments to near that particular border of limitation but never crossing over to the other side like in yesterday's collections. When the compulsion and the requisite to stop and think the long term for the business was not, how to say it correctly, absent but that the urge for creative displays was far more significant. Balancing between the total freedom to create and the requirements for a real fashion business is a sign of Smith maturing in the decade since his first outing.
LaQuan Smith has a long and perhaps tricky journey in pursuing his fashion dream. But, today, on top of New York's most iconic building, Smith has arrived in his moment, a moment he has spent more than a decade in the making.
---