---
Review of Prada Spring 2023 Fashion Show
From the Outside Looking In
By Lizzy Bowring
To view a Prada collection by Miuccia Prada and Raf Simons is always one of fruitful anticipation. Today was no exception. At the Prada Fondazione, the hallowed portals had been reconstructed to encompass several blackened rooms whose walls appeared to have been constructed of torn paper. In them, coloured windows exposed a sequence of realities, reflections, refractions, and observations. Made in collaboration with the movie director Nicolas Winding Refn, "The Touch of Crude" was as much about voyeurism as it was about something dark, secretive and sinister – a point where there was that awakening moment connecting the black boxes which accompanied the invitation. 
The show notes alluded to the collection being something raw and sensual and the interrelationship between the delicate and the unrefined. As the presentation came to light through the darkness, there were indeed these different parallels that ensued with a rigorous application, and all came with a palpable subversive intimacy.
The opening of the presentation saw a bevy of grey trench coats, blazers and classic tailored one-pieces stride with unerring determination before giving way to colour. And the colour was just as provocative as the sheer columnar sheaths that revealed much of the slim bodies underneath. The silk and satin pieces unexpectedly featured oblique tears in the material that was at once deshabille.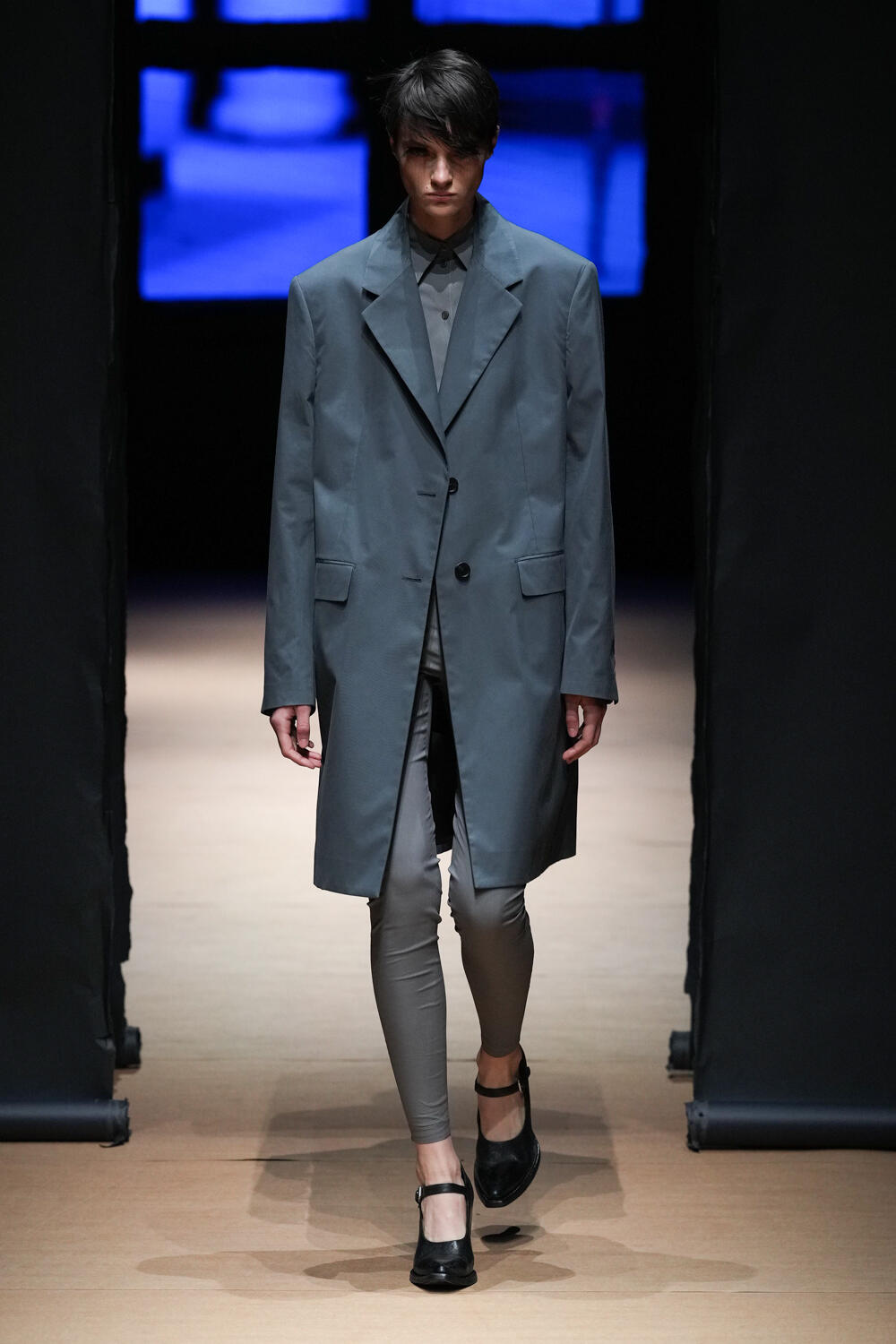 These architectural sheaths were alive with the illusion of transparency, some with splits that appeared torn and lived-in, while also playing into the theme of abstract layering. Elsewhere, a form of domesticity played out in the black 'lace-edged' dresses, full in construction and bore the idea that these were nightgowns – a blurring of the lines between day and eveningwear. Opera coats fused with leather jackets while tailoring borrowed trains of fabric usually reserved for formal gowns. Delicate pastel tones typically associated with loungewear appeared on outerwear.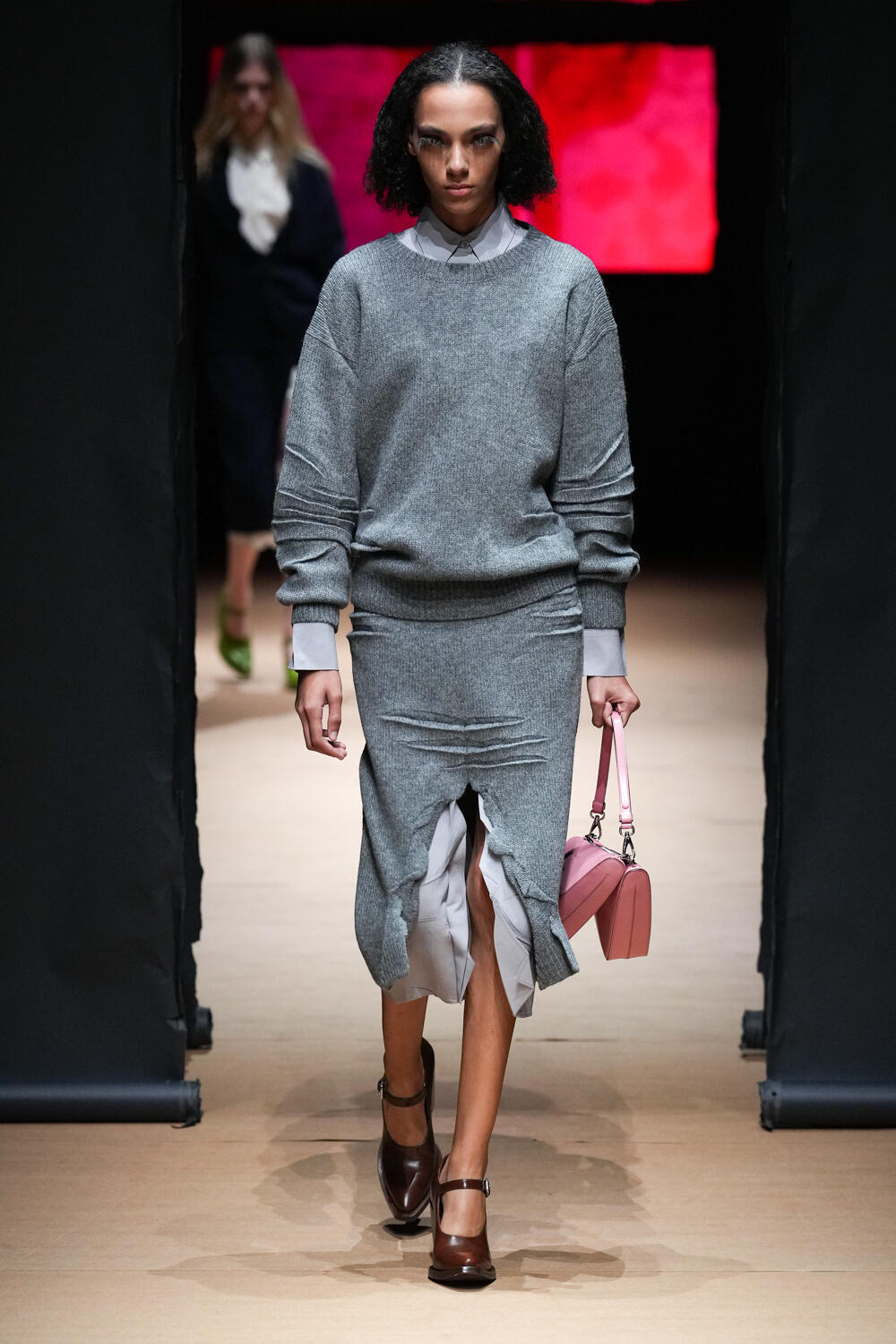 The collection connotated a shift that is a reflection of an increasingly blurred reality, where the line between work and leisure becomes one.
Prada's uniform-inspired bodysuits in industrial colours reflected this minimalized reality.
Leather also appeared in jackets and skirts, with details intrinsic to the collection, as were the coats and dresses that came featuring bows at the back of the neck; some trailed to the ground. Knitwear was cleverly paired with skirts as well as boxy jackets that made up for the new business suit. Each garment was an act of precision and care, carrying with it the weighty legacy that had come before. The lines were attenuated or sharp depending on what's needed for today – a sense both contemporary and timeless at once.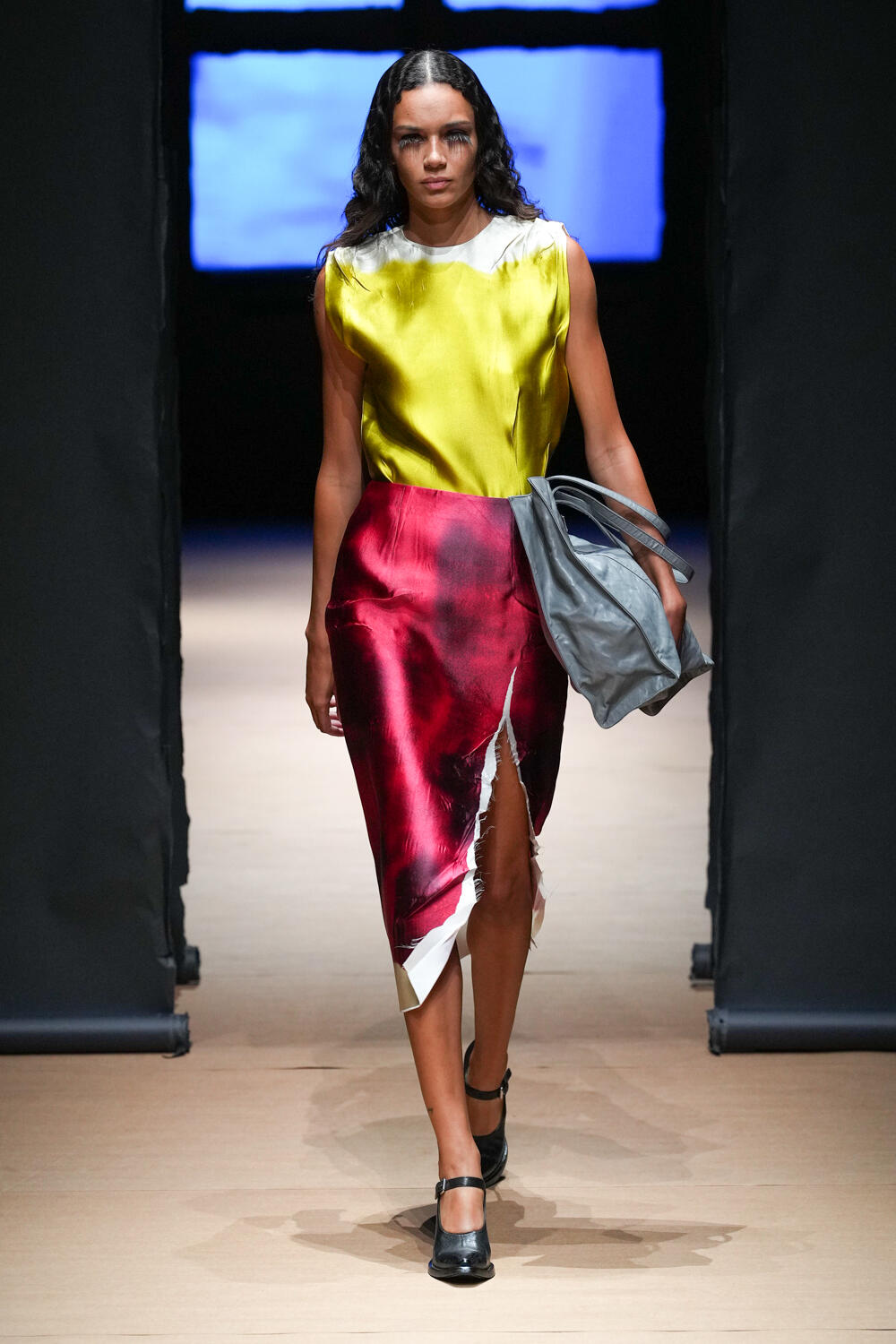 By deconstructing the traditional notions of day and eveningwear, and infusing a modern intimacy, Raf Simons and Miuccia Prada are creating a new wardrobe for our modern lives.
---