---
Review of Proenza Schouler Spring 2022 Fashion Show
Color, Sparks, Sunbursts, and Joy 
By Long Nguyen
In the new Little Island bowl theater that just opened at the end of this summer, Proenza Schouler showed a concise and focused collection, one of their best in recent seasons. The pair laser concentrates on great clothes with little art inspirations in recent seasons, with many of the duo's signatures now evolve in new fabrics and bright colors.
During the pandemic lockdown, the designers asked more fundamental questions about their design and the kinds of clothes they should be making, not just for a post-pandemic era type of dressing. The pair wondered out loud how their brand could move forward now that they had regained control.
The answer they came up with in films presentations then were multi-folds: new website e-commerce, pre-order business, and more importantly, how to recover the edge they possessed when they started in 2002 as the coolest New York kids on the block.
One thing from a Zoom call for Fall 2021 was their emphasis on finding a balance again, a balance in the design of the garments – between soft and hard, between structure and fluid shapes.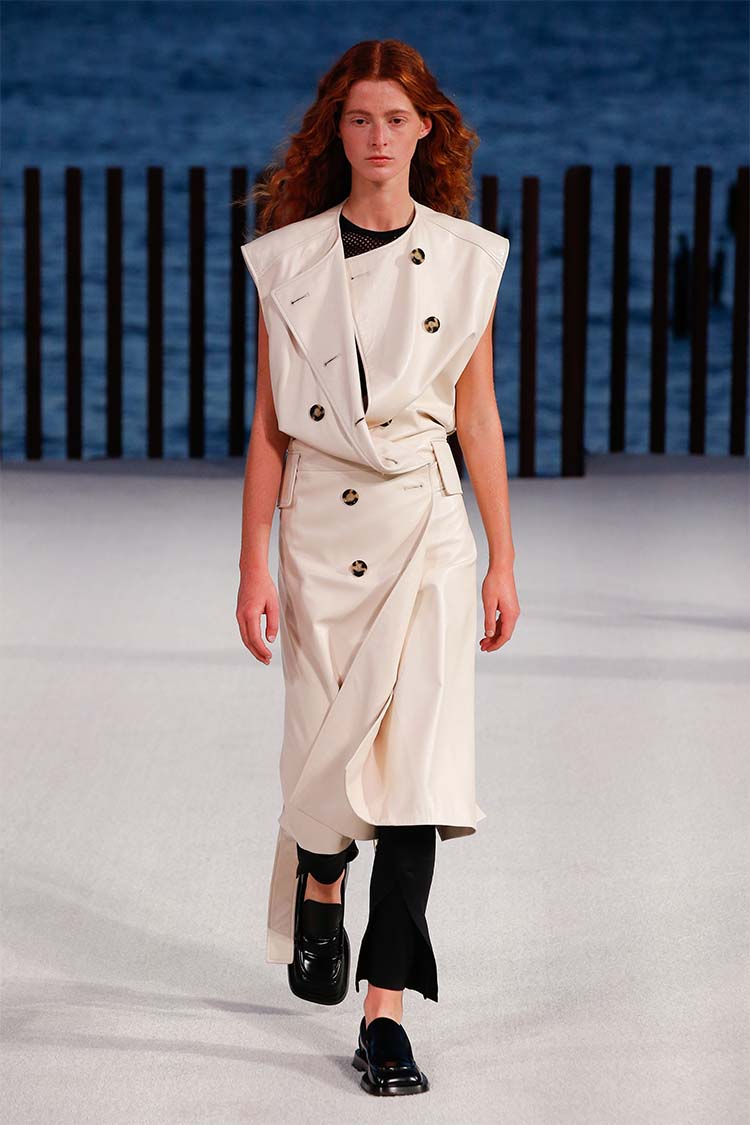 Or, on a broader scale, a balance between designs that can be more avant-garde with actual garments that can be friendlier at retail but still have their Proenza Schouler touch. It wasn't the idea of effortless that dominated the dressing-down era earlier in the pandemic. It was through the notion of comfortable but fashionable clothes for their customers.
That balance Lazaro Hernandez and Jack McCollough sought a few months ago came together with clarity in this collection shown on the Hudson River piers waterfront at sunset. The collection veered between the sporty elements and bright colors from a black fitted broad shoulder jacket paired with fringed black capris pants or a structured orange sheath worn over slim black pants.
The suit and jacket, one of the strengths of the Fall 2021 collection, now transformed into bright orange dropped short shoulder pantsuit, as broad lapel single breast pantsuit or simply as a white one button pantsuit underneath a camel trench coat. The trenches came in different versions, either sleeveless with uneven buttoning or yellow and black tiger print. 
Nothing in the show spelled too artsy or over decorated. Even the evening gowns are magnificently simple – pleat yellow chiffon long dress, orange or Fuschia long sleeves floor-length dresses worn with leather sandals rather than high heel pumps. Other standouts are the orange cut-out dress with fringes and the orange long sleeve tie-dye day to evening dress. 
The collection is undoubtedly a step forward in establishing a more robust retail demand for the clothes, the sandals, and a series of pouch leather bags. 
---