---
Spring 2023: Not a Culture Clash But a Culture Collab
By Constance C.R. White
Proenza Schouler's Jack McCollough and Lazaro Hernandez don't want to talk about achieving twenty years in the business. "We're actually not talking about that." Said McCollough. We're not anniversary people."
That's okay with us. But we still want to note it. The boys aren't boys anymore. Not that they ever were when they first splashed on to the fashion scene giving us a good douse of exuberance. They're men now and their designs show it – which is something to be proud of. Talked about or not.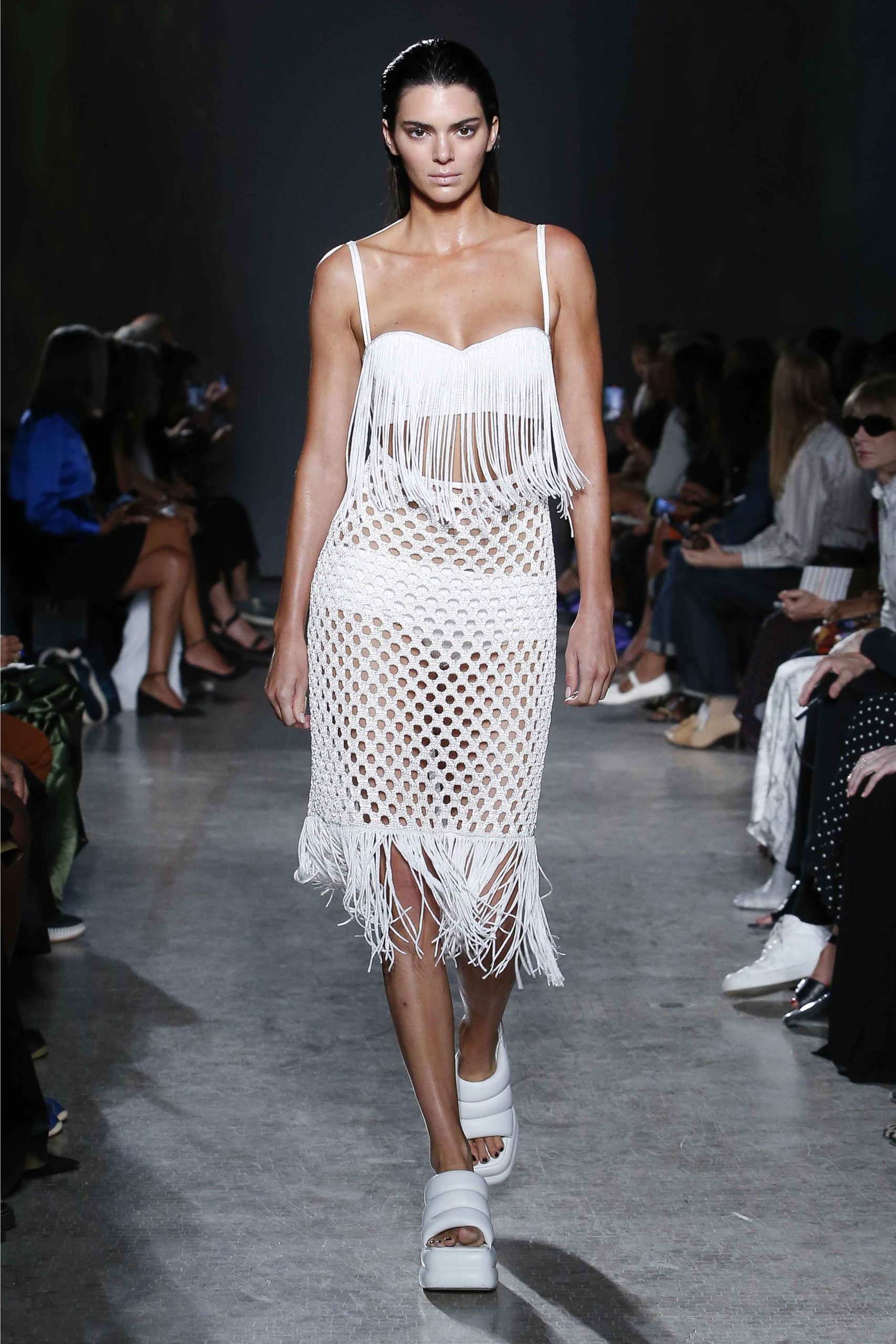 They put together a hot caramba of a show. It rocked back and forth between haughty sophistication and playful sexuality.
It was sophisticated in its restrained palette of black and white, and rich fabrications like leather all of which they used to great effect in languid dresses and tailored coats and jackets.
They looked back at some of their favorite hits and remodeled them for 2023. Sleeves piped in contrasting fabrics and corset-style bodices are back.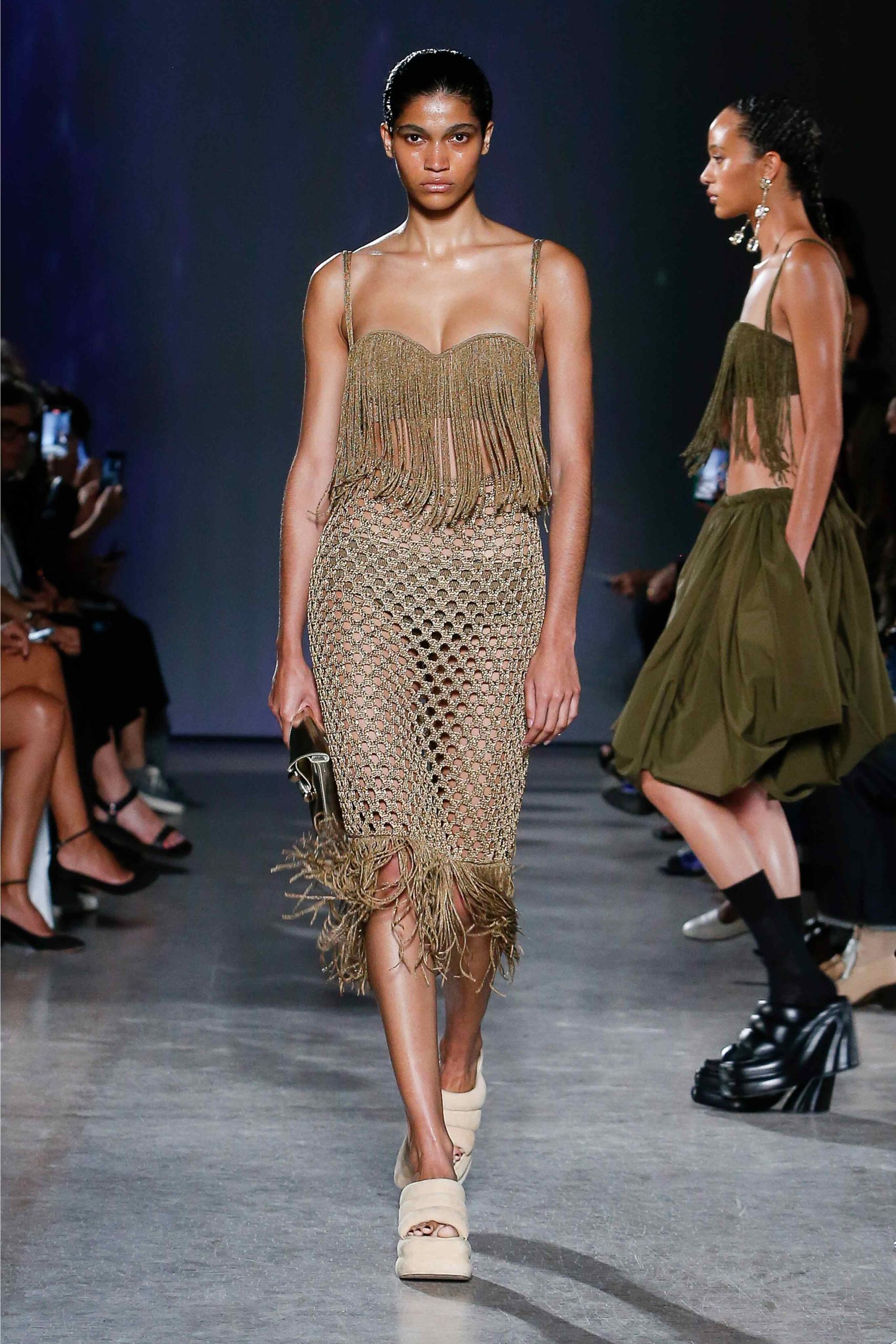 Two ideas centered the collection. The first was a synthesis of Latin and Anglo inspirations. "We've never really dove into my cultural history," said Hernandez after the show. "And my Dad's getting old and he's writing poetry and it's beautiful." Hernandez was born in Miami to parents who came to America from Cuba. He's visited the country "millions of times", he said.
Dresses that hugged dangerous curves and then flipped into a flirty end brought to mind legendary Cuban singer Celia Cruz and flamenco dancers. Sleeves and hems had indecent amounts of ruffles. A crochet dress was handmade by artisans in Bolivia, weaving the metal into the yarn for a shimmering effect.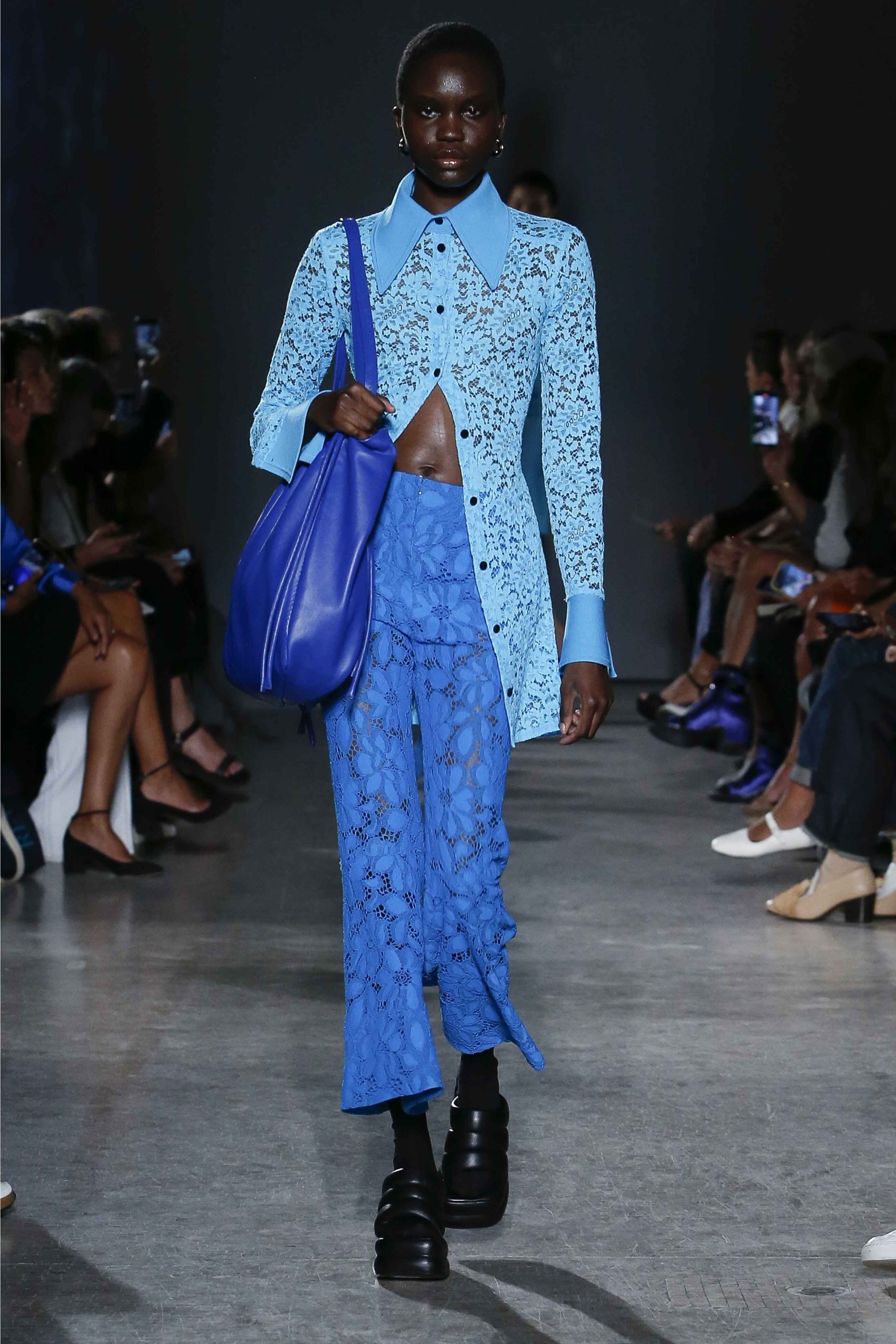 A white coat was dotted with tiny chains that hang loose, the designers playing with the concept of "falling water" they said. Before the first model walked down the runway, a video projected onto the walls of the room simulated a rushing waterfall falling to the ground.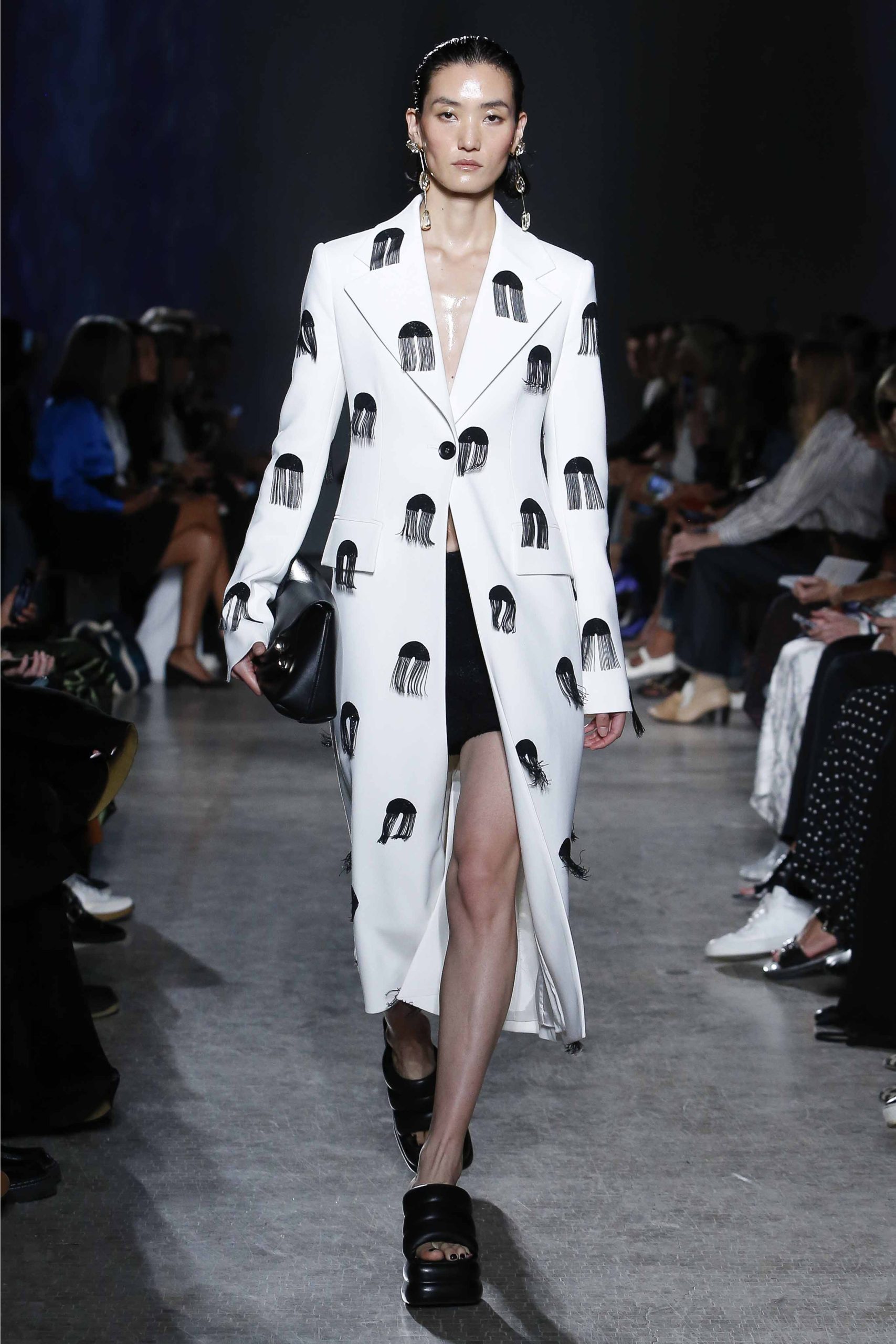 Camilla Nickerson's styling with Guido Palau and Diane Kendal on hair and make-up respectively, worked their magic. Nickerson's signature sock-in-sandal look was updated in the towering platform mules models strode along in.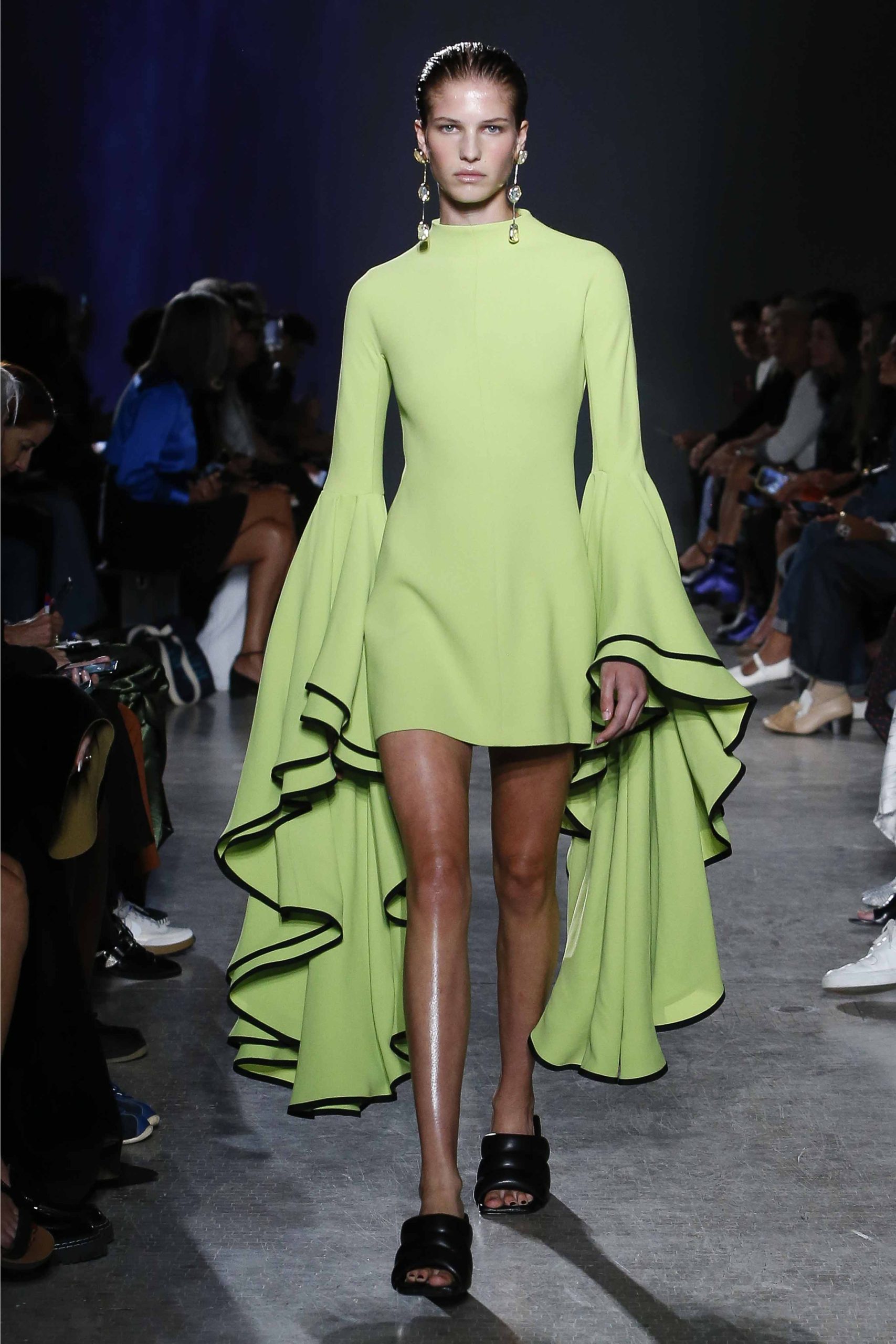 Something with energy, with sensuality. That's something that's hard to find these days. We're looking for it.
Nothing was meant to be too serious. Shades of greens, yellow and blues punched up the mirth. "We wanted something that felt joyous," said McCollough. "Something with energy, with sensuality. That's something that's hard to find these days. We're looking for it."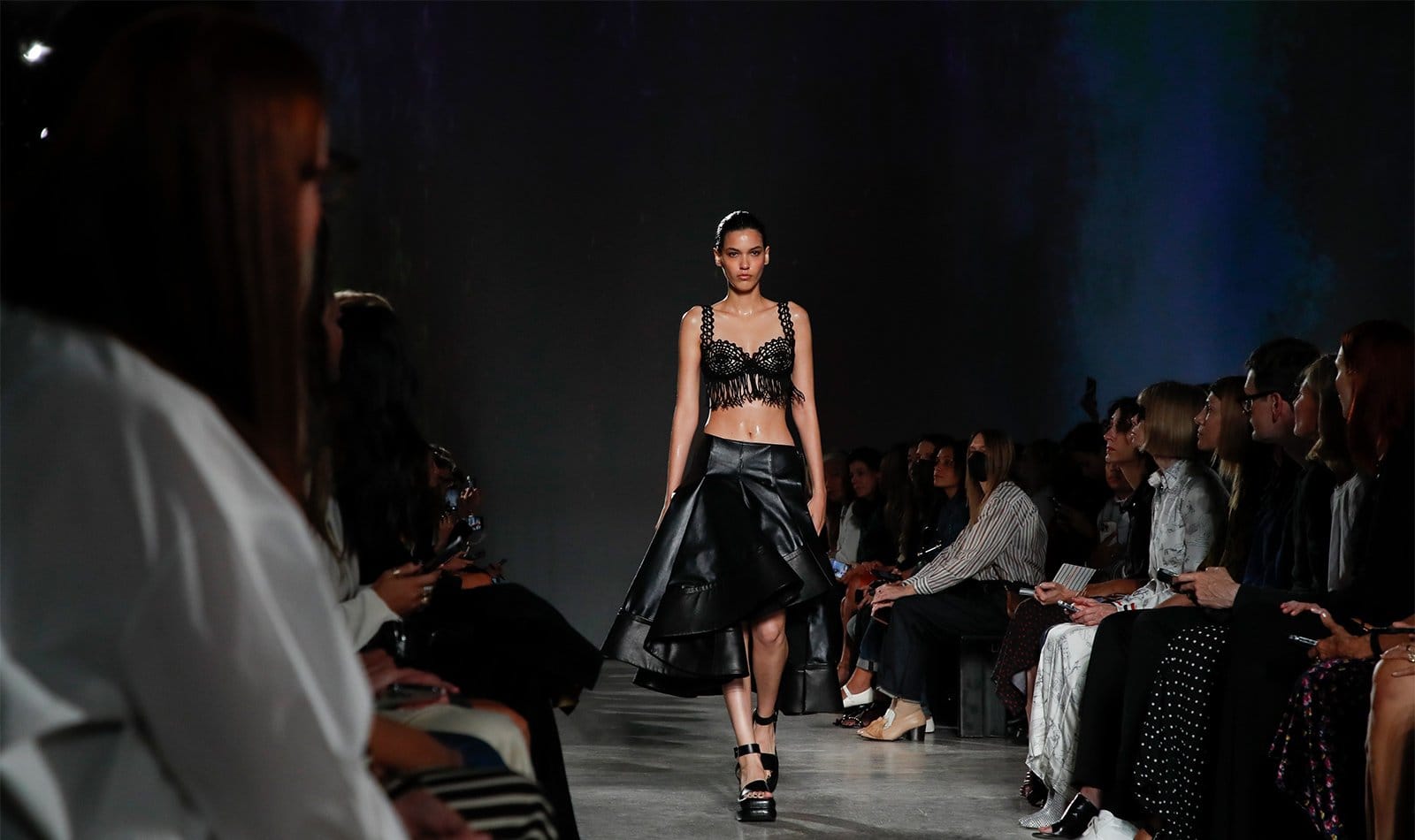 On a long trip to Europe last summer, they began feeling the need to make a statement about letting loose. "It feels good to have fun again," said Hernandez. "Seeing friends, having a drink, falling in love. That's what it really is about. Celebrating people and cultures and genders. All of it."
---