---
Review of Thom Browne Fall 2021 Fashion Show
In Thom Browne's Dreams, Anything (Fashion) is Possible On or Off the Snow
By Long Nguyen
Thom Browne is a master storyteller since the very beginning.
The New York-based American designer can virtually conjure any fantastical setting and create situations where his clothes can take on heroic dimensions beyond the limited realm of the physical runway show itself.
I remembered some of his first shows in New York in the mid-2000s with far fewer budgets then, but they were equally compelling in how Browne staged his clothes. For one show in the New York winter, he had his models wearing ice skate to physically skating around a made-up rink at an art gallery in the far west side, now called Hudson Yards, for the fall 2006 show. There was a tennis match, a surfing contest, and even a circus-themed show. These shows were way before his move to Paris, where the designer found even fertile ground for his fantastic narratives each season.
Browne produced a black and white short digital film starring Lindsay Vonn, the Olympic skier, in a dream sequence where she rode downhill with the models wearing the fall clothes standing along the snow-covered slopes as a stand-in for poles forming an array of gates guiding the skier downhill. The skier shed her gold tailcoat gown with drawstrings as she left one dreamscape onto another in her tuxedo jacket-coat.
"Down the mountain at terrific speed.
Met by a celebration of eveningwear, carving a fresh white canvas … a tuxedo dream.
But then another guide, another nod …
Guide ten, eleven, twelve …
An inspiration of athleticism, the joy of competition.
A story told in black tie.
Guide fifteen and sixteenth frame ending
A gesture of home …" read the poem Browne sent to describe this dream journey realized in the film with filmmaker Carissa Gallo.
These are no ordinary pole gatekeepers or guides either.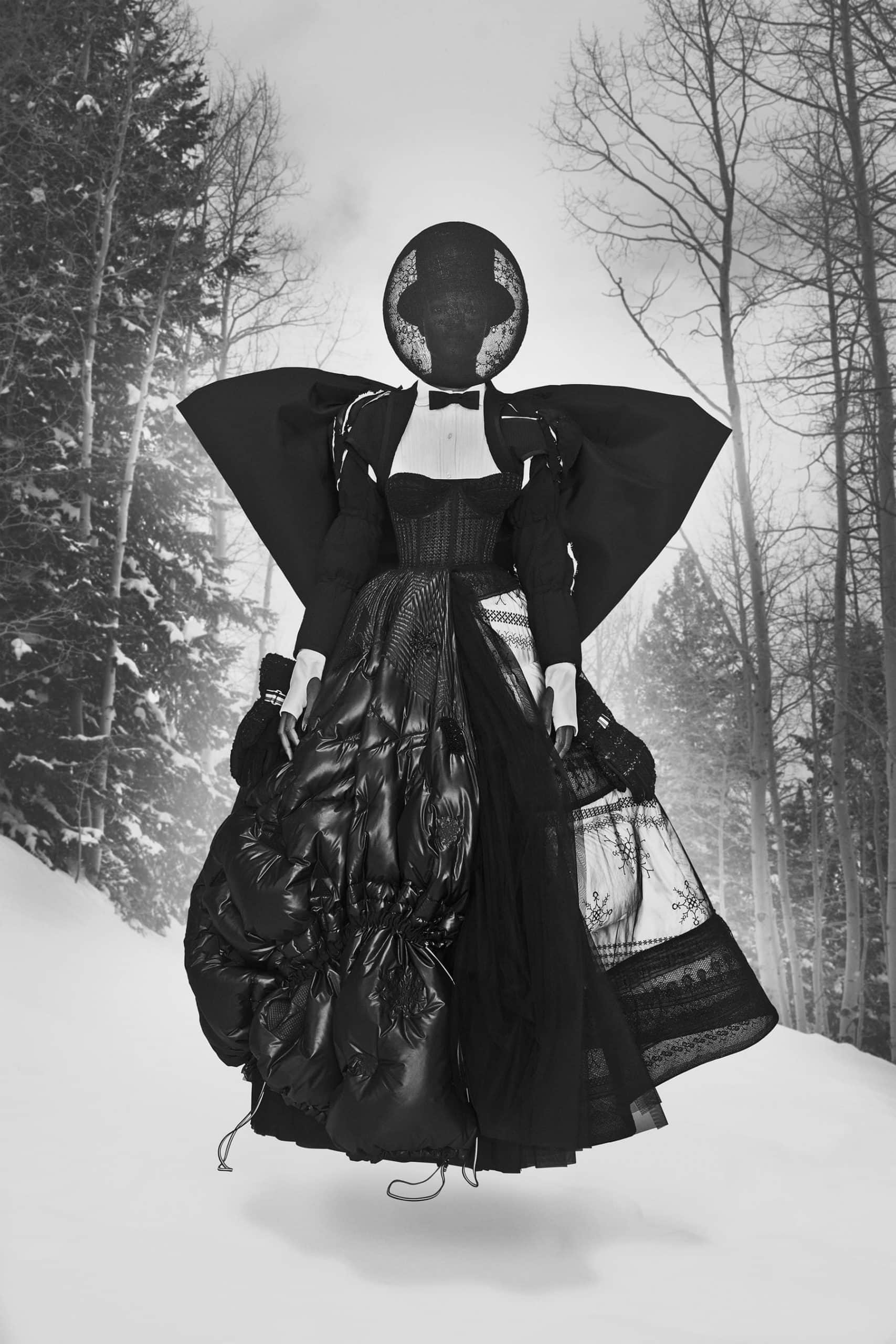 Vonn's first encounter wore a cashmere seersucker coat with silk bow-like wings and exposed shoulders with a trompe l'oeil deconstructed knit corset dress and down-filled and quilted toile skirt and a white tuxedo shirt. Then it was a male model behind a circular sheer face shield in a down fill tuxedo cape in oversized chesterfield cashmere with a twill jacket and black skirt. The model also wore leather buckle ski boots with curved heels. Sadly, these descriptions do not do justice to these physical clothes, grand and ambitious in their design, and elaborate in their construction and fabrication.
New this season is the sleeveless cropped sports coat that resembles more of a bolero than a full-fledge single breast jacket, either with beaded exposed shoulder pads or as a half jacket paired with a draped smoking classic shirt with pleats enlarged sleeves. This shortened jacket is also cut as a cropped sport coat again with exposed should pads in black tweed with embroidered city patches, the kinds of patches issued for ski lifts users.
However, these cropped 'jackets' also served to expose and elongate the body's midsection just below the chest. Perhaps Browne intended this visual effect as a pinpoint to a new erogenous zone. The black wool embroidered down-filled tailored shrug with drawcord sleeves worn with a white strapless corset dress with the corset's bones exposed against the black corset skirt with top unbuttoned rivets, or on the double breast mohair cropped jacket and the white with black satin binding waist corset serve to illustrate and to focus on this midsection of the body.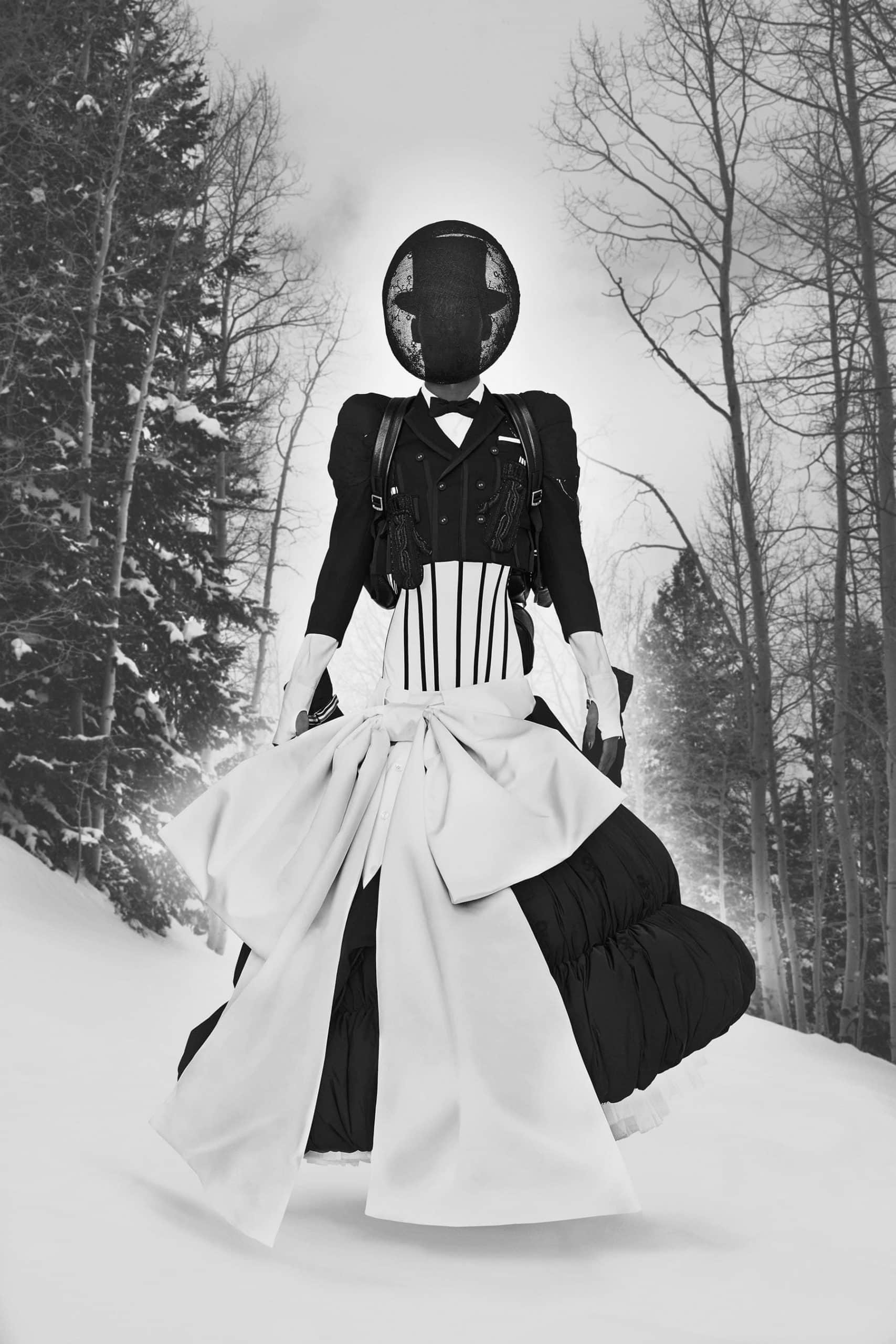 The clothes span eras, not in different forms but also in traditional and technical fabrics combined on a single garment.
Sports, formal wear, late nineteenth and twenty-first centuries find tangency in each of these falls looks for men and women like the finale guide wearing a cropped jacket, a white shirt with balloon sleeves, and a drawcord corset dress made of down, three-ply mohair wool, lace, and tweed.
These gowns-coats-jackets display the merger of couture techniques of intricate constructions with the precision of men's tailoring in seamless ways. The puffiness of the large sleeves white shirts lent an inkling of lightness.
The goal is to re-orientate the audience's view of fashion.
There hasn't been anything so trivial as gendered clothing at Thom Browne in a very long time. That antiquated concept has been tossed out slowly but surely in the past ten collections where increasingly, it is more indistinguishable what outfits are men's or women's.
Browne twin shows for fall 2020 titled Noah's Ark last March at the École des Beaux-arts put final punctuation to that antiquated notion once and for all.
Commercial products are lovely and necessary, but even more critical are the ideas behind the products. There are plenty of commercial adaptations for these more artistic silhouettes – indeed, these cropped jackets can adapt to the classic grey light gabardine wool. Even the Hector dog bad now comes as a carry-on trolley in black pebble grain leather.
Browne mastered this concept very early on, creating scenarios while expanding the sales of his ubiquitous grey cropped fitted suits and escalating the audience receptive to his fashion sensibility.
---