---
Review of A-Cold-Wall, Diesel, Numero 00 Spring 2022 Men's Fashion Shows
As the Maestro Stakes his Turf, Diesel Regenerates
By Long Nguyen
Giorgio Armani returned to the live show, staging a solid menswear show for the Spring 2022 collection inside the courtyard of his home on via Borgonuovo. "Back to where it started" is how the brand's Instagram labels the show in its teasers.
The rest of his fourth day in Milano, digital initiatives continued along with a few in-person showroom appointments to inspect the clothes at closer range.
On this day, Diesel relaunch under the creative direction of the Belgian Glenn Martens, hoping for a new day in the sun again.
A-Cold-Wall
Over the past six years since launching his label, Samuel Ross has been conscientious at selecting the subtle elements to incorporate into the aesthetic and the message of his utilitarian 'streetwear' brand A-Cold-Wall fostering a new kind of fashion characteristic as a unique voice for a new idea of Britain through expressions of clothes.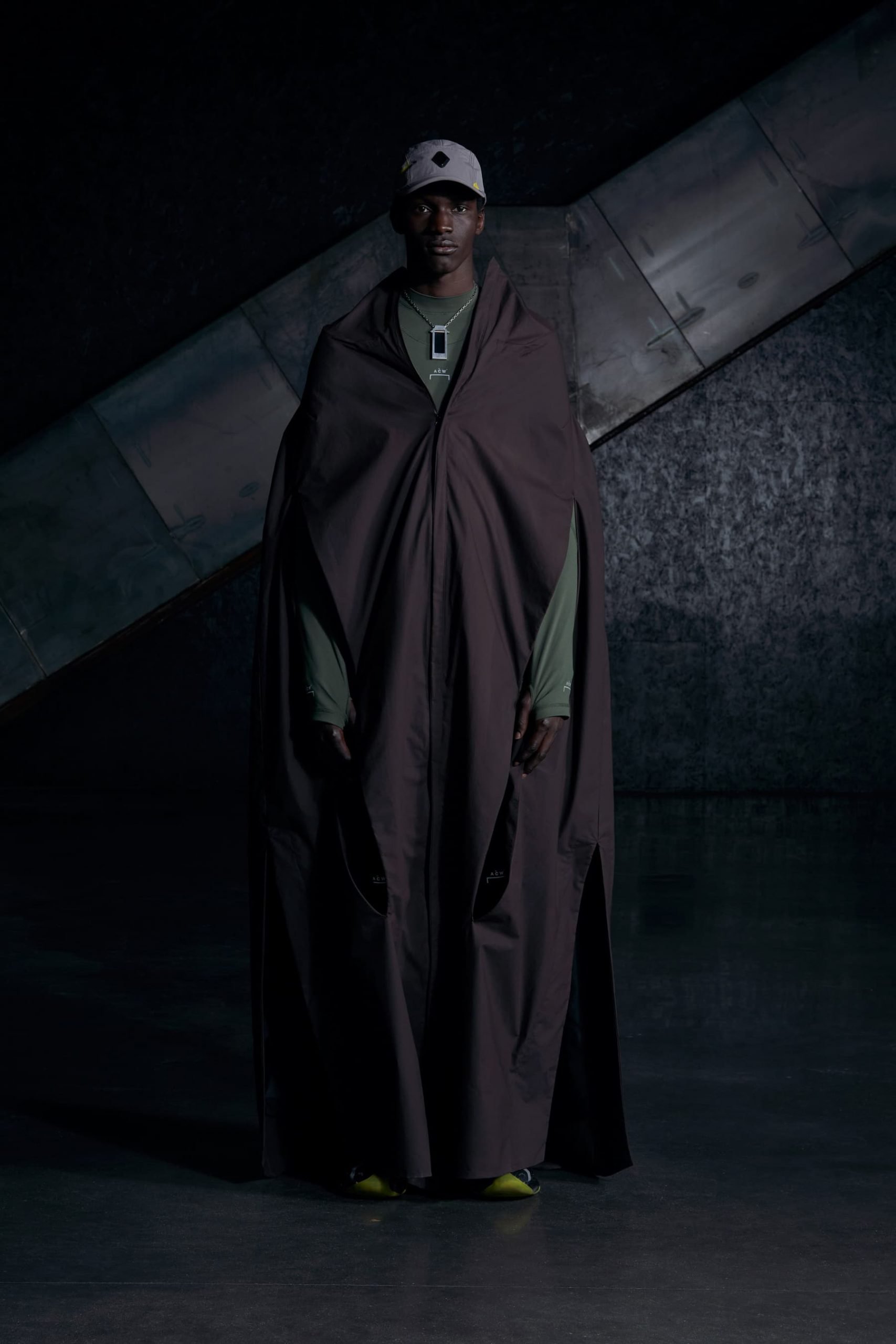 Motion, form, oscillate, and converge are the terms the brand used in its teasers on Instagram describing this new spirit for spring 2022. At the same time, lime green, light neon yellow, pale blue, milk chocolate, and bright orange add the vibrancy of colors, some in geometric patterns of the familiar range of garments that are staples of the brand.
The collection revolves around A-Cold-Wall signature technical and functional garments with a precision of industrial design ethos – chocolate ponchos and leggings; grey anorak and yellow work pants; orange hooded vest and black fitted pants; light grey cape and grey tracksuit; or cement hooded parka and matching shorts. There is even a black single breast pantsuit, one with a white brand logo on the front side.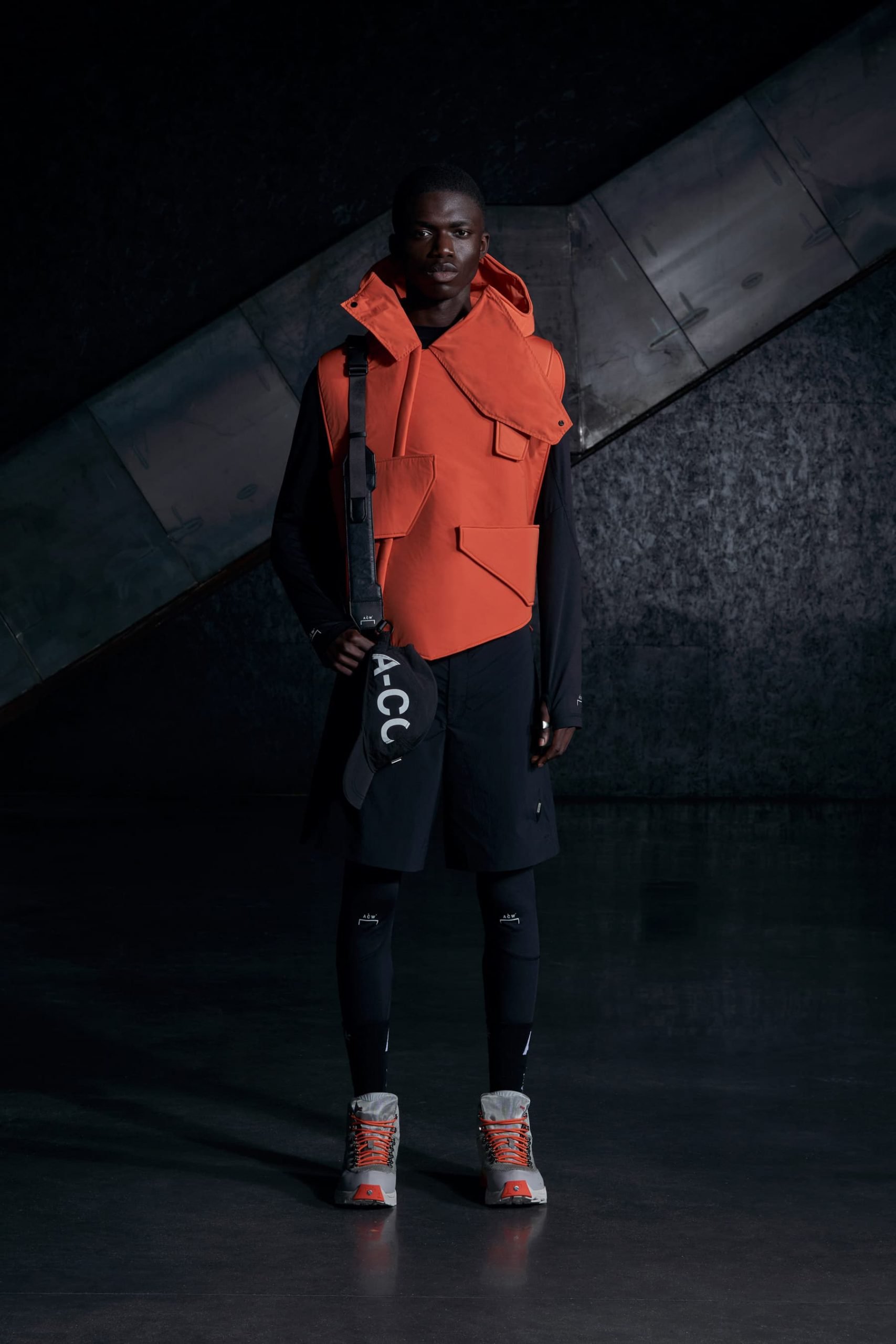 The clothes make for a perfect community of young people in the culturally post-terrace and post-redbrick kids embracing fashion as a means to stick together as the ever-expanding social groups.
On a more serious note to the idea of sustainability, the denim range is from Seitex, a manufacturer leading in minimizing water use, reconstitution denim and organic cotton, and the jersey from Lyocell that uses plant-derived yarns. Likewise, the leather crossbody or the messenger bags now made with eco-leather. For the end products, packaging will employ biodegradable and recycled cardboard, signaling a new way of conducting business to reinforce the brand's values.
Diesel
More than two decades ago, Diesel was the pioneering denim brand that dominated the market and steered the cultural mood with the power of its advertising creativity and deep pockets reach.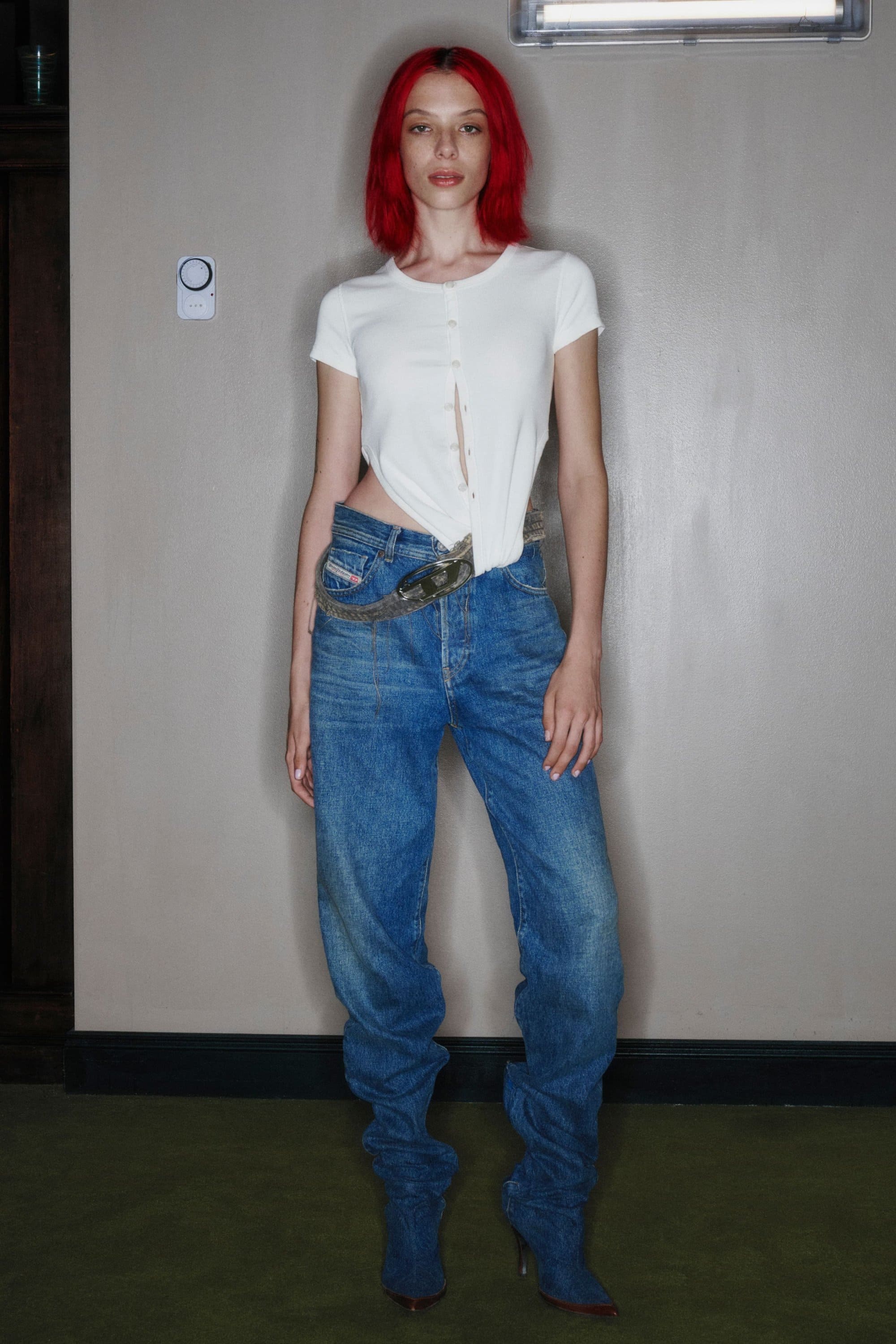 Diesel has completely fallen off the cliff in the few recent years as the high-profile hire of Nicola Formichetti fizzled out at a relatively rapid descend.
Diesel is now looking for a resurgent under the creative direction of Glenn Martens, the designer at Y/Project known for his high concept inventive detailing and distinctive design approach to revolutionize high luxury streetwear fashion.
The Belgian Paris-based designer is particularly adept at transforming his denim garments into a highly creative design by adding couture and craft elements, altering these basics into their own proper high fashion versions. On sale now at Y/Project e-commerce site is the washed V Denim jean, a v-cut front layered over a self-belt denim detachable hot shorts underneath, giving the illusion of a high waist pant with a deep v-shaped front cut.
Martens' genderless new spring collection showed in a short video filmed by the artist and director Frankie Boner with music by Vyne Hall in various locales from nightclub to office space to outdoor park to an orange studio space. It ushered in a new era at the perennial denim brand looking for a new footing and a new audience.
The film's main character – a red hair model – wore washed blue denim baggy jeans and leather belted denim heels integrated and a cut-out white tee shirt. She passed by various people in groups going from a street scene to an office building elevator after exiting the dance club.
A few people on a concrete walkway wore an acid wash long denim shirt with front ruching and skinny jeans, light tie-dyed denim shirt-jacket and loose fit jeans, and a black diamond pattern collar jacket and fitted pants. But, the idea here is to take this baggy denim as a basic and treated them with some humor. The model and her outfit represent the new Diesel basic jeans among the more fashionable offerings from Martens.
The film and the collection demonstrate Martens' versatility in adapting his technical and creative skills to a different endeavor. The designer is skillful at altering, adding, and subtracting the denim fabric that adds new surface dimensions to these heavy cotton garments.
Perfect examples are the one dangling leg zippered short skirt, a patch pocket panel skirt with front slit, or the ribbon fold asymmetrical skirt and jacket or a waist belt loop as part of a denim shirt. In addition, there are trompe d'oeil black argyle pattern denim pantsuits or faux jacket print tee shirt and denim pant print legging worn under a quilt decorated mini skirt. Finally, a white denim long coat has a light brown print to give the illusion of a cowhide coat with matching pants.
But, the tie-dyed white and blue wash double waistband jeans pants, although new in the Diesel arsenal, have been a particular hit piece at Y/Project in the last few seasons. The double waist pants come in several versions, one in two washes with a single breast denim jacket. An area of concern for Diesel is the many elements in common between Y/Project and this spring launch. Indeed, it is not Diesel's intention to become an extension of Y/Project, at least stylistically.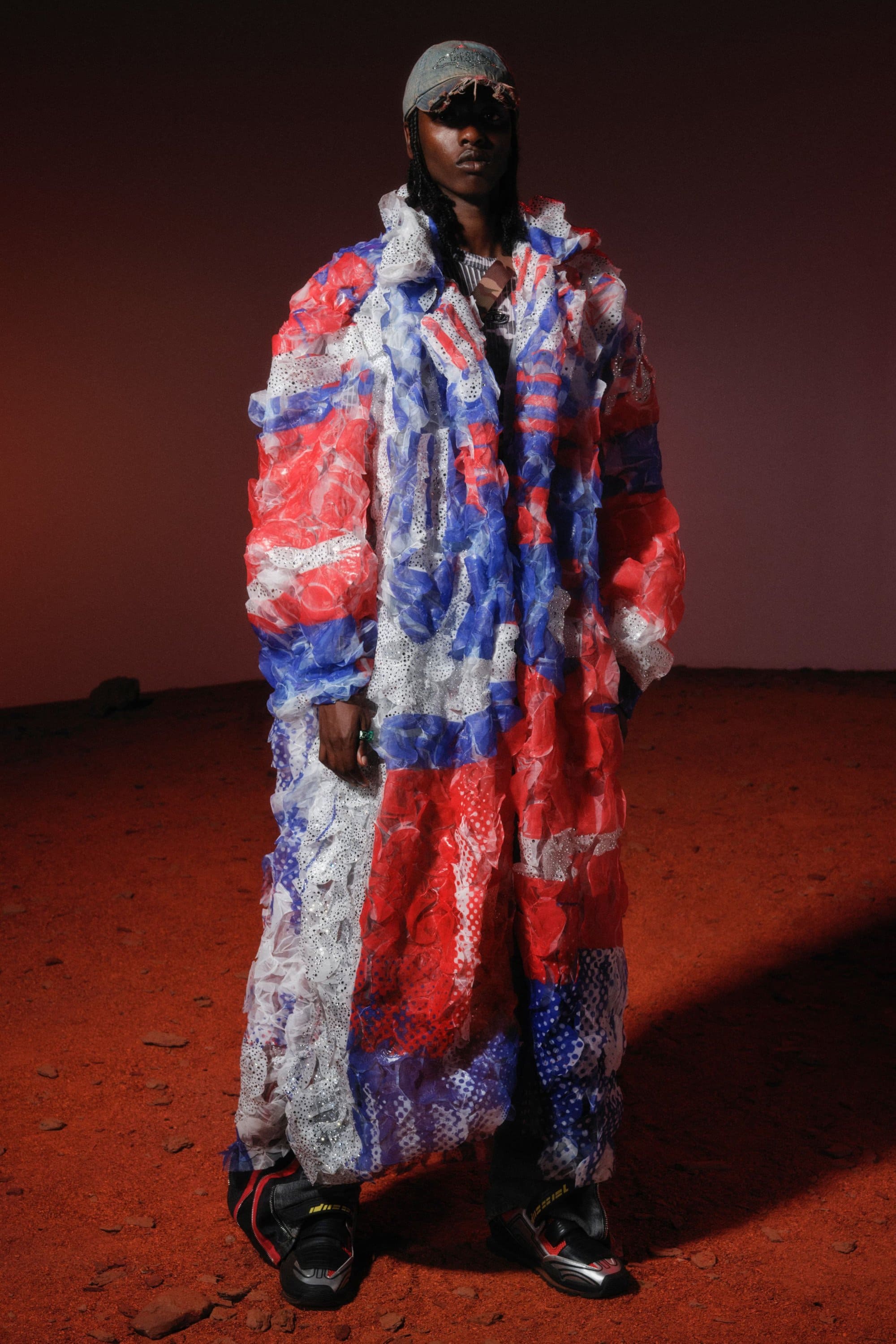 However, the 80 total looks are slightly on the side of excess rather than a more disciplined and focused collection. Perhaps, there is a rush into spreading the new Diesel message and products out there as soon as possible to establish an immediate template. But the risks here with debuting with such a massive collection is that the buzz died down fast, and there are many months before any of these garments would be in the hands of consumers who may have other things in mind in six months.
Though a good start out of the block, this debut spring collection is probably not precisely the answer to everything. What is really at stake here for Diesel is to make Martens' signature work ingrain as Diesel's aesthetic and products, not having audiences identify that jeans or this jacket as parcel Y/Project derivative.
Numero 00
Riccione, the small town on the Adriatic coast in Northeast Italy, is known as a party scene town, an Italian seaside equivalent of the rowdier iconic music locales Ibiza or even Mykonos.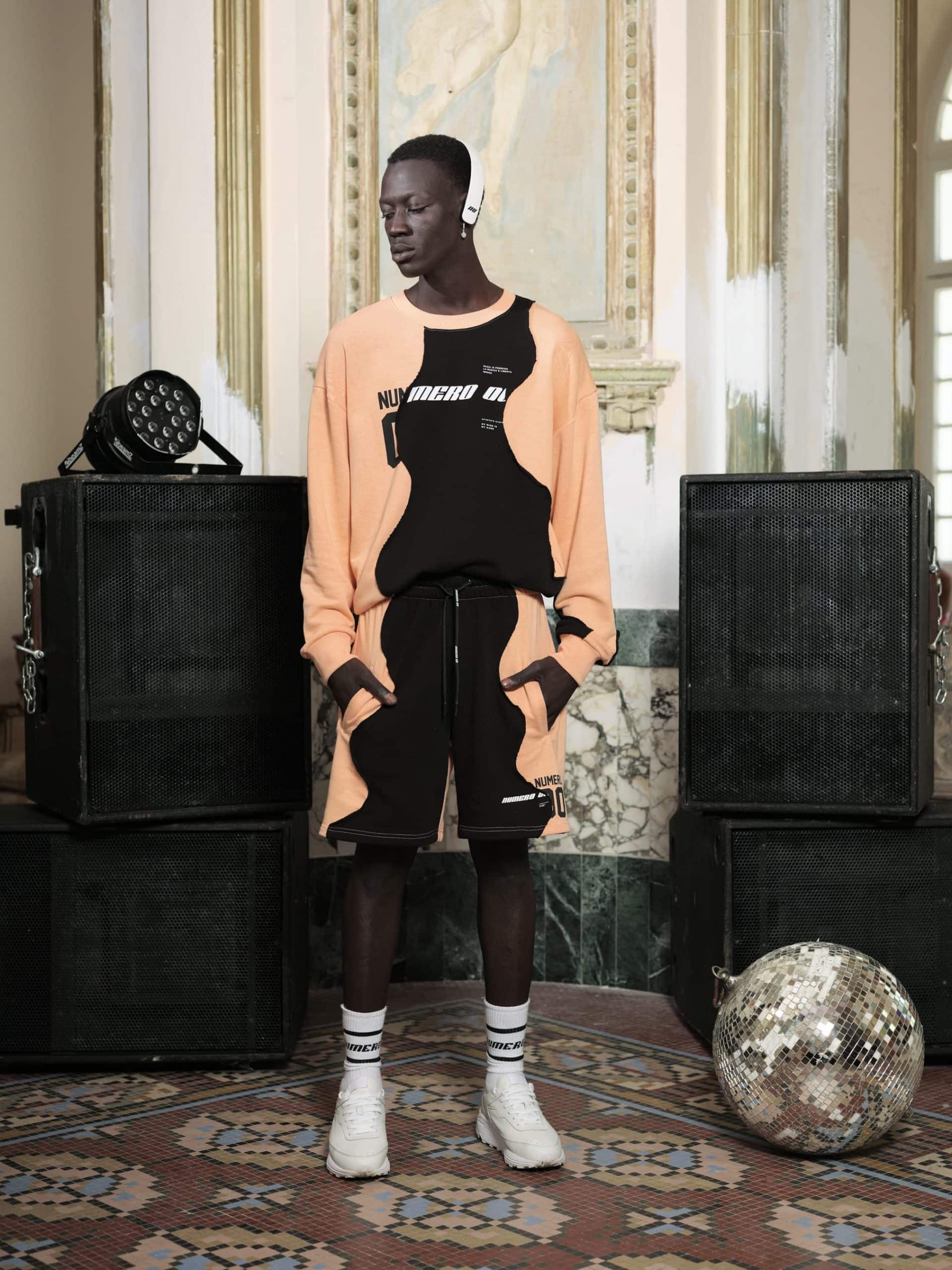 The designer, Valerio Farina, of the Rimini-based Numero 00, filmed his new collection in various parts of Riccione as a short music video titled 'Music is Freedom.' Farina wanted his street vibes spring clothes to be part of the surging revival of the party scenes later this summer. Italy and parts of Europe reopen tourism, especially important for this Romagna Riviera.
A few garments have QR codes giving the wearer direct access to music specially curated by Farina and a host of guest DJs merging this fashion with this dance music.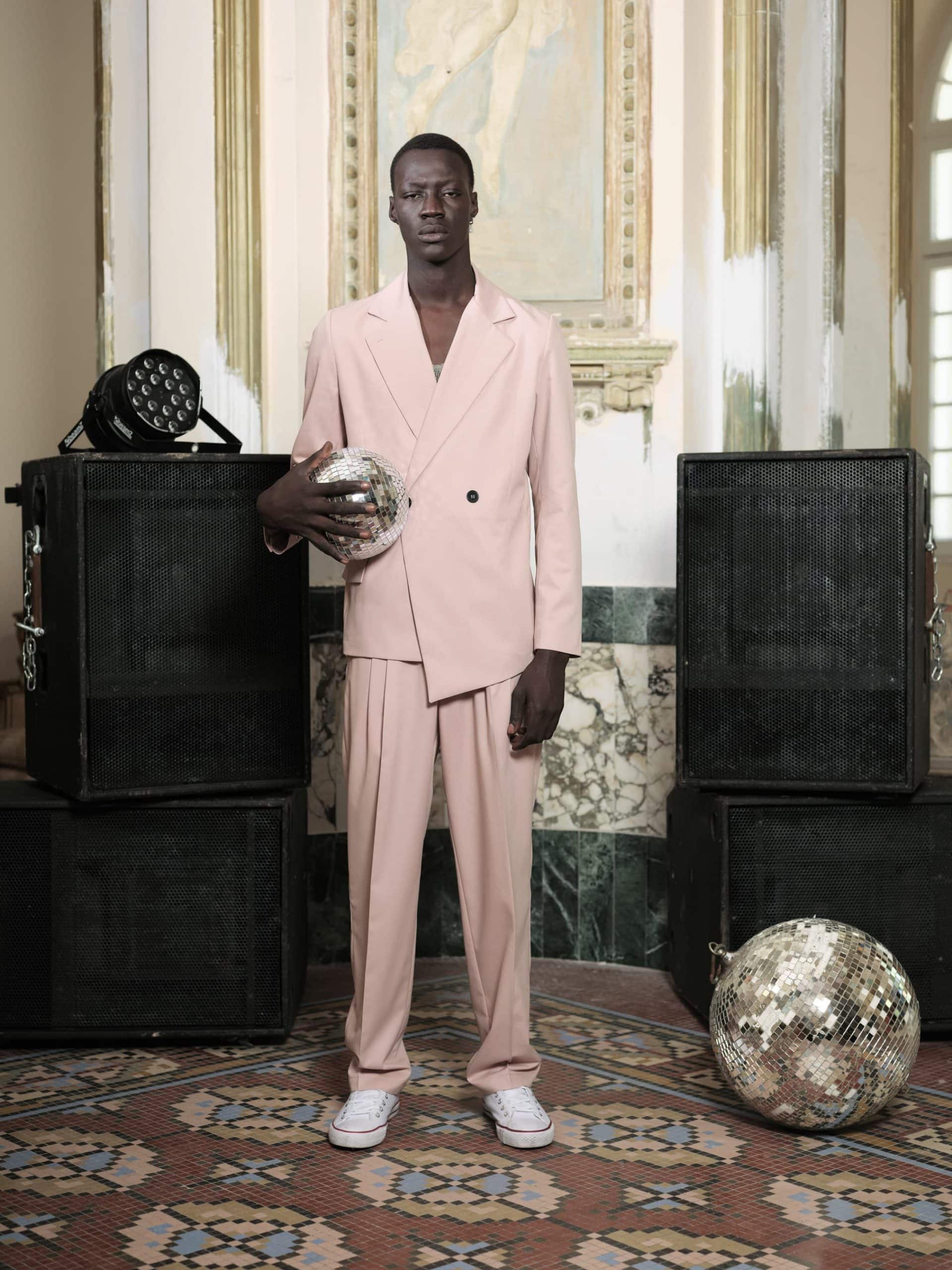 The actual clothes of the collection are mixtures of geometric and colorful shapes of streetwear basics – wide track pants with circular waves, light khaki or dark gray cameo short sleeve shirt and cargo shorts, and yellow logo sweatshirt and olive drawstring shorts. The new suits here are the v-neck short sleeve reflective stripe tee shirt and matching track pants, or in a long sleeve shirt and shorts in the same fabrics. The light pink asymmetrical jacket pantsuit is an actual tailored suit, just if the party somehow got more formal.
Otherwise, this Numero 00 should be perfect for any party outings.
---