---
For the past 25 years, Alexandre de Betak has become fashion's go-to ringmaster for creating buzz via cutting-edge shows and events. As the industry stands at the crossroads, he and a handful of others have a glimpse of what lies ahead for fashion communication. The Impression's Kenneth Richard talks with Alexandre about the changing dynamics of fashion shows, how technology will enhance the experience, and how he sees the game being played next.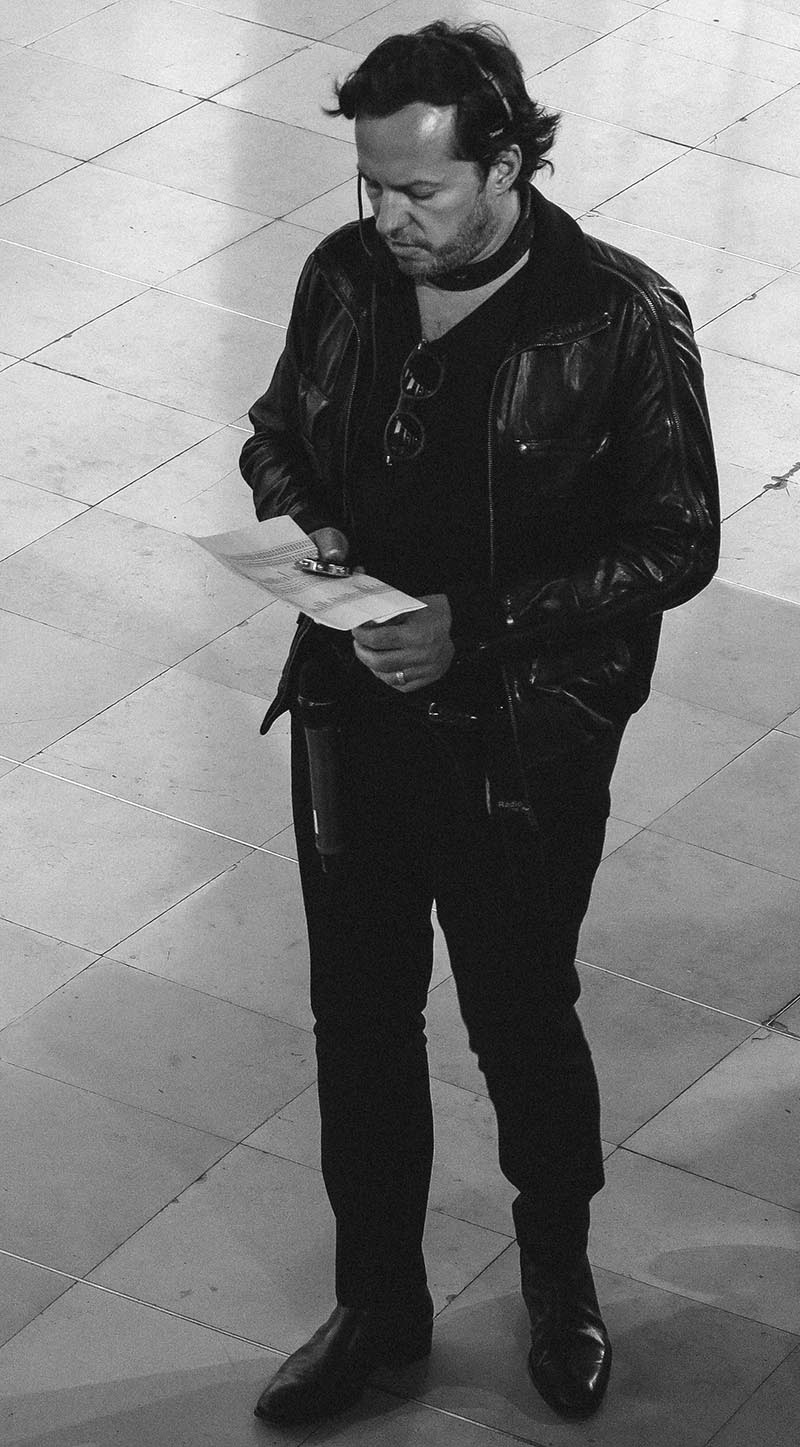 Kenneth Richard: Alex, great to catch you before this crazy show schedule, so much to talk about regarding the changing landscape of shows. But beforehand, how did you start in this business, to begin with?
Alexandre de Betak: I fell in it by chance, very, very young. I had a passion for photography, I still actually do. I studied photography quite seriously very early. I had my darkroom when I was 12. Then I started working when I was 15 for Berlitz Guides. I shot for them in the States, in Alaska.
Kenneth Richard: That's unexpected!
Alexandre de Betak: Yes, there's a guide of Alaska with my pictures in it. That's over 25 years ago. Then I started taking pictures for various trendy magazines in Paris and then in Madrid. And to make a long story short, I met a fashion designer named Sybilla at the end of the '80s.
Kenneth Richard: She was exquisite, great romantic.
Alexandre de Betak: You remember her? That's great, most people today don't know her. She was amazing. I met her when I was 16 and still in school. I loved what she did and offered to help, and she called just as I finished my bachelor at 17.
She was 20, I was 17. There were only three people at that time when it started. So we improvised to basically make an against-trend brand because at that time, the late '80s, was the beginning of Comme des Garcons and Yohji Yamamoto; and the end of the '80s was Mugler and Montana. And then you had the romantic ones, like Romeo Gigli and Sybilla. Romeo Gigli was bigger. That's how I started.
We shot pictures with Javier Vallhonrat. I took that story and started working on the image and the communication and then the first shows for a few years. I had already then opened my first company named already Bureau Betak. That's how it started. From there, we put together the store in Paris – her first store, and it was beautiful. We did an amazing opening party on March 15, 1991; I remember it like it was yesterday. It was the end of the Gulf War, and it was the first post-Gulf War party, during Paris Fashion Week. And then the following day she came to my office and said, "Alex, I think I need to stop." She got everything: the cover of Vogue, the store in Paris, the shows in Milan… " [throws his hands up]
Kenneth Richard: It's all downhill from there.
Alexandre de Betak: Exactly, the day we opened the store that she had dreamt of all her life, it was all downhill from there.
So she quit the life of flying every week to Milan for interviews, to Florence to work in the factory, to Paris, to New York, to Tokyo for the licensing. That life she was living had to stop. And it did.
And there I was in that post-Gulf War moment, having to figure out what was next. I grew up in Paris, but I was getting bored there. Most Americans and foreigners had left. That's what happens when there is a recession. Between the recession, the crisis, the war, everybody was gone. Paris became too French, which wasn't for me. So I came to New York, 25 years ago.
Kenneth Richard: Any idea what you were going to do?
Alexandre de Betak: I was really young when I moved here and I was like, "I'll start doing that." 'That' didn't even have a name. So when I opened Bureau Betak in NY, it didn't even have a properly determined function. What I do as a job today didn't actually really exist. At that time, most fashion shows were conceived by the designers themselves, like Jean-Paul Gaultier, Thierry Mugler and Yohji Yamamoto, and also in Milan. They were usually produced internally by the PR department, or externally by press offices. So that's how I started. I improvised, for lack of a better word. I was just creating a job for myself that didn't yet really exist.
Kenneth Richard: What were some of those early events?
Alexandre de Betak: I did the launch of the first Jean-Paul Gaultier fragrance, the one that came in a can with the bottle as a woman's corset. That was '94, probably. The event was a French food market in Industrias Studio on Jane Street. It was essentially like a cocktail party but instead of being just that, it was like a French food market. So you'd go to the fish stand and you would get oysters, or you would go to the cheese stand and get a beautiful sandwich. And there was RuPaul and Madonna… It was quite insane.
Soon after, I started directing fashion shows in Milan. I did the Prada shows, the launch show of Miu Miu, which happened in New York. Then I did the move of Helmut Lang's show to New York, which changed the order of the fashion weeks… That was crazy as we did the same season twice in NY because Helmut decided to be first and moved to show in New York in September ahead of Europe, and the rest of the New York designers still showed after Europe… That was the crazy year we did two different fashion weeks in New York the same season!
Kenneth Richard: How many shows do you do a season?
Alexandre de Betak: It depends on what you call a season. Between Paris, New York, London, and Milan . . . we did about 25 shows last RTW season!
Kenneth Richard: And you do some big ones in proprietary spaces. Why do you think the game has evolved that way?
Alexandre de Betak: The industry is bigger. The big brands need more space, more shows, more people at their shows. Businesses are bigger, richer and more powerful. So that demand needs more space. And then, in more space, the more elaborate the show, the more time it takes to put up and take down, so you can't share it.
Twenty years ago there were two or three shows a day in the Cour Carrée du Louvre shared spaces. For the past two years, the Louvre has been rented exclusively to Dior for the RTW shows, and we need the Cour Carrée for over one month exclusively each time, for set-up, show, and strike. So there is no possibility of sharing. We use the entire place.
The shows became larger for obvious reasons, which leads us to another topic: social media. Originally, fashion shows were strictly for clients, then also for press, then press expanded to TV, then came the internet, which already exposed the shows in real time to wider audiences, and then came social media, which expanded exposure to everyone.
It created the need for the brands to have faster, stronger, wider and more global impact.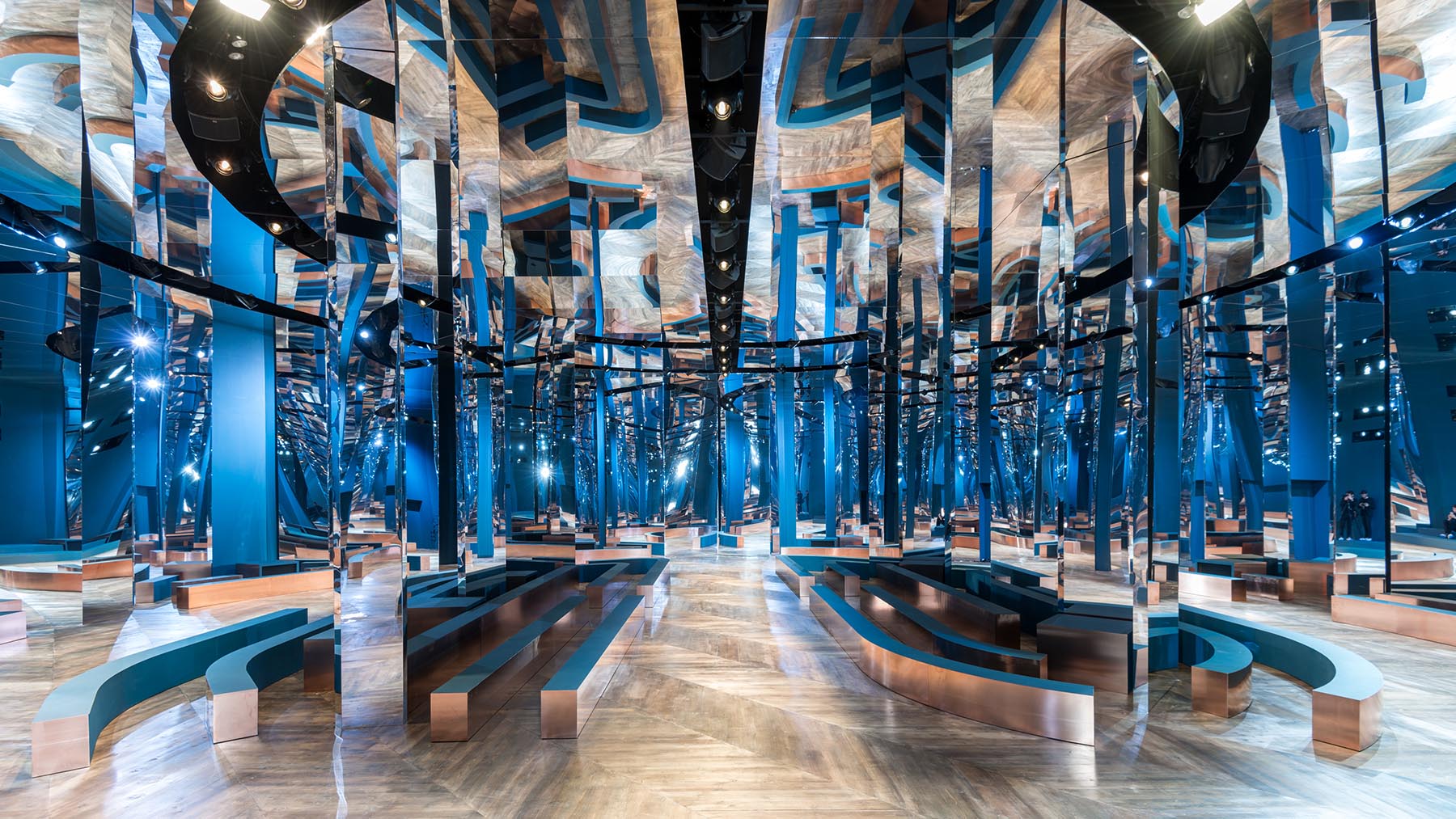 Kenneth Richard: It went from a localized trade event to a global everything event.
Alexandre de Betak: Yes, and it works, in a sense. It really works and it doesn't. Part of it works because obviously it's a way of communicating brands that have proven successful. The brand's awareness is growing bigger and better. The increase of the exposure through social media is naturally pushing the brand. Not just to be bigger, but to be better, to be different. There is hopefully more presence in quantity as well as in quality.
Kenneth Richard: Which leads us to the big conversation about the system. How the advent of technology and awareness gets in line with timing and the consumer. What is your take?
Alexandre de Betak: It's a complex thing. There is no definite answer. Of course it makes sense today for brands to show to the consumer what the consumer can buy, IF the consumer can really buy it, and if all trades align… because the consumer is looking at it. You have 500 to 1,000 people in a room, that's trade; and then you have millions who are watching at the same time, the same thing, with the same quality, at the same level of precision, something they can't buy for another six months. So it's a very fair point that if one could, one would rather show what one can buy right away. Some brands like Burberry and Moschino have already tried it in certain ways, and it seemed to have proven very successful.
If you were to generalize, New York's Fashion Week is probably the most commercial and consumer-oriented one of them all. Some brands think that it's a shame to spend all that money on press instead of on consumers. I never really agree, because I think that whatever money is spent, whatever energy and creative efforts are put into shows, is never wasted. It always goes to the consumer in one way or another.
Today, what has the biggest impact is the world of reality. Reality TV, more than any world, is, in a way, a consumer world. The world of the Kardashians represents the consumer world. And that's what's had the most impact on everything, including fashion and fashion shows. Though I don't personally share a passion for that, I recognize its power and I respect it. That power of what is attracting the general consumer is something we have to deal with, the power of reality.
I still feel that the high fashion world exists because it makes everyone dream. That is what our jobs are. I see the role of a luxury brand to make people dream beyond reality and I think that the long-term sustainability of luxury brands is the dream. The short term is the consumer access. But too much short term is going to kill the long term. Our job is to balance the non-accessibility of that dream and luxury, with accessibility.
In concrete terms, when we create a show we create… well, first of all, I like to think I never create one show. I participate in the making of a brand and I usually intend from the beginning to do it successfully and for a long time. Hopefully! I always enter it thinking, "How we can start a story? How we can design an identity, a visual identity, an emotional identity through shows, and how we can make it evolve with time?" I believe we're building a dream. There has to be emotion and dream in luxury. That's what makes the difference between a luxury brand and a more common and affordable brand, though of course major, more affordable brands also communicate like luxury brands.
Now, we are in a time that started many years ago with the help of social media, of what I call 'reality.' That in a weird way, and thanks to technology, makes a lot of people dream even more today of luxury. Social media makes everything accessible and interactive. Not only do you know the news, but you can interact with them, you can share them in the way you want. The audience obviously can share what we show them in the way they want and so on.
The good thing for brands is that there will be a mix of it all. It's about a balance. Because it's a big expense, we may take these big fashion shows to be more consumer-oriented, which may not make a big difference because they already are.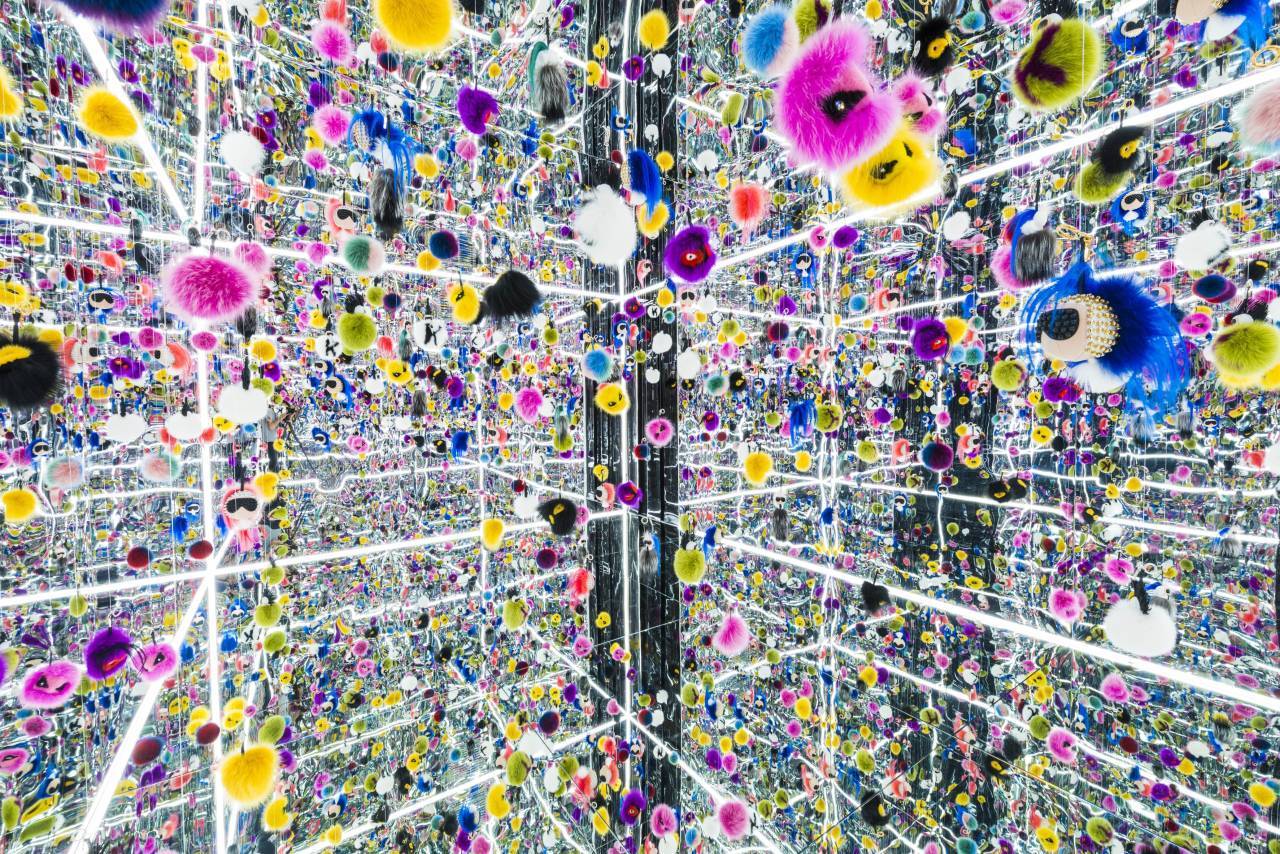 Kenneth Richard: So the show itself?
Alexandre de Betak: The show itself doesn't necessarily change. It will be where, when and for whom we show that may change. And that's where it gets interesting, though complicated for the designers.
Kenneth Richard: Do they somehow think it changes what they do?
Alexandre de Betak: When your role is to contribute to the making of a brand and the definition of that brand, you need to do the same job.
Kenneth Richard: I don't think you should alter the way the brand is or the way you present it because of whom you present it to. The shows were about presenting to trade and press for them to translate to consumers. We will still do that, even though we're doing it directly for the consumers.
Alexandre de Betak: What's interesting is that for those 2,000 people who travel four times a year to the major four cities, they always have to be there because they need a faster, better look. But now, you can almost get the faster, better look even if you're not there. Technology is growing so rapidly that very soon you could have the full experience of a live event even if you aren't there. It won't be 100% the same as sitting in the front row, but it will be close.
We're already technologically able to show you the show better than if you are sitting in the second or third row, because we can do live 360° cameras. We do 360° already to post on YouTube. You're probably soon be able to see 360° on Instagram or whatever social media you choose. We're actually working on that. We can technologically even give you access to cameras that you choose yourself, and even zoom in and out or look at the audience, if you prefer, instead of the models. You could do whatever you want, soon.
Of course it adds to the overall impression if you are there in person, but do these 2,000 people really all need to be away from their desks four times a year for a month? The economics don't really make sense any more. When the economy is at its best, it's fine, but every time there is a recession, there are less people traveling, there are less people moving, it makes no sense.
Then if you don't anymore really need to have that group of people all together live in one space in New York, Paris, Milan, or London, then maybe you can change the when, you can change the where, and you can go off the main cities, for the sole purpose of the message, for the purpose of the creative, for the purpose of the content.
Kenneth Richard: So you could do the shows more like what has been happening with resort season, anywhere?
Alexandre de Betak: Yes, you could go anywhere that you've been dreaming of going to.
We've been dreaming, myself and others who do the same thing that I do: the designers and all the creatives involved in fashion shows, about going somewhere else. We've been struggling for the past 10 years to find new venues in New York, in Paris, in London and Milan.
Kenneth Richard: Imagine if tomorrow we can start going to the desert, or to any amazing place in the world, which we started doing a little bit with Cruise and Pre-Fall. It would be amazing. You need live energy in the room when you do live shows. But that live energy can come from consumers or a selected amount of people that translates better live on social media.
Alexandre de Betak: So instead of 2,000 of the usual suspects at fashion shows, there will be shows with a few of these people only and many others who have never been to a show and who may be more enthusiastic about it. They could be consumers or whatever you want to call them, guests. It's almost like doing a film because it's recorded live anyway on a device for the web, Instagram or whatever social media will come.
The when is another big issue, obviously. The when will be trickier. I believe that there would be a bit of both. You'd still have the need to show to trade early, but maybe in a very small manner. You try to make it very private. The brands complain that fast retailers copy and all that stuff anyway. And that may never change, due to cameras in everyone's hands. It's the way the world is. Even if we do a show for ten people, you'll still take pictures if you want and show them.
What may make sense is for some to show to trade early, in a very small fashion, spending much less and keeping the big expenditure for the public, consumer-oriented image of the brand. Maybe they'll do both. At least for the transition period, that's until the day – that's another topic which is a bit outside of my realm, but, there is likely a moment where technology will help the production of the clothes themselves in a way that they could be produced quicker…
That could mean that designers just show to the press and control the distribution. If brands were only selling their own line and they promote themselves directly to consumers through social media – that's what some are looking to do anyway – they probably could show and pre-produce and be ready to deliver very quickly. That may happen as well very soon. On a very small scale, that's what a few are doing today.
Right now I'm very excited by the fact that after so many years of doing the same thing and essentially using media in the same way for the same people, that we are growing it to be better. I'm looking deeply into putting a lot more technology into our shows so we can actually use technology and social media together better for all the people who don't come to the shows, and start proving to some that they maybe don't need to come.
Kenneth Richard: And like a sports match, perhaps a better experience through technology?
Alexandre de Betak: Yes. We've been playing a lot with 3D, with 360°, with live activated cams, with all those different technologies. We started with a few brands like Christian Dior, who could go show in crazy places around the world because they felt they can create an amazing experience via technology.
I think there will now be more options, less generalities and more exceptions. So if everybody moves towards the consumer show trend, there will still be the opposite of that. There will still be smaller shows, shows with no cameras, shows at a different time. I think it will open up to more possibilities, which is what excites me. I think it's about time to reinvent it all anyways. There have always been people doing it on the side, like what we said before, we did it for Helmut when he decided to show earlier in a different place, and Azzedine Alaïa did it all his life.
Kenneth Richard: When he was ready.
Alexandre de Betak: When he was ready. He's great. I was always surprised that no one else did that. In fact, he remains today the only one who showed what he wants, when he wants, when he's ready.
Kenneth Richard: It sounds like you and the industry are ready for some change.
Alexandre de Betak: Yes, and for us, in terms of creating images, creating amazing moments and helping create brands, we'll hopefully end up going wherever, whenever, to do whatever. And change the formats as long as they make sense.
Kenneth Richard: Thank you, Alex. Good luck this show season and here's to seeing you wherever and whenever.
Alexandre de Betak: Thanks, Kenneth.
---