Balmain Kicks Off Miami Art Week With A Contemporary Art Installation From Art Pioneer Saype
In partnership with two of the house's longtime partners, (RED) and Live Nation through its integrated Brand Entertainment agency Spotlite, Balmain plans to kick off Miami's upcoming Art Week with an ephemeral contemporary art installation from Saype, the French-Swiss art pioneer known for his one-of-a-kind creations that manage to meld street and land art together, provoking wonder, discussion and thought, before the works eventually fade away.
An environmental and social activist, Saype has created eco-friendly temporary installations atop large expanses of grass, snow and sand, all across the world, relying on 100% biodegradable materials. In Miami, Saype's work will be created on the expansive Atlantic beach, located just outside the Balmain Pavilion, at the southeast side of the Scope Art Fair's atrium. Live Nation, which has partnered with Balmain on several events, represents Saype and was instrumental in making this collaboration possible.
Over the past couple of years, Saype's work has excited those of us on the lookout for new ideas and voices in the art world," noted Balmain Creative Director Olivier Rousteing. "And, once you've been introduced to some of the artwork that he's been dreaming up over the past few years, it's impossible to not be impressed. For example, two years ago, he created "Beyond Walls," an enormous land-art painting on Paris' famous Champs De Mars, directly below the Eiffel Tower—and the beauty of that piece really hit me hard. It was such a stirring and impressive call to all of us, with Saype using his art to awaken our consciousness —by reminding us of the all-too-often deaths and too many tragedies, as desperate migrants attempt to cross the Mediterranean Sea. Ever since I saw that work, I've been hoping for an opportunity to work with Saype on something special, something that might be just as inspiring. I'm so happy that we get to finally do that, during Miami's Art Week."
"Like Olivier, I use a medium to speak to as many people as possible and convey emotions and messages," notes Saype. "Fashion and art are universal languages, and they allow us to overcome language barriers to speak to people's hearts. In addition, Olivier Rousteing has this charisma and this determination that inspires admiration. I have the same drive to inspire people, to push for change and questioning, to push my limits and inspire people."
To premiere Saype's creation on December 1st and mark World AIDS Day, Balmain will host an event in support of (RED) at the Balmain Pavilion. The event will highlight offerings from Chivas and Perrier Jouet, and bring together innovative artists, influencers and art lovers, to celebrate art and new ideas, and to help spread (RED)'s hope-filled and empowering message that ending AIDS and COVID are possible with the right and just action. "(RED) and Balmain have partnered for a number of years in the fight to end AIDS, and today, we proudly stand together to fight both AIDS and the continued threat of COVID where it is most urgently needed" said Jennifer Lotito, (RED)'s President & Chief Operating Officer. "This World AIDS Day, we are honored to join forces with Balmain and their collaboration with renowned artist & visionary, Saype, in the unveiling of his latest installation during Miami Art Week."
Balmain has a long partnership with (RED), the organization founded by Bono and Bobby Shriver in 2006 to rally people and businesses to help end AIDS. As COVID continues to have a devastating impact in the world's most vulnerable communities, including people living with HIV, (RED) is now fighting two pandemics at once. To date, (RED) has raised nearly $700 million for the Global Fund to support the fight against global health emergencies, including $23 million for the Global Fund COVID-19 Response since the start of the pandemic. Saype's new Miami artwork builds upon the urgency of the fight against these two pandemics.
Mohamed Hamad, the New York-raised, Paris-based DJ better known as DJ mOma of Everyday People, will be overseeing the music mix, bringing his signature blend of international pop, afrobeats, disco, R&B and dancehall to this special evening. Prior to the event, Balmain will be helping raise funds to support (RED) by dedicating a percentage of all sales made on November 29th at the Balmain Bal Harbour Boutique to go directly to the Global Fund.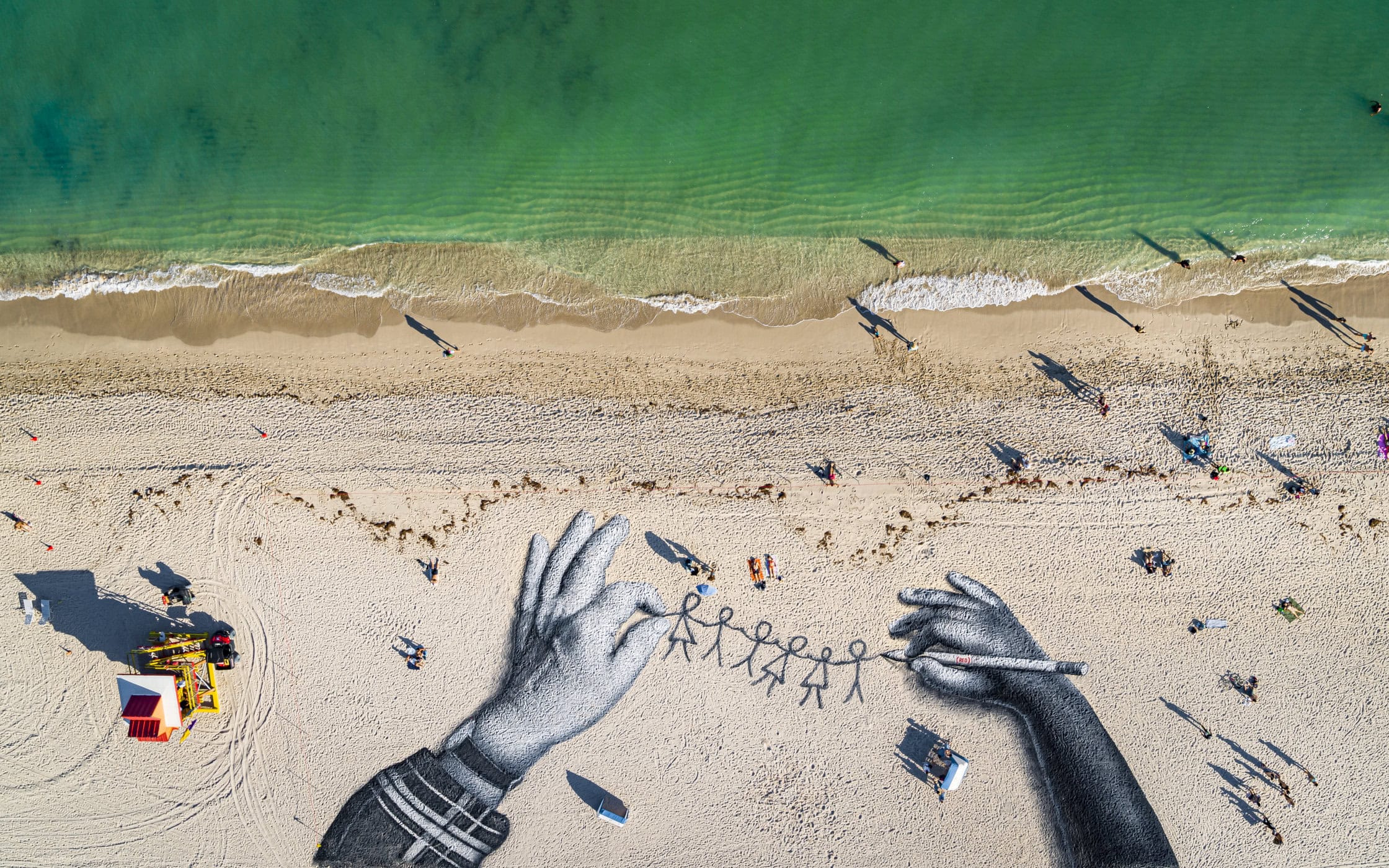 ---