---
Review of Charles De Vilmorin, Viktor & Rolf, RVDK Ronald van der Kemp Spring 2021 Haute Couture Fashion Show
By Long Nguyen
On this third day of the Paris haute couture spring 2021 season, the long-awaited debut couture and women show for Kim Jones, the new artistic director at Fendi, his Fendi Couture show at Palais Brongiart in a live stream format as the French government forbids gatherings in the face of worsening health situations.
Jones's debut was a disappointment on many fronts, one of which is to deliver a clear vision about what he imagines Fendi couture, and perhaps, even an inkling of his idea for Fendi's womenswear. None of that transpired in a huge budget show that was very thin on the fashion.
Elsewhere the day saw the first presentation by the 24 years old French designer Charles de Vilmorin who did 12 looks with his already signature grand silhouette hand-painted clothes in his just-year-old brand.
It's a breath of fresh air to see such a young designer so committed to the idea of his clothes. Perhaps these young kids showing in this haute couture season will soon become fashion leaders in their own right.
CHARLES DE VILMORIN
"I started to think about hand-painting the garments and clothing myself, giving a more artisanal look to the clothes. I yearned for something that felt more experimental, something different. Pieces are, therefore, unique," Charles de Vilmorin said of the 12 looks he managed under the second confinement that was partially lifted in mid-December to a nightly 8 PM curfew.
The short film he made in place of a planned live show opened with the scene of Vilmorin spray painting on ecru canvas in the way he did for the pattern cutters to take the painted fabrics and sown into the actual short dresses with at times severe sculptural forms. "Pieces are hand-painted before the segments are re-joined – bringing together an haute couture vision and technique that contrasts with the collection's handmade, art-and-craft aesthetic.
Vilmorin describes the clothes in this collection as a celebration of freedom – the mixture of his wild painted patterns – flowers, faces, butterflies, and nude bodies – and the resulting shapes of the dress in exaggerated and surreal volumes like a white-painted dress with giant wavy sleeves or a short dress with puff sleeves and augmented breastplates.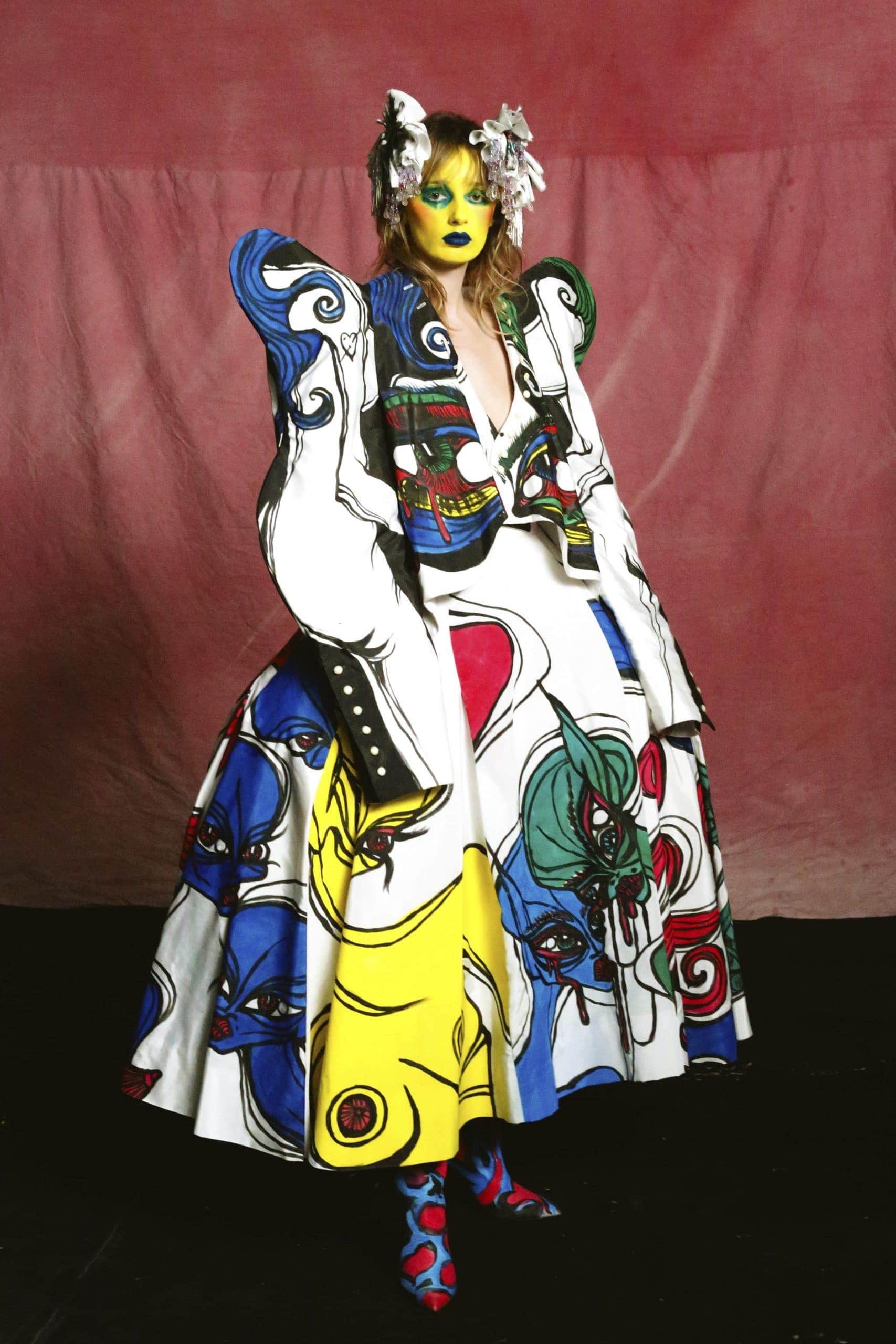 I like to find ways of going straight to the point with my message, but this time I am offering something more real, something more visceral – using primary colors to get there. This collection is about being raw and experimental.

– Charles de Vilmorin
These Vilmorin clothes are surely raw and experimental. Those are great qualities to espouse not just for couture, but for fashion in general, without which 'designer' clothes are no longer special. Hopefully, in the next seasons, Vilmorin can refine and evolve his aesthetic and continue to create the kind of clothes that are not ordinary. But with just a year under his belt, an immensely tough and exceptional year, to say the least, Vilmorin can at least sit back for just a second and at least celebrate what he has been able to do within that short time frame.
VIKTOR & ROLF
"Traditionally 'beautiful' couture references are put into a raw, young context. Haute couture meets underground party. The mood is irreverent and almost casual but always elegant: an anti-dote to doom," are the words Viktor & Rolf used to describe their new spring couture they called 'Haute Fantaisie' on their Instagram that display one of the looks – a silver embroidered bra with ice blue neck bows, a pastel color tier ruffle long skirt and one black lace glove on the model right hand.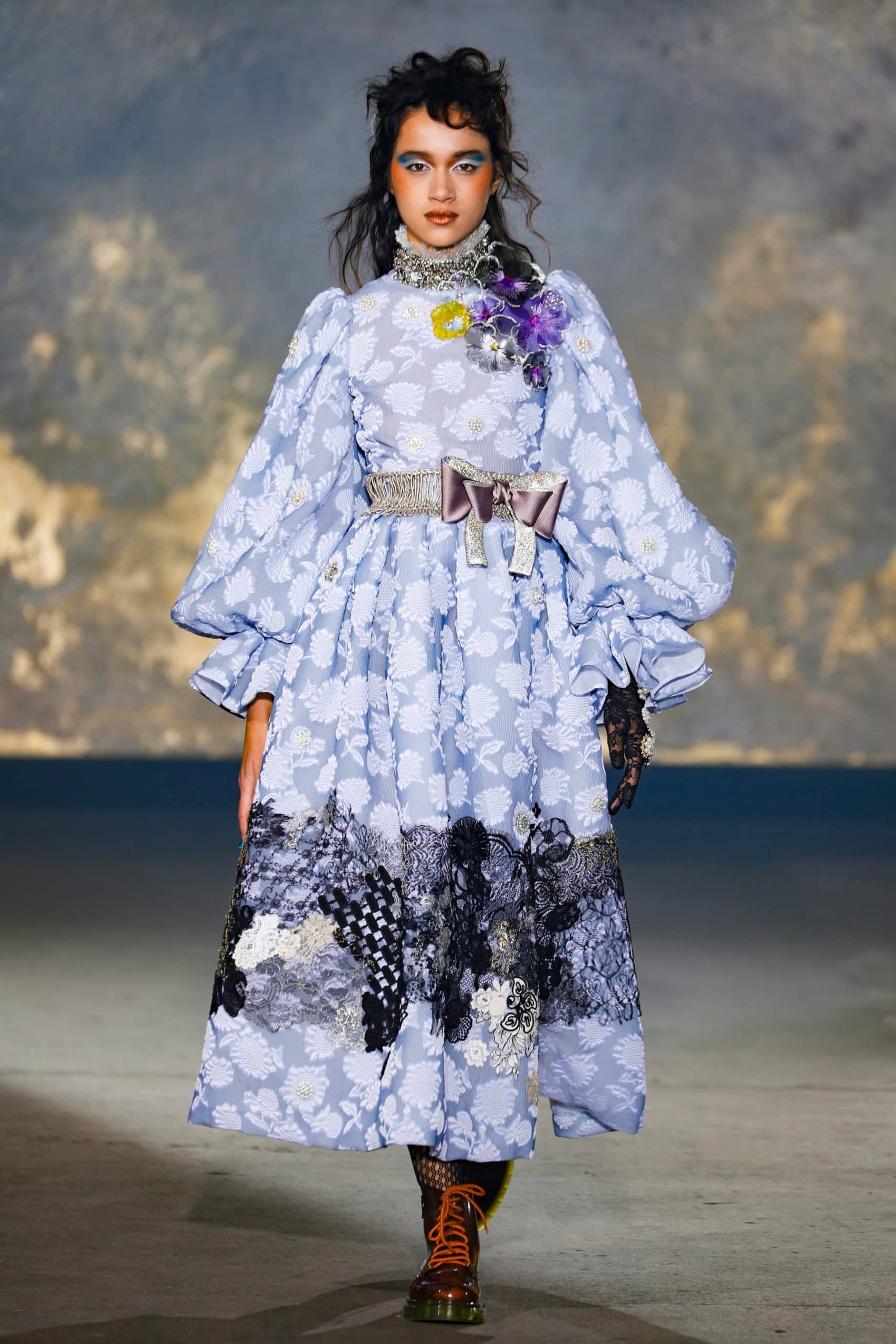 The Dutch pair – Viktor Horsting and Rolf Snoeren – presented a film live show with a smoky atmosphere shot inside an old ammunition depot used to store arms during the cold war era now an art space to showcase their new spring collection that incorporates the 1980s punk and the 1990s rave underground ethos into an inventive and twists in a collection filled with senses of humor and actually with youthful clothes made with extensive delve into upcycling materials that they had started in their couture work since their Spring 2017 collection.
The Het HEM art space, outside Amsterdam, currently hosts an exhibition by the art collective RAAAF with a permanent installation 'Still Life' – four giants heavy brass plates made from leftover bullet materials, creating a link of the material between its past, present, and future. The installation is visible in this couture film, forming a backdrop to the clothes that also interrogate the question of using materials and fabrics – here, repurposing and reusing fabrics from the past can make the garments today.
These dead stocks and discarded materials become the life of a new garment, a concept adopted by many of the young designers working in London but has yet to reach the haute couture operations where super-luxury has yet to include the value of sustainable production.
The collection revolves around the range of fancy versions of the bra, handmade with dead stock and available fabrics like a colorful patchwork cotton bra or a golden bra with different embroidered glass pieces, each worn with a silver tier ruffle skirt or light purple tulle long bubble skirt. Vintage laces, fragments of old jacquards silks, fragments of old dresses, old sweatshirts are taken apart and reconfigure into a blue sweatshirt based dress with a colorful patchwork adding to the mélange of white tulle and paillette in this new short dress.
At times, the coming together on a long dress follows no particular logic as different fragments are haphazardly combined like a long light purple base dress with strata of cotton, floral print silk, tulle, and petals. The design duo craft only two silhouettes in this collection – a bra with wide skirts and a long dress look made from the base of an oversize sweatshirt. Even the embroideries are vintage, found, and previously made and discarded – all for sustainability and some inventive and conscious clothes.
The seeming freestyle way of making a couture dress may have a dissonance look. Still, this collection is all carefully planned by this pair of conceptual designers, who always put innovative ideas forward with a little bit of humor added. This spirit is what fashion needs now, and yes, perhaps also the actual parties where these outfits can be actually worn on a real rave dance floor and not in an imaginary short film.
RVDK Ronald van der Kemp
'Behind Closed Doors' the film directed by the Dutch director based in Amsterdam for Wardrobe 13 – or RVDK Ronald van der Kemp video for his new spring couture – is a colorful portrayal of a group of people residing at the luxurious Hotel de l'Europe in Amsterdam overlooking the waters of the ring canal where the different guest comes to life at night in exquisite garments.
Since debuting in Paris in January 2015, a few months after launching RVDK in August 2014, van der Kemp's demi-couture label has gained serious traction in proposing his 'couture' as wardrobe rarity with limited editions of seasonless and timeless garments, made exclusively with existing fabrics and handcrafted in small artisanal studios around Amsterdam.
The designer is redefining what haute couture can mean today, preserving much of the skills and the crafts, but reorienting how this form of fashion can live and thrive today, turning leftovers into exquisite and unique clothes highly creative manner.
Sustainability is a much-hyped word that its meaning now is much more elusive. But at its core, sustainability examines the production and consumption system in existence and find where to eliminate wastes as much as possible. For van der Kemp, sustainability can only mean producing clothes using only what he can find from discarded old silks from the 1970s to leftover skins from the handbag industry or from dead stocks or repurposing of old garments to reuse the fabrics that are still good to make a new dress, or jacket or coat. Or as van der Kemp puts it in his own word – 'couture as a mindset in a tumultuous world, collaging trash into treasure.'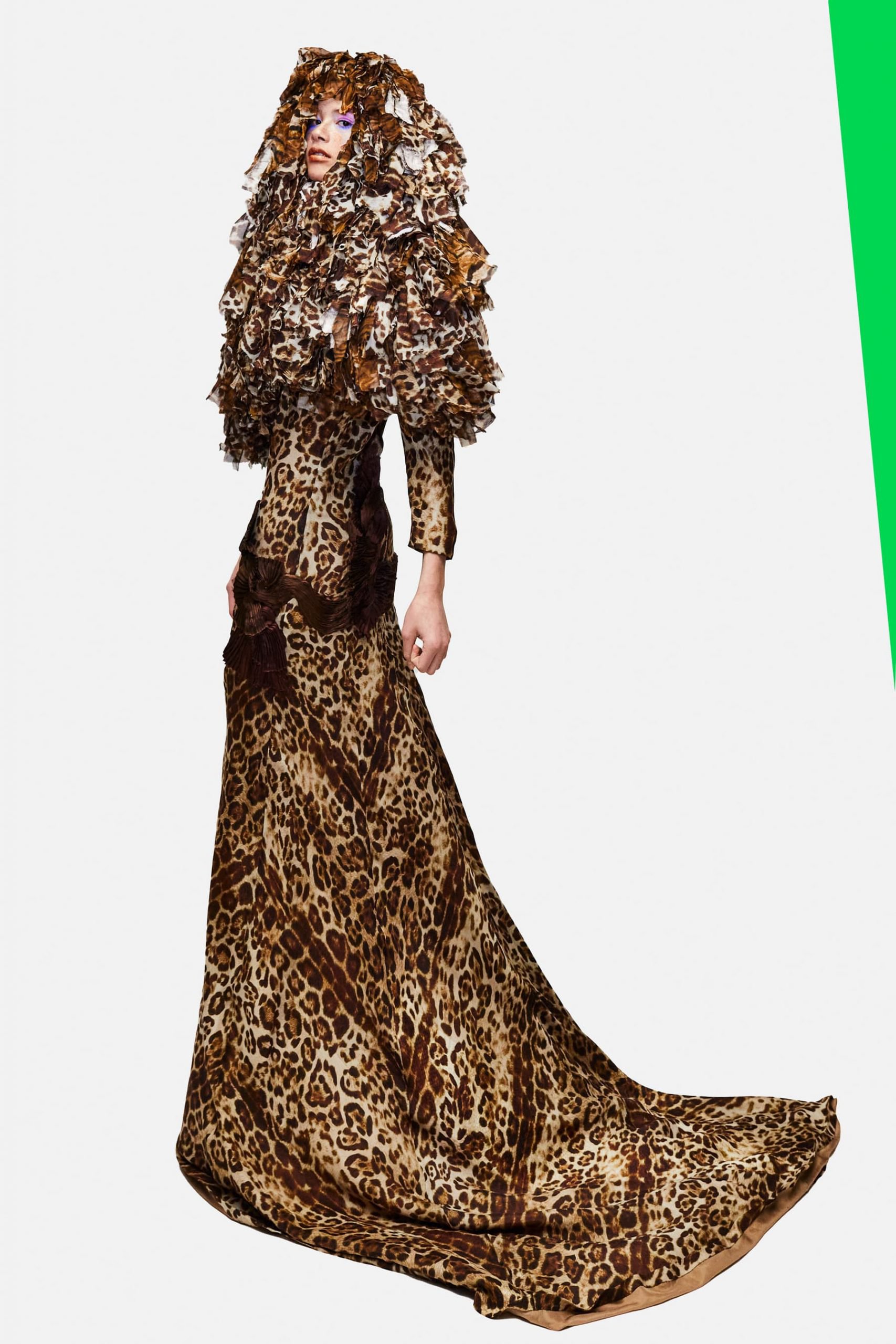 Inventiveness and innovative ideas have to come to the forefront of the burner, so to speak, the materials to construct these garments are limited. "We used felted textile trash made from discarded uniforms developed by 'i-did' molding a corset in one seamless piece and trimming it with a border of handwoven leftover metal chains," van der Kemp called the long black long sleeve dress with a back train draped from the front to the back of the neck. The headdress in fuzzy furry leopard print to match a long leopard print dress is made from the 'boucherouite' weaving technique that renders the fabric into a 3D surface mimicking real furs. Even wall coverings and discarded hotel painting canvas can be converted into new uses along with surplus feathers, fringes, and beads on a deep v-neck patchwork dress with long colorful crossbody fringes. The great high should double breast coat-dress and the black wool-silk cape with flare pants among the more calm looks.
It is a testimony to van der Kemp inventiveness and his keen eye spotting any discards that he can reincarnate into a couture garment, giving a new definition of what couture can mean to the younger generation.
Hopefully, in the next coming years, van der Kemp can push forward more modification in the fashion production system and reorient the consumers' constant demand for new products. Sustainability has to come from consumers too, and educating them in new ways to appreciate clothes – here couture clothes – is a start.
---