---
Review of Coach Fall 2022 Fashion Show
Community Spirit
By Anna Ross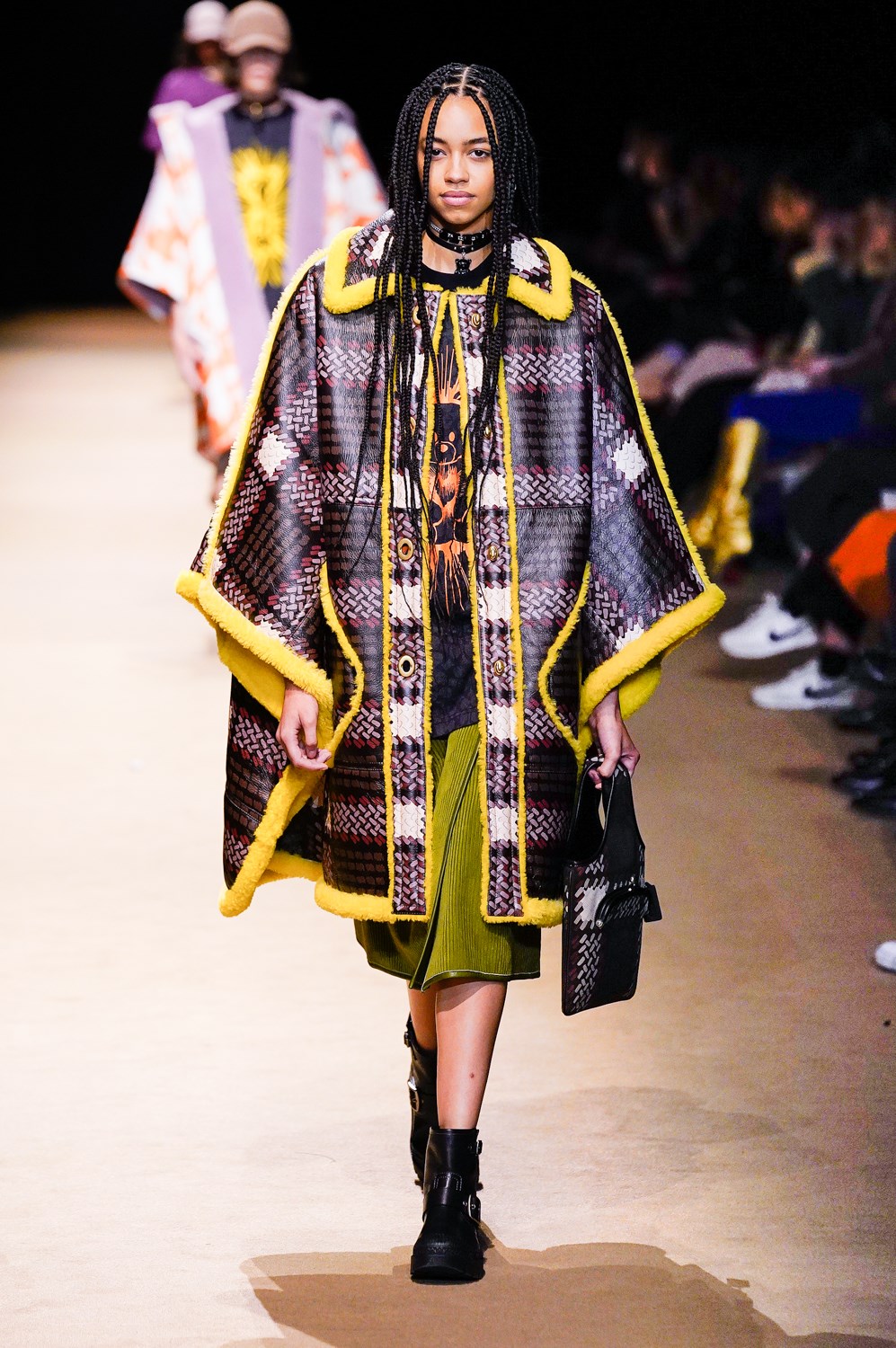 Kudos to Coach, who pulled together one of the tightest show narratives and collections we've seen so far this New York Fashion Week. Set Designer Stefan Beckham painted a typically American scene: picket fences, children playing on their bicycles, a housewife walking her pet dog. But wait, isn't that the very same dog who went missing last week? The dog whose picture was in 'The Coach' newspaper- the neighborhood weekly circulated amongst guests at the show?
Like many small towns in America, everything was not as it seemed. As the sunset on the picturesque neighborhood of 'Coachville' USA, the youth emerged from the cracks, climbing out of their bedroom windows and onto the runway one by one, in clothes made for mischief that explored the many decades of Coach's heritage.
First, there was the '50's, in sweet A-line style dresses and car coats with painterly florals and giant houndstooth checks, paired with T-bar shoes and square frame sunnies. Then, giant, cozy shearling jackets were re-imagined in oversize proportions, contrasted with corduroy flares and barely there bralettes.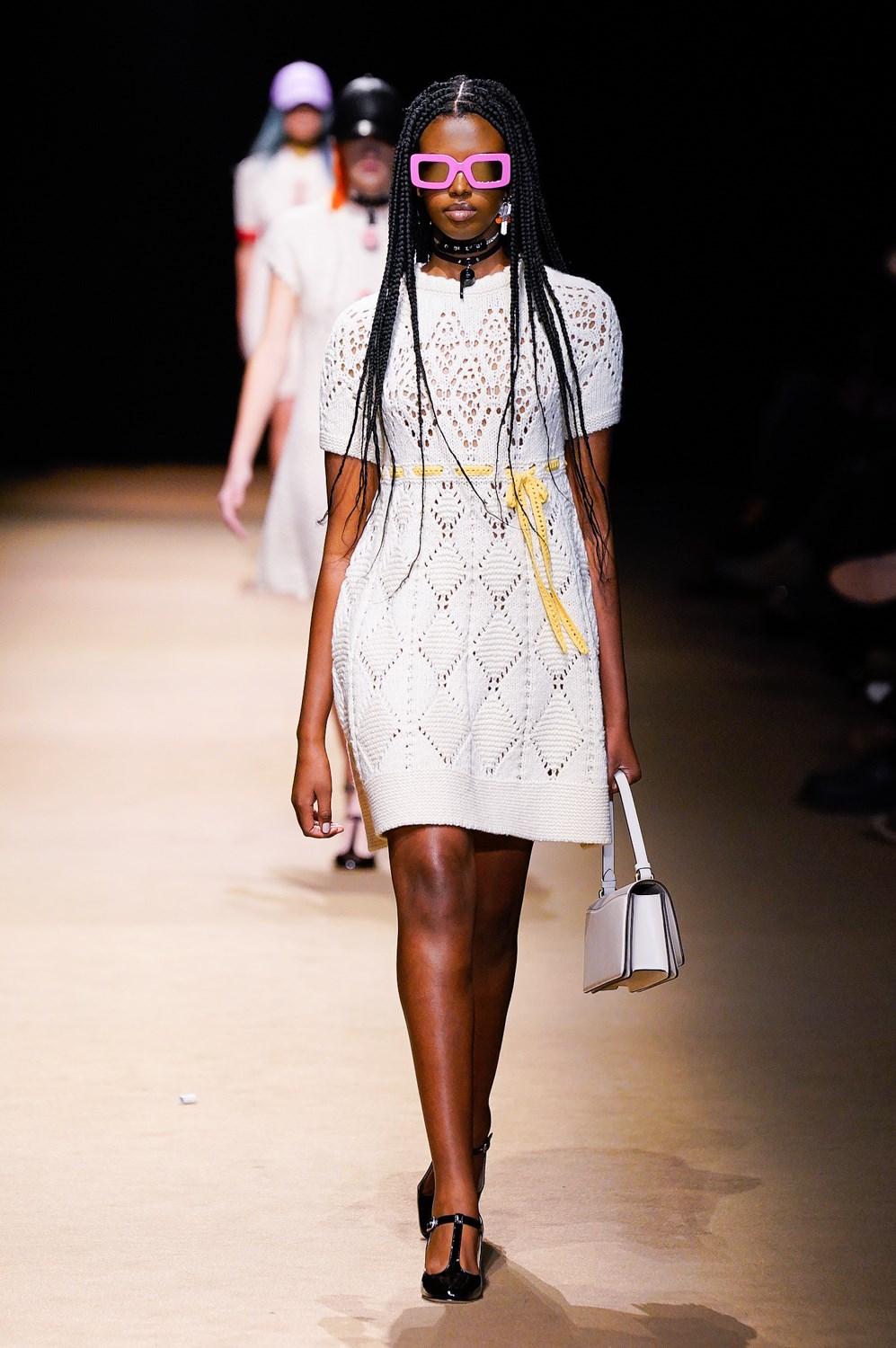 There was a certain satire amongst a series of 40's dolly-like crochet and floral appliqué dresses juxtaposed with leather chokers, baseball caps and stomping biker boots.
Perhaps these girls were off for a night at 'The Coach,' the local neighborhood bar whose logo features a giant bear in a leather harness. The boys were definitely en route; clad in three-piece leathers and DIY jewelry, a knowing glimmer in their eye, off to 'write a new love story,' as the show notes put it – perhaps more delicately than I could!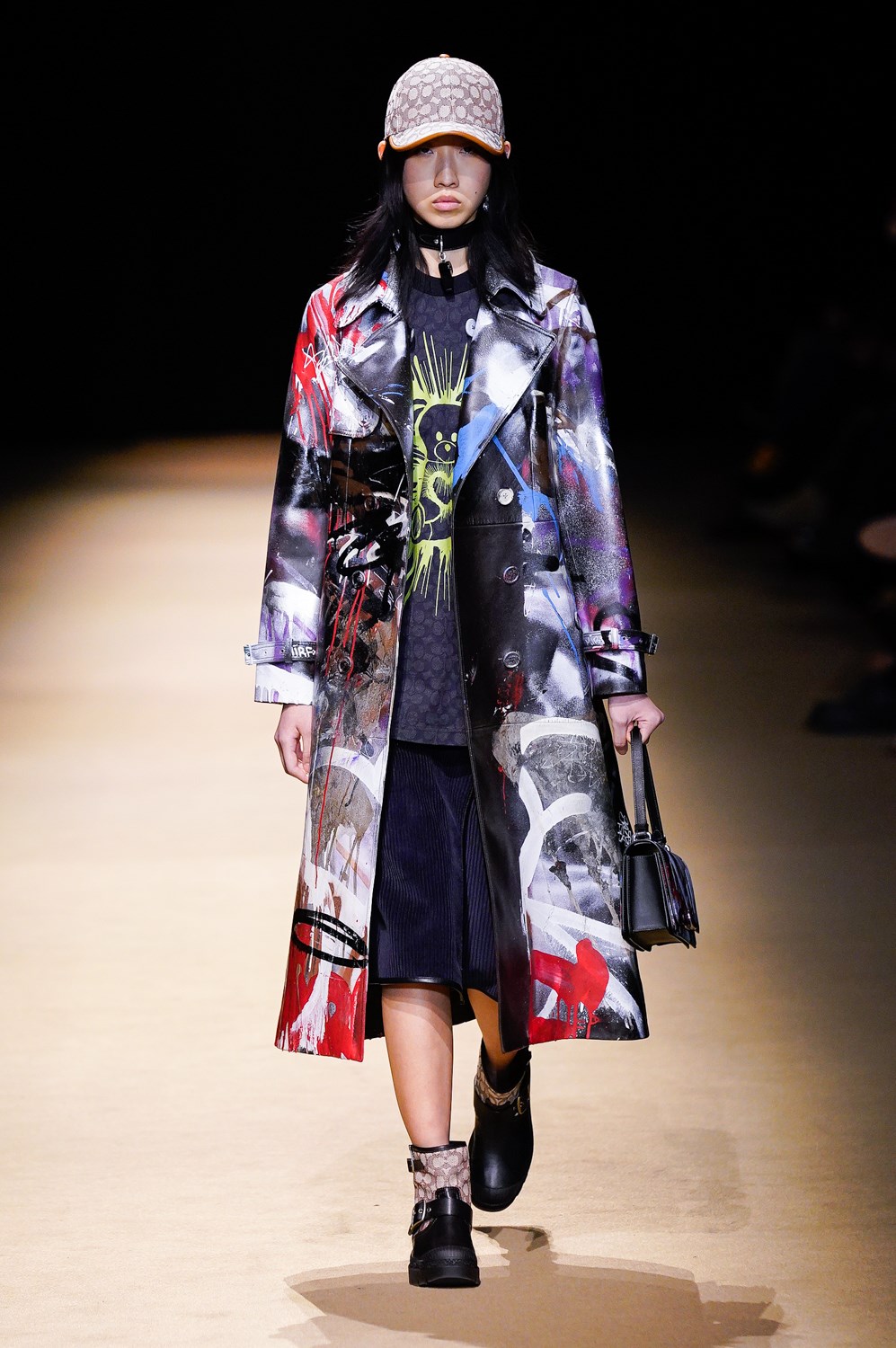 Elsewhere, the 90's called in oversized baggy tees with cartoon prints, served up with giant leather jackets laden with graffiti. You can imagine these kids in their bedrooms and backyards, DIYing a thrifted jacket and making their own jewelry out of trinkets from a yard sale. It was nostalgic, upbeat, optimistic and endearing. Coach champions this kind of sentiment and creativity: today, their foundation donated to Free Arts NYC, who empowers underserved youths through arts and mentoring programs to develop their creativity and confidence.
Much like how Gen Z views the world today, this kind of community spirit is central to the Coach brand. Stuart Vevers understands the next generation and is setting out to arm them with the tools to express themselves. Coach understands that their new customers view gender as a construct (most of the looks today were gender fluid) and size is just a number (likewise, body diversity was vital to the casting by Ashley Browkaw). They know that their customers want exclusive products and want them quickly (a limited edition number of archival 1964 model bags were made available post-show). That's what made this collection more than just a throwback or a nod to retro tropes that can often veer out of touch with today.
Coach is a brand with their finger on the pulse of the moment, and is using that to leverage their American heritage and penchant for storytelling into the future.
---