---
What the Fall 2021 collections of Ludovic de Saint Sernin, Charles Jeffrey Loverboy, and Harris Reed say about men's fashion today
Emerging Voices Crafting New Male Identity with Clothes to Match
By Long Nguyen
A fashion designer or a few like-minded fashion designers rise to redefine men's fashion every generation or so.
In the 1980s and 1990s, the French designer Jean-Paul Gaultier is single-handedly responsible for altering men's fashion perception. His clothes enforced a new male aesthetic that was deemed much less male than feminized or even as androgynous, concepts born in the unfamiliar fashion terrain devoted to power dressing and the likes.
Gaultier's first men's showing titled 'Homme Objet' (Man Object) sought to chart a distinct orientation with the portrayal of the athletic young and vulnerable sailors wearing backless white and marine blue Breton-stripe tank-tee shirt, la marinière. With this debut men's collection inspired by the 1982 Rainer Werner Fassbinder movie Querelle, the designer instilled a new sensibility for men's fashion by breaking down not the traditional gender barriers but in making the male an object of desire and in shattering the conventions of masculinity in his efforts to subvert the conventional sartorial stereotypes and conventions. Male narcissism has entered the arena of fashion at last.
The designer showed tough guys in his skirt-pants in the following season – the wide leg trouser with a wrap over panel creating the illusion of a skirt that premiered in the Spring 1985 men show 'Et Dieu créa l'homme' (And God created Man). The orthodoxy of gender distinction in clothing suffered a severe setback but far from extinction, especially with the boundaries of sex-defined garments, well sort of at least, with the influential co-ed Spring 1985 show titled 'Un garderobe pour deux' (One Wardrobe for Two). Gaultier took the skirt, reshaped its history, and transformed this feminine garment into a new context that envisioned perhaps a new approach to redefine taste in men's fashion, at least at the creative if not commercial level.
"Wearing a skirt doesn't mean you're not masculine. Masculinity doesn't come from clothes. It comes from something inside you. Men and women can wear the same clothes and still be men and women," Gaultier said in an interview with the New York Times in the mid-1980s.
"I think that it is now time for men to be seductive. I don't mean androgynous, though. I mean sexy. Why should women have all the advantages," Gaultier said to the NYT journalist John Duka in mid-September 1984 during his first US fashion show staged in New York's Battery Park tent circus setting in conjunction with the department store Bergdorf Goodman.

Gaultier's influence in men's fashion had faded by the late 1990s with the rising of designers like Raf Simons. The Belgian designer repositioned the plane of men's aesthetics towards youth's ideals and the visuals impact of underground music rather than rejecting gender labeling for a generation that cares a bit less about designer fashions.
The new era that Simons ushered in men's fashion in the late 1990s did not depend on the balance of gender differences. Gender was something that the Belgian designer ignored at least in the first decade of his fashion work, focusing in lieu on conveying a shared point of view and clothes that young guys would wear listening to the same music at, say, a rave party.
At the turn of the new century, Hedi Slimane's skinny black suits era at Dior Homme recalibrated and redefined menswear with the latest tailoring shapes. Slimane catered to the new generation of youths unaccustomed to traditional crafted clothes douses with a heavy sensibility of new underground music, a necessity to connect to the young back then.
Slimane's fashion aesthetic avoided linkage between male and female garments like the male double breast jacket, trench, leather biker, female corset, camisole, and stockings.
Since Raf Simons and Hedi Slimane's rise in the aughts, there have not been many earth-shaking ideas pushing menswear fashion to its outer limits.
There has been a void in defining the aesthetic currency in men's fashion in the past decade. Absence was any natural and effective directional leadership from any of the young or established designers.
There is, of course, the New York designer Thom Browne.
Browne was an emerging designer a decade ago. Today, the designer creates sensational fantasies for these seasonal shows that gave a mythological status and impediment to his sumptuously made clothes doused with a sense of humor, a sense of bravery, and a sense of mystic. But Browne is first famous for his men's 'shrunken' light grey light gabardine single breast suit that always looked as if the jacket and pants are just a bit too small but on purpose to induce how a pantsuit beholds a male body underneath. But it is a different way to show the clothed body in a tight-fitted grey pantsuit with shorter sleeves and pant legs cut far above the ankles.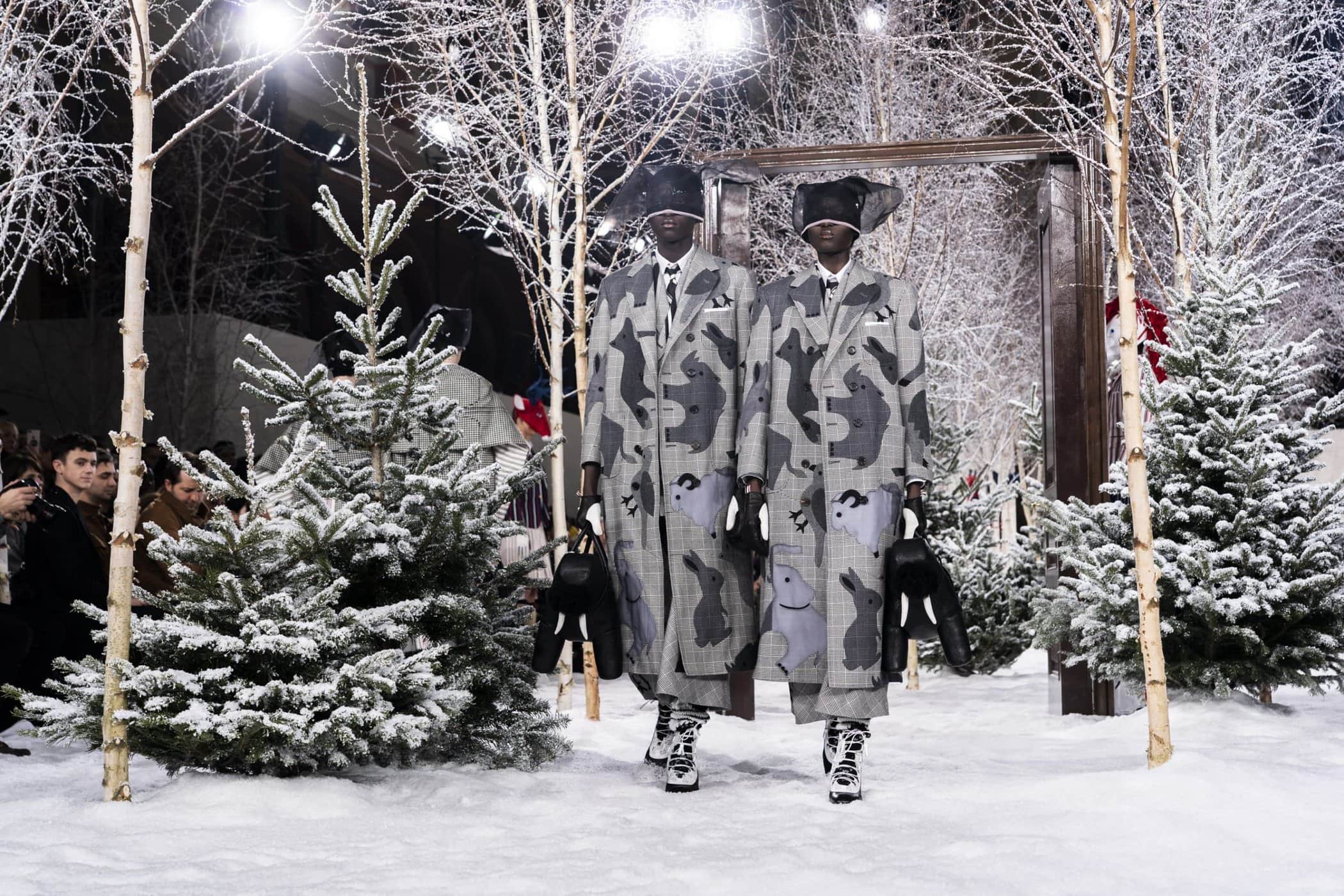 Browne conceives the male sexual identity differently, preferably with simple and immensely complicated haute couture creations crafted in familiar fabrics. It doesn't matter whether men or women wore his collections. The American designer's garments transcend the gender barriers made with the masterful mixtures of couture crafts.
The clothes in Browne's fall 2021 short film in the snow featuring the American downhill skier Lindsay Vonn are so extraordinarily crafted with such command of artisanal skills that these clothes no longer require any description with words like hybrid or fluid. The designer's work has now transcended even the necessity for any classification. But this isn't the case for the many younger designers coming on the scene now.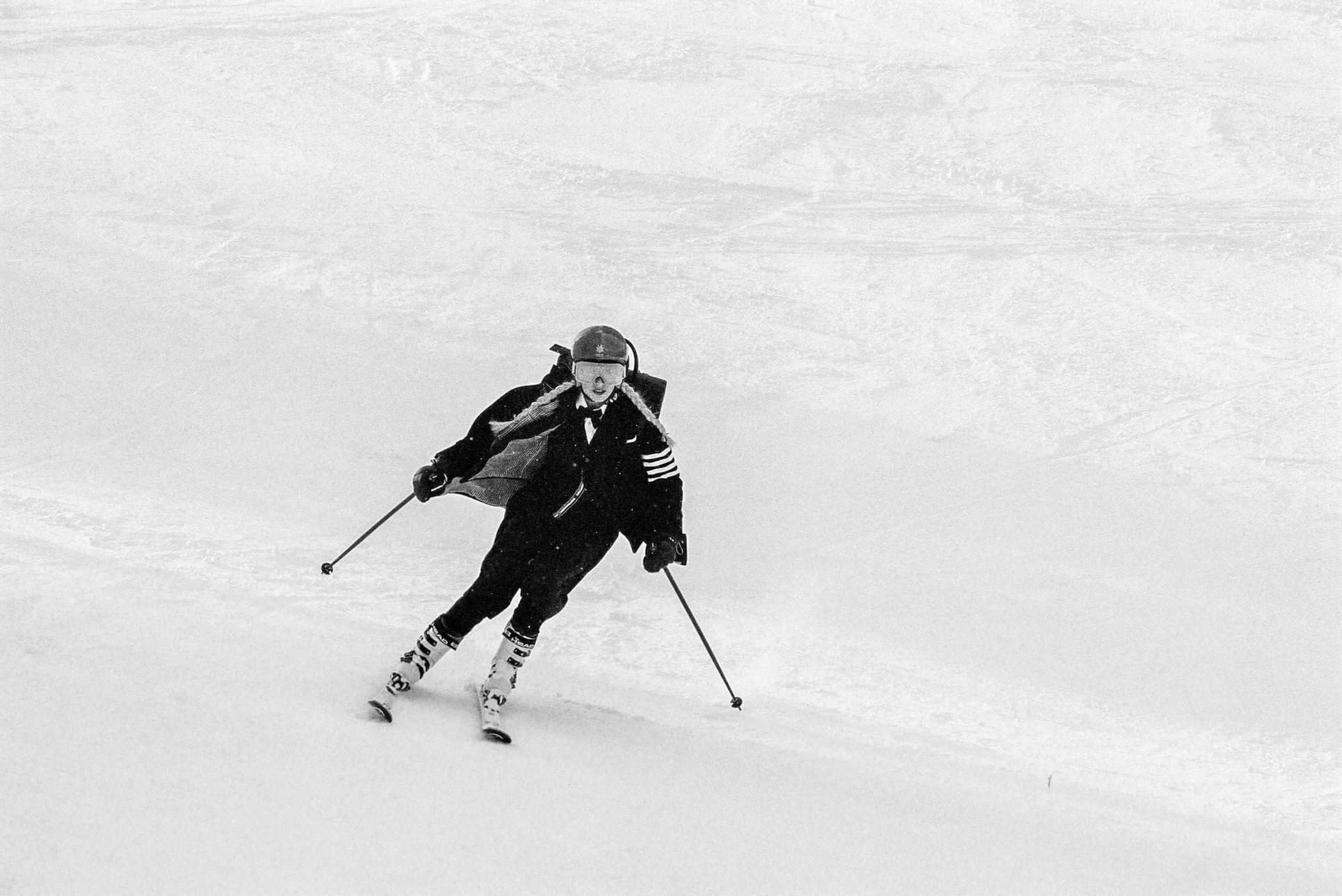 All has been pretty quiet on the menswear front until the recent few years. Underneath the noisy commercial luxury business, there are the works of a few young designers pushing forward their unique and individual points of view. Their fashion is personal.
Today's male fashion world is much different from even just over a decade ago at the dawn of the digital age. Now there is more emphasis on deconstructing the staid ideas and ideals that still envelop so much of men's fashion. That is in addition to expressing themselves without any hindrances, posing questions on the entire culture of men's fashion rather than chipping away by bits and pieces.
Consider this new generation a counterpunch to the core aesthetics of streetwear.
The representations of the masculine that tend more one-dimensional and gear too far towards the hyper-masculine archetypes. A satire of men's fashion convention has now been transformed into a sub-cultural lighthouse guiding young designers entering the men's field.
It is a quiet revolt against this dominant strain of aesthetics that confine men to a bunkered notion of hetero-normative masculinity in the forms of streetwear garments displaying familiar logos like Supreme rather than elaborate and inventive clothes. The cult-like worshipping of the luxury-streetwear combo finally shows come cracks with new voices coming from below and from the young fashion designers just entering the field.
"Tomorrow (the London-based showroom/brand accelerator/business development) enables Loverboy to expand its mission and continue its story, to emphasize the collective and collaborative approaches that have been so crucial to its development, to move from a lone star to a constellation. The expansion brings its Fluxus-like happenings to a wider audience; and to speak to, encourage, and support a growing community of fans and like-minded creatives around the globe," Charles Jeffrey said on his Instagram announcing a 'sizeable' minority stake in his six years old brand Loverboy.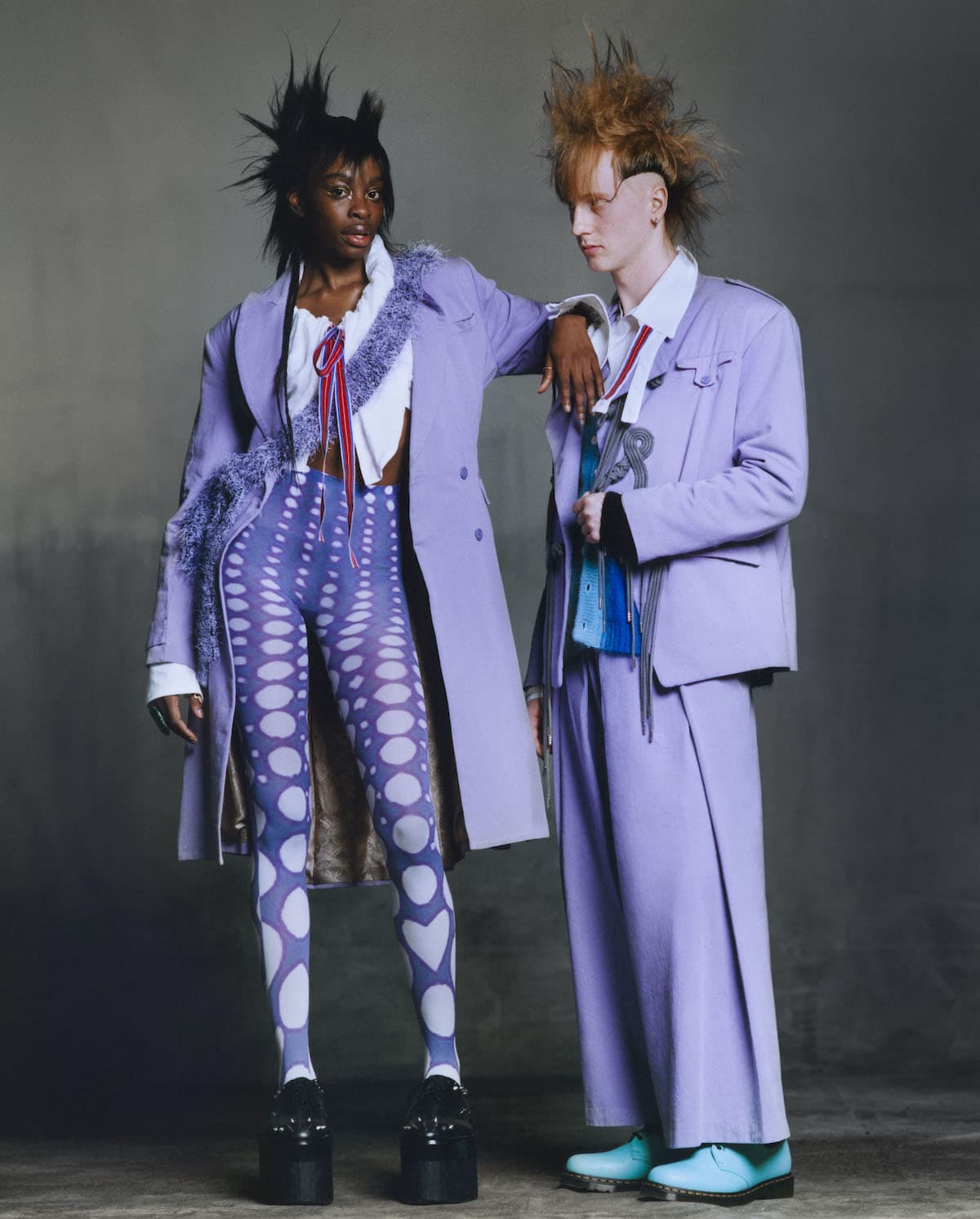 Charles Jeffrey, the Glaswegian creative director, fashion designer, and illustrator, is a leader of London's radical youths. His fashion brand and his on-going cult club night in east London co-exist in a perfect symbiosis. Jeffrey started organizing a nightclub event to fund his studies at Central Saint Martins MA Fashion. This process evolved into a dual role that his club night had garnered an outpour of creative energy blending the idea of dressing as outrageously as possible into his MA study since his graduation in 2016 fashion brand.
Jeffrey's fashion sensibility is the extension of his east London club Loverboy night of the same name as his clothing brand with his MA Fashion and subsequent three seasons with the Fashion East platform since the Fall 2016 official show. Jeffrey revealed his Fall 2021 'Gloom' collection via social media last week, as a collection of self-reflection, with a range of colorful garments – a bright print pantsuit with hanging white threads, a blue tartan asymmetrical cut jacket, and skirt, or excellent tailoring with light mauve double breast coat and slouchy mauve pantsuits.
Jeffrey's struck a delicate balance between the kind of ultra-creative dressing championed by his friends and nightclub associates and the need to make viable inventive and saleable garments. These fall clothes are cheerful and anything but gloomy, retaining what the designer refers to as a 'queer' sensibility. But should not be looked at from specific gender perspectives. And that's the thing with Jeffrey – it is about individuality.
One big difference with this fall 2021 season thought is more wearable clothes, despite being at times pushed to their limits like a cropped jacket with fringes and shreds of fabrics or a giant shoulder print military coat. Even in his first collection for Fall 2016, Jeffrey worked with the Saville Row firm Chittleborough & Morgan to create special tailoring garments with new shapes. Here, there is even a simple dark navy cotton denim jacket and rolled-up denim pants.
With the help and financing of Tomorrow, Jeffrey now has an opportunity to put these handmade bespoke clothes into actual production, rather than, say, making tee shirts for a quick sale. Jeffrey may look at the stars, but he sure does have his feet and some of his fashion firmly on the ground.
"Fashion is truly revolutionary and has a huge role to play in pushing the world to a more expressive and accepting place. Using their platforms to share their visionary values, to help those seeking acceptance and self-love," Harris Reed wrote on his website. The young American-British designer defines his DNA codes as 'Romanticism Gone Nonbinary.'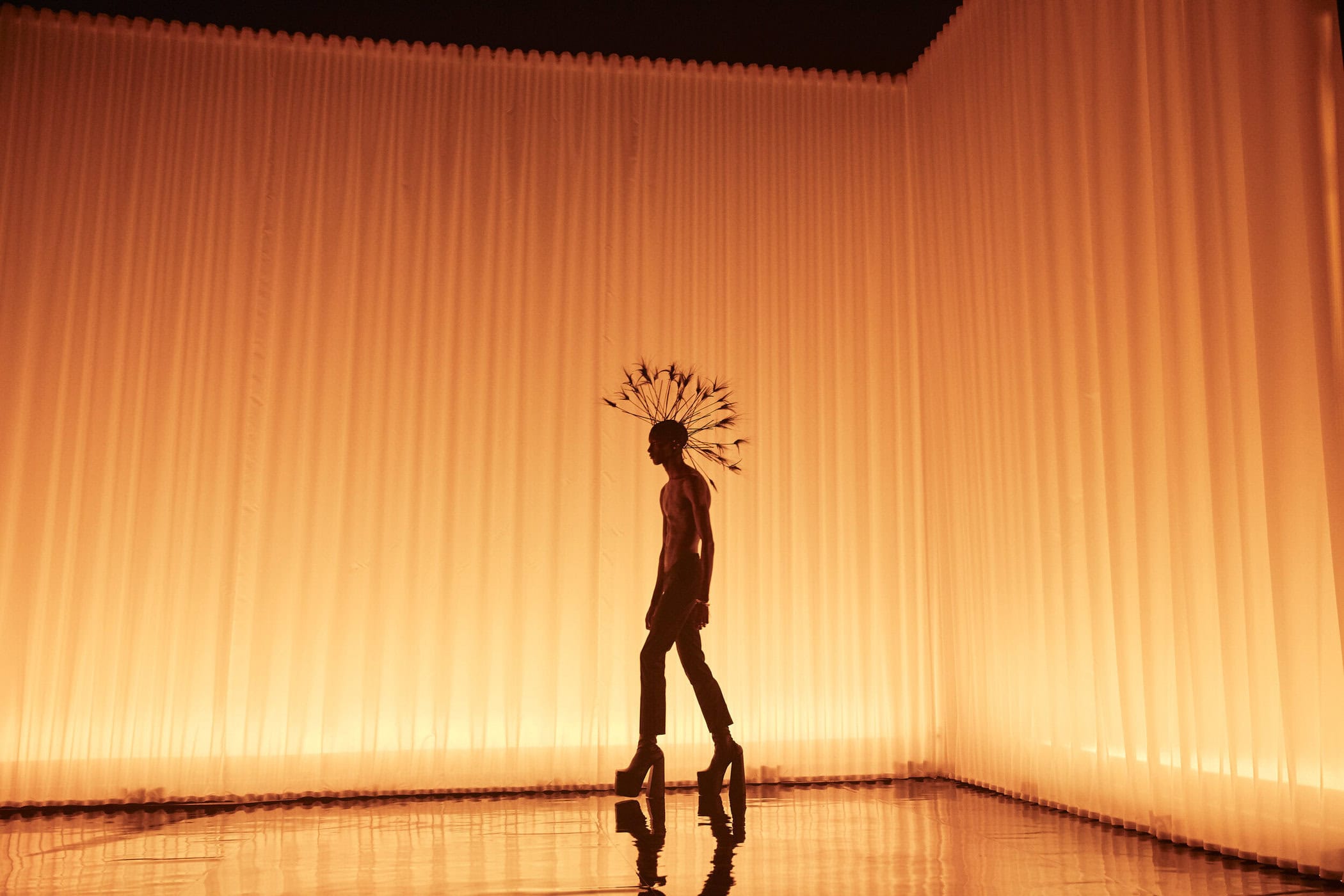 Reed, a June 2020 Central Saint Martins BA Menswear graduate, modeled his graduate collection titled 'The Final Collection.' A subtitle 'Thriving in Our Outrage' concocted the lavish and fantastical clothes based on the aristocratic Henry Paget, the fifth Marquess of Anglesey, and his legendary gender-fluid costumes.
That 'final' collection explored "the idea of performance, opulence, and self-expression as a daily ritual of our modern lives, whether it be fluid bridal wear, on stage or out walking, while embodying feelings of romance, theatricality, and glamor." The clothes included a black tailored jacket with wide pants and a large satin Fuschia and white tulle skirt, a sheer black blouse, wide-leg white pattern pants, black cage skirt, or white lace camisole and black flare pants.
Words like hybrid and fluid are as central to Reed's idea of fashion as self-expression and non-conformity. It is about individuality and the sense of the person and the clothes rather than gender barriers, although the clothes transcend those artificial boundaries.
Since his graduation during London Fashion Week in February, Reed presented his first complete collection in February, putting firmly his notion of fluidity on just precisely six looks he called '… For Now, Unexplained." The fall collection threw the aristocratic tailoring into the brew with the punk's anarchy and society's debutantes' innocence. It is an extraordinary feat of craftsmanship bridging the British Saville Row artisanal craft with the witty imagination with a cropped double breast tight fitted pantsuit with a side of pleated dyed tulle or a dark navy corset skirt with layers of dyed pink ruffle tulles underskirts.
Indeed Reed followed the Gaultier heritage of fluid non-binary clothes. His fall six looks showing reminisced the Gaultier Fall 1996 men's haute couture show in Pigalle with that tangency of masculine tailoring and feminine couture tropes. But the young graduate is making his ideas and his hybrid clothes known to his peers.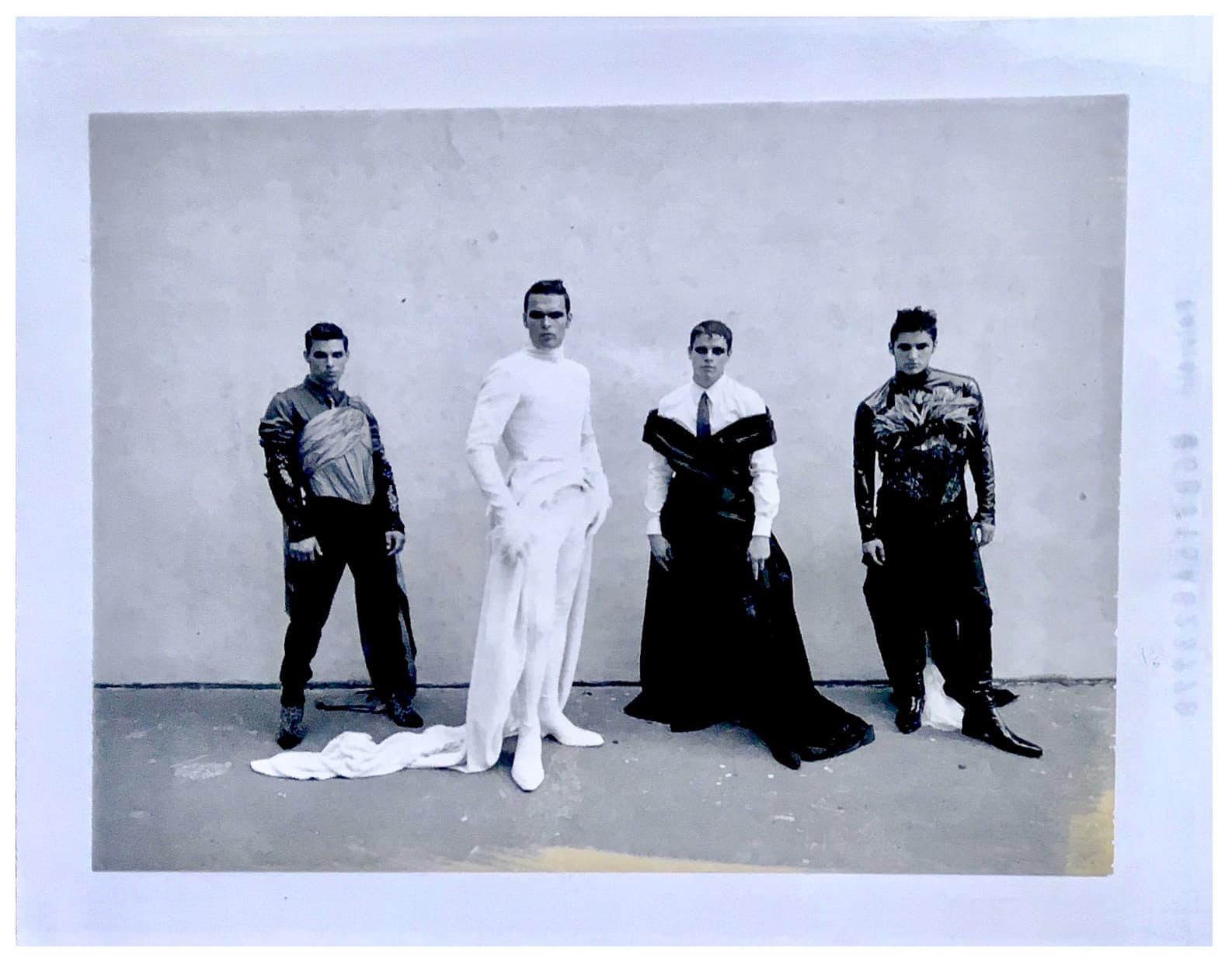 Conjure a world without boundaries, first in clothes, then perhaps in real life. These kids are not interested in conventions of any kind, least of all the types of sartorial boundaries that place limitations on gender. Like those Reed and Jeffrey make, clothes don't provoke so much a fantasy of a world of wealth, luxury, and exclusivity, rather but they may allow a peep into someone's courage, soul and identity through their fashion.
While Jeffrey and Reed's excesses are absent in Ludovic de Saint Sernin's clothes, the Belgian Paris-based designer makes up in his extreme cuts with bare embellishments. The so sharp and utterly so concise cutting is what makes LdSS (the designer's abbreviations) clothes so stunningly sexy and sensual at the same time.
I feel like there are so many brands today and that fashion as an industry had evolved a lot and has open many more doors than they had when I was growing up. It's so important that whoever you are can look at fashion and find yourself in a brand or a community that you feel represents you best. Young people are much more aware of what they want. They don't just follow a trend anymore and want the real thing. It's about feeling like you believe and trust a brand and want to engage with them. And I love that.

– Ludovic de Saint Sernin, via email from Paris on how young people are the prime movers of men's fashion today
LdSS has done far more successfully in the making and gaining more ground for its brand. It started in 2017 with just one primary signature garment that has garnered substantial online support from fans and customers. The lace-up leather brief as a point of departure from any other independent designer is his knack for creating a community around his aesthetics and clothes.
"I think mentalities have changed a lot, and people are more accepting of menswear being as fashionable in a way as womenswear. We deserve as much creativity as women do, and it's great to see how much has changed and exciting to see how much more we can do," de Saint Sernin said of the state of menswear today.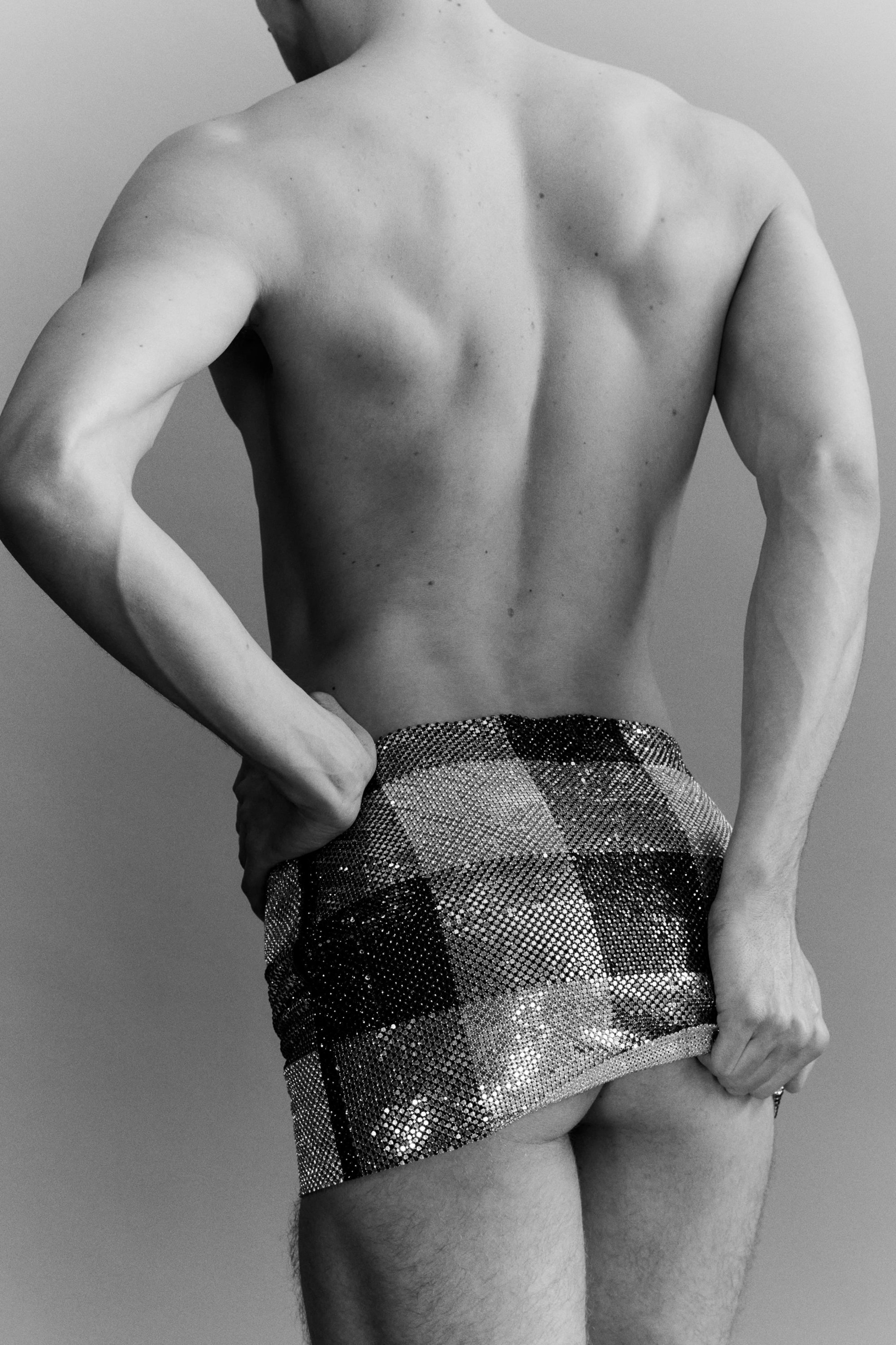 But the different manifestations of the ultra-tight lace-up on jeans, the smallest of bikini bathing suits, and the midriff cropped tank tops are just the sartorial foundation for the designer's exploration and a search for a new meaning for male sexual identity via fashion and clothes.
For this fall season and the second edition of his spring E-boy series, there are more tailoring, such as the chocolate fitted patch pocket coat, a black wool coat with metal patterns and matching flare pants, or the brown sleeveless shirt-jacket with metal rivets trims and fitted shorts. LdSS always cut a perfect pair of pants like the loose black pants with sparkling crystal waist belt or, for that matter, an ideal pair of slim jeans here for fall paired with a one-sleeve viscose tee shirt. But surely what will scream out loudest are the few of the checker ' bra tank tops', the checkered crystal jockstrap, or the Swarovski 'micro-skirt. The new denim jeans have shoe-lace tying or lacing.
"That's a hard question. It depends on the body, on the man, on his shape. I feel like it's more about shining light on it than totally revealing it, maybe. Something that suggests the shape of a pectoral, or highlights the back nicely, a shirt that's not buttoned-down revealing the V…," he answered when I asked about what part of a male body that clothes should not hide. A very light blue sheer chiffon shirt and pants revealed the body underneath, but there isn't any aggressive display of skin in LdSS's work, even if a tank-bra is just that a midriff-baring tank-bra.
For the LdSS brand, market penetration has little meaning because establishing a community around his clothes and imageries he used to portray the people wearing them.
"Community is essential, feeling like you're a part of the brand, that your voice is heard and that the feedback that you give means something to the brand. We grow so much every day because fashion is a conversation and not just between industry people but also with the customer, follower, fan, etc.," the designer said. "I think they expect it to be relatable and authentic. They also expect it to tell a story that's relevant and personal. That's how you built a community and got people to understand what you stand for and what your message is."
De Saint Sernin, Reed, and Jeffrey's fashions are expressions of their lives and experiences in cloth, vestments that resulted from personal transformations rather than intellectual endeavors. They don't care so much for fashion motifs; that means leaving them alone without a bit of shake-up. They tell new stories about themselves, their lives, and their fashion, all intermixing in a big bowl. They are doing things differently, starting with experimentation and not getting entrap in any definitive aesthetic standards. They don't so much mine other cultures as references and as inspirations. Instead, they mined their own experiences and are confident that these experiences will serve as a springboard to their fashion projects.
"I feel like today is about being who you are and embracing it. Finding ways to express your sexuality through clothing relevant to you and having a community, to the community, you feel you belong. For me, I like to think that, as you said, sensuality is a big part of my work, and I want each person that looks at my work to be able to take it the way they want to see it. It's always open to interpretation and free to be worn as you wish. The wearer defines clothes not the other way around," de Saint Sernin emphasized the individual's centrality.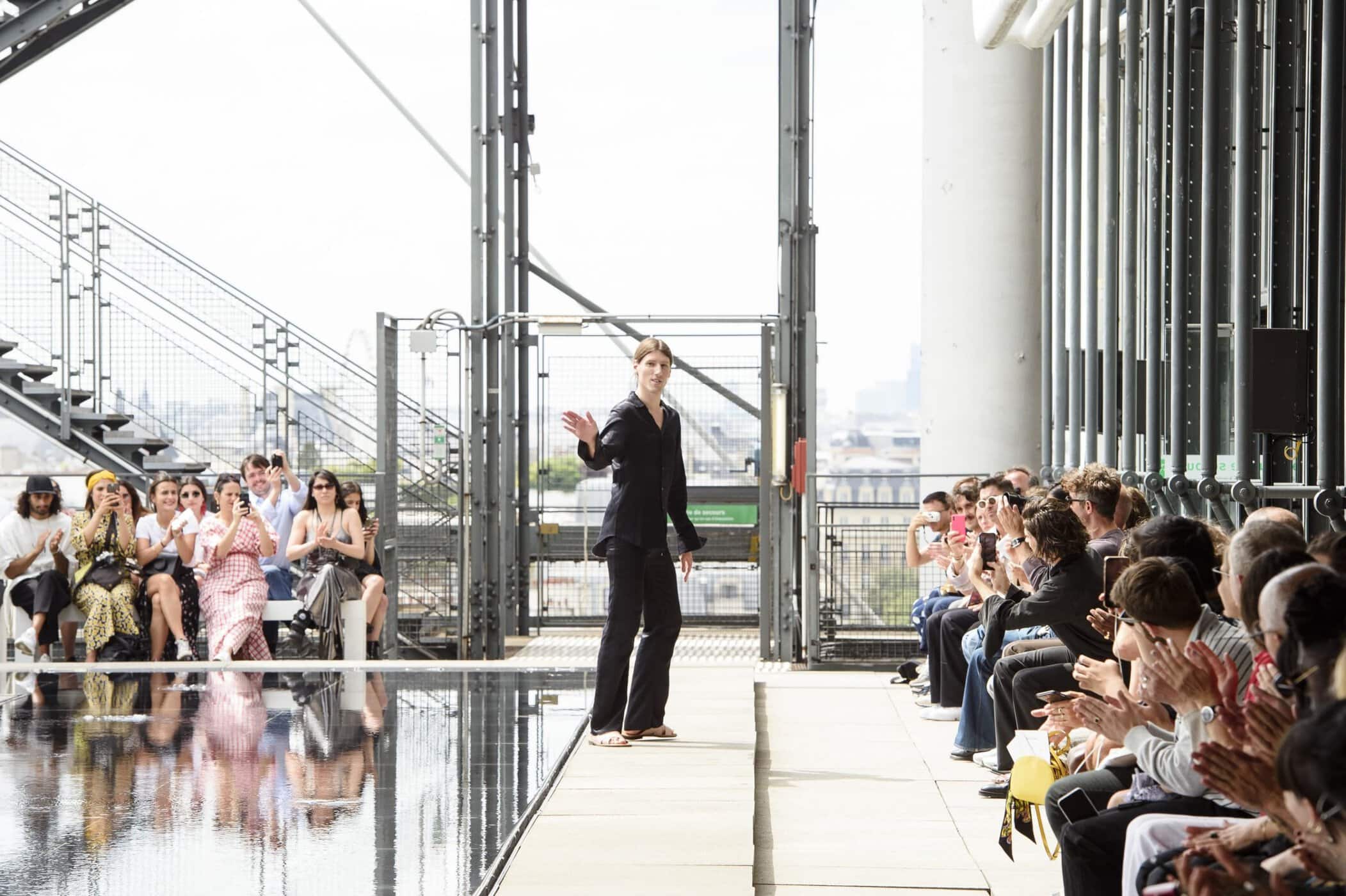 It is clear, I think, at least in the fact that fewer men today are identifying themselves less with specific role models. Even these traditional roles are evolving – even the board room or the Wall Street executives today appear less familiar to one from two decades ago. Younger men are less affiliated with perennial roles than in the past, and as these roles are constantly in the process of transformation, so are the clothes.
Despite these individual steps forward, these designers' ethos still resides much in the underground and the niche audience that forms communities around their fashion work. Have they been able to change male fashion consciousness today, what is a male representation, and what is male identity in the mainstream? Not likely.
Do these young designers globally constitute together a fashion movement?
A sort of quiet revolution aiming at not reversing the fashion currency is a type's fashion movement. Still, today's fashion has a different attitude now that engenders young people who consume avant-garde kinds of clothes. That man today is more aware of the power of style is undoubtedly an understatement at best. Even young males consumers in China are now embracing skincare regimens and even a little bit of makeup colors.
These young designers have yet to penetrate deeply into the consciousness of men's fashion in the mainstream, still at this moment tempers by the vicissitudes of harboring yet more tangencies between luxury and street/sportswear to bother with the invention of a new aesthetic sentiment. Conventions don't hamper their work, and they are free to tamper with conventional notions of male dressing. It is a new way of crafting an ideology into the making men's fashion and about the role of clothes for any individual.
The widespread appeal of this new non-binary approach is still severely limited to primarily the niche communities that rally around these designers' visions espoused. More importantly, their fashion still has very small-scaled distribution, and perhaps the most stringent, striking, and effervescent about their creations remain at this point not yet accessible to consumers.
"I think it's a very contradictory environment at the moment, at the same time you have Onlyfans blowing up, and sex being more integrated into our daily lives than ever before, but also censorship is worse than ever. It's not the 1990s anymore with porno chic etc., but I think it is a good thing because the industry has grown and evolved so much since then. I don't think it is easier, but I don't think it's a bad thing," de Saint Sernin said about the evolving standards, especially with men's fashion.
Creativity, here, is visceral, organic, empirical, emotional, and communal but not so much intellectual. This is what it takes to remold masculinity in men's fashion today.
---