---
Review of Nº21, Missoni, Alberta Ferretti, Brunello Cucinelli, Del Core and We Are Made in Italy Fall 2021 Fashion Shows
One Promising Start in this Day of Début
By Long Nguyen
Milano's opening day saw the first highly anticipated women's ready-to-wear show by Kim Jones at Fendi. However, Jones' show veered significantly towards the commercial but did not provide the much need energy and perhaps the momentum push for Fendi.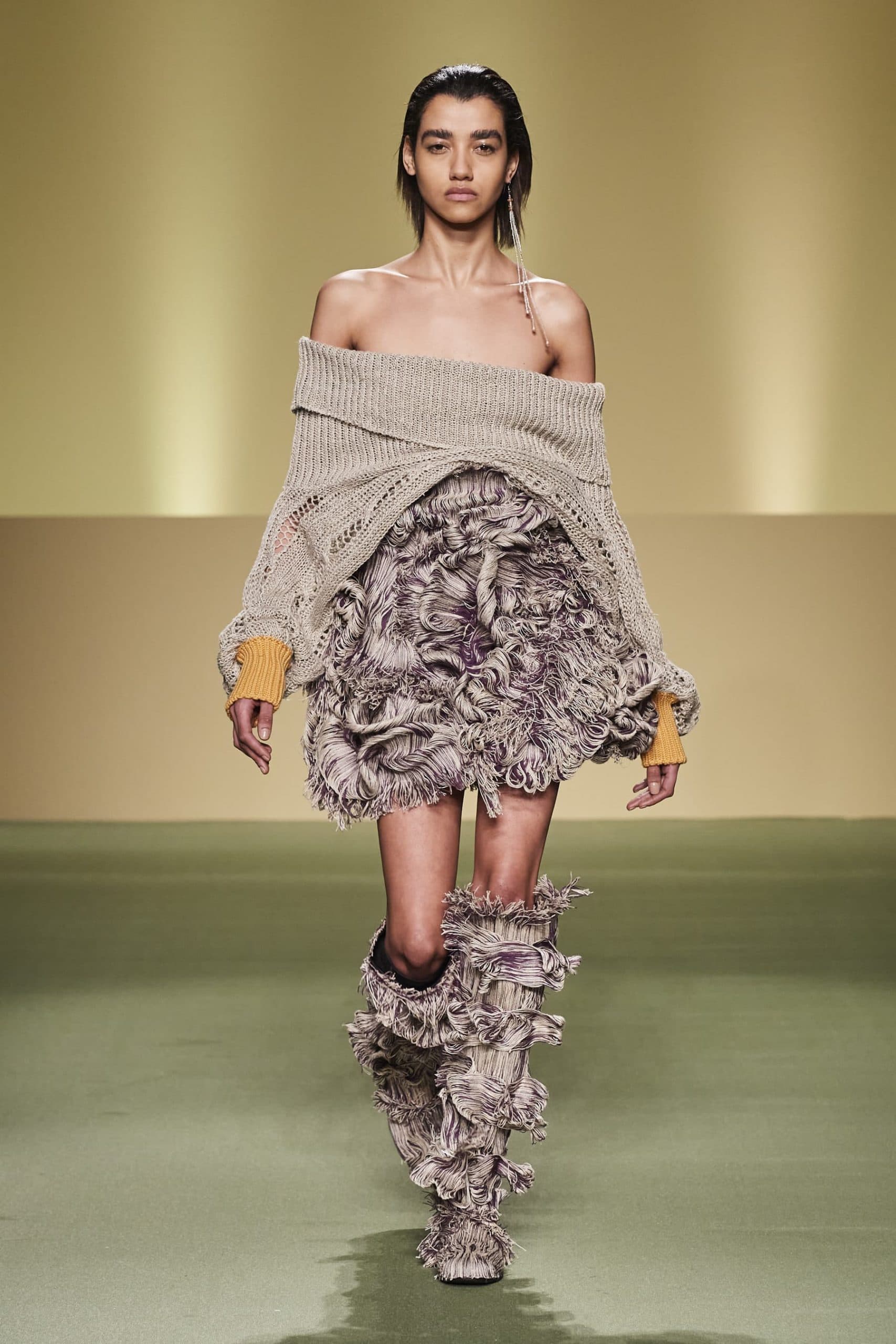 The day began recognizing some of the black fashion designers working in Italy under a program sponsored by the Camera Nazionale della Moda Italiana. The Italian fashion chamber linked a few of these designers with Italian manufacturers to strike a creative-commerce alliance that will strengthen the diversity in the industry. In the special presentation titled 'We Are Made in Italy' in cooperation with Black Lives Matter in Italian Fashion Collective, the Camera paired five emerging designers with manufacturers to ensure the transmission of crafts and artisanal skills to this next generation.
Gisele Claudia Ntsama works with AL-AN Tricot Maglificio to create great knitwear pieces like a purple fur wool skirt with a boat neck sweater. Frida-Kiza joins hands with Maritex Stamperie, a fabrics mill in Como, to create print fabrics for her coterie of dresses and tailored suits. Karim Daoudi teams with Nilllab Manifatture Italiane, a shoemaker, to make fabulous leather boots and strappy heels. Joy Meribe makes his satin and organza dresses with San Andres Milano, a design firm. And Mokodu hand-painted his attire with the support of the Camera.
After sitting out last season with just a promotional video, Missoni released a short video filmed at a bowling alley that features a range of new spring clothes. The clothes are the range of gold knits, short dresses, bathing suits, and light grey wrap dress – are the vocabularies of Missoni, and these Missoni spring silhouettes are the house classics.
Alessandro dell'Acqua isn't a designer who will settle down with comfortable clothes, pandemic be damned.
His new fall Nº21 collection questions the bourgeois aesthetics by highlighting some aspects of the perversions often hidden behind well dress society mores in the contrast of a light pink chiffon négligé short dress with the mustard wool plaid work dress with crystal-encrusted collars or pairing a camel lace short dress with a purple plaid coat with fur trims. A light purple mohair sweater draped over the shoulder of a sheer lace dress, and a strappy black organza short dress recalled the mid-1990s era of overt sexuality displayed on runway clothes.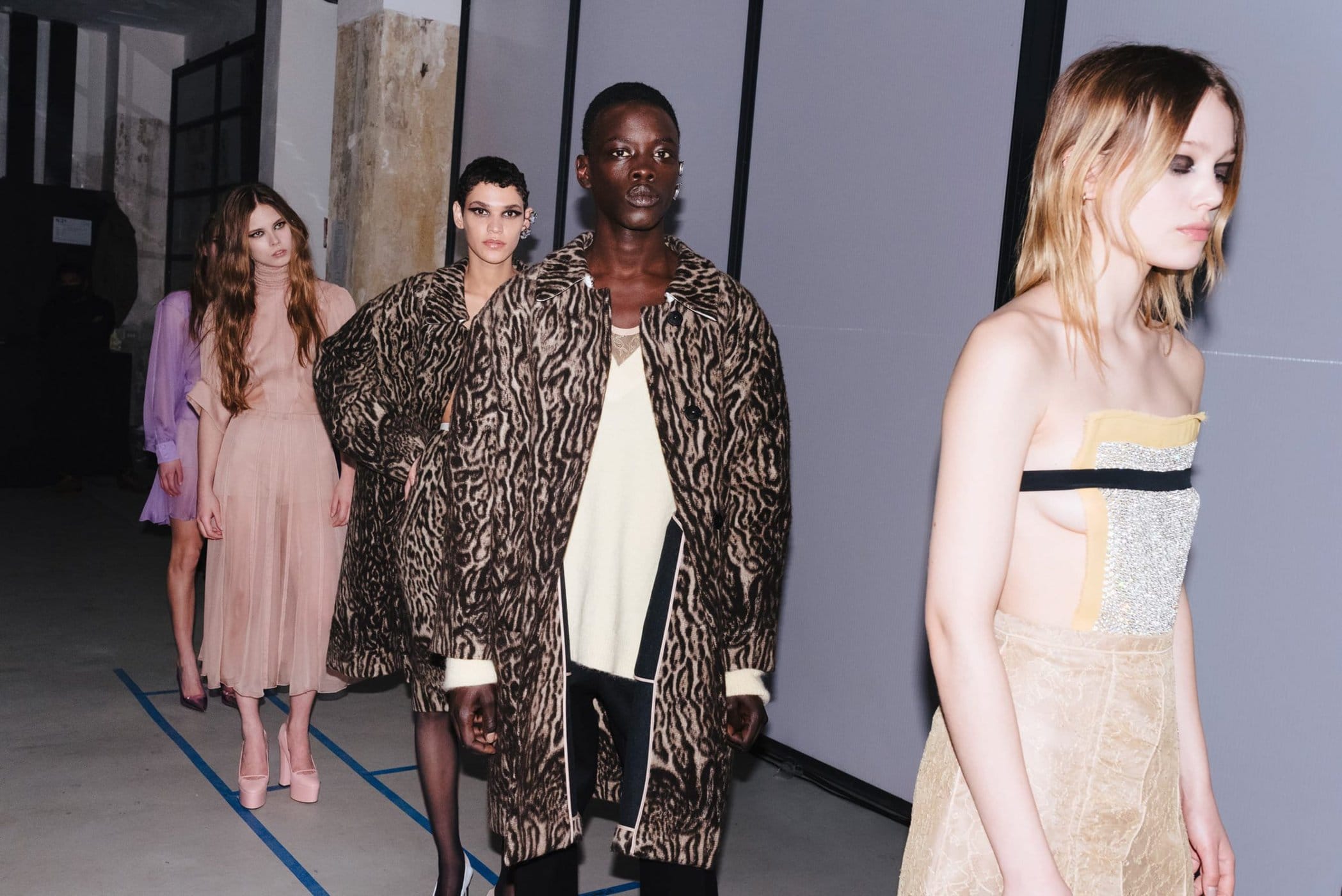 But dell'Acqua has always been consistent with his clothes, especially with his line in 2010. He balanced the more fashion-forward garments with the range of short coats or the dresses like a leopard print car coat with white shearling collars in a filmed fashion show with circular spotlighting shining on the models.
In the same way, Alberta Ferreti staged a fashion show filmed as a digital presentation. Ferreti is a true believer of the runway format as that is the best platform for her clothes, this time with a focus on day clothes with mostly dark navy and black palette of wool boxy and tailored coats with sharp broad shoulders and light brown suede shirt tracksuit.
Ferretti provided an outstanding balance between the choice of pants or skirt for each of her coats or jackets looks. The designer ended her show with a series of elegant black evening dresses, one a strapless with layers of ruffle chiffons or even a more extravagant version in a gold metal encrusted tee shirt with a gold fringe long skirt.
Outside of Milano, Brunello Cucinelli presented his fall collection at the brand's headquarters in Solomeo midway between Florence and Roma. This fall collection is classic Cucinelli luxury but cozy clothes for all seasons, displaying the range of cashmere knitwear, the brand's specialty, and the products that started the company back in 1978. The cashmere is mainly heather greys in all different manifestations – cardigan coat, track pants, double breast suit, and furry coats.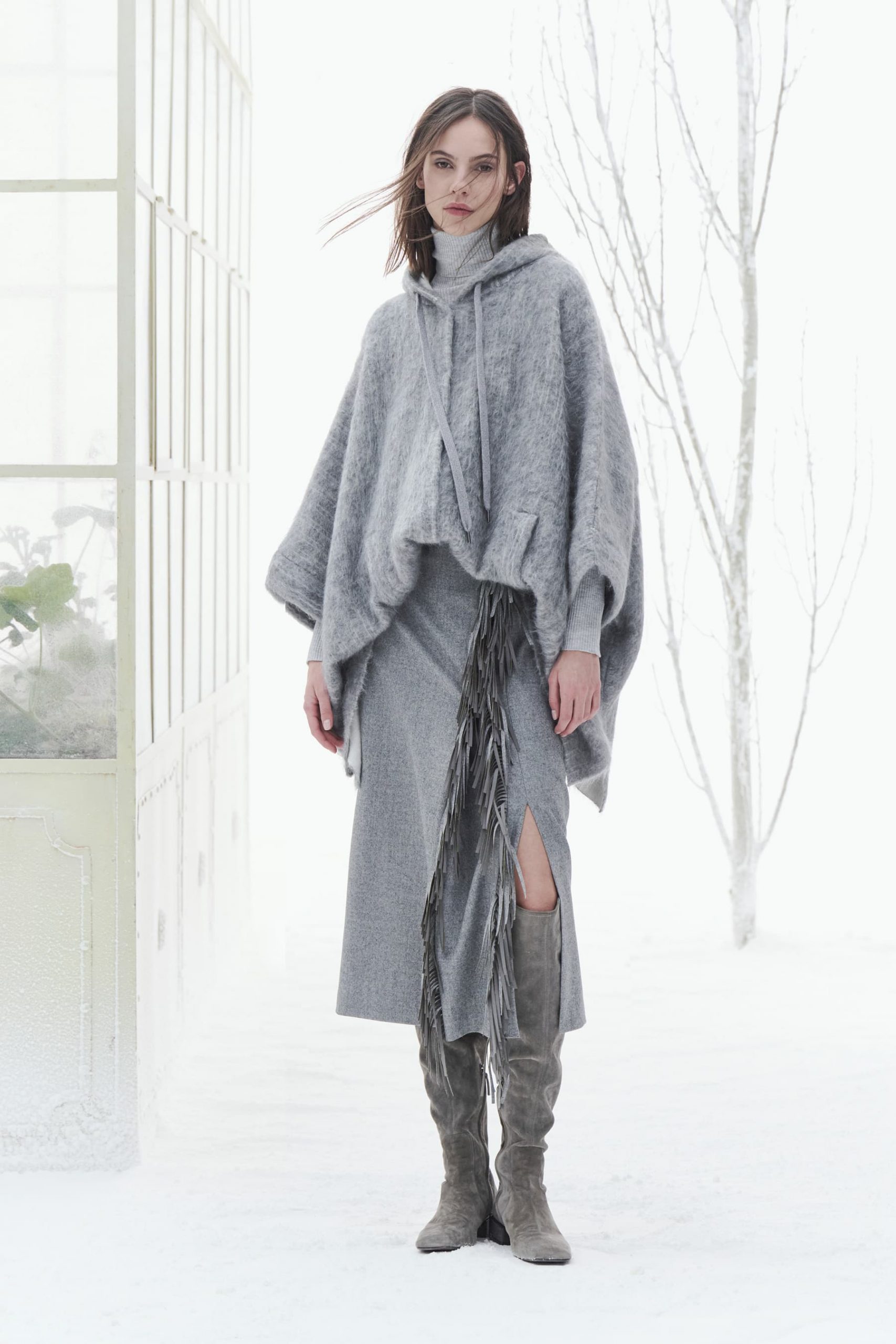 This kind of signature clothes made with superb materials has made Cucinelli a household name of the Made in Italy craftsmanship.
It is also a reminder that business has dropped in the year 2020, and it is vitally critical this fall fashion season in Milano that designers deliver the creative leadership necessary.
And on this day of debut shows, there is hope in Daniel Del Core's first show.
DEL CORE
Daniel Del Core is a new name on the Milano fashion calendar, but the designer is a recognized figure in the Italian fashion world. Del Core was the VIP designer at Gucci for seven years, five under Alessandro Michele who serves as a mentor, and previous tenures at Dolce & Gabbana, Versace, and the Lebanese couture brand Zuhair Murad.
At Gucci, Del Core created the cream dress with gold embroideries, a sacred heart plate with multiple daggers, and a headpiece with blue feather wings that the singer Lana del Rey wore to the Met Gala in May 2018. The German-born designer is choosing the most unlikely time to launch a brand. Perhaps his sense of providing a strange fashion vision with powerful sculptural runway dramas is more apt to strike a chord now than, say, a presentation of real clothes.
Now, financed by private investors, Del Core is moving immediately to create complete collections instead of fragments starting with the looks he showed today. The designer combined his knowledge of crafts with the much-needed touch of narrative and sensuality that is often missing in fashion. The show and the collection were more of a couture moment than a ready-to-wear collection, shown to a small audience at the Archivio di Stato di Milano's basement in central Milano.
The tailoring rigors that opened the show in orange, teal, black, and light purple were reminiscent of the power-sex suits of the late 1990s, a bit of that Tom Ford for Gucci era. Black single breast broad shoulder suit is paired with a small bra or one cinched at the waist-worn as a coat with sheer pattern leggings. A red wool jacket-coat with a light cocoon train in the back and the aqua blue pantsuit with obi sash belt owed allegiance to Japanese dressmaking. Several of the suits had feather leather sandals.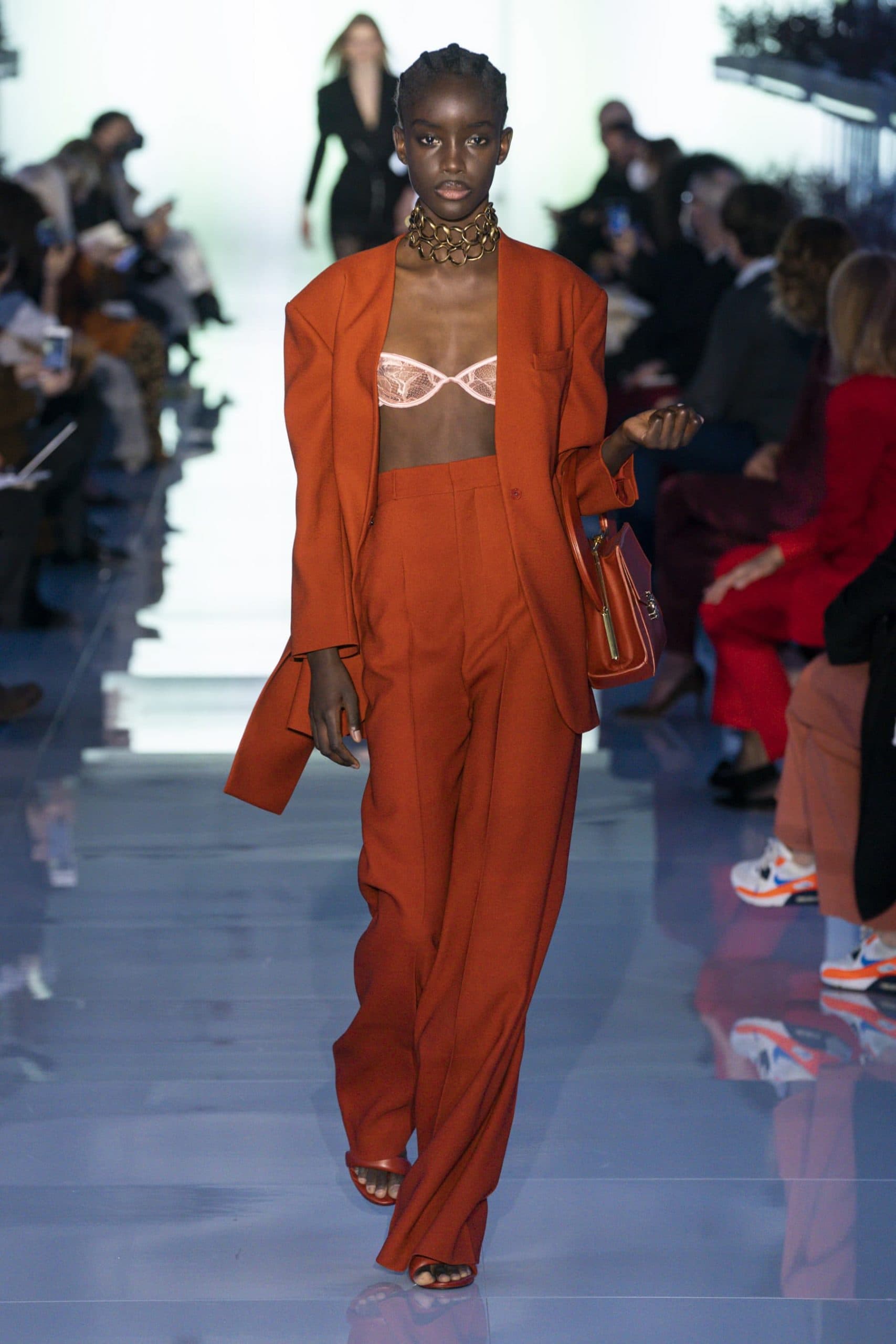 The reason why Del Core may have started his show with tailoring is perhaps a recognition that his brand has to fulfill dual needs – something to sell and something to say. Here the suiting is for immediate sales and the fantasy drama is for fashion.
"A merging of human savoir-faire and the splendor of mother nature ignites the re-emergence into the natural through the deftly man-made, in luscious fabrications of silk, wool, taffetas, brocade, jacquard, and fil coupe," was what Del Core refers to as his inspiration of nature. The tailoring's vivid floral colors and the flower print silk satin on long sleeve evening dress with light blue marabou trims manifest nature on the clothes.
In the evening portion of the show, Del Core sense of drama meets his knowledge of crafts trained over the past seven years at Gucci, with the last five under Alessandro Michele.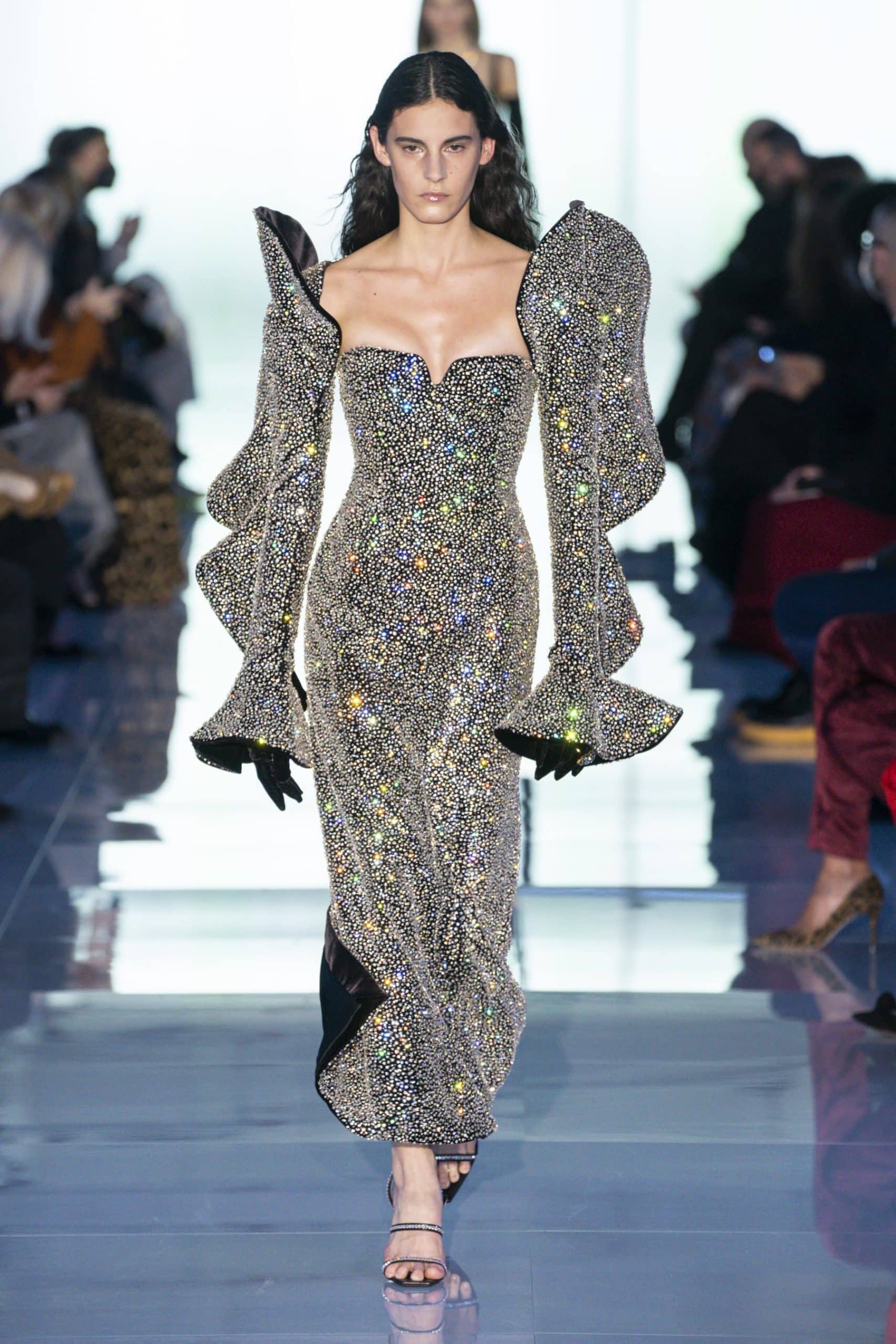 A fully sparkling black crystal embroidered strapless dress with fanciful geometric wave pattern raised sleeves opened the door to a host of dresses like a green tie-dyed pleated with front paneling of silk fan motifs long dress black shiny silk long column dress with 'wings' sleeves. Another black silk dress has accordion pleats that unfold in a v-shape at the neckline to the sleeves with a sheer black lace turtleneck underneath. The long black flare dress with shiny leaves motif is another example of Del Core's fine artistry and his love of nature that brought vivid scenes of flowers onto his clothes' surfaces.
But, Del Core's show goes to the heart of what fashion ought to be, pandemic or not. There have been too many tepid reactions to the crisis, prompting designers to forget about the job of designing fashion. Here is someone starting on his own, and his first show took risks; well, he has to as he has nothing to lose, to move fashion-forward in a creative way.
There is a sense looking at the live stream show that Del Core is holding back a bit, that he didn't want to go all the way with this début. Maybe he is right to save some ideas for the next season instead of pouring too many into one show that could have clouded the focus.
That said, building a fashion business, no matter how creative the designer, is never a simple affair. A great fashion show is a good start, but the work ahead is arduous and full of complications.
---