---
Review of Dolce & Gabbana Spring 2023 Men's Fashion Show
Mining the Archives for Uncut Gems
By Angela Baidoo
If there's one thing that the Italian fashion houses have in spades, it's a storied heritage. You only have to look at some of the big names on the roster this fashion week to see what a difference a decade, or even decades can make. And at a time when brands can easily lose their footing in a world that is evolving, thanks in no small part to a generation speaking up and speaking out, a strong heritage can become a safe place from which brands can to start to rebuild.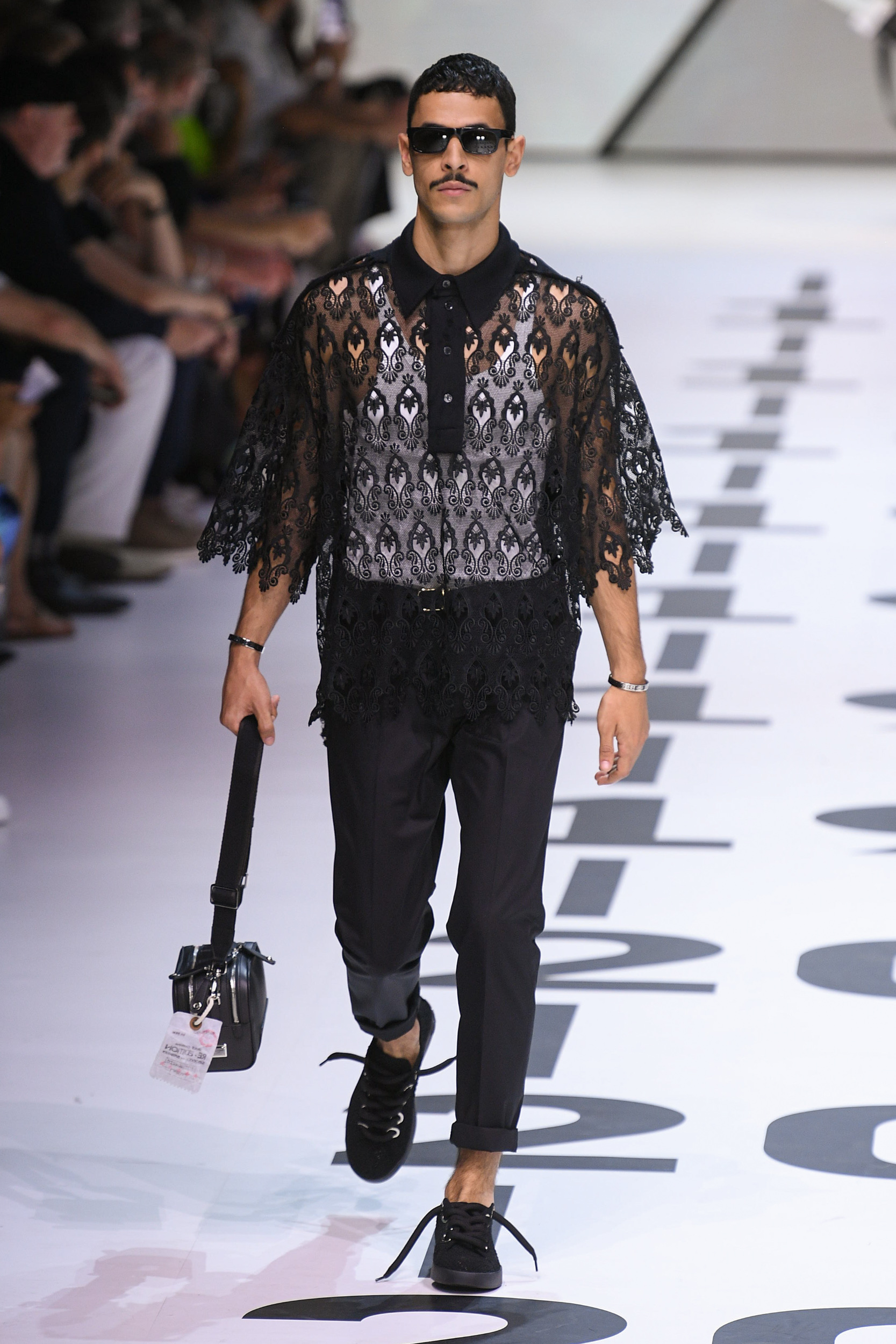 The heritage of the brand is presented by demonstrating the idea of building modernity from the past"

– Dolce and Gabbana
Looking back in order to move forward, Dolce and Gabbana's Spring Summer 2023 collection, titled 'Re-Edition' takes a trip down memory lane (but then again, who isn't walking down that path these days) to its 90s heyday when the brand could do no wrong. Domenico and Stefano rounded up their greatest hits in the hopes that it will be enough to revive the brand for good. At a time that is so heavily indebted to the past – you only have to look to the trending hashtags across the socials to note how nearly every era from the past 30 years is getting a nostalgic re-boot – Dolce and Gabbana could be onto a winner.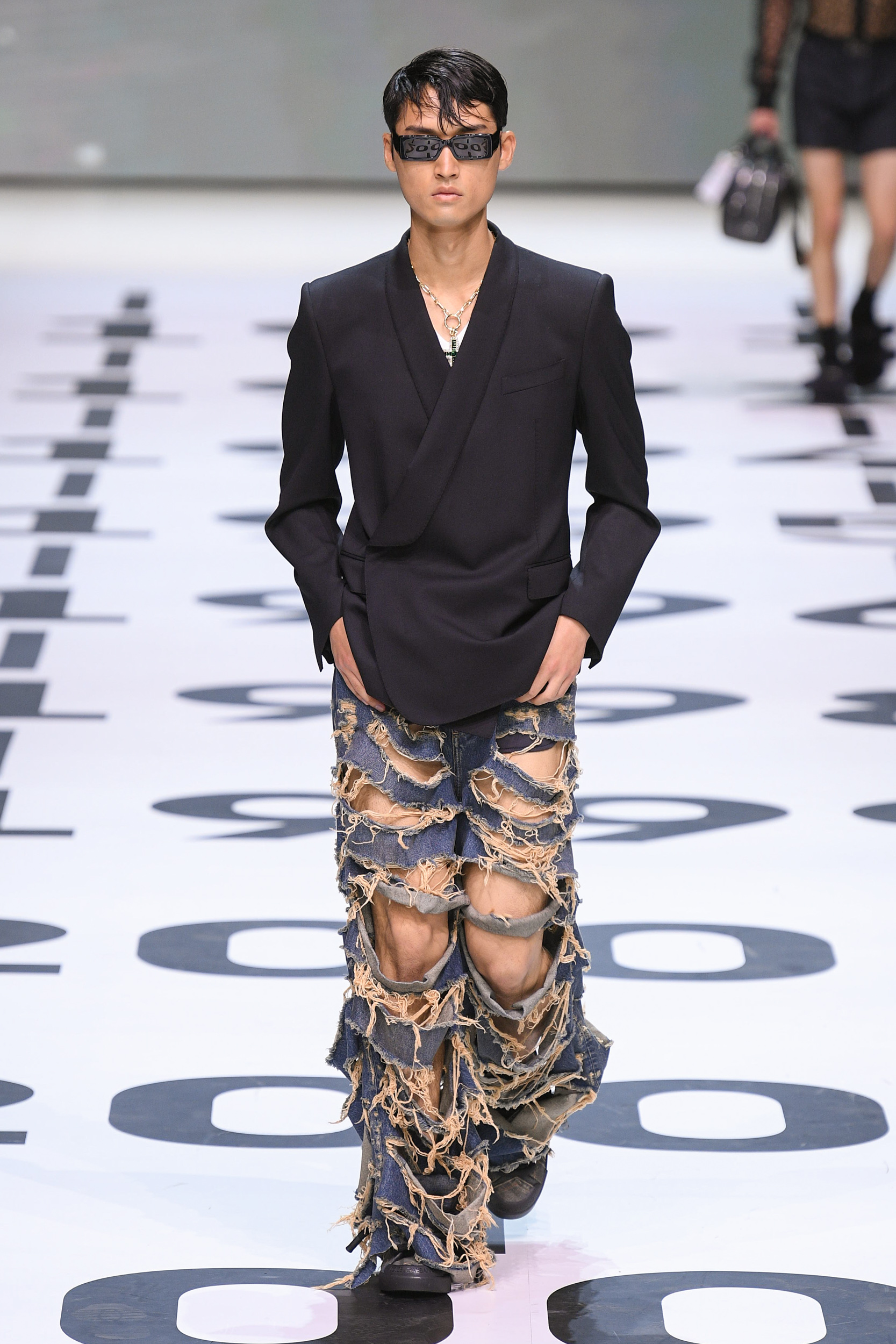 The importance of the Domenico Dolce's Sicilian upbringing ran as a thread throughout the show, as black was layered with black, which could have made for a one-note collection, but upon closer inspection the ingrained skills of craftsmanship are revealed. In one look a guipure lace polo shirt was constructed with an artfully distressed T-shirt as a back panel, alluding to the "reworking" of their roots that were outlined in the brands show notes. While the oversized tailoring that are a reference to those first menswear seasons in the early 90s, looked of-the-moment (a key call-out would be the double-breasted drop-shoulder blazers in XL volumes).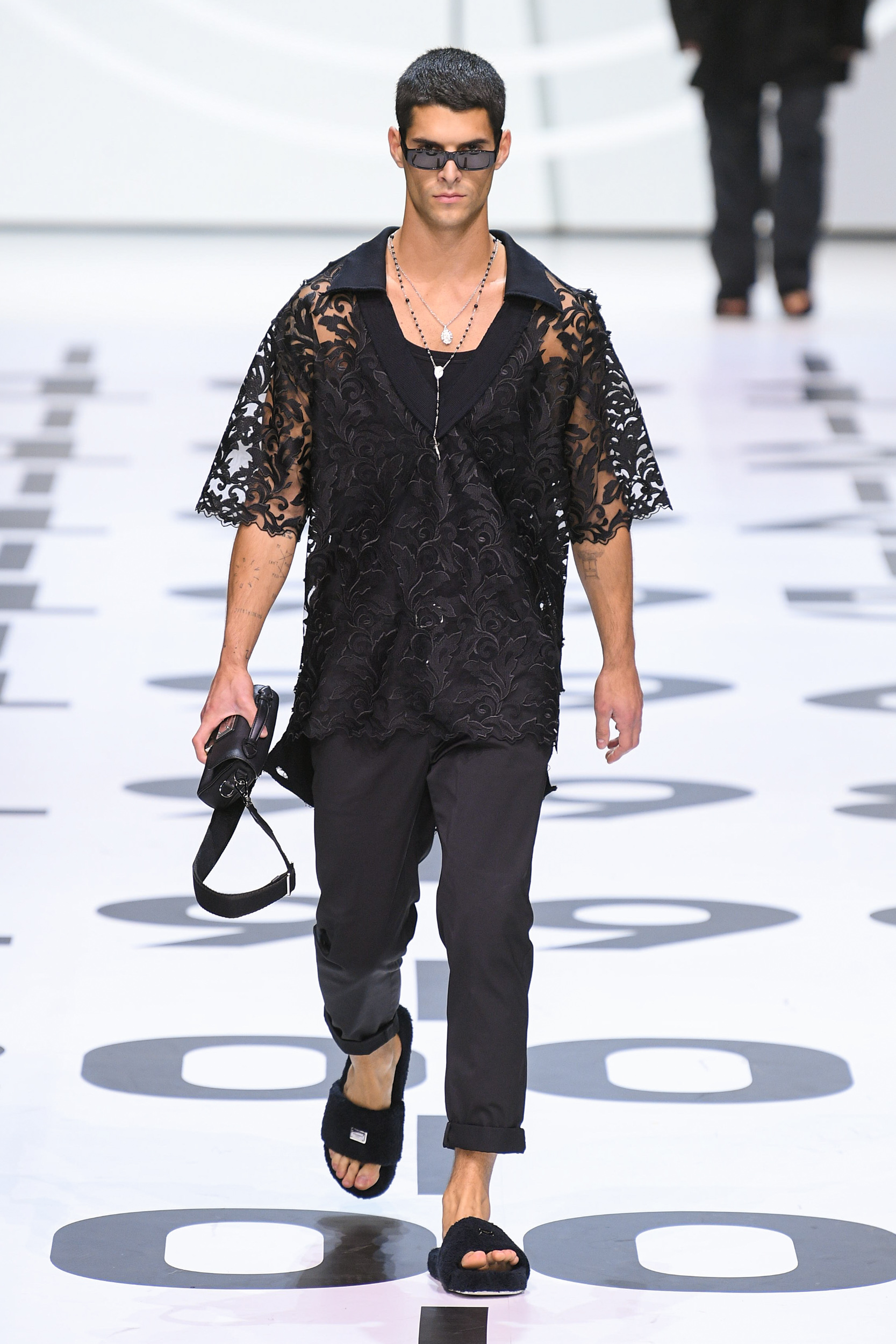 The contrast of hand-crafted crochet with the heavily distressed to the point of destroyed jersey and denim shouldn't work here, but it does. Across menswear, especially from Milan where clean lines are a given, catching this combination of maximalist textures was nothing if not refreshing. Denim, which is coming into its own this season, was patch-worked to within an inch of its life on oversized truckers and slouchy jeans (a case could again be made here for a sustainable angle utilising upcycled denim), but a surprisingly directional take that was so bad it was good, was the cropped Bermuda shorts and matching lug-sole boots.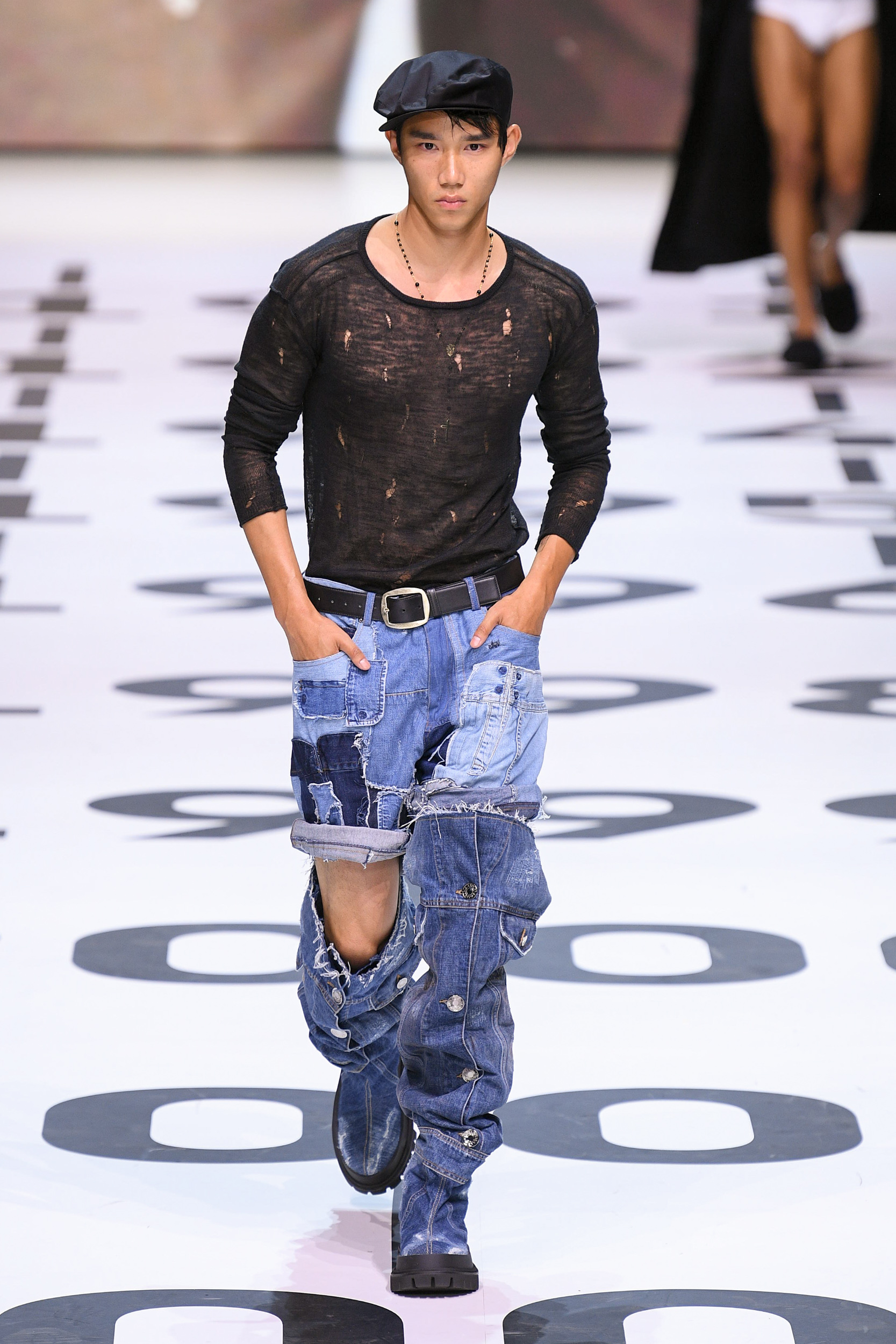 As designers continue to explore new ways with denim, expect to see more creative combinations across clothing, footwear, and accessories"

– Angela Baidoo
As a side-note David Beckham also looks to be trending across Milan Fashion Week, as his 90s styling of the sarong has found its way into both the DSquared2 and Dolce and Gabbana shows, with the latter further doubling down on the ex-footballers iconic influence on men's fashion with the re-issue of a T-shirt version of his Number 7 football jersey.
Pulling from their archives is a smart move by the brand, reminding those that once loved it why they did so in the first place, while Gen Zers will be queueing up to buy back into re-issues of original 90s looks. And if this collection does well, it won't be long before we can expect to see a reboot of the shuttered (prematurely if we're being truly honest) D&G brand, whose particular brand of bombast will resonate with today's nostalgia-obsessed consumer – from its Pop Preppy Fall 2011 collection to its before-its-time take on #bikercore – you heard it here first.
---