---
Review of Doublet, Y/Project, Jil Sander, Alled-Martínez, & 1017 ALYX 9SM Spring 2022 Men's Fashion Shows
On Closing Day, Young Designers Affirm Their Visions Leading Fashion Their Way
By Long Nguyen
On this final day of the Paris men's spring 2022 season, it would typically be a busy Sunday in the B.C. era ending with Celine closing the season at night for two seasons back in the days.
Thom Browne released a beautiful art video titled 'Looking Forward to Tomorrow' depicting the loneliness of a marathon runner in training filmed in New Mexico throughout a long day. Browne will show his men and women spring 2022 collections together in New York in early September rather than Paris this time.
This last day in Paris belongs to the non-establishment brands – Y/Project, Doublet, and Alled-Martínez. Together, these three designers brought their exciting visions and garments to close this Paris season.
Doublet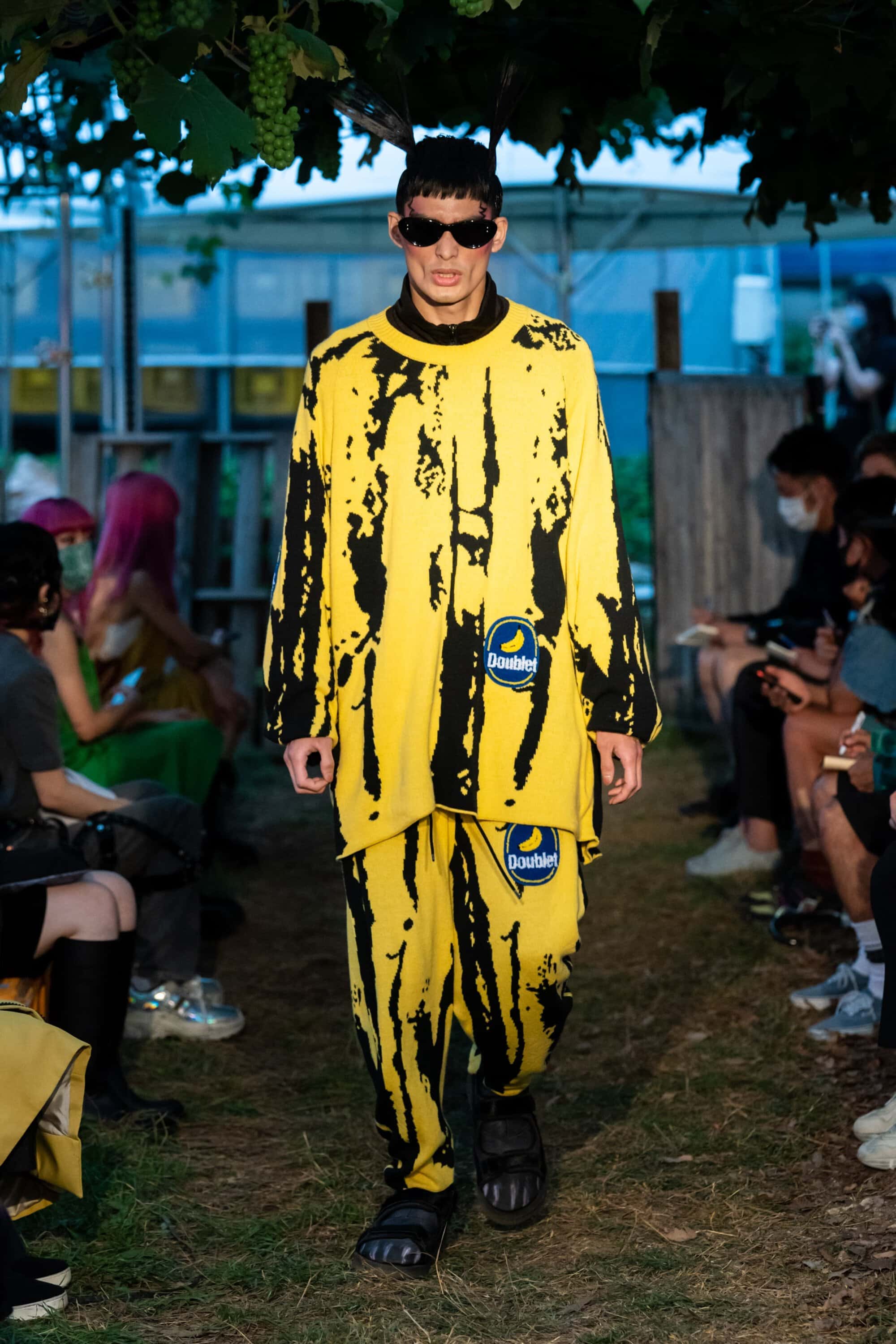 "Everyone is looking in the same direction and hoping for a bright future. A way of thinking like that is necessary, and I think it's important. However, I feel uncomfortable walking along the roads that are being guided by society and being too well-behaved and serious," Masayuki Ino said on Sunday morning. The designer staged his live show of the new spring collection, titled 'My Way.'
Masayuki Ino, the winner of the LVMH Prize 2018, started Doublet in Tokyo in 2012 because of the need to have clothes with new ideas and techniques, especially on daily garments and basic clothes to make unique pieces. Doublet debuted showing in Tokyo for the Spring 2013 season, and since Fall 2017, the Japanese brand has been part of the Paris calendar.
"Fashion is something that makes you feel excited, wants to meet someone, wants to go somewhere, and creates conversation and communication. I've been designing clothes with that in mind," Ino continued, explaining the central fuse of why he is a fashion designer.
True to his own words and his design philosophy of never compromise and never surrender, Ino sent out a spring 2022 collection mixing ideas of punk revolt with exquisite fabrics filled with looks that earned him fans and industry attention alike.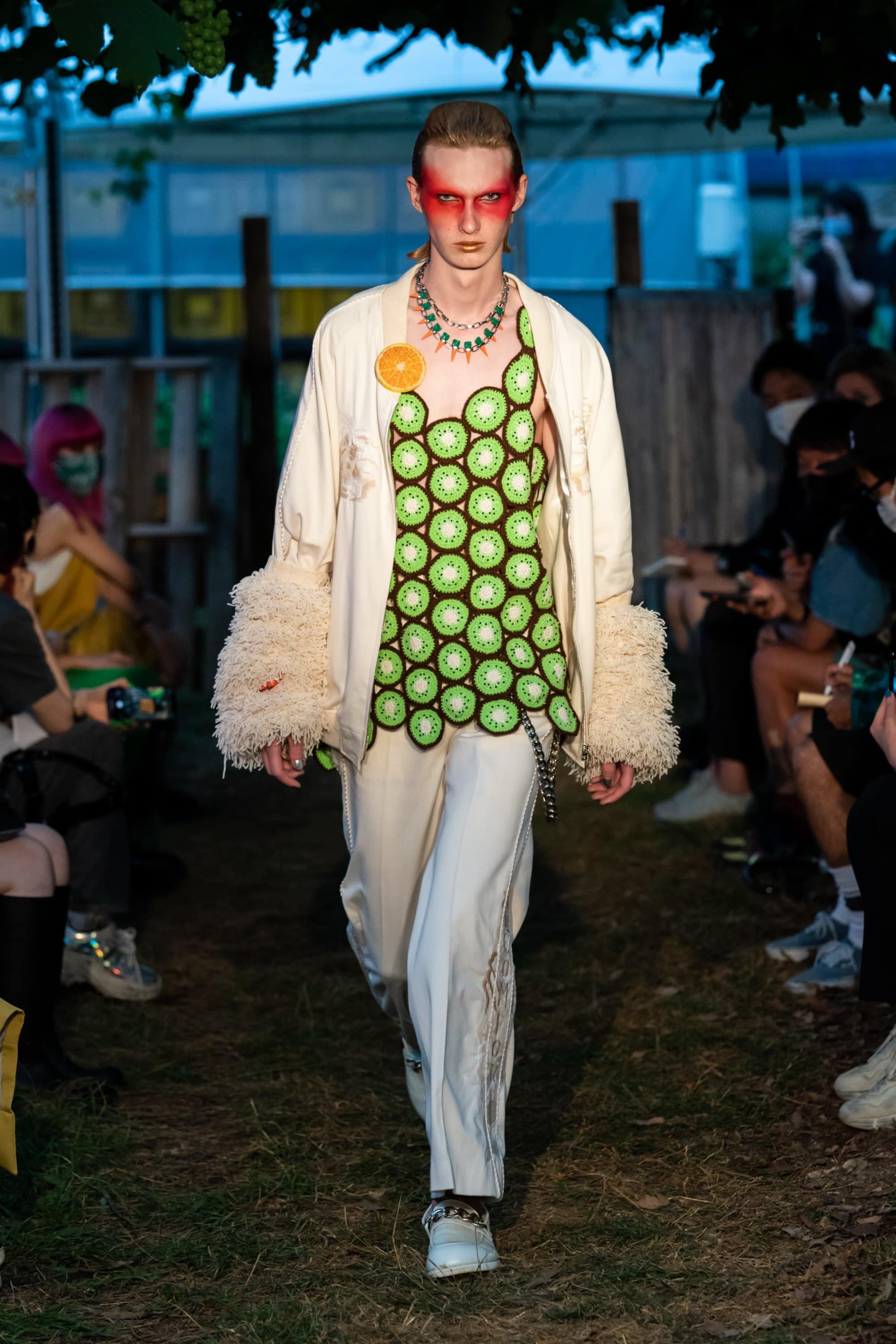 Among the standout looks here that combine the gusto for individuality within a specific fashion sensibility is a green circular crochet hand-knit tank under an ecru cotton cardigan with faux fur sleeve trims and white cotton decorated pants, a double white/tan furry jumper under a black hand tie-dye denim jacket, and black furry short skirt. Even a yellow and black splash paint pattern long tunic track pantsuit would qualify.
While it may be easier to label this spring punk, that is too much of a reduction to make any real sense. Sure, there are elements in the tattoo and in the hair and makeup that reminisced from images of real punk youth taken in London back in the days, but the clothes don't telegraph any punk offshoots here.
Instead, the collection exudes that idea of mélange, like putting different things in a blender, and there emerges a new assortment of garments that may feel like punk but aren't. Ino's plays masterfully on this mishmash of subcultural references just as the designer freely deconstructs and reconstructs basic clothes or refers to these clothes as 'daily wear with a feel of disorder.'
Ino specializes in re-creating essential and know garments and, in some ways, deforms their shapes to the point the clothes don't look like the original basics from the start. Take, for example, the classic MA1 bomber jacket that everyone knows its shape. In the collection, Ino showed a version of the MA1 in orange oversize with exaggerated drop shoulder with sleeves scrunched together at the wrist. Or take an essential black leather biker jacket and seriously enlarge the shoulder and front, making the jacket looks like a square box. In essence, Ino deconstructs these basic garments in extremis to construct better fashion.
Experimental textile development takes on a central figure in Ino's collection where material and design combine seamlessly or clash profusely on the garments.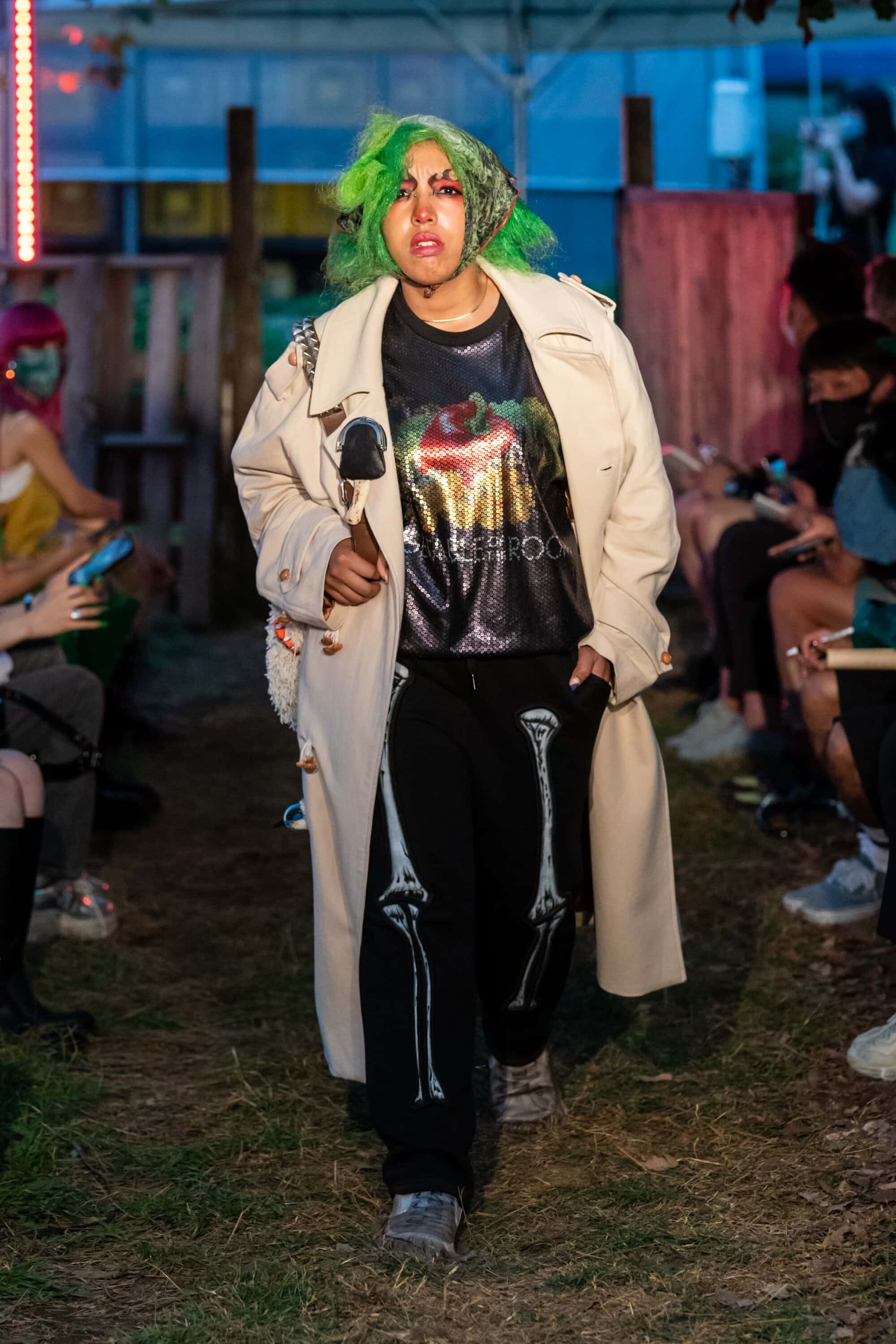 "People say 'It's cool because environment-friendly materials make these clothes. If so, rebellious punk fashion with environment-friendly materials is here. Let's make bad clothes that are made in a good way," Ino said of the shift towards more sustainable materials chosen for this spring clothes.
The blue dye for the hand tie-dyed denim jeans, and black dyed denim jacket are liquid extractions from waste and plants mixed to form the dirty gutter colors. The threads for sowing the clothes come from discarded banana stalks and milk proteins. The leather for leather jackets is from mushroom cultivation techniques.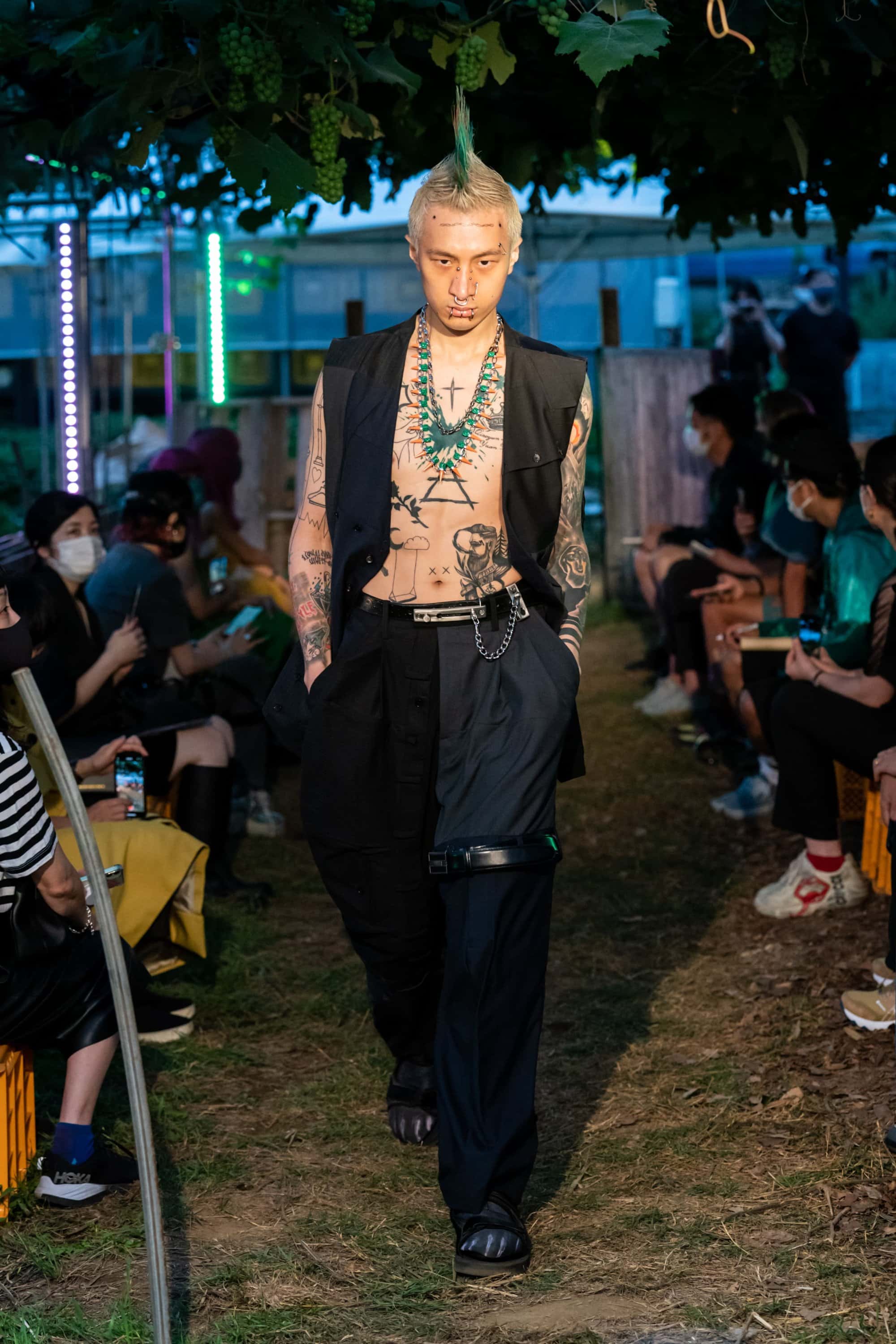 Then too, there is a severe amount of recycling and repurposing. The unsold and excess stocks from Aoyama, a tailor suit company, are chopped and reconstructed into oversize suits or even as black tailored pantsuits or in a cement jacket with frayed trims that opened the show.
"The world is becoming extremely convenient and comfortable to live. 'This is no good; that's not good. If you do this, your social media will blow up, so be careful," Ino said of how comfort and conformity are bad for fashion.
What Ino said can be a piece of good advice that many designers showing off their new season should perhaps take to heart.
Y/Project
It isn't often the case that a single outfit can say so much about a designer's fashion work and design ethos.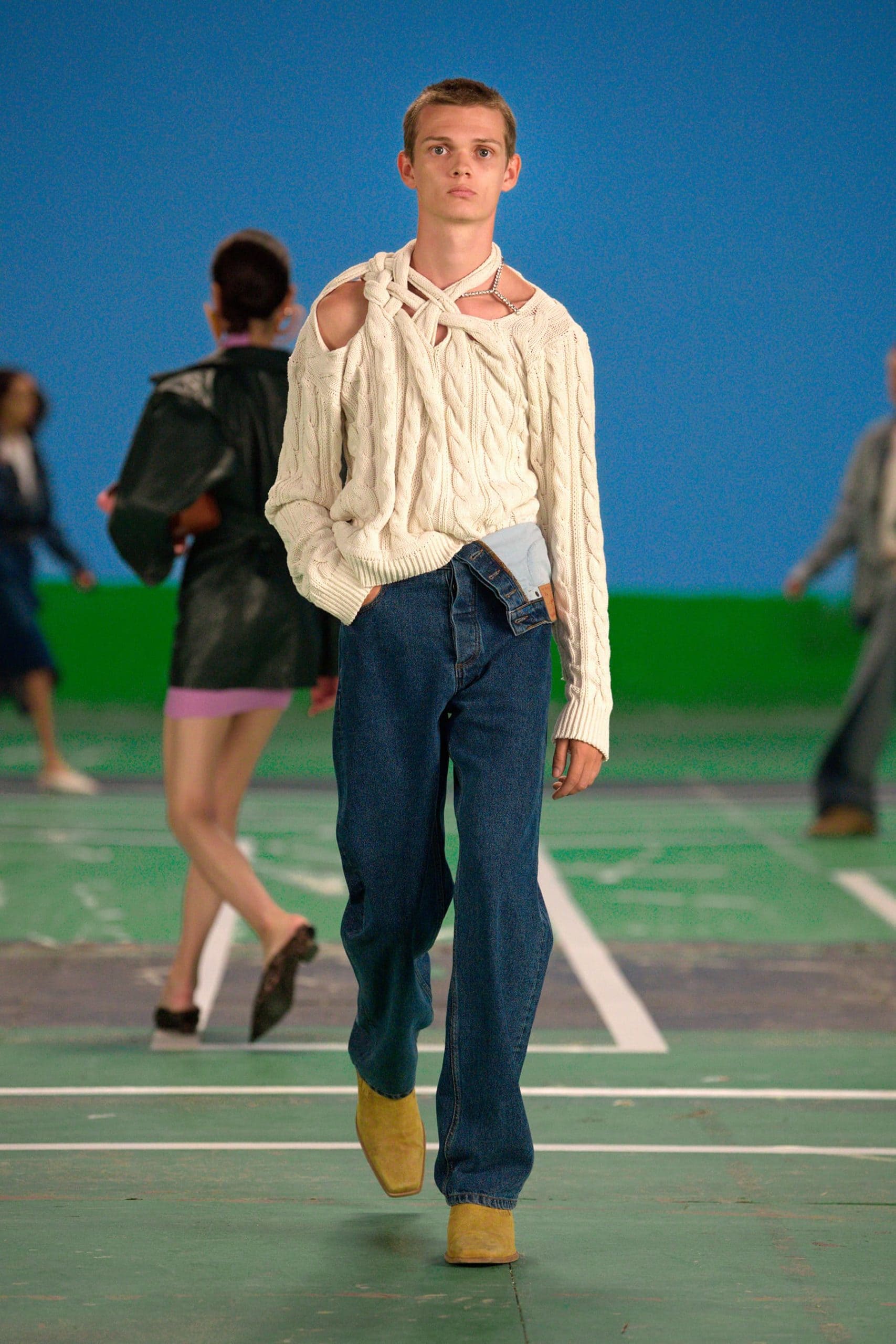 But an ecru hand-knit cable sweater with a cut-out at the neckline and several twisted knots forming part of the opening of the sweater paired with a pair of blue denim jeans with the waistband flipped open on the front side offered in a quick view either from a flying drone or via direct camera angle an apotheosis of Glenn Martens' approach to fashion.
Martens, the creative director of Y/Project since 2013, revealed his spring 2022 film directed by Grégoire Dyer. Models walked around a series of white lines painted in the shape of a triangle with various angle views that structurally are also how he sees the construction of his clothes – from many different angles.
The Belgian-born designer specialized in brokering on experimentation that pushes the clothes towards bordering both the conventional and the historical roots of fashion.
Here, in this spring collection, examples of these mutations abound.
A classic khaki trench coat has a ruched front to the point of deforming the shape of the trench worn with a light violet cotton three collars shirt, and the extra collar is folded outward on top of the trench's collar. A black gabardine wool tailored pants have an enlarged waistband, falling to the side to reveal a pair of blue denim underneath.
Martens continued the reinforced trims of the lapels of tailored coat to deform the lapels giving them a 3D shape in a long black coat with grey lining perking out of the uneven folds of the lapel or on an extra head hole for a camel tank top curving out from the neck. The designer started this wiring process since his Fall 2019 collection giving whoever wears the garments a chance to adjust the shapes of the clothes themselves.
The crown of these techniques here, though, belongs to a pale light blue single breast pantsuit – the jacket has dropped shoulder with a lapel extended into a scarf and the wool pants sliced on the side over acid-washed denim underneath. Versions of this technique are repeated throughout the show, even for the grey Fila polo with an attached scarf hanging on the left side.
New this season is the collaboration with Fila on the 100th anniversary of the Italian sports brand. The Fila staples of hoodies, polos, windbreakers, tracksuits, t-shirts, sneakers and even tennis bags have undergone the Martens fashion surgery. They emerge, for example, as a red tracksuit with multiple Fila logo panels now partially altered and matching pants with snaps that opened at unexpected areas like on the front legs. The blue Fila tennis bag is now a crushed ball with a handle.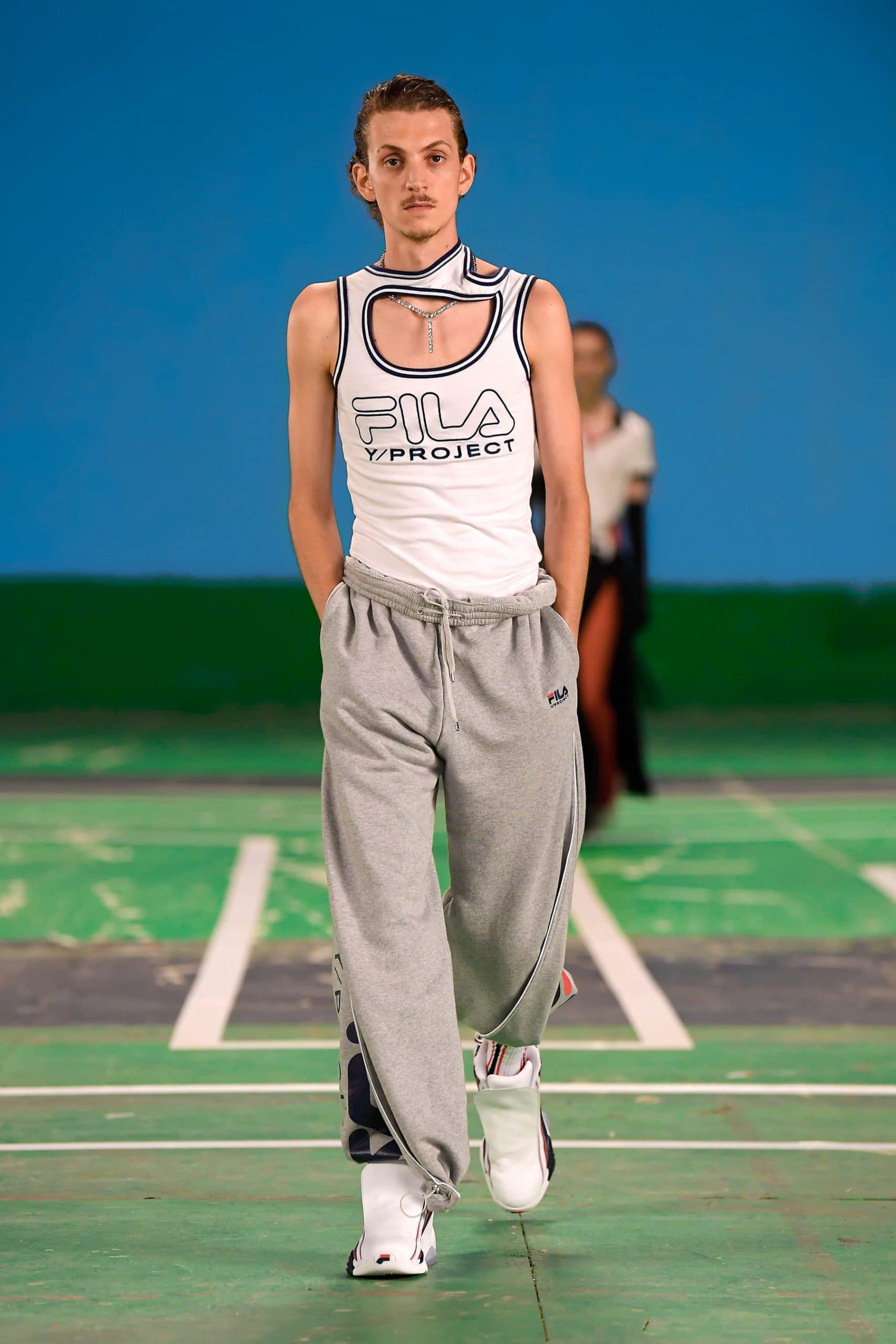 "I see this collaboration, really, as a marriage of Y/Project's experimental spirit and Fila's innovative drive grounded in sportswear. The process was as easy as it was fun, and it allowed me to explore a streetwear direction that felt new openly," Glenn Martens said of this new venture with Fila.
Indeed, for Fila, a dark navy tracksuit with multiple front asymmetrical openings will open the sports brand to more fashion-forward consumers. Even Fila's classic Grant Hill sneakers underwent a rebirth, and now the GH is a flat-front white leather sneaker. 
The Fila project as well as the Diesel showing last week in Milano, where Martens is also the creative director, represents a new route procuring novelties in products and in ideas for these two respective brands. Yet at Martens' Y/Project – the creative engine – the designer frequently treads on his own familiar design territory without taking his ideas any further and to more extreme level, or without exploring other potential manifestations. Martens must take his design train forward, injecting fresh and untried ideas again as he did since 2013. He must surprise his audience anew. 
Jil Sander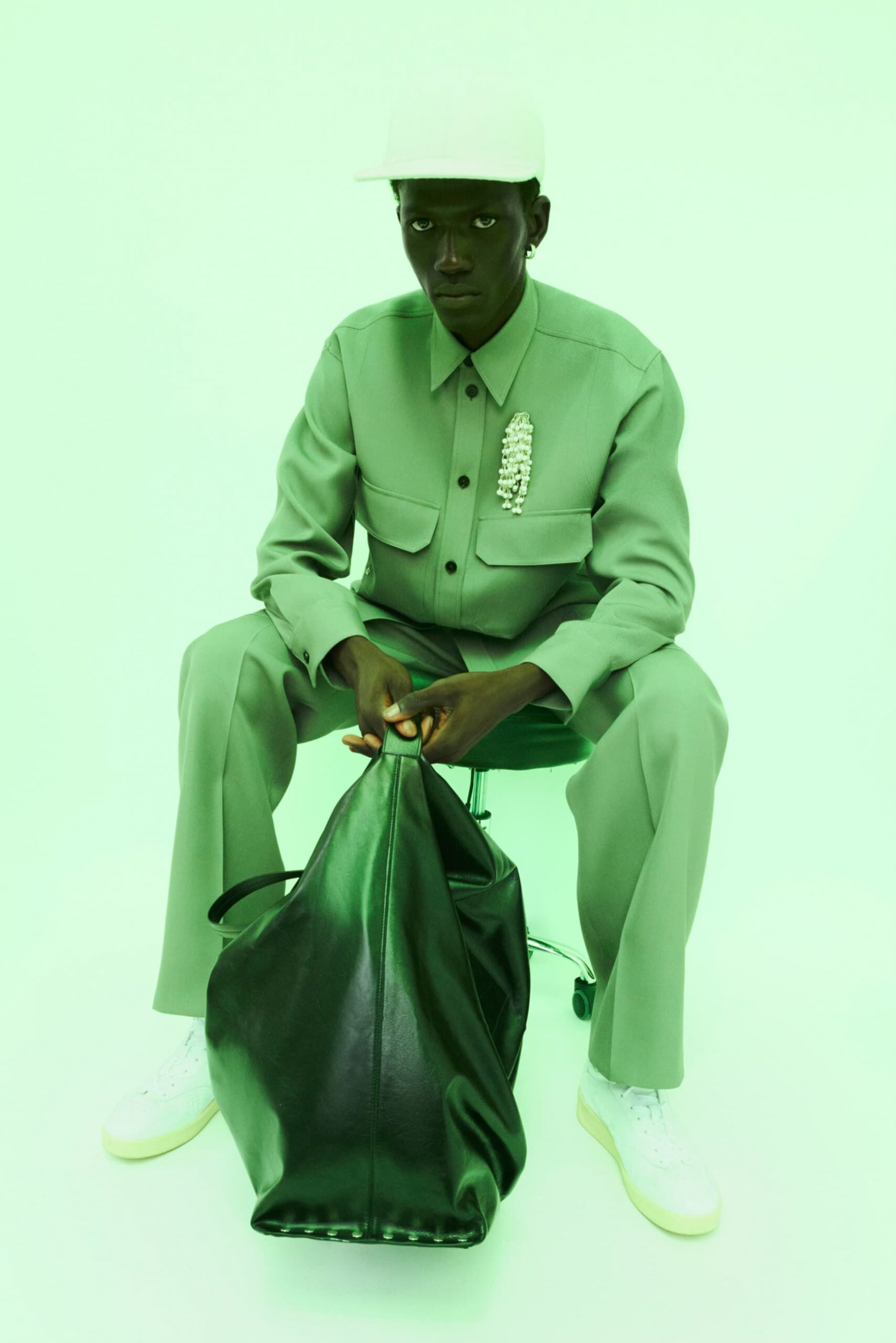 Freedom, autonomy, lightness, and clarity are the exact words that Lucie and Luke Meier, the creative team at Jil Sander, describe the pair of new men's collections. Wrapped steeply in the ideas of urban wardrobe, These clothes, wrapped steeply in the pristine views of urban wardrobe, still espoused individuality rather than clothes that blend into uniform wear.
The Meier offers a range of simple clothes in straight-line cuts with hints of volumes with a strong sense of colors. From an all pink lean single breast pantsuit with a pink t-shirt or in the new version of a suit in the form of the all blood-red leather patch pocket shirt, leather tie, and leather pants.
The graphics letterings are taken from grocery shop advertising add elements of street art in a white jumpsuit with black numbers/letters or in a long knit with the words Paradise, Fun, Sale Price, and Venture intarsia into the long cardigan. This 'art' added a bit of surprise to the well-crafted clothes.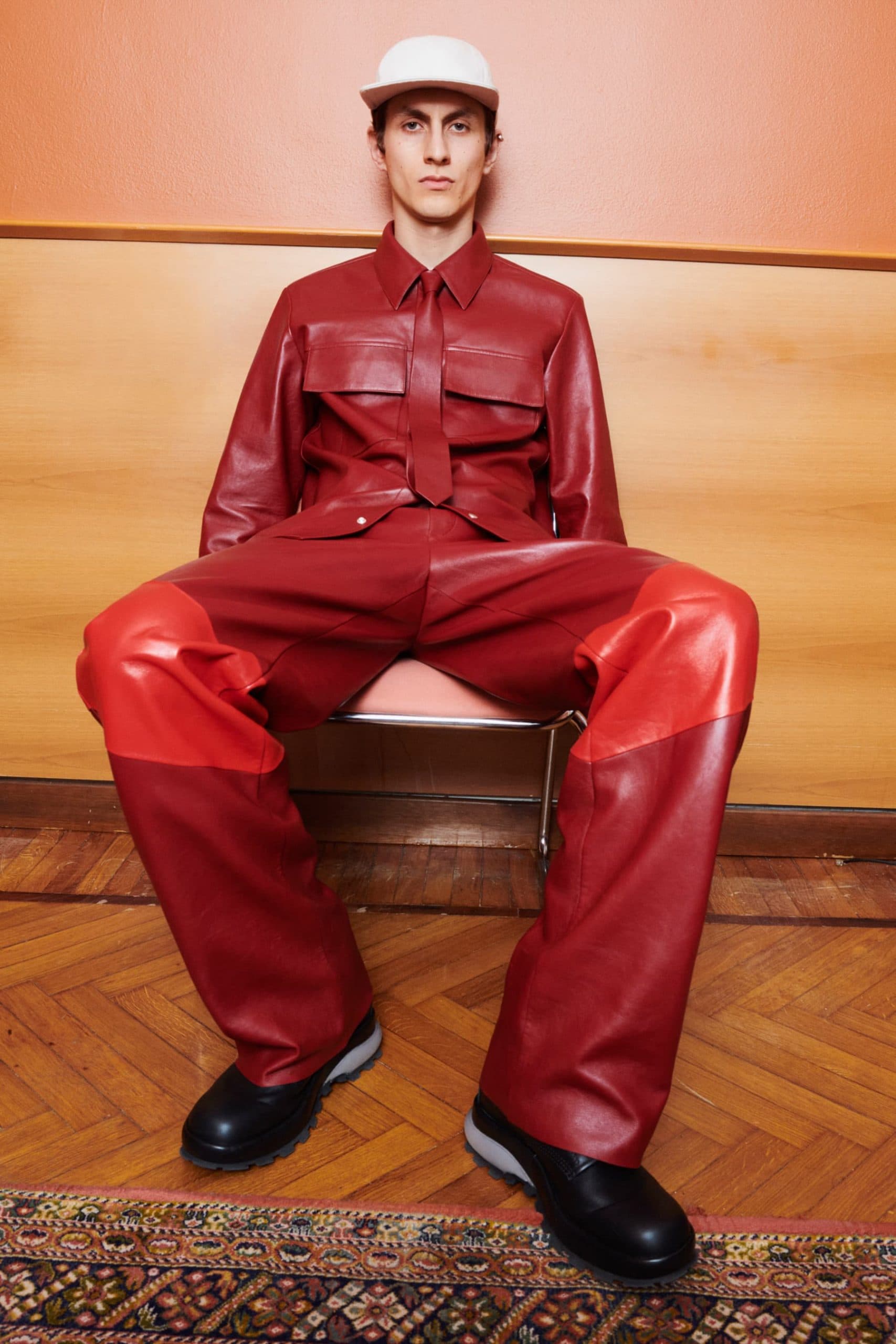 Long and lean silhouettes dictate the direction of the tailoring, as expressed in the cut of a long rust wool boxy coat, a double breast spread long lapel coat, or a monochrome single breast slim suit and matching shirt.
These tailoring indeed adds to an allure of sumptuous and luxury requisite to these clothes, made with the finest of materials – see the casual street luxury of the burgundy short sleeve polo and celadon shorts.
Still, the collection, in its prevalent quietude, feels too plain and lacks character. The blurry and out-of-focus moody short film shot in a slightly old apartment building for the collection strives assiduously hard to put an edge, an art angle, to the clothes
Alled-Martínez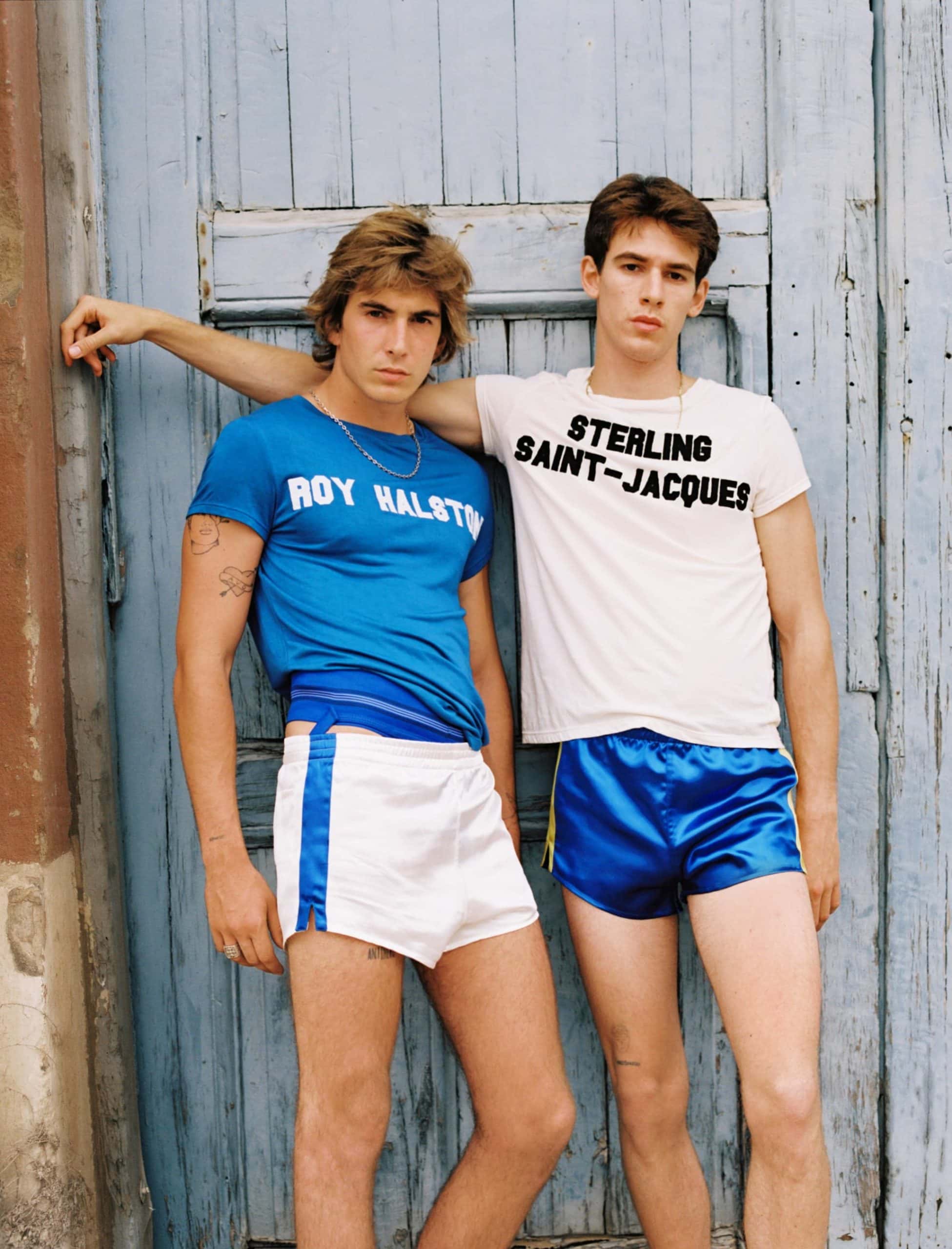 There is something sweet in the 1970s vibe in the Alled-Martinez short film titled Unsung Heroes, portraying a group of kids skating and smoking together. Then, later on, a few turning tricks as hustlers on the nearby pier to launch his new spring collection that for the first time contain non-knitwear pieces.
The Barcelona-born Archie Alled-Martinez graduated in 2018 from Central Saint Martins MA Fashion in knitwear program. He received that year's L'Oréal Professional at graduation, then the LVMH Graduate Prize. that allowed him to move to Paris and worked at Givenchy until June 2019, when he launched his own Spring 2020 solo collection at Paris men's season that summer.
Alled-Martinez constructed his signature work in just a short period – merging his technical manipulations of knit materials into the precise cut and enmeshed his tailored knits with specific cultural references, giving them their own clothes stories.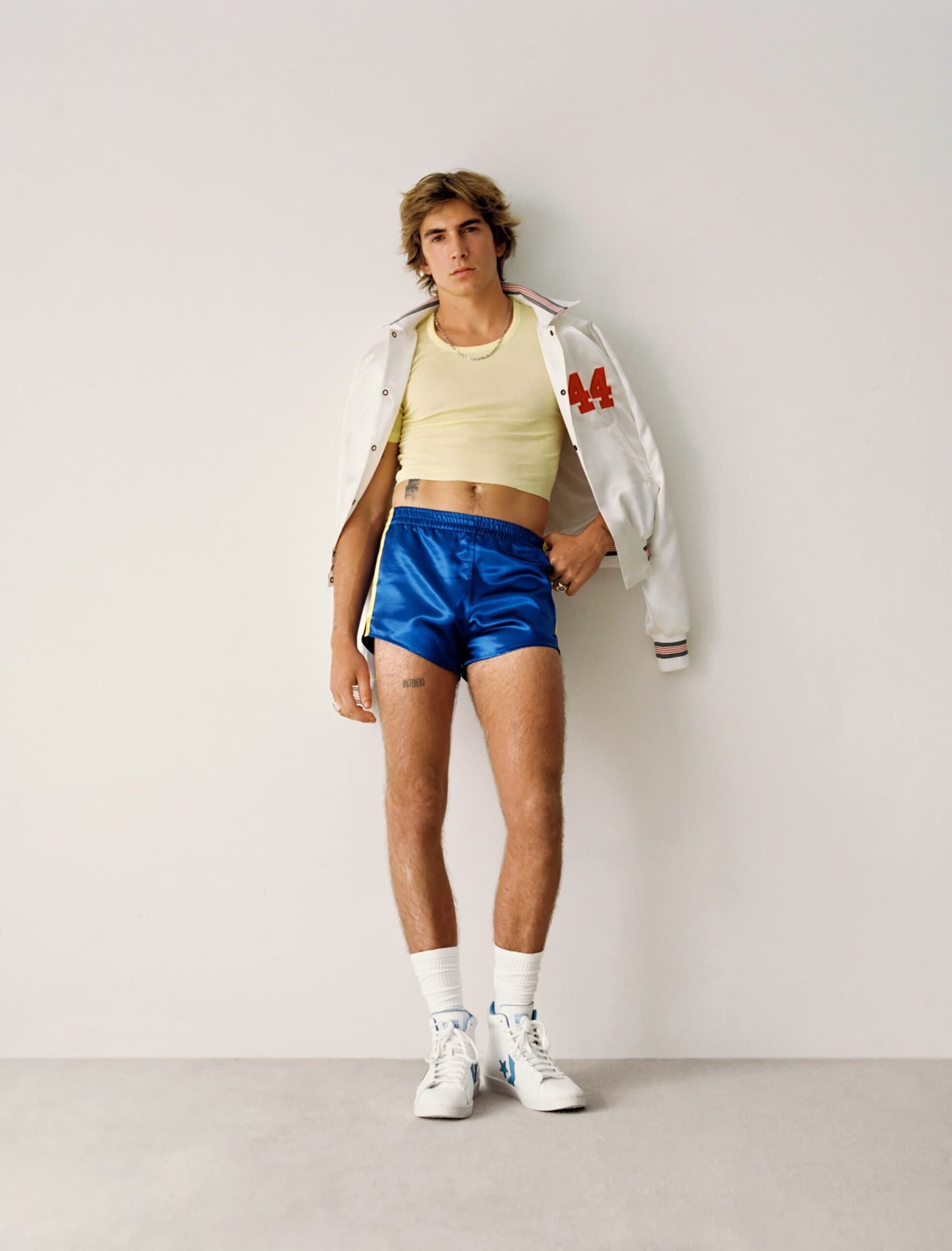 In one of his first presentations for Fall 2020 in Paris, the curve-hugging tailored knitwear became the prime fabric of his fashion work. His last fall film and collection featured a more mature version of his knit garments, adding velvet and chiffon to further stretch the limits of knitwear.
Now, for this spring 2022 season, Alled-Martinez's 1970s hustler, a breed of ephebes that are remembered solely in photographs documenting that era that inspired the designer's Fall 2021 short film, has returned as skinny skaters prone to take on the vagaries of street life. But in a surprise, the clothes on these young skinny guys are non-knit-based, a departure from the designer's customary work.
Instead of tailored and sophisticated knit dressing, these skaters wore jersey t-shirts with black letterings like Sterling Saint-Jacques, Al Parker, Jacques de Bascher. Alled-Martinez paid his respect to these unsung gay heroes who all died of AIDS with their age at death embossed in the back – and grey track pants or black elastic pull-on pants, and the likes of plain denim pants and a range of jersey tops. There are knits garments like the ecru stripe cropped tank top and long shorts, but the knits no longer dominate the entire collection.
Alled-Martinez is still exploring what he sees and how he absorbs cultural experiences and transforms them into his fashion work.
It is easy to dismiss this as a whimsical collection rather than a thoughtful one from a young designer living and experiencing the present with a view of the past and how past culture can shape an idea that can lead to a formal way of thinking, and maybe a fashion collection.
1017 ALYX 9SM
Matthew M. Williams closed the Paris men's spring 2022 season with his digital film at the last 8 PM slot on the official calendar marking the end of what may be the last hybrid men's show season. Williams showed a nearly fifteen-minute film 'Beyond' shot by Jordan Hemingway, using the 16mm film format to deliver blurry moody sensations.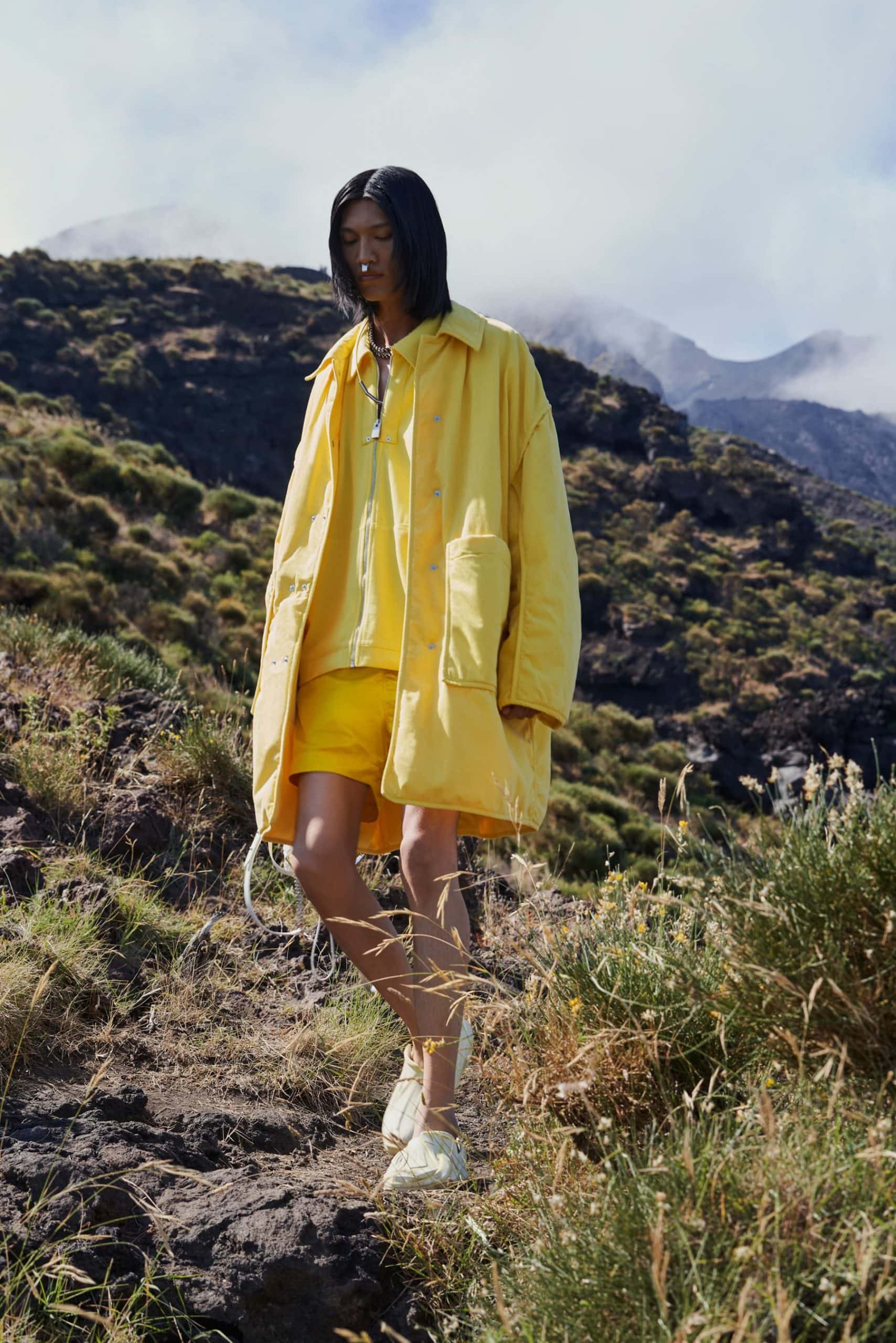 The film shot on multiple locations of rough black rocks, empty beaches, an active volcano, and the idea was to incite the sentiment of a harsh natural world and a hostile world around empty beaches and active volcanoes,
Williams' runway-type video conjured the notion of protection that his new slightly oversized and sculpted garments made with the latest technical fabrics available to his fashion fans and customers. It's more of a best-off collection than a new collection with fresh ideas and new thinking.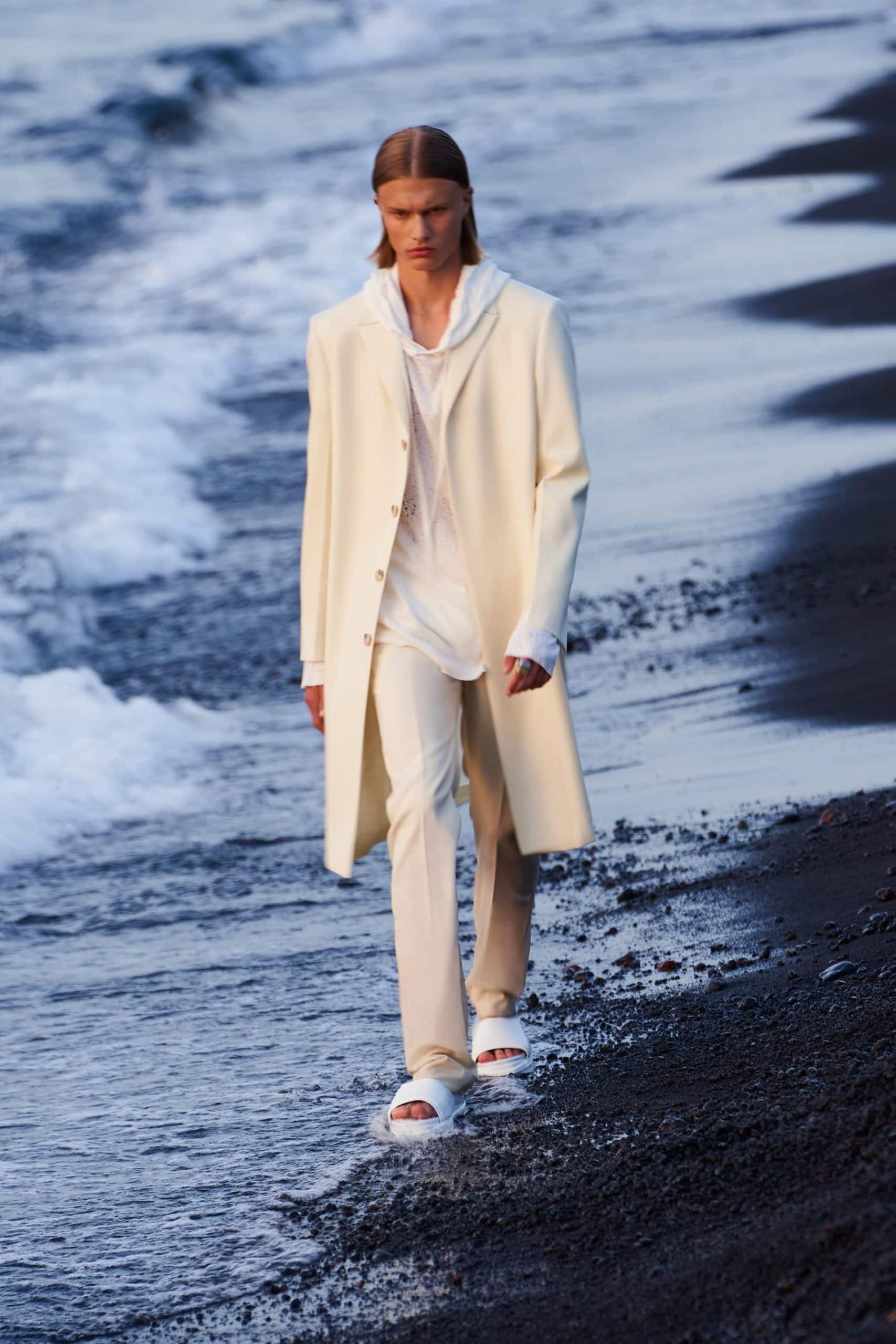 The white oversize leather logo biker jacket with dropped shoulders, long sleeves covering the wrist, and straight-leg shorts that opened the film orchestrated the overall theme of this more monochromatic collection. That harked back to the early days of the brand, where the heightened streetwear clothes dominated before giving way to more couture handiwork.
The most oversized tops – biker, parkas, quilted coats, and jackets – are paired with either formal tailored pants or straight-leg pants in leathers or denim. Other technical advances include the built-in 3D body armor shell back, giving off an appearance of an exoskeleton on the leather vest and biker jackets. For the jersey sweatshirts, t-shirts, sweat pants, and jeans, the jersey is distressed using a combination of laser and manual treatments.
This collection is more of brand renewal efforts, a way to familiarize new audiences with these tech street couture garments essential to this six-year-old brand, culling pop and subcultures and adding industrial hardware into clothes and accessories.
---